What can you see and do with one week in Cuba?  After spending a whole month in Cuba we realized it is not a country to rush, but a country to travel slowly through and enjoy the people and the culture. Cuba is changing rapidly and if you want to experience the real Cuba now is the time to travel there.  Your trips to Cuba will be unlike any other country you have visited. It tickles all your five senses.
FAQ's on Visiting Cuba
We get a lot of questions on 'what to do in Cuba for a week?' so we have put together a 1 week in Cuba itinerary for you. We have also included 14 top useful tips to Cuba for you to read before you start planning your visit to Cuba. We also cover the best places to visit in Cuba, where to stay and where to eat in Havana and Vinales.
Another question is can you really do Cuba in a week? Well, you can, but less is more. That is why we have recommended Havana and Vinales – a city and country experience.
Where should we stay in Cuba?
For information on where to stay in Cuba, our article will assist you in planning your Cuba holiday read here
Another question we get asked all the time:  "is it safe to travel to Cuba?"  From spending 1 month travelling around Cuba we can say it is a safe destination, not once did we feel insecure. The people are lovely and incredibly helpful. Even when our bus broke down on the way to Bayamo, the locals on board who were also heading that way, took us under their wings, arranged a private taxi for all of us to go to Bayamo and another taxi to take us to our accommodation at 8 pm at night.
How many days in Cuba is enough?
Do you want to see all of Cuba or do you want to see the major towns?
Our month-long journey took us to:
Havana
Cienfuegos
Trinidad
Santa Clara
Camaguey
Bayamo
Santiago de Cuba
Vinales
Santiago Cuba was one of the highlights, if you are thinking of visiting Santiago you will need longer than just one week when planning your Cuba itinerary.
How much money do you need for a week in Cuba?
This depends on the type of accommodation that you want to stay in, how many places you want to visit, transport, activities and meals etc.
On average if you are a couple and on a budget we would recommend between USD60 – 80 (our accommodation in Casa Particulares we averaged around USD30 per night).
For mid-range travel for a couple between USD80 – 100 per couple per night
For luxury travel USD100+ depending on where you are staying.
You can save money if you use local currency (not the tourist currency) and eat in very local cafes and restaurants.
Is it worth going to Cuba for a week?
Yes, of course. You can either do Havana for a week or combine it with Havana and Vinales or Trinidad. If you fly into another airport instead of Havana you have the opportunity of seeing a different part of the country.
What can you do in Cuba for 5 days?
If we only had 5 days we would just concentrate on Havana. There is so much to see and experience you certainly don't want to rush it.
You Will Require A Cuban Tourist Card – Pink of Green?
If you are travelling from the USA and wish to enter Cuba you will have to apply for a Pink Tourist Card here.
If you are travelling from any other country you will need to apply for a Green Tourist Card here.
Research Research Research
Our top tip is to research, research and research before you go.  This is one destination where we would recommend that you take a hard copy travel guide on Cuba.  The internet is still not widely available and most of the time you will be sitting in parks, open to all types of weather, just trying to log in.
What Travel Guide Should I Take to Cuba?
We highly recommend the Lonely Planet Travel Guide to Cuba.
This post may contain affiliate links. Please see our disclosure for more information. As an Amazon Associate, we earn from qualifying purchases (if applicable).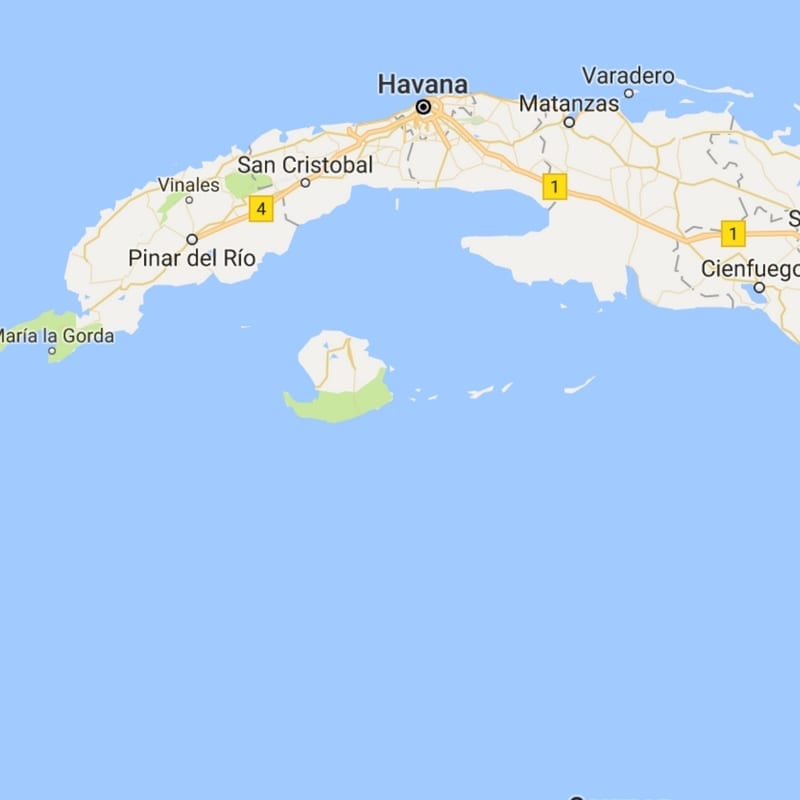 How long is Cuba?
Cuba is 1,250 km in length and at its widest point 191km.
1 Week in Cuba – Havana and Vinales
Did you know…
You can now take our article with you after you have downloaded it, this gives you the option to walk with our article offline, which is perfect in Cuba where the WiFi can be an issue. For more information click here.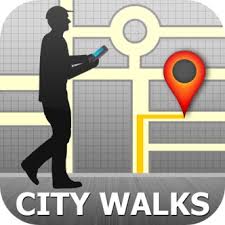 Spending one week in Havana and Vinales will certainly give you a taste of city and country life. Don't rush either of them that is why we are suggesting one week covering both.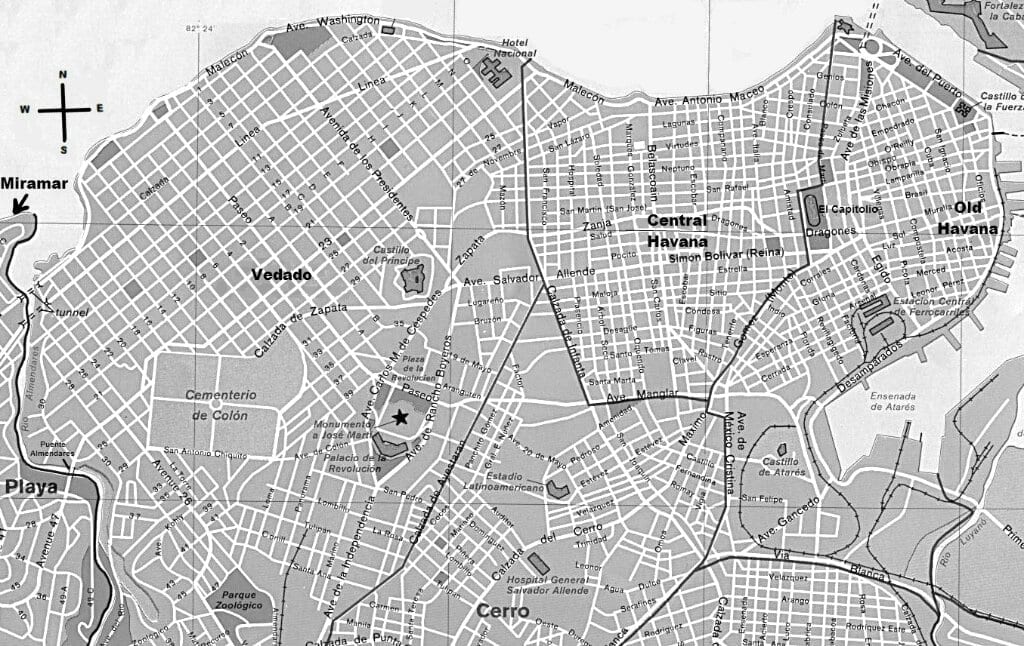 Cheapest Flights to Cuba
We found it was cheaper to fly to Cuba from Mexico, and we flew with Interjet from Cancun.
 On arrival at Havana Airport
When changing your  Mexican Pesos, British Pounds, Euros or Canadian Dollars at the Airport you may experience quite a queue.  These four currencies are the easiest ones to bring into Cuba.  US Dollars carry a 10% tax on them whilst all currencies carry a 3% tax when changing.
It is quite easy to change your currency at a Cadeca (money changer) your accommodation hosts usually know the closest one to you.  Check with your accommodation hosts first as they may change your currency for you.  Hotels normally have currency exchange services.
Getting from the Airport to Your Accommodation
Our Airbnb/Casa Particulares hosts arranged a taxi service for us, this is the easiest way to arrive at your destination. There is an information desk at the Arrivals Hall on Level 2 check with them for an approximate price for your journey to Havana if you are going to use a local taxi.  It takes about 30 minutes to get to downtown Cuba which can cost anywhere between USD30 – USD40  (CUC30 – CUC40).
Our Recommended Cuba Itinerary in 1 week – 7 nights/8 days
Day One
Arrival in Havana and check into your accommodation. Explore your neighbourhood.
Day Seven
Havana
Day Eight
Depart Havana
So there you have a recommended week in Cuba itinerary.  Let's now share with you our tips on things to do in Cuba.
Day Two – Places To Visit in Havana Cuba
We stayed in the Vedado area and walked into Old Havana via the Hotel Nacional and Central Havana. Vedado is a lot less touristy than Old Havana and positioned well for being able to walk everywhere. Vedado has some of the most beautiful architecture in Havana.  Old colonial mansions have been restored to their former glory and others that are crumbling and falling down crying out to be renovated and given a new lease of life.  There are long leafy boulevards leading down to the Malecon, with cafes and restaurants in the most unlikely places.  To walk this area gives you a feel of what Havana was like in its heyday.  Don't rush it.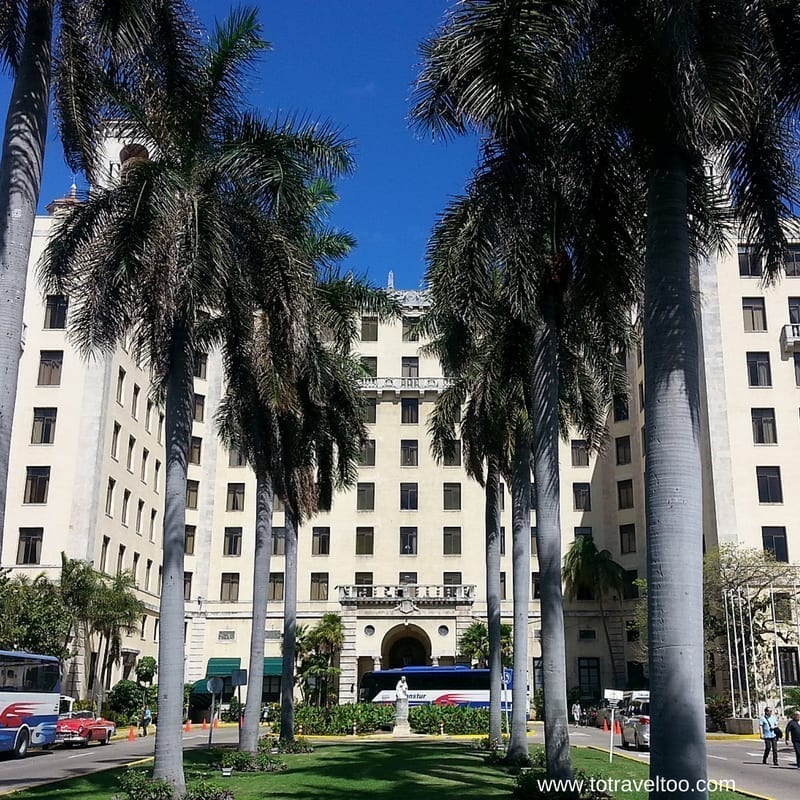 A visit to Havana's Hotel Nacional should be on your 'what to do in Cuba' list.  The Hotel Nacional is Havana's 5-star luxury hotel with history and stunning views over the Malecon in the Vedado area. When you arrive at the front entrance of the hotel and check around the doors you can still see bullet holes from the battle on October 2, 1933, known as the Battle of the Hotel Nacional.  The battle took place between the non-commissioned officers and other ranks of the Cuban army who supported Batista and the Cuban army.
In December 1946 the Mafia held their Havana Conference there.  If you have seen The Godfather II Movie, the Havana Conference was reenacted in one of its scenes.
Nat King Cole was due to sing in the Hotel Nacional in 1956, but because he was black he was turned away.  Many famous people have stayed in the hotel over the years including the Duke and Duchess of Windsor, Jimmy Carter, Ernest Hemingway, Frank Sinatra and Winston Churchill to name a few.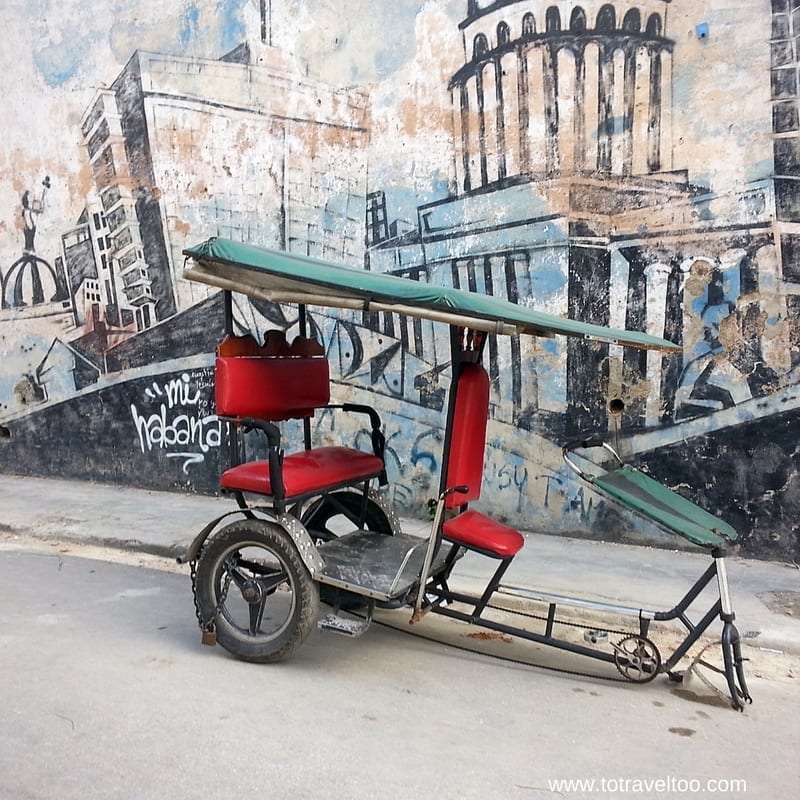 Central Havana is a photographer's dream for those location shots you see everywhere of Havana.  Dusty dirty streets, crumbling old buildings, washing hanging outside, classic cars and kids playing in the street whilst adults are chatting, drinking or smoking pungent cigars keeping an eye on them.
We walked through Central Havana three times and still did not have time to wander down all the back streets.  We felt that we were in an old 50's film set and we were the extras, (unpaid of course).
Here are some of the 'must-sees':
Cathedral de San Cristobal Havana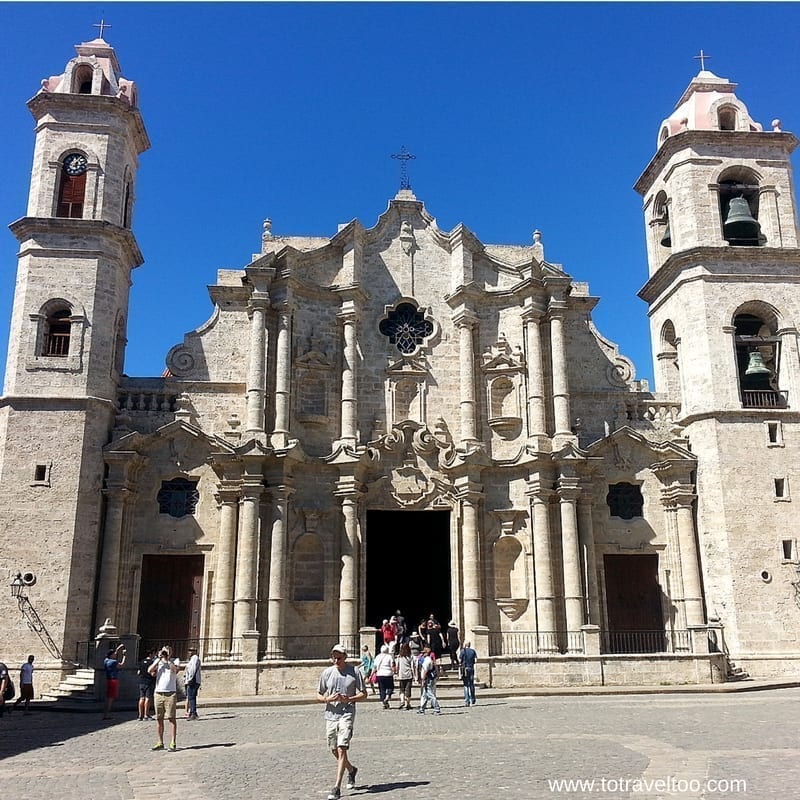 The stunning Italian Baroque Cathedral was completed in 1787 by  Francesco Borromini, an Italian architect.
The Cathedral faces the busy touristy square – Plaza de la Cathedral.  The front doors are impressive as you enter but take note of the two towers outside. Are they equal in size?
Apparently, Christoper Columbus's remains were brought to the church and housed there until 1898 when they were moved to Seville's Cathedral in Spain.
Plaza de Armas is one of the oldest 4 plazas in Havana dating back to 1520.  There are is a lot to see especially museums in the Plaza:
Plaza Vieja also was known as Old Square and was originally called Plaza Nueva where bullfights, and executions took place as well as processions and celebrations.  You can enjoy an artisanal beer at La Factoria whilst enjoying the local music in the Plaza.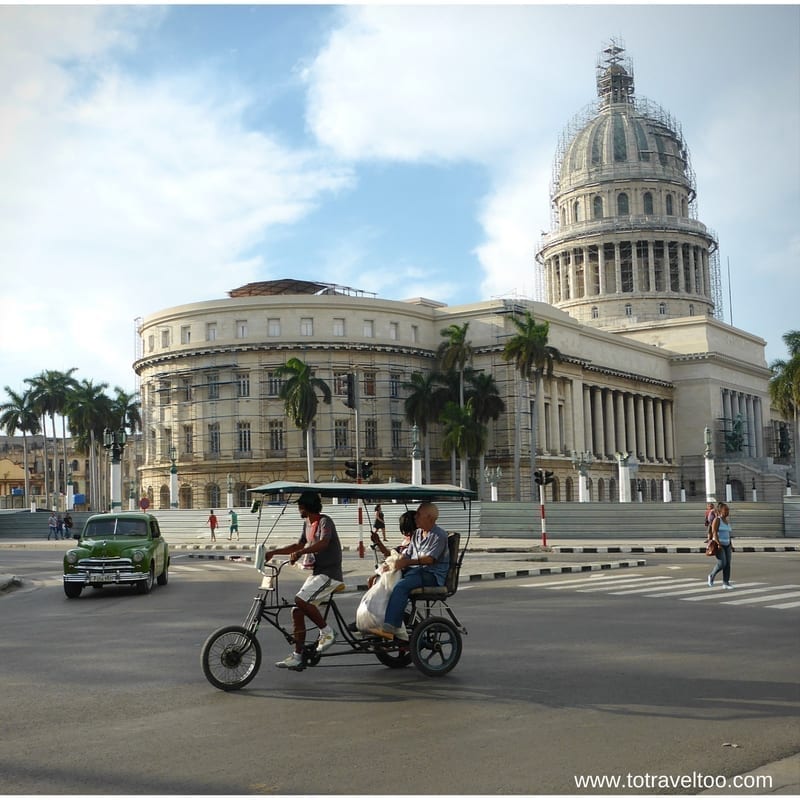 The Capitol Building reminds us of Washington's Capitol building but in fact, it is modelled on Paris's Pantheon. It was the seat of Cuba's Congress up until 1959 when it became the Cuban Academy of Sciences and the National Library of Science and Technology till 2013.  As of 2017, it was still under reconstruction with a completion date of 2018 to be the home of the National Assembly of Cuba.
Ernest Hemingway's Two Famous Bars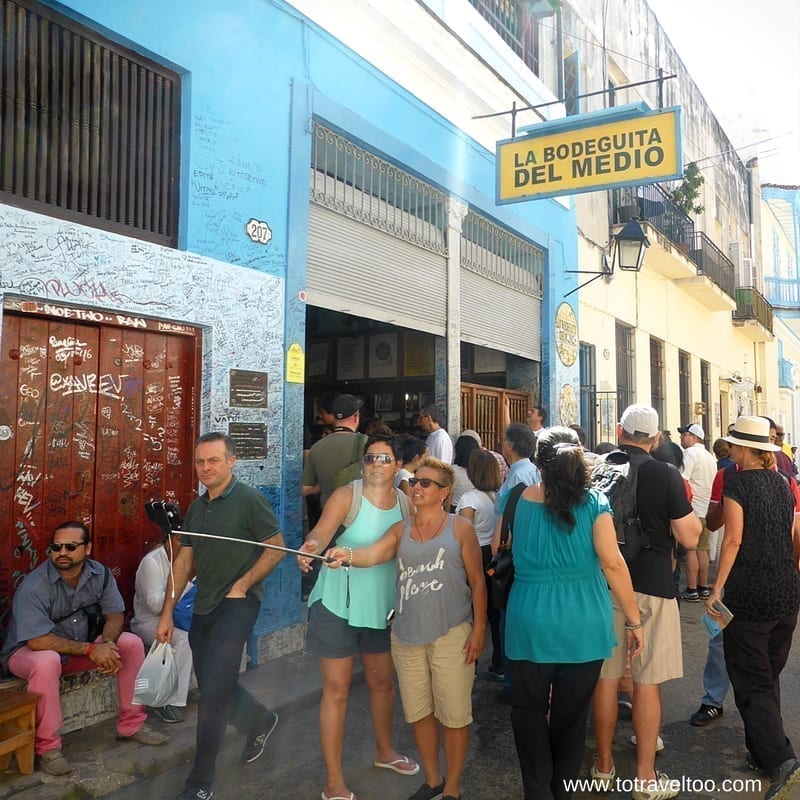 La Bodeguita del Medio at Empedrado #207 is one of Havana's most popular bars.  The mojitos are ok but very expensive, you can get better mojitos elsewhere.  At times it is very hard to even get to the bar!
A famous saying of Hemingway is "my mojito in La Bodeguita and my daiquiri in El Floridita".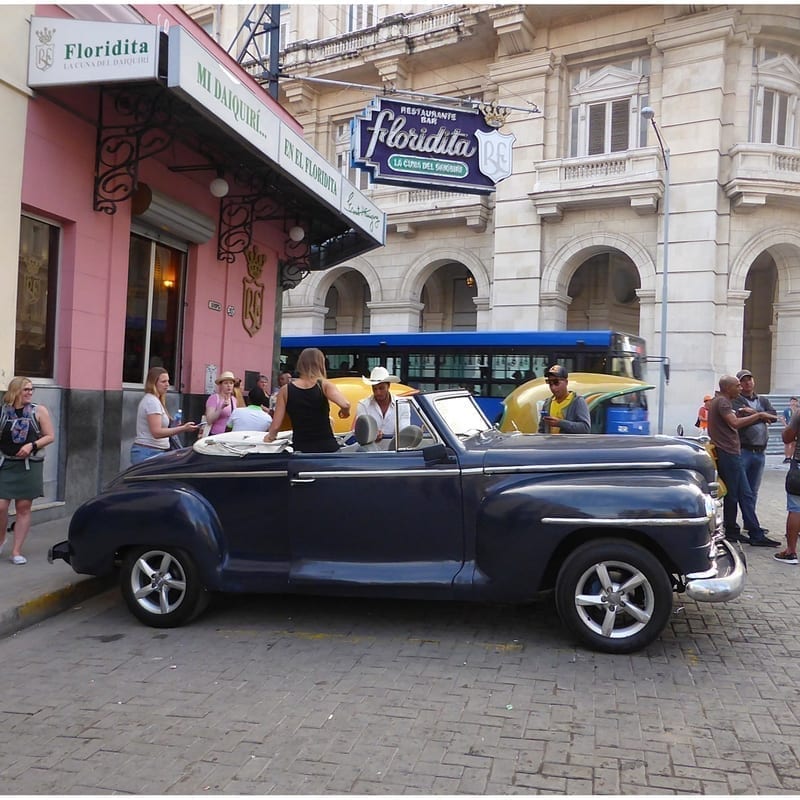 El Floridita at Obispo #557 is another one of Hemingway's haunts.  We attempted twice to squeeze in but it was just too packed.  Hopefully, you will have better luck than us.
The Malecon stretches from 8km from the harbour at Old Havana to Vedado. Sunsets are incredible from here at night!
El Morro Castle sits proudly at the entrance to the bay of Havana.  Construction was completed in 1630 and it was used to protect the city from attack.  Opposite El Morro is La Punta Castle.  An iron chain would be raised between the two forts if an attack was imminent preventing ships from entering the bay.  Today you can visit the Fort's museum for a small fee.  There are great views to be had over Havana.
Calle Mercaderes (Merchant Street) is a busy touristy cobblestoned street in Old Havana that has been restored by the city since 1980.  Today it houses cafes, hotels, boutique stores and museums.  It is definitely worth a visit.
Revolution Square is the site of the major political and social events held in Cuba, it is also the seat of justice.
Classic Car Ride
Holidays in Cuba should include a Classic Car Ride around Old Havana.  Make sure you opt for an open-top ride!  You will feel like royalty!  We negotiated our ride for 45 minutes from outside the Melia Cobiha Hotel at Avenida Paseo entre Calles y 3ra, Vedado dropping us off in Old Havana.
Day Four Vinales
How to get to Vinales
We travelled by Viazul Bus from Havana.  Our Airbnb host purchased the tickets for us for a handling fee of CUC10.  It is worth it.  The Viazul Bus Station is always busy and queues are the norm when purchasing tickets.  The cost for a return ticket CUC24 per person.  The journey takes about 3.5 hours each way and the bus drops you off right in the middle of Vinales outside the main church in the square.  If your accommodation is close by it is easy to walk, our Airbnb host picked us up in a small tractor and trailer.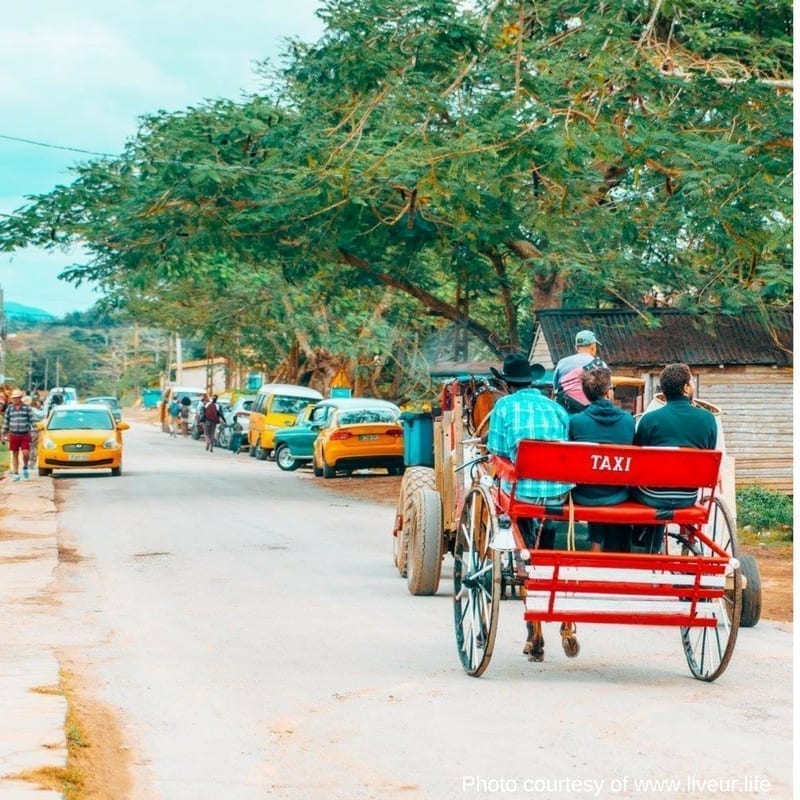 You can do a day trip where you can enjoy a horseback ride through the coffee and tobacco plantations and enjoy lunch at Finca el Paraiso.  The horse riding through the tobacco plantations was an incredible tour, the scenery is stunning and you can experience the sweet aromas of the tobacco fields.  A little bit different to our horse riding at sunset in the Andes around Mendoza Argentina lots of dust to experience and not much vegetation. You can book this at local agents in Havana.
We would recommend staying 2 nights in Vinales if you only have one week in Cuba. Vinales was definitely one of our favourite places in Cuba.  The landscape with impressive mountains, lush green valleys, stunning sunsets over the mountains and the opportunity to go horseriding through the tobacco fields early in the morning.  The town can be very busy with tourists, which can be a bit of a downfall, especially at the peak travel season during December and May.
Day Five – What to see in Vinales
There are many operators running the Horse Riding Tour.  Check with your accommodation hosts who are the best companies to go with.  Our hosts organized our tour for us.
Book your tour here
It was an early start at 7.30am when the Tour Leader walked to our accommodation, collected us and we walked to where the horses were tethered.  There was just the two of us on the tour, nothing better than your own private tour.  We noted with other tours there were larger groups. The horses looked well cared for and happy, which is important for us as we have seen some tours (not here in Vinales) where the horses were not treated well.
The ride takes you through small villages, down paths through the lush green tobacco fields until you reach the cave.  A guide was there waiting for us and we headed down into the cave.  Luckily we had torches, it was cool and damp and it could be a little slippery in some areas, but it was worth it.
By now we needed a caffeine hit, lucky this was our next stop.  After a good explanation on the local coffee grown in the area, we got to have our 'caffeine hit' and a cake just to get us through the next hour or so.
Riding through more tobacco fields we arrived at our final destination.  We had to wait about 20 minutes for the group before us to finish and then we had a private tour of the tobacco shed and a chance to roll our own cigar.  You can purchase cigars here if you would like, these are naturally rolled using natural ingredients and are a lot less expensive than shop-bought ones.
We arrived back in Vinales around 12.  Cost for the tour is CUC25.00 per person.
For CUC 30 per person which covers the transport only to Cayo Jutias, one of the popular beaches reachable from Vinales.  Although the estimated ride was 1 hour it took us longer because of the condition of the roads.
Once there you can hire sun lounges for CUC 3 each, enjoy a cold beer or cocktail and lunch before you head back into Vinales.  It is a beautiful area with silvery sands and turquoise blue water.  You can rent snorkels and canoes and go diving if time and weather permits.
Day Six
Bus from Vinales to Havana with Viazul Buses USD12.00 per person
Depart 08.00 Arrive 11.20
Depart 14.00 Arrive 17.30
Day Seven/Eight – Depart Havana
Our guide on accommodation in Cuba
You can read our guide here on accommodation in Cuba:
Not only do I cover Havana and Vinales I also cover Cienfuegos, Santa Clara, Bayamo, Trinidad, Santiago de Cuba and Camaguey.
Airbnb or Casa Particulares in Cuba
Airbnb has many properties to choose from.  You can get cheap vacations to Cuba if you consider Casa Particulares or Airbnb properties
By booking  Casa Particulares the money is going back to the Cubans.
To Travel Too Tip
If you book a Casa Particulares (not Airbnb) it is recommended to confirm the booking at least 24 hours in advance.  There have been instances (because you have not paid upfront) that they will let the room out to the first person who turns up on the day.
Two of our favourite restaurants which we frequented quite a bit were:
La Cathedral – for a good value set breakfast, dinner and great mojitos (beware the jugs of Mojito!)
Address: Calle 8 entre Calzada y Quinta El Vedado La Habana
Venami Bar and Restaurant – for excellent pizzas and Italian food
Address: 435e/ Rey y Lamparilla Old Havana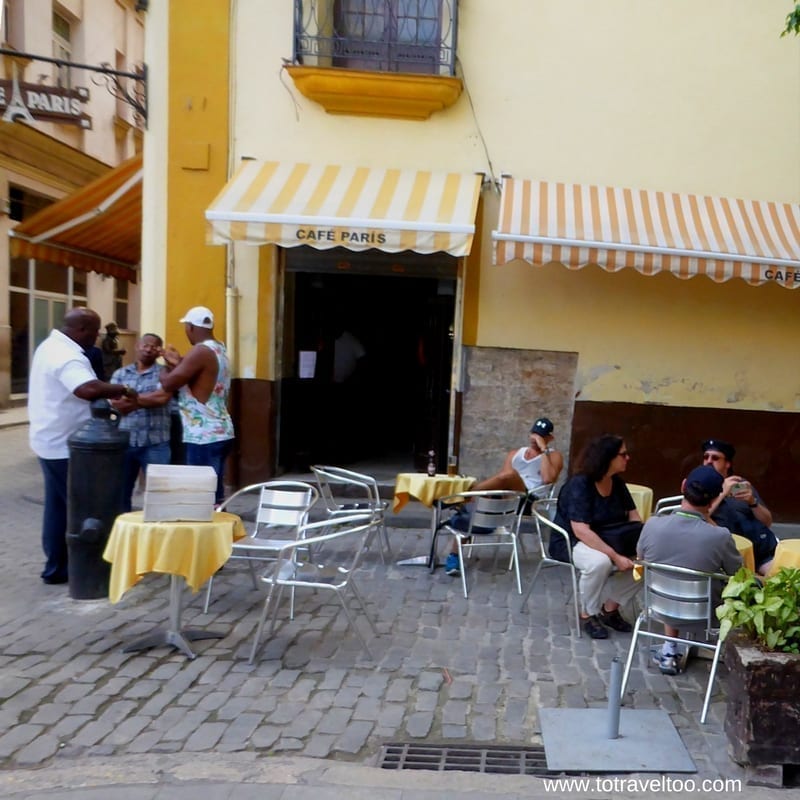 We also enjoyed beers at  La Factoria in Old Havana.
Make the most of your holidays and read the latest reviews from travellers like you from Tripadvisor.
Where to Eat in Vinales
We have to admit if we find a good restaurant we tend to keep going back and this is exactly what happened in Vinales.  We had read another blogger's account of where to eat and she did the same as us, kept going back. Lonely Planet also mentioned it was the top restaurant in Vinales, that recommendation is good enough for us also the queues outside each night.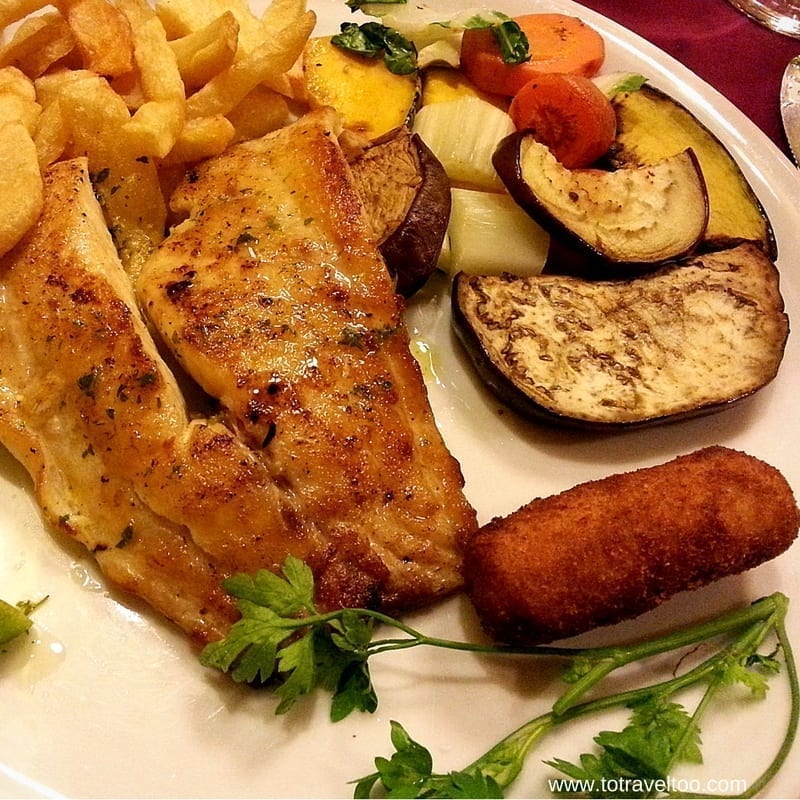 Address: 89 Salvador Casineros
Our Casa wanted to cook a local meal for us on our last night and we are glad that we did.  You can check with your hosts they may offer evening meals as well.
In central Vinales opposite the Church is this nondescript bar! You can access the WiFi here from the park opposite, the beer is cheap and they make great mojitos! Don't tell everyone.
Tripadvisor has a recommended top Top Restaurants in Vinales
WiFi
WiFi is limited in Cuba.  To be able to access WiFi in Cuba you will have to locate an ETECSA shop – you will see the queues before you actually see the shop.  Be prepared to wait a while, at one place we ended up queuing for an hour before we could purchase the card. There are touts trying to sell you WiFi cards but we would recommend avoiding purchasing from them.  Once you get the card and log on you will need to enter your login details and password that is shown on the card.  Wifi Hot Spots are mostly in parks.  If there are a lot of people on their mobile devices, it can take a while to log on, it does get easier if someone logs off.  Patience is the key here!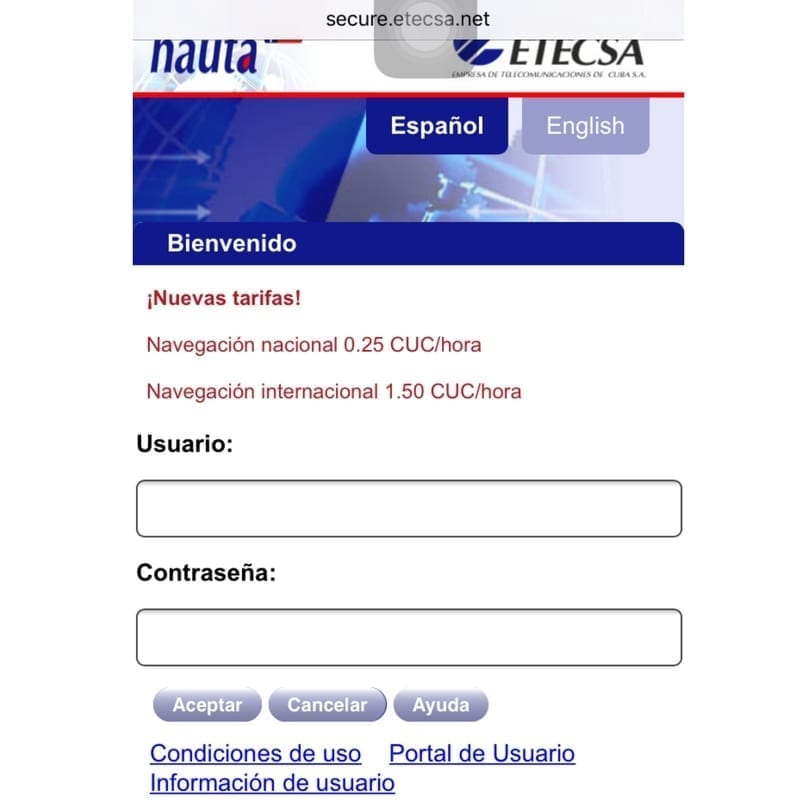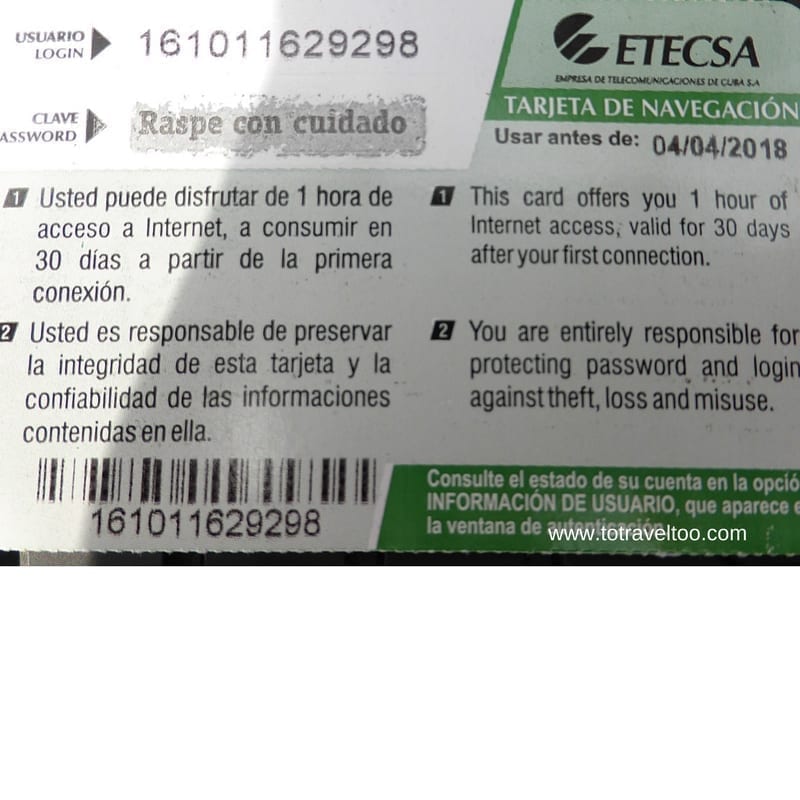 Currency and ATMs
Cuba is unique as it operates with 2 currencies: the CUC – Cuban Convertible Peso (tourist currency) and the CUP – Cuban Nacional Peso (CUP).
The CUP is also known as Moneda Nacional and it is the currency used by the locals, beware it does fluctuate.  When we arrived in February 2017 it was CUP 25 to USD1.  It was a little daunting at first until we got our head around it.  Some of the local food shops would only deal in CUP.  By using CUP we could bring our breakfast costs down to 1USD – one ham sandwich with a coffee or a small pastry with a coffee.
Note denominations for the CUP: 1, 3, 5, 10, 20, 50, 100 pesos
Coin denominations for the CUP: 1, 5, 20.
To Travel Too Tip for CUP
You won't be able to change CUP back to CUC or other currencies at the airport.  Our best advice is to spend it before you leave.
The CUC is the tourist currency which can be used in restaurants, bars, taxis and accommodation. You can change it back at the airport, but we would recommend either using it all up and leaving just enough for your taxi fare or changing it at a Cadeca before you head to the airport.
Note denominations for the CUC is 1, 3, 5, 10, 20, 50, 100 CUC
How much money should I bring to Cuba?
We get this question a lot.  If you are an American you need to bring enough cash (not USD if you can help it) to cover all your meals, accommodation and incidentals in Cuba.  Credit Cards and debit cards linked to a US Bank are not accepted.
For non-Americans, we would still recommend bringing enough cash to cover all your costs just in case your credit card is not accepted.
If you can use an ATM expect a service fee of 10%.
To Travel Too Tip
If you book Airbnb properties before you travel, the accommodation must be prepaid.  This lessens the amount of cash you have to carry on you.
List of ATMs in Havana:
ATMs in Vinales
Our latest information is that the 2 ATMs in Vinales are unreliable.
Weather in Cuba
June is the wettest and hottest month in Cuba whilst January is the coldest.  The rest of the year Cuba enjoys a temperate climate.  From June to November the Caribbean region experiences hurricanes which includes Cuba.
Flights to and From Cuba
Flight Deals
Find the cheapest flights with Skyscanner who then directs you to the airline's website with no extra fees to pay.
Travel Insurance
World Nomads offers simple and flexible travel insurance. Buy at home or while travelling and claim online from anywhere in the world.
What we don't recommend to do in Cuba
We would not consider hiring a car to drive through Cuba.  The cars and roads are not up to standard. We chatted with a couple of distressed travellers whose car had broken down and they were having major issues with the rental car company to have it repaired.  Although they were fluent in Spanish, they were still having issues with the language and timely responses from the company as they were stranded in one city with accommodation bookings to honour for the rest of their journey.
If you have more time available on your Cuba holiday here are our top tips on where to go in Cuba:
Cienfuegos
Trinidad
Bayamo
Santa Clara
We have a To Travel Too Travel Shop with 800+ travel-related products that we personally use or that we have been recommended by other travel bloggers or travellers.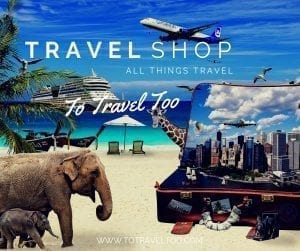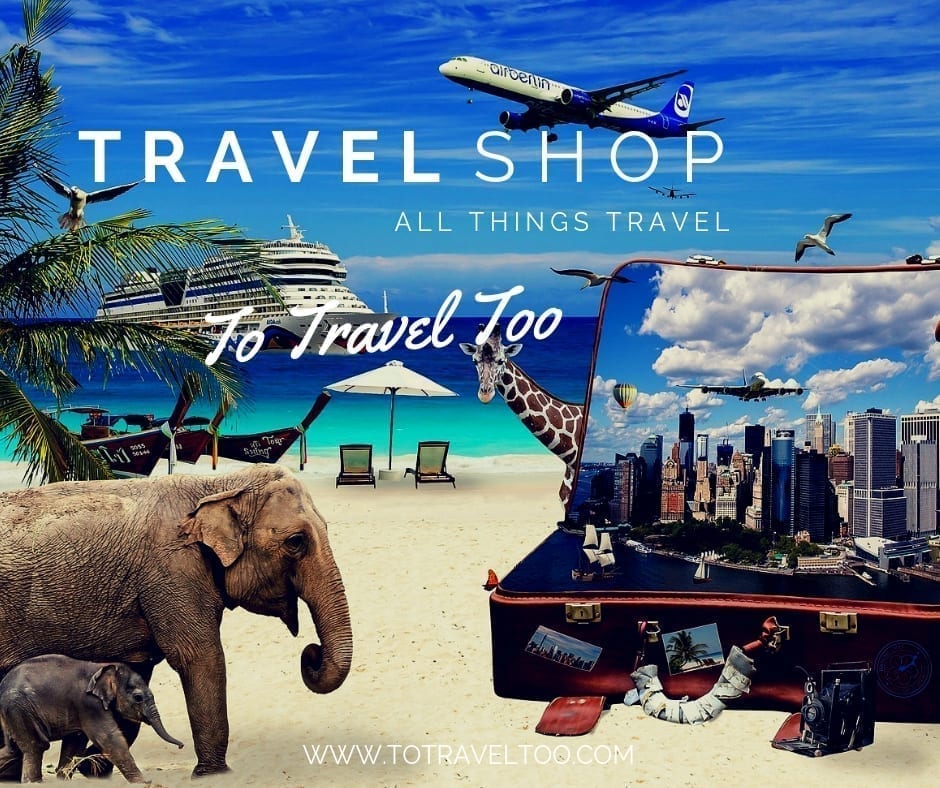 Pinterest
Are you on Pinterest? We are at To Travel Too and we have many travel-related boards check us out at Pinterest.  If you enjoyed our article why not pin it to your board?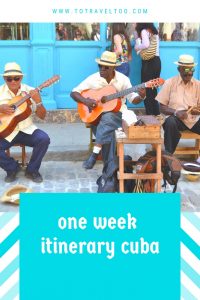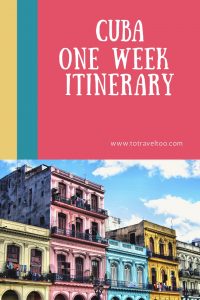 In conclusion, Cuba offers an incredible array of experiences and sights to explore in just one week. From the vibrant streets of Havana to the stunning beaches of Varadero, this itinerary provides a well-rounded introduction to the country's rich culture, history, and natural beauty. Whether you're strolling through colonial plazas, dancing salsa till dawn, or diving into crystal-clear waters, each day in Cuba brings unforgettable moments. By following this carefully curated itinerary, travellers can make the most out of their limited time while immersing themselves in the unique charm and warmth that defines this Caribbean gem.