Are you a lover of European Castles?
Europe holds an unmatched treasure of historical castles and forts across the continent. These castles distinguish themselves from the rest of the world in terms of their architectural uniqueness and aesthetic beauty. Every well-preserved castle in Europe has stories and wonders of times past to share.
In this article, we will walk you through some of the most beautiful castles in Europe that still amaze us today.
This post may contain affiliate links. Please see our disclosure for more information. As an Amazon Associate, we earn from qualifying purchases (if applicable). 
Neuschwanstein Castle, Germany 
Located in Germany and hosting over one million visitors every year, this nineteenth-century Romanesque castle is certainly one of the most beautiful castles in Europe. The castle was built by King Ludwig II as his reclusive spot and since has found fame as one of the most popular castles in Germany. The castle is surrounded by deep forests backed by sky-touching mountains. The castle is also believed to have inspired Walt Disney's Cinderella castle, as well as his Sleeping Beauty castle. 
If you are looking forward to visiting Neuschwanstein Castle, make sure to travel in the autumn, when you can enjoy the aesthetics of the season along with the breathtaking view of Neuschwanstein Castle. 
Germany is not short of castles and beautiful places to visit in fact you can visit 75 famous landmarks in Germany on your next visit.
You can visit Neuschwanstein Castle on a day trip from Munich. Click here for more information and availability.
Alcazar of Segovia, Spain
Another inspiration for Walt Disney's famous castles, the Alcazar of Segovia is also unmatched in its beauty. This stone fortification with its blue towers protruding out towards the sky amazes the observer. The castle sits on a rocky crag above the river Eresma near the Guadarrama mountain range. The natural beauty surrounding the castle adds to the aesthetic of the visit gracefully. 
Alcazar of Segovia was originally built as a fortress but was later expanded to a castle for royalty. Standing in the fully preserved form and filled with period interior and decorations, Alcazar of Segovia is indeed a historical marvel worth visiting.
You can take a guided walking tour of Segovia which includes entrance to the Alcazar - for more information and availability click here
Moszna Castle, Moszna, Poland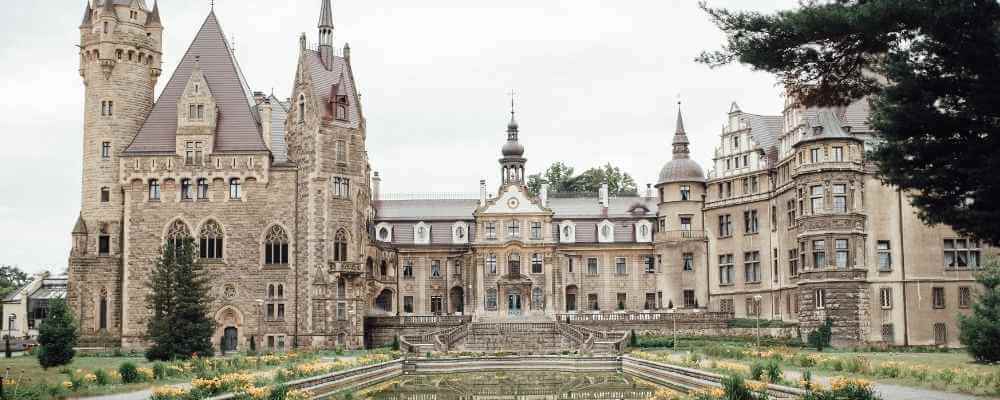 Located in Poland, Moszna Castle also finds its place as one of the most beautiful castles in Europe. Built in the Gothic style, while incorporating Romanesque aesthetics too, the castle is unmatched in Poland for its structural magnificence. The castle's architecture is quite complex, with 365 rooms and 99 turrets all puzzled together. The grounds consist of gardens, meadows, and a forest. 
The castle is open to visitors, as well as functioning as an event centre–the castle's chapel often serves as a concert hall and exhibition hall for artistic works. The prime time to visit the castle is afternoons when you can also bask in the sunny warmth of the neighbouring meadows. You will not get bored for even a minute while visiting this magnificent monument. Every angle of this castle is gorgeous to behold. 
You can visit Moszna Castle from Wroclaw on a private guided tour - for more information and availability click here
You can combine a visit to Moszna Castle and Plawniowice Castle on a private tour - for more information and availability click here
Fact: There are over 22 stunning castles in Poland that you should put on your travel to do list.
The Palace of Pena, Portugal 
The Palace of Pena, also known as the 'Park and National Palace of Pena", is located on Sao Pedro de Penaferrim in Sintra, on top of the Portuguese Riviera. The castle is an emblem of Portuguese culture and architectural style, blended with Romanesque traditions. 
The palace is also famously known as the 'jewel of Sintra' with its intriguing architecture and uniquely coloured walls attract thousands of tourists to the city each year. The architecture of the castle blends Gothic, Neo-Manueline, and New Romanesque, as well as Oriental styles including Neo-Moorish influences. A blend of all these unique structural influences is what makes this castle prominent among the famous castles of Europe. 
Save time and pre-purchase your entry ticket to Pena Palace and the Park of Pena here from Sintra
Edinburgh Castle, Scotland 
Located in the heart of Scotland, the Castle of Edinburgh is one of the most exciting historical monuments found in the West of Europe. A number of exciting tales are associated with the castle as it has a vast history of being a fortress, a prison cell, and later being converted into a royal residence. The castle is also known to be one of the oldest fortifications in the history of Europe. 
Parts of the castle are still operated by the military, but a wider part of the castle is open for the public to visit. You will be amazed by the structure as well as the location of the castle: it is built on a 700-million-year-old extinct volcano. The castle is especially a sign to visit during the nighttime where the nightlights intensify the charm and beauty of the castle. 
Skip the line entrance ticket and a guided tour of Edinburgh Castle - purchase here to save time
Wartburg Castle, Germany
Listed as the first German castle in the UNESCO World Heritage directory, Wartburg Castle finds its importance in the present world for both its historical significance and beauty. The castle is known to be the home of St. Elizabeth, as well as the place where Martin Luther translated the New Testament to German. The castle was originally built in the 12th century, but the present-day Wartburg Castle is largely composed of renovations done during the 19th century.
The castle is not only appealing for its architectural grandeur, but the interior of the castle is also a source of attraction for tourists. The walls of the castle are extensively decorated with period artwork, tapestries, oil paintings, and Renaissance-inspired furniture.
For more information on a walking tour that includes entrance to the castle click here
Hohenzollern Castle, Germany 
Another fairy-tale German castle that has captured the attention of the world for its architectural beauty is Hohenzollern Castle. There is a vast history of multiple dynasties and rulers sharing the beauty of the castle, including Prussian Kings and German Kaisers. Today, the castle impresses its visitors with its historical legacy evident in the architectural influences on the castle walls.
Sitting at a 900-meter (2953 ft) distance above the Swabian Jura, the castle mesmerizes its visitors with its tall towers and solid stone walls, in addition to providing a panoramic view of the plains. You will not regret visiting Hohenzollern Castle for a moment when every turn of the castle has its own story to tell. 
If you are staying in Frankfurt you can enjoy a full day tour to the castle - for more information click here
Chateau de Chambord, France 
Built by King Francis I, Chateau de Chambord is considered one of the largest Renaissance castles built in Loire Valley, France. Standing at an astounding height of 56 meters (184 ft), the castle is built following the French Renaissance, as well as Classical architectural styles. The castle took a whole twenty-eight years to build, including a number of alterations and changes added along the way. Upon its completion, the castle became an imposing symbol of French power and wealth.
Today, the castle still speaks of the grandeur and power of the French kings. Although most of the castle's original furniture is lost, the castle does not fail to capture the attention of the tourists with its beauty. 
From Paris you can now visit Chambord Castle on a day tour that includes wine tasting and lunch - for more information click here
Leeds Castle, England
Located in the south of England, Leeds Castle is dubbed as one of the 'loveliest castles in the world'. The original structure of the castle was built in 857 AD, when it served as a Nomadic stronghold. Later, the castle was expanded and fortified over time. It became a royal residence and later, a retreat for the influential families of England. 
The castle shows a blend of Norman and English architectural influences. However, today very little remains of the original structure of Leeds after more modern renovations. However, the castle remains a hotspot for aesthetic seekers. The castle holds a number of events including golf activities and weddings. Visitors can also enjoy an overnight stay and get to live their dream of living in a period dwelling. 
You can now combine a tour to Leeds Cathedral, Canterbury Cathedral, Dover and Greenwich from London - more information here
Check availability and book here
Alnwick Castle, Northumberland 
Alnwick Castle was originally built as a regular castle but was later converted to a fortress by Henry Percy, the 6th Earl of Northumberland. The castle was expanded, and several towers were added to strengthen the fortification. From its astounding entrance to its intricately constructed bridges, chapel, and hallways, the castle is a definite beauty that attracts thousands of visitors yearly. 
The castle is still used as a residential palace by the current Duke of Northumberland, but only a small portion of the castle is used by the family. A large portion of the castle is open for the public to marvel at this historical wonder. Not only does the castle amaze tourists with its structural beauty, but the interior decoration of the castle is filled with period artefacts that add to its charm.
You can take a self guided tour with audio guide - for more information click here
This concludes our list of some of the most beautiful castles in Europe. Let us know which castle enchanted you the most or which one you would like to visit. We are looking forward to hearing back from you in the comments section. 
Bio: Zunaira Ghazal
Zunaira is an architect and designer on paper, but a writer at heart. She's got a Bachelor in Architecture and a passion for travelling, both of which combine in her writings about timeworn castles and fortresses that have withstood the tests of time and stand proud to this day. You can check Zunaira out here.
Conclusion
We hope you have enjoyed Zunaira's article on the most beautiful castles in Europe. Do you have a favourite? We have not visited any of these and we look forward to visiting when we are next in Europe.
Whilst in Ireland we stayed at Kilkea Castle and Barberstown Castle, both a short distance from Dublin. If you want an Irish Castle experience why not pay them a visit?
Pinterest
Are you on Pinterest? We are at To Travel Too and we have many travel-related boards check us out at Pinterest.  If you enjoyed our article why not pin it to your board and read it later.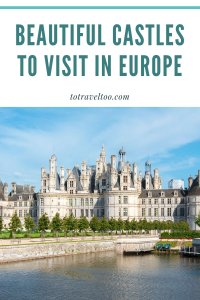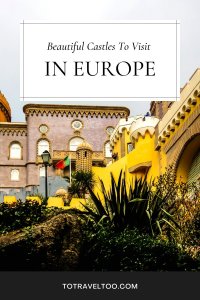 Travel Insurance
We recommend that you take out travel insurance as soon as you book flights, hotels and pay for deposits on tours and cruises.
To Travel Too Travel Shop
Travel smarter and safer with products from our To Travel Too Travel Shop.  If you are looking for the latest luggage, guidebooks or travel accessories we have you covered with over 800 travel products to choose from.