Guadalajara, the vibrant capital of Jalisco state in Mexico, is a city that captivates all who venture within its borders. With its rich history, colourful culture, and mouthwatering cuisine, Guadalajara offers an unparalleled experience for travellers seeking to immerse themselves in authentic Mexican traditions. From exploring the charming colonial architecture to indulging in traditional mariachi music and tequila tastings, this bustling metropolis has something for everyone. Whether you are a history buff, a food lover, or simply seeking an unforgettable adventure, here are several compelling reasons why Guadalajara should be at the top of your travel bucket list. Here are our reasons why your should visit Guadalajara when next in Mexico.
Guadalajara is Mexico's second-largest city and a little off the usual tourist route.  It had a reputation for being 'edgy' due to several issues with Mexico's drug cartel a few years ago. What we found was an impressive city that was putting its past behind and putting its best foot forward. We are so glad we visited Guadalajara!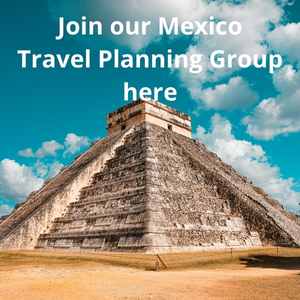 Guadalajara is well-known as a city of tequila, cowboys and mariachi. You must head to Plaza de Los Mariachis in the evening for the mariachi bands, it is quite an experience.
Need a place to stay? Guadalajara has a range of accommodation from Airbnb's to small boutique hotels and larger chain hotels.
Intrigued about how Tequila is made? 
You can book a 6-hour Tequila tasting tour that includes a visit to the famous Jose Cuervo Distillery.
Taste the tequilas of Mexico on a 6-hour tasting tour from Guadalajara. Explore Mexico's renowned tequila-producing region of Jalisco and stop for tequila tastings at one of the most famous tequila distilleries in the world, Jose Cuervo Distillery.
We found a colonial city of incredible architecture with lots to see and do. If you can you should plan to visit on a Sunday.  On Sundays join the locals in the morning on Avenidas Vallarta and Juarez where you can cycle, walk or dance down the middle of the road.  It is a time for families to enjoy some exercise together before they head back home for lunch. There is street theatre lining the streets and there is a vibrant buzz all around.
Our guide on 5 reasons to visit Guadalajara will assist you in planning your visit to one of Mexico's largest cities and the capital of Jalisco state.
This post may contain affiliate links. Please see our disclosure for more information. 
Guadalajara is the capital of Jalisco State and is located 536 km from Mexico City or 6.5 hours driving.
Guadalajara is made up of 3 towns – Guadalajara, Tlaquepaque and Zapopan. For great shopping and unique souvenirs head to Tlaquepaque.
Close by is the popular town for ex-pats of Ajijic on Lake Chapala.
Essential Information for Visitors to Guadalajara
Guadalajara Hotels
We stayed at the Hotel San Francisco Plaza on Degollado 267 close to the Degollado Theatre. The 3-star family-owned and run hotel was centrally located which enabled us to walk to all of the highlights of Guadalajara.

The hotel had an outdoor terrace and fountain in a colonial setting. We enjoyed breakfast and dinners at the Quijote Restaurant which served excellent local Mexican cuisine.  The rooms are spacious and very comfortable. We would definitely return!
Latest Guest Review: "The hotel is gorgeous. Colonial architecture is loaded with craftsmanship. Modern bathroom. Big sink and counter in the room. Courtyards, fountains."

Best Hotels in Guadalajara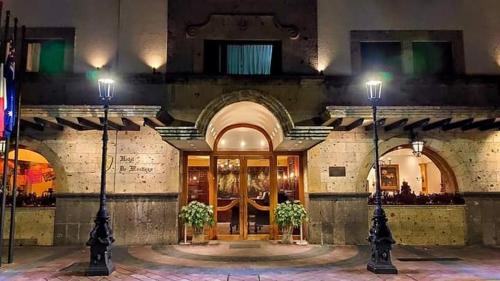 Hotel de Mendoza – 4-star hotel located on Calle Venustiano Carranza 16 Centro Historico that offers a gym, pool, hot tub and free WiFi. The hotel's La Forja Restaurant offers guests fine Mexican and international cuisine in a sophisticated atmosphere.
Latest guest review: The hotel is beautiful and the location is great! We walked most of the parts of the city from our hotel. The staff was very friendly. The room was fully cleaned every day. Balcony with a view to the court with pool and trees. Every day free bottles of water was a nice touch.

4-star Hotel Morales Historical & Colonial Downtown at Avenida Corona 243.  The hotel is located in the heart of downtown and offers guests a swimming pool and gym.
Latest guest review: Only five minutes to walk from the big cathedral of Guadalajara. My feeling at the old area was very safe and friendly. The old place in front of the cathedral was full of people, also in the late evening. The restaurants in the historical town of Guadalajara was also open and in a very clean constitution. The so beautiful and historical traditional hotel is a heart of cleanliness and hospitality. This fine house is like a museum. I just can say: if somebody is coming to this big and interesting city; then stay some nights in this marvellous house.

4-star Country Hotel & Suites at Calle Jorge Alvarez Del Castillo 1482 is located 15 minutes from downtown and offers guests a swimming pool and on-site restaurant.
Latest Guest Review: Everything was excellent; check-in, reception staff, friendly, customer-focused, great experience! Swimming pool, nice surrounding, room with very nice bathroom. The restaurant I used many times in my 3-day stay and quality and staff are amazing. Will definitely return here when back in Guadalajara. Compliments how well this hotel is managed, especially the focus on customer service from the staff!

Dickinson Guest House is located at Calle San Uriel 338 near the Expo area of Guadalajara in a gated community. It is a 3-star boutique hotel for up to 12 guests.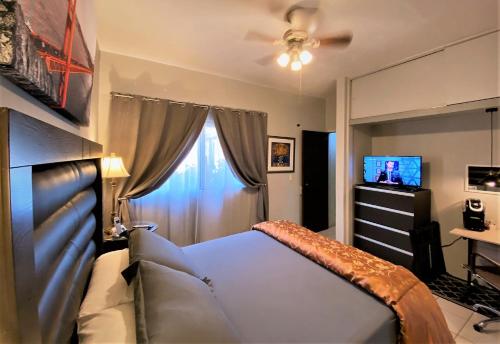 For accommodation outside of Guadalajara in Tlaquepaque 6 km away as an alternative, we can recommend La Villa del Ensueno.  You can read our review here.
Latest Guest Review: "Good location for central Tlaquepaque shopping and our room was a good size and quiet. The staff in the hotel were helpful and informative. A good breakfast was included and the options were varied."

Getting In Guadalajara
Guadalajara Airport (GDL) is located 16 km south of the city centre. It is serviced by international and domestic carriers.
Flight Deals
Find the cheapest flights with Skyscanner our 'go-to' when researching and booking flights around to Mexico.
There are buses and taxis available at the airport.
Read our article on How To Save Money For Travel here
Bus Services to Guadalajara
Mexico has excellent bus services. We travelled with ADO and Primera Plus throughout Mexico – they were comfortable, on time, safe and reliable.
For the latest schedules and prices click here.
Car Rental
Car rental is available at the Airport and Downtown. Click here for information.
Do you need an International Drivers Licence? You can obtain one here in minutes online.
Do you need a visa for Mexico?

Travel Insurance
World Nomads offers simple and flexible travel insurance. Buy at home or while traveling and claim online from anywhere in the world.
Things to do in Guadalajara
Our 5 reasons to visit Guadalajara include:
1.  Visit Guadalajara's Cathedral
The Roman Catholic Cathedral certainly has a history:
It was first constructed in 1541
On May 30, 1574, it caught fire as a result of neighbours firing shots into the air which fell onto the cathedral.
In February 1618 the renovated cathedral was completed.
In 1818 an earthquake caused the dome and the tower to collapse
In 1849 these had been reconstructed only to suffer another earthquake and rebuilt again in 1854
Earthquakes in 1932, 1957, 1979, 1985, 1995 and 2003 have caused the North Tower to tilt and more structural damage to the Tower
It is built in the Spanish Renaissance style
Address: Av. Fray Antonio Alcalde 10, Zona Centro, 44100 Guadalajara
2.  Car-Free Sunday in Guadalajara
Join the locals on the main east-west arterials Avenues of Vallarta and Juarez.  You can cycle, walk, and skate down the streets as street performers perform on either side of you from 7 am to 2 pm.
It has a great vibe and we would recommend that everyone try and plan to visit on a Sunday.
3.  Street Vibe and Shopping in Guadalajara
Head to Mercado San Juan de Dios for affordable leather goods.
This is the colonial home of the Conqueror Juan de Saldivar which dates back to 1589.  The colonial home was also used as the Headquarters of the Spanish Inquisition.  The alley where is it located is known as the Rincon del Diablo translated means the Devil's Nook.  Legend states that supernatural encounters and deaths have taken place in the home.
4.  Visit the Plazas of Guadalajara
Plaza Tapatia has many statues and interesting shops to view as you wander down its vast length where at the far end lies Instituto Cultural Cabanas.
The Instituto Cultural Cabanas was originally a hospice that provided care for invalids, handicapped people, old people and orphans at the beginning of the 19th century.  The chapel contains murals of the famous Jose Clemente Orozco. It was designated a UNESCO World Heritage Site in 1997.
In the North section of Plaza de Liberacion, you will find the statue dedicated to Don Miguel Hidalgo y Costill who signed the Mexican Declaration of Independence in the Governor's Office.
The Rotonda is a mausoleum containing the ashes of 98 men and women who were important to the city and who were born locally in the state of Jalisco.  The remains are of scientists, writers, artists and educators. The Rotonda was built in 1952.
Address: Av. Fray Antonio Alcalde 108, Zona Centro
The bronze sculpture commemorates the city's founders and was created by Rafael Zamarripa.
5.  Palacio de Gobierno
The Murals are by Jose Clemente Orozco.  The building has a section on the history of Jalisco.  The original building collapsed during an earthquake in 1750 and it was subsequently rebuilt in the baroque style.
It is located at 43 Corona street at the Historic Center.
What To Do in Guadalajara – Tours Available
Where to Eat in Guadalajara
Some of our top recommendations for where to eat in Guadalajara are:
I Latina – Inglaterra 3128 Col Vallarta for great fish tacos.
Restaurant Alcade – Avenida Mexico 2903 for great cerviche and vegetarian dishes.
In Tlaquepaque – Restaurant Casa Luna at Calle Independencia Centro San Pedro Tlaquepaque for great cocktails and chicken mole.
Alta Fibra – Calle Prisciliano Sanchez 370B for a local set lunch menu which is very busy and a favourite for locals. They also offer some great vegetarian food options.
For the best craft beer in Guadalajara head to  Patan Ale House at Calle Morelos 1281 Col Americana.
Related Reading: Top 11 Things to do in Oaxaca
Pinterest
Are you on Pinterest? We are at To Travel Too and we have many travel-related boards check us out at Pinterest.  If you enjoyed our article why not pin it to your board?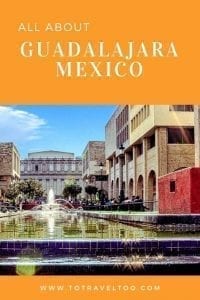 If you have any questions or would like some advice we would love to hear from you. You can reach us via our Facebook page or email us here.
We have travelled extensively through Mexico and have written an e-book on our top travel picks. You can purchase it here for only USD2.99
To Travel Too Travel Shop
Travel smarter and safer with products from our To Travel Too Travel Shop.  If you are looking for the latest luggage, guidebooks or travel accessories we have you covered with over 800 travel products to choose from.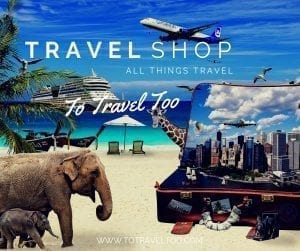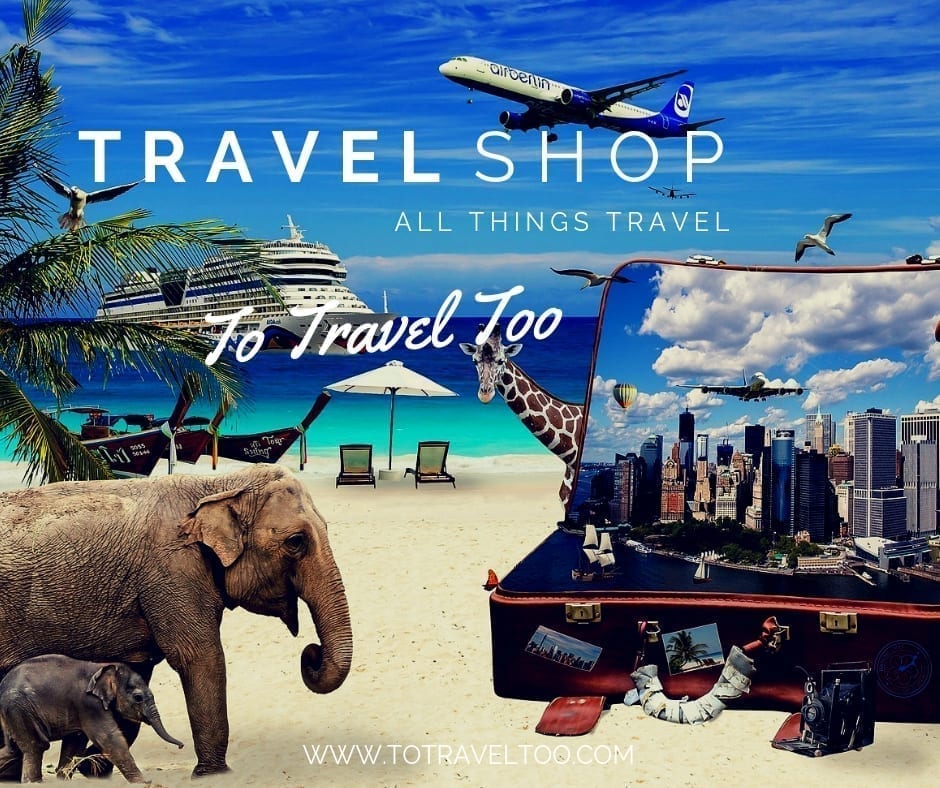 Why not take our article with you as you wander around, now you can, just click our City Walk banner below.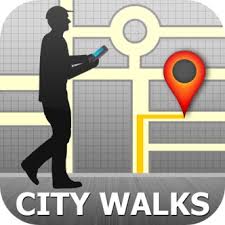 In conclusion, Guadalajara is a must-visit destination for travellers seeking a unique and culturally rich experience. From its vibrant art scene and historic architecture to its delicious cuisine and warm hospitality, there are endless reasons to explore this enchanting city. Whether you are interested in exploring the colourful neighbourhoods, immersing yourself in the local traditions, or simply enjoying the lively atmosphere of Guadalajara's bustling streets, this Mexican gem offers something for everyone. So pack your bags and get ready to discover all that Guadalajara has to offer – you won't be disappointed!