One thing's for sure: New Zealand packs a punch when it comes to natural beauty. Literally, everywhere you go in the Land of the Long White Cloud is laden with mind-blowing outdoor sights and attractions! From alpine peaks and glacial lakes to tropical rainforests and volcanic geysers, this country has it all.
However, there's one place in particular that stands out from the crowd in terms of its raw, majestic, and untouched landscapes:
Golden Bay New Zealand
Where is Golden Bay? Golden Bay is located right at the top of South Island, this diverse environment has it all. With golden sands, towering hills, lush rainforests, and crystal clear waters to enjoy, it's New Zealand at its absolute finest.
To reach Golden Bay you need to fly into Nelson Airport.  If you have time enjoy the best Nelson activities and attractions before or after your visit to Golden Bay.
Better still, there's a huge amount of things to do in Golden Bay! Want to find out about the unmissable local travel attractions in this remarkable part of the world? Keep reading to discover 10 essential things to do in Golden Bay, NZ.
1.  Do Something Adrenaline Fuelled in Golden Bay
Want to do something crazy while travelling around South Island? Well, Golden Bay's an ideal place to go. With climbing, caving, abseiling, and sky diving representing just a few of the activities on offer in the area, you're almost spoiled for choice as far as adrenaline-fuelled action goes.
Don't worry if none of those ideas hit the mark though. There's also horse-trekking, helicopter rides, gold hunting, and adventure flights, among many others, to think about doing in this general region as well. All told you're sure to find something to pacify your enthusiasm for fast-paced, heart-thumping Golden Bay activities!
2. Visit Farewell Spit in Golden Bay
Farewell Spit is a long, thin, and curved stretch of land that extends brilliantly out into the Tasman Sea. It's also the most northerly point of South Island and, at 34km in length, one of the longest natural spits of sand in the world!
More to the point, Farewell Spit's an unmissable place to visit in Golden Bay.
An important wetland and bird sanctuary, it's packed full of Kiwi wildlife to observe, as well as endless hiking trails to help you explore the area. Expect wonderful panoramic views wherever you look, wild windswept beaches, and the popular Farewell Spit Café that provides a perfect location to have lunch.
3.  Enjoy Wharariki Beach (one of the best beaches in Golden Bay)
If you've made the journey all the way up to Farewell Spit, then I highly encourage you to visit the inimitable Wharariki Beach before driving home! One of the most impressive stretches of sand I've ever been to, it's just 10-15 minutes in the car (followed by a short walk) up a gravel road from the main Farewell Spit car park.
It might feel like too much effort after your time exploring the spit. But, trust me, Wharariki Beach is well worth it! As stunning and untouched as it gets, soft rolling dunes lead down to the sea, fierce winds whip white sand across the bay, and, to top it all off, cute little seal pups frolic on the rocks with their families. Don't miss it!
4.  See the Te Waikoropupu Springs
Another worthy stop in this general neck of the woods are the Te Waikoropupu Springs (or Pupu Springs for short). This idyllic tourist attraction in Golden Bay is the largest freshwater spring in NZ and boasts some of the clearest spring water in the entire world! It's also of huge cultural importance to the local Maori, who see it as a "wahi tapu", or "sacred place".
So, as tempting as it is (especially on a hot day), you're not allowed to swim in these beautiful clear pools of water. You can, however, walk around the Pupu Springs on the boardwalk, gaze into their magnificent depths, and lose yourself the general sense of tranquillity here. A short drive from Takaka (more on this next), the springs make a lovely little stop-over on the way to (or back from) Farewell Spit.
5.  Spend Time in Takaka
Towns in New Zealand don't come much cooler, friendlier, or more laid-back than Takaka. This small, picturesque town with bohemian vibes sits at the heart of the Golden Bay area and is a major draw for travellers, climbers, hippies, and, from what I can tell, anyone else who loves the outdoors!
I've stayed in Takaka on multiple occasions in the past and loved every second. Not only does it provide easy access to Golden Bay's many primary attractions, but it's also surrounded by countless lesser-known (yet no less notable) things to see and do. There are swimming holes, walking trails, and hidden oases; rushing waterfalls and spectacular viewpoints. Throw in the quaint local stores, hip coffee shops and restaurants, regular music festivals and general good vibes in Takaka and you can't help but fall in love with it.
6.  Go Kayaking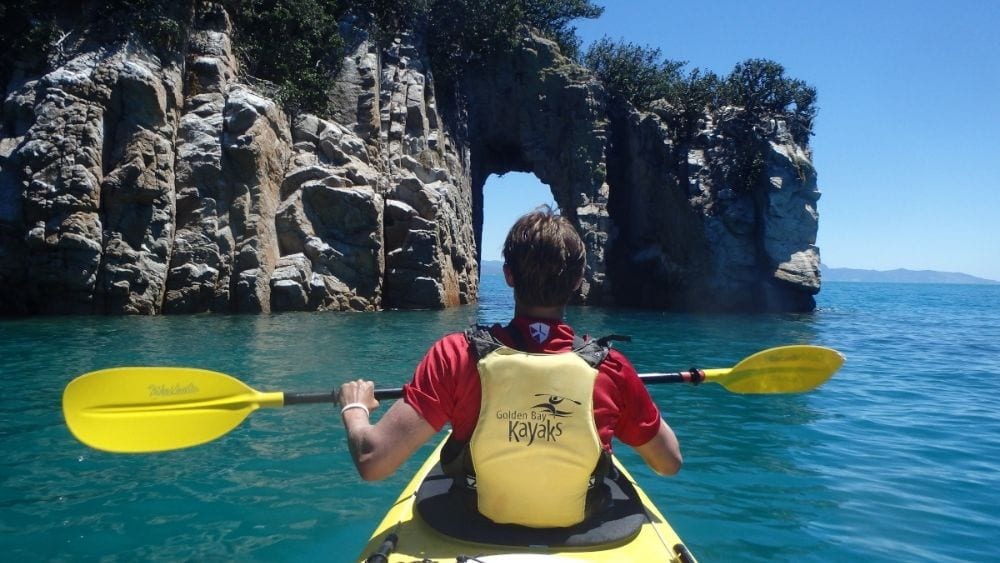 As you can imagine in a place called "Golden Bay", this part of New Zealand's renowned for its pristine stretches of golden sandy beach and wonderfully clear waters. It's a genuine paradise on earth. So, while you're here, it'd be rude not to rent a kayak and explore it all for yourself!
On a clear, sunny day, when the skies and seas are the bluest of blues, words don't do justice to how awesome it is to get out onto the water and paddle around for a few hours! There are secluded bays to visit, tiny islands to land on, and more natural beauty available than you can shake a stick at.
Head to Tata Bay, just 15 minutes in the car from Takaka, and speak to the guys at Golden Bay Kayaks. They'll sort you out with all the gear for reasonable prices and (after a safety briefing) send you on your way for an unforgettable afternoon.
7.  Try Your Hand at Rock Climbing
Love rock climbing or want to give it a try for the first time? Golden Bay's the perfect place to go. Takaka, in particular, is well-known for its climbing opportunities and offers quick and easy access to some of the best sport climbing lines in the country.
If you're an avid climber and looking for a cool place to base yourself in Takaka, then be sure to check out "Hangdog Campground". A favourite among the climbing (and general outdoor-loving) community here, you'll find fellow enthusiasts in an awesome, back-to-basics campsite that's just 10 minutes from the Paines Ford (described as one of the top crags in New Zealand).
8.  Do the Abel Tasman Coast Track Great Walk
New Zealand as a whole is something of a mecca for hikers. Left, right, and centre, the entire country's littered with trails! Big, small, technical, or basic, you're never far from one awesome hiking opportunity or another.
And Golden Bay's no exception! In fact, this general area's home to one of NZ's much-loved 10 "Great Walks": the Abel Tasman Coast Track.
If you fancy lacing up your boots and hitting the trail for 3 to 5 consecutive days, then this could be an ideal way to spend your time here. You do have to book your place (as well as your overnight hut accommodation) in advance, but with the logistics sorted, you can look forward to 60km of premier South Island scenery. The trail's well-beaten and signposted, making it accessible to almost anyone.
Try this Golden Bay Walk when you visit.
9.  Walk to Wainui Falls
Waterfalls in Golden Bay don't get much more impressive than Wainui Falls. Accessed via an easy (roughly 1.5 hour) return walk past the Wainui River and through native Kiwi bush, they're the largest falls in this part of the country.
Unfortunately, this is one of the few things to do in Golden Bay that I haven't been lucky enough to experience first-hand! However, by all accounts, the Wainui Falls will not disappoint. Expect another wild and untouched oasis, with roaring waters cascading over solid, millennia-old granite. To get here, drive 20km northeast from Takaka to the Wainui Bay carpark, where you'll see the trailhead.
10. Visit Harwoods Hole
As I noted in the intro, New Zealand (and Golden Bay, in particular) has this uncanny habit of confronting you with unbelievable natural attractions.
Take the innocuously named "Harwoods Hole".
This isn't any ordinary "hole" in the ground. At 176m deep, this is the deepest vertical shaft in the entire country! And, in typical New Zealand fashion, it's just there for you to enjoy. Accessed via the short Harwoods Hole Track (which is an exquisite walk in its own right), there's no fanfare or fuss made about it- nor any sort of barrier to stop you from falling in…
Harwoods Hole is a genuine sight to behold. However, don't get too close to the edge. You can't see to the bottom anyway, so it's not worth risking your life over!
Remember These Things to Do In Golden Bay, New Zealand
There you have it then: 10 unmissable things to do in Golden Bay, New Zealand.
As you can tell, this beautiful place is downright saturated with awesome sights and attractions! You could easily spend a week or two going from one activity to the next, immersing yourself in the natural beauty and enjoying the incomparable atmosphere found in this tucked-away part of New Zealand.
In fact, the only downside of having so much on offer is figuring out how to spend your time here! With so much on offer and limited time at your disposal, deciding upon a Golden Bay itinerary is no mean feat. Know the struggle? Well, I hope the ideas in this post will make the planning process that little bit simpler!
Author: Danny Newman
Bio: Danny Newman is currently writing and travelling his way around the world in a bid to figure out exactly what he's doing with his life. He'd love you to follow along with his journey over at What's Danny Doing.
Social Media: Facebook
General Travel Information for Golden Bay New Zealand
This post may contain affiliate links. Please see our disclosure for more information. As an Amazon Associate, we earn from qualifying purchases (if applicable). 
Frequently Asked Questions:
What is the closest major airport to Golden Bay?
The closest major airport with connections from Auckland, Wellington and Christchurch is Nelson Airport.
How far is Nelson Airport from Golden Bay?
The distance is 78.9 km.
Does Takaka have an airport?
Takaka has a small regional airport.  You can fly direct to Wellington from Takaka or take a scenic flight to Farewell Spit, Abel Tasman and Kahurangi National Park.
Golden Bay Air has scheduled flights to Wellington that operates 4 times daily during Summer and 1 – 2 flights per day during winter.  The flight time is 50 minutes.
Is there car rental available at Takaka Airport?
You can hire a car from Takaka Airport.
Is there car rental available at Nelson Airport?
You can hire a car from Nelson Airport.
Related Reading
What to do in Queenstown New Zealand
Golden Bay New Zealand Map
Latest Flight Deals to New Zealand
Find the cheapest flights with Skyscanner – our 'go-to' when we are researching and booking our flights.
More Things to Do in Golden Bay
Golden Bay Accommodation
For the latest accommodation deals for your specific dates of travel click our booking.com partner link below.
Travel Insurance
We always recommend travel insurance when you travel. Check out the latest policy deals here. The best time to take out travel insurance is when you book flights and hotels and pay deposits for tours and cruises.
Pinterest
Are you on Pinterest? We are at To Travel Too and we have many travel-related boards check us out at Pinterest.  If you enjoyed our article why not pin it to your board?
Conclusion
Got any questions or thoughts on what to do in Golden Bay? Drop a comment below to let us know and we'll do our best to help.
We thank Danny for a great article on what to do in Golden Bay in the South Island of New Zealand. After reading this article we are keen to visit, aren't you?
Need some new luggage, travel clothes, books, camping gear?
To Travel Too Travel Shop
Travel smarter and safer with products from our To Travel Too Travel Shop.  If you are looking for the latest luggage, guidebooks or travel accessories we have you covered with over 800 travel products to choose from.