Are you planning to visit Vietnam and wondering where to travel to?
Vietnam is a beautiful country, home to many wonders full of natural beauty and cultural significance. It makes for a wonderful vacation destination for those who are seeking to explore the world and other cultures. There are many gorgeous natural vistas within the country, alongside numerous man-made wonders. Whether you are sticking close to the country's capital of Hanoi or itching to travel the countryside, if you spend your holiday in Vietnam, these are just a few of the unique places to see in Vietnam.
Our guest writer is Catalin Geangos the Founder and Editor of TravelTrained. Catalin has shared with us more unique places to see in Vietnam that we were not aware of. We spent three months travelling from North to South and during that time we realised we still had much more to see and do in this unique Asian country.
This post may contain affiliate links. Please see our disclosure for more information. 
Air Asia, the budget carrier, has flights to Hanoi, Ho Chi Minh City, Danang and Nha Trang from major Asian cities.
Join our Vietnam Travel Planning Facebook Group here:


Amazing Places To Visit in Vietnam
1.  Duong Lam Village – 1 hour from Hanoi
This rural village offers a glimpse into life in Vietnam as it existed many decades ago, with the villagers still living and practicing the old ways of life that predate the more modern settings of the country. Ancient architecture, authentic food, and a traditional atmosphere are all on offer when visiting this idyllic window into the past.
You can even eat with one of the families who live in the village to take part more closely in the ancient traditions this village is steeped in. Temples dedicated to past kings are open to being toured as well, making this site a culturally significant one as well.  The village is also close to the country's capital, making this a perfect place if you are looking to take a day trip from Hanoi that includes a more cultural element. 
2.  Thuy Tien Water Park Hue
Unlike many other commercial water parks around the world, this one is non-operational. Constructed in 2004 to the tune of three million dollars, this water park was opened to the public before it was completed, an act that eventually doomed the water park to failure and closure. Rather than lay completely abandoned, however, the park still receives visitors, likely owing to the novelty of exploring a decrepit water park with a three-story tall dragon dominating the centre of it. 
Due to the nature of being mostly abandoned, there is not an official ticketing system, nor will refreshments be offered for sale, but occasionally there will be a security guard who will let you in for a small fee. The park is in the city of Hue, though access is not always guaranteed. Looking from a distance it is still a nice option however as even from far away the towering dragon in the center of the park is something to behold.
3.  Fire Breathing Dragon Bridge of Dan Nang
From one dragon to another, this bridge was constructed in early 2013 to commemorate the capture of the port city of Da Nang by North Vietnamese forces during the Vietnam War. The giant yellow dragon occupies the midline of the bridge, illuminated by over two thousand LED lights once the sunsets. This dragon can shoot hot bursts of flame from its mouth as well as streams of water. While this is a bridge mostly designed for vehicle travel, there is a walking path that you can use if you want to take photographs of the dragon's head when it lets loose its fiery breath or cooling water blast. 
4.  Linh Ung Pagoda
Sticking close to the city of Da Nang, this pagoda holds a statue of a 'Buddha' or 'Enlightened One' as the term means in English, the largest one in Vietnam in fact. These statues are not uncommon in Asian countries where Buddhism is one of the main faiths of the region, but what makes this statue of the revered sage unique compared is that it depicts a female rather than the traditional male.
Most statues of Buddha depict the man who was born as Siddhartha Gautama after he achieved enlightenment, though there are others who have also reached this enlightenment both prior to and after this point and are commemorated in various forms alongside him. The name of the female who achieved enlightenment and depicted by the statue is Bodhisattva Guanyin, a woman who is sometimes thought of as the Goddess of Kindness in some regions. The female statue also doubles as a shrine, containing seventeen floors. Each one is dedicated to a different individual who has reached the state of enlightenment required to be considered a Buddha.
The grounds around the statue are also impressive, being home to topiaries and life-sized statues as well as a bird's eye view of the city of Da Nang. Conversely, the towering edifice is also visible from almost anywhere in the city below.
Read our article on our sidecar tour from Da Nang that includes the Linh Ung Pagoda
5.  Am Phu Cave
One of the central beliefs of the Buddhist faith is that an individual accumulates karma over their life and based on the balance of their karma they are either reincarnated or sent to a hellish realm known as Naraka. This internment in Naraka is not permanent, but rather determined by how much negative karma has been accrued by a person, and once this negative karma is used up they are reincarnated to a higher realm instead of remaining in torment. 
Housed within the mountain known as Thuy Son the cave of Am Phu, also known as Hell Cave in English, offers a chilling depiction of Naraka with statues of blue-skinned demons torturing people and other frightening visages. Exiting the cave allows one to climb the mountain above, which has come to symbolize the heavens making the entire trek a sort of microcosm of the Buddhist beliefs on reincarnation and the path to the heavens leading through hell. 
The trek is not easy though, and there is not a lift system to get back down, only the way you came. This place is not recommended for those with small children due to both the frightening nature of the sights with the cave, but also the strenuous climb you will have to make if you intend to reach the higher portions of the mountain. The mountain and cave are located within the city of Da Nang, making this an excellent place to stop after visiting the Linh Ung Pagoda if you are still interested in learning about the Buddhist faith.
6.  Perfume Pagoda near Hanoi
Vietnam is home to many pagodas, shrines, and other places of worship that are frequented by both devout followers of Buddhism as well as tourists who merely wish to see the beautiful architecture that usually comes with these areas. The Perfume Pagoda is no different and is a collection of many temples and pagodas built within the limestone of the Huong Tich mountains.
To reach this serene place, a trip by boat must be taken along the Day River as it is not easily reachable on foot or by car. Once there, you will be able to tour several of the structures and shrines that make up the pagoda complex. Do be aware that this is a religious site, and a site for many pilgrimages during the earlier months of the year so if crowds are an issue then you might want to save the trip for later in the year. The Perfume Pagoda is located near Hanoi, making it another excellent location for a day trip. 
7.  Ho Chi Minh Mausoleum in Hanoi
Ho Chi Minh served as the president of Vietnam from 1945 to 1969, establishing the nation as a communist state that has endured to this day. Starting in 1941, he led the Viet Minh independence movement, eventually defeating the French in the battle of Dien Bien Phu and forcing them out of Vietnam. He also led the Northern Vietnamese forces during the Vietnam War before his death in 1969, and though he did not live to see it, his forces were victorious, and Vietnam was reunified into one state in 1976.
The former capital of South Vietnam was renamed from Saigon to Ho Chi Minh City in his honour. His mausoleum lies in the nation's true capital of Hanoi, however. Many communist nations also share the tradition of embalming their most influential leaders and displaying their bodies postmortem, and Ho Chi Minh stands among the likes of Joseph Stalin, Vladimir Lenin, and Mao Zedong as revered communist leaders and revolutionary in their home countries. 
8.  Phu Quoc National Park
Phu Quoc is an island off the coast of Vietnam that is home to both a nature reserve and luxurious beach resorts. About seventy per cent of the island is part of the reserved land, and many activities can be enjoyed from hiking, cable car rides, biking, and even snorkelling. The Ganh Dua trail is a favourite among visitors to the island as the five-kilometre trip allows you to explore the natural beauty of the reserve, as well as the fishing village of Ganh Dua from which the trail takes its name.
The island of Phu Quoc is also surrounded by a beautiful coral reef that can be explored through a snorkelling trip, allowing visitors to enjoy the grandeur of the reef as well as the numerous species of fish that call it home. There are a handful of deluxe beach resorts that call the island home as well, with two examples being the Capella Resort and The Garden House Resort located on the island. Both offer excellent rates and services and serve as a great jumping-off point to explore the many activities that the island of Phu Quoc has to offer. 
Book the Capella Resort through Agoda here
Check availability at The Garden House here
9.  Da Lat Crazy House
Located in the city of Da Lat, this small hotel offers a window into an otherworldly spectacle. Strange sculptures and an artificial cavern aesthetic set this place apart from many of the other more traditional resorts and hotels that often capture tourists on their travels. Tribal decorations, violet vines, a towering giraffe sculpture and even a kangaroo with menacing glowing eyes comprise the decorations of this wacky guest house. The architect and creator of the location, Hang Nga, lives in her creation and will even answer questions about why she designed such an unorthodox locale. You can tour the Crazy House for a small fee, or you can even book a room, surrounded by the works of Hang Nga. 
10. Darahoa Rooster
In the small village of Darahoa rests a very peculiar sight. A giant rooster statue has been constructed to serve as a monument to the struggle between the two ethnic groups that cohabit the village, the Chill and the K'Ho. Two lovers from the opposing groups tried to wed, though were opposed by the Chill woman's father, who demanded the man of K'Ho ancestry to perform several daunting tasks. The tasks proved to be too much for the man, and he died of his injuries with his lover by his side. The rooster was built in 1978 to commemorate this tale, which has been described as like the famous work Romeo and Juliet. The massive rooster also serves as a water pump, providing drinking water to the people of the village. The conflict between the two groups has since subsided, and now both live in harmony in this rustic enclave. This village is located near to the city of Da Lat, so you could potentially stay at the Crazy House and then go to see this impressive sculpture.
Vietnam is a well-rounded tourist destination, housing many culturally significant sites, as well as many beautiful natural locales. Some locations even blend these two aspects together, such as the Perfume Pagoda or the Am Phu Cave. The country is also home to many elegant beach resorts like the ones on Phu Quoc island. While these places might hold a natural beauty, there are also many man-made points of interest to add to any potential itinerary in the country, whether you want to stay at the Crazy House and take a glimpse into another world or explore a water park that has been long abandoned. or if you simply want to see a large chicken statue, there are many unique places to see in Vietnam.
Bio:
Catalin Geangos is the Founder and Editor of TravelTrained and a travel blogger who mainly focuses on nightlife, pub crawls, and party experiences while travelling in Southeast Asia. He moved from Romania to the UK 6 years ago and since then he has travelled to over 30 countries.
General Travel Information for Visiting Vietnam
FAQ's on Visiting Vietnam
Is Vietnam a safe country?
Vietnam is a safe country. We spent 3 months travelling from North to South and felt safe at all times.  You do need to be aware of crossing the road in busy city centres with the large number of motorbikes on the roads and on the footpaths.
What should I avoid in Vietnam?
Avoid drinking the local water. Always drink bottled water.
What is the electrical current used in Vietnam?
220 Volts, 50 Hz or 110 Volts, 50 Hz. Type A, C & G (USA-style) plugs.
Should  I remove my shoes when visiting a temple?
Yes, you should remove your shoes when visiting a temple. Remember to dress conservatively.
Is it safe to eat street food?
Yes, it is safe to eat street food in Vietnam.  Watch which food stalls the locals eat at and buy direct from them.
Do you need a visa for Vietnam?
Yes you do require a visa for Vietnam.
Bus and Rail Transport throughout Vietnam
For the latest bus and rail schedules and ticket prices, we use 12goAsia. Click here for details.
Flights to Vietnam
Find the cheapest flights with Skyscanner our 'go-to' when researching and booking flights.
For information on Vietnam Airports read our travel guide here.
Travel Insurance
We highly recommend that you take out travel insurance before you travel.
Where will you travel to next?
Latest Travel Guides on Vietnam
Need some new travel luggage or travel gear:
To Travel Too Travel Shop
Travel smarter and safer with products from our To Travel Too Travel Shop.  If you are looking for the latest luggage, guidebooks or travel accessories we have you covered with over 800 travel products to choose from.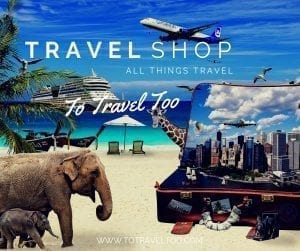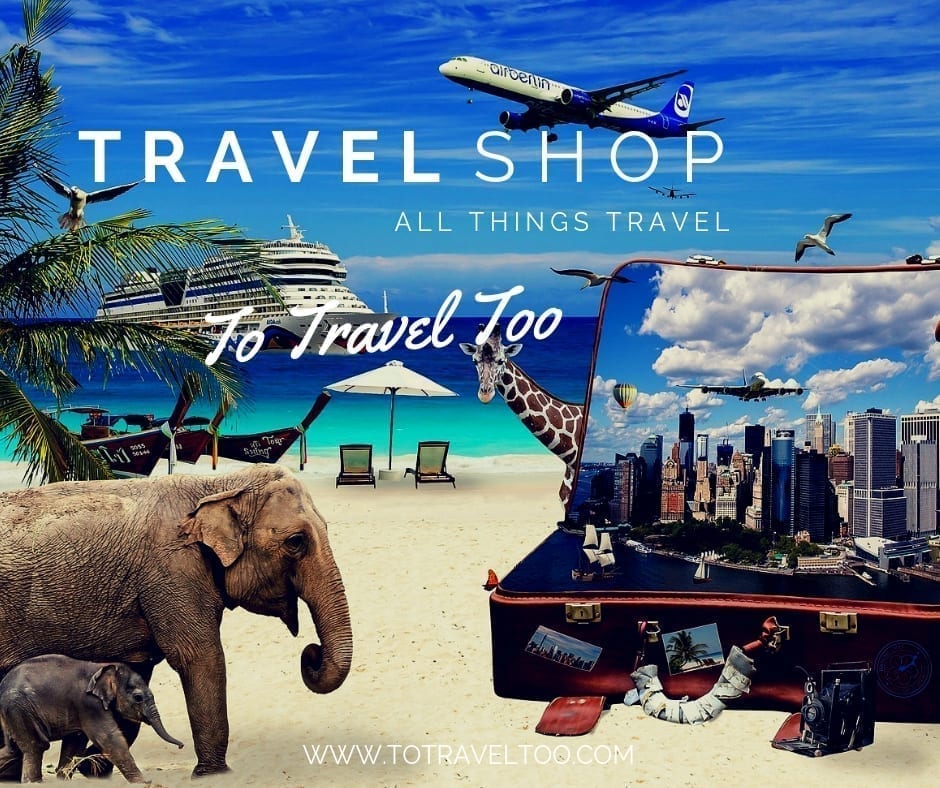 Pinterest
Are you on Pinterest? We are at To Travel Too and we have many travel-related boards check us out at Pinterest.  If you enjoyed our article why not pin it to your board.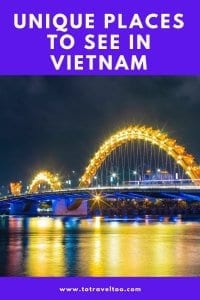 Conclusion
We hope you enjoyed this article on 10 unique places to see in Vietnam.   Vietnam attractions – there are so many what will you see and do in Vietnam on your travels.
If you have any questions or would like some advice we would love to hear from you. You can reach us via our Vietnam TravelPlanning Facebook page or email us here.