Does your dream travel list include Greek Island Hopping in the Cyclades? But how do you start planning your Greek vacation with over 6,000 Greek Islands along its 16,000 km coastline to choose from, lucky for travellers there are only 227 that are habitable.
If you are first-timers visiting Greece or returning visitors there are so many interesting facts about Greece that you may want to read up on to help you plan your vacation.
The most popular Greek Island hopping region is the Cyclades.  With short ferry journey times and more frequent schedules, the islands of Mykonos, Paros and Santorini are the best Greek Islands for island hopping.  We have done it and it was a breeze and definitely the best way to see the Cyclades group.
We have put together our Greek Island Hopping Guide to assist you in planning how to island-hop in Greece.  When you plan your adventure in Greece you will also need to consider when is the best time to visit.
Need to book a ferry? Click here for full details.
(Editor Update 2021)
This post may contain affiliate links. Please see our disclosure for more information. As an Amazon Associate, we earn from qualifying purchases (if applicable).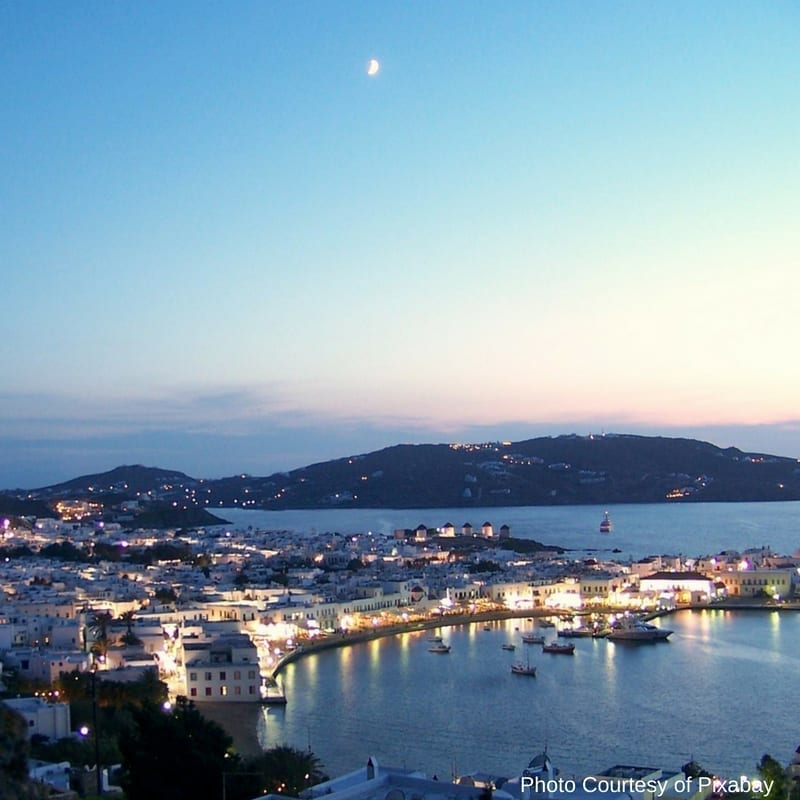 If you decide to island-hop in the Cyclades you are spoilt for choice for accommodation.  There are many places for rent in Greece and nothing beats staying in a villa with views over the Caldera in Santorini or relaxing at sunset by your private pool with a cocktail in hand with the twinkle of lights from Mykonos Town below you.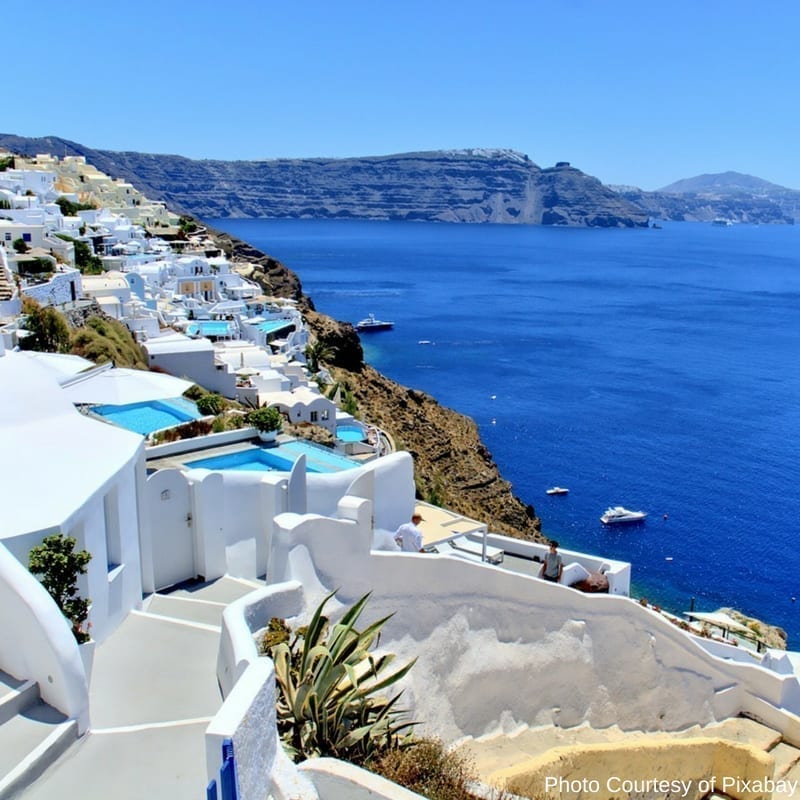 In Paros, our favourite area to stay is near the capital Parikia, with its seafront restaurants and charismatic cobblestoned streets and whitewashed churches and the iconic windmill by the Port.
Where are the Cyclades
The Cyclades are a group of Islands close to the capital of Athens in the Aegean Sea.  There are over 220 islands in the group.  The most popular ones are Mykonos, Santorini, Paros, Ios and Tinos.
Greek Island Hopping Around the Cyclades
There are 5 popular Greek Island ferries:
Blue Star Ferries (we have experienced Blue Star Ferries when we travelled from Mykonos to Paros and then onto Santorini)
Golden Star Ferries
Fast Ferries
Seajets
Hellenic Seaways
For bookings and more information click here.
We prefer to travel the Greek Islands by ferry that we have organised ourselves.  The ferries are very comfortable, all have restaurants, gift shops, ATMs and most offer Wifi on board.    If you have only booked your first ferry journey, on arrival at the port there are tour operators who can assist with your further onward bookings.
If you are travelling in the high season months of July and August we would recommend that you book all your journeys before you start your Greek Vacation.
Examples of Crossing Times for the Cyclades in the Greek Islands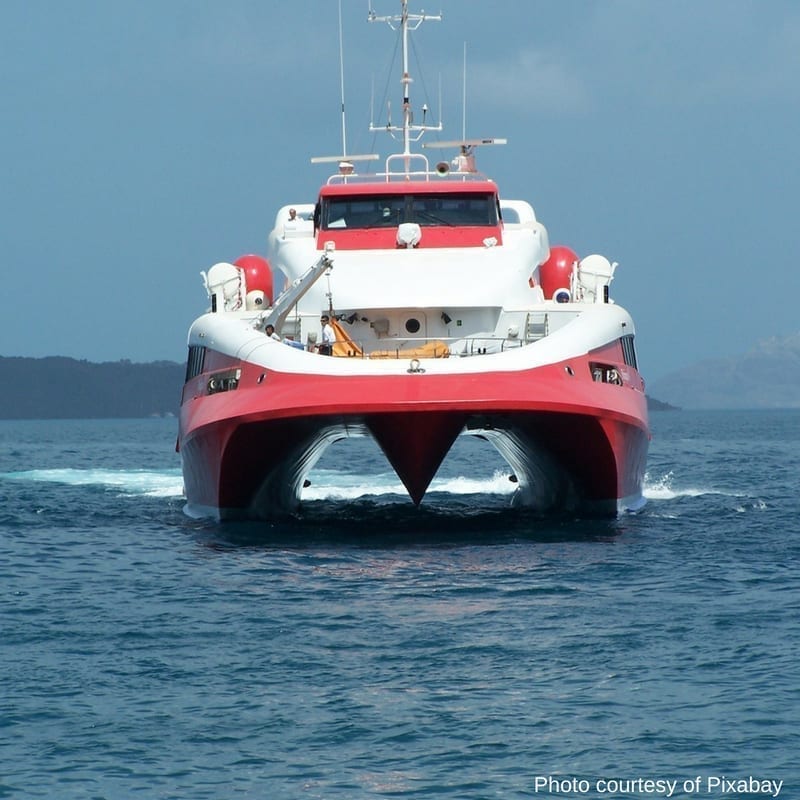 Athens to Mykonos
If you are considering travelling from Athens to Mykonos the fastest journey is with Seajet taking 2 hours and 15 minutes or Blue Star Ferries 5 hours 15 minutes.
Mykonos to Paros
Fastest journey with Hellenic Seaways: 45 minutes
Golden Star Ferries: 1 hour 15 minutes
Paros to Thira (Santorini)
Fastest journey with Hellenic Seaways:  1 hour 45 minutes
Blue Star Ferries: 3 hours
Mykonos to Thira (Santorini)
Fastest journey with Seajets: 3 hours
Golden Star Ferries: 5 hours
Greek Island Cruises
If you prefer to have your Greece cruise organised for you there are many options to travel to and enjoy the Cyclades. Greece Tours are popular and we recommend booking in advance during the summer high season.
A 2-day tour from Athens to Santorini by ferry which includes accommodation with breakfast and port transfers.  There are no organised tours on the island, you are free to wander Santorini at your own leisure enjoying the many restaurants available in Oia and Ammoudi Bay (which we can recommend a visit at sunset, it can be very busy during high season).
Our favourite restaurant in Ammoudi Bay is the Sunset Ammoudi Taverna (reservations required if you intend to dine at sunset).
Our favourite restaurant in Oia is Roka which is hidden down a back lane well from the tourist path with an excellent menu and great service. Reservations are required in the evening during high season.
A similar 2-day tour is available from Athens to Mykonos by ferry which includes accommodation with breakfast and port transfers.
Our favourite area on the island of Mykonos is Ornos Bay, a short bus ride from Mykonos Town.  There are several restaurants to choose from and our favourite is Aperanto Galazio.
If you want to base yourself in Paros there are three one day tours that you can do:
 A full-day tour from Paros to Delos (the UNESCO World Heritage Site) and Mykonos by ferry
A full-day tour from Paros to Santorini by ferry which includes a guided bus tour to Oia and Fira.
Map of Mykonos Island Greece
A visit to the island of Mykonos must include a day out in Mykonos Town. Those iconic shots of whitewashed buildings with colourful bougainvillaea draped over wooden balconies, busy restaurants full of locals and travellers alike enjoying a meal under grapevine courtyards and cobblestoned streets are what will greet you when you wander the back streets.
The 16th-century windmills of Mykonos are a photographer's delight and a major tourist attraction of Mykonos Town.
For waterfront dining or just a coffee or a cocktail at sunset head to Little Venice in Mykonos Town.  Little Venice is also popular for shopping and souvenir shopping. If you enjoy walking tours and learning more about Mykonos a walking tour with a local guide is highly recommended.
If Greek food is one of your favourite cuisines you can now enjoy a cooking class where you can learn the cooking methods and secrets of Mykonian food.
A perfect end to a day of dining and shopping in Mykonos is a sunset cruise, where you can enjoy a relaxing sail with a glass of wine or ouzo with some savoury snacks.
There is so much to see and do in and around Mykonos, you will be spoilt for choice, don't forget to make time to visit many of the local beaches.
For the top ten restaurants rated by travellers for Tripadvisor click the link below.

Map of Santorini
Santorini is our favourite Greek Island.  On our trips to Greece, we have spent over two months staying in Oia.  When planning a trip to Greece it is worth doing some research on where you want to stay, you could consider Imerovigli, Firostefani or Fira which are located overlooking the Caldera (a cauldron-like volcanic depression) with stunning sunset views.
One of the fun things we did in Santorini was the Sunset Cruise with a meal.  Included in the cruise was time to swim and snorkel. A BBQ dinner was included, a perfect end to the day sailing the Aegean Sea with the stunning orange sunsets that Santorini is famous for.
We would recommend Oia and Fira for shopping.  There are the usual souvenir shops but also some local craft and jewellery shops which are worth visiting, not to mention the olive oil and wine shops. (Zolpidem)
As in Mykonos, you can also attend a cooking class with visits to 2 Santorini wineries for wine tasting.
If you enjoy hiking we can recommend hiking from Fira to Oia or the reverse.  The best time to start is just before sunrise before the heat of the day.  You will visit the villages of Fira, Firostefani, Imerovigli, and Oia along the way.  It can take anywhere between 2 and 5 hours and we highly recommend that you take lots of water with you. The return journey can be made by local taxi or local bus.
If you are in Oia spend some time wandering around the back streets of the village.  The scenic cobblestoned back streets offer many photographic opportunities.  If you love taking photos of doors,  geranium-filled window boxes and colourful bougainvillaea clinging to the sides of whitewashed cottages you will need to allow a couple of hours.
For the top ten restaurants in Santorini rated by Tripadvisor, reviewers click below.

Map of Paros
Parikia (the capital of Paros) and the village of Naoussa are the main villages on the island of Paros. Most of the activities on Paros can be found here.  The two best beaches on Paros are Golden Beach and New Golden Beach.
Parikia has traditional Cycladic architecture.  If you wander through the back streets you will come across strikingly whitewashed cottages with bright pink bougainvillaea and blue-domed churches. On our afternoon wander we came across small groups of local men playing dominoes in the shade with their glasses filled with the local Ouzo.
Seafood restaurants line the waterfront and we can recommend dining at Taverna Katerina. We spent quite a few lazy lunchtimes enjoying freshly grilled fish and our favourite dish – Greek Salad served with a chilled bottle of the local white wine.
There is a small castle that dates back to the 13th century in the town – it is known as the Kastro.  Today all that is left is a wall and a tower.  There is also a small archaeological museum that is worth a visit.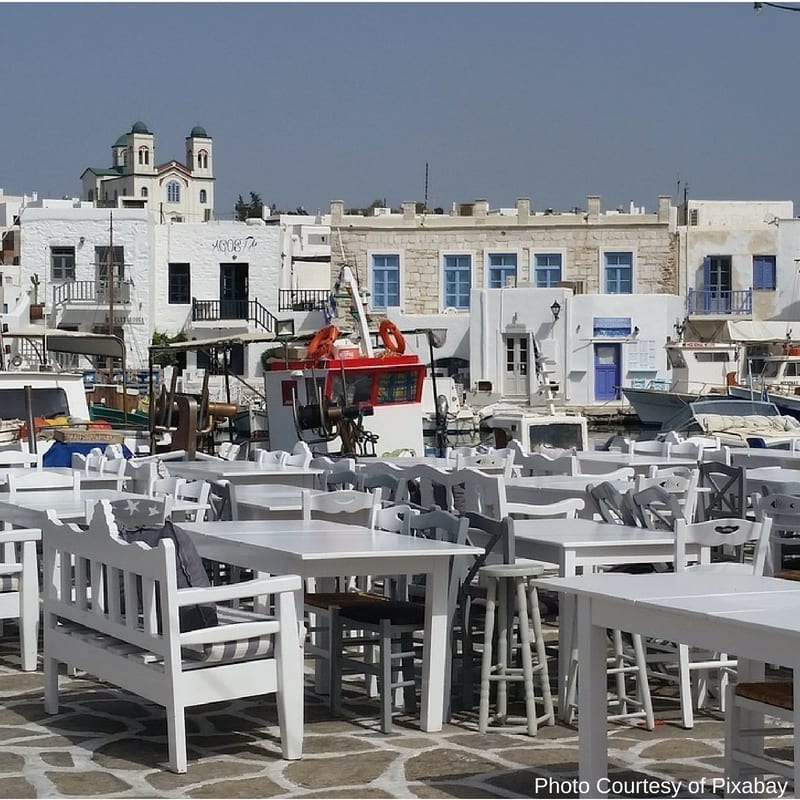 The village of Naoussa, 10km away from Parikia, is a picturesque fishing village that has kept to its traditional way of life.  It is popular with beach-goers as well as party-goers as some of the bars are open until dawn.
For the top ten restaurants in Paros rated by Tripadvisor click below:

Flights to the Greek Islands
There are airports on Mykonos and Santorini.
Flight Deals to the Greek Islands
Find the cheapest flights with Skyscanner our go-to when researching and booking flights throughout the world.
Travel Insurance
We recommend taking out travel insurance as soon as you book your flights and pay deposits on any cruises, tours or hotels.
To Travel Too Travel Shop
Travel smarter and safer with products from our To Travel Too Travel Shop.  If you are looking for the latest luggage, guidebooks or travel accessories we have you covered with over 800 travel products to choose from.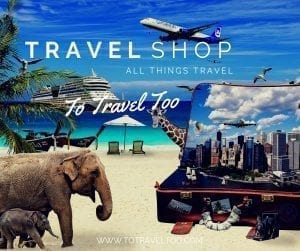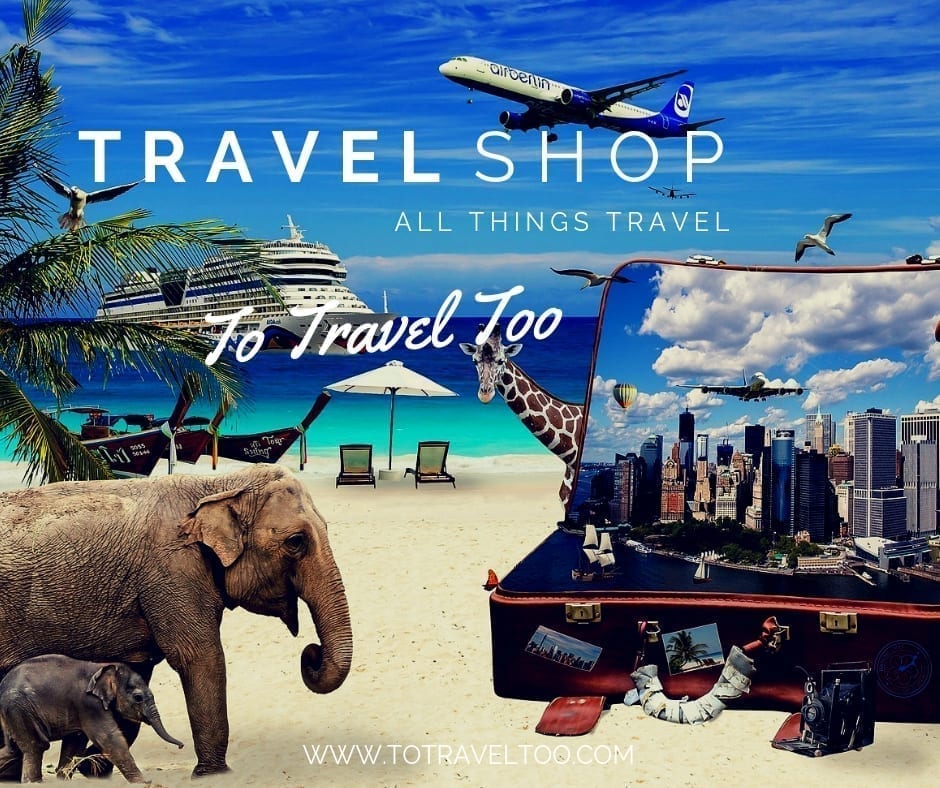 Recommended Further Reading:
Pinterest
Are you on Pinterest? We are at To Travel Too and we have many travel-related boards check us out at Pinterest.  If you enjoyed our article why not pin it to your board.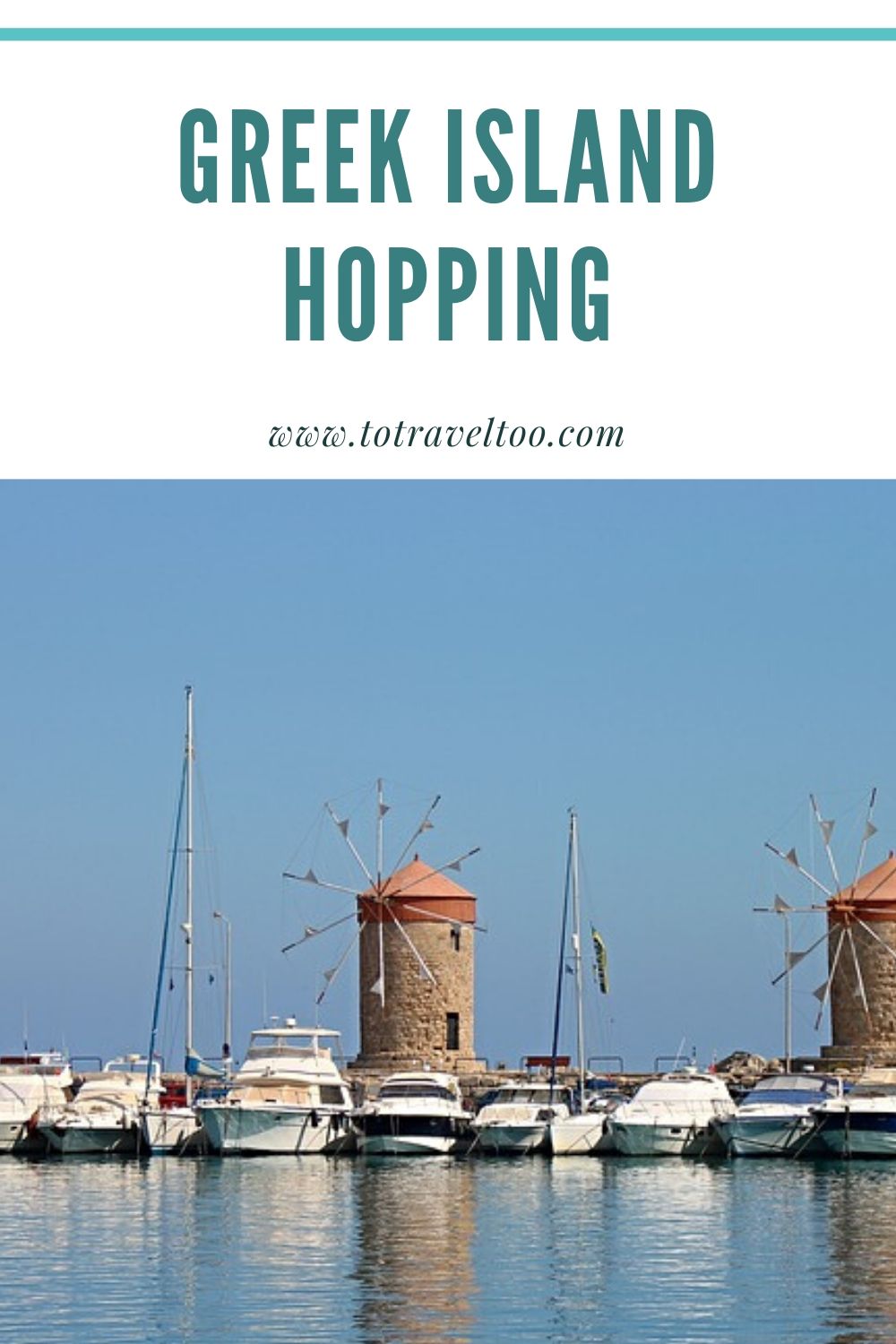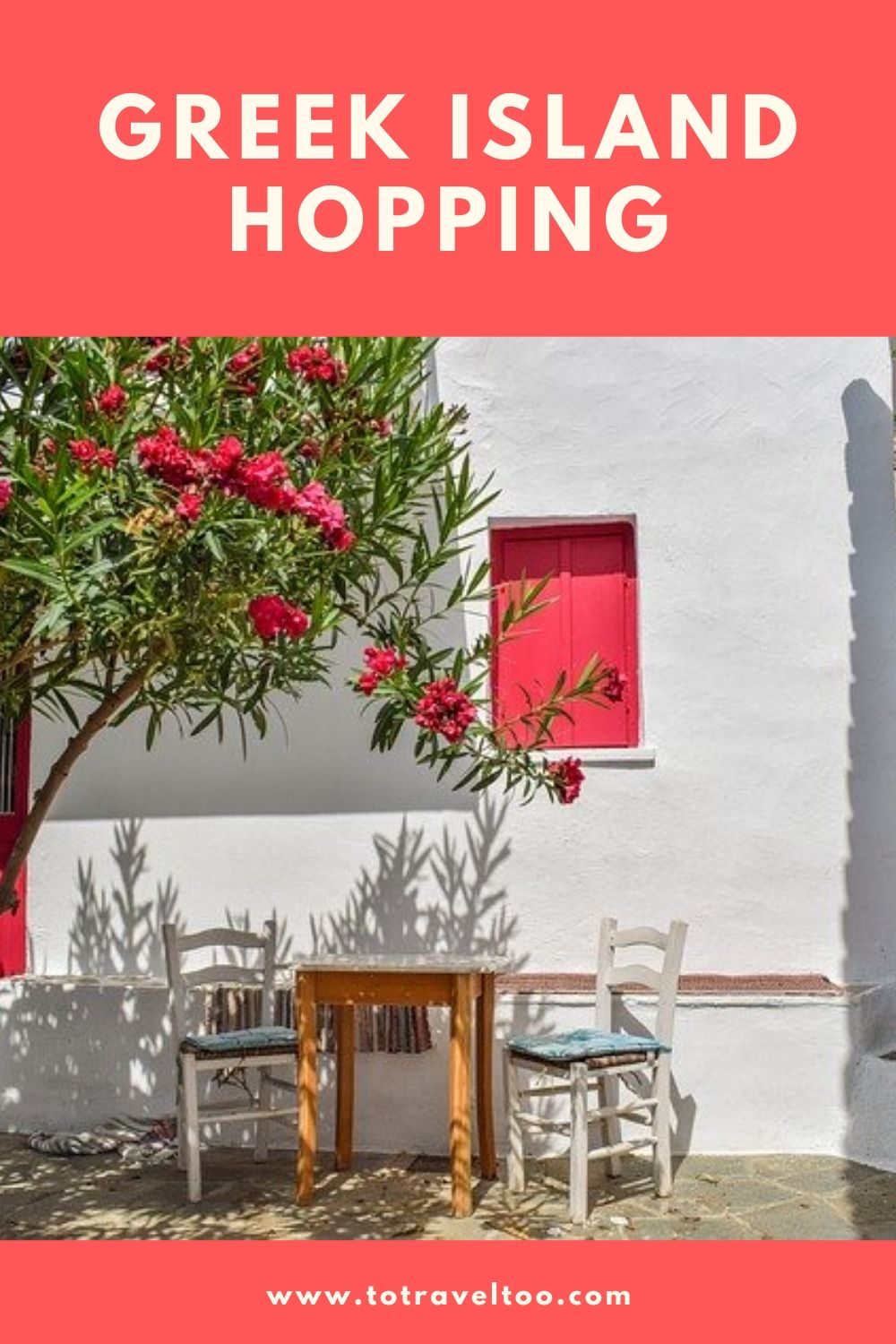 www.totraveltoo.com is a participant in the Amazon Services LLC Associates Program, an affiliate advertising program designed to provide a means for sites to earn advertising fees by advertising and linking to amazon.com, amazon.co.uk, amazon.ca. Amazon and the Amazon logo are trademarks of Amazon.com, Inc. or its affiliates.