Buffalo New York intrigued us. Back in 2016, we read an inspiring  Travel and Leisure article on Buffalo City.  
The article was written by one of their editors Sean Flynn who calls Buffalo his hometown and describes Buffalo's emerging food scene, craft beer experiences, coffee and architecture with passion.
To be honest we never thought we would get there until an opportunity arose to visit whilst spending time in Fingers Lake.  Travel and Leisure ranked Buffalo "as one of America's favourite cities" in a recent annual reader survey.  The article also mentioned that it was 'losing its reputation as a forgotten Rust Belt town in favour of a more polished persona'. Intriguing, we thought so!
Buffalo's future is its past! We love this quote!
(Editor Update 2021)
This post may contain affiliate links. Please see our disclosure for more information. As an Amazon Associate, we earn from qualifying purchases (if applicable).
To whet your appetite why not check out our Youtube video on what to do in Buffalo in 48 hours.
We needed to know and read more about Buffalo. We wanted to understand the city and its history before we visited. We list some reading recommendations for you.
Locals shared with us their thoughts and history on Buffalo.  Back in the 1900s, Buffalo was the 8th largest city in the USA by population. Buffalo was then a prosperous port city located on the Eyrie Canal which was the centre of industry. The decline of Buffalo came about in 1959 and the opening of the St. Lawrence Seaway which diverted a lot of the sea traffic away from Buffalo.  Some freighters still unload and load in Buffalo Harbour, there is only a small part of the port still in operation.  The old shipyard lands are now part of a new redevelopment program for recreation (see Riverworks mentioned later in the article).
What is encouraging to see is that the younger generation is coming back to Buffalo and their roots. They are excited about the emerging food scene with many new restaurants, cafes, and bars opening up.
You can feel their vibe and passion when they talk about their home city and what brought them back.  Once again that great quote 'Buffalo's future is its past".
Read More: How To Plan Your Visit to the USA
You can now download our article and be your own tour guide visiting the highlights of Buffalo offline.
Click our link below: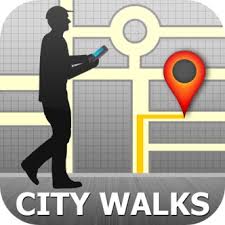 Where is Buffalo City in New York State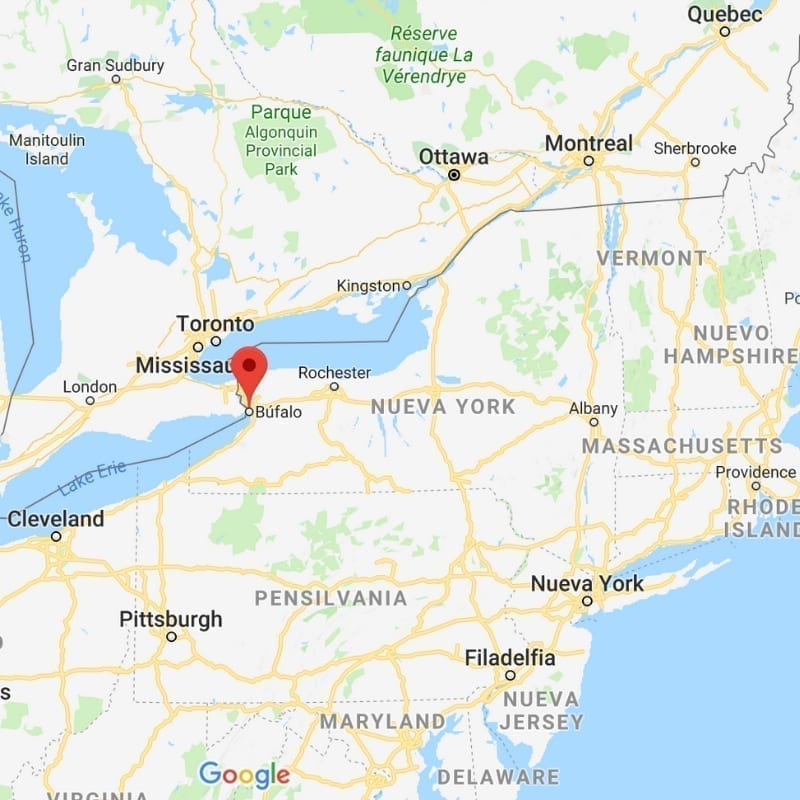 Buffalo New York Map
We were surprised to find out that Buffalo is the 2nd largest city in New York State, the first being New York itself.  Buffalo is the capital of the County of Erie in the western area of New York State.
Buffalo is located on Lake Erie's eastern side close to Niagara Falls.  So close, in fact, you could take a side trip from Buffalo.  Did you notice we said a side trip from Buffalo and not a side trip from Niagara Falls?  After spending 48 hours in Buffalo (which of course was too short, now that we have visited) we know that there is a lot to experience there.  There is more to come in the next few years to this unique city! Buffalo is a perfect example of the regeneration of a city.  We were fortunate to spend 48 hours in the company of  Visit Buffalo Niagara where we received first-hand knowledge of the city from those who know it well!
To travel from New York to Buffalo takes 6.5 hours – 374 km.
To travel from Buffalo to Niagara Falls takes 25 minutes – 20 km.
Before we start on what to do in Buffalo in 48 hours we must introduce you to what we can now say as one of our 'unique hotel properties' that we have ever stayed in around the world.  That is saying a lot, since we have been on the road since 2013 and we have stayed in hundreds of properties in all different styles and classes.
Hotel Henry Buffalo – our top Hotel in Buffalo NY
Check out our YouTube video on what it is like to spend the night at Hotel Henry Urban Resort Conference Center in Buffalo.
Click our link for the latest prices and for booking your rooms.

So why do we love Hotel Henry so much? On our first glimpse, we thought we were staying in Harry Potter's Hogwarts but in fact, we were staying in a National Landmark building that dates back to 1880 when it was the Buffalo State Asylum for the Insane.  The building is considered one of Buffalo's most important Romanesque style buildings designed by Henry Hobson Richardson.
Not only was the outside of Hotel Henry dramatic and impressive but we were blown away by the interior.  We were greeted with very high dramatic ceilings, long winding corridors, cosy corners where you can relax, work or read.  Stunning artwork adorned the corridors of the hotel.  You must try out the delights of "100 Acres – The Kitchens" Hotel Henry's restaurant, cafe, bar and bakery.
Our Bedroom at Hotel Henry:
Our Deluxe King Bedroom was all that we had imagined, we even had our own column reaching up to the 18 foot high ceilings.  The coma-inducing king size bed and its linens and pillows were so comfortable that we did not want to leave but we had a lot to see and do in 48 hours.
Hotel Henry provided all the amenities that you would need for a two-night stay:
flat-screen TV with cable channels
free WiFi
seating area for relaxing
luxury toiletries
coffee machine
plenty of power points for charging our equipment
gym
The Buffalo News recently showcased the weekly Christmas markets that are run by Hotel Henry leading up to Christmas. This would be a perfect time to spend 48 hours or more in the city.
Our Travel Around Buffalo City
For Buffalo City, we would suggest that you hire a car.  For great deals on cars we recommend Auto Europe.
Buffalo City is easy to drive around.  We now use Google Maps for easy navigation all over the world.
Things to do in Buffalo NY
Visit The Martin House Designed by Frank Lloyd Wright in Buffalo
The New York Times has claimed, "Buffalo is home to some of the greatest American architecture of the late 19th and 20th centuries."
Three famous architects who were known as "Trinity of American Architecture" had links with Buffalo.  Henry Hobson Richardson, Frank Lloyd Wright and Louis Sullivan.  Louis Sullivan designed the Guaranty Building in Buffalo with his partner Dankmar Adler and it was one of the earliest skyscrapers.  Frank Lloyd Wright designed the Martin House.
Frank Lloyd Wright (1867 – 1959) was one of America's most famous architects and he designed the masterpiece for wealthy Buffalo businessman Darwin D. Martin.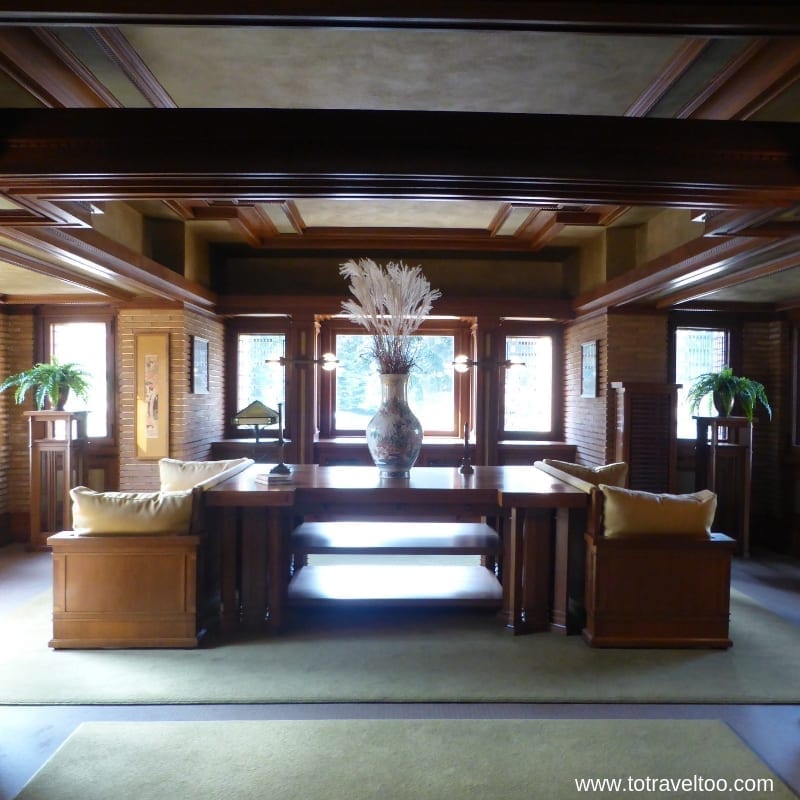 The Martin House is located at 143 Jewett Parkway, Buffalo.  The Martin House took two years to build from 1903 – 1905.  Jewett Parkway is one of Buffalo's oldest historic neighbourhoods.
If you are a Frank Lloyd Wright fan you may enjoy this book on the Martin House.

The Martin House is spread over 1.5 acres and Wright created 5 interconnected buildings on the site in Jewett Parkway and added a gardeners cottage in 1909.
Mr. and Mrs. Martin, their 2 children and their gardener and chauffeur lived in the house from 1905 to 1937. Mr Martin passed away in 1935 and in 1937 his wife and daughter moved out. Sadly for 17 years, the home was left vacant where it deteriorated from the weather and vandalism.
In 1986 the Martin House achieved the National Historic Landmark Status.
In 1992 the Martin House Restoration Corporation raised funds for the complete restoration of the Martin House.
The Martin House Complex offers:
guided tours
educational programs
facilities that are ideal for supporting teaching, research and study in architecture art and design
What Can You Experience in the Martin House on a Tour
In 1905 Wright travelled to Japan.  Whilst there he was inspired by woodblock prints which he has used in the Martin House. The walls were designed with gold finishes between the bricks. There are over 8 1/2 miles of wood trim throughout the house.  Tiles used outside were also used inside the house.
Wright was unique as his focus was to bring nature inside creating a home that is in harmony with nature.  He certainly achieved that in the Martin House.
You can't help but look up towards the ceilings as you wander through the house.  Wright used various heights to create a unique spacial feeling from the low ceilings at the entrance to various heights used in different rooms.  The external cantilevered roofline protected the house from the snow and rain.
400 light screens used throughout the house in the windows, doors, lay lights and skylights created once again Wrights fascination with nature. The Tree of Life design in one light screen can contain more than 750 individual panes of glass.
Our favourite piece the Wisteria Mosiac Fireplace is a masterpiece.  The bronze gold and green colour scheme of tens of thousands of individual glass tiles are mesmerizing every way you view it. It has taken 2 years to restore the 360-degree work of art in the wisteria motif with twisting branches of blossoms. It took the Restoration Group 20 years to find an artist that could recreate this.
The design of the Martin House was so important to Martin himself that he checked every detail even down to the size of the door.  We were taken back when we entered his study expecting his desk to be facing out towards the street.  Mr. Martin preferred his desk to face the wall so that he would not be distracted from the expansive views of the front yard.
Some of the furniture has survived over the years and some has been given back from the family's property Graycliff.  Wright also designed furniture.  The Stickley Table is on display in the house.  Wright chose the upholstery material for the chairs that were commissioned by Martin.
The kitchen was a bit of a surprise.  It lacked softness and a woman's touch.  A request by Mr. Martin was to have a commercial kitchen that was sterile and white.
Wheelchair Accessibility Martin House
For those who are interested in the 1-hour tour of the house, there is a lift available for wheelchair accessibility.
Visit Graycliff House
Situated 20 minutes south of Buffalo is Graycliff House. Graycliff was designed by Frank Lloyd Wright as the summer house for the Martin family.  Its location on a bluff affords it the best lake views in Western New York.
There are tours available for Graycliff:
Basic Tour
Duration: 1 hour 15 minutes 18 which includes the building exteriors, grounds and both floors of the Isabelle R Martin House
Restoration Tour
Duration: 2 hours an expanded tour of both floors of the Isabelle R Martin House, Foster House, landscape and focuses on the evolution of Wrights Plans during the mid-20s.
For bookings: click here
Wheelchair Accessibility
Extract from FAQs on Mobility at Graycliff:
"The first floor of the Isabelle Martin House, the main house at Graycliff, is wheelchair accessible and our golf cart may be requested for those who may need mobility assistance.  To reserve the golf cart for a tour, e-mail [email protected] or call (716) 947-9217."
Visit the Albright Knox Art Museum Buffalo
A short walk from Hotel Henry is the 6th oldest art museum in North America – the Albright-Knox Art Museum
Some fun facts about the Albright Knox Museum:
It is 5 years older than Canada
It was founded in 1862 at the height of the civil war when Abraham Lincoln was President of the United States
The Museum always features modern contemporary artists who are living
The Museum appointed the first woman director in North America of a major art museum. In 1910 she could not vote but she could run a major art museum.
It was one of the first art museums in the world to recognise photography as an art form
The Museum had one of the very first photography art shows curated by Alfred Stieglitz in 1911
Famous artists such as Jackson Pollack used to hang out here
When you walk around the gallery the paintings show when they were painted and when they were purchased
There are works of art from Matisse, Andy Warhol, Monet, Gaugin, Picasso, Frida Kahlo and many others
For more information on opening times, exhibitions and tickets click here.
Address: 1285 Elmwood Avenue Buffalo
Wheelchair Accessibility, hard of hearing and blind or partially blind information for visiting Albright Knox Art Museum
The following link provides all the information required for your visit. Click here.
Enjoy a Drive Around Buffalo
You can spend a couple of hours exploring the city by car.
Delaware Street is one of the most expensive streets in Buffalo.  There are large mansions, very impressive and situated on oversized blocks of land, some of them have been turned into professional offices. The architectural style of these homes varies as you drive around.
Visit Elmwood Village,  – Buffalo's funky neighbourhood for great cafes, restaurants, shops and galleries
Lincoln Parkway is another interesting street to drive down with many examples of large architecturally styled homes. It would be interesting to view the interiors of these properties.
At sunset head down to the Marina for expansive views of the city's skyline.
Visit the 1833 City Lighthouse Buffalo
The City Lighthouse built in 1833 is located at the mouth of the Buffalo River at the north entrance to Buffalo Harbour. For $5USD you can visit the grounds with its historic displays of artifacts.  The Tower is open on scheduled days only. Check their Facebook page for appointments.
Try Zip Lining Between The Old Grain Silos at the Riverworks or Enjoy a Meal or a Drink by the Waterfront in Buffalo
Other things to do in Buffalo is zip lining between the old Grain Silos down at the Riverworks between two silos.
Buffalo's Riverworks is located on the banks of the Buffalo River.  The complex has been created as a major entertainment hub for Buffalo offering waterfront dining and bars, sporting activities such as boating, skating, hockey as well as concerts and entertainment.
Our plan was to visit the Club on our first night but unfortunately, it was closed.  The Club was designated a historical preservation site in 1999. It is the only remaining African American Club in the United States.  There is also a museum to visit.
The Buffalo News in 2018 named the Buffalo City Hall Tour as one of the '100 things every western New Yorker should do at least once'.
The free City Hall Tour includes the history of the City Hall, art deco masterpieces and architectural design.  The tour runs weekdays at noon.
Address: Preservation Buffalo Niagara, 617 Main Street, Suite 201 Buffalo
The museum is dedicated to the history and achievements of Americans with disabilities. You will also see artifacts and inventions such as Mattel's Wheelchair Becky Doll.
Address: 3826 Main Street, Buffalo
For the latest information on tours click here.
If you are enjoying our article why not PIN it for later: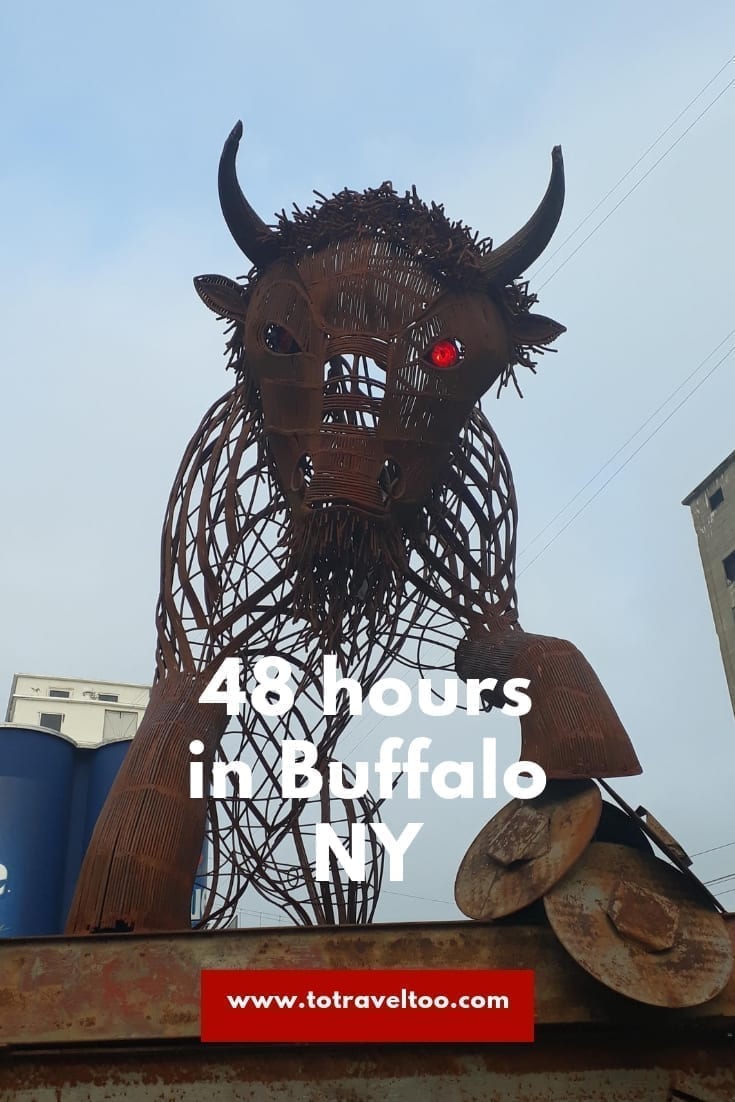 Buffalo's Restaurant Scene
There is nothing better than getting tips from a local on the 'best restaurants in Buffalo'.  Since Buffalo's resurgence, the city is really making a turn-around not only in its many attractions but it's food and craft beer scene.  It is an exciting time for locals to be a part of this transformation.
One of the most famous Buffalo Restaurants is the Anchor Bar – the home of the original Buffalo wings. Teressa Bellissimo changed the course of American Food History back in 1964.  Hungry friends of her son, Dominic,  were looking for a late night snack.  Teressa took the original chicken wings that were destined for soup that she was making, fried them up and tossed them in a hot sauce and served them to the hungry group.
The Anchor Bar has grown to over a dozen locations.  Its famous sauce is sold in over 3,000 supermarkets world wide and has even made it ways to Japan.
The address: 1047 Main Street Buffalo
If you enjoy wings, Buffalo has created a

Buffalo Wing Trail
You may not cover all of these in 48 hours but at least you may be able to try one or two.
Coles Restaurant and Bar Buffalo:
For classic wings and new flavours such as sweet soy sauce and sweet chilli gochujang head to Coles.  Whilst there try one of the 36 microbrews that they have on tap.  We have also heard that their Beef on Weck sandwiches with 5 wings is legendary.
Address: 1104 Elmwood Ave, Buffalo
We had never heard of painted wings but at Bar-Bill Tavern you can enjoy painted wings.  This is where the staff hand paints each wing with housemade sauces.
If you are a regular visitor to Buffalo, for $50USD you can have your own Mug with your name on it.  The benefits are that each domestic beer you buy only costs you $1USD.
Address: 185 Main Street East Aurora
Blackthorn Restaurant and Pub Buffalo
For an Irish welcome, banter, hospitality and south Buffalo Wings head to Blackthorn's.  They also serve the best Irish comfort food.
Address: 2134 Seneca St Buffalo
A special 6 spices recipe that has been passed down through the generations of the owners of Doc Sullivans Pub is served up with their wings.
Address: 474 Abbot Road, Buffalo
With an interior similar to the TV sitcom Cheers the Lennox Grill is the oldest continuously operating hotel in Buffalo.  They offer Korean style BBQ wings.
Address: 140 North Street, Buffalo
If you love hot wings this is the place.  But be careful how you order your wings.  Medium hot is very hot and if you want very very hot you need to ask for hot. Since 1964 Duff's has been serving wings to VIP's, even President Obama visited in 2010.
Address: 3651 Sheridan Drive Amherst
For regular old school wings in one of Buffalo's oldest neighbourhoods head to Gabriel's Gate.
Address: 145 Allen St Buffalo
Elmo's Bar is famous for its double dipped wings. You can order wings that are grilled or double dipped, fried and tossed in Cajun sauce, or BBQ hot fusion or Cajun Honey mustard.
Address: 2349 Millersport Hwy Getzville
Glen Park Tavern in Williamsville was originally a stagecoach stop between Buffalo and Rochester.  The tavern dates back to 1887 and now serves spicy Sicilian Wings on their menu.
Address: 5507 Main St Williamsville
For blue cheese wings with a hot BBQ sauce head to Gene McCarthy's Pub.
Address: 73 Hamburg St Buffalo
Mammosers Tavern specialises in dry wings with no added butter or margarine with a special sauce.
Address:16 South Buffalo St Hamburg
Other Best Restaurants in Buffalo
During our 48 hours in Buffalo, we not only visited the Anchor Bar, but two other restaurants.  The famous Schwabl's in Seneca and Toutant at 437 Ellicott Street Buffalo.
Since 1837 Schwabl has been known for its great food and service.  In 2009 Anthony Bourdain featured the restaurant in his well-known TV series – No Reservations –  in the Rustbelt Episode. Schwabl's is famous for its New York regional fare especially the roast beef on kummelweck.  Some of the restaurant's most famous dishes are their fish fry, homemade German Potato salad, homemade soups and a variety of old-fashioned cocktails.
Address: 789 Center Road West Seneca New York 14224
Toutant is located in downtown Buffalo and offers contemporary country cuisine influenced by the American South.  Some of the mouthwatering dishes you can expect at Toutant are:
Traditional Creole Jambalaya
Fried Shrimp Poboys
Maw Maw's Gumbo
Buttermilk Fried Chicken
They offer vegetarian options as well.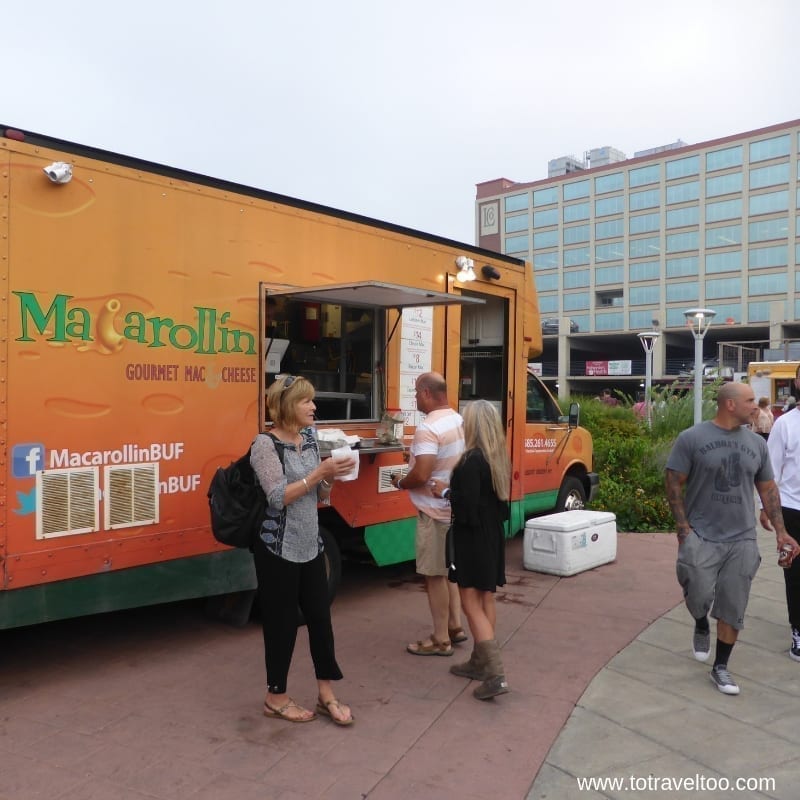 If you are in Buffalo on a Tuesday night you must head to Larkin Square to sample local cuisine from a variety of food trucks.  Visit Buffalo Niagara told us Food Truck Tuesday is the biggest weekly gathering in eastern USA and we were so fortunate to be able to attend the venue.
What a buzz! We suggest you head there for the variety of food on offer, the music and the great atmosphere.
Best Beer Places in Buffalo
With over 25 breweries in Western New York it will take you a lot longer than 48 hours to try them all out. Here is the list for you to try!
12 Gates Brewing Company Williamsville
Address: 80 Earhart drive Williamsville
42 North Brewing Company East Aurora
Address: 25 Pine Street East Aurora
Big Ditch Brewing Company Buffalo
Address: 55 East Huron Street Buffalo
Brick Yard Brewing Company Lewiston
Address: 436 Center Street Lewiston
Buffalo Brewing Company Buffalo
Address: 314 Myrtle Avenue Buffalo
Address: 6861 Main Street Williamsville NY
Address: 359 Ganson Street Buffalo
Community Beer Works Buffalo
Address: 15 Lafayette Avenue Buffalo
Address: 28 Monroe Street Ellicottville
Address: 8398 West Main Road Westfield
Flying Bison Brewing Company Buffalo
Address: 840 Seneca St Buffalo
Address: 202 East Greene Street Olean
Gordon Biersch Brewery Restaurant
Address: Walden Galleria Cheektowaga
Address: 6553 Boston State Road Hamburg
Address: 79 Perry Street Buffalo
Address: 391 Washington Street Buffalo
Address: 6933 Transit Road Lockport
Old First Ward Brewing Company
Address: 73 Hamburg Street Buffalo
Pearl Street Grill and Brewery
Address: 76 Pearl Street Buffalo
Address: 1250 Niagara Street Buffalo
Address: 4350 Seneca Street West Seneca
Address: 2072 Stoneman Circle Lakewood
Address: 492 Elmwood Avenue Buffalo
Address: 10995 Main StreetClarence
Woodcock Brothers Brewing Company
Address: 638 Lake Street Wilson
Best Distilleries in Buffalo
There are 5 distilleries in Buffalo to choose from.
Address: 860 Seneca Street Buffalo
Lakeward Spirits Buffalo
Address: 65 Vandalia Street Buffalo
Lockhouse Distillery & Bar Buffalo
Address: 41 Columbia Street Buffalo
Address: 459 Ellicott St Buffalo
Address: 500 Seneca Street Buffalo
When is the Best Time to Visit Buffalo
We understand from the team at Visit Buffalo Niagara that September is a great time to visit Buffalo.  The evening light is magical and the autumnal seasonal changes of the trees are spectacular. We believe anytime is a great time to visit Buffalo.
Buffalo weather is perfect during the summer months between June and September but it does coincide with the high tourist season.  Spring and Autumn are favourite travel times for visiting when there are not so many tourists.
Rainy weather in Buffalo New York is usually during May, August and September.
Buffalo's temperature can fall below zero during the winter months and snowfalls occur between mid-November and mid-April.
How to Get To Buffalo from New York City
To travel from New York to Buffalo you have options of flying with Jetblue, Delta, United, American and Southwest. Buffalo's airport is located 10.5 miles from the city.
For latest flights to Buffalo Ny deals click here.
By train there are 4 daily services from Penn Street Station.
If you want to travel by bus the 7-hour journey is available with Trailways, Greyhound and Megabus.
Downtown Buffalo
The city has a metro rail to get around downtown Buffalo.
Wheelchair accessibility is via above-ground ramped platforms.
I Love NY has created an article on Wheelchair Accessibility in New York State which includes Buffalo.  Read it here.
Part of their article states "There is a free audio walking tour on the I LOVE NY app, which has been vetted for the wheelchair accessibility of its route and is accessible to deaf and hearing-impaired users via text versions of all of the audio."
Other Hotels in Buffalo NY and Surrounds
For the latest prices and availability click our link below:

For the top hotels and reviews from Tripadvisor click here.
Pinterest
Are you on Pinterest? We are at To Travel Too and we have many travel-related boards check us out at Pinterest.  If you enjoyed our article why not pin it to your board.
Our thanks to Visit Buffalo Niagara for hosting us for 48 hours in Buffalo. We had an exceptional visit.  Buffalo was even more than what we imagined it would be.  Definitely our time was to short, but we will return.
As always our opinions are always our own.