We were captivated the minute our car arrived at the entrance to the Sofitel Angkor Phokeethra  Hotel in Siem Reap Cambodia.  How impressive were the lush green manicured tropical gardens that surrounded the elegant French Colonial resort!  Within seconds the Sofitel staff lined up to greet us with "bonjour" as our bags were whisked away.  We felt like royalty. We had heard about the impeccable service levels of the best hotel in Siem Reap the Sofitel Angkor and we were keen to experience it for ourselves.
The waft of lilies greeted us as we were ushered into their magnificent Lobby. Already we felt at home as we sat down to enjoy a refreshing drink whilst our check-in details were completed. We knew already that one night was not going to be long enough to enjoy all that the Sofitel had to offer. We had done our research about where to stay near Angkor Wat and the Sofitel was the most highly recommended hotel in Siem Reap.
Our stay was hosted by the Sofitel Angkor Phokeethra Golf & Spa Resort.  As always, our opinions are our own.
Book Now
This post may contain affiliate links. Please see our disclosure for more information. As an Amazon Associate, we earn from qualifying purchases (if applicable).
Our YouTube Video of the Sofitel Angkor Phokeethra Golf & Spa Resort
Location of the Sofitel Angkor Phokeethra Golf & Spa Resort
The Sofitel Siem Reap is located:
ten minutes from Angkor Wat
10 minutes from the city of Siem Reap
8.5 km from Siem Reap International Airport
312 km from Phnom Penh International Airport
Address: Vithei Charles de Gaulle, Khum Svay Dang, Siem Reap, Cambodia
Reservations
Book Now
History
Construction started on the Sofitel Siem Reap in 1999 and the hotel was opened in October 2000.
Sofitel Hotels around the world create a French elegance in their design and the Sofitel Angkor's design reflects French sophistication and yesteryear refinement.
Accommodation
With 223 rooms and 15 suites available you are spoilt for choice. Rooms range in size from 36 sqm, 46 sqm, 70 sqm and the Prestige Suite at 90 sqm.
Rooms come with:
King size SofitelMyBed
Lanvin, L'Occitane or Hermes toiletries
Complimentary WiFi
Flat Screen TV
Safe
Mini-Bar
Terrace or Balcony with views over the lagoon or swimming pool
Each room is sprayed daily with its signature scent room mist.
Our King Size Luxury Room was heavenly with its oversized balcony and views over the lagoon. We love the elegant touches that are synonymous with the Sofitel Hotel Group.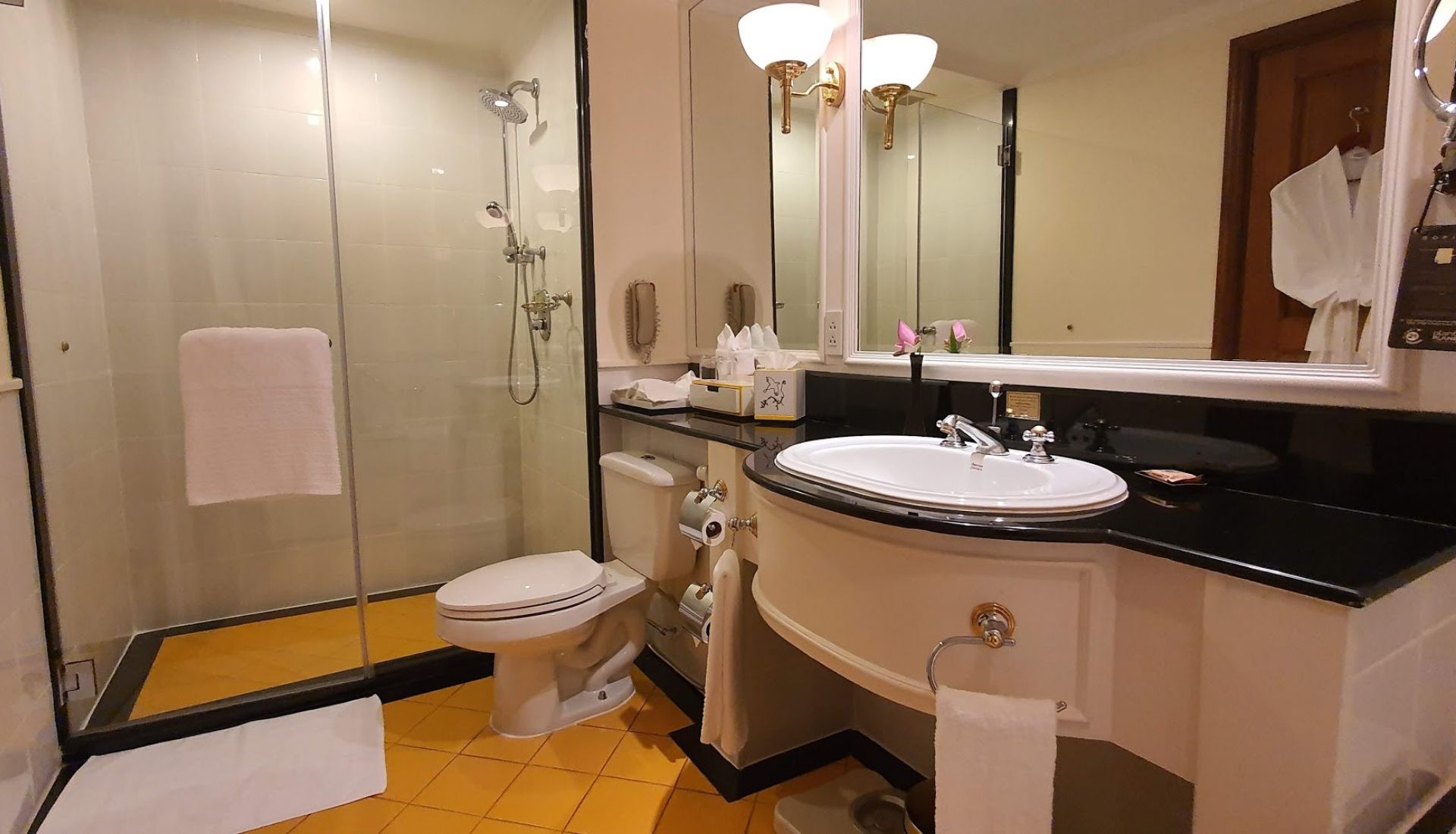 Our favourite French toiletries – L'Occitane were displayed for our use in the oversized bathroom.  A welcome plate of local tropical fruit sat invitingly on the coffee table.
Our bedroom came with a  good-sized writing desk so that we can catch up on our work.  We enjoyed fast free Wi-Fi during our time at the Sofitel.
No wonder it has been recognised as the best hotel in Siem Reap!
Sleep Menu
With the amount of travelling we do each year we appreciate hotels that offer a pillow menu.  The Sofitel has a choice of 5 pillows all are filled with special hypo-allergenically treated duck down and feathers.
Sleep Amenities
Not only do they offer a sleep pillow menu, but they also offer their guests a sleep mask, earplugs and a selection of reading material.
Restaurants Bars & Lounge
The Citadel
The Citadel is open from 06.00 to 22.00 daily for Western and Asian buffets.
We enjoyed our substantial breakfast the following morning. Local fruits and juices, choices of bread and pastries, Asian or western cooked breakfast dishes and excellent coffee.
What a great way to start the day, we could linger there all morning.
Mouhot's Dream – the best romantic Restaurant in Siem Reap
For fine French dining Mouhot's Dream is open for dinner between 18.00 and 22.00.
From Eric Berrigaud the Culinary Director "I continuously strive to create unique experiences to bring human and nature closer.  The dedicated women and men from the local community, who harvest fresh and organic produce, are my inspiration".
Eric also states: "cooking is like love, it should be entered into with abandon or not at all"
Our Dining Experience at Mouhot's Dream
We had one of the best dining experiences in Cambodia at Mouhot's Dream. Other diners that we chatted to that evening were impressed with the service, the French-inspired local cuisine, the extensive menu options including vegetarian dishes and the availability of wines from all over the world from France to New Zealand and South Africa and other countries in between.
Explorer's Tales 
For that 'colonial feeling' a visit to the Explorer's Tales is a must-do when visiting Siem Reap.  Even if you are not staying at the Sofitel Siem Reap you can enjoy their wonderful Tapas Menu. Explorer's Tales is open from 09.00 to 23.30 hours. You can enjoy coffee or tea, cocktails, wines and spirits whilst listening to soothing piano music.
Serpent Bar
After a day visiting the Angkor Wat complex the Serpent Bar at the swimming pool is where you can relax with a cocktail or two and enjoy some bar snacks.  There is even a swim-up bar to keep cool whilst enjoying a drink or a snack.
The Sanctuary
The Sanctuary Wine Bar is just right for a business event or a private party or a special occasion.
High Tea at the Sofitel
From 3 pm to 5 pm, you can enjoy High Tea at the Sofitel.
There is a choice of a Western-style High tea with sandwiches, cakes and tea or coffee or a Khmer High Tea that includes fishcakes, cucumber and mango rolls and poached rice dumplings or their Asia High Tea which includes delights such as spring rolls, prawns and jackfruit filled with black sticky rice. There are so many yummy options we bet you will enjoy High Tea every afternoon during your stay.
Hotel Facilities of Sofitel Angkor Phokeethra Resort & Spa
Swimming Pool
The largest free-form swimming pool in Siem Reap is at the Sofitel.
Gym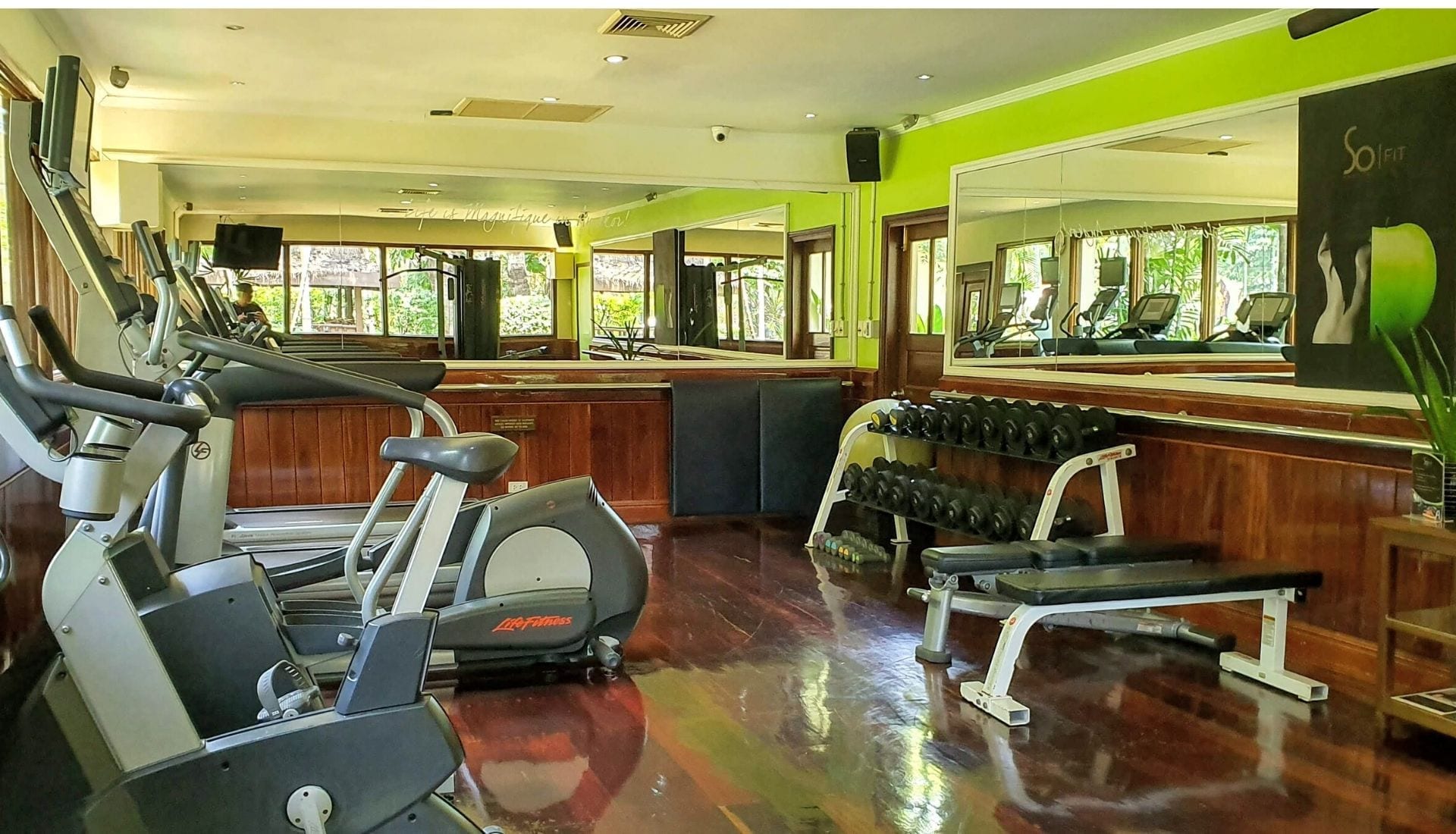 The latest state of the art Gym equipment at the Sofitel where you can work out with stunning views of the garden outside.
So SPA
Spoil yourself and enjoy a massage at the So Spa at the Angkor Spa resort. Rejuvenate in one of their 9 treatment rooms, or enjoy a couples massage in their special couples treatment room or even in one of their two private villas.
After a day visiting the Angkor Wat complex, there is nothing better to soothe your tired limbs than one of So Spa's massages.
Famous Guests:
In 2000 the movie Tomb Raider was filmed in Siem Reap. The Sofitel Siem Reap welcomed Angelina Jolie and the whole cast to stay with them. As a token of appreciation and a sign of friendship, they presented the hotel with 2 lion statues.
The Lions outside the Royal Court were created in Hollywood to recreate the temples of Angkor Wat and gifted to the resort at the conclusion of shooting
The Sofitel Siem Reap Wall of Fame has photographs of famous film stars, politicians and business leaders who have stayed at the hotel.
Two Brothers is a 2004 adventure family film directed by Jean Jacques Annaud. The crew stayed at the Sofitel Siem Reap. In recognition of the hotels' support two tiger statues were given to the resort to commemorate the film. They are located next to the walkway near the lagoon.
Gardens of Sofitel Angkor Phokeethra Resort
Every day more than 200 tropical flowers are used throughout the hotel. The aromas are intoxicating as you walk through the Lobby and the entrance lobby to your bedrooms.
At 8.30 am every morning you can watch traditional flower folding in the walkway by The Citadel restaurant.
Garden Library
Relax with a book in the garden library overlooking the thousands of local plants from green tea plants to yellow lilies.
Planet 21 Program
To Travel Too likes to partner with brands that are committed to sustainable tourism.  The Sofitel Angkor Phokeethra Golf & Spa Resort have committed to:
reduce their carbon footprint
eliminating the use of plastic straws
water their extensive gardens with used water
recycle bottles/paper/plastic/light bulbs/soap
organising a regular city clean up
tree planting
help the local community through education and supporting local suppliers
Soap For Hope
From a framed photograph at the Sofitel:
"In 2014 Samir Lakhani, founder and director of Eco-Soap Bank witnessed a mother bathe her infant child in a basin of harsh toxic laundry powder intended for washing clothes not the delicate skin of a child.
Unsettled by the choice this mother was forced to make do to keep her family healthy. Samir was inspired to figure out a way to get soaps appropriate for bathing into the hands of rural villagers.
Each year 2 million tourists pass through Siem Reap generating a large stream of wasted hotel soap in the process.  Samir conceived a plan to recycle these soaps into liquid cleansers that could be distributed to local schools, hospitals and orphanages.
Sofitel Angkor Phokeethra Golf & Spa Resort supports this program by recycling all soaps with Eco-Soap Bank."
Golf in Siem Reap: Phokeethra Country Club
"Tee off in the 11th century and finish your round in the 21st century"
The Angkor Golf Resort is Cambodia's first international championship 18 hole golf course is just 25 minutes from the Sofitel Siem Reap hotel.  It was opened in 2006 and designed by Khun Weerayudth. Once a rice field the impressive Phokeethra Country Club is home to over 2,800 coconut trees.
Between hole 9th green and the 10th tee is the 11th Century Roluh Bridge which has been designated a UNESCO World Heritage Site.
We had such a fun visit to the Country Club.  On arrival, we were warmly welcomed by the caddies and the Club's Golf Manager.  Two of the caddies had our names on their shirts and as we went inside we were ushered into the Men's Changing Rooms (first time for me in a Men's Changing Room!) where we found two lockers with our names on it. Such a great welcome, it is a pity that we are not golfers. If we were golfers, we definitely would enjoy a round or two here.
We were treated to a Golf Cart ride around the unique and challenging course, learning about the 18 holes along the way.
We enquired what Phokeethra meant:
"Phokeethra, the city of the mythical Naga, is a regional legend symbolizing peace and prosperity within the grounds of the country club. In ancient Buddhist literature, the Naga was believed to link earth to the richness of heaven. Still today, Siem Reap abounds with myths and carvings of this benevolent force."
Facilities include:
fully equipped locker rooms
Terrace Restaurant overlooking the golf course serving Khmer and Western cuisine
fully-stocked Pro Shop with a selection of goods from brands such as FJ, Titleist and Nike
Honma clubs and shoes for rental
Have you tried Speed Golfing?
You are not dating, lowest score wins
9 holes of golf including fees, caddie and cart
free clubs and shoes rental
5 second-hand golf balls
1 beer or soft drink
complimentary transfer from the hotel
Magnifique for Events at the Sofitel Siem Reap
6 meeting rooms with natural daylight
innovative banquet menus
outdoor venues including the Temples of Angkor
Ballroom that can take up to 600 for cocktails to meetings from 100+
Shopping in Siem Reap
T Galleria by DFS is the largest duty-free luxury department store in Cambodia. Enjoy a complimentary tuk-tuk ride from the hotel and exclusive offers for Sofitel guests when you make a purchase.
The Sofitel Hotel has a range of unique artwork adorning its walls in the Lobby. Eric & Thierry are two brothers that use natural lacquer and gilding techniques learned from grandmasters in the trade.  They employ young deaf people in their workshop in Siem Reap tutoring them in technical and artistic skills.  The different processes they use respect the environment and they use only natural and vegetal materials.  The brothers have collaborated with NGO Community First Initiatives to plant large scale lacquer trees to help preserve the dying craft which is a huge part of the Cambodian culture.  The 'black blood' of the lacquer tree is harvested by a 'tree-bleeder'.  Tree bleeders and their techniques are at risk of disappearing forever.
The lacquer has been used to cover betel boxes, trays and baskets used in religious offerings, and the bas relief of the temples in the area were coated with lacquer in their carvings.
We recommend that you visit the hotel's gift shop for unique artworks and products to take home.
Tours Available in Siem Reap Cambodia

Conclusion
In conclusion, the Sofitel Angkor Phokeethra Hotel is a luxurious and elegant retreat that perfectly captures the essence of Siem Reap. From its stunning architecture to its impeccable service, this hotel offers an unforgettable experience for anyone looking to explore the wonders of Angkor Wat. Whether you're interested in exploring ancient temples or indulging in world-class cuisine, this hotel has everything you need to make your stay truly memorable. So if you're planning a trip to Siem Reap, be sure to book a room at the Sofitel Angkor Phokeethra Hotel – you won't regret it!
Flights to Siem Reap
Find the cheapest flights with Skyscanner who then directs you to the airline's website with no extra fees to pay.
Travel Insurance
We recommend taking out travel insurance as soon as you book your flights and pay deposits on any cruises, tours or hotels.
Visa
Do you need a visa for Cambodia?
Pinterest
Are you on Pinterest? We are at To Travel Too and we have many travel-related boards check us out at Pinterest.  If you enjoyed our article why not pin it to your board?
Travel Guides on Cambodia and Angkor Wat
Travel safer and smarter with products from our To Travel Too shop. Check out over 800 travel related products here.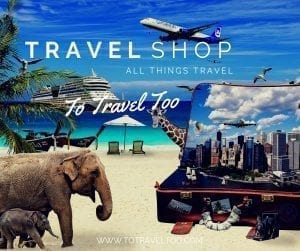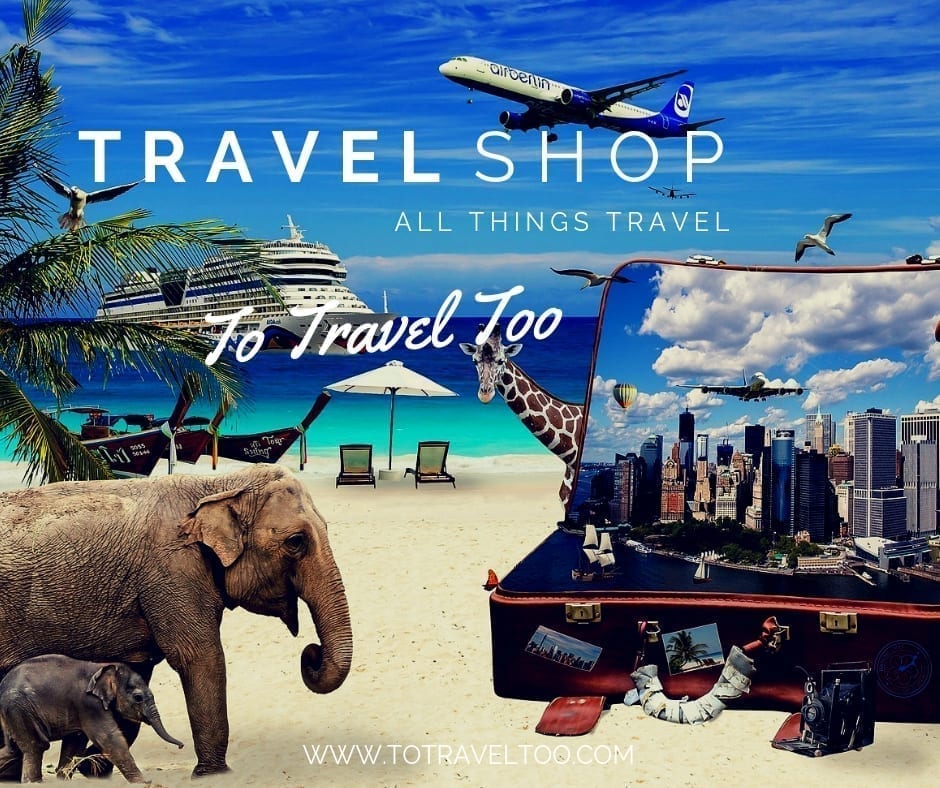 If you have any questions or would like some advice we would love to hear from you. You can reach us via our Facebook page or email us here.