A Visit to Split Market in Croatia
Our guide on what to see, what time of the day to visit, what can you buy and what else is close to the market, restaurants and where to stay.
Split Market – where market day is every day! A visit to the 'green market'  Split Croatia is highly recommended for everyone.
We just love fresh daily green markets with locally grown and in-season fruit and vegetables. We also love the banter from the store owners with the locals.
Split 'green market' is an open-air market compared to our other favourite markets La Boqueria in Barcelona and Chatuchak in Bangkok which are indoor markets.
(Editor Update 2021)
Split Croatia Map
Where is the Split marketplace? Check out the location marked Green Market – Pazar.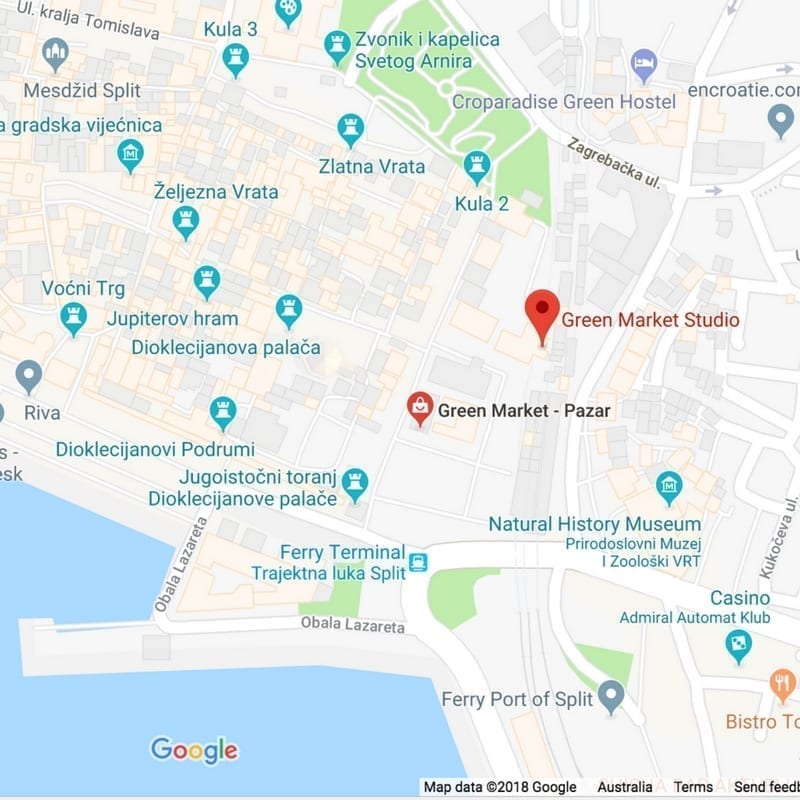 Opening Time for Split Green Market
The market is open daily from 6.30 am to late in the evening, but the best fruit and vegetables can be found earlier in the day rather than later.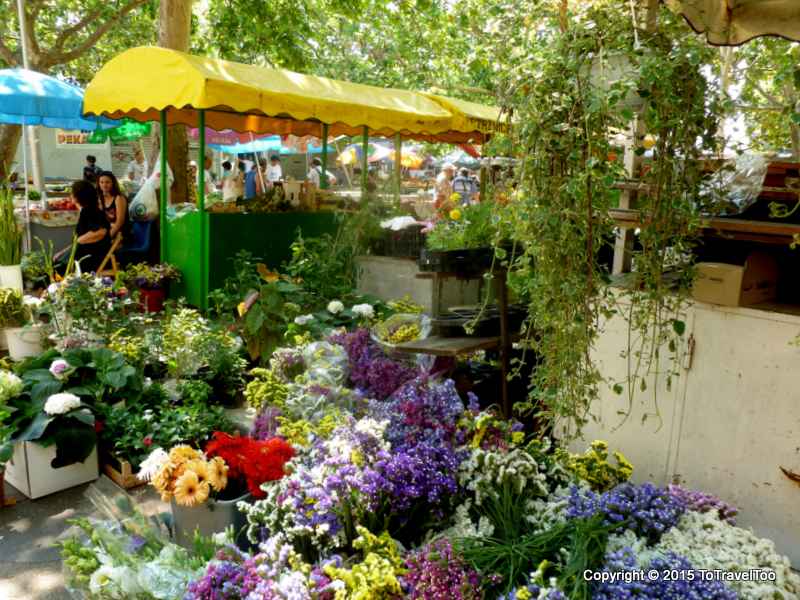 As we were there in early July there was an abundance of fresh summer fruits and flowers.  The smells were heavenly and the atmosphere electric with locals and tourists haggling over their produce buys for the day. Cruise ships use Split as a port so ensure you get to the market early.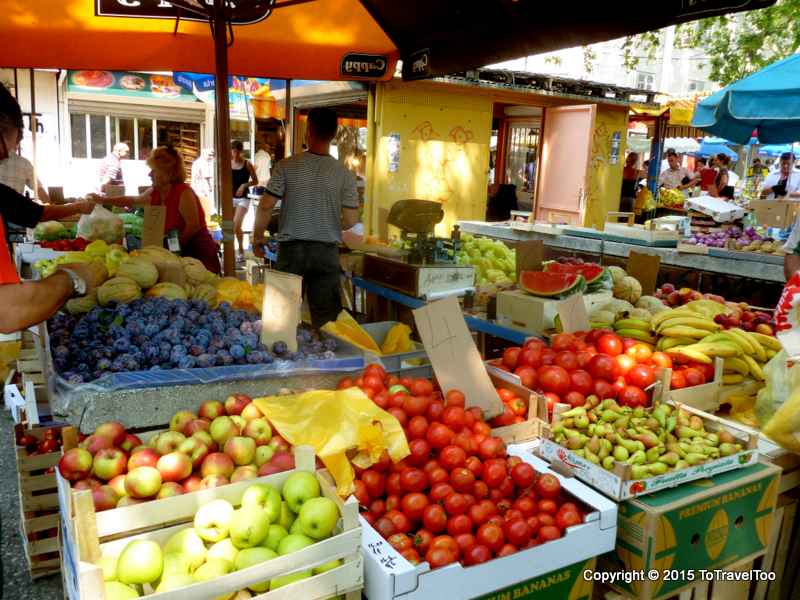 The market is located close to the entrance gates of the Diocletian Palace  Split fronting the harbour and close to the Bus Station.   The market is very much the supplier to the local Croatian community and you will find that the local supermarket will be devoid of fresh product and certainly more expensive for the convenience purchase.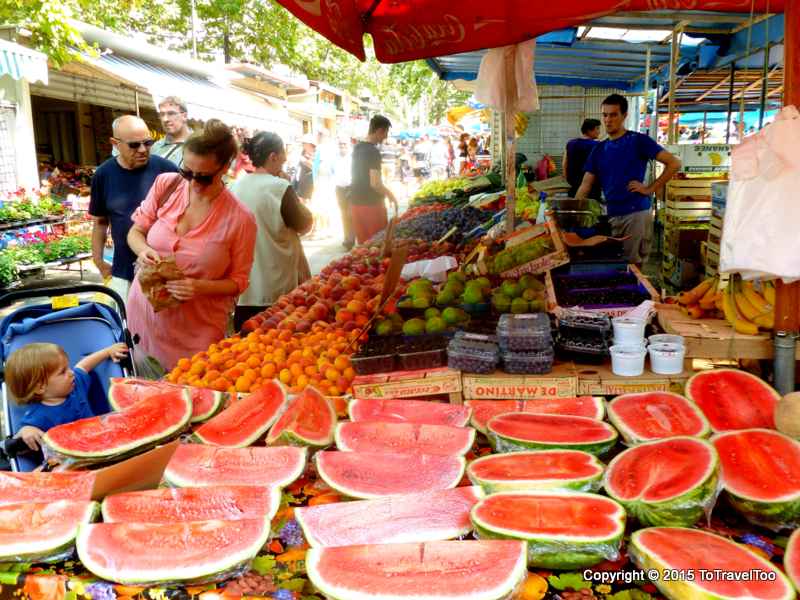 The products are fresh daily, typically the local producers will set up stall early in the morning and soon after lunchtime the market becomes quiet and empty, although the market will remain open for the opportunity buyer and seller servicing the many cruise ships. The product choices are the same, we soon found that we had a favourite stall vendor. Much of the products are sold by weight and you can simply choose the products and the vendor will sell according to the total weight giving you a total in local Croatian currency Kuna. Many times the stall vendor will with a smile add a few other products for you to sample and tempt for the next daily purchase.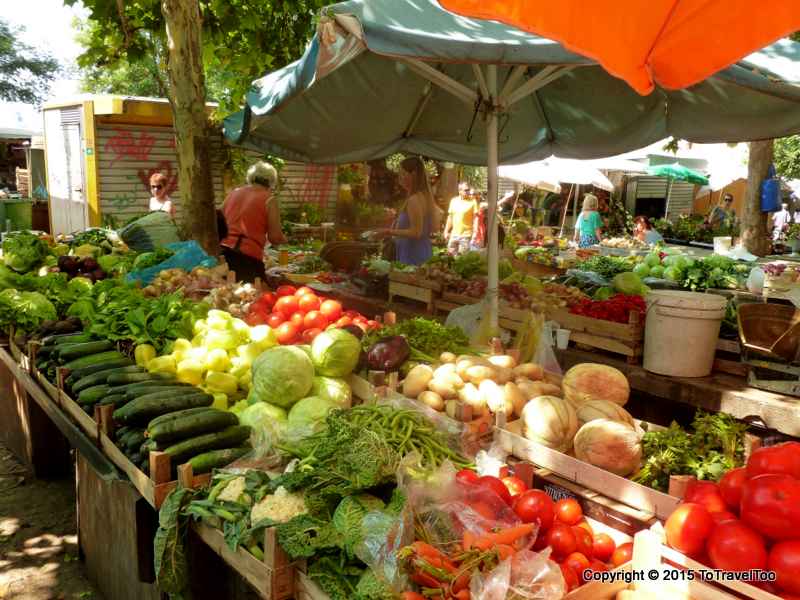 We would typically spend between US$ 5-10  per day on fresh fruit and vegetables, varying our choice as per our weekly menu and by the choices supplied to us by the stall owners. Each day became an adventure in walking home with our bags filled to the brim and later enjoying the preparation for our meals, savoured over local wine and beer.
The Split market is also a great source for local products especially for meat, cheese and local delicatessen products.
When you visit be sure to take along your own Eco-friendly bags,  be adventurous,  look, feel and smell the products.
Some of the vendors sell clothes, hats, bags and of course local souvenirs.
Other Things To Do in Split Croatia
A Walking Tour of Split takes you for a 75-minute walk around the town and inside the city walls as you explore Split's 1700 years of history. If you would like an evening walking tour click here for the latest information.
You can even take a culinary tour with wine in the town of Kastela Click here for more details.
If you enjoy wine there is a wine tasting tour available that includes the experience of tasting traditional Dalmatian cuisine.  Click here for more details.
For Games of Thrones fans, you can experience a 2-hour tour of the locations in Split that were used in the filming.  Click here for more details.
For a Sunset Cruise from Split click here for the latest availability and prices.
There are many things to do in Split from sailing to visiting the Plitvice Lakes.
Where To Stay in Split
There are many options to stay in Split Old Town or outside the walls.
Here are some of our recommendations:
Apartments Gajeta (rated 9): Domilijina 2 Split Centre

Radisson Blu Resort (rated 8.3): Put Trstenika 19 Split

Jupiter Luxury Hotel (rated 8): Grabovceva Sirina 1 Split

Further Options of  Where to stay in Split:
Best Restaurants in Split Croatia
How to choose the best Split Restaurant? We researched Tripadvisor and have come up with the top 5 best restaurants in Split Croatia for you to choose from.
Portofino – Grgura Ninskag Poljana 7 Split
Articok: Bana Josipa Jelacka 19 Split
Villa Spiza: Kruzhiceva 3 Split
Sexy Cow: Zrinjska-Frankopanska 6, Split
To Je Tako: Ulica Kraj Svetog Ivana 5, Split
For more Split restaurant options click below:

Getting In – Split
There are many scheduled train services from Zagreb the Split. Click here.
If you are booking several train journeys you may want to consider the Eurail Pass.
Click here for details on Bus Croatia to assist you in planning your travels.
For the latest cheap airfare deals to Split click here.
For car rental deals click here.
For bus schedules and ticket prices click here.
Travel Insurance
We always recommend that you take out travel insurance.  The best time to take out travel insurance is when you start paying for tours, flights or accommodation.  You are covered for cancellation for health reasons from that date.  Our tip is don't leave it to the day before you travel and always read the policy conditions carefully.
If you are based in Australia click here for travel insurance details.
If you are based outside of Australia click below for travel insurance details.
Do You Need A Visa
Recommended Guidebooks:
Pinterest
Are you on Pinterest? We are at To Travel Too and we have many travel-related boards check us out at Pinterest.  If you enjoyed our article why not pin it to your board.
Further Reading:
If you are travelling to Dubrovnik we have written a Mini Guide
Split Wiki is a great resource for the history of Split and the importance of the Diocletian Palace, Split.
In conjunction with Amazon, we have created our own travel shop with over 800 travel products that we have either used ourselves or have been recommended from other travellers.