When visiting Barcelona you cannot miss a visit to La Boqueria Market (Mercado La Boqueria)? The hub of Barcelona!
La Boqueria Market in Barcelona Spain is where we spent a heavenly morning browsing and tasting. Markets are a passion of ours. There is something about a fresh produce market, the smells, the hustle and bustle, the conversations between the locals and the great photo opportunities that are to be had.
Would you like to combine a tour to the market with a cooking class?
Description of the tour from our partner Get Your Guide: "Tour a local market before attending a cooking class with a professional chef. Learn how to make several classics of Spanish cuisine, before sitting down to enjoy your creations in a private tasting room accompanied by wine."
(Editor Update 2021)
Our article provides information on what to see, where to stay close by, what to buy and general information on opening hours and more for Barcelona's Mercado.
Top tip: Most stalls will have a ticket dispenser, look for it on top of the counter and wait your turn.
La Boqueria rates in our top 2 of markets around the world competing with the Grand Bazaar in Istanbul.
This post may contain affiliate links. Please see our disclosure for more information. As an Amazon Associate, we earn from qualifying purchases (if applicable).
All About La Boqueria
One of the main attractions of Barcelona is La Boqueria Market situated just off La Rambla. The market has been in existence since 1840.  This was on our bucket list and we were not disappointed. It is the largest of all Barcelona markets.
It started off as a meat market back in 1217. These days they can expect to have over 40,000 visitors through their doors on a daily basis with more during the peak summer periods and holiday times.  It would be best to avoid these times if you don't like crowds.
Top tip: the best time to visit is in the morning
It is the largest market in Europe and one of the most well-known making CNN list it as the top market in the world.
Read our article on A Weekend in Barcelona – the perfect city break.
Where To Stay Close to La Boqueria
These are a list of hotels close by to La Boqueria Market:
0.2 km away is Cool Rooms Malda – a centrally located hotel with free wifi.
0.3 km away is Hotel Casa Camper – a 4-star hotel with designer bedrooms with views over the garden or city.
0.4 km away is Boutique Hotel Casa Volver – a 3-star hotel centrally located to visit the market.
With vendors selling fresh seafood, fruit, vegetables, meat, breads, cheese, olives, nuts and grains and even sweets the market is a meeting place for locals and a must for tourists.
Pro-Tip
Take care around the seafood areas the floor can be slippery. A local mentioned to us not to buy fish on a Monday as fisherman don't fish on a Sunday.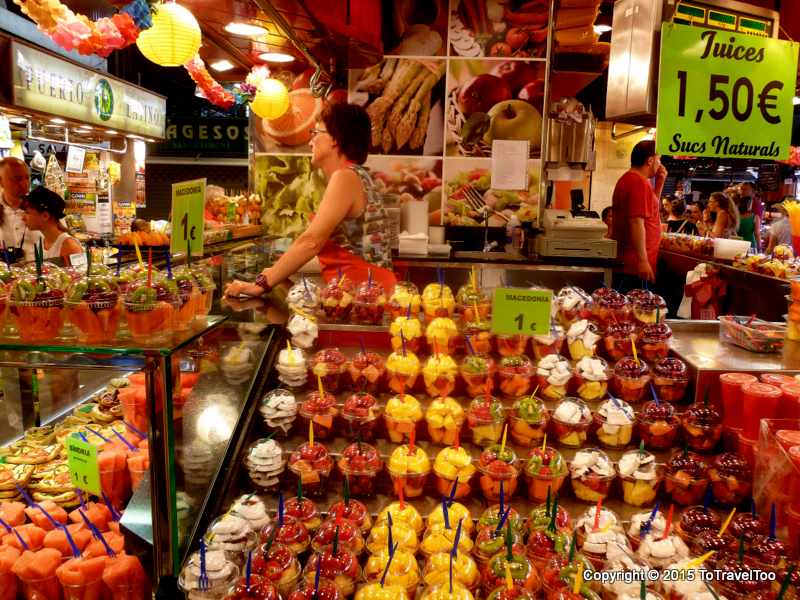 The sweet smell of fresh strawberries, with the mustiness of the cheeses, mingle with the fish and meat smells sending your senses in overdrive.
Top tip: Buy fruit that is in season. You do need to buy in kilos.
Enjoy a fresh juice as you wander through the stalls before heading for a glass of wine and some tapas.
It's exhausting wandering through the market. Now where was that tapas bar that sold chilled glasses of white wine?
Have you visited Split Green Market in Split Croatia? Our article has top tips on visiting.
Frequently Asked Questions about La Boqueria Market Barcelona
What are the opening hours of La Boqueria?
The market is open from Monday to Saturday from 8 am to 8.30 pm.
What is the address of La Boqueria?
La Boqueria Market is locate at Rambla 91, Barcelona.
When is the best time to visit La Boqueria?
The best time to visit is in the morning.  Our suggestion is before 3 pm and enjoy the throngs of the lunchtime crowd enjoying their Tapas and wine.
Where are the Tapas Bars located?
There are several Tapas Bars at the rear of the markets. The stall numbers are 466 – 470. There may be one or two bar stools, normally you just stand at the bar and enjoy your wine and tapas.
What is the closest Metro to La Boqueria?
The closest Metro is L3 on the green line – Liceu Metro.
How far is La Boqueria from Placa de Catalunya?
It is on the right-hand side walking down La Rambla. It is a 7 – 8 minute walk.
What can you buy at La Boqueria Market?
fresh fruit
fruit juices
cheeses
hams
seafood
sweets
local Spanish ham
chicken
meat
game
fish
Tapas Bars
Wine Bars
Coffee
Pastries
Olives etc
Tours Available to La Boqueria
Pinterest
Are you on Pinterest? We are at To Travel Too and we have many travel-related boards check us out at Pinterest.  If you enjoyed our article why not pin it to your board.
Have you been to La Boqueria in Barcelona?  Would love to hear your thoughts about the market?  What other markets have you visited?
Where to stay in Barcelona
Hotels in Barcelona:
Travelling Around Europe and Need To Book Bus Tickets
Book your next adventure with Busbud!
Travel Insurance
We recommend taking out travel insurance as soon as you book your flights and pay deposits on any cruises, tours or hotels.
If you are located in Australia or New Zealand click here for the latest quotes.
If you are located in the rest of the world click below for the latest quotes.
Flight Deals
Find the cheapest flights with Skyscanner who then directs you to the airline's website with no extra fees to pay.
Travel Shop
Travel safely and smarter with products from our Travel Shop in conjunction with Amazon.