Are you an RV fan? 
Our very experienced RV trip planner, Bill from the Wandering RV, shares the 6 Best Cities to Visit in an RV Across the USA 
A Guest Article by Bill Widmer from The Wandering RV
We have always contemplated RV travel across the USA and even New Zealand but have not made it yet. Bill Widmer and his wife Kayla are experienced at this so we thought we would get them to share their tips with us on RVing as well as sharing their top 6 cities to visit in an RV across the USA. Bill also shares information on which RV Campgrounds to stay in. This RV trip planner information is 'gold'.
This post may contain affiliate links. Please see our disclosure for more information. As an Amazon Associate, we earn from qualifying purchases (if applicable).
Read more: How to plan your visit to the USA
6 Cities To Visit in an RV Across the USA
RVing is my absolute favourite way to travel.
You get your own bed, your own bathroom, and no surprises (like cockroaches in hotel rooms—yuck!).
Plus, you can stop whenever you want, you don't have to pay for rooms, and you get a kitchen to save money on eating out! What's not to like?
Today, I will share some of the best cities to visit in an RV across the US, with tips on what to do and where to stay. Let's dive in!
Why Travel in an RV?
Travelling in an RV can be a great way to make memories for a number of reasons! Kayla and I love RVing.
My favourite reason is for privacy. Have you ever spent the night in a hotel and heard everything the other guests were doing? I know I have! Staying in an RV offers some much-needed peace and quiet after a day of exploring the sites.
Another great thing about RVs is that they offer flexibility. Are you tired of your current location? Set up camp at another destination, whether it's nearby or a good distance away. RVs allow you to customize your vacation and change locations like you change your clothes (if you want to).
A huge perk about vacationing in an RV is that you can get luxury accommodations for half the price! While staying in a suite can cost you hundreds of dollars a night, you can find some great luxury campers at a fraction of the cost. Particularly if you rent an RV from a rental company.
Now that you've made your decision to explore in an RV, where should you go? Here are some great places to explore when travelling in an RV:
Las Vegas, Nevada
Believe it or not, Las Vegas, more commonly known as "Sin City," is a great place to check out in an RV! A hotel on the strip can seriously break the bank, but you don't have to worry about that in your RV.
Some things that you can do while on your trip include gambling at a number of casinos like the Luxor or Treasure Island, grabbing a drink at Margaritaville (something I have to do every time I visit), or enjoying one of the many shows. It's something everyone should experience at least once! Consider checking out some of the RV rentals available in Las Vegas while you're at it.
When you're ready to call it a night, there are several campgrounds to choose from. If you want to stay on the strip, consider staying at the Circus Circus RV Park. If you are looking for a little quiet away from the chaos that is the Las Vegas strip, grab a spot at the Las Vegas RV Resort.
San Antonio, Texas
San Antonio is a hot spot for history and fun! With so much to see and do, this should definitely be on your list of road trip destinations.
One of the most popular things to do in San Antonio is to visit The Alamo. You can learn about this historic battle site and even catch some demonstrations of how things were done back in the good old days. 
You can stroll along the river's edge, enjoy a meal, or take a guided tour of the river. (Check out Jane's reviews of the River Walk hotels!)
Tired after a long day? You can stay at the Alamo City RV Park or the Traveler's World RV Resort.
 Whilst in San Antonio you may enjoy:
2.5-hour Scavenger Hunt Adventure using your smartphone
Explorer Pass Ticket with Savings on over 20+ attractions and tours
San Antonio Hop on Hop off Bus
San Diego, California
San Diego is a great place to go if you are trying to escape the cold or extreme heat. With perfect weather almost all year long, beaches, and tons to do, it is a top tourist spot and should definitely be one of your travel destinations.
Looking for things to do in San Diego? The possibilities are endless! Visit Balboa Park where you can walk around the San Diego Zoo or check out the many museums. You can lay on the beach in Coronado. You can even see seals sunbathing in La Jolla. After all of that, have dinner at one of the many restaurants in the Gaslamp area.
Ready to catch some z's? No problem! Conveniently located just north of Downtown are Campland on the Bay and Mission Bay RV Resort.
Skip the Line Entrance Ticket to the San Diego Zoo – 1 Day Pass
Denver, Colorado
The "Mile High City" is perfect for city folk and outdoor enthusiasts alike. From the beautiful view of the Rocky Mountains and a massive cityscape, Denver is a perfect spot to escape your day-to-day.
One activity that I recommend is taking a well-deserved hike through Rocky Mountain National Park. If you're looking for some skiing action, check out Breckenridge Ski Resort. A few other great activities that you can do include zip lining, going on a haunted pub tour, and enjoying one of the many restaurants.
After a long day of exploring this amazing city, park your camper at Flying Saucer RV Park or Prospect RV Park. Both are conveniently located in the Denver area.
Whilst in Denver you may enjoy a Denver City Sightseeing Tour.
Orlando, Florida
Home of Disney World and the Wizarding World of Harry Potter (my absolute favourite!), Orlando is a top destination for families and adults who are kids at heart. With so many attractions to see, Orlando offers an epic road trip adventure.
In addition to Disney World and the Wizarding World of Harry Potter, there is also Universal Studios, Sea World, and the Kennedy Space Center.
Book your Universal Orlando Park Tickets here
When you are tired of the crowds, make your way over to Palm Beach or one of Florida's national parks.
If you're looking for a cool place to stay, Fort Wilderness Resort is the place to be. Or if you are all Disney'd out, set up camp at Orlando RV Resort.
Enjoy the best of Orlando's attractions without waiting in line to pay for your tickets with the Go Orlando Card – All-Inclusive Pass
Myrtle Beach, South Carolina
Last but not least, Myrtle Beach is a great RV vacation destination. It's got a beautiful beach, plenty to do and see, and great weather for most of the year!
I definitely recommend the Helicopter Rides (it's a bit pricey, but super cool if you're into that kind of thing). Besides that, our favourite activities were the outdoor obstacle course, Ripley's many attractions (particularly the aquarium), and the upsidedown Fun House. There are also lots of other things to do including mini golf, shopping, and the giant SkyWheel!
An amazing campground I recommend is Pirate Land. We stayed here in March and it was only $30 per day (winter rates start October and end April 1st.) and you're right on the beach (we walked it every morning of our trip). There are plenty of other campgrounds in the area as well.
Pro Tip: I recommend avoiding the North Myrtle Beach area after dark in the off-season. It's not the friendliest of crowds but is completely safe at any other time.
A Few Final Tips to Have The Best RV Road Trip
Ready to roll in your RV? Awesome! Here are a few quick tips to help you make the most of your awesome rv trip:
Book your campground and activities ahead of time. Many of these popular cities fill up fast!

Bring plenty of healthy snacks and water. Long road trips make it all too easy to fill up on junk food and soda! Having a kitchen is one of the perks of RVing!

Fuel up often. On longer drives, you can go quite a while without seeing a gas station, unlike trips in our cars through towns. (You'll probably want to avoid the shadier-looking gas stations and fueling up often helps you do that!)

Plan your route ahead of time. Driving a big RV for long distances is stressful enough as it is, you want to know where you're stopping and make sure you avoid any low bridges or hilly, windy roads. An RV-specific GPS helps with this too!
Now you're off! Where are you going to visit? Let us know in the comments below!
Read Next: How to Save Money on Travel
Bio:
Bill Widmer and his wife Kayla run The Wandering RV, a blog all about the RV lifestyle. He also taste tests for Kayla's fantasy food blog, The Fantasy Kitchen!
USA Flight Deals
Find the cheapest flights with Skyscanner our go-to when researching and booking flights.
Pinterest
Are you on Pinterest? We are at To Travel Too and we have many travel-related boards check us out at Pinterest.  If you enjoyed our article why not pin it to your board?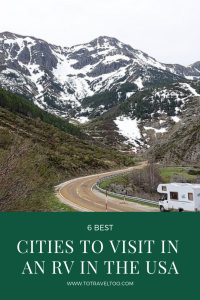 Travel Insurance
We recommend that you take out travel insurance when you book flights and hotels and pay deposits on tours and cruises.
Further road trip planner information:
To Travel Too Travel Shop
Travel smarter and safer with products from our To Travel Too Travel Shop.  If you are looking for the latest luggage, guidebooks or travel accessories we have you covered with over 800 travel products to choose from.