As the leaves begin to change and a crispness fills the air, there is no better time than fall to explore the beauty of Finger Lakes. Nestled in upstate New York, this region boasts stunning landscapes, charming small towns, and an abundance of outdoor activities. Whether you're a nature enthusiast seeking breathtaking views or a foodie looking to indulge in farm-to-table cuisine paired with award-winning wines, Finger Lakes has something for everyone in the autumn season. Join us as we delve into why visiting Finger Lakes in the fall is an experience not to be missed.
This post may contain affiliate links. Please see our disclosure for more information. As an Amazon Associate, I earn from qualifying purchases (if applicable).
Check out our Youtube Video on Finger Lakes here:
Your Finger Lakes getaway should include visiting some of the best wineries in the USA, enjoying gastronomic delights, and incredible scenery and of course, you must visit one of the world's top Museums – the Corning Museum of Glass.  
Did you know that you have 60 wineries that are located around the lake and 150 in the region to choose from?
In 2018 USA Today recognised FLX (Finger Lakes) as the Best Wine Region in America after a nationwide poll was conducted by 10best.com. Other polls conducted by 10best.com rated F.L.X Table in Geneva as the Best Winery Restaurant and Fox Run and Dr Frank came in the top 10 for the Best Winery Tasting Room.
The list of awards goes on; Belhurst Castle in Geneva came 3rd in the Best Wine Country Hotel and the Best Wine Festival #5 spot went to the Finger Lakes Wine Festival at Watkins Glen. The Best Wine Tour #7 spot went to Hermann J. Wiemer on Seneca Lake.
That is an impressive list of awards.  When you add that TBEX (Travel Blog Exchange) held their USA Conference there in September of the same year Finger Lakes New York has definitely been put on the list and one to be reckoned with.  We spent a week in the region and we can understand why. As Australians, we love our wines and our wineries, and we do enjoy visiting the wine regions of the world when we travel and we were impressed, very impressed.
Next Destination? Are you heading to Buffalo? Read our article on Buffalo here
Our Finger Lakes New York article will cover:
Finger Lakes Hotels
Finger Lakes Wineries
Finger Lakes Restaurants
Finger Lake Breweries
Finger Lakes Distillery
How to get to Finger Lakes
Things to do in Finger Lakes
Where to eat in Finger Lakes
A visit to the Corning Museum of Glass
and more to make the most of your Finger Lakes visit in the Fall.
About Finger Lakes
Where is Finger Lakes? Finger Lakes lie in the west-central New York State.
Finger Lakes Map
Where to Stay in Finger Lakes: 
Finger Lakes Hotels – where to stay in the region, we have included some of the popular hotels to stay in different areas.
Corning:
When we visited we stayed outside the town of Corning at the Corning Inn at Painted Post as we were attending the TBEX Conference and accommodation was at an all-time high close to town. It is a 2-star budget hotel but there is definitely better accommodation closer to the town of Corning and other areas in the region that we would recommend.
Radisson Hotel Corning 125 Denison Parkway East, Corning –  a 4-star hotel in a good location in Corning to see all the sights and to enjoy the bars and restaurants.
You can check the current prices for the Radisson Hotel Corning.
You can read the latest reviews and check out photos of the hotel and rooms here on TripAdvisor.
Rochester:
Where is Rochester
Rochester is located in northwest New York state. It is the fourth most populous city in the state.
Hyatt Regency Rochester – 125 East Main Street Rochester. Located 150 metres from the Genesee River and connected to the Rochester Riverside Convention Center by a sky bridge, Hyatt Regency Rochester features a restaurant, lounge and heated indoor pool with a sun terrace.
You can check the current prices for the Hyatt Regency Rochester here.
You can read the latest reviews and check out photos of the hotel and rooms here on TripAdvisor.
Pro Tip for Rochester: 
Some areas in and around Rochester are considered unsafe for walking at night. When checking into your hotel I would ask for advice on the safest areas to visit.
Geneva
Vinifera Inn is located in Belhurst Castle, and is one of three hotels in the complex.
Guests can dine in Belhurst's two restaurants – Edgar's Steakhouse & Lounge featuring steaks, seafood, chicken and pasta dishes or Stonecutters Tavern, casual pub-style food with indoor and outdoor seating. Belhurst Estate Winery and Gift Shop is part of the Seneca Lake Wine Trail and offers wine tastings, flights, Belhurst wine to purchase, craft beer and a wide selection of local gifts. Isabella Spa-Salon is located on site and offers spa and salon services.
Address:  4069 West Lake Road, Geneva, NY 14456, 
You can check the current prices here.
Latest guest review:
Liked: Beautiful building and grounds.
Disliked · The walls were very thin, and you could hear conversations in the hallway. The continental breakfast was just ok.
Ithaca
The Hotel Ithaca – 222 South Cayuga Street Ithaca is close to places of interest.  The Hotel Ithaca also offers a swimming pool and a gym as well as a shuttle to the airport.
For the latest deals click here
TripAdvisor has the latest reviews from travellers as well as photos of the hotel and the rooms available.
There are many more Finger Lakes New York hotels available that suit all budgets:
More Finger Lakes Hotels
Finger Lakes Region includes:
Finger Lake Wineries Accommodation
If you would like to stay in the heart of a winery we can recommend accommodation at The Inn at Glenora Wine Cellars. With only 30 rooms on offer, you do need to book in advance.  Each room has a private balcony or patio overlooking the vineyard and Seneca Lake. With delicious meals on offer at their Veraisons Restaurant, a cellar wine tour, a tasting room and a gift shop you will not want to leave. Check their current prices here.
Here are the reviews from fellow travellers on TripAdvisor.
Finger Lake Wineries 
Some of the best Finger Lakes wineries are:
Address: 5435 NY 14 Dundee NYC State
We spent a few hours in the company of Gene Pierce the owner of Glenora Wine Cellars and his two winemakers Steve DiFrancesco and Rachel Hadley.
Glenora Wine Cellars officially opened in 1977 and received instant acclaim for their wines even winning several medals at the New York State Fair wine competition. It was the first winery on Seneca Lake and what a stunning location they chose.
Over the years they expanded their production facility and added a retail sales area and Wine Garden Cafe in 1987 and in June 2000 they opened their 30-room Inn at Glenora Wine Cellars and Veraisons Restaurant.
The region is perfect for grape growing.  Seneca Lake is known as a glacier lake and at the winery, it is 3.5 miles wide, 638 feet deep and it is the largest in volume of all the lakes in the region.
We could not visit a winery without having a wine tasting even if it was morning tea time. We enjoyed their 2016 Cabernet Franc – an award-winning full-bodied rich red wine.
Our 2nd tasting was the Gewurztraminer 2017, a dry white wine, which goes perfectly with Asian and Caribbean spicy dishes.
Another award-winning wine the Pinot Blanc was next up.  We enjoyed the Pinot Blanc and could taste fruity citrus and pear flavours.
Another favourite of ours was the Blanc de Blanc sparkling chardonnay. A crisp and bright chardonnay with a hint of apple, perfect to drink any time of the day.
Address: 5576 NY 14 Dundee NYC State
The Fulkerson Winery is now in the hands of the 7th generation of the Fulkerson family.  The land was first inhabited by Caleb Fulkerson in 1805. 5th generation Roger Fulkerson in the 1960s began expanding the grape plantings after a blight wiped out the raspberries that they had been growing since 3rd generation Harlon Fulkerson (1842 – 1915) planted black raspberries.
Their award-winning wines include Sauvignon Blanc, Dry Riesling, Gruner Veltliner, Syrah and more.
Address: 3962 NY 14 Dundee NYC State
Hermann Wiemer Vineyard was founded in 1979 on the west side of Seneca Lake. The vineyard now covers 80 acres and produces some of the USA's top Riesling.
Address: 4184 State Route 14 Rock Stream NY
Located on Seneca Lake with 16 acres producing 3,000 cases per year of dry and off-dry red and white wines.
Address: 4367 E Covert Rd, Interlaken
Situated in a swing beam barn with great wines and the Crystal Lake Cafe.
Knapp Winery and the Vineyard Restaurant
Address: 2770 Ernsberger Road Romulus
Enjoy lunch on the patio overlooking the vineyards from April through to October.  The Winery is located on the slopes of Cayuga Lakes and produces wines, cordials and aperitifs.  Book in advance for lunchtime especially on the weekends.
Best Finger Lakes Restaurants 
Our Favourite Finger Lakes Restaurants and Cafes are:
Address: 999 State Route 54 Penn Yann NY 14527
Let's start with ice cream or frozen custard as it is called at the Spotted Duck. Elizabeth and Daniel Hoover have been making frozen custard for 8 years now. They started with a duck and a dream to make decadent frozen custard using only the freshest natural ingredients the Finger Lakes Region has to offer.  They use local organic fruit and lavender, stout and Ithaca beer for their many flavours of frozen custard.
If you are travelling with children this is a perfect outing for families.  Not only do you get to taste their yummy frozen custard but you can visit their farmyard just behind their cafe. You will get to meet Cluck Norris the rooster, 3 rare black and white Ancona chickens, black Cochin hens, 250 ducks, 35 chickens, guinea fowl and peacocks.  If you arrive at feeding time you can help out as well.
Milk is sourced from a local grass-fed organic dairy that has 6 Dundee cows. Wine sauce is made by a local winery. The spoons are made from a corn base. The frozen custard is made from milk, cream, eggs, sugar and different natural flavours. The ingredients are placed in an ice cream churn and it takes 15 minutes.
Flights of Frozen Custard
Hollywood 4 flavours
Full house 12 flavours
We chose the Hollywood flight with 4 flavours: rhubarb, strawberry, salted caramel and coffee/chocolate.
Address: 5090 NY 14 Dundee
Great venue for lunch and wine tasting. The best burgers, weiners and sausages in Finger Lakes. The menu is created by owner and Master Sommelier Christopher Bates from locally sourced products.
You must try the Nutella milkshake with George Dickle Tennessee Whiskey sour mash.
Other restaurants you should consider trying are:
Jellybeans at 319 South Hamilton Painted Post for burgers, steak, chicken, fish and more.
For ice cream head to Dippity Do Dahs at 46 E Market Street Corning
Liquidshoes Brewing at 26e Market Street Corning for craft beer
Finger Lakes Breweries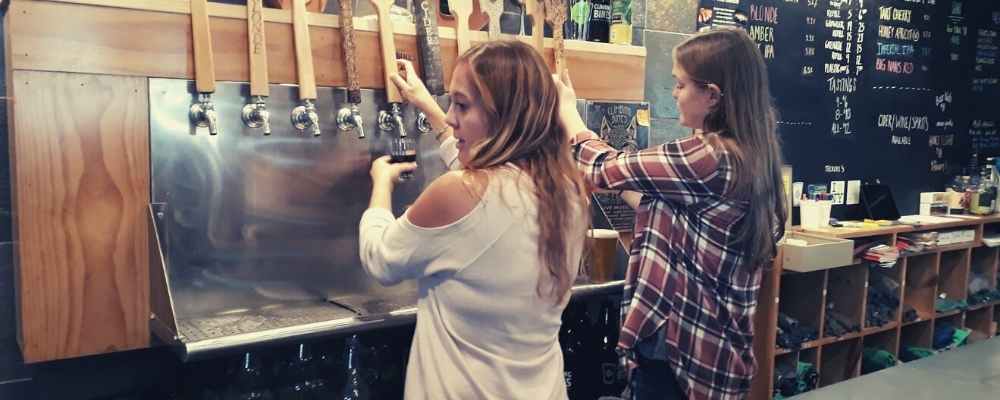 Address: 511 Hansen Point Road Penn Yan
We love our craft beer and there is nothing better than being introduced to the craft beer of one of New York State's first farm breweries – Climbing Bine Brewery. They even grow their own hops and barley close by on their hop farm that was established in 2009, it all started with 8 vines.  The brewery was established four years later in 2013. On the day that we visited, we sampled:
a wheat beer – Hefeweizen
Amber beer
Rye IPA
The Beerocracy & Seneca Lake Brewing Company
Finger Lakes only Traditional Tudor Style British Pub at 4520 NY 14 Roc Stream.
Try their Cask Ale Flight: Unfiltered ale that is transferred (racked) into casks, sealed and then undergoes final fermentation in the cask during which natural carbonation occurs.
Why different from keg ber:
Normal key beer is filtered, carbonated and pushed out of the keg with CO2. Cask beer is dispensed traditionally by being pumped out of the cask using a beer engine (hand pump). Since there is no CO2 pushing the beer out of the cask air can enter the cask as the beer is dispensed. This means that once tapped the beer must be consumed quickly within 10 days after trapping before it will start to go completely flat and spoil
Cask ale is best served at cellar temperature between 52 and 57 f this temp allows all the flavour naucnes to merge and permits appreciation of the unfiltered texture.
Address: 15 Ellis Drive Dryden
For craft beer, food and wine.
Finger Lakes Craft Beer Map
Get your Finger Lakes Craft Beer map here.
Finger Lakes Distillery
Address: 7350 State Route 89 Ovid NY
For whiskey, gin, naturally infused vodkas distilled from the estate's grown organic grain.
They use 650-litre copper pots still handcrafted by Germany's oldest still fabricator CARL gmbh.
Try the Cayuga Gold Barrel Gin and White Dog unaged whiskeys.
Things to do in Finger Lakes
Seneca Lake Wine Tasting and Tour visiting 3 wineries in the region experiencing the history and some great local wine tasting.
Farms, Flight and Finger Lakes Brewery Tour 
Visit three craft breweries during your tour with beer tastings with a driver/guide in an air-conditioned bus.
A visit to 3 or 4 wineries with wine tasting around the shallow Keuka Lake.
Finger Lakes Falls
There are 50 Finger Lakes Falls in the region.  But, which one should you visit?
Buttermilk Falls in Buttermilk Falls State Park home to 9 other falls to visit
8 waterfalls in the Cascadilla Gorge Trail
5 waterfalls in the Fillmore Glen State Park
3 waterfalls in the Grimes Glen Park
Seneca Mills Falls and Cascade Mill Falls on the Keuka Outlet Trail
Letchwork Park home to many waterfalls but check out the 3 main ones – Lower Falls, Middle Falls and Upper Falls
3 waterfalls in Lick Brook Glen in Ithaca
the 115′ Lucifer Falls plus 11 others at the Robert H Treman Park
The 156′ Shequaga Falls near the historic town of Montour Falls
Taughannock Falls, higher than Niagara Falls, in Taughannock Falls State Park
Off NY 91 in Truxton is the Tinker Falls
19 waterfalls at Watkins Glen State Park
Best Hikes in Fingers Lakes
The Finger Lakes region is home to many hiking trails – for details click here
Finger Lake Attractions
Finger Lakes Museums:
Herbert F Johnson Museum of Art Ithaca
Rockwell Museum of Western Art Corning
Everson Museum of Art Syracuse
National Soaring Museum Elmira
Greyton H Taylor Wine Museum Hammondsport NY
National Women's Hall of Fame Seneca Falls
Granger Homestead Carriage Museum Canandaigua
Finger Lakes Attractions Parks:
Roseland Water Park Canandaigua
Harris Hill Amusement Park Elmira
Cruises on Seneca Lake:
Captain Bills Seneca Lake Cruises
Botanic Gardens:
Cornell Botanic Gardens Cornell
How to get to Finger Lakes
Airports near Finger Lakes:
Ithaca (ITH) 36.3 miles away
Rochester (ROC) 39.6 miles away
Elmira/Corning (ELM) 46.9 miles away
Syracuse (SYR) 49.2 miles away
Buffalo (BUF) 88.5 miles away
Flights to Finger Lakes
For the latest flight deals to Finger Lakes Airports:
Buses to Finger Lakes
For the latest schedules and ticket prices for booking click here
Rail to Finger Lakes
Amtrak offer services to Rochester and Syracuse
Car Rental Finger Lakes
For the latest car deals and bookings click here
Do you need a visa or health declaration to visit the USA?
Frequently Asked Questions
What are the temperatures like in fall in Finger Lakes?
Average temperatures range from:
September minimum 11 degrees C to 23 degrees C
October minimum 6 degrees C to 16 degrees C
November 1 degree C to 10 degree C
How many lakes are there in the Finger Lakes region?
There are 11 lakes and one great lake.
How large is Finger Lakes?
The Finger Lakes region covers 9000 square miles.
Can you ski in Finger Lakes?
Yes, there are 84 km of ski slopes to enjoy and 35 ski lifts.
Click here for a list of the top ski areas.
Travel Insurance
We always recommend you take out travel insurance when you travel. The best time is as you book flights and hotels, and pay deposits on tours and cruises.
Conclusion:
In conclusion, the Finger Lakes region is a captivating destination to visit in the fall. With its stunning scenery, vibrant foliage, and abundance of outdoor activities, there is something for everyone to enjoy during this time of year. Whether you are a nature enthusiast looking to explore the numerous hiking trails or a food and wine lover eager to indulge in the local culinary delights, the Finger Lakes offers an unforgettable experience. Additionally, the region's charming small towns and welcoming communities make it a perfect place to unwind and escape from the hustle and bustle of everyday life. So plan your trip to the Finger Lakes this fall and immerse yourself in all that this beautiful region has to offer.
Pinterest
Are you on Pinterest? We are at To Travel Too and we have many travel-related boards check us out at Pinterest.  If you enjoyed our article why not pin it to your board?
Related reading: USA Travel Guide
To Travel Too Travel Shop
Travel smarter and safer with products from our To Travel Too Travel Shop.  If you are looking for the latest luggage, guidebooks or travel accessories we have you covered with over 800 travel products to choose from.