Parks, churches, great food, quaint colonial streets and a blue volcanic lake are some of the five things to do in Granada Nicaragua.  Of course, there is much more to see and do in this city, but these five activities will certainly whet your appetite. We have also included the top five hotels to stay in Granada Nicaragua, the top 5 restaurants and the top 8 tours.
(Editor Update 2021)
This post may contain affiliate links. Please see our disclosure for more information. As an Amazon Associate, we earn from qualifying purchases (if applicable).
Granada in Nicaragua is located on Lake Nicaragua.  Lake Nicaragua is #20 in the world for its size. One of the prettiest islands – Ometepe Island is located in the middle of the Lake. One of the top things to do in Granada Nicaragua if you are into hiking and trekking a volcano or two you should catch the ferry to Ometepe Island for USD2 or you can take an organised tour, click here for details.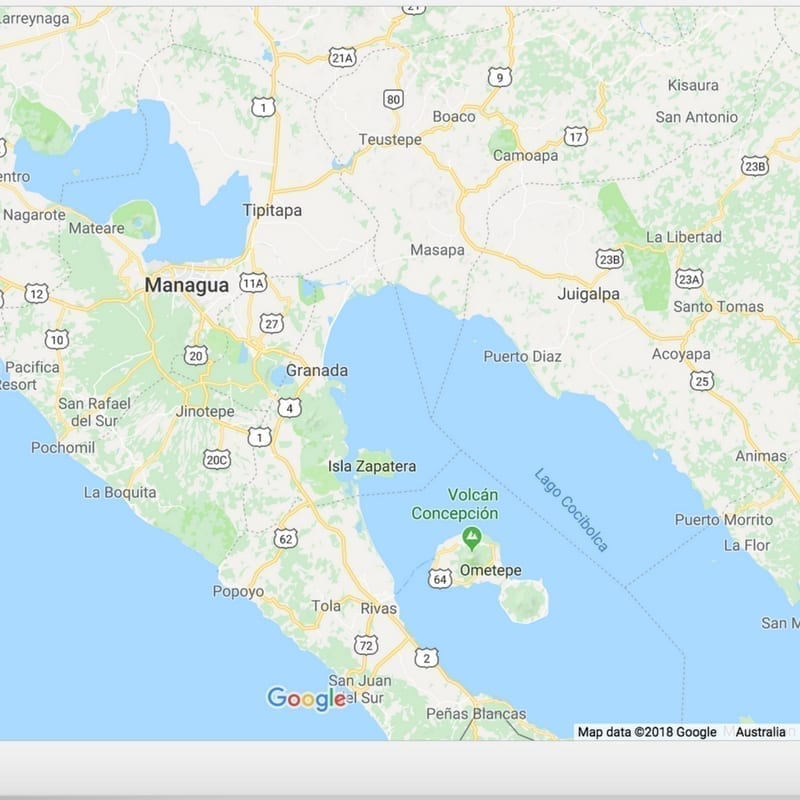 Granada is Nicaragua's most beautiful city with its parks, churches, lakeside location and its food street – Calle La Calzada
What to do in Granada Nicaragua: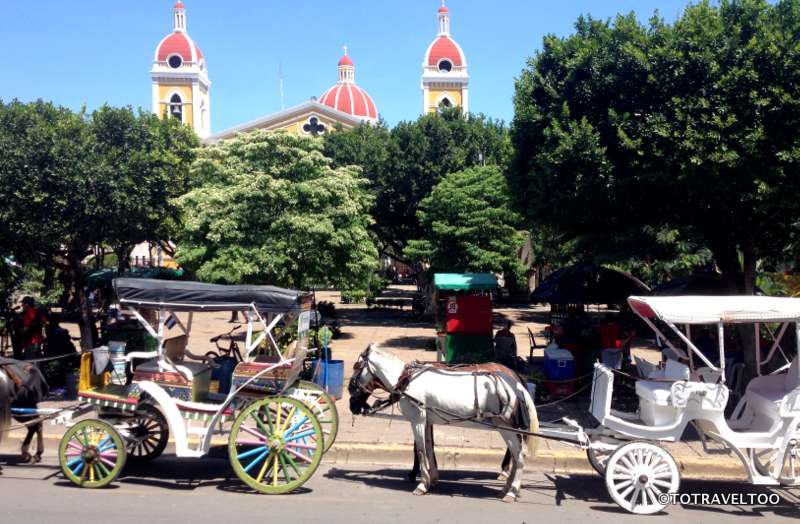 A typical Spanish colonial designed central park that is the hub of Granada.  Here you will find local food stalls selling Granada's famous dish Vigoron – fried pork skins with cabbage salad and Yukka wrapped in a banana leaf.
Horse-drawn carriages can be hired for a tour around the city sights from here. There are approximately 30 twin horse carriages to choose from, seating up to 4 passengers for a 30 or 60-minute journey. For more information on a longer tour of the City that includes the horse-drawn carriage ride and walking tour click here.
Granada Churches
Granada is not short of spectacular churches. La Iglesia de la Merced the oldest religious church in Central America is located on Calle Real Xalteva.  Destroyed in 1655, 1781 and 1854 and rebuilt and completed in 1863 is said to be Granada's most beautiful church.  Spend USD1.00 and climb to the top of the Bell Tower for 360-degree views over the countryside and on a clear day you can see the Mombacho Volcano.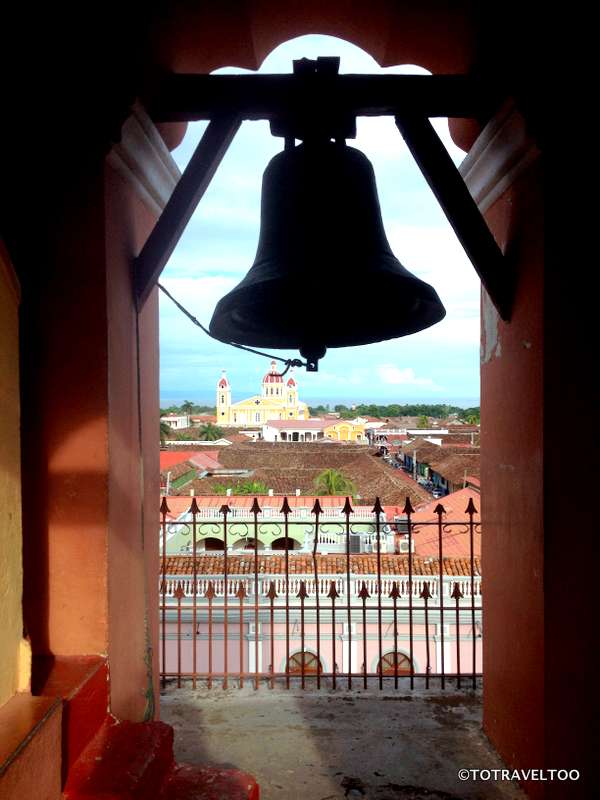 The yellow and white Granada Cathedral stands majestically on the eastern side of Parque Colon – it is the iconic photographic image of Granada. Built originally in 1583 it has been destroyed over the years and recently rebuilt in 1915.
The colourful colonial buildings and churches in Granada really make the town one of the most picturesque in Nicaragua.
One of Granada Nicaragua's tourist attraction is the central pedestrian boulevard lined with restaurants, shops, bars, local tour operators and artisan bread shops. No doubt, this is where you will spend most of your time eating, drinking and shopping.
Our favourites restaurants in Granada:
Cafe de los Suenos located in front of Colegio Carlos Bravo 3 1/2 blocks from the Cathedral towards the lake. Cafe de los Suenos has the best coffee in town. They are closed on Mondays.
O'Shea's Irish Pub was recommended to us by two individual travel bloggers for the best fish and chips in town.  We had to go just on these recommendations alone and we were not disappointed. There is always an Irish Pub in most places that you visit but O'Shea's was one of our favourite ones.  Don't forget to enjoy an afternoon sharing a bucket of beers!
The volcanic blue crater lake, Laguna de Apoyo,  that lies 25 minutes from Granada and 30 minutes from Managua was declared a natural reserve in 1991.  It lies between Mombacho Volcano in the South and Masaya Volcano in the North.  A great place for swimming, kayaking, boating and viewing the flora and fauna.
The Laguna Beach Club is a great place to spend a day relaxing, swimming and eating.  There is a small entrance fee if you are not staying there to use their facilities.  You can even bring your own food for a bbq.
Mansion de Chocolate Granada
Mansion de Chocolate is located in the largest colonial mansion in Granada.  Apart from boutique hotel accommodation they also offer a selection of therapeutic and relaxing spa services and beauty treatments.  The Choco Museo offers workshops in the history of chocolate and for hands-on experience, they teach you how to create your own chocolate drinks. Don't leave without trying their Hot Chocolate.
Where to Stay in Granada Nicaragua
For the top 5 hotels to stay in Granada Nicaragua see our recommended list below.
Hotel Plaza Colon (rated 9.8 with Hotels Combined): Parque Central, Granada

Hotel Jardin de Granada (rated 9.7 with Hotels Combined): La Otra Banda Contiguo a Farmacia, Granada

Hotel Casa San Francisco (rated 9.1 with Hotels Combined): 207 Corral, Granada

Hotel Real La Merced (rated 9.3 with Hotels Combined): Frente a Iglesia la Merced, Granada

Hotel Patio del Malinche (rated 9.7 with Hotels Combined): Calle El Calmito, de Alcadia 2 1/2c al Lago, Granada

For other hotel options:

Where to eat in Granada Nicaragua
Our top 5 restaurants in Granada as recommended by travellers on Tripadvisor:
Restaurante El Garaje: Calle Corral 512, Granada
Pan de Vida: Calle La Calzada 406, Granada
La Frontera: Xalteva Church, Granada
Bocadillos: Calle Corrales 207, Granada
Cafe de las Sonrisas: Calle Real Xalteva, Granada
 

For other restaurant options:

Granada Nicaragua Tours
We are very happy using Get Your Guide in activities in cities that we visit.  We love their 'best price guarantee' which means if we find the same activity by the same local tour operator in the same currency for less they will refund the difference.  Currently they offer over 35,000 activities in over 7,600 locations.
Further reading:
Getting Into Granada Nicaragua
The closest airport to Granada is Managua (the capital of Nicaragua).
Flight Deals to Nicaragua
Find the cheapest flights with Skyscanner  our go-to when researching and booking flights throughout the world.
The cost of a taxi from Managua to Granada is around USD40 to USD50.  It is recommended to reconfirm the price clearly before booking a taxi.
Bus Travel Around Nicaragua
For the latest bus schedules and ticket prices for travel around Nicaragua click here.
Travel Insurance
We recommend taking our travel insurance as soon as you pay for your flights, tours and or accommodation.  By taking it out at this time and not the day before you travel is that you are covered for cancellation due to health reasons or other reasons that are covered by your policy.  Please ensure that you read all the conditions of the policy.
Time in Nicaragua
GMT – 6 is the time zone for Nicaragua.
Best time to visit Nicaragua
The best time to visit Nicaragua is during the dry season which covers the months from December to April.
Pinterest
Are you on Pinterest? We are at To Travel Too and we have many travel-related boards check us out at Pinterest.  If you enjoyed our article why not pin it to your board.
We have created with Amazon our own travel shop with over 800 travel-related products.  The travel products are items that we have used or items that other travellers have recommended to us.