Planning a visit to Bilbao in Spain?
When visiting Bilbao in Spain whether for a weekend or a week you will need a hotel that is well located, good value and very comfortable. When doing our research we came across the Hotel Gran Bilbao and it ticked all the boxes for the type of hotel we were after in Bilbao.
The Hotel Gran Bilbao had been awarded the "Family Hotel of the Year" in the Global Luxury Travel Guide Awards of 2017.  An award that we believe is well deserved, as well, the hotel is rated #3 out of 50 hotels by TripAdvisor.
Since then the Hotel Gran Bilbao has received numerous hotel awards.
Latest Guest Review: Very easy online check-in and app-based keys saves time. Easy to find, safe parking and very comfortable spacious rooms. Breakfast was great with some unusual healthy options as well as a great variety of more traditional breakfast options.

Our stay at the Hotel Gran Bilbao was hosted by the hotel. As always our opinions are our own.
This post may contain affiliate links. Please see our disclosure for more information. As an Amazon Associate, we earn from qualifying purchases (if applicable).
Location of Hotel Gran Bilbao
The Hotel Gran Bilbao is a good quality 4-star hotel 500m from the historical centre of Bilbao.  Expansive views over the countryside give guests a feeling of being out in the country, when in fact, all it takes is a 10-minute walk and you are in the heart of Bilbao.
Transportation to the Hotel Gran Bilbao and Major sites
Bus #77 outside the hotel is available for transport to the city.
You can book a private transfer from the airport to the hotel here.
A taxi fare can start at around Euros 50 +.
Atxuri Metro Station is just a 10-minute walk.
Bilbao's most famous tourist attraction the Guggenheim Museum is 3km away.
The Port of Bilbao is located 15.32km away.
Our Experience at the Hotel Gran Bilbao
Check-In
A very smooth check-in at 6 pm by the Reception staff even with a coach load of travellers checking in at the same time.  A local map was handed to us with clear explanations of local transport and sights to see in Casco Viejo (Old City) and walking times and distances.
Our Bedroom
As we opened the door to our bedroom we were in awe.  We had been upgraded to the Hotel's suite – one of the largest in Bilbao we found out later, measuring 75m square.
Our suite featured a separate seating area with a sofa, flat-screen TV and city views.
The very large bathroom was to die for, a large hot tub with a girl's best friend – luxury toiletries by Bvlgari. We even had our own private dressing room. It would have to be something very special for us to leave this hotel – well in fact, it was – a repositioning cruise to Panama 4 days later.
The king-size white leather bed had luxurious linen and many comfortable pillows.
Breakfast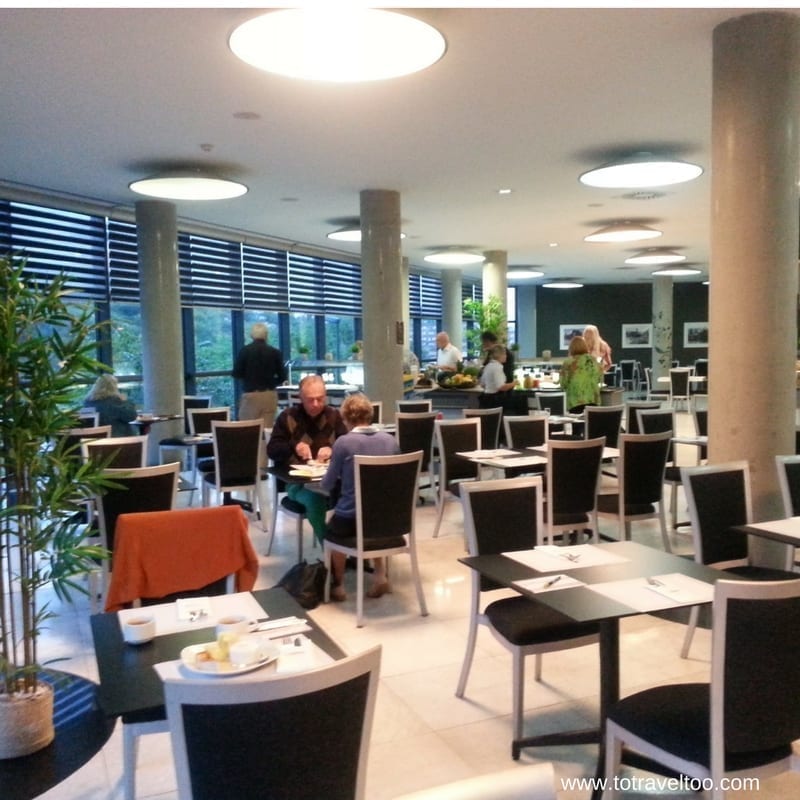 A buffet breakfast was served downstairs, on the same level as Reception.  A large modern, well-planned breakfast restaurant with large windows offering expansive views over the countryside.
Hotel Gran Bilbao's breakfast is a legend in Bilbao offering good quality local produce, a large selection of cold meats and cheeses, pastries, high quality cooked breakfast items, a good selection of cereals and fruit, local sparkling wine and juices and of course good coffee.
Gym
The Gym has all the equipment you need for a great work out.  Large windows gave the Gym a large and airy feeling, in fact, it was a pleasure to be able to have a good workout in a very clean area.
Wifi
Wifi was free and strong in all areas.
Why We Chose Hotel Gran Bilbao
We were departing from Bilbao Port on a Repositioning Cruise from Bilbao Spain to Colon in Panama.  We were keen to find a well-located hotel that would be suitable for cruise passengers to enjoy pre-cruising and post-cruising. Hotel Gran Bilbao fitted our criteria and had consistent excellent hotel reviews through all booking engines and had maintained its #3 rating in TripAdvisor.
General Information on the Hotel
The Hotel Gran Bilbao has a total of 202 rooms and 7 large function rooms that can cater for up to 300 people.
The Gran Bilbao's restaurant serves a high-quality Basque-inspired menu with locally sourced fresh produce and wine.
Hotel Gran Bilbao is an independent hotel under the Sercotel Hotel banner.  The chain has a total of over 200 hotels in Spain, Italy, Portugal, Panama, Ecuador, Colombia, Andorra and Cuba.
Contact Details:
Our Rating:
We would give the Hotel Gran Bilbao a 4.5-star rating based on the following:
central location, in a quiet area 10 minutes walk from the Historical Centre
large size rooms, good quality bed and linen, luxury toiletries
a good quality a la carte breakfast with local produce
professional efficient staff
all areas of the hotel were clean and well kept
strong free wifi
Things to do in Bilbao
Getting In 
Bilbao's airport is 13 km from the city.
You can arrange a private transfer to your hotel here.
Notes from Tripadvisor "A more economical option is to take the Bilbao airport bus into the city (Termibus). Bus service starts at 6:15 a.m. and runs every 30 minutes until 12 a.m. The 15-minute ride costs €3.00. The Estacion de Abando, located near the Plaza de Espana, is the major train station in Bilbao.".
Flight Deals
Find the cheapest flights with Skyscanner our go-to when researching and booking flights throughout the world.
Train Travel
Train travel around Europe is easy and reliable. A Eurail Pass is worth considering if you are travelling from country to country. For more details click here.
Bus Travel
We have travelled all over Spain in buses which we have found to be safe, reliable and cost effective. For the latest bus schedules and ticket prices click here.
Car Rental
It is easy to rent a car from Bilbao Airport or from the City centre. Click here for details.
Travel Insurance
We recommend taking out travel insurance as soon as you book your flights and pay deposits on any cruises, tours or hotels.
Pinterest
Are you on Pinterest? We are at To Travel Too and we have many travel-related boards check us out at Pinterest.  If you enjoyed our article why not pin it to your board.
Disclosure:
Out of our 3-night stay including breakfast, one night was complimentary.  As always, our opinions are our own. We thank Raul Amestoy Lara and his staff for a most enjoyable stay.  We look forward to returning and spending more time enjoying the many delights of Bilbao.
To Travel Too Travel Shop
Travel smarter and safer with products from our To Travel Too Travel Shop.  If you are looking for the latest luggage, guidebooks or travel accessories we have you covered with over 800 travel products to choose from.