We have been on the road now since 2013 and we have our travel essentials that we would not leave home without.  Some are new like our luggage, this is our third set, and some that have been with us for the whole journey. A holiday packing list is different to our packing list for long term travel as we now only travel with carry-on luggage.
(Editor Update 2018)
Before we head off on our travels we have a travel checklist.  This covers who is carrying what technology, passports, currency and health insurance documents. We split our credit cards up between us, as we have learnt the hard way by being robbed in Ecuador on the way to Otavalo.
We did initially travel with
TSA locks on our bags, but we found that in Ecuador they were cut off and were pretty useless after that so we haven't bothered since.
Our fitness level is important, check out our post on how we stay fit whilst on the road long term.
We would recommend that you include in your travel packing list a
small first aid kit. Always keep your products up to date.
I am a bit 'old school' and need to travel with a notebook to write down things I see and hear when I travel.     I just love
notebooks.
If you are planning your next adventure we can give you our top tips and tricks for saving money on travel from flights to accommodation and more.
#1 Travel Essentials – Travel Insurance by World Nomads
It is so important, we cannot stress enough how important it is.  Our passports and credit cards were stolen in Quito, Ecuador.  The costs involved in replacing the documents, travelling to the Australian Embassy in Guayaquil, the other end of the country to where we were staying, came into thousands. Our saying is if you can't afford travel insurance you can't afford to travel.
If you are based in Australia click here for more details and for the latest quote on your travel insurance.
#2 Travel Essentials – Luggage – Osprey Carry On
We are now travelling with our Osprey carry on luggage set.  After two what we call 'failed attempts' with a local Australian brand we are very happy with the strength and durability of these products.  We have also downsized from 100 litres to 65 litres and now travelling with only a carry-on at 46 litres and a day pack.  Using carry-on luggage has saved us close to USD200 in the first three months of trialing these bags, the savings have been in public transport and airline luggage fees.
To partner our Osprey Carry On, we use the Osprey Day Pack which carries all our electronic technology and important documents
We are now travelling with 2 Apple computers – a
Macbook Pro.
Just recently we purchased a
Macbook Air.
My trusty workhorse, that is fast and efficient and the only way I can work on the road effectively writing stories and reviews.
#5 Travel Essentials – Powerboard
iPads, iPhones, two laptops and a camera that all require charging each night at once, it could be a nightmare, but not with the powerboard that we travel with.  All we need is one powerpoint and to remember to plug it in (yep, it does happen especially after a long day on the road).
#6 Travel Essentials – Travel Adaptor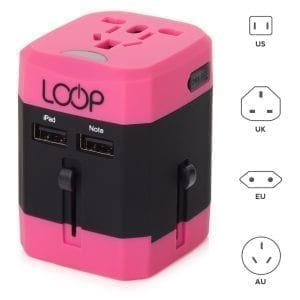 Another essential that any traveller needs is the
travel adaptor and the lighter the better.
#7 Travel Essentials – Trail Wallet – Travel Budget App
The Trail Wallet is an easy app to use to track our expenses whilst on the road.  We set up our travel budget for the trip, upload the currencies of the countries we are travelling to and Trail Wallet does the rest for us.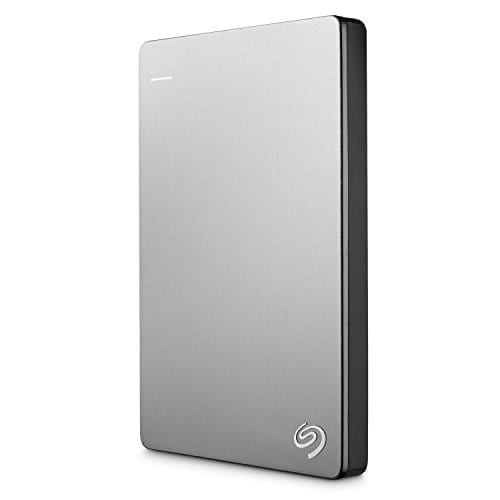 Last count we had over 40,000 photos for 3 years of travel.  We are actually running with 2 hard drives and looking to purchase another hard drive.
#9 Travel Essentials – USB Stick
Always handy to store files for printing, moving photos around and general documents.
As well as our iPhone camera we use a Panasonic DMC TZ40 Lumix Camera. It is light to carry around and simple to use.  We are happy with the photos that we have shot with this little beauty.
The iPhone is our workhorse as well, apart from housing all the apps that we use the camera is a backup for us.
#12 Other Products That We Carry With Us
We should also not forget our Panama Hats.
We purchased ours in Ecuador and they are the original
Panama Hats.  They fold into 3 and can fit in a small tube, perfect for travelling.
If you enjoyed our article why not PIN it for later.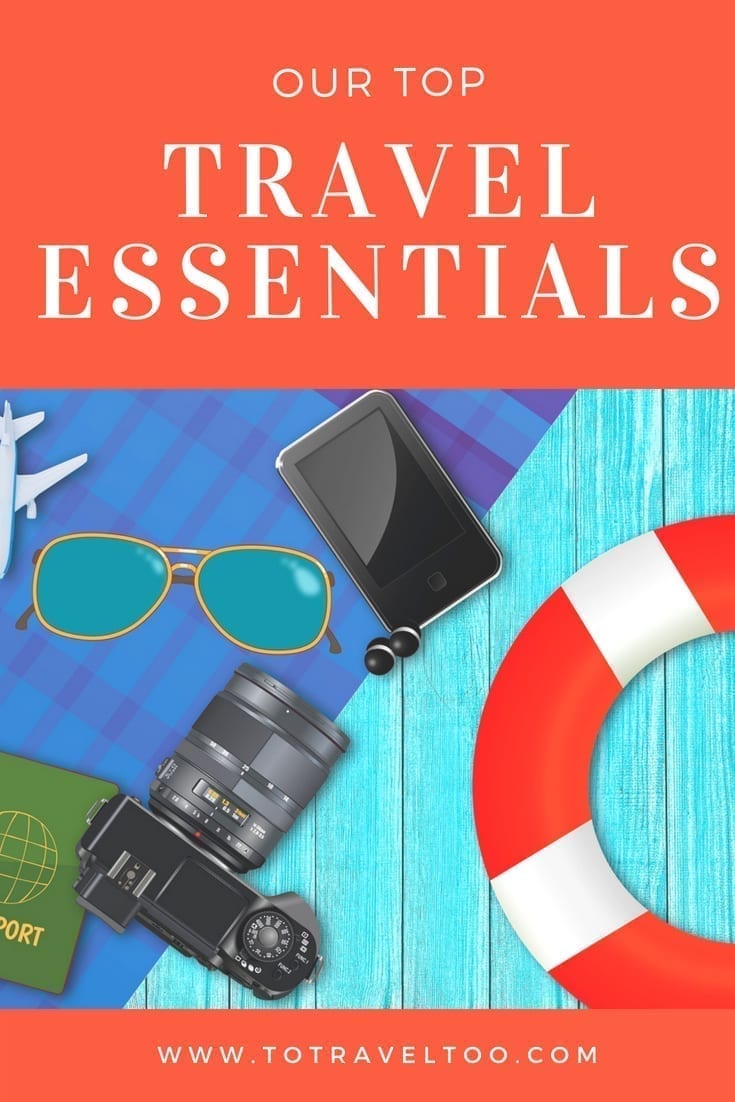 We have created our own To Travel Too Travel Shop with Amazon with over 300 travel products.  Some that we use ourselves others that other travel bloggers have recommended to us.
Is there any travel essentials that you travel with?  We would love to hear from you.
THIS POST CONTAINS AFFILIATE LINKS.