Located in the heart of Dublin, the Guinness Storehouse stands as a testament to Ireland's rich brewing heritage and is a must-visit attraction for beer enthusiasts and curious travellers alike.
With its captivating exhibits, interactive experiences, and awe-inspiring architecture, spending a full day at the Guinness Storehouse is an immersive journey that delves into the history, craftsmanship, and culture behind one of the world's most iconic beers.
From learning about Arthur Guinness's visionary spirit to mastering the art of pouring the perfect pint, this article explores why immersing oneself in all these renowned establishments offers is well worth the time for anyone with an appreciation for beer and Irish culture.
Dublin is one city that you need to give some time to, there is so much to see and do.  It would be such a shame only to give it a day or two.
Why you should spend a full day at the Guinness Storehouse, let us count away the hours for you:
view the world's largest glass beer pint that can hold 14.3 million pints
Gravity Bar Dublin – enjoy a free pint of the best Guinness in Dublin whilst enjoying 360-degree views of Dublin
7 floors of fun, history and information
3 restaurants, 2 bars, 1 cafe
Guinness Storehouse shop
Guinness Connoisseur Experience
Guinness Academy
Guinness Advertising over the years – believe us they have some of the best beer ads we have seen
This post may contain affiliate links. Please see our disclosure for more information. As an Amazon Associate, we earn from qualifying purchases (if applicable).
Why You Should Spend a Full Day at Guinness Storehouse
If you think that you can get all this done in 2 hours, just like we thought we could think again, allow a full day and take it easy.  Also, plan your check-in time as well.
We thought 12.00 would be perfect so that we could enjoy our free pint of Guinness around 1.30 to 2.00.  Wrong!  You enjoy your free pint at the Gravity Bar and the busiest time is from 2.00 onwards.  We would recommend that you select a check-in time around 9.30 – 10 when they first open.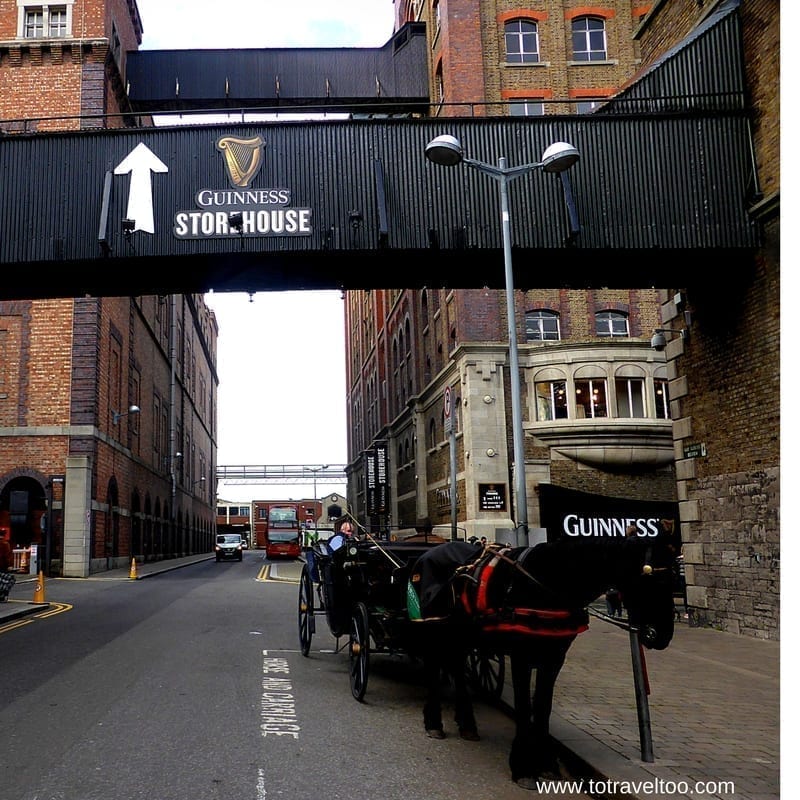 The Guinness Storehouse attraction is #1 in Dublin, and the Guinness experience was our #1 must-see on our visit after visiting the Banks Beer Brewery Tour and the Mount Gay Rum Tour in Barbados a few months before.
In 1756 Arthur Guinness inherited 100 pounds from his godfather, Arthur Price, the Church of Ireland Archbishop of Cashel and invested in a small brewery outside Dublin.  In 1759 Arthur signed the Guinness  9000-year lease on St James Gate Brewery paying 45 pounds a year for the privilege.  St James Gate was a derelict 4-acre brewery site.
In 1751 Arthur married Olivia Whitmore and had 21 children, sadly only 10 survived to adulthood.
Arthur Guinness was known as a man of vision.  In 1833 St James Gate Brewery was the largest in Ireland and in the 1880s it was the largest in the world.  Arthur Guinness built 8 miles of railroad tracks and had his own barges to deliver the beer. As part of the lease on St James Gate, Arthur negotiated rights to the city watercourse, these days 8 million litres of water flow into the brewery daily.
The original bell from the ship "Lady Miranda"  that used to deliver beer from Dublin to Liverpool is located in the Storehouse and is rung after you have had your sample tasting.
Drinking a pint of Guinness from Westport to Wexford and all the places in between paired with Irish traditional fare is the perfect way to enjoy the delights of this incredible country.
This is Why You  Spend a Full Day at the Guinness Storehouse (Enjoy a bit of 'craic')
On arrival at the Guinness Storehouse, you check in at the entrance level, we would recommend at least 10-15 minutes before your allocated time, and then make your way up the escalator where you will wait. There are audio guides available for 1 Euro.
The Guinness Storehouse Shop is on your left and it is so tempting to start your shopping there and then, but wait! Remember you have allowed all day!
Slainte! The word for 'cheers and to your good health' in the Irish Gaelic language! Practice saying it before you enter!
Also, look down at where you are standing, you may just be standing on Arthur's famous signature on the 9000-year lease, his signature appears on all Guinness!
Now look up, you are at the bottom of the world's largest Guinness glass which holds 14.3 million pints of Guinness which is 3 times the population of Ireland.
The Guinness Storehouse has been open since 2000 at St James Gate and in 2016 16.5 million visited the complex.  That is also a lot of Guinness pints that were pulled in that year.
If you think that is a high number, let us share this one with you!
15 million pints of Guinness are pulled every day in over 150 countries. Phew! That's a lot of Guinness!
Liquid Gold its has been called! Why? Apparently the flawless favour of the brew and its profitability! We would add great advertising!
Home of the Black Stuff – actually believe it or not that Guinness is not black but a deep dark ruby red colour.
198 calories per pint – which is less than an average pint of beer.
Is Guinness good for you? Oh yeah! Guinness was the perfect pint after giving blood it replenishes the electrolytes.  The 1929 tagline – "Guinness is good for you" was an actual fact.  We were also told that Guinness was good for you if you were pregnant, it provided the iron that your body needed.
How to Pour The Perfect Pint
There is a knack in pouring the perfect pint of Guinness and it also has something to do with the harp emblem that you will see on all Guinness advertising.  The 14th-century Irish harp that the logo was modelled on can be seen in the library at Trinity College.
1.  The Guinness Pint Glass is held at an angle of 45 degrees tilted away from you
2.  The tap handle is pulled towards you to the full horizontal position without the glass being touched and it is filled up to 3/4 at the golden harp emblem
3.  The pint needs to rest for exactly 119.5 seconds
4.  To create the famous Guinness head you need to push the tap away from you, pour the Guinness slower than before, let it rest slightly, and then enjoy. The head should be between 12-18mm in height.
The Guinness should be cold to the touch and served chilled at between 4-5 degrees centigrade.
Everyone says 'Guinness tastes better in Ireland' and it is true, we have done our research.  We think it must be the water from the Wicklow Mountains.
How to Drink Your Perfect Pint of Guinness
This is 'how to unlock the magic for yourself' is what we were told when we went to enjoy our small sample test.
 Take a deep breath
 Take a large mouthful ensuring that you are pulling through the head of the beer
 Let it develop on your palate for 3 – 4 seconds
 Swallow
 Exhale through the nose and enjoy its smooth velvet texture
The Guinness Process
Guinness is made from 4 ingredients, water, barley, hops and yeast all special in their own right but when mixed together according to Guinness's special recipe the result is pure black gold which we all love – Guinness is brewed exclusively in Dublin and then sent to their international Guinness breweries.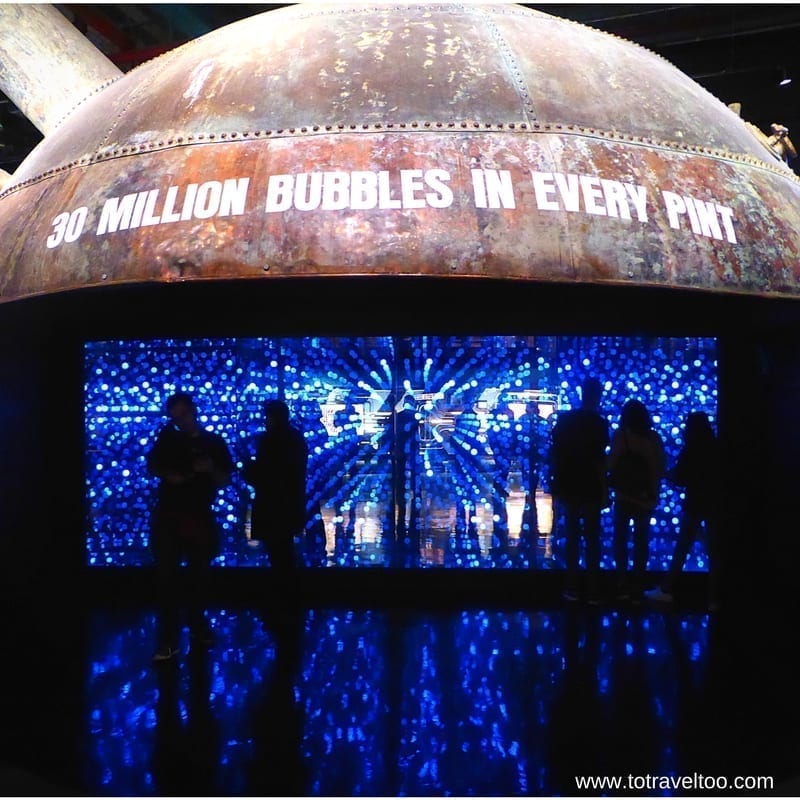 There are 30 million bubbles in every pint of Guinness.
Water fresh from the Wicklow Mountains of Ireland
Barley – Guinness purchases 2/3 of the malting barley that is grown in Ireland every year – approximately 100,000 tonnes.  The Guinness Brewery at St. James Gate is the only brewery in the world that roasts the barley on-site at 232 degrees centigrade for 2.5 hours.  Any higher than 232 degrees the barley will catch on fire and any lower it can't create its unique character. Barley is roasted on-site 365 days per year.
Hops – the plants grow to 15 feet and are grown at 35-55 degrees north and south of the equator in countries such as Australia, the Czech Republic, Germany, the UK, the USA and New Zealand.
Yeast – Guinness Yeast is used in all their beers
Brewhouse 4 is the most technological advance of sustainable breweries in the world.
The brew is tasted 23 times and is analysed 251 times by Guinness's team of scientists.
Guinness Storehouse Tour Length
Guinness Storehouse is a self-guided tour.  To get the most of out of your Guinness Tour Dublin you will need to spend more time on the first 2 floors where you will learn all about the ingredients and the process.  You can enjoy the interactive touch screens and video presentations.
The 3rd floor displays all the Guinness advertising – it is also a photographer's delight.
Guinness Storehouse Restaurants, Cafes and Bars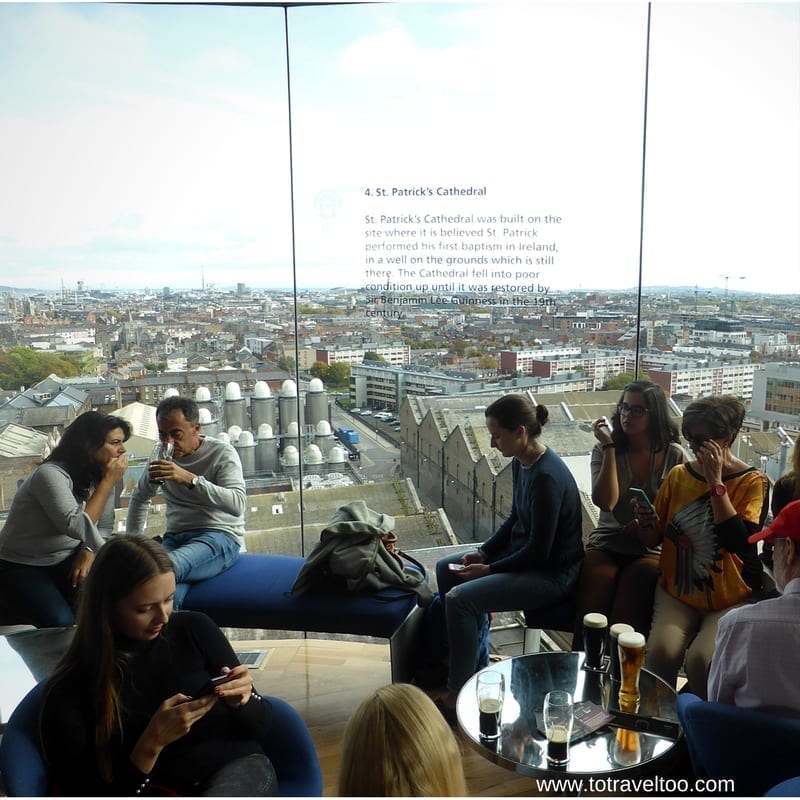 We hear that Guinness pie is on the menu as well as other delectable items made from Guinness of course!
Pinterest
Are you on Pinterest? We are at To Travel Too and we have many travel-related boards check us out at Pinterest.  If you enjoyed our article why not pin it to your board?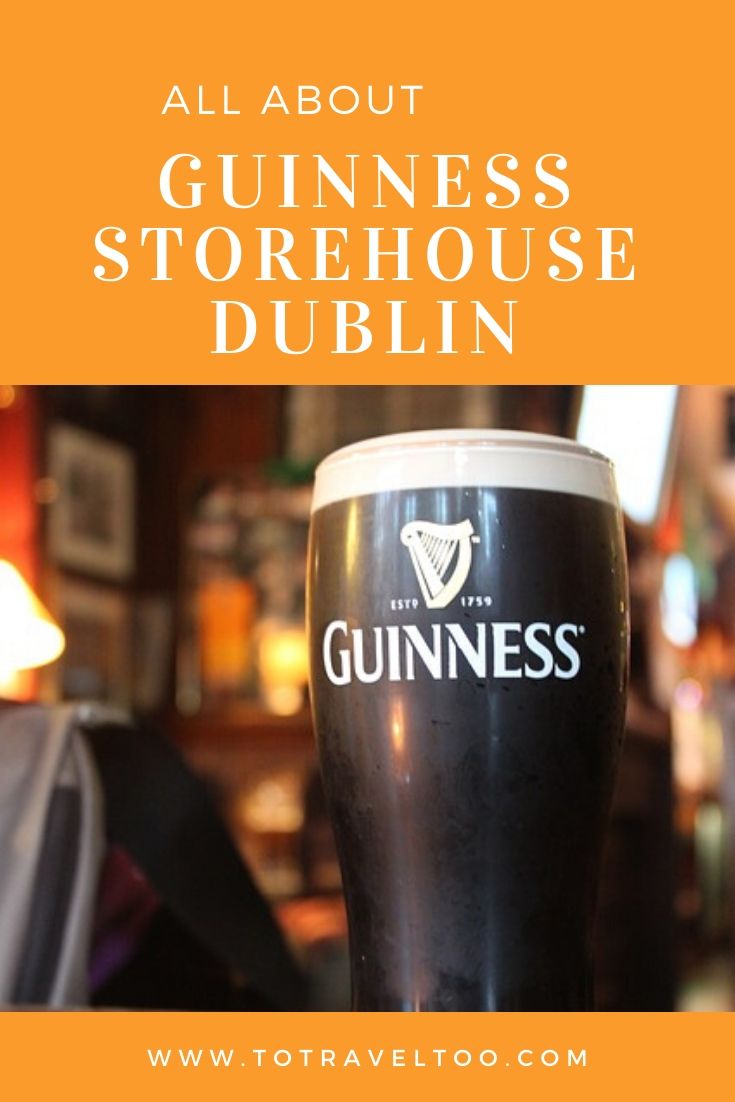 More articles on Ireland to inspire you:
Guinness Storehouse hours
Opening Hours: 0930 – 1900 (with last entrance at 1700)
July and August longer opening hours – 0900 – 2000 (with last entrance at 1800)
Closed Good Friday, Christmas Eve, Christmas Day and St. Stephen's Day.
Guinness Storehouse Parking
The Guinness Storehouse has a free car park around the corner next to the old Hopstore, on Crane Street, but spaces are limited.
Guinness Trivia
The Guinness Book of Records was created by the Managing Director of Guinness, Sir Hugh Beaver, in 1954.  The very first edition of the Guinness Book of World Records hit the stands in 1955.  It was actually invented so that Guinness Bartenders could relate fun bits of information and trivia to entertain their patrons at the bar!
Guinness Storehouse Dublin Contact Details
Address:
St.James Gate Dublin 8
Where to stay in Dublin
The Gibson Hotel : Point Village, Dublin.
The 4-star hotel boasts bedrooms with en-suite bathrooms, a 24-hour gym, a fine restaurant, and secure private parking.
Guest review: The room was great. Clean and comfy. The location is PERFECT for this city since the tram is right out the front door making easy to get pretty much anywhere. I wish I had stayed here for another part of my trip. I highly recommend!

Ashling Hotel : Parkgate Street, Dublin City Centre, Dublin
The 4-star hotel is located just a 5-minute walk from Dublin Zoo and the Guinness Storehouse. A 5-minute journey on the LUAS tram brings you to the lively Temple Bar area.
Guest review: The staff and the breakfast were a blast! Friendly, welcoming and made me feel very comfortable!!

For more hotel options in Dublin:


A personal recommendation for one of the top hotels and seafood restaurants outside Dublin is The King Sitric in Howth just a 30-minute Dart Train Ride from the centre.

If you fancy staying in a 12th-century Castle that is located 1 hour's drive from Dublin we can personally recommend Kilkea Castle.

We also can recommend staying at Barberstown Castle within an hour's drive from Dublin Airport.

Flights into Dublin
There are many international carriers serving Dublin Airport.  For the latest airfare deals click here.
Travel Insurance
The best time to take out travel insurance is when you pay deposits on accommodation, flights, tours and cruises.  Please read the conditions carefully on the travel policy before purchasing.
We would like to thank Conor George of Guinness Storehouse for providing us with discounted tickets for our visit.  We would also like to thank the team at Guinness Storehouse for looking after us so well. As always our opinions are our own.
To Travel Too Travel Shop
Travel smarter and safer with products from our To Travel Too Travel Shop.  If you are looking for the latest luggage, guidebooks or travel accessories we have you covered with over 800 travel products to choose from.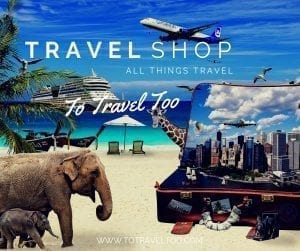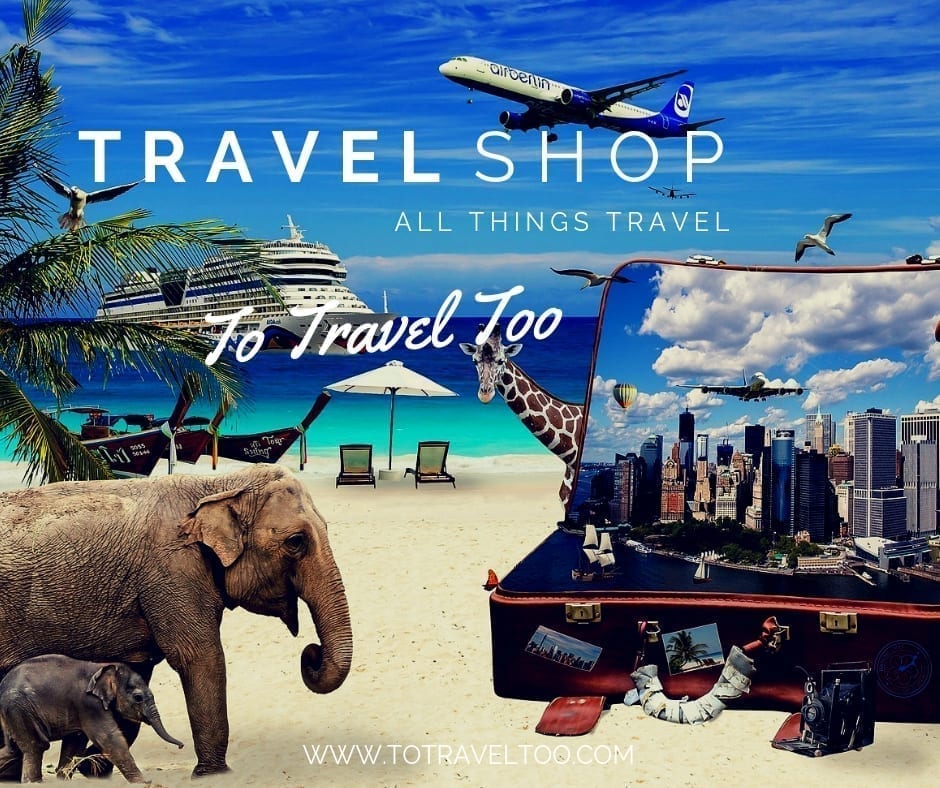 In conclusion, spending a full day at the Guinness Storehouse in Dublin is an experience like no other. From the moment you enter the iconic building shaped like a pint of Guinness, you are immersed in the rich history and culture behind Ireland's most famous beer.
With interactive exhibits, fascinating displays, and knowledgeable staff members, visitors can delve deep into the brewing process, learn about Arthur Guinness's vision, and even pour their own perfect pint. The stunning views from the Gravity Bar provide a breathtaking backdrop to savouring your freshly poured Guinness while taking in panoramic views of Dublin City.
Whether you are a beer enthusiast or simply curious about Irish heritage, this immersive and educational journey through the world of Guinness is well worth dedicating a full day exploring.