Guanajuato, a charming colonial city nestled in the heart of Mexico, offers visitors a plethora of activities that are sure to captivate and inspire. From exploring its colourful streets adorned with stunning architecture and vibrant murals to immersing oneself in its rich cultural heritage through world-class museums and theatres, Guanajuato is a haven for those seeking an authentic Mexican experience. Whether you're an adventure enthusiast craving outdoor escapades or a history buff yearning to uncover the secrets of this UNESCO World Heritage site, this article will guide you through the top 8 activities to do in Guanajuato, ensuring an unforgettable journey filled with wonder and delight.
Guanajuato is a charming colonial city located in the centre of Mexico in the state of Guanajuato. In 1988 Guanajuato was designated a World Heritage Site. The town dates back to the 16th century.
We loved wandering aimlessly through the back streets finding great coffee shops, and colourful colonial architecture and enjoying the many plazas and squares. There are definitely more than 8 activities to do in Guanajuato, one of the most beautiful places in Mexico.
We had some of the best Mexican food in Guanajuato, and it was in the local market eating where the locals did at lunchtime that really wowed us! Just join a local queue. and you won't be disappointed.
A question that we are always asked is "is it safe to travel to Guanajuato"? Our answer is yes, it is safe, but as in all of your travels, you have to be careful of your personal belongings when you are out and about.
Related reading: What to do in Oaxaca – 11 things you must see and do
Mexico is one of our favourite countries.  We have spent many months travelling through different areas and we have created an e-book A Mexico Travel Guide.
Our guide will assist you in your Mexico Vacations bookings highlighting where to stay, where to eat, what to do and our tips and tricks.
This post may contain affiliate links. Please see our disclosure for more information. 
Want some  tips for saving money on travel read more here
Where is Guanajuato
Guanajuato is located in the centre of the country of Mexico in the state of Guanajuato.  Mexico City is 359 km away from Guanajuato or 5 driving hours.
Guanajuato City Map (Centro Guanajuato)
What to do in Guanajuato
Wondering what are the top things to do in Guanajuato? Check out the best of Guanajuato here.
The colourful and iconic Basilica de Nuestra Senora de Guanajuato built in 1693 stands majestically in Plaza de La Paz (the Plaza of Peace). It is located on a hill which gives it a feeling of majestic importance.
There are 23 churches in and around Guanajuato but the Basilica is the most beautiful and stunning. It was designed in the Mexican Baroque style.
King Philip II donated a jewel-encrusted silver statue of the Virgin Mary in 1557 to the town in recognition of the vast amounts of silver that Guanajuato had given to the King over the years.
Templo de San Francisco is located on Avenue Manuel Doblado and is a fine example of late baroque architecture constructed in 1741.
2. Spend a Night at the Theatre in Guanajuato
Officially opened by the President of Mexico Porfirio Diaz in 1903 with the performance of Aida. What is impressive to the eye are the 12 columns of greenstone and the rooftop of sculptures of the 9 muses. It was built in the Doric style with Roman inspiration.
From 1907 to 1910 the Theatre was recognised as the most prestigious theatre in all of Mexico and patrons came from all over to enjoy the many performances.
Pipila's statute at the top of the hill that overlooks Guanajuato is a symbol of the local miners who joined the troops of Hidalgo in 1810 during the War of Independence.
It's a 15-minute uphill walk following the signs to El Pipila. At the time of our visit, the Funicular was out of service. It is a bit of a climb! Definitely well worth it though for the views. You can take a taxi to the lookout if the Funicular is not working and you are not keen to complete the climb to the top.  If you do take a taxi why not walk back down.
As of 2023 the Funicular is opened again.
Tickets are to be purchased on the day of travel and only purchased in person.
One way 35 pesos return 70 pesos.
Opening times of the Funicular:
Mondays to Fridays: 8 am to 9.50 pm
Saturdays: 9 am to 9.50 pm
Sundays: 10 am to 8.50 pm
Don't forget to take your water bottle. 
Good to know:
The best time to visit El Pipila is just before sunset when the sun's last rays of the day send a golden hue over the town.
In public squares around Guanajuato, you will find several statues of Don Quijote and other statues such as the Angel shown above.
4.  Walk the Guanajuato Tunnels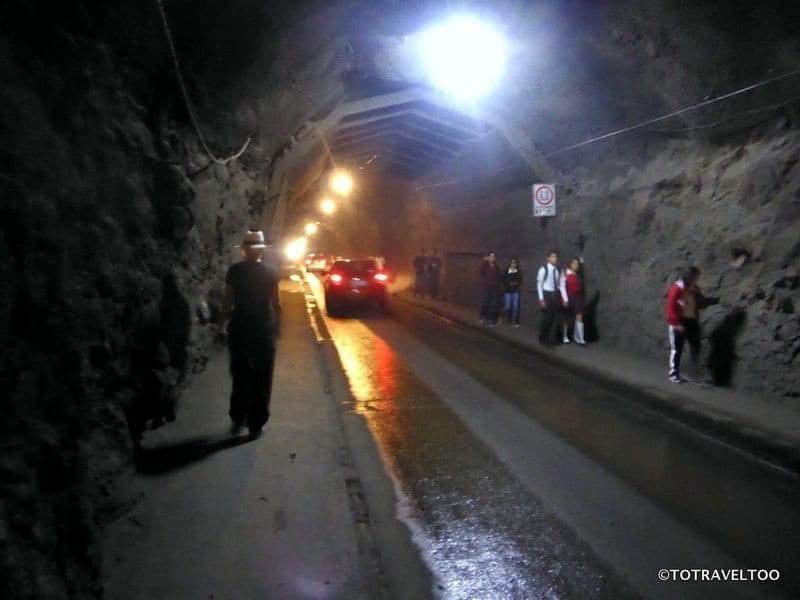 What is Guanajuato known for?
Guanajuato's 'underground streets' (its tunnels) in 2007 were named one of the 13 wonders of Mexico. The Guanajuato River has been covered over by numerous tunnels that cater to pedestrians and motor vehicles. It was quite scary walking through these tunnels with cars rushing past you.
5.  Eat at the local Guanajuato Markets
Mercado Hidalgo – one of the best places to visit in Guanajuato
For as little as $2 you can get the traditional pork torta and a drink in the market, just look for the stalls where there are queues of locals.
The fruit and vegetable displays are colourful, abundant and sweet-smelling as you wander through the market.
The market is constructed in iron and steel and was originally planned to be a railway station. Alexandre Gustave Eiffel (the same Eiffel of the Eiffel Tower) was brought in to work on the project.  The railway station was scrapped in 1910 and it was turned into a market.
Our favourite coffee place is Cafe Conquistador located at Pocitos 35, Juan Valle, a un lado del tunel Santa Fe.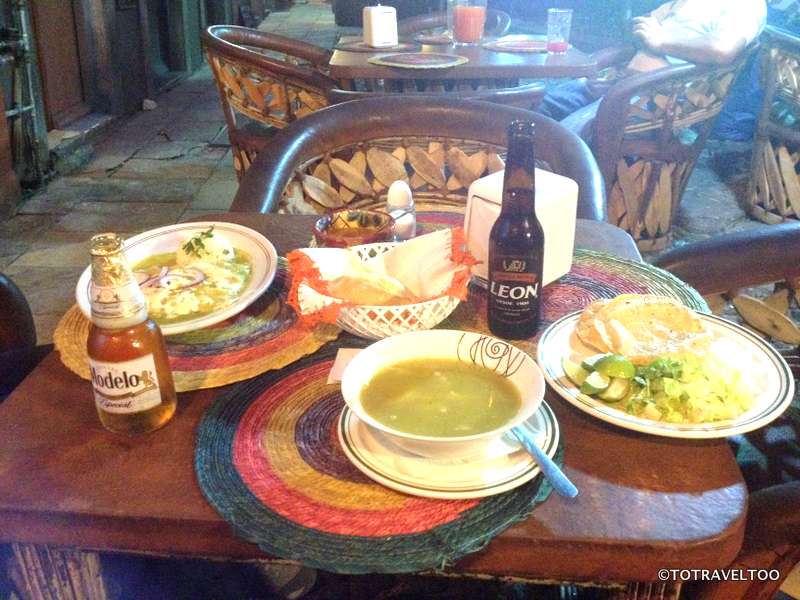 One of our favourite things to do in Guanajuato is to wander through the alleyways of Guanajuato city and stumble across some amazing coffee shops and restaurants.
To enjoy local Mexican cuisine in a Plaza setting you cannot go past Los Olivos located in Plaza San Fernando.
7. Guanajuato: Private Guided Walking Tour
Immerse yourself in the vibrant history and culture of Guanajuato
Stroll picturesque streets and admire the stunning architecture
Gain a deeper understanding with knowledgeable guides
Discover the wonders of Guanajuato on foot
An immersive and enriching experience for all visitors
There are many plazas scattered through the streets of Guanajuato City, some lined with restaurants, others with markets and other places to sit down and enjoy the local atmosphere after you have completed your private walking tour.
Callejon del Beso (Alley of the Kiss) – the legend tells that the alleyway is so narrow that two lovers kept apart from their respective families managed to exchange kisses from opposite balconies.
9. One of the Unusual Things To Do in Guanajuato
One of the unusual things to do in Guanajuato is to visit the Museum of the Mummies of Guanajuato.
In 1833 there was an outbreak of cholera around Guanajuato. The museum exhibits 59 of the 111 mummies that were embalmed after the outbreak.  We think it is expensive for what it is.
Address: Explanada del Panteon Municipal s/n Centro.
Opening hours: 9 am to 6 pm
You can now take a Guanajuato Museums Tour:
Private museum tour to explore Guanajuato's cultural heritage.
Comfortable transportation to admire colonial architecture and historic building
Gain insight into cultural icons that shaped Guanajuato's identity
Expert guides provide historical and cultural context.
Discover hidden gems like a mine's interior beyond the museums.

Guanajuato Tours – Fun things to do in Guanajuato

See Guanajuato through the eyes of a camera lens when you combine a photography tour with a tour of Guanajuato taking you through the backstreets and finding hidden gems.

Check availability here

A 2 Hour Private Tour of Guanajuato

Enjoy a private 2-hour tour of Guanajuato visiting the local market, learn the history and find the best spots to enjoy with your passionate local guide.

Take a private tour of Guanajuato

Your guided tour takes you through the streets of Guanajuato then up through the hills and the small mining towns.

Take a hike in the hills of Guanajuato here

Guanajuato Hotels

Our room overlooking the courtyard below

We stayed at Hotel Socavon which is a 3-star hotel that offers good value.  Some of the rooms are basic in design and some overlook the courtyard.  The hotel offers free parking and free WiFi and is located a ten-minute walk from the city centre.

We would definitely stay here again.

Read what others have said about Hotel Socavan here:

The best place to stay in Guanajuato!

Address: Calle Alhondiga 41 Barrio de Gavilanes

More Guanajuato Hotel Options:

Hotel La Casona de Don Lucas: Plaza de la Paz #48 Guanajuato Historic Centre, Guanajuato. The 4-star 13-room hotel is only minutes from Downtown and offers family rooms, a restaurant and a bar.

La Casona is the original birthplace of Don Lucas Alaman and the baroque architecture has been converted into a beautiful Mexican inn. Aljibe Bar is open 24-hours a day and La Fonda del Marques serves Mexican and international cuisine.

Guest review: The service is awesome and the hotel is beside the church and the Plaza.

Hotel Boutique 1850: Jardin de la Union 7 Centro Historico, Guanajuato. The art deco hotel is located in the city centre and offers a rooftop terrace and jacuzzi.

The 5-star hotel is a popular choice in Guanajuato.

Guest review: Lovely big well decorated and furnished room with separate sitting area – suite 103 Maria. Helpful staff available to take our hire car to a parking lot, as absolutely no parking anywhere else. Good breakfast at a nearby restaurant. Best shower in Latin America with thermostatic shower valve that works!

Hotel de la Paz: Callejon de Estudiante 1 Guanajuato Historic Centre, Guanajuato. The 3-star 15 room hotel is centrally located and offers an outdoor terrace.

The hotel is just 50 m from Nuestra Señora de Guanajuato Basilica and 100 m from Guanajuato University. Callejón del Beso Street is a 10-minute walk away.

Guest review: Our terrace overlooked Plaza de la Paz. Fellini couldn't have produced a better show. Absolutely brilliant location,

Edelmira Hotel Boutique: Allende 7 Guanajuato Historic Centre, Guanajuato. The 5-star 24 room hotel offers a jacuzzi, indoor pool, in-house restaurant and lounge bar.

Edelmira Hotel Boutique is a few metres from the Union Garden and is within walking distance of main colonial buildings. The famous Mummies of Guanajuato Museum is a 6-minute drive.

Guest review: Beautiful Hotel, centrally located to everything, the hotel room was huge and comfy.

Hotel Santa Regina: Calle Alonso 26 Altos Zona Centro, Guanajuato Zona Centro, Guanajuato. The 3-star 7 room hotel is centrally located and offers guests an outdoor terrace and tour desk.

Hotel Santa Regina is just a 5-minute walk from the Juarez Theatre and the funicular train to the Pípila Monument, a famous local viewpoint. The Alhóndiga de Granaditas Regional Museum is 600 m away.

Guest review: The location was great. Right in the centre of the historic area.

For more of the best hotels in Guanajuato:




The top restaurants in Guanajuato:

Amatxi located at Paseo de la Presa 109 which offers Latin fusion cuisine and is vegetarian-friendly.  You must try their award-winning paella.

La Table de Andree located at Calle Positos 66 for French cuisine and open for brunch, lunch and dinner.

Casa Mercedes at Calle de Arriba #6 San Javier Guanajuato open for dinner and offers Mexican Latin cuisine.

Guanajuato Mexico Weather

When is the best time to visit Guanajuato?

The hottest months to visit Guanajuato are April May and June.  The dryest months tend to be November and December.  The rest of the time Guanajuato has a temperate climate.


Guanajuato Airport (Aeropuerto Guanajuato)

Flights to Guanajuato airport (BJX) from the US are from Chicago, Houston, Dallas, Los Angeles and Atlanta. Guanajuato Airport is located between the cities of Leon and Guanajuato, it is a midsize airport with just one terminal for both domestic and international flights.

Flight Deals to Guanajuato

Find the cheapest flights with Skyscanner our 'go-to' when we are researching and booking flights.

Guanajuato Airport Transfers

Bus Travel

Mexico has a very efficient bus system for travel throughout the country. For the latest bus schedules and ticket prices click here.

Do You Need a Visa?

Car Rental

Car Rental can be organised from Guanajuato Airport on arrival or from Guanajuato.  Click here for more information.

Do you need an International Drivers License? You can obtain one

here online

in minutes.

Travel Insurance

World Nomads offers simple and flexible travel insurance. Buy at home or while travelling and claim online from anywhere in the world.

In conjunction with Amazon, we have created our own travel shop and we have stocked it with over 800 travel products.  The travel products are either ones that we have used ourselves or that other travellers have recommended to us.

Pinterest

Are you on Pinterest? We are at To Travel Too and we have many travel-related boards check us out at Pinterest.  If you enjoyed our article why not pin it to your board.

 

In conclusion, Guanajuato is a vibrant and culturally rich city that offers a plethora of activities for visitors to enjoy. Whether you are interested in exploring its fascinating history, immersing yourself in its artistic scene, or simply indulging in delicious cuisine, Guanajuato has something to offer everyone. From wandering through its picturesque streets and stunning plazas to attending lively festivals and experiencing the awe-inspiring architecture, this Mexican gem is sure to leave a lasting impression. So, pack your bags and get ready for an unforgettable adventure in Guanajuato!