Oaxaca (pronounced wa-Ha-ca) is a vibrant, culinary rich, authentic Mexican colonial city that you should plan to include on your next visit to Mexico, if you haven't already.
Wondering what to do in Oaxaca? We share with you our top experiences in Oaxaca City Mexico.
After travelling from Mexico City to Puebla we were excited to visit Oaxaca (Oaxaca de Juárez).  We had heard so much about its history, colourful streets, great rooftop dining and the ruins of Monte Alban from other travellers we just could not wait to visit.  Oaxaca did not disappoint us, and we will definitely return to enjoy the city's hospitality and its gastronomic delights. We know you will too! It is just that special city that you will visit time and time again.
(Editor  update 2023)
Did you know that some of the best beaches in Mexico are in Oaxaca?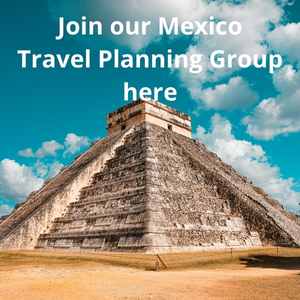 Some of Oaxaca highlights are:
Benito Juarez Market
Mercado 20 de Novembrie market
Santo Domingo Church
Museo de Las Culturas de Oaxaca
Cathedral of Oaxaca
The Zocalo
Hierve el agua
Mezcal tasting
Monte Alban tour
Visit Calle Alcala pedestrian street
Enjoy Rooftop dining
The first thing you should do on arrival is to head to the Zocalo, find yourself a restaurant, order a beer and people watch. It is an easy city to walk around, so you will not need to hire a car unless you want to visit sites outside the city such as Monte Alban, which you can visit on a tour.
We love to share with you our top 11 things to see and do in Oaxaca, Mexico.
This post may contain affiliate links. Please see our disclosure for more information. As an Amazon Associate, we earn from qualifying purchases (if applicable). 
You can now read this article offline and get GPS-guided travel directions to the attractions featured in this article by downloading the GPSmyCity app on iTunes App Store or Google Play. Click the link below to access the article.
Where is Oaxaca Mexico
The state of Oaxaca is located in the southeastern area of Mexico and the capital is Oaxaca de Juarez.
The city of Oaxaca is located 463 km from Mexico City and 339 km from Puebla, a popular tourist destination for travellers and a stopover on the way from Mexico City. During our time spent in Mexico we have visited many pretty colonial cities such as Morelia, Tepoztlan, San Miguel de Allende,  Guanajuato and Guadalajara.
The state of Oaxaca is home to some very special beach destinations.  One in particular is Mazunte a turtle and yoga hotspot located 265 km south of Oaxaca City and definitely worth a visit after you have spent time in Oaxaca.
How to get to Oaxaca from Mexico City 
ADO Oaxaca Buses run from Mexico City to Oaxaca – the journey takes approximately 6 hours 40 minutes.
ADO Buses run from Puebla to Oaxaca – the journey takes approximately 4 hours 40 minutes.
Best Things To Do in Oaxaca
Some of the best places to go in Oaxaca are:
1.  Benito Juarez Market Oaxaca
The Benito Juarez Market in Centro Oaxaca is full of local produce, meat, fish and flowers as well as the famous chocolate used for Mole sauce. The smell of the chocolate was intense. At the other end of the market, there is a BBQ area where you could choose your own meat and have it cooked to your liking.
The Benito Juarez Market is the oldest market in Oaxaca being established in 1893. The market takes up the whole block and can be accessed by 20 de Noviembre, Flores Magon, Las Casas, and Aldama.
Address: Las Casas S/N, OAX_RE_BENITO JUAREZ, Centro,
Opening Hours: 10.00 am to 8.00 pm
How long should you spend there: At least a couple of hours
2.  Visit The Mercado 20 de Noviembre Oaxaca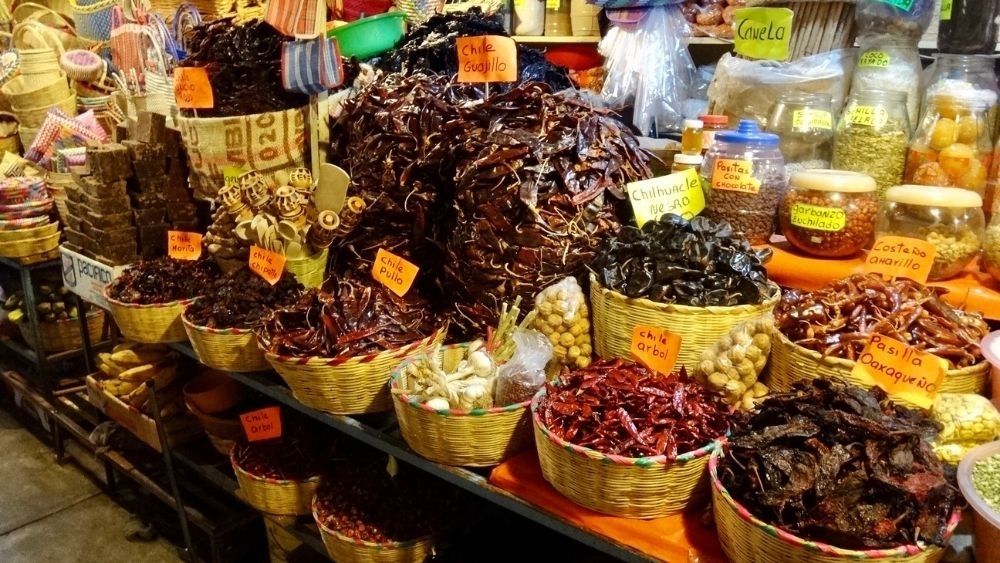 The Mercado 20 de Noviembre is famous for its meat to purchase and its grilled meats from "meat alley" or Pasillo de Arnes Asadas. It is close to the Benito Juarez market, one in front of the other.  Apart from meat, you can also purchase Mole (a sauce made from chiles, chocolate, onion, garlic and nuts), empanadas, vegetables, cheese, local Mexican dishes, fruit, pottery, handicrafts and more.
Address: 20 de Noviembre 512, OAX_RE_BENITO JUAREZ, Centro,
Opening Hours: 07.00 am to 9.00 pm
How long should you spend there: around 1 – 2 hours
3.  Santo Domingo Church Oaxaca
The Santo Domingo Church is a great example of Mexican Baroque architecture.  The church started construction in 1575 and was completed later in the same century and consecrated in 1611.
The Church is also home to the Ethnobotanical Garden which was designed by Francisco Toledo, an Oaxacan artist, and opened in 1998.  The 2.32 acres showcase the region's history via plants.
<strong>Know Before You Go</strong> :Visits are by guided tour only. Tours in Spanish happen Monday through Saturday; English tours are on Tuesdays, Thursdays, and Saturdays; French tours are on Tuesday evenings; and German tours are on Wednesday evenings. Tours typically cost 100 pesos per person, though are free for children under 12 years old.
How to get to the Santo Domingo Church
Address: Calle Macedonio Alcalá s/n, RUTA INDEPENDENCIA, Centro,
The Church is located in Calle Alcala which is the pedestrian street six blocks from the Zocalo, allow 10 minutes to walk.
Opening Hours:
Templo de Santo Domingo is open to visitors from 07.00 am to 1.00 pm and 4.00 pm to 7.30 pm from Monday through to Saturday. Sunday hours are the same except it closes at 7.00 pm.
4.  Museo de Las Culturas de Oaxaca
Located at Gurrion at Alcala, Plaza Santo Domingo, is the Museo de Las Culturas de Oaxaca.  The Museum houses treasure from Monte Alban and has great views over the Botanical Gardens and the restored library is well worth a visit. It is one of the region's best museums.
How much time should I allow to visit? Allow at least 2 hours.
Open to the public from Tuesday to Sunday from 10.00 am to 6:30 pm.
General admission $85 MXN
Sundays free admission
5.  Cathedral of Our Lady of Assumption in Oaxaca 
Located at Alameda de Leon the Cathedral is impressive.  Construction started in 1535 and was consecrated in 1733.
Earthquakes caused damage during the 16th and 18th centuries.  After several reconstructions, the Cathedral was reconstructed in 1702 and finished in 1733. The interior has been crafted in the Neoclassical style.
Address: Av. de la Independencia 700, Centro, 68000 Oaxaca de Juárez
6.  The Zocalo en Oaxaca
The Zocalo, the heart of Oaxaca, is a fun place to visit and to wander around during the day and night.  Need to escape from the midday sun? Head to the Zocalo. Whilst there you will be entertained by bands and buskers, balloon and ice-cream sellers and children having fun running around whilst their parents sit and catch up on the day's local gossip.  One of our favourite past times was sitting with a cold beer in the afternoon before dinner.
The square is one of the World Cultural Heritage sites by UNESCO.
7.  Visit Calle Alcala pedestrian street Oaxaca
Calle Alcala was one of the first streets in Oaxaca. In 1985 it was closed to vehicles. You can visit restaurants, cafes, shops and museums as you wander down the length.
The street runs from Templo de Santo Domingo north to the Cathedral.
8.  Enjoy Roof Top Dining in Oaxaca
One of the best surprises of Oaxaca was their rooftop dining venues.  There was nothing better at the end of a hot day than to enjoy an amazing sunset with a cocktail in hand from the rooftop of many of the restaurants.
Wondering what the best rooftop restaurants are in Oaxaca?
Casa Crespo is located at Allende 107 also with views over Templo de Santo Domingo. Not only a popular restaurant but Casa Crespo also offers cooking classes and has a chocolate shop on the premises.
Casa Oaxaca – voted the top restaurant in Oaxaca for local cuisine, Mexican, Latin, Contemporary, Fusion and Vegetarian options are available.
Address: Located at Calle la Constitucion 104A. The best time to visit is after 8.00 pm when the candles come out creating that special vibe and atmosphere with views over Oaxaca.
Gozobi Restaurant and Bar at Calle de Manuel  Garcia Vigil 504 Oaxaca – good value Mexican cuisine for breakfast, lunch and dinner with views.
Mezzaluna at Calle Ignacio Allende 113 for the best pizza and pasta in town with stunning views.
La Olla – head to the 3rd floor for views over Oaxaca for local Mexican dishes.  Open from 8 am to 10 pm. Brunch is a speciality.
Address: Calle Reforma 402
9.  Mezcal Tasting in Oaxaca
Oaxaca is known as the capital of Mezcal in Mexico.
Some of the best places for Mescal tasting are:
Mezcaloteca at Reforma #56 Oaxaca
Los Amantes at Ignacio Allende 107 Oaxaca
In Situ Mezcaleria at Jose Maria Moretos 511 Oaxaca
10. Hierve el agua
40 miles south east of Oaxaca is Hierve el agua.  Hierve el agua is a petrified waterfall. When you first see Hierve el agua it seems like you are looking at a frozen waterfall.
What is a petrified waterfall?
A petrified waterfall is when mineral deposits form over thousands of years.  The water which is mineral-laden spills over a cliff and trickles down the rock face and forms stalactite structures.
You can visit Hierve el agua on a tour that also includes a visit to:
The giant tree – The Tule Tree
Mitla (a Zapotec archaeological site) is famous for mosaics that date back to the Mesoamerican times
Hierve el agua – swimming
Mezcal tasting
11.  Monte Alban Tour
Monte Alban was founded 500 years BC and flourished until 750AD.  It was the capital of the Zapotecs. Monte Alban means 'white mountain'. It was designated a UNESCO World Heritage Site in 1987.
Your visit will include the Ball Court, the Great Plaza, the Palace and the Southern Platform with various other structures. The pre-Columbian site is definitely worth a visit and a tour is recommended with a guide. You can catch local buses to the site but we recommend a tour with a guide to get the most of visiting the site. The site is located 10km southwest of Oaxaca.
Opening times: 8.00 am to 5.00 pm daily. Sundays are busy as Mexicans can visit for free.
Top travel tips: make sure you have plenty of water, use sunscreen, and wear a hat and comfortable shoes.
The best time to visit Monte Alban is during winter when the temperatures are lower. You can expect rain showers during summer.
You can pre-book your Monte Alban tour here.
More Top Things To Do in Oaxaca City
Day Trips From Oaxaca
Apart from the two 'must-see' tours of Monte Alban and Hierve el agua day trips, there are a few more that you should consider.
A visit to the town of Ocotlan de Morelos includes:
Santo Tomas Jalieza to visit a small community dedicated to the art of Waist Loom, a pre-Hispanic textile technique.
San Martin Tilcajete, a small township bursting with colourful crafts and handmade trinkets
You can book this tour here
Where To Stay in Oaxaca
Some of the best hotels in Oaxaca are:
Suites Parador Santo Domingo at Macedonio Alcala 804 Centro Historico. Located 200m from Templo de Santo Domingo has two swimming pools, free parking, free wi-fi and family rooms. One of the best places to stay in Oaxaca.
Latest guest review: Incredibly well located in the historic centre on a brightly lit street, spacious suites, a little worn around the edges but everything you need. Set back from the street with a parking lot. Security in the evenings.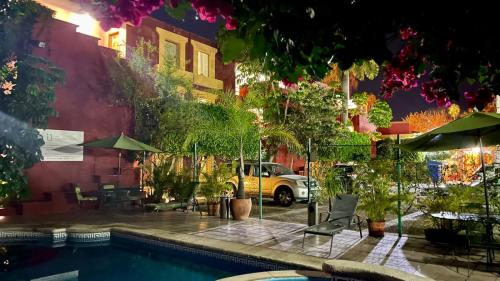 Check availability here
Hotel Posada del Centro at Avenida Independencia 403 Colonia Centro. This colourful 3-star hotel features traditional Mexican decor located a 5-minute walk from the Zocalo. Free parking and free w-fi and family rooms are offered.
Latest guest review: Excellent location steps from the main square/zocalo. Very well-run guesthouse: beautiful courtyards and roof patio, clean, quiet, safe. Very comfortable mattress and pillows. I will gladly stay here again when in Oaxaca City.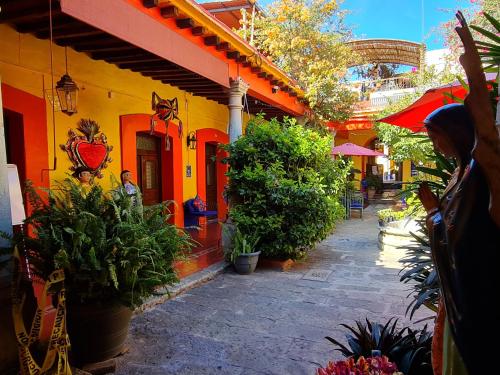 Check availability here
Parador del Dominico at Pino Suarez 410 is centrally located.  The restaurant offers traditional Mexican cuisine from 7.00 am to 2.00 pm. Guests can relax on the terrace. Free parking and free wi-fi are also offered.
Latest Guest Review: We loved it. Absolutely everything perfect, including the breakfast and parking arrangements. I highly recommend this hotel, and many thanks to all the staff.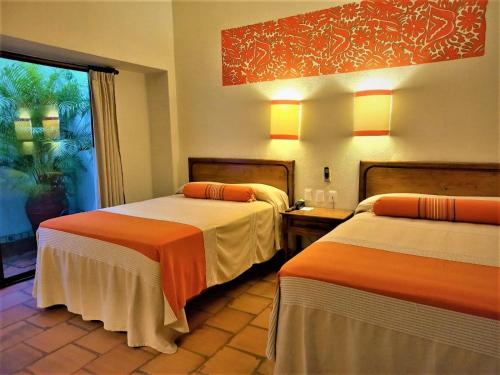 Check availability here
Hotel Marques del Valle at Portal de Claveria Centro is well located in the main square next to the Cathedral. The hotel's on-site El Portal Del Marques restaurant and bar serves Oaxacan, Mexican and international cuisine.
Latest Guest Review: Central location, right in the zocalo, large size room, 4 pillows per bed. The staff was friendly. You are given one complimentary water bottle and then there are 5-gallon size jugs on each floor so that you can refill it.
Check availability here
Are you searching for budget accommodation in Oaxaca?
We stayed in a private room in Hostel Azul Cielo, a popular choice for couples and families. Solo travellers can stay in dorms or private rooms.  It was easy to walk from the Hostel to all the sights of Oaxaca.  A supermarket was close by if you want to cook your meals in the hostel kitchen. It was very comfortable, good wifi available and a tour desk that arranged for our Monte Alban tour and our onward travel to Puerto Escondido.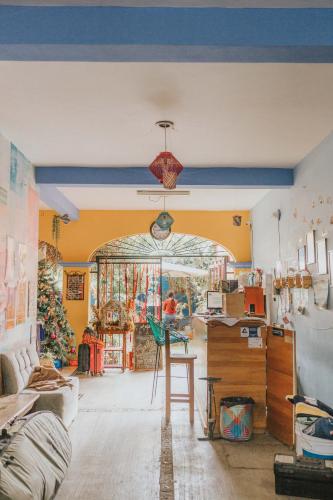 Latest Guest review: Great vibe, excellent staff, great value for the price
Check the latest deals and availability here
More options on where to stay in Oaxaca
Where To Eat in Oaxaca – Bars and Cafes en Oaxaca
For great coffee and muffins head to Macedonio Alcala at Av. de la Independencia 900, Centro, 68000 Oaxaca de Juárezand Cafe Brujula at Calle Macadonia Alcala 104.
Catedral Restaurante & Bar at Calle Manuel Garcia Vigil 105 (one of the best restaurants in Oaxaca)
Origen at Callejon Hidalgo #820 – for a unique dining experience with the freshest of local ingredients.
FAQ's on Visiting Oaxaca
Is Oaxaca in Mexico safe to visit?
When we visited we felt very safe wandering around Oaxaca, the Zocalo and through the markets.
When is the best time to visit Oaxaca?
June is the wettest month, the hottest month is May and the coldest month is January.
How many days should I allow to visit Oaxaca?
We stayed for 5 days/4 nights – you could easily see it all on 4 days/3 nights but I would not rush your visit.
Is there an Airport in Oaxaca?
Aeropuerto de Oaxaca (Oaxaca Xoxocotlan Airport) is located 5 miles south of the city.
Can you fly from Cancun to Oaxaca?
Volaris has non-stop flights from Cancun to Oaxaca.
What is Oaxaca known for?
Oaxaca is known for its 7 varieties of Mole suace.
Flight Deals to Oaxaca
Find the cheapest flights with Skyscanner our 'go-to' when we are researching flights and booking them.
Bus Travel Around Mexico
We have travelled all over Mexico by ADO buses.  For the latest ticket prices and schedules click here.
Travel Insurance
We recommend travel insurance when you travel.  The time to purchase travel insurance is when you book flights and hotels and pay deposits on tours and cruises.
Travel Guides on Oaxaca and Mexico
Pinterest
Are you on Pinterest? We are at To Travel Too and we have many travel-related boards check us out at Pinterest.  If you enjoyed our article why not pin it to your board.
Conclusion:
We hope you have enjoyed our Oaxaca Travel Guide.  If you have any questions about visiting Oaxaca or travelling in Mexico in general feel free to reach out to us.  We have spent many months travelling Mexico and it is one of our favourite countries. We have released our e-book on our Mexico travel guide.
Where should you go next? If you want a beach vacation why not head to Zihuatanejo? If you want a mix of beach and Mayan ruins we can recommend a visit to the Yucatan Peninsula.
To Travel Too Travel Shop
Travel smarter and safer with products from our To Travel Too Travel Shop.  If you are looking for the latest luggage, guidebooks or travel accessories we have you covered with over 800 travel products to choose from.