The Seller in the Grand Bazaar Istanbul yelled out across the near-empty market "You must be a movie star" – I am said Duncan, "but don't tell everyone, I am incognito".  That was the first time we had heard that line in a market. We have heard many lines over the years, but that was the best!
We were shopping at the Grand Bazaar in Istanbul. The grandest market in the world, in our opinion!
Istanbul has so much to see and do and the Grand Bazaar in Turkey is only one of the top tourist attractions.  To really make the most of Istanbul we would recommend staying for at least 3 days. Even then you may have trouble fitting all the top things to do in Istanbul.
This post may contain affiliate links. Please see our disclosure for more information. As an Amazon Associate, we earn from qualifying purchases (if applicable).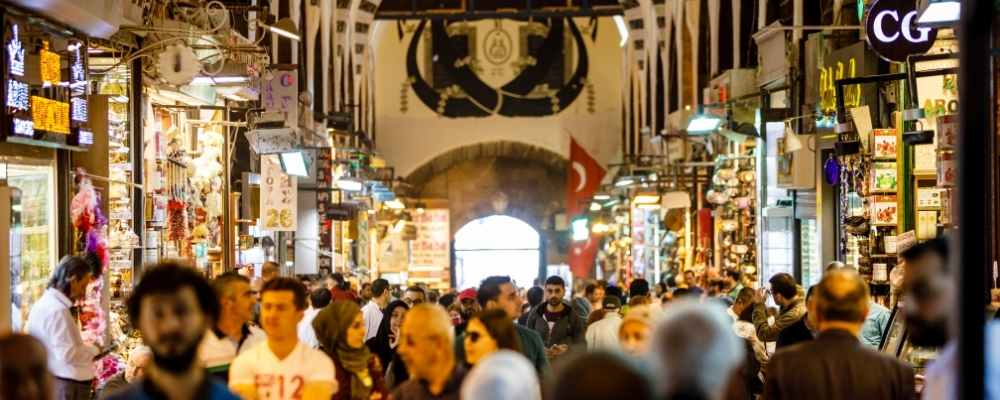 Best Way to Get Around Istanbul
Enjoy travel for 5 or 10 rides on trams, buses, ferries, and the metro. Skip the hassle of buying transit tickets at metro stations. Discover Istanbul at your own pace.

Our Istanbul Grand Bazaar Guide will help you plan your visit to one of the most fascinating markets in the world.
If You Only Have 1 Day in Istanbul
Take this best of Istanbul in 1 Day Tour that includes a visit to the Grand Bazaar
Full tour description here:
"Discover Istanbul's most iconic sights on a van tour. Listen to your guide recount tales of the city's colourful past as you pass by landmarks such as the Topkapi Palace, Blue Mosque, and Hippodrome. Round off the experience with a visit to the Grand Bazaar, one of the oldest covered markets in the world.
Start your tour at the Hippodrome of Constantinople, which was the sports and social centre of the old city. Discover major artworks including the Obelisk from Egypt, the Serpentine Column from Delphi, and the fountain of Willhelm II.
Then, continue to the Blue Mosque, whose 6 minarets adorn Istanbul's skyline. Next up is the Topkapi Palace, which was home to Ottoman emperors between the 15th and 19th centuries.
Marvel at the jewel-stuffed treasury, the Ottoman Empire's imperial collections, and priceless displays of Oriental porcelain. If the Topkapi Palace is closed on your trip date, you'll visit the Nakkas Cistern instead.
Continue to the Hagia Sophia Mosque, a monument of equal significance to the Byzantine and Ottoman Empires. Behold the dome and stunning mosaics of this architectural gem as your guide recounts its turbulent history.
Then, enter the Grand Bazaar with over 3,000 shops selling everything from carpets to jewellery to ceramics and leather goods. Take a stroll around the Spice Bazaar and soak in the aroma of different spices, dried fruits, nuts, sweets, and lokum (Turkish Delights)."
Istanbul: Dolmabahce Palace and Grand Bazaar Tour – 4-hour tour
Full tour description here:
"Learn all you need to know about the Ottoman Empire on a half-day tour of Dolmabahce Palace, beautifully situated on the banks of the Bosphorus Strait in the Beşiktaş district of Istanbul. Built in the 19th century on an old bay of the Bosphorus where the Ottoman fleet would anchor, the palace was the administrative centre of the Ottoman Empire and home to the last of the sultans.
A licensed guide will take you on a tour of the palace complex, explaining its history and function. Hear anecdotes about a youthful Ataturk, father of the Turkish Republic, and how he would welcome foreign guests for international conferences and other state functions.
Continue to the Grand Bazaar to discover one of the largest and oldest covered markets in the world. Haggle with the vendors for bargain carpets, jewellery, leather work and other souvenirs, before the transfer back to your hotel."
Related Reading: Turkey One Month Itinerary 
Have you taken out travel insurance yet?
We recommend taking out travel insurance as soon as you book your flights and pay deposits on any cruises, tours or hotels.
Do You Need a Visa for Turkey?
You will need to complete a Health Declaration Form for entry into Turkey.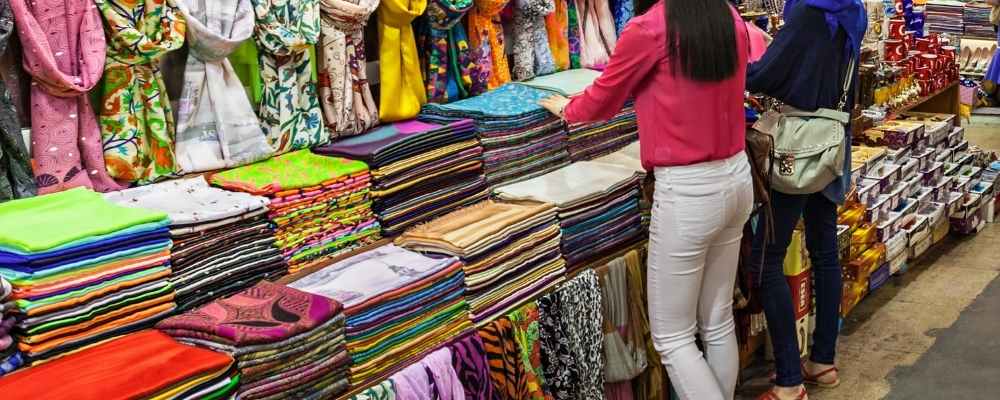 Frequently Asked Questions on the Grand Bazaar Istanbul
How old is the Grand Bazaar Istanbul?
It was completed in 1461, in 2019 it was over 558 years old.
How big is the Grand Bazaar?
It measures 30,700m2.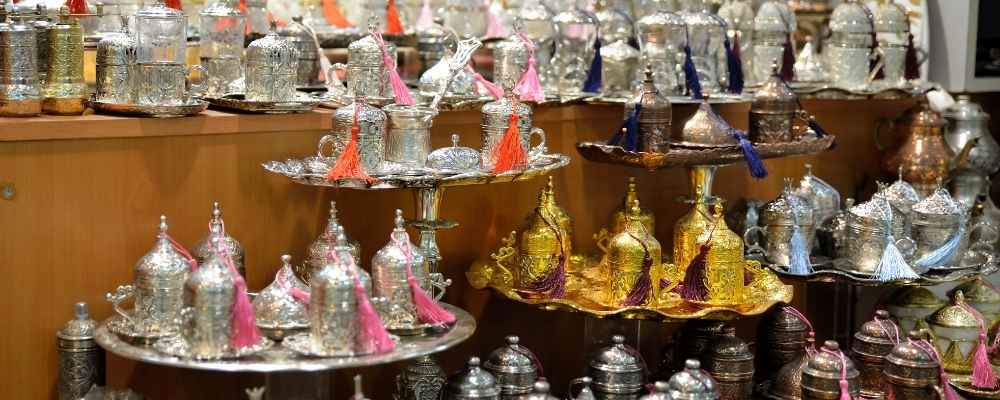 What is the Grand Bazaar Istanbul?
It is one of the biggest undercover markets in the world. It is the oldest shopping Mall in the world.
How expensive is the Grand Bazaar?
The Grand Bazaar Istanbul prices are relatively good value, but you do need to bargain, do not ever accept the first price, start at 50% off and then work with the seller for the final price.
What to buy at the Grand Bazaar?
You can buy lights, Turkish towels, spices, sweets, homewares, teapots and glasses, shawls, bags and much more.
What time does the Grand Bazaar open?
It opens at 9 am.
What time does the Grand Bazaar close?
It closes at 7 pm. It is also closed on Sundays.
Is Grand Bazaar Istanbul opened during Ramadan? 
Yes, it is open during Ramadan.
What is the best way to see Istanbul?
Explore Istanbul at your own pace with a 3, 5 or 7-day Istanbul Tourist Pass, providing access to 30+ top attractions and services. Enjoy free guided access to Topkapı Palace, Hagia Sophia and other top museums or visit the Blue Mosque and Grand Bazaar.
For more details on the tourist pass click here
Istanbul Map Showing the Location of the Grand Bazaar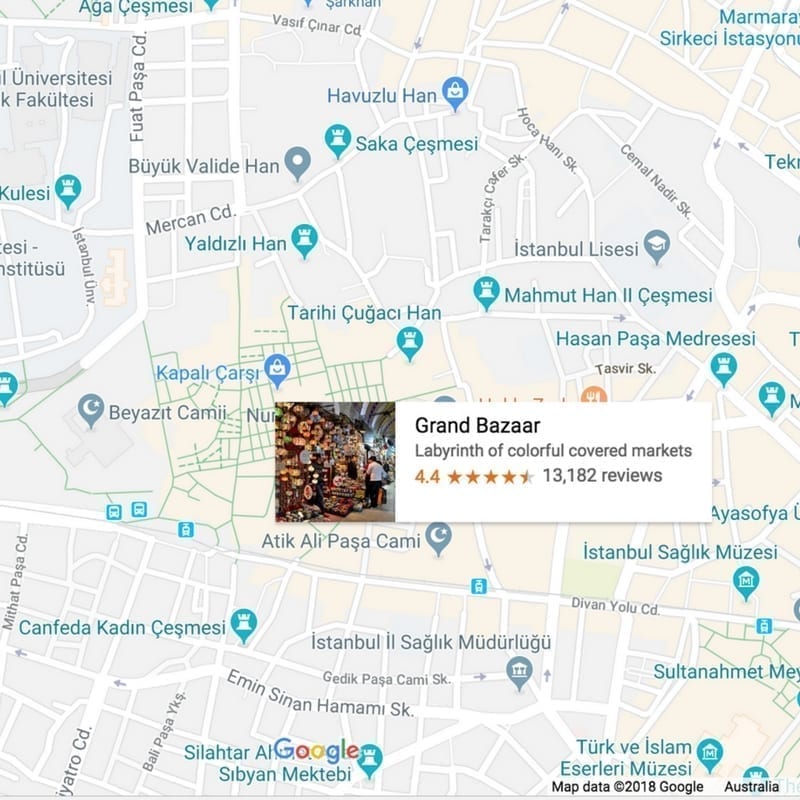 Grand Bazaar Istanbul Entrances Map
The Grand Bazaar can be confusing to find your way in and out.  There are 5 gates for entry at the Turkish Bazaar see the Grand Bazaar Map below:
Beyazıt Kapısı (Çadırcılar Caddesi, Book Bazaar (Sahaflar Çarşısı)
Çarşıkapı (Beyazıt tram stop)
Nuruosmaniye Kapısı
Mahmut Paşa Kapısı
Örücüler Kapısı (towards Eminönü and the Spice Bazaar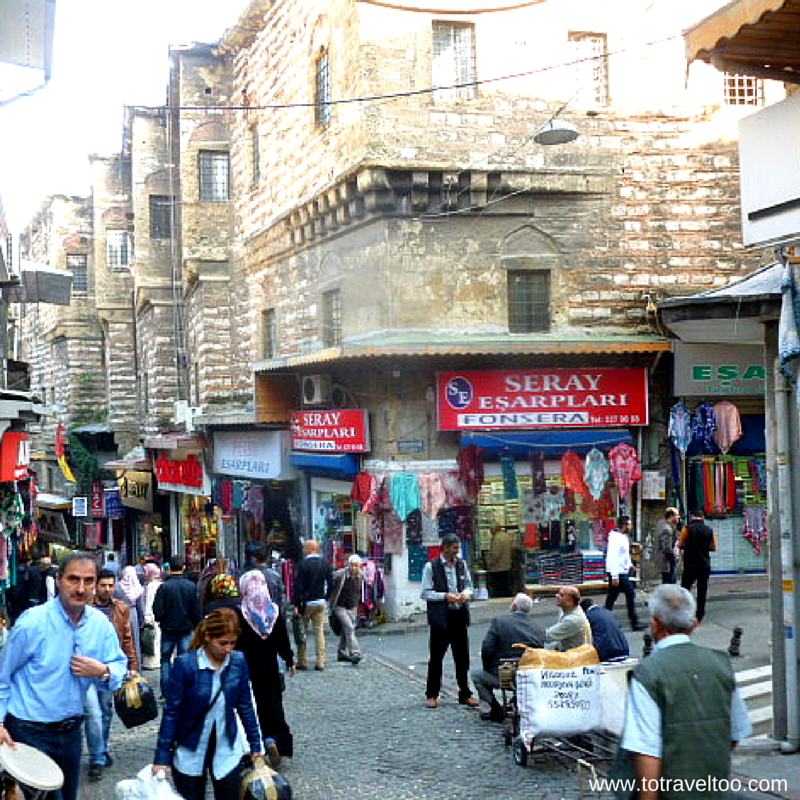 Bazaars!  We can't get enough of them.  When we had a chance to travel to Istanbul, high on our bucket list was a visit to the Grand Bazaar and its many Turkish shops.  Unfortunately, we couldn't buy anything, we had sold our home and our possessions and downsized to a few storage containers of tax files and photographs. Our life now as roving retirees means that we have also downsized our luggage to a carry-on only which restricts us from buying anything as well.  We just love the experience!
We could only look! It was so tempting. But did we buy anything?
History of the Grand Bazaar Istanbul
The Grand Bazaar Istanbul is one of the oldest shopping malls in the world. What you can see today is not how it all started out. When the Ottomans took over in 1453 it was several markets sitting next to one another.  The Ottomans created one covered market which was made up of 61 streets, 4,400 shops, 2,200 workshops, 18 fountains, 40 inns, 12 small mosques, 12 warehouses, 1 school, 1 Turkish Bath and 19 water wells. Wow! That is one big market!
18 gates were opened up in the morning and each of those 18 gates was closed each night.
Between 1515 and 1791 the Grand Bazaar had experienced 14 fires and in 1766 a large earthquake.  Another earthquake that rocked Istanbul in 1894 reduced the market in size.
On any given day the market can expect to have between 250,000 and 400, 000 visits. On the day that we visited numbers were drastically down, it was very quiet.
Shopping in Istanbul Grand Bazaar
You will get lost in the maze of streets around the Istanbul Bazaar.  There are many vendors selling similar goods. Enjoy the moment!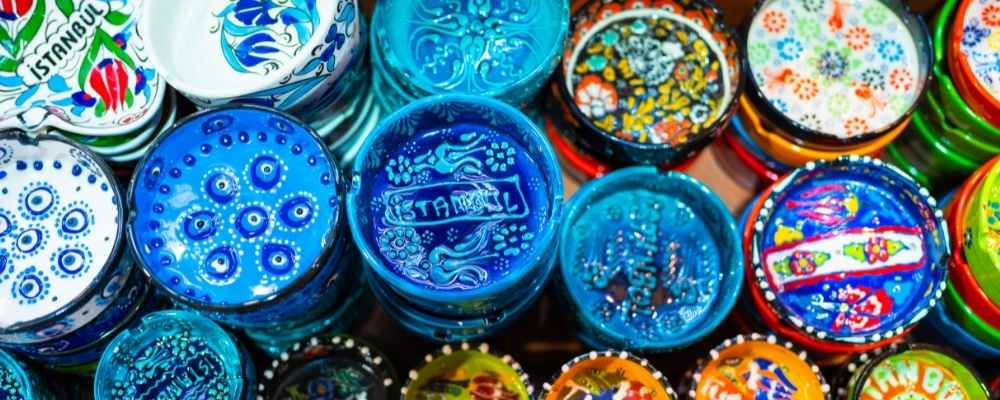 As you wander around the back streets of the Istanbul market you will find a lot of interesting shops, we found an old Hamman which had been converted into a teahouse.  Of course, we had to stop and have tea. Traditional Turkish tea is normally black and is from the Rize region on the eastern Black Sea coast. Click here for more information. We needed to sit down and have a rest after wandering around.
What To Buy At Grand Bazaar Istanbul Market
There is so much on offer.  Lots of bright gold jewellery shops, tea shops, colourful  Turkish towels, scarves, leather goods, yummy Turkish Delight and spices just to name a few.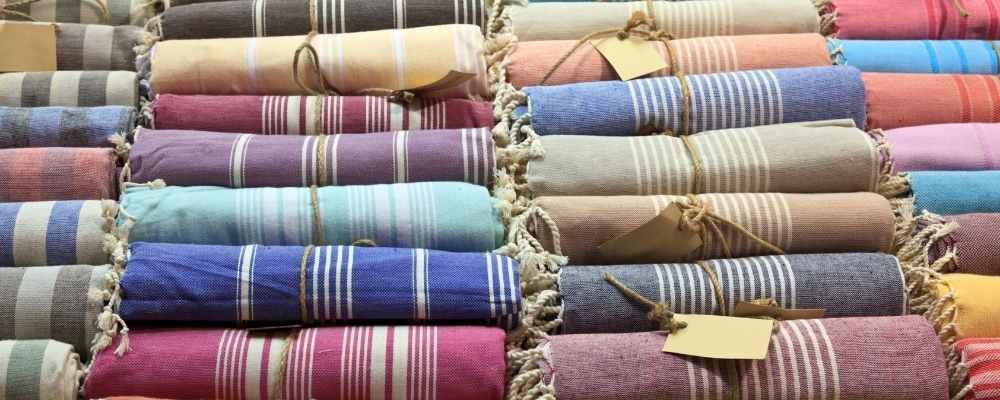 Not sure where I would wear this type of jewellery in our nomadic life on the road.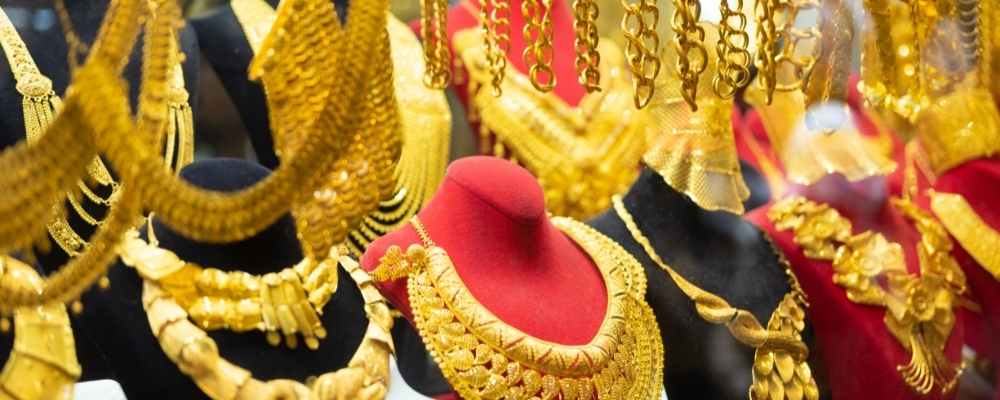 The Grand Bazaar jewellery shops have the most exotic gold items we have ever seen.
 Aren't they hard to resist?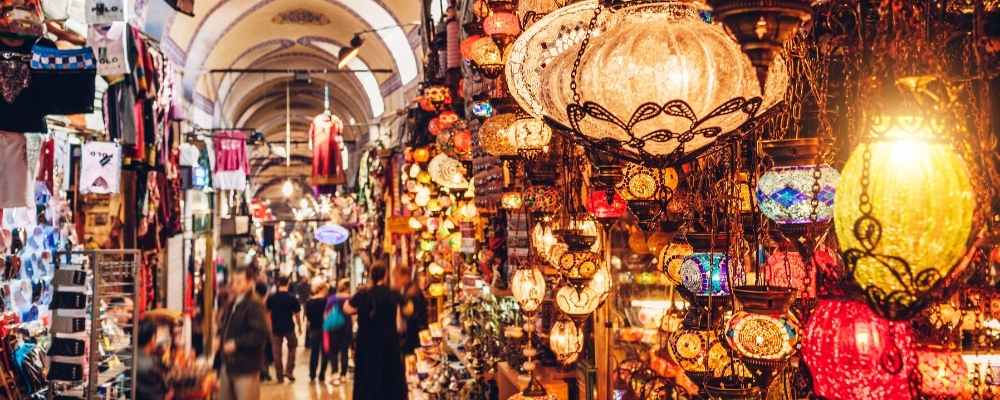 Should You Bargain at the Grand Bazaar?
Of course, you should it is expected! All the Grand Bazaar Shops in the maze of streets expect the bargaining process to happen, it just would not be a market without it!
Here are our top tips for the bargaining process:
If you are looking for a certain gift check out a few of the shops first, do not look too interested straight away as you enter.  Look at the gift and then go on and look at something else on offer.
When you are ready to purchase, ask the price.  Most of the time the response back will be 'what is your best price' don't fall into this trap.  It is hard to come down on your price once you have already mentioned it.
When the seller mentions a price, look shocked and begin to walk away, saying it is too high.  The seller will follow and once again will ask for 'your best price'.  Once again refrain from giving your price till he comes back with a counteroffer.
You may be offered tea at this stage depending on the value of the item.  It is a ploy to move you to the back of the shop, especially if there are other customers, it is here the seller will start the hard bargaining.  During the process, he does not want other customers to overhear the conversation or the price that is being offered. The seller may even 'spin you a sob story' about making enough money to support his sick family etc, don't buy into this!
There is no exact discount that is the right discount – in some instances, the price could come down by 50% other times it could be 25%.   If you are happy with the price, well done, you have bargained well.  Don't waste their time if you do not really want the product.  Also do not get angry or argumentive, if you feel it is going this way it is best to leave the shop.
Grand Bazaar Shopping
Did we buy? Of course, who could resist?  We did travel with the 2 teacups all the way around the world and back to Sydney, Australia our hometown without breaking them, using them once on the way!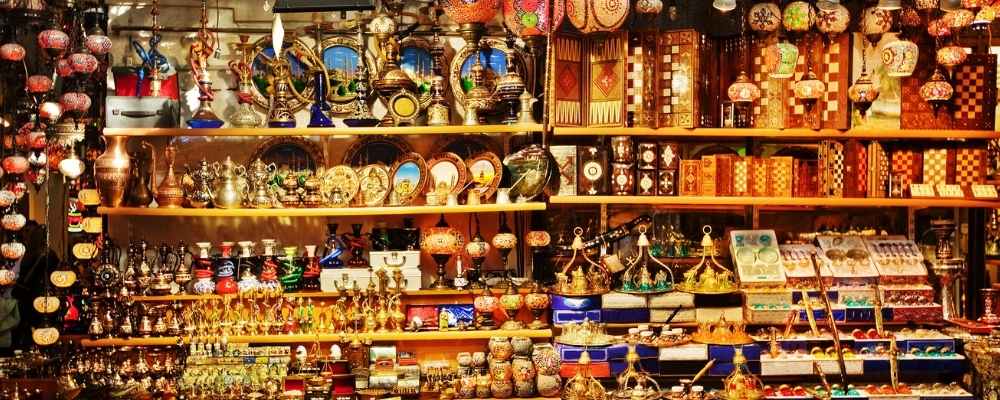 Istanbul Grand Bazaar Prices
2 teacups, saucers and spoons total price TL14 (USD3.50) a bargain!
Worry beads TL35 (USD8.65)
1 Turkish Towel TL18 (USD4.50) Another bargain they can sell up to USD30 elsewhere
1 scarf TL45 (USD11.10)
If you can't manage to visit the Grand Bazaar itself you can purchase the products here.
Hotels Near Grand Bazaar Istanbul
Address: Molla Fenari Mah Turbedar Sokak No 12 Nuruosmaniye, Istanbul 34120 Turkey
Just a five minutes walk to Sultanhamet, Blue Mosque, Topkapi Palace, Hagia Sophia. Fer Hotel was awarded with Asia's Best City Boutique Hotel 2017 by World Boutique Hotel Awards for its unique excellence. Fer Hotel offers a restaurant and a fitness centre. Free WiFi is accessible throughout the premises. Free on-site parking is also possible.
Check availability here
Address: Hobyar Mah. Mimar Vedat Cad. No: 5, Istanbul 34112 Turkey
Set in a 150-year old renovated Ottoman building, Régie Ottoman Istanbul is located in the Historic Peninsula. It offers a chic restaurant with original mosaic artwork and accommodation combining modern amenities with an authentic atmosphere. The historic Sultanahmet area is a 10-minute walk away.
Check availability here
Address: Gencturk Caddesi Sirvanizade Sokak No: 5 Vezneciler -Fatih, Istanbul 34134 Turkey
Located in the Old City of Istanbul, Holiday Inn Istanbul – Old City is a 12-minute walk from the Grand Bazaar. Among the facilities of this property are a spa and fitness centre, business centre, restaurant, paid valet parking, 24-hour front desk and room service, along with free WiFi throughout the property. The hotel is close to popular attractions like Sultanahmet Square, Hagia Sophia Museum, Blue Mosque, Topkapi Palace and Basilica Cistern.
Check availability here
Where to stay in Istanbul
We have come up with the top 5 hotels as recommended by travellers.  Check out these Istanbul hotels here.
CVK Park Bosphorus Hotel: Gumussuyu Mah. Inonu Cad. No:8 , Taksim, Istanbul,
Situated in the heart of the city, CVK Park Bosphorus Hotel Istanbul is just 150 m from Taksim Square. Featuring chic interiors, the hotel offers 1 swimming pool and an extensive Safira Spa& Fitness Centre built on an area of 8500 m². Guests can benefit from a sauna, Turkish bath, steam room and massage facilities.
Check availability here
Rixos Pera Istanbul: Kamerhatun Mah. Mesrutiyet Cad. No:44 Tepebaşı TAKSIM, Galata, Istanbul
Only 200 m to the lively shopping and entertainment area Istiklal Avenue, Rixos Pera is located in the historical part of Taksim. Demiroren Shopping Mall is just a 7-minute walk from the hotel, while Sishane Metro Entrance is a 5-minute walk away allowing easy access to the historical Sultanahmet district and many other popular areas in Istanbul, including the Asian side of the city. You will find luxurious spa facilities, 3 a-la-carte restaurants and elegantly decorated accommodation. Free high-speed WiFi is accessible at the property.
Check availability here
Intercontinental Hotel Istanbul: Asker Ocagi Cad. No :1, Taksim, Istanbul
Located in the heart of the city, just a 15-minute walk from the famous shopping and entertainment area Nisantasi, this luxurious Istanbul hotel is within walking distance from Taksim Square and Cevahir Mall is 3 km away, easily accessible via metro.
InterContinental Istanbul has air-conditioned rooms. Many rooms offer beautiful views of the Bosphorus and Taksim Square.
Check availability here
Arts Hotel Istanbul : Halaskargazi Cad No 1 Sisli, Sisli, Istanbul
Located 350 m from Osmanbey Metro Station, this design hotel is just a 10-minute walk from Taksim Square and the fashionable Nisantasi district. Arts Hotel Istanbul – Special Class offers on-site dining and contemporary rooms. Free WiFi is featured throughout the property. Private parking is available onsite for an additional fee.
Check availability here
Where To Eat in Istanbul
We checked with Tripadvisor for travellers reviews on where are the best restaurants in Istanbul.  Here are some of the favourites:
Check our more restaurants:

Top Tours in and around Istanbul
We are very happy using Get Your Guide in activities in the cities that we visit.  We love their 'best price guarantee' which means if we find the same activity by the same local tour operator in the same currency for less they will refund the difference.  Currently they offer over 35,000 activities in over 7,600 locations.
Here are the latest Get Your Guide most popular tours:
One of our highlights in Istanbul was visiting the Topkapi Palace read our story here
Istanbul Weather
The best time to visit Istanbul is during the spring and autumn months.  You can expect to have snow in winter and the summers can be very hot and humid.
Download our article for offline use
Now you can download our article and thousand of others for use offline when you are visiting new destinations.  For more information click our link below: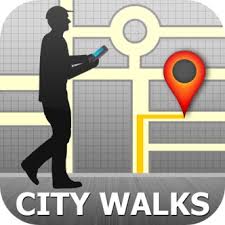 Getting to Istanbul

 
You can pre-book your airport transfer to your hotel read more here for more information. NB Istanbul opened their new international airport in 2019.
Flights to Istanbul
For the latest flight deals from your departure point click here
Pinterest
Are you on Pinterest? We are at To Travel Too and we have many travel-related boards check us out at Pinterest.  If you enjoyed our article why not pin it to your board.