How To Make The Most of Your Visit to Turkey – Our  Best One Month Turkey Itinerary
Turkey is a fascinating country, and one, by all means, should not be rushed.  Our planned one-month Turkey itinerary took us to the top tourist places to visit in Turkey, although we allowed a month we still did not manage to visit all that Turkey has to offer.
The old cliche – where East meets West – still applies for Turkey but we would also add where ancient meets modern, a melting pot of cultures and flavours.
Whether you are planning to spend 10 days in Istanbul or 10 days in Turkey or as little as 5 days you need to plan well to make the most of your trip. It is a vast and fascinating country and you will not be able to do it all in one trip unless you have months to spare.
Check out our new Web Story on One Month in Turkey here
This post may contain affiliate links. Please see our disclosure for more information. 
Wikipedia states that Turkey is in the Middle East. The country straddles both Asia and Europe.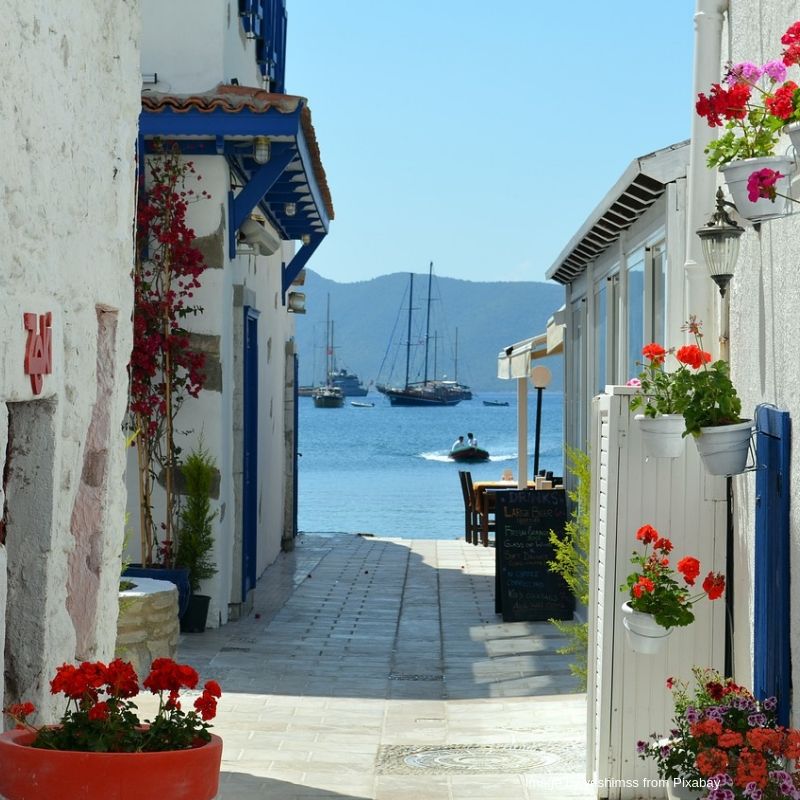 We started our journey in Bodrum because we were in Kos in the Greek Islands (a 30-minute ferry ride away) but you can use our travel itinerary to start in any one of the locations we travelled to depending on any cheap flights you can find at that time.
So let's go travel and enjoy the delights of this incredible, fun and interesting country.
Our accommodation is based on mid-range properties.  We will share with you articles along the way and our travel tips and tricks. 
Warning: When visiting Turkey don't be surprised if you fall in love with its people, its history and its traditional food and cuisine and you will return as one visit will never be enough.
When Do You Need To Take Out Travel Insurance
As soon as you start paying for air tickets, deposits on tours or cruises, or accommodation you need to take out travel insurance.  This means that if for any reason you have to cancel you are covered from that date. Compare prices here for your journey.
Do You Need a Visa?
It is important to check whether you need a visa, use our tool below for further information.
PRO-TIP
To travel you must have at least 6 months on your passport from the end date of your proposed vacation.
You will need a Health Declaration for Turkey – more details here
Turkey Tourist Map – Our One Month Turkey Itinerary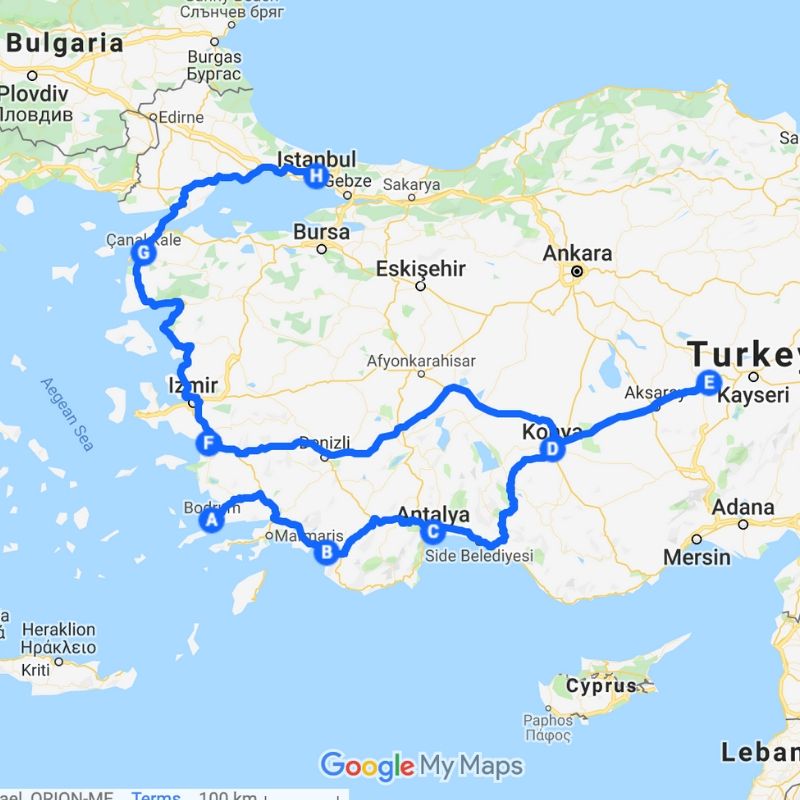 Our one month Turkey itinerary took us from:
Bodrum (A) – distance to Fethiye 232 km
Fethiye (B) – distance to Antalya 198 km
Antalya (C) – distance to Konya 304 km
Konya (D) – distance to Cappadocia 242 km
Cappadocia (E) – distance to Selcuk 657 km
Selcuk (F) – distance to Canakkale 385 km
Canakkale (G) – distance to Istanbul 314 km
Istanbul (H)
Itinerary Questions
These are some of the Turkey Trip Itinerary questions we have been asked.
We are frequently asked what are the best places to visit in Turkey.  The answer depends on what you enjoy doing – shopping, sailing, visiting historical sites, food, markets.  We love to mix it up with food, historical sites, markets and sailing.
What is a good itinerary for a 7-day vacation in Turkey?
This depends on whether you want to fly internally or take the bus.
If you want to fly I would recommend starting and ending your vacation in Istanbul. Allow 2 days on arrival, fly to Cappadocia and spend 3 days there, fly to Antalya for 2 days and then leave from Istanbul.
If you are travelling by bus: 2 days Istanbul, travel to Canakkale visit Gallipoli and Troy, spend 2 days there, bus to Selcuk for 2 days and then head back to Istanbul.
What is a good 10-day itinerary for Turkey, I want to fit in Istanbul, Izmir, Cappadocia and Antalya.
Depending if you are flying or travelling by bus we would recommend Istanbul for 3 days, bus or fly to Izmir and spend 2 days, Antalya 2 days and 3 days in Cappadocia to Istanbul flight. The flight from Istanbul to Cappadocia is around 1 hour 20 minutes so you could do this journey in reverse.
This should give you a good 10 days in Turkey to give you a good feel of it and then you can plan to return and add more destinations.
What is the perfect 2 weeks in Turkey itinerary?
If you have only 2 weeks in Turkey you can still see and do a lot.  2 weeks will definitely give you a 'taster' on what else you can do and see if you have more time.
Frequently Asked Questions on Travel To Turkey
Is Turkey safe to visit?
Yes, now that we have spent a month there we can honestly say it is.  As a traveller, you still have to be on guard at all times whether you are in Turkey or even in your home town these days. Always be safety conscious and be confident that you know where you are going.  Do not put yourself at risk.
Turkey and COVID 19
With the recent outbreak of COVID 19 please check your country travel advisory services for the latest updates.  If your country advises not to travel and you do your travel insurance may become invalid.
Always check whether your travel insurance covers pandemics.
How did we travel around Turkey?
We travelled through Turkey by bus.  They were comfortable, on time and would travel the same way again.
Check schedule times and availability here for bus travel
Can you drink the water in Turkey?
You can drink the water but advice states that you may want to use bottled water to guard against upset stomachs. We drank bottled water throughout and recommend that you do as well to be on the safe side.
We believe in sustainable travel and always carry our Lifestraw Water Bottle with us so that we can lessen the use of plastic.
What is the currency in Turkey?
Turkish Lire is the official currency.  You can change Euros and USD in most large cities.
Do I need a visa for Turkey?
You will need a visa for Turkey check out I-Visa for the latest information.
What is the voltage in Turkey?
The voltage is 220v with round prong European plugs.
There are two plug types in Turkey. Plug type C is the plug that has two round pins and Plug type F has two round pins with two earth clips on the side.
Is WiFi freely available in Turkey?
All hotels have WiFi these days, but you do need to ask whether they charge or not for the usage.  There are internet cafes in large cities.
What is the best season to travel to Turkey?
Spring and Autumn are the best times to travel to Turkey. Istanbul is a busy city all year round for tourists but it can be very cold in winter and at times it can snow and hot in summer.
Cappadocia is also a year-round travel destination.  In winter it can snow and can be very cold.  Hot Air Balloons will operate throughout the year but it does depend on the weather conditions.  Ours was cancelled on the first day but able to fly the 2nd day, so if you are considering this activity allow a few days in case of weather.
The Mediterranean Coast of Turkey is perfect from Spring through to Autumn, Summer is the hottest and also the busiest with tourists.
If you are considering taking a Gulet cruise from May to September is recommended.
Is Turkey a suitable country for people with disabilities to visit?
You will need to check with your hotel accommodation whether they have ramps for wheelchairs. Some of the smaller towns may not be geared up for wheelchairs.  If you are considering taking a tour check with the tour operator.
What Religious Events Should I Be Aware Of:
Turkey has two major religious events and the dates do change.  You will find that banks, schools and offices may close.
to celebrate the end of Ramadan there is a 3-day festival called Seker Bayram.
Kurban Bayram is a 4-day feast celebrating the fact that Abraham was willing to sacrifice his youngest son to Allah
What is the Dress Code for Visiting Mosques?
Men: you must wear long trousers.  You can wear short-sleeved shirts, singlet tops are not allowed nor shorts.
Women: Your hair and arms should be covered and you must wear a headscarf. Dresses or shorts should sit below the knee.
Are Credit Cards Accepted?
Credit cards are accepted widely.  American Express and Diners Card may include a surcharge and are less accepted than Mastercard or Visa.
Public Holidays in Turkey?
1st January is New Year's Day
23rd April is Sovereignty and Children's Day
1st May May Day – a day we would recommend not visiting Taksim Square in Istanbul due to demonstrations
19th May Youth and Sports Day
29th October Republic Day
You will find that on Public Holidays banks, offices and schools will close.
The Grand Bazaar and the Spice Bazaar in Istanbul will be closed on religious holidays and Republic Day. They are closed on Sundays.
The Blue Mosque in Istanbul is open all the time.
All the museums close on Mondays.
During Ramadan cafes and restaurants will be open.  Avoid walking down the streets eating or drinking.
On election days in Turkey, you will not be allowed to drink alcohol until the voting has finished.
Can I Buy A Sim Card in Turkey
You can buy a Sim Card at the airport on arrival in Turkey. It is easy to get the card on arrival as English is spoken widely at either Turkcell or Vodafone and some of the other smaller providers.  If you are in smaller towns it may be more difficult for you. You can also purchase a 4.5g Wifi Device.
Purchase your Unlimited 4.5G Wifi Device before you leave home and have it delivered to the airport
Latest Flight Deals to Turkey
When you travel you should always research the latest deals in air tickets a few months before your date of travel. One of our favourite travel sites is Skyscanner.
Check the latest flight deals from your departure airport here
Our Top Cities To Visit in Turkey
We have included some of the best places to visit in Turkey.  There are many others for us to explore.  We travelled slowly and one month in Turkey was definitely not long enough.
Bodrum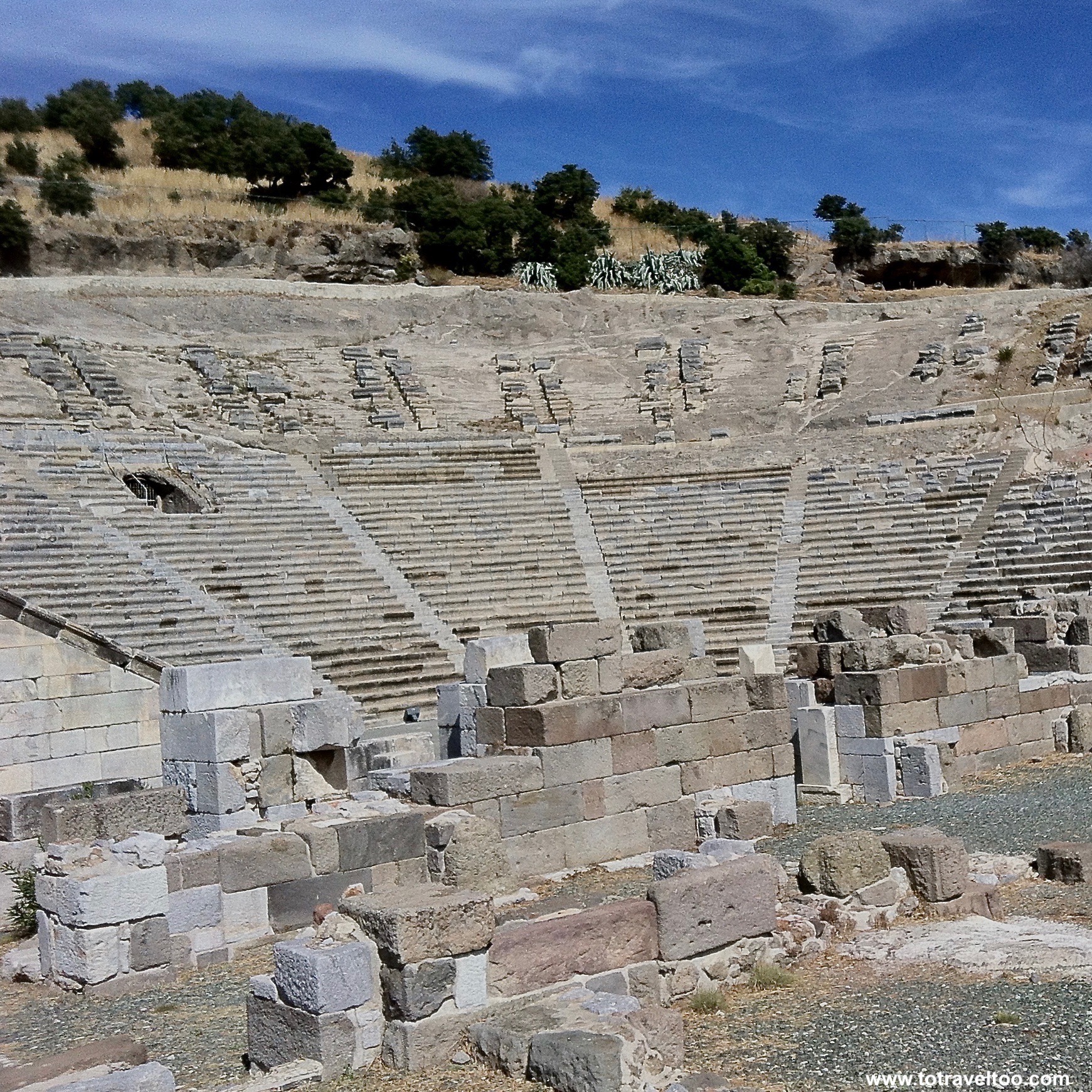 Why Visit Bodrum
Bodrum dates back to the 7th century BC.  It is located on the coastline not far from the Greek Island of Kos.
The Mausoleum at Halicarnassus is one of the Seven Wonders of the Ancient World and it dates back to 350 BC.
Bodrum Castle was built in 1400 and now houses the important Museum of Underwater Archaeology.
The Amphitheatre, Bodrum's open-air museum, was constructed between 330 and 30 BC, and seated 13,000 people.  It was excavated in 1973 and now is in regular use.
Bodrum is well known for its beaches.  There seems to be a different beach for each activity:
Fener Beach for watersports
Gumusluk Beach for its fish restaurants
Karaincir Beach is great for small families to enjoy
Gumbet Beach is great for families and bars and cafes
Torba Beach – a little distance away and perfect for that quiet spot to chill
Kadikalesi – if you are new to watersports head to this beach
Yahsi boasts crystal clear waters
More Things To Do in Bodrum
Take a full-day boat trip on the Bodrum Peninsula to the island of Orak.
Tour description:
Swim and snorkel at several different beautiful bays and beaches
Sunbathe on the deck of the boat
Enjoy a hot lunch, freshly cooked and served on board
Tour highlights:
Visit the most elegant bays and beaches of Bodrum
Chill out with refreshing beverages under the Aegean sunshine while enjoying panoramic views
Swim, snorkel and enjoy the scenery on a private boat trip

Take a Bodrum Market Tour that includes a cooking class
Tour highlights:
An expert chef will lead you on a market visit and a cooking class
Our chef will teach you how to cook five gourmet Turkish dishes
Taste food that you can not find in restaurants at a very cosy atmosphere
Enjoy lunch and a glass wine overlooking the Aegean Sea
Bodrum Vineyard Dinner Tour with Wine Pairing
Tour highlights
Eat authentic food paired with local wines
Enjoy the picturesque vineyard location
Meet the chef and learn about Turkish food and history
Learn about the wine of the region from the owners
Where To Stay in Bodrum
Name: Hotel Gulec, Ockuyular Cad. No. 22 Bodrum Turkey
Why we stayed there?
Hotel Gulec had good reviews from TripAdvisor. A double room with an ensuite was within our budget. There was a lovely garden area where a Turkish breakfast was served daily and Wi-Fi was provided free of charge for all guests.
The hotel was centrally located in the middle of Bodrum town where there were many shops, and an abundance of good restaurants and bars. Two minutes walk took you down to the beach area.
What was it like?
We took a local taxi for the short ride to the Hotel, on reflection and with hindsight, we could have walked from the Ferry port to the Hotel. On arrival, we were greeted by the family who owned the hotel. They were really helpful and friendly and welcomed us with open arms, we felt like part of the family too. The hotel is very clean and well maintained and the garden is an oasis to relax in. We had a lovely room overlooking the garden on the 2nd floor. The breakfasts were very good consisting of Turkish bread, hummus, eggs, cucumber, tomato, olives, local sauces and coffee or tea.
What was around it?
Bodrum is located on a harbour, so there was an abundance of available daily boat rides to surrounding islands. There are many restaurants serving an array of fresh fish and seafood. There are many bars to choose from that front the marina and beach area. All banks and ATMs are located here in Bodrum town.
Bodrum Castle is a 7-minute walk away and there are other archaeological sites within walking distance such as Myndus Gate, the Amphitheatre and the Mausoleum which is one of the 7 wonders of the world.
Check availability here
For more hotel options in and around Bodrum:
Airport Transfers
There are airport transfers from Bodrum Airport to central Bodrum:
Click here for more information on private transfers
Bodrum Restaurant Tip
One of our favourite Bodrum restaurants is opposite the harbour –  Bodrum Pasaji.
All dishes are excellent, but the best is the grilled fish!
Fethiye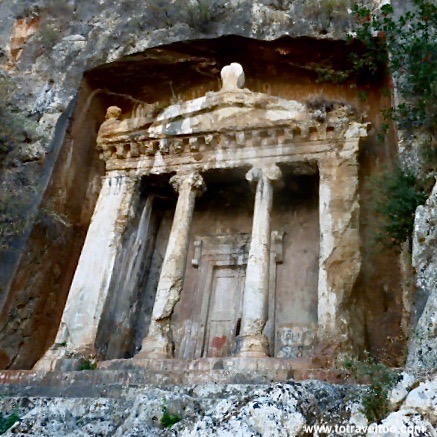 Why Visit Fethiye
Visit the Lycian Rock Tombs above the town of Fethiye they date back to the 4th century BC. The views are incredible from here.
Pay a visit to the fish market, select your own fish and have it cooked for you at one of the fish restaurants in the market
Go shopping in the old town of Fethiye.  If you would like to buy a carpet sit down and enjoy a Mint Tea whilst learning about the history before you purchase. Do not forget to bargain.
One of the popular tours are to visit the towns of Pamukkale and Hierapolis. Discover the "Cotton Castles" of Pamukkale and the well-preserved ruins of the Greek-Roman city of Hierapolis on a full-day tour from Fethiye. Experience the limpid pools and travertine terraces of Pamukkale, and see the amphitheatre at Hierapolis.
Check availability here
More Things To Do in Fethiye
Glide high above sandy beaches and turquoise waters on a paragliding flight. Take in views of majestic mountains on the horizon. Start with a briefing by your instructor and then experience a tandem paraglide, choosing the time of day that suits you best.
Where To Stay in Fethiye
Name: Hotel Vanilla, Kocek Mustafa Caddesi 1103 Sokako No 11 Calis Plaji Fethiye Turkey
Why we stayed here
Fethiye was an interesting place to visit. It was a seaside town, scattered with some interesting archaeological sites and a colourful market area in the Old Town. It is popular with European retirees. TripAdvisor had good reviews about Hotel Vanilla. Hotel Vanilla was located a block back from Calis beach and had a swimming pool and garden area for breakfast and chilling in. A double room with ensuite, breakfast and Wi-Fi was well within our budget.
What was it like?
We arrived via bus and took a taxi ride to the Hotel, it did seem far away from the action. We had arrived at the end of the season and found a sleepy town ready to hibernate for the winter.
The manager checked us in and showed us to a room with a balcony overlooking the pool on the second floor. He was very helpful, pointing out where the beach was located and the local restaurants and bars.
The Hotel also had a dining room and a lounge area if we required it.
Our first impressions were that the room could have been cleaner, we found cigarette butts on the balcony (these stayed here the whole time we were there) and in parts, it was a bit tired and worn down.
Turkish breakfast was served daily in the garden area by the pool. The Hotel had a comfortable lounge to rest in which overlooked the verandah and pool area. It did seem the staff and the management were tired and winding down after a busy season.
What was around it?
Ideally situated for a walk across to the pebbled beach, there were lots of bars and restaurants overlooking a sheltered bay.
In the evening we experienced amazing sunsets as we sat and enjoyed cold beers in a local restaurant.
Banks and ATMs were in the town centre of Fethiye. Fethiye is located on a harbourfront where there are many local Fish and Turkish restaurants available. There is an old market area where there are traditional carpet shops, restaurants and bars as well as clothing and gift shops.
Fethiye is famous for the Rock Tombs that are a short climb up the hill that overlooks the harbour. A dolmus (small bus) ran regularly into town from the main road near Hotel Vanilla for TL2 per person. This was the cheapest way to get into the bus station in town and the service was efficient.
Check availability here for Hotel Vanilla
For more hotel options in Fethiye:
Airport Transfers
Do you need an airport transfer from Dalaman Airport which is 45 km away?
Check here for the latest prices
Antalya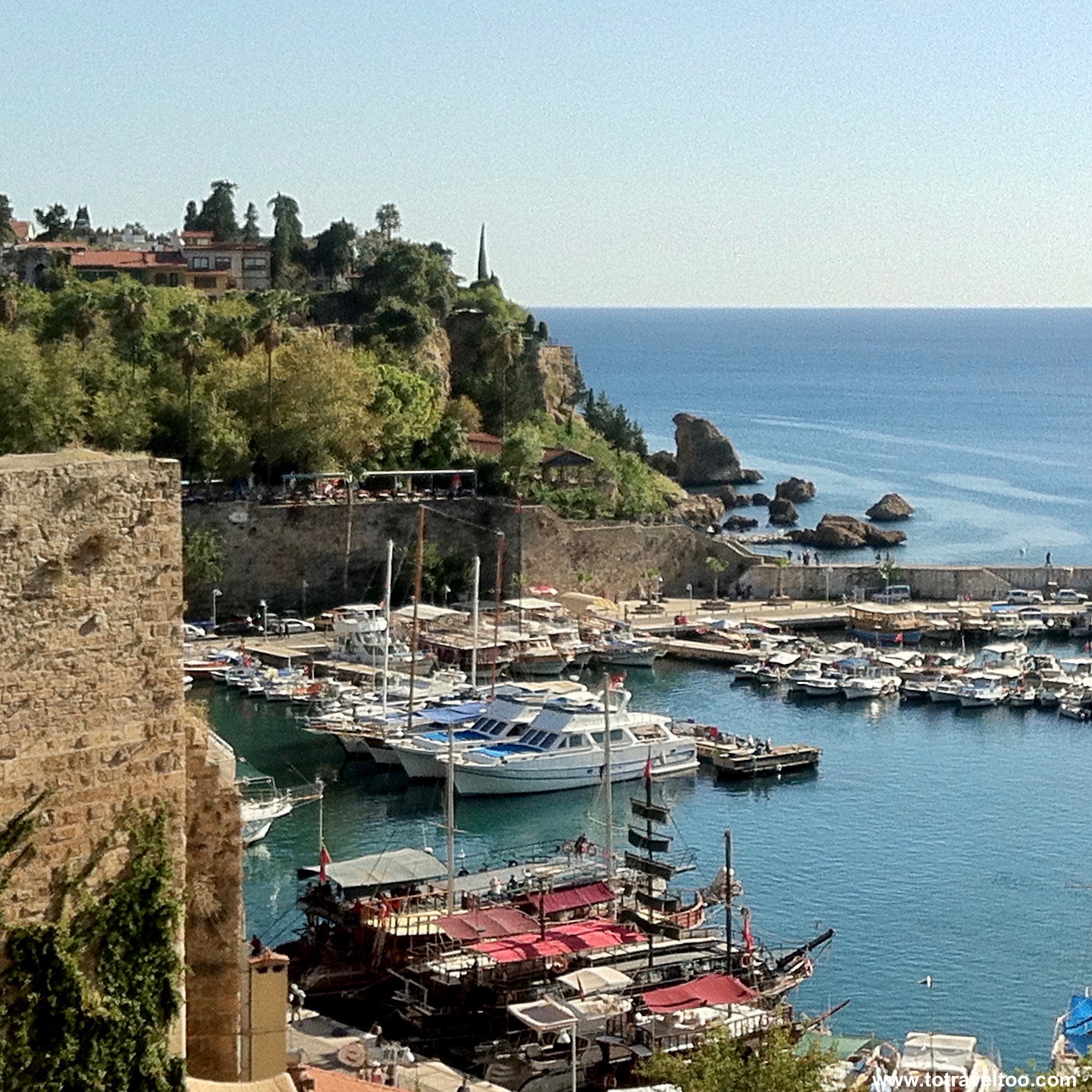 Why Visit Antalya
Beach lovers will enjoy the Turquoise Coast of Antalya
Admire  the Ottoman architecture in the Old Town
Visit the 18th-century Tekeli Mehmet Pasa Mosque
Enjoy an evening drink overlooking the Old Harbour
Visit the excellent Antalya Museum
Walk through Hadrians Gate built in AD130 to honour the visit by Emperor Hadrian

Experience great views of the Mediterranean Sea and Antalya City with a scenic cable-car ride. You'll also visit two of the most popular waterfalls of the city, the Düden and Kursunlu falls.
Antalya Weather
September and October are great months to visit Antalya when the weather is cooler and there are fewer tourists.
Springtime is also recommended.
The summer temperature on average is around 34 – 36 degrees.
Where to Stay in Antalya:
Name: Sabah Pension, Old City, Kilincasian Mh. Hesapci Sok No 60 07100 Antalya, Turkey
Why we stayed there?
Sabah Pension was highly rated in TripAdvisor.  Sabah Pension is located in the old city with many old Ottoman buildings and cobblestoned streets. They had a double room with ensuite, swimming pool, garden area, restaurant, free Wi-Fi and a Turkish breakfast provided all within our budget.
What was it like?
The Sabah Pension is within easy distance by tram or by taxi from the central bus station. We arrived at the bus station and took the tram to the Old City (Kaleici) where Sabah Pension is located. We were able to walk along the cobbled streets through Hadrian's Gate, passing by many shops and restaurants.
The Sabah family has run this pension since 1986. It was well maintained and very clean. It has grown over the years and now there are many available areas for chilling and lounging around in. Breakfast was provided and is comprised of a free flow Turkish Buffet style in a Hostel atmosphere. The restaurant is of a high standard with a good menu and fresh ingredients, we would recommend it.
Our room was on the top floor overlooking the street, the ocean and the mountains in the distance. It had a lot of atmosphere and it was bright and sunny. All the staff were helpful in assisting us in what to do and see around Antalya.
What was around it?
You couldn't have asked for a better location in the old city where you were close to the Clock Tower, Hadrian's Gate, and the Old Walls of the city, the marina and the main shopping centre of Antalya. Everything was within walking distance.
All the banks and ATMs were situated just outside the walls of the Old City. All types of coffee/tea houses, restaurants, cafes and bars were within walking distance. The Tram to the bus station was situated just outside the Walls.
Check availability here for Hotel Vanilla
For more hotel options in Antalya:
Airport Transfers
Antalya Airport is 13 km from the Old Town. For details of airport transfers:
Check availability here
More Things To Do in Antalya
Konya
Why Visit Konya
The Mevlana Museum is one of the top tourist attractions in Konya. It houses the Islamic Scholar Rumi's tomb.
 The top tourist attraction is the

Whirling Dervishes

. They are a group of Islamic men who put themselves into a trance by whirling non-stop for 15 minutes to soulful Islamic tunes. (Check with your hotel to see if there are any performances planned in Konya).
Visit the Aziziye Mosque
Visit a tea house on Alaeddin Hill
Take some time to enjoy the history in the Konya Archaeological Museum
Konya Hotels – Where To Stay
Name: Mevlevi Hotel, Aziziye Mh. Cengaver Sk. No. 1 Konya Turkey
Why we stayed there?
We chose the Mevlevi Hotel because of the good reviews from TripAdvisor. It was located close to the Mevlevi Museum and close to the old town;  from our research, it appeared to be a taxi ride from the bus station. They had a double room with ensuite available that included a Turkish breakfast and free Wi-Fi all within our budget.
What was it like?
The location of the Mevlevi Hotel is a simple taxi ride from the bus station. It's conveniently located in walking distance to all the main Konya attractions.
The Mevlevi Hotel is a family-run hotel, very clean and well maintained. We had a great view over one of the Mosques in Konya. English is rarely spoken but the children of the Owners translated for us via Google Translate when they were home if we needed assistance.
We were very welcomed into the family and at times when we were catching up on our blogs and the family was settling down for their evening meal they would offer us some of their food.
We had arrived on the eve of their Sacrificial Religious event which is a four-day public holiday. The main street was very busy when we arrived as everyone was preparing for the event. The next day was deadly quiet, nothing opened but we did manage to find a restaurant at night for a meal.
What was around it?
There was a supermarket across the road, several banks and ATMs and many restaurants and bars available within walking distance.
Buses plied the main street. The Mevlevi Museum was opened on the third day. We would recommend a visit to the Museum and the gardens around it. There are several Mosques close by to visit.
Next time we would spend more time in Konya as there are archaeological sites e.g. Meram, Klistra, Sille, Hadim Selale and Gatal Hoysak located outside the city and you do need a few days to see all of them.
The Whirling Dervish performance is held on a Saturday night and we missed this as well.
Check availability here
For more hotel options in Konya
Cappadocia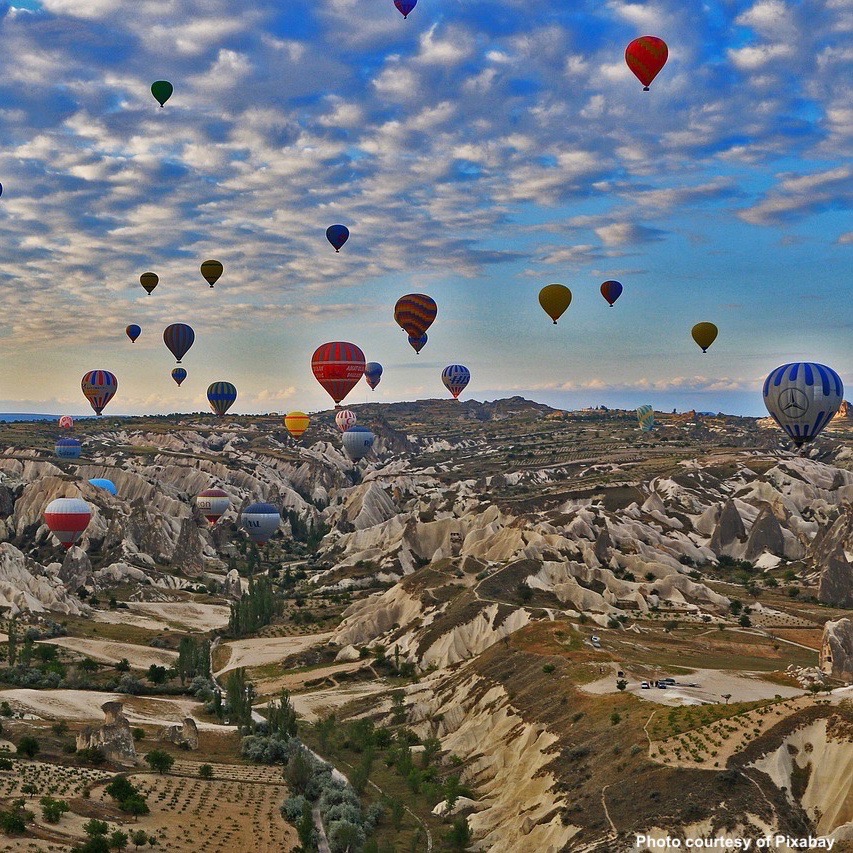 Where is Cappadocia
Cappadocia is the historical region that is located in the centre of Turkey in the area known as Central Anatolia. Goreme is a town within Cappadocia and it is where we recommend that you stay.  The restaurants are very good here. There are a lot of accommodation options. Many tours operate from here as well.
Why Visit Cappadocia
Hot Air Balloon Flight

Turkey -fly over the surreal lunar-like landscapes of Cappadocia in a hot air balloon ride with Royal Balloons
Sleep in the unique  Cave Hotels in and around Goreme Turkey
Visit the

Open Air Goreme Museum

and its many churches and frescoes that date back to the 9th century
Things To Do in Cappadocia – Cappadocia Tours Available
Enjoy a full day Cappadocia Red Tour – includes Goreme Open Air Museum
Tour highlights:
See all of the most important sights of Göreme Open Air Museum
Visit and take amazing photos of Göreme Valley from Esentepe panoramic viewpoint
Learn and try making pottery and ceramics in a pottery art center in Avanos
View important points of the underground city
Catch all the different shapes of rock formations which look like animals in Imagination Valley
Enjoy a full day Cappadocia Green Tour– Visit Esentepe, Göreme Valley, Ihlara Valley, Derinkuyu Underground City and more.
Tour highlights:
Discover hidden churches and visit Selime Monastery
See more than 100 rock-carved churches in the Ihlara Valley
Marvel at the region's fairy chimneys and cave houses
Where To Stay in Cappadocia
Name: Kismet Cave House, Kagni Yolu No. 9 Goreme  Cappadocia Turkey.

Why we stayed there?
Whilst we were researching the area we came across Duke Dillard and his website Captivating Cappadocia highlighting the entire Cappadocia region. He mentioned Faruk Keles and his accommodation at Kismet Cave Hotel located in the centre of Goreme.
Kismet Cave House had double rooms with an ensuite built inside a cave, within our price range, and also offered breakfast and free Wi-Fi. It was a family-run hotel and indications were that it was close by to the transport, restaurants and surrounding attractions. We also checked the reviews out on TripAdvisor.
What was it like?
Our bus ride from Konya took 3 ½ hours and the bus station was in the centre of town, a 5-minute walk from Kismet Cave House.
The accommodation was amazing, carved into the side of the rock formation. Faruk welcomed us into the fold and we felt like family for the next five nights. He is very generous, very knowledgeable and a local character. We learnt so much from him, how to buy carpets, the local traditions and he even took us to a very old 4th century B.C. monastery where we could still view frescoes that were located on his family's land.
We had the best breakfasts in the whole of our journey around Turkey. Fresh fruit from his family orchard, honey from the local bees, a different egg dish each morning, bread, fruit, coffee and tea. The rooms were warm, very well laid out, clean and well maintained. Faruk takes pride in his establishment. Whilst it is a hotel it provided through its common areas and the breakfast area a wonderful opportunity to engage with fellow travellers.
What was around it?
Kismet Cave House was located 5 minutes' walk from town where there were supermarkets, mini markets, plenty of really good restaurants, cafes, banks and ATMs. One of our favourite restaurants was the Old Cappadocia Restaurant.
The highlight was our Royal Balloon Flight over Cappadocia. The scenery was stunning as the early morning rays came over the horizon. There are many balloon companies in Cappadocia but we would highly recommend a hot air balloon ride with Royal Balloons
Check availability here
For more hotel availability:
Airport Transfers
For information on Cappadocia, airport transfers click here
More Things To Do in Cappadocia
Read our article on our hot air balloon experience here:
Hot Air Balloon Ride with Royal Balloons
Selcuk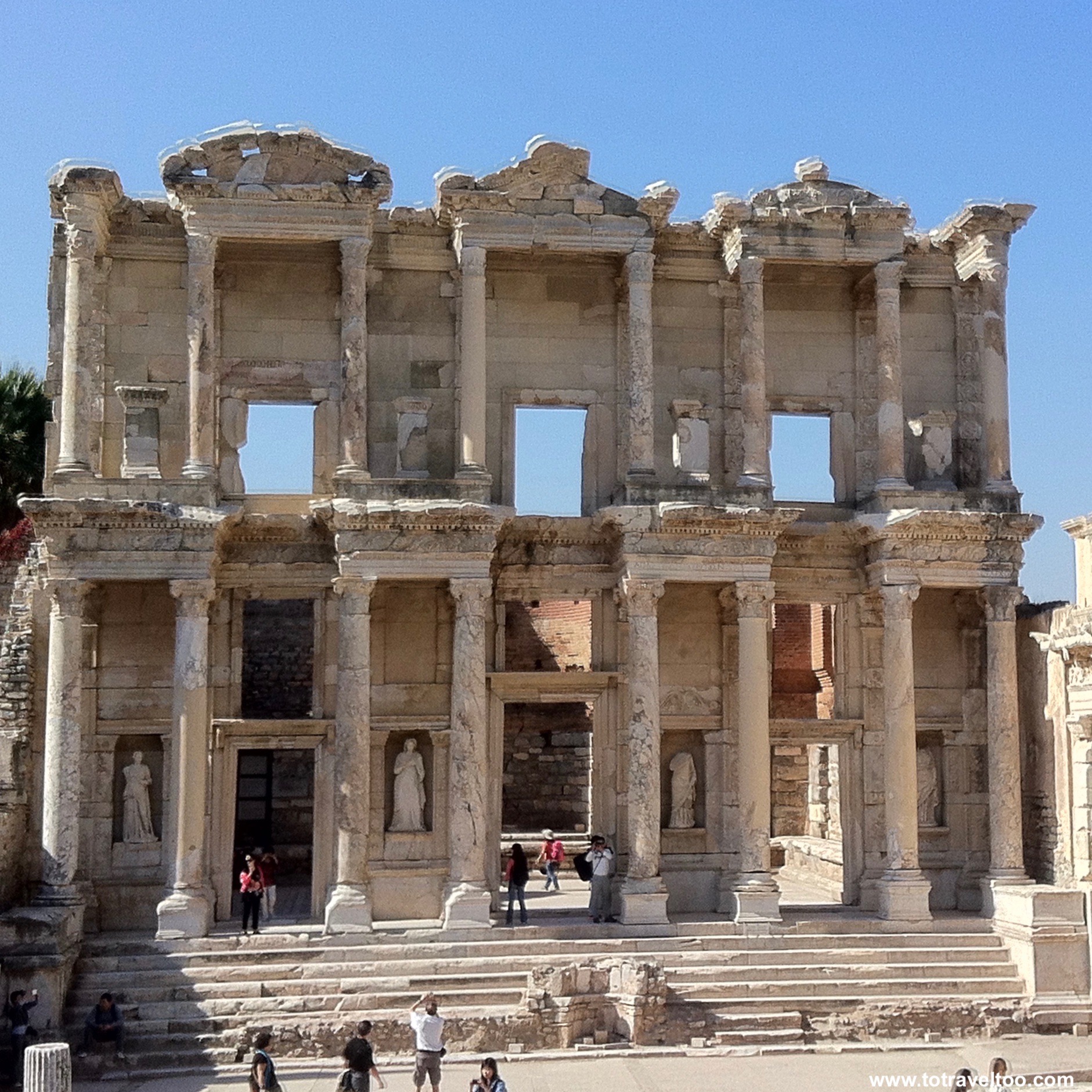 Why Visit Selcuk
The main reason to visit Selcuk is to visit the ancient site of Ephesus in Turkey. Ephesus is one of the best-preserved Roman ruins.
Travel tip: Ask your driver to drop you off at the top of the site – this means that you wander downhill instead, worth remembering if you are visiting at the height of summer. You can take a full day tour more details here.
Visit the

Isa Bey Mosque

outside prayer times

Ephesus Museum

houses the artefacts from Ephesus

Roman aqueduct

Day tour from Selcuk to Pamukkale to view the cotton cliffs and visit the ancient site of Hierapolis
Where To Stay in Selcuk
Name: Tuncay Pension, Isabey Mah. 2015 Sok No.1 Efes Selcuk  Turkey
Why we stayed there?
We chose the Tuncay Pension because of the good reviews on TripAdvisor.  They offered double rooms with ensuite, breakfast, free Wi-Fi plus there is a lovely garden area to relax in. It was also located centrally within town. Pick up service was offered from the bus station.
What was it like?
We arrived at Tuncay Pension after a very long bus trip from Goreme that took about fourteen hours. We took a short taxi ride as it turned out although if we had given our details to the owner he would have arranged a pick-up. It is quite possible to walk from the bus station to the accommodation.
The owner greeted us and arranged for sandwiches to be delivered as we had missed breakfast. We enjoyed the feast and coffee in the garden area. Our double room with ensuite looked over the garden area and was bright and cheery. The owner advised us on how best to visit Ephesus in the time that we had and where the location of the restaurants are within the town. The whole complex was very clean and well maintained.

What was around it?
Ephesus is a ten-minute taxi ride away. Supermarkets, banks, ATMs, bars and restaurants within a block or two of the Pension. The Bus Station is within a ten-minute walk. Ephesus is one of the main attractions in Selcuk, there is also a castle situated on top of the hill in town that is worth a visit.
Check availability here
For more hotel availability in Selcuk:
Read More:
Canakkale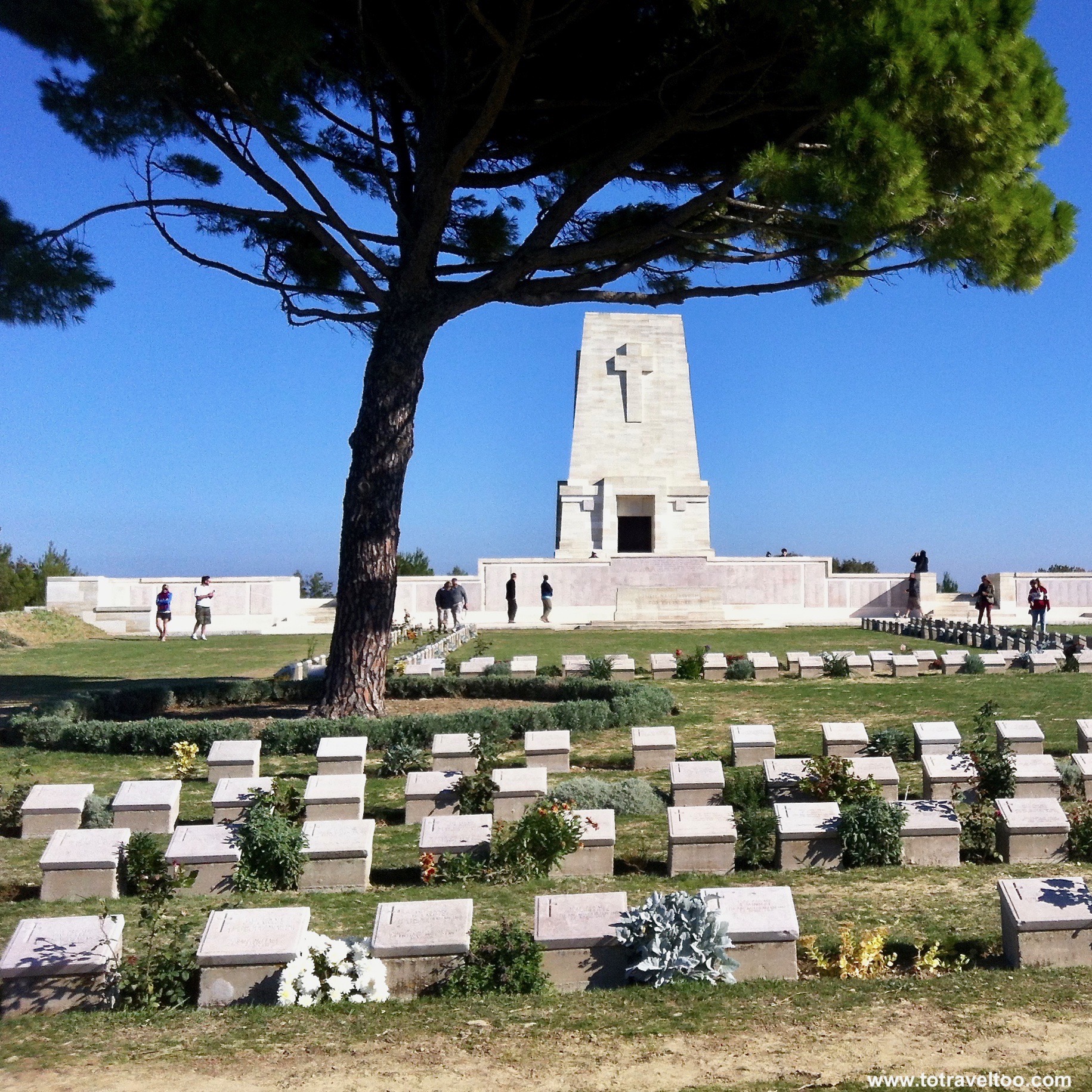 Why Visit Canakkale
Canakkale is an easy destination to base yourself to visit

Gallipoli

. We would recommend taking a

Gallipoli 6 hour tour with lunch.

The ancient city of

Troy

is located 37 km from the city centre. You can take a guided tour to Troy from Canakkale which includes Gallipoli.
Get lost in the

Aynali Bazaar

Visit the

Archaeological Museum

If you enjoy ceramics there is a

Ceramics Museum

to wander around for a couple of hours
Visit the

Naval Museum

Cimenlik Castle

– collect your ticket from the Naval Museum.
Where to Stay in Canakkale
Name: Anzac Hotel, Saat Kulesi Meydani Clock Tower Square No 8 Canakkale Turkey
Why we stayed there?
The Anzac Hotel had good reviews on TripAdvisor.  It was centrally located in town and by the waterfront. They had available a private room with ensuite, provided a buffet breakfast and offered free Wi-Fi.
What was it like?
The bus from Selcuk dropped us at the Ferry terminal in Canakkale this was confusing but turned out to be convenient as the Anzac Hotel was a short walk away from the ferry terminal. We originally checked in at The Anzac Hotel and were then taken to another Anzac Hotel around the corner and checked in at this reception. The accommodation was split across two properties in the same street and we were housed in the newer addition and recently renovated property.
The double bedroom with ensuite was modern and new, with TV and Wi-Fi. The staff were very helpful in explaining the many tours available. We did not realize that we were so close to Gallipoli and booked a half day tour for the next day.
Gallipoli is significant for ANZAC Cove for which during the First World War, Great Britain, Australia, New Zealand and French forces attempted to capture the Ottoman capital of Constantinople and secure a sea route to Russia. We wished to see with our own eyes the landscape and where the Gallipoli Battle took place.
In the early hours, we were woken by the couple next door having a very long Skype call to India indicating that the walls are very thin. We were also disappointed with the buffet breakfast; the choices available were limited and the food was cold it was clearly catering for the large groups and lacked the warmth and comfort we would expect.
What was around it?
There were great bars and restaurants within walking distance as well as banks and ATMs. There are several mini markets. Being so close to the wharf transport was plentiful. Tours to Gallipoli left from either your hotel or at the wharf. As we booked Gallipoli we missed out on visiting the ancient city of Troy which needs a full day to experience it all.
Check availability here
For more hotel options:
Istanbul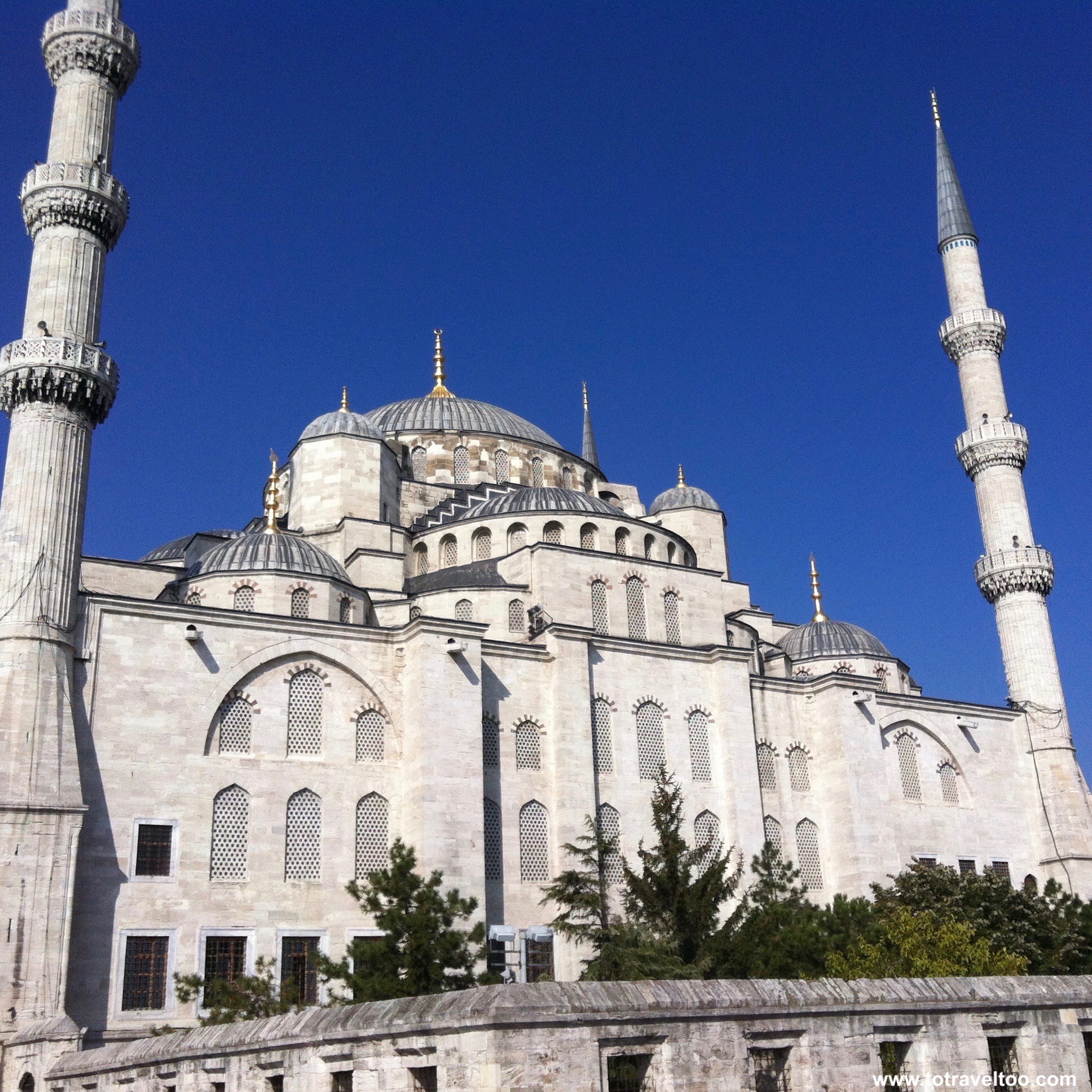 Why Visit Istanbul
Istanbul is always busy with tourists especially in the high season during the summer.  There is so much to see and do we would recommend that you pre-purchase your tickets for the major sites and skip the long queues, especially when a busload or two of tourists turn up at the same time. If you have time we would recommend a 5-day Istanbul Itinerary so that you do not have to rush visiting the sites.
Hagia Sophia Mosque Skip The Line With Guided Tour.  It is the world's largest Mosque built in AD532.  Plan to spend a few hours at least.
Tour highlights:
Enjoy a tour with a local guide
See the great architecture of the Hagia Sophia
Learn why it has always been an important monument
The Basilica Cistern Skip the Line ticket. The Basilica Cistern was the water system used during the Byzantine period and dates back to the 4th century.
Tour highlights:
Visit the Basilica Cistern with your experienced guide
Listen to the story of Medusa Heads
Recognize a scene in the James Bond movie From Russia with Love
The home of the Sultans and Administrative Offices of the Ottomans – Topkapi Palace Skip The Line Ticket.
Tour highlights:
Tour a historical palace with a knowledgeable local guide
See the main residence and administrative headquarters of the Ottoman sultans
Experience the glory of the Ottoman Era
Enjoy priority admission and skip-the-line access to Topkapi Palace
Tour highlights:
Explore the highlights that sits between Europe and Asia
Discover the mega metropolis Istanbul from a different view
Pass by all historical palaces, fortresses and the Bosphorus bridge
Capture amazing pictures along this journey
Download the audio guide on your smartphone and learn about the main attractions
A Hop on Hop off Bosphorus Cruise
Tour highlights:
Explore Istanbul's special landscape and shorelines by boat
Hop off at 4 different stops to explore the city's famous sites
Pass by historical palaces, fortresses, and bridges
Discover the highlights on the European and Asian shores
Enjoy narration in 10 different languages on the audio app
A full-day Heritage Tour of Istanbul
Tour highlights:
See Hagia (Saint) Sophia, Sultanahmet Blue Mosque, Hippodrome, New Mosque and German Fountain
Explore the Grand Bazaar, the commercial heart of the old city and its 4,000 shops full of treasures
Enjoy lunch at a rooftop restaurant with Bosphorus views
Visit Topkapi Palace, the great palace of the Ottoman sultans from the 15th to the 19th centuries
Transfer to your hotel after the tour
There are many cafes in Istanbul to enjoy Turkish Coffee and pass the time of day.
Istanbul Hotels – Where to Stay
Name: Old City Sultanahmet Hotel, Emin Sinan Mahallesi Piyerlotti Cadesi No 41 Cemberlitas Istanbul Turkey
Why we stayed there?
We chose Hotel Old City Sultanahmet due to its location being right in the centre of the old part of Istanbul. The hotel had good reviews on TripAdvisor.  It was right on our budget and offered a double room with ensuite, Wi-Fi and breakfast in their rooftop restaurant with views over Istanbul. For booking 7 nights they provided a one-way free transfer to the hotel which is a cost-saving for us.
What was it like?
We arrived after a seven-hour bus ride from Canakkale and a short taxi ride to the hotel. On checking in there was an issue and we were relocated for a night to the Home Stay hotel two doors up. We were put into a very small double room with ensuite. The next morning we could have breakfast in either hotel but we chose our original hotel with the view over Istanbul which is impressive. The breakfast is your typical Turkish breakfast.
We were given our double room with ensuite and promised a better room with a small balcony the next day for the remaining five nights of our trip. Both rooms were very small in size and it was a squeeze with our two travel suitcases. Rooms were cleaned daily and the rest of the hotel was well maintained. The staff were helpful and friendly and assisted in any advice that we required on how to get around and what to see and do.
What was around it?
The major tourist sites e.g. the Blue Mosque and Topkapi Palace that we were keen to visit were right on our doorstep within a 5-minute walk. There are plenty of bars, cafes and restaurants within walking distance. There were plenty of banks and ATMs available dispensing Euros, Turkish Lira and USD. Trams and buses were in walking distance from the hotel. We walked to Taksim Square, viewing Galata Tower on the way and having a great fish meal at Egyun Balik Pazari in Beyoglu.
Would we return?
No. If we returned to Istanbul we would base ourselves on the other side of the river close to Istiklal Street, it had a different vibe and atmosphere. We believe that this is one of the best areas to stay in Istanbul. That being said we would certainly suggest a stay in the Old City as a must and it was wonderful to be able to walk between the highlights.
Check availability here
The TripAdvisor review on the Old City Sultanahmet Hotel click here
Top 5 Best Hotels in Istanbul
For the latest prices and availability on City Centre Hotels of Istanbul:
TripAdvisor lists the top 10 hotels in Istanbul click here for more information.
Travel Istanbul Guides
Istanbul Weather
When is the best time to visit Istanbul?
Springtime during April and May and Autumn time during September to November is the best time to visit.  Summers can be very hot and winters very cold.  Summer is also high season for tourists.
Istanbul Airport Transfers
For details on Airport transfers click here.
What To Do in Istanbul
An 8-hour cruise of the Bosphorus to see the panoramic sights of the Golden Horn and get a glimpse of the Balat, the Jewish Hospital, and much more on this tour. Learn true history and experience a bustling urban lifestyle in the city's colorful shops. A visit to the Spice Bazaar is included. This day trip is suitable for families.
On Mondays and Thursdays Dolmabahçe Palace is closed, so on these days of the week the tour will make 3 different stops: Eyüp Sultan Mosque and Tomb, Pierre Loti Coffee House, and Miniatürk Park. There are transfers available from certain city hotels but no drop-off.
Check availability here
Read More:
5 Reasons to Visit The Topkapi Palace
If you have any questions or would like some advice on our Turkey Trip Itinerary we would love to hear from you. You can reach us via our Facebook page or email us here.
Flight Deals to Turkey
Find the cheapest flights with Skyscanner.
Pinterest
Are you on Pinterest? We are at To Travel Too and we have many travel-related boards check us out at Pinterest.  If you enjoyed our article why not pin it to your board.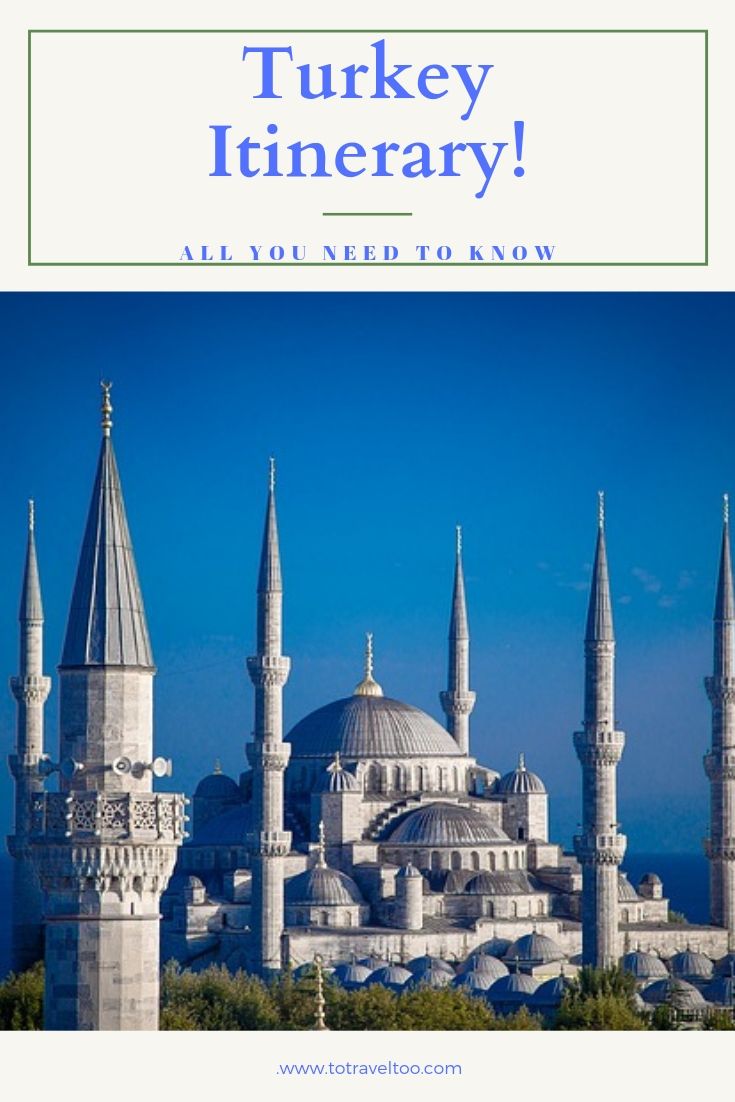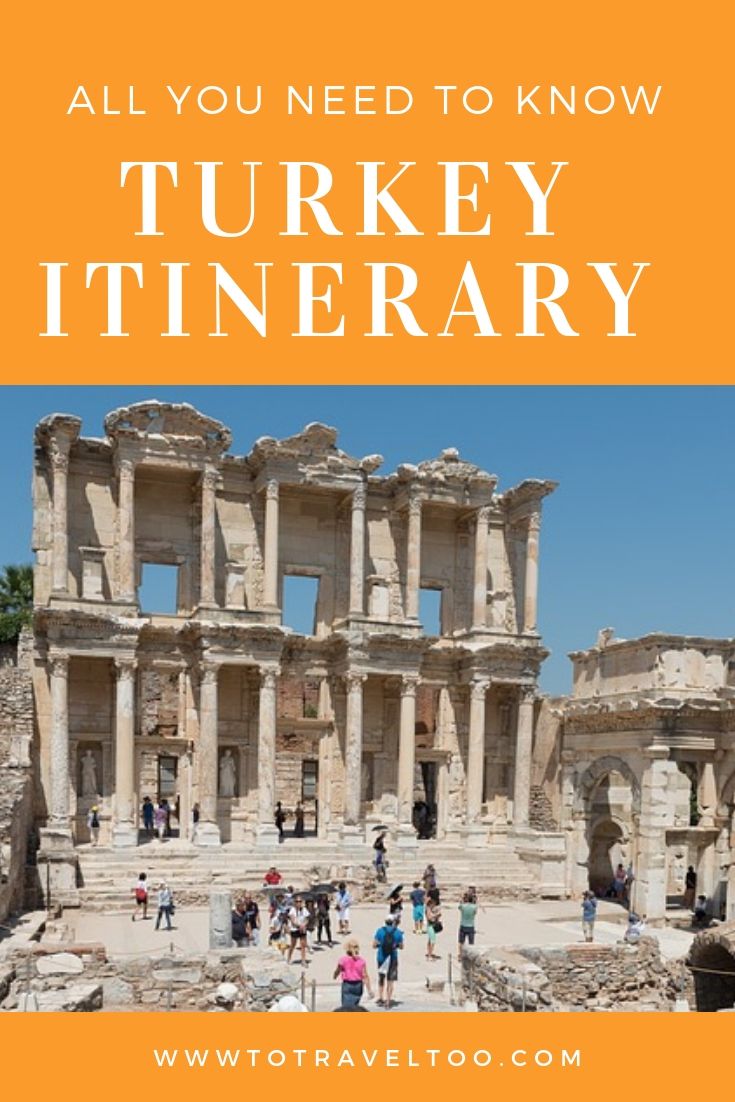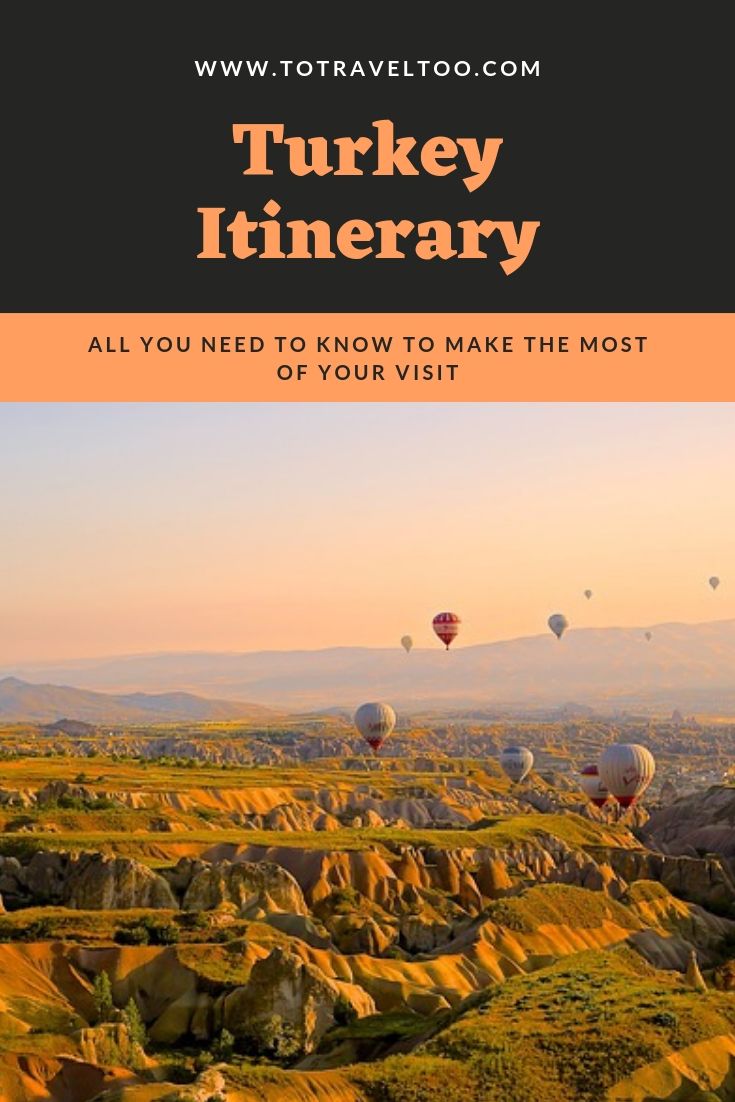 To Travel Too Travel Shop
Travel smarter and safer with products from our To Travel Too Travel Shop.  If you are looking for the latest luggage, guidebooks or travel accessories we have you covered with over 800 travel products to choose from.