Wondering what to do in Porto? Do you enjoy walking tours?
When visiting Porto Portugal you may want to book a Porto Walking Tour with Porto Walkers. In 3 hours we covered a lot of Porto, walking up and down this hilly city, the history, what is happening now, the people, the food and the sights. Porto is famous for port wine and you are reminded of this everywhere you walk.
"V" our guide was a delight and very knowledgeable.  The greatest compliment a guide could have is when we stopped at one of the parks, where there were 2 locals sitting, they decided to stay and listen, and both complimented "V" on his knowledge and his storytelling.  That was one smiling and happy guide who showed us to our next stop.  We were in good hands, here! By the way, he does tell a great tale! This is a free walking tour of Porto.
A Porto Walking Tour with Porto Walkers is definitely one of the top things to do in Porto.
This post may contain affiliate links. Please see our disclosure for more information. As an Amazon Associate, we earn from qualifying purchases (if applicable).
We have enjoyed over 10 walking tours around the world in our travels. Most of these have been free walking tours.
Off We Go On Our Porto Walking Tour with Porto Walkers
Where is Porto? Porto is located on the Douro River in Portugal's north. A part of the city lies along the Atlantic Ocean.
Our Porto Walking Tour was scheduled for 3.30 pm departure from Praca de Liberdade, Porto's impressive Freedom Square.
We didn't move too far away from the departure point when we started to head towards McDonald's (yep, the food chain McDonald's). As it turned out the McDonald's at Praca de Liberdade is the most beautiful McDonald's in the world.  It was originally the Imperial Cafe and it is famous not only for its beauty but the Portuguese dictatorship who used to dine there between 1930 and 1974.
History of Porto Highlights
In the Roman times, Lusitanian settlements were located both sides of the Douro River which flows through the city of Porto.
Henry of Burgundy was granted land in Porto in 1095.
Porto's most famous son Prince Henry the Navigator was born in 1394 from King Joao I and Queen Philippa of Lancaster.
Porto's shipbuilding developed during the 14th and 15th centuries.  The first lot of Port wine grown in the Douro Valley was shipped to Porto in the 13th century.
Porto a UNESCO World Heritage Site
Porto is one of the oldest cities in Europe and Porto's historical centre was designated a UNESCO World Heritage Site in 1996.  Porto is the 2nd largest city in Portugal, Lisbon the capital being the largest.
Many of the old mansions and palaces around the historical centre of Porto were left to decay due to a tenancy law passed in the 1920s.  Rents were controlled, the same rent was paid for generations, no increases took place.  Landlords struggled to make the necessary repairs to the buildings and could not evict tenants.  The streets became dangerous, drugs, prostitution, and many robberies occurred.  The middle class moved out and re-established themselves to Foz where they had their summer houses along the Douro valley estuary.
In 2006 a bar opened by the name of Plan B, and that was one of the turning points in the regeneration of the historical centre of Porto, which is now a major hub for some of the best bars in Porto and nightlife.
You can buy a cocktail or a glass of Porto wine from the Royal Cocktail Club in the Baixa Area at Rua da Fabrica #105 and enjoy drinking it outside on the corner.
We wandered down the Galeria de Paris street which is synonymous with bars and nightclubs in Porto where you can grab a beer and wander up and down the street.
Harry Potter and Porto an unlikely combination or not?
In the U.K. Harry Potter London tours are all the rage but did you know that you can visit the Lello Bookstore where J K Rowling got her inspiration for the famous staircase used in the movies.  It is also understood that platform 9 3/4 was modelled on the delivery of books to Lello Bookstore.  Apparently, they were delivered on a trolley and just inside the main entrance there was a hole in the wall that used to open up to receive the books.
Which was your favourite Harry Potter book?
Lello Bookstore was built at the beginning of the 20th Century.  J K Rowling used to visit the premises between 1992 and 1994.
Today Lello Bookstore is a major tourist attraction.  It was closed for renovations whilst we were there, so we missed out.  You purchase your entrance ticket around the corner of the bookstore for Euros 4 per person.  If you purchase a book the Euros 4 is deducted from the price.  The best time to avoid the crowds is to visit at 19.00 hours, good advice from our guide V.
We then headed up to Lions Square.  Could this be another Harry Potter inspiration?  There are 4 Griffins on the fountain.  They represent medicine, law, language literature and humanities.  The University was established in 1911.
The University was established in 1911 and faces Lions Square.  Another Harry Potter similarity – the university students were black gowns very similar to the gowns worn by the students at Hogwarts.  A special tax was levied on the residents of the city to build the university which took 3 years to construct.
The University is very popular it is the best in Portugal and rated #268 in the world.  It costs Euros 1500 a year to attend and 50% of the courses are conducted in English.
Your first glance will reveal a large Church located on the opposite side of the University.  If you look closely you will find there are two churches – Carmelia Church for the nuns and the Carmo Church for the monks.  Apparently, 2 churches cannot share the same wall hence the smallest house squeezed in between them, it is the 2nd smallest house in Europe. It was forbidden for the monks and nuns to communicate.
A cafe that is famous – it is also known as Piolho.  It was a meeting point for students, teachers and local businessmen.  The day before we stopped off for a cold beer after sightseeing, and found the prices to be reasonable compared to other parts of Porto especially down near the Riberia.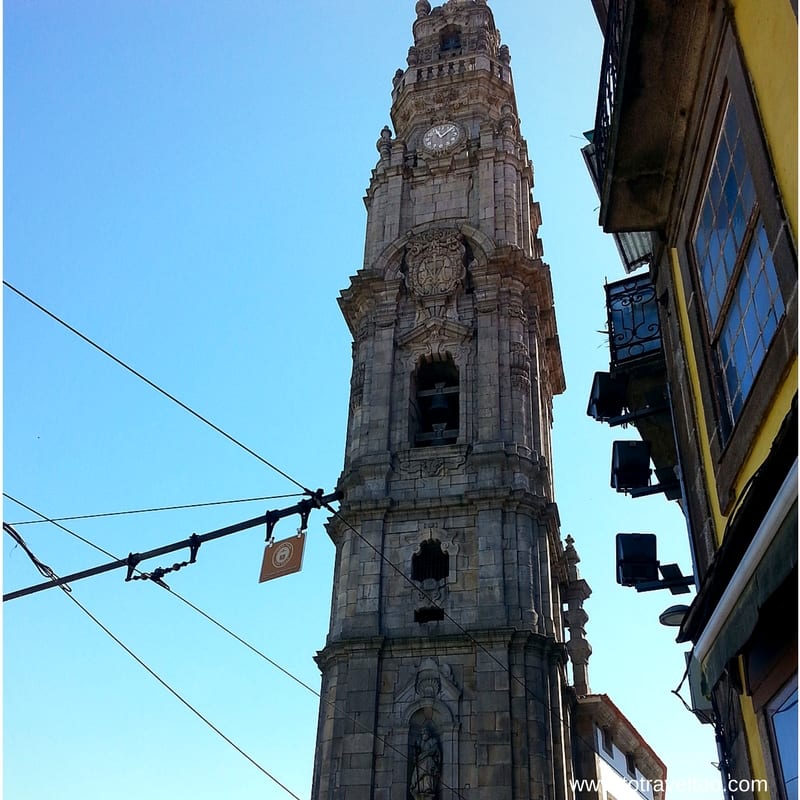 You can see the tower from all over Porto.  The Tower was constructed between 1754 and 1763, it is 76m high and there are 240 steps to the top. The Tower is attached to the Clerigos Church and was designed in the Baroque style by the Italian Architect Nasoni.
Nasoni wanted to be buried inside the church, legend states that he was but just recently when they opened the crypt there was a woman buried inside not Nasoni.
Another legend states that an acrobatics father and son team during 1917 climbed to the top of the tower to the amazement of a large crowd that was gathering below. Once reaching the top they enjoyed a cup of tea and biscuits – Invicta butter biscuits – was this the first marketing campaign in Porto?
On the way to Mirador Vitoria, we stopped off at a small cafe in Rua de Sao Bento da Vitoria for a toilet break, coffee and tasty local pastries.
One of the best 'free' spots for viewing Porto is no doubt the Mirador Vitoria.  Mirador Vitoria is located at the end of Sao Bento da Vitoria Street.
Jewish Settlement of Porto
After visiting the Mirador we walked through the area of one of the old Jewish settlements in the area.    Porto's Jewish first settlement dated back to the 13th century.  There are still hidden Jewish synagogues located throughout Porto.
You can take a tour of the Jewish area of Porto.  For more information click here.
St Francis Church is located near Praca do Infante and the Ribeira.  It is a fine example of Gothic architecture which was completed in 1410 under the reign of King John I.  It is said that 650 pounds of gold was used to decorate the interior of the church.
Entrance Fee: Euros 5.00 you can even visit the catacombs.
Our Porto Walkers tour finished at 6.30pm at the Praca do Infante.  Our guide "V" certainly earned everyone's tips – he was a great storyteller and we all came away with a lot of knowledge of Porto and we enjoyed the many sites that we were taken too. One of the best things to do in Porto is a tour with Porto Walkers.  They have a range of tours on offer check out their facebook and website details listed below.
Porto Walkers Website for bookings.
Check out Porto Walkers Tripadvisor for their latest reviews.
How to get to the meeting point at Praca de Liberdade
Porto Metro is easy to use and the closest metro station to Praca de Liberdade is Sao Bento.
Sao Bento is the main Porto Train Station.
A Porto Metro Map is available here.
We would recommend the Porto Card for discounts to many establishments in Porto, 6 Bridge River Cruises on the Douro River and transport options.  Any time is a great time to visit Porto, it is one of our favorite cities. You can pre-purchase your Porto Card with transport options here.
What to do in Porto Portugal
There are many things to do in Porto from food tours and Hop on Hop off Bus tours you will need at least a week. The Porto city centre is easily walkable and we found it safe to walk around downtown Porto.
You can't leave Porto without taking one of the many Porto Wine Tours.
Porto Portugal Tours Options
We are very happy using Get Your Guide in activities in cities that we visit.  We love their 'best price guarantee' which means if we find the same activity by the same local tour operator in the same currency for less they will refund the difference.  Currently, they offer over 35,000 activities in over 7,600 locations.
Where to stay in Porto
We stayed at the Intercontinental Hotel Porto for our stay in Porto.  The Hotel is 5 Star luxury located at Praca de Liberdade, central for all the sightseeing we wanted to do in Porto.

Other recommendations are:
Pao de Acucar Hotel: Rua do Almada 262, Santo Ildefonso, Porto, Portugal
The hotel is decorated in art deco style and is located in Porto's historic centre.
Guest review: Friendly staff, easy to find, the layout of the building was interesting. Nice airy dining room. I was visiting family so as a stopover before the next day's travel the hotel was really good as l could walk to the train station. Next time l would probably stay a few more days to explore Porto further.

Eurostars Porto Centre: Rua Sampaio Bruno Nº 77, Santo Ildefonso, Porto, Portugal
Guest review:
1. Nice neighbourhood. Just a minute walk or ride to Ribera 2. Polite helpful staff 3. The windows are sound proof 4. Clean 5. The room was spacious and exactly as in the photos. 6. Air conditioner, fridge, safe, hairdryer 7. Many restaurants and cafés around

NH Porto Batalha: Praca da Batalha 60/65, Se, Porto, Portugal
The accommodation is located in the heart of Porto. This 4-star hotel offers a swimming pool and free wifi and is pet friendly.
Guest review: I have never experienced such customer orientation as this hotel. We received an email a few days before welcoming us and enquiring of any specific needs. We were travelling with a little dog, they were extremely pet friendly, exceeding our expectations. The location was very clean, central and accommodating. I will definitely come back to this hotel, with or without my pet.

Gallery Hostel Porto: Rua Miguel Bombarda, 222, Cedofeita, Porto, Portugal
Located in a 19th century building the hostel provides shared and private rooms for travellers.
Guest review: THE BEST hostel I've ever stayed!!! very professional, everything was perfect, super friendly staffs, had a really good time in Porto and I'll def come back to GH next time!!!

There are many more hotels and apartments to choose from to suit all budgets.

Where to Eat in Porto

If you want to know the top restaurants in Porto Tripadvisor has the latest with all their reviews.
Our favourite restaurant was in the beach suburb of Matosinhos where we enjoyed the best locally cooked fish and chilled wine for lunch for Euros 40 for the two of us.  Try Casa Serrao out for yourself and we would love to hear your comments. With your Porto Card, you can get there easily on Bus 500 Porto to Matosinhos.
Read our What To Do and Where to Eat in Porto here
Getting Into Porto
Transfer from the Airport to Porto
Aeroporto do Porto is located about 14km from the city centre.  You can organise a transfer from the airport to your hotel click here for more information.
Cheap Flights to Porto
Flight Deals to Porto
Find the cheapest flights with Skyscanner our 'go-to' when researching and booking flights throughout the world.
Car Rental Porto
Car rental is available from the airport or the city centre.  It is a great way to travel outside of Porto for visiting the wine areas.
Eurail Pass
If you are considering travelling through Portugal by train check out the Eurail Pass.
Our Porto articles for your next travel inspiration:
Yellow Bus Tour Hop On Hop Off Bus
What to do and where to eat in Porto
Stay at the Luxurious Intercontinental Porto Hotel
Wine Tours Porto
Are you interested in Port Wine and tours to the Douro Valley of Porto?
Here are some recommendations for you:
Half-day tour of Porto and Gaia with Wine Tasting
Douro Valley Full-Day Wine Tour with Lunch
Pinterest
Are you on Pinterest? We are at To Travel Too and we have many travel-related boards check us out at Pinterest.  If you enjoyed our article why not pin it to your board.
To Travel Too Travel Shop
Travel smarter and safer with products from our To Travel Too Travel Shop.  If you are looking for the latest luggage, guidebooks or travel accessories we have you covered with over 800 travel products to choose from.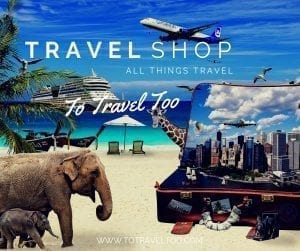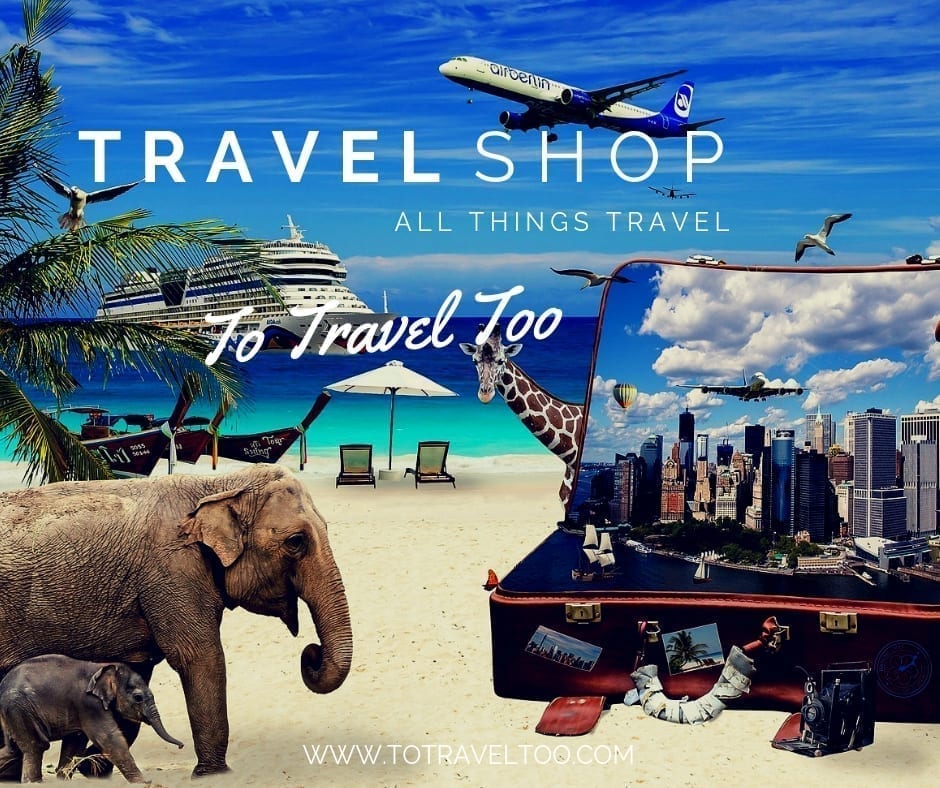 We have some recommended  Porto travel guides from Amazon that will assist you in researching top things to do in Porto.
Travel Insurance
We recommend that you take out travel insurance as soon as you pay deposits on tours, hotels, activities etc.