One of our favourite things to do when we arrive in a new city or town is to find where the Best Happy Hour Bars are. We want to find where the locals 'hang out'. We want to try unique and different cocktails and the local beer.
We asked fellow travel bloggers to share with us their favourite Happy Hours Bars in the World. We have such an exciting array of Happy Hour Bars for you to try.  Some with great views, great locations, excellent food menus and of course the very best prices on cocktails, wines and beer.
Which one will you head to?
This post may contain affiliate links. Please see our disclosure for more information. As an Amazon Associate, we earn from qualifying purchases (if applicable).
Australia
Read 100 Things to do in Brisbane
McKinlay, Queensland
27 Middleton St, Mckinlay QLD
by Bryony Sumner of Coasting Australia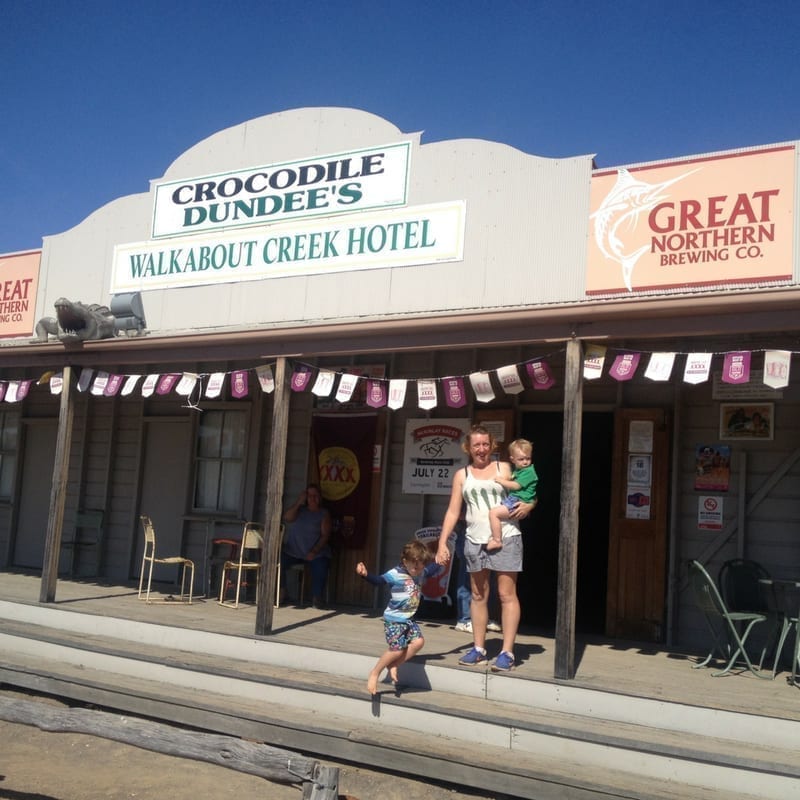 There's no one quite as Australian as Mick Dundee of Crocodile Dundee fame, so if you ever find yourself in the outback of Queensland it would be very un-Australian not to stop for a cold one in the famous 'Walkabout Creek Hotel'.
Located in McKinlay – it's a true blue Aussie pub where you not only get to enjoy a cold beer, live music, BBQs and weekly entertainment – if you ask the bartender nicely you get to hold a really, really big knife!
Happy hour in the outback!
Sydney, New South Wales
46 Erskine Street, Barangaroo, NSW 2000
by Jane Dempster-Smith of To Travel Too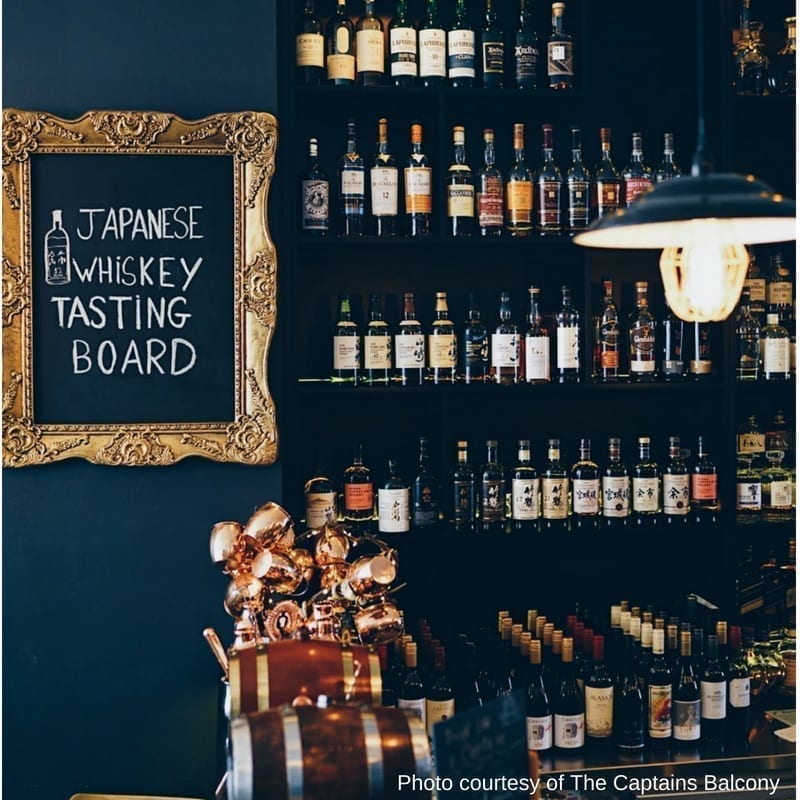 There are many Happy Hour Bars in Sydney but this one caught our eye as we were heading down to King Street Wharf for dinner. At 5 pm the Captain's Balcony bar was buzzing, the sign at the front showing $5 Happy Hour prices on house drinks of wine, sparkling wine and beer. Inside, the warm atmosphere created a buzz for the customers.  Not only is there the inside bar but the Captain's Balcony offers other dining venues such as the Captain's Courtyard, the Balcony Room, the Chimney Room and with an extensive dining menu it is certainly worth a visit.  We will definitely return. Happy Hour runs from Monday through to Saturday from 3 pm till 7 pm.
Belgium
Brussels
Rue des Alexiens 55, 1000 Bruxelles
By Betsy Wuebker of PassingThru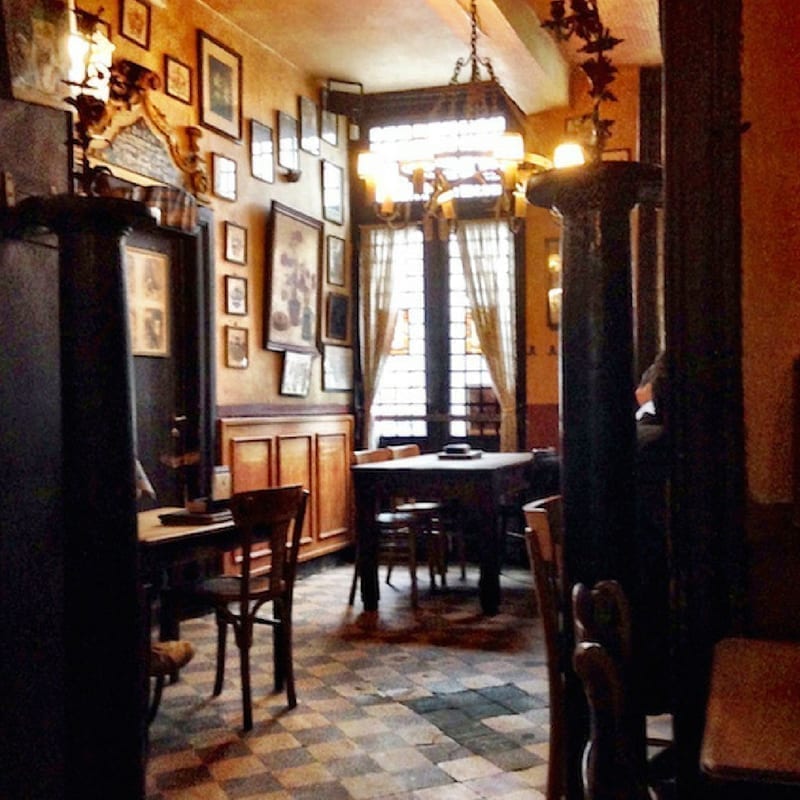 Our favourite happy hour bar in Brussels is La Fleur en Papier Dore.  If there is a cozier pub, more steeped in an incomparable Belgian artistic and literary history, we've yet to find it.  In fact, when we consider where to stay in Brussels, our decision rests on whether the location is within reasonable walking distance of this pub. Located 3 or 4 blocks from Manneken Pis on the Rue des Alexiens (roughly between Grande Place and La Sablon) in the ground floor of a 17th-century townhouse, the entire bar, including its furnishings and even its wall decor, is listed on the Historic Register.  This designation is due to its popularity with Belgian surrealists in the 1920s.  Regularly frequented then by artistic luminaries such as Rene Magritte, Herge (the creator of Tintin), and Jacques Brel, their framed drawings and scribbles directly on the walls were done in exchange for drinks and can still be seen today.  We were lucky enough to spend a few weeks living just a couple of doors down, and felt like regulars after several visits.  This is still very much a working man's bar, so specialties are hearty – meat and potatoes, grilled croques, salads and cheeses – and reasonably inexpensive.  Full liquor selection and more than 50 beers ranging from pales, fruits, and ambers to abbey, trappists and stouts.
Bulgaria
Sofia
Tsar Osvoboditel" boulevard "Tsar Osvoboditel, 1000 Sofia Center, Sofia
by Stephanie Craig from Sofia Adventures
My favourite bar in the world for happy hour is the Sense Rooftop bar in Sofia, Bulgaria. Whenever travellers come to Bulgaria and are researching things here, everyone gets told to visit Alexander Nevsky Cathedral. However, far fewer people know that the best view of the cathedral in town is from Sense. While the bar tends to fill up at night, Happy Hour is a fabulous time to go to enjoy the views in that perfect golden hour light and, coincidentally, it's the best time to go to beat the crowds. Otherwise, you can call ahead to research a cathedral-facing table.
Sofia has tons of great bars
 and restaurants, and Sense isn't the place to go if you're just looking for the best drink deal, but it's got the best views in the city and happy hour is certainly happier with the drink deals they do have while enjoying stunning city views.
Canada
Banff
299 Banff Avenue, Banff.
by Julianne Kanter from It's Five O'Clock Here
After a long day of hiking on one of Banff National Park's gorgeous trails, odds are you're going to be thirsty – and not just for water! If you want a killer happy hour, Earls in downtown Banff is where it's at. Nibble on an 8-inch Margherita pizza or fries (3.50 CAD each) and sip on some classy Sangria (5 CAD) or well highballs (3.50 CAD). Best of all, Earls has its happy hour not once, but twice: it happens every day from 3:00-6:00 PM and again from 9:00 PM to closing. Bonus: if you really love the joint, you can find Earls all across Canada (and there's even a few in the U.S., too)!
Ecuador
Galapagos Islands
Avenida Charles Darwin, Puerto Ayora, Santa Cruz
by Thea Wingert from Zen Travellers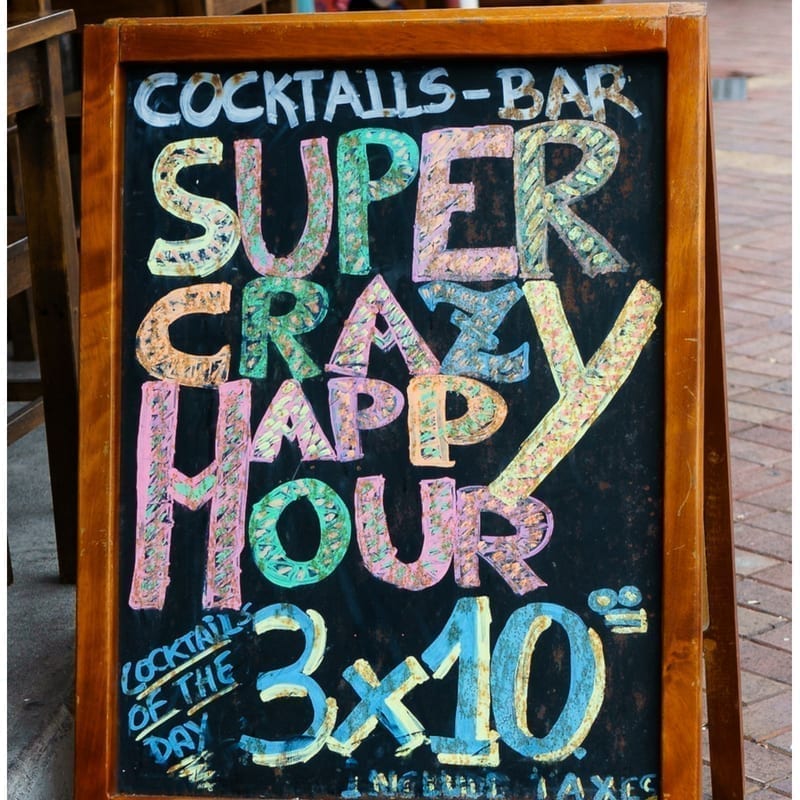 The Galapagos Islands are one of the last places I expected to encounter a raging happy hour, but indeed there are many drink deals to be found on the island of Santa Cruz. While plenty of rugged, wilderness pursuits can be had there, most begin in Puerto Ayora. For a small city on a remote island in the Pacific Ocean, Puerto Ayora is surprisingly well stocked and travellers will be delighted to know that they can find most of what they need there, including a lively bar scene.
Many bars and restaurants offer 2 for 1 or even 3 for 1 happy hour drink specials where you can mix and match delicious cocktails to your heart's content. Most of these places are found along one of the main streets called Avenida Charles Darwin. Our favourite was the place called Super Crazy Happy Hour because the name made us laugh every time and they made a mean caipirinha cocktail. If you're ever in the Galapagos, which is an adventure we highly recommend, be sure to treat yourself to a few drinks at Super Crazy Happy Hour. Just be careful of overdoing it as the Galapagos are not a place where you want to waste your time being hung over. There are far too many exciting things to see!
El Salvador
El Tunco
Km 42 Carretera, El Litoral, Playa El Tunco, La Libertad.
by Audrey and Andrew Chalmers from Gumnuts Abroad
El Salvador is not a country you'd expect to find on a list of Best Happy Hour Bars In The World. But tucked away on the beach at El Tunco is La Guitarra a feel-good bar with a local community feel. Neither hip nor fancy it's the kind of bar where shirts and shoes are optional, and the chill factor hits an all-time high. It's not unusual to see surfers racing through the bar, surfboards tucked under their arms, on the way to catch a few waves. Happy hour is the most popular time to visit La Guitarra. But it's not the 2 for 1 mojitos that people come for- although they're delicious – it's to catch up with friends, relax and watch the sun slowly sink below the horizon.
Indonesia
Read: Why You Should Choose Bali as a New Year Destination
Bali 
Jalan Batu Belig No.33 A, Kuta Utara, Kerobokan Kelod, Badung, Kabupaten Badung, Bali
By Natalie Deduck from Love and Road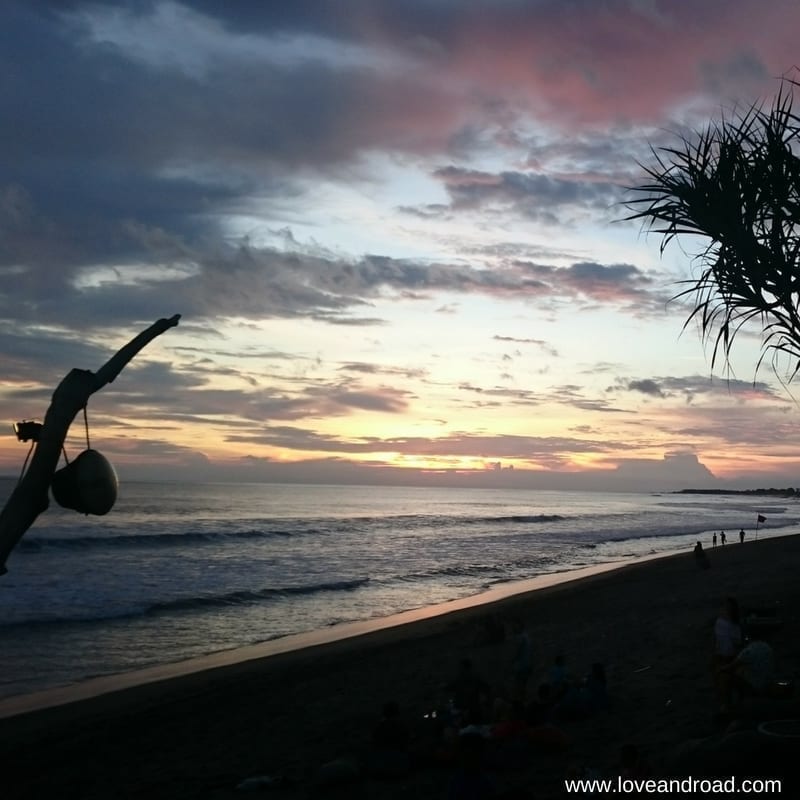 Forget about posh beach clubs, expensive cocktails and dressing code, when visiting Bali you must go to 707 Beach Berm Bar, one of the best happy hours in the world, at least for me. The bean bags and wooden tables are lined up facing the beach and during sunset, you might need to share it with a local or another traveler. It's a good excuse to make new friends and enjoy the happy hour on the Island of Gods. Celebrating the sunset is one of the
top things to do in Bali
and at 707 Beach Berm Bar you can do it while sipping a cold Bintang [local beer] or a fresh coconut. Don't forget to grab a BBQ'd corn cob covered in spicy butter from the guy selling it in front of the bar. Then you take a sit and enjoy Bali life as it is, simple and beautiful.
Indonesia
Canggu, Bali
Jl. Pantai Batu Bolong No.117X, Canggu, Kuta Utara, Kabupaten Badung, Bali 80351
By Jyotsna Ramani from Wander With Jo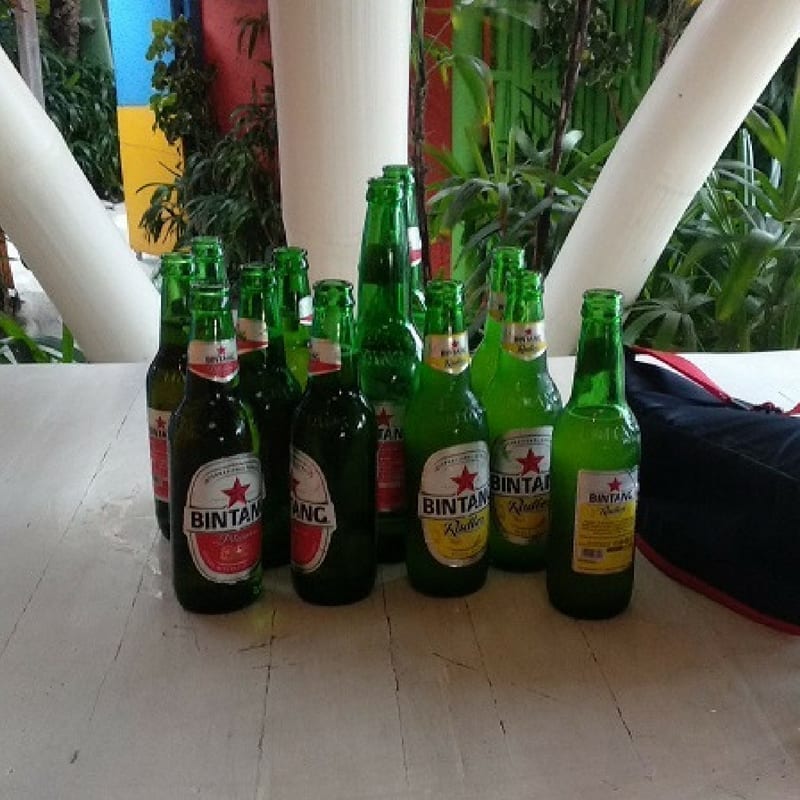 Old Man's Pub in Canggu is hands down my favorite happy hour bar ever! With Bintang beer pints starting at JUST IDR 25000 (US$ 2) for TWO between 
5-6 pm
 daily – its a steal of a deal in Indonesia! All drinks and cocktails are one plus one and the party carries on till wee hours of the morning (at the beach).
During my 3 month stay in Bali this year, I must've made it to the happy hour at least 30-40 times – lol – No, I am not an alcoholic *hic* 🙂
I love their laid back decor and beachy charm. Old Man's also has a ping pong table which was my favorite spot in the bar plus themed nights most days with pumping DJ's post-2200 hrs.
Italy
Read: How To Avoid Getting Lost in Venice
Venice
Sestiere Cannaregio 5701 Venice
by Suzanne Wolko from Phila Travel Girl
To say that Taverna al Remer is a secret happy hour isn't a stretch because if you can find it on your first try then you are definitely one of the lucky ones. It took me two days and three tries as google maps gave up and couldn't recognize the slim alley I needed to walk down to find the bar/restaurant that hosts a local happy hour with reasonable drink prices and all you can eat bar snacks served on a common table buffet. The interior design is simple and intimate – brick walls, wooden chairs and a long well-stocked bar with friendly bartenders.
The best part of the secret location is that you can then take your drink and snack and sit out on the dock in the most amazing part of the world – Venice! Enjoying happy hour on the Grand Canal with a view of the Rialto Bridge to your left and on water traffic on the right in a variety of boats used by locals and tourists. Sit and imagine the layers of history over the years in the buildings
If you are enjoying our article why not PIN it for later: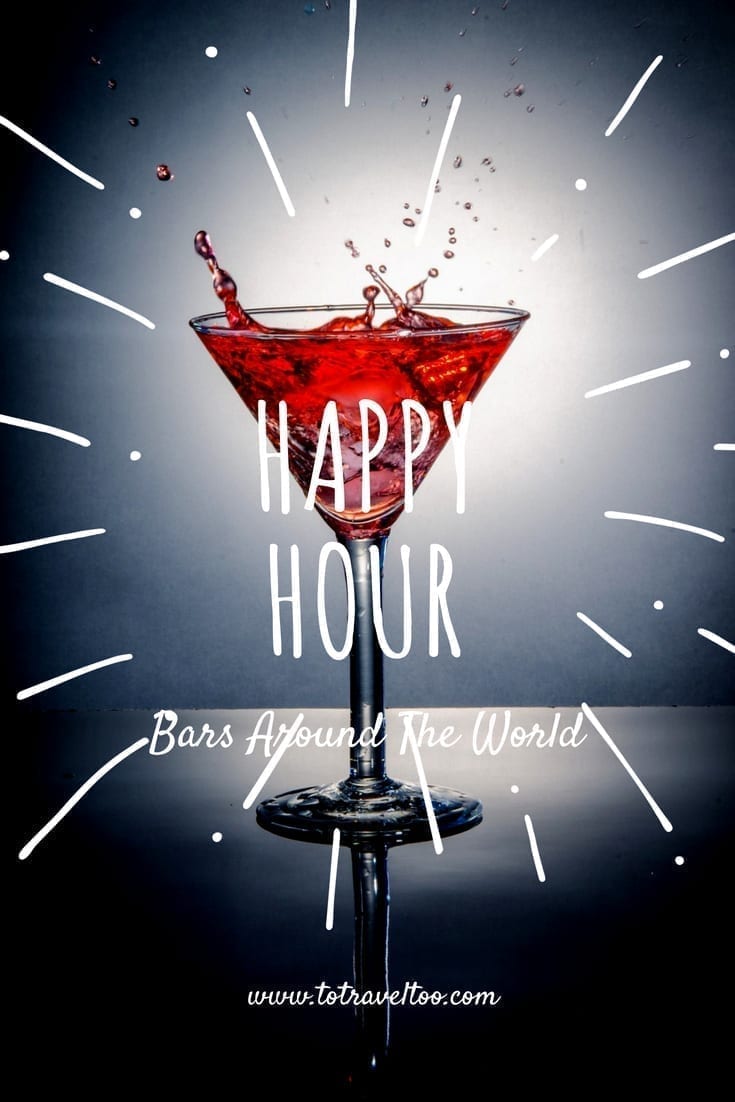 Netherlands
Read: Cool and Unusual Things to do in Amsterdam
Amsterdam
Funenkade 7, 1018 AL Amsterdam
by Karen Turner from WanderlustingK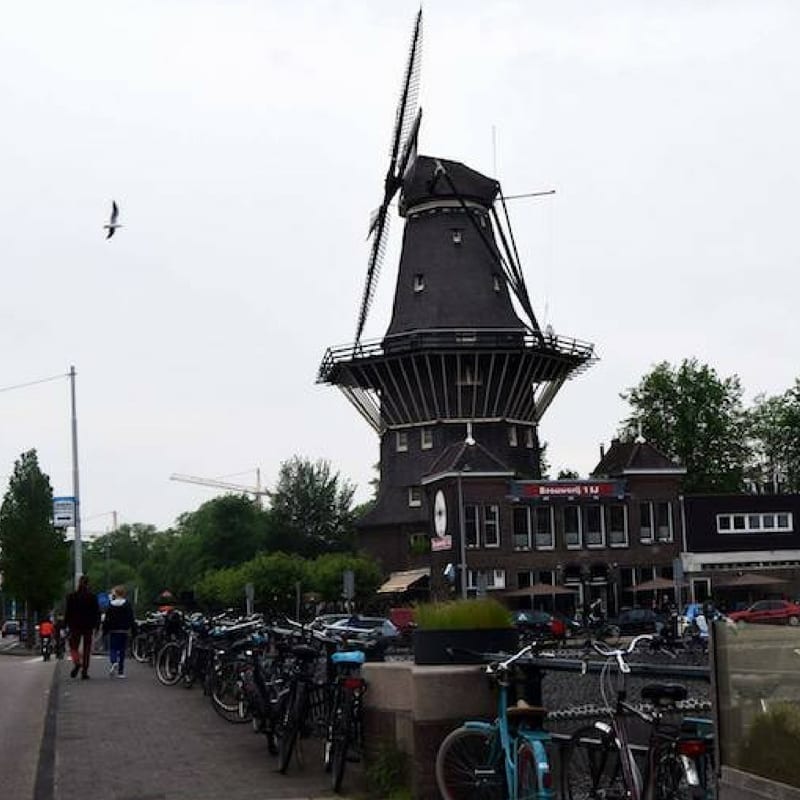 If you're in Amsterdam, be sure to visit Brouwerij 't IJ.  This Amsterdam brewery/bar serves up their own beer on tap for a reasonable price, regardless of happy hour.  Even during happy hour, you're unlikely to find prices as good as this for craft beer in Amsterdam (which is usually quite a bit more).  For anyone interested in taking photos, the brewery/bar is located at the base of a windmill. Proost to that. 😉
Philippines
Manila
1 Raffles Drive, Makati Avenue Corner, Makati, 1224 Metro Manila
by Allison Smith of Flights to Fancy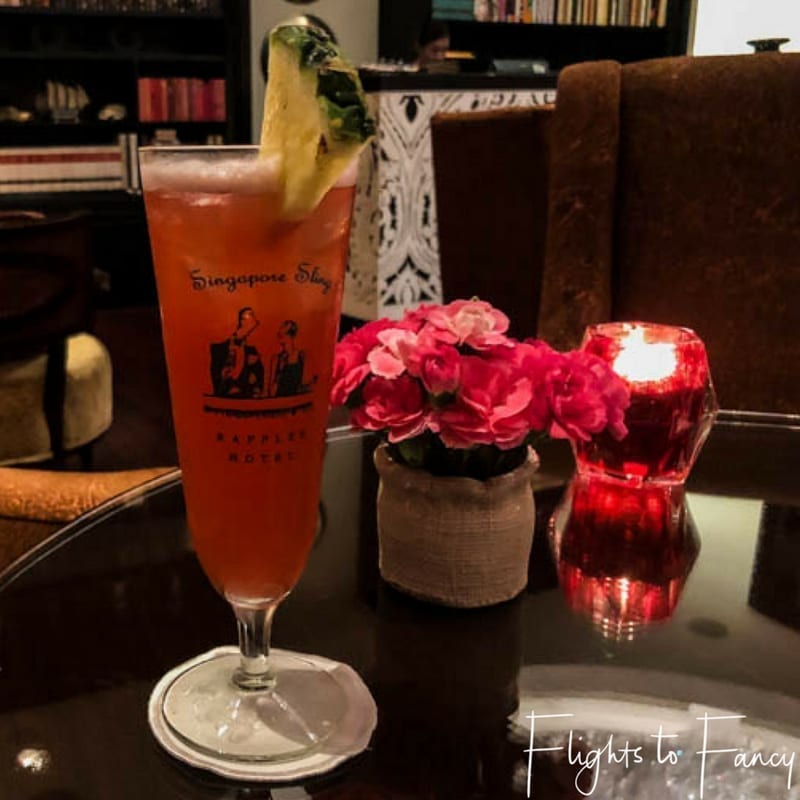 On our last day in the Philippines, we had a long layover in Manila. Rather languish at the airport, we headed back to Makati. After exploring the city we decided to while away our last few hours in town in the Long Bar at the Raffles Makati. Raffles Makati is styled in the same vein as it's more famous Singapore sister and exudes luxury. We arrived around 6 pm and happy hour was in full swing. The lure of three hours (5 pm – 8 pm) of free-flowing selected cocktails, spirits and beers for just 695 pesos (approx. AUD$18) per person was too good to resist. One drink turned into six as we tapped our feet to the live band and we were feeling no pain when we headed to the airport for our flight home. We slept like babies all the way to Sydney.
Singapore
Singapore
5 Fraser Street, Singapore
by Mar Page of Singapore n Beyond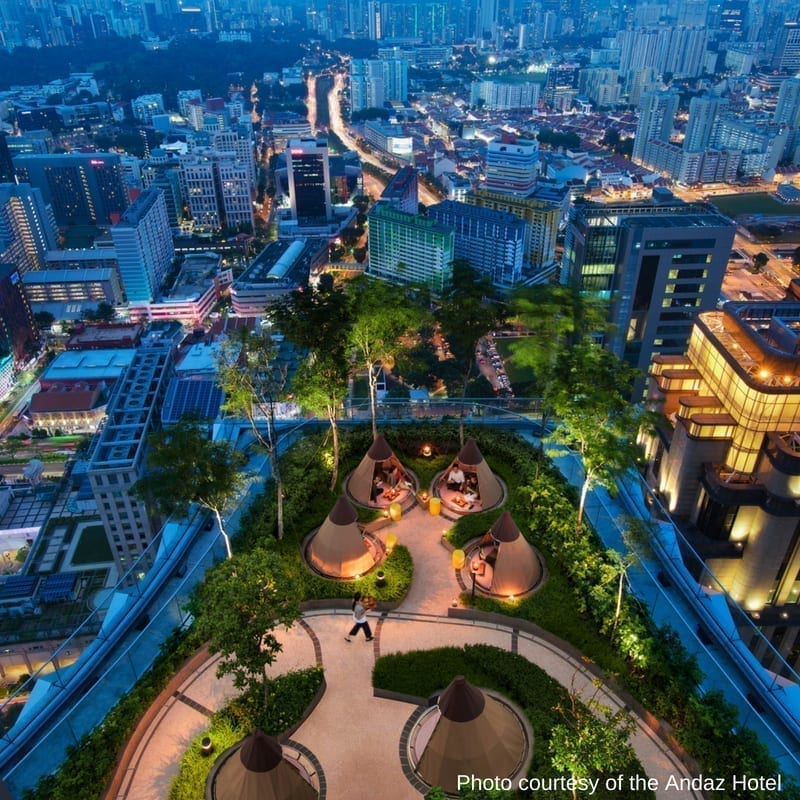 Singapore is well known for the Marina Bay Sands Hotel and its rooftop pool, one of the most photographed and scenic landmarks in the city. However, the best views are actually off it rather than from it, and from places which are facing the sunset (the majority of the rooftop bars actually face the sunrise, it is just how Singapore is designed). There are a few places that have a 180-degree view of the city but one that I love is Mr. Stork at the top of the Andaz Hotel. What most people do not know is that the Square Bar on the 25th floor has the best Happy Hour in the city from 5 pm to 9 pm all drinks are 50% off. So, instead of heading to the rooftop bar and paying Singapore's cocktail prices, you can have your happy hour drinks at Square Bar with similar views (and with Air conditioning) and then have dinner at one of the six restaurants on the same floor. Top the night off with either more happy hour drinks (remember it finishes at 9 pm!) or with skylight views of Singapore at night from Mr. Stork. Or you can go down and cross the road into Atlas, an art-deco inspired gin bar in the building affectionately known as Gotham City (it does remind one of it) which has the largest gin collection in the world and is the IN place to be in Singapore. Reservations are required, waiting is often half an hour to an hour.
South Africa
Capetown
Read: 6 Reasons to Visit South Africa
Grand Africa Café & Beach – Cape Town by Mandy Van Graan of Go2Africa
Address: V&A Waterfront, Grand Africa Café & Beach, Granger Bay 1 Haul Rd, Granger Bay Blvd, Cape Town
There is hardly a better place on Earth to watch the sun being swallowed by the sea – with a delicious cocktail in hand – than at the Ibiza-style Grand Africa Café & Beach. The Grand's sea-facing location boasts stunning views of Cape Town iconic landmarks, including Table Mountain, but what sets it apart is its private beach. White sand and azure waters make for an idyllic setting, and the interiors of a restored warehouse create an ambience of old-world romanticism and glamour.
You can even take a dip in the Atlantic Ocean, and if you have forgotten your swimming gear, you can head over to the Grand Gallery for locally designed hats, sunglasses, dresses, swimwear and even jewellery.
Various bars spots are dotted around the venue, letting you decide exactly where you want to be. A team of marvellous mixologists have curated an extensive cocktail menu, featuring signature cocktails as well as beloved classics. Along with its impressive selection of cocktails, an award-winning Vinotèque has been erected inside the warehouse, showcasing the crème de la crème of wine.
Whether you want to watch a calm ocean and soak up the sunshine, dance the night away to house beats or enjoy fresh seafood, sushi, steaks and salads, the Grand beckons with the promise of a good time.
Thailand
Read: At Least 6 Reasons to Visit Bangkok
Bangkok
Bangkok Marriott Hotel Sukhumvit
2 Sukhumvit Road So1 57
by Maire Bonheim of Temples and Treehouses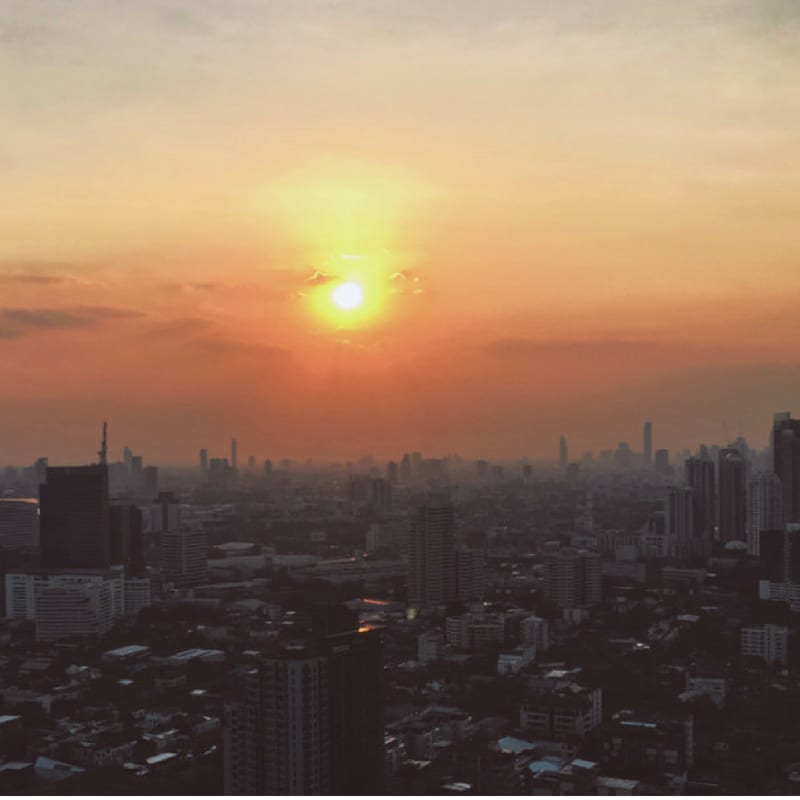 Bangkok is an incredible city to view from a rooftop bar at sunset, but most of the best sky bars tend to be really pricey, by any standards.
Octave Rooftop Lounge and Bar in the Thonglor district has a brilliant happy hour with half-price signature cocktails from 5-7pm. Happy hour cocktails cost roughly 6 USD. It also has absolutely stupendous 360-degree panoramic views of Bangkok's skyline. 
Octave is on the top of the Marriott Hotel Sukhumvit and it feels super trendy and sophisticated — the entire time I was there I felt like I was in a movie. I'll definitely be back!
Turkey
Read: Reasons Why You Should Visit Topkapi Palace
Istanbul
Akarsu Caddesi, Coşkun Sokak, Nr. 21 / A, Cihangir, Beyoğlu
By Clemens Sehi of Travellers Archive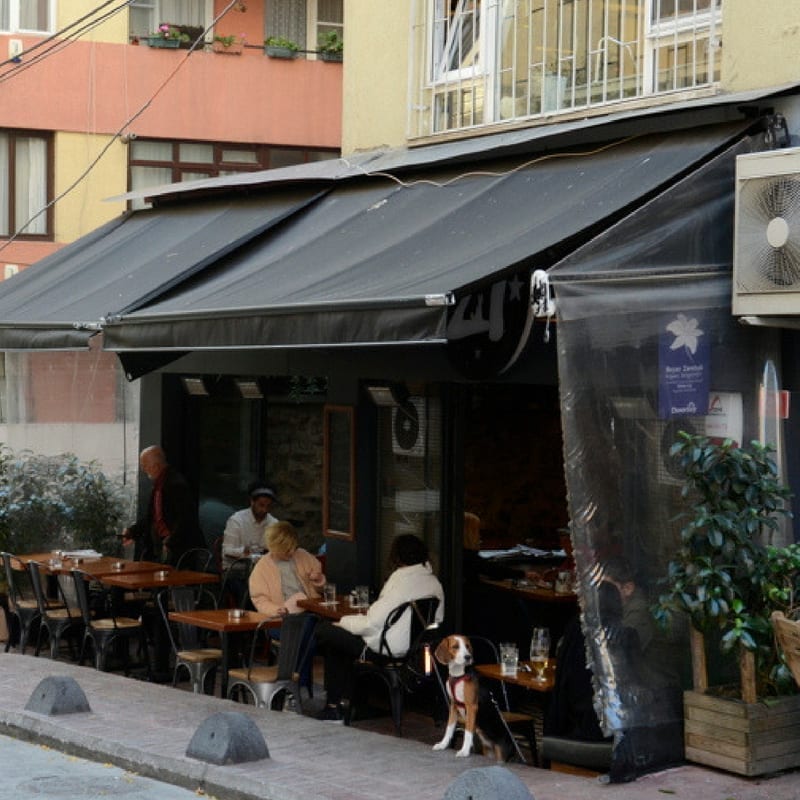 When in Istanbul, drop by the Bar 21 Cihangir for a sun-downer.  Cihangir is actually the name of one of the neighbourhoods of the Beyoğlu district, which became more and more popular in recent years. From the outside inconspicuously, the bar atmosphere changes a lot from afternoon to late at night. While first Cihangir 21 feels like the perfect restaurant for dinner with friends, it quickly becomes a bar with a great vibe. The guys have a huge selection of liquors and, most importantly for the real Turkish feeling, a good selection of Raki, an anise-flavored, alcoholic drink that is pretty popular in Turkey and that is the reason for Istanbul nights to end very late.
United States of America
Read: Our Guide on How to Plan a Trip to the USA
Florida Keys
96 Madeira Road, Islamorada, Florida
by Lisa Marquardt from TheHotFlashpacker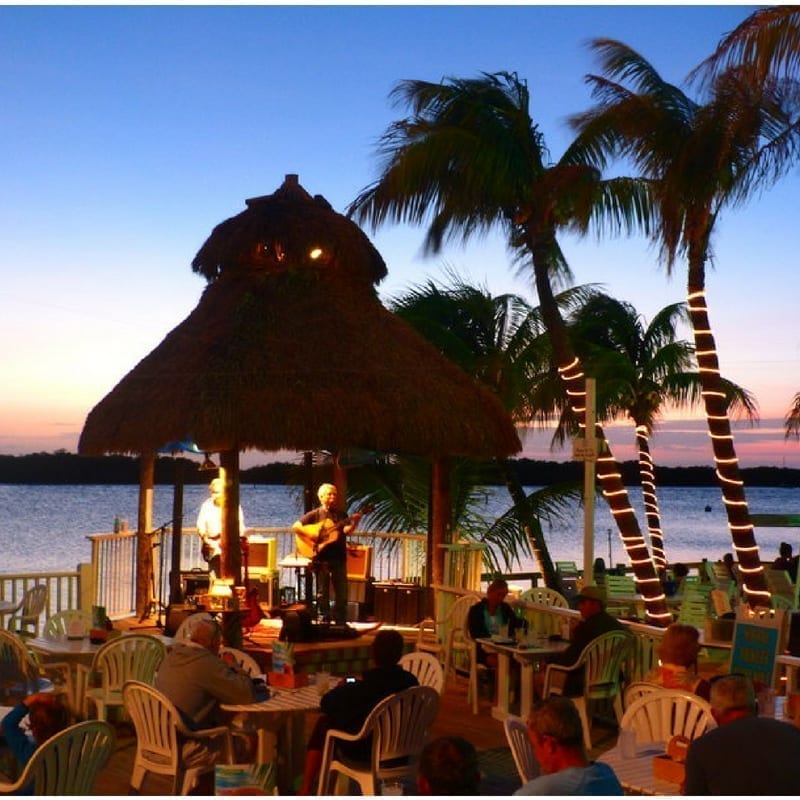 My favorite happy hour bar is the Lorelei Cabana Bar in Islamorada, Florida.  This laid-back, Florida Keys bar is perfectly set to watch the sunset.  Beers are ridiculously cheap at $1.25 for a draft domestic beer.  There's a full menu available in the restaurant and cabana bar – if you've gone fishing, they will prepare your fresh fish with choice of sides.  Most of the people you will meet are locals, from tour guides to fishermen.  Not only does the Lorelei have happy hour 7 days a week, they also host live bands every night.  You may hear a Jimmy Buffett song or two.
Fort Myers Beach Florida
6200 Estero Boulevard Fort Myers Beach Florida
By Lori Sorrentino from Travlinmad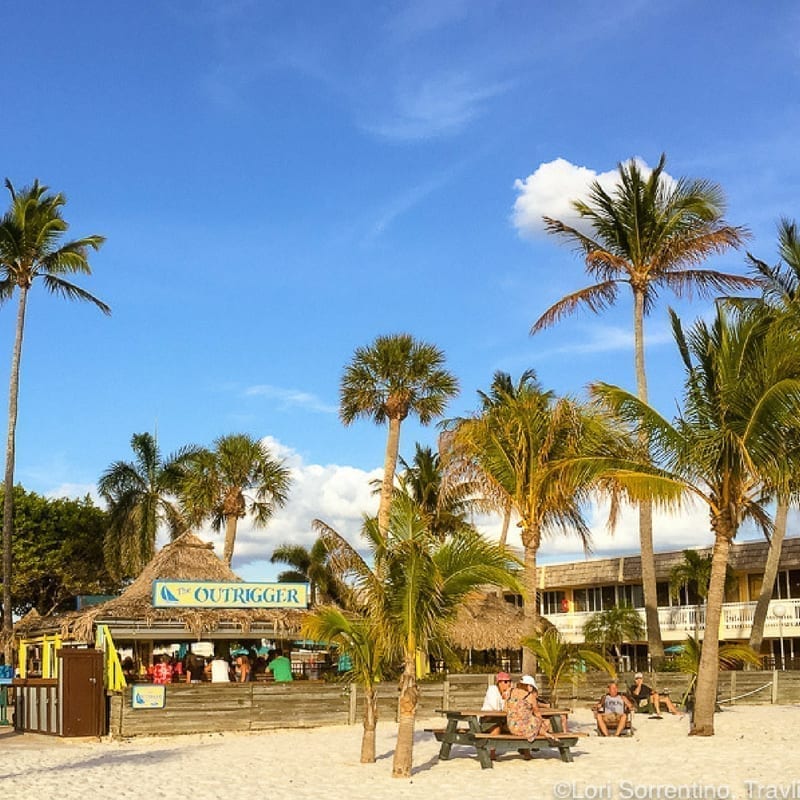 The Outrigger Tiki Bar in Ft. Myers Beach, Florida (USA) is a favorite Happy Hour place of many who visit, because of its perfect beachside location. It's a true island-y beach bar located right on the sand, beloved by both locals and visitors alike. There's daily live music, cool tropical cocktails, and pristine Gulf of Mexico views. So if you're looking for that perfect place to jumpstart your tropical vacation, there's seriously no better place to celebrate the famous southwest Florida sunset with a conch concerto than the Outrigger.
Key West Florida
430 Duval St, Key West, Florida
by From Lisa and Cheryl of WhatBoundariesTravel.com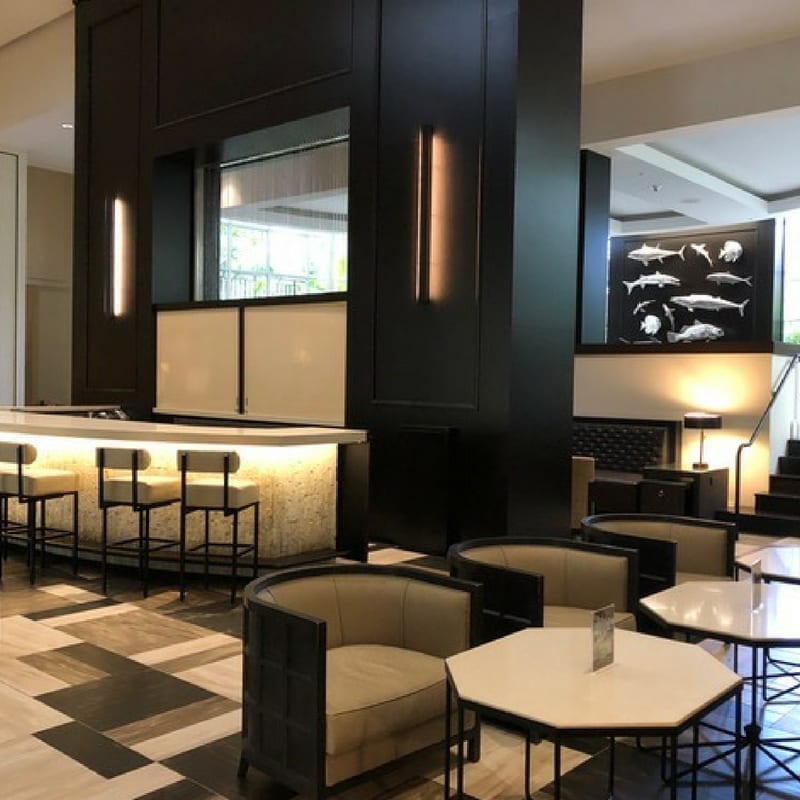 For a delicious take on tropical island fare, it's very hard to beat the Happy Hour food offerings at 430 Duval Restaurant in the Key West La Concha Hotel. Here you'll find a cool haven from the hustle and bustle of Duval Street designed for relaxing conversation and enjoyment. But it's the upscale food value you'll really appreciate. Happy Hour goes from 4:30 PM to 6:30 PM and you'll enjoy island-inspired Small Plates with bold Caribbean spices and fresh local seafood. Examples include Florida shrimp, smoked gouda tots, lobster fingers, shrimp and grits, macadamia chicken and seared filet mignon…with prices from $4.30 to $8.60! If you're looking for a special place to sip a craft cocktail and enjoy the pleasures of Key West, be sure to stop in at 430 Duval Restaurant in Key West!
Nashville
416 Broadway B, Nashville
by Bernadette Jackson from A Packed Life

Downtown Nashville really knows how to entertain, but the place that we returned to over and again was Robert's Honky Tonk on Lower Broadway, more accurately known as Robert's Western World.  It's been voted the city's favourite Honky Tonk bar for eight years in a row, and Nashville's got high benchmarks when it comes to both music and drinking.  Robert's is the home of traditional country music.  Even if country's not your thing, there's so much variety here that you'll be entranced by live music 7 days a week.  We heard everything from singer/songwriters spelling out those heartaches to sassy country gals telling him to pack his bags then a whole liveliness of bluegrass.  There's no cover charge – just grace the tip jar, and you're good.
Find yourself a perch along the wall that's got enough pairs of cowboy boots to outfit a millipede, and browse the bar list which includes local brews like Southern Wit and Fat Bottom IPA.  There's Sweet Tea to remind you that you're in the south, plus plenty of bargain eats.   You'd struggle to find a more real, honest and vibrant venue.
New Orleans
701 Bourbon St, New Orleans
by Anisa Alhilali of  Two Travelling Texans
Located in the heart of the French Quarter on Bourbon Street at the corner of St. Peter Street, New Orleans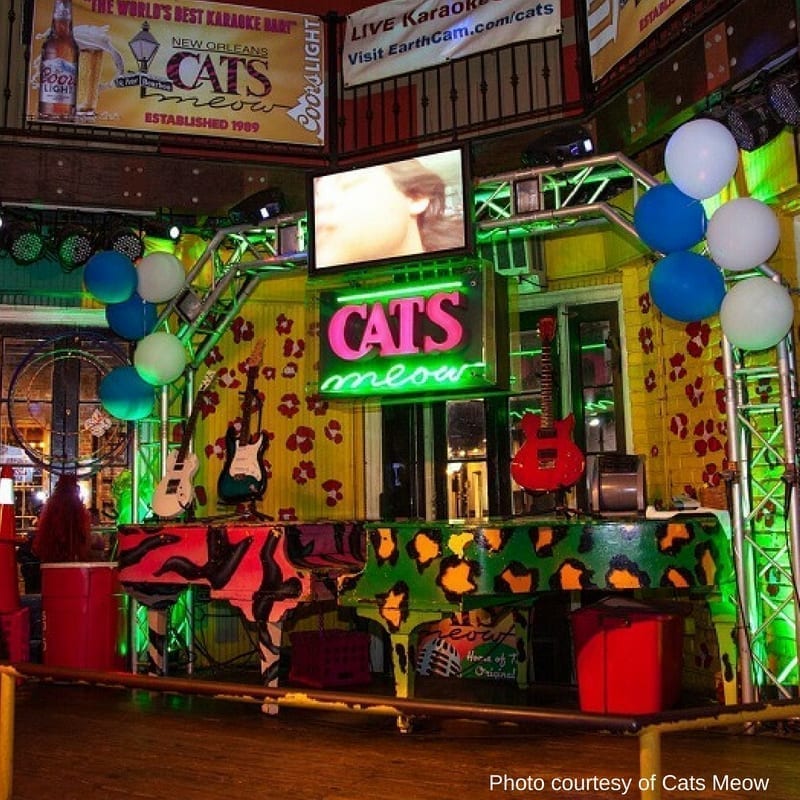 The Cats Meow in New Orleans has an amazing 3-for-1 happy hour special from the time the bar opens until 8 pm every day.  The happy hour special is good for domestic beer, and well brand, triple shot cocktails served in a 32oz cup. They will even give you all 3 beers at once!
Additionally, the Cats Meow is one of the best karaoke bars in the world.  Yes, they have a stage for you to sing on and even broadcast the karaoke performances on a live webcam.  It is free to sing and you can choose from hundreds of songs.
Newport Beach, California
400 Main Street Newport Beach
by Amanda Keeley-Thurman of Hot Mama Travel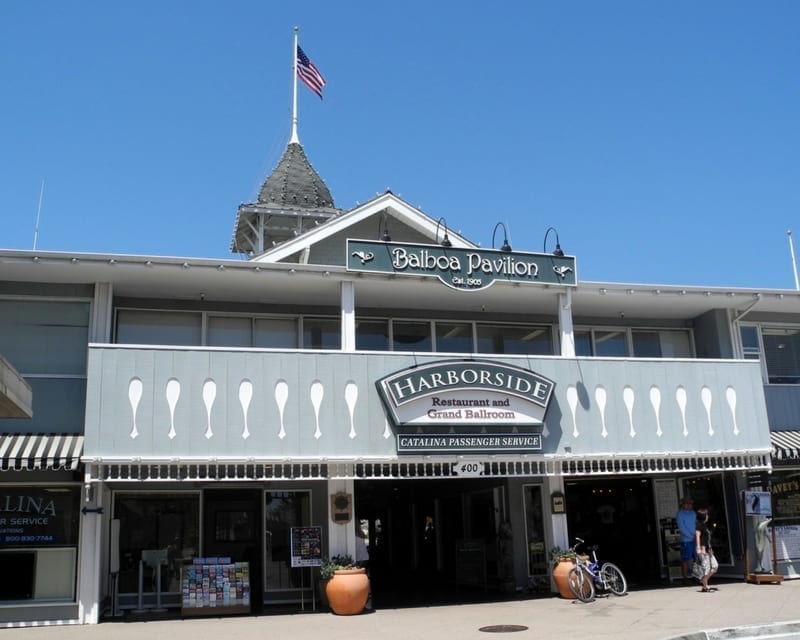 Southern California is known for its beautiful sunny weather all year-round, so you will find boats and yachts sailing gracefully through the Newport Harbor nearly every day. The Balboa Peninsula is a beach-lover's paradise with world famous beaches, walk-able piers, a retro-style amusement park on the water, and million-dollar views of the ritzy harbor. The Harborside Restaurant, located inside the historic Balboa Pavilion building built in 1906, is home to the longest happy hour in Orange County, running daily from 11:00 am to 7:00 pm. The Harborside's romantic, dark-wood saloon features panoramic views of Newport Harbor and great happy hour food specials from $5 to $7 including coconut shrimp, oysters, lobster bisque soup and salmon cakes. The happy hour drink menu includes Harborside's own Blonde draft beer or selected bottled beers for $5. They also serve generous margaritas and mai tais for just $5 and glasses of house wine for $6. With breath-taking views, delicious seafood, and great drinks at an affordable price literally all day long, this is one happy hour in Southern California you really can't miss. Insider tip: We bring our kids to Harborside all the time and the saloon is very kid-friendly.
New York
667 Lorimer Street, Brooklyn
by Allison Green of Eternal Arrival.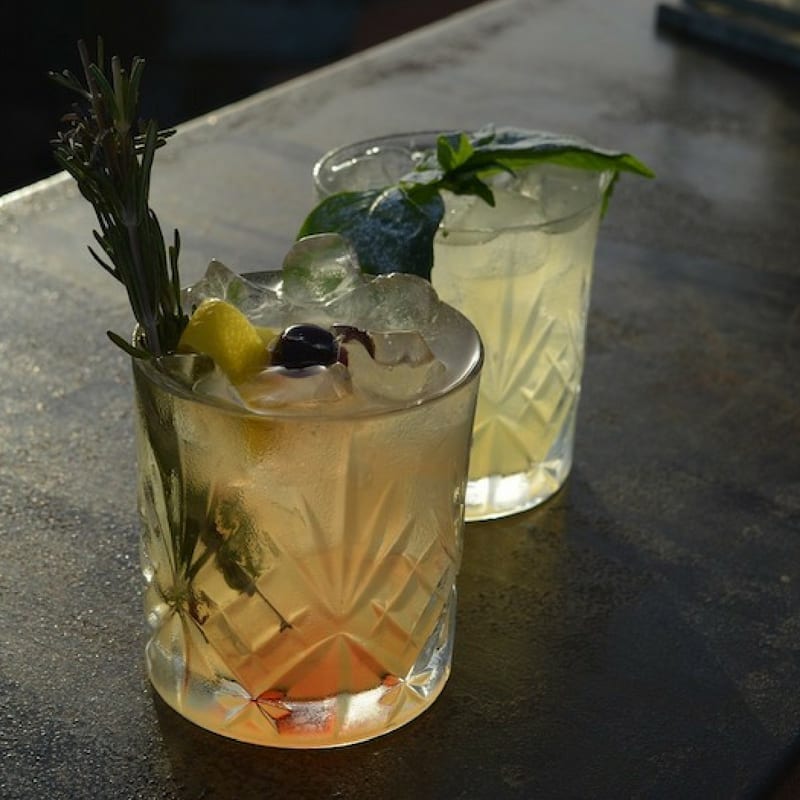 New York City is notorious for its overpriced cocktails… but that doesn't have to be true if you know where to go and how to experience New York as the locals do  Get out of Manhattan and head on over to Brooklyn, where you can find tons of great bars with generous happy hour offerings. My favorite happy hour in all of New York City is at Night of Joy in Williamsburg, Brooklyn. They have inventive, delicious cocktails and the best part is, their cocktails are only $6 during happy hour! One of my favorites is the bison grass vodka, apple juice, and goji berry cocktail, which is a spin on the traditional Polish tatanka, and their rosemary and ginger bourbon is excellent. They also have deals on their draft beer, $4 for selected beers. Their happy hour runs every day from 5 PM to 8 PM, making it an excellent place to start the night in New York. Even better, their rooftop bar is open in summer and has excellent city views, so you may find yourself staying past happy hour, too!
New York
305 East 92 Street New York
by Talek Nantes of Travels With Talek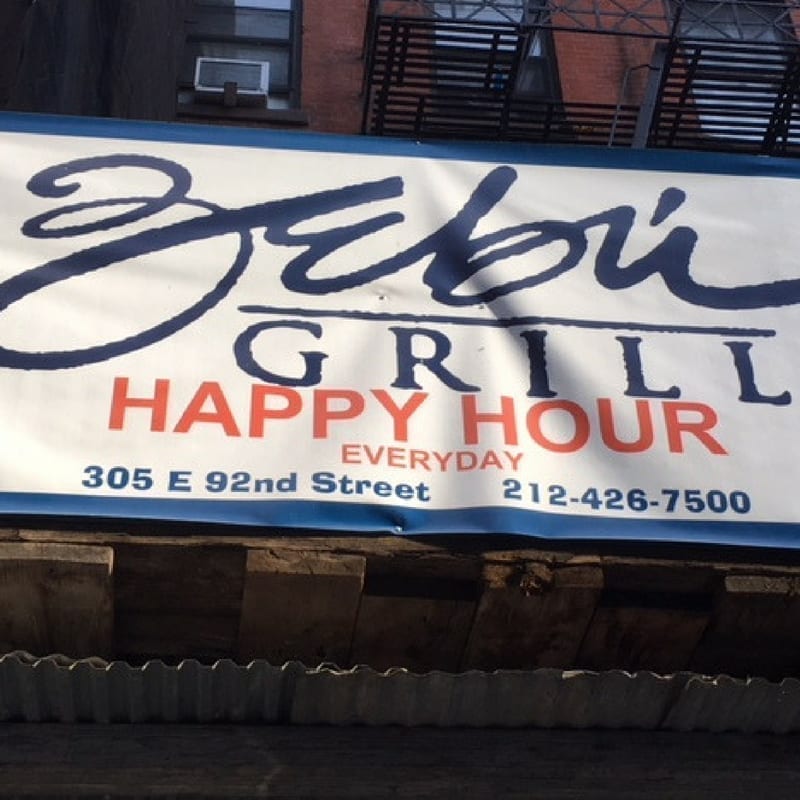 Here is a place with a welcoming vibe in a laid back part of New York City. Zebu Grill on the Upper East Side of town offers half-priced cocktails from 5 to 7. Chances are you'll hang out for the tasty, mid-priced Brazilian food after Happy Hour.
Flight Deals
Find the cheapest flights with Skyscanner who then directs you to the airline's website with no extra fees to pay.
Travel Insurance
We highly recommend that you take out travel insurance when you book and pay for your flights and pay deposits on cruises and tours.
Pinterest
Are you on Pinterest? We are at To Travel Too and we have many travel-related boards check us out at Pinterest.  If you enjoyed our article why not pin it to your board?