A story begins with a time and a place. This is an interesting story where the time and place begins on the Caribbean Island of Barbados back in 1703.
A story about Barbados and its Black Gold Rum.
Our story begins 314 years in Barbados today with an opportunity to join Mount Gay Rum's -Rum & Pairing Tour, in the name of research of course. We just could not leave Barbados without trying out its most famous export – Mount Gay Rum.
You can book your own tour here
After checking in at the Mount Gay Visitor Centre which is also Mount Gay's Shop full of rum and rum products such as Mount Gay 1703, we settled into the Bar area to wait till the tour began. Bottles of old rum winked at us from behind the bar and exotic cocktail menus tried to lure us, but we resisted and we were so glad we did!
In case you'd love to try more of the different authentic Caribbean rums, have a look at these interesting rum tours in the Dominican Republic.
This post may contain affiliate links. Please see our disclosure for more information. As an Amazon Associate, we earn from qualifying purchases (if applicable).
Mount Gay Rum Tour Barbados – Rum Pairing Tour
Where is Rum From – Let's Start at the Legacy Museum
The tour started and we headed out of the Visitor Centre to the Legacy Museum where we sampled our first rum – nothing better than an ice-cold Barbados Rum Punch to start a Rum Tour. Our guide, Chancee, explained the historical significance of rum in Barbados through old photos and original documents as well as explaining the importance of the 'red cap'. (A little on this later)
Back in 1703 John Sober, a friend of Sir John Gay, inherited a rum distillery in Barbados.  Sir John Gay was an accomplished businessman on the island and John Sober asked him to manage the rum distillery for him. Sir John Gay refined the processing of rum production and ran a successful operation, so successful for John Sober and his family that he changed the name to Mount Gay Rum in honour of Sir John Gay on his death.
Originally called "Kill Devil" rum is distilled from Molasses which is a by-product of sugar cane.  In 1642 the Dutch introduced sugar farming to Barbados and it quickly became its major export.  Mount Gay Rum was recognised as superior quality rum and was even known as 'the rum that invented rum'. The oldest rum in the world.
Sailors were great rum drinkers and English sailors were known to bring back bottles of rum from Barbados to prove that they had sailed the Atlantic. It was also found that rum after travelling across the globe, in oak barrels, improved.
When Lord Nelson died in 1805 in the Battle of Trafalgar, his body was preserved in the cask of his favourite old rum until he was able to be buried.
Mount Gay Rum Barbados and Sailing have a long history together.  Bridgetown was the main port where the Mount Gay Rum Barbados Race started its journey across the world.  Today the company sponsors over 110 regattas around the world and is a major sponsor of the United States Sailing Association.  Now, what about that 'red cap'!  If you have raced and completed in a regatta that has been sponsored by Mount Gay Rum you are awarded a 'red cap', this represents recognition of accomplishment in the sailing community. The 'red cap' is never to be sold!
We moved into a small theatre to watch a short film that lasted 7 minutes 11 seconds – just enough time for Chancee to set up our glasses and bottles of rum for our tastings. Chancee has everything timed to perfection so that we can end our Rum Tour on time at the bar.  We all agreed that this was very important.
Mount Gay Barbados Rum Tour –  Tastings Room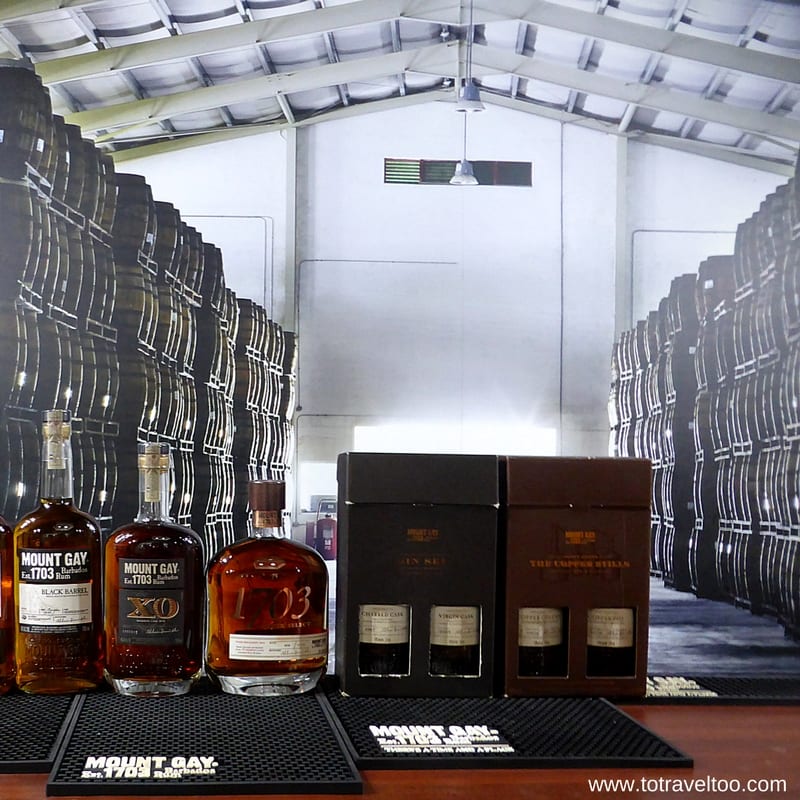 Could this be the highlight of our tour? Chancee had the group in stitches of laughter with her stories of the consumption of Mount Gay Rum over the years. She blended her own personal family experiences with stories of local consumption.  This is one girl who knows her rum or knows other persons who know their rum.
Glasses of Mount Gay Eclipse Rum was passed around and we were not allowed to let a drop touch our lips before we swirled the glass, checking the colour and the 'legs' which showed the viscosity of the rum. What could we smell? We all agreed that we could smell bananas, vanilla, and even apricots.  Apparently, Eclipse Rum was named after a solar eclipse over the South Pole in 1910. For those of us in the group who were not rum drinkers we definitely felt the 'back of the throat' burn.
Mount Gay Black Barrell Rum was next.  A rum that had been matured twice in charred aged oak barrels from the US.  Whereas Eclipse Rum gave a good burn at the back of the throat, Black Barrell was definitely a lot smoother with hints of vanilla and caramel.
Mount Gay XO (Mount Gay Extra Old) was the smoothest of the 3 rums tasted having been aged for anytime between 8 and 15 years.  Master Blender Allen Smith, who by the way, must have the best job in Barbados or even the world, when asked how long XO needs to be aged for, answered – 'it is ready when it is ready'.
Production Hall
Our next part of the tour took us to the Production Hall.  Photography is not allowed in this area.  We were able to see the bottling process where 1500 cases of rum are bottled and packed in a day. It is incredible to think that  Barbados Rum is shipped to over 80 countries in the world from this small Caribbean island.
Mount Gay Rum Bar
Our group was ushered to the Mount Gay Rum Bar.  The group arrived to find more glasses filled with more rum – this time it was the Mount Gay Silver Rum used mostly in cocktails (my type of rum tasting). Fragrant notes of banana, peppermint and citrus could be smelt as we swished and swirled and smelt the rum before tasting.
For those who could handle more Rum, the last tasting for this sector of the tour was the Mauby Rum. We were given the opportunity back in the Tasting Room to smell the bark of the Mauby tree which, to be honest smelt very earthy like a guinea pig cage.  We had already had a taste of Mauby at a restaurant in Bridgetown and all we can say is that it is definitely an acquired taste, even with a hint of citrus peel and cloves.
If you are enjoying our article you may want to PIN it for later:
Now for the Rum Pairing Part of the Tour
For those of us in the group who had booked the Rum Pairing Part of the Tour, we were seated in the outdoor covered restaurant where we sat admiring the turquoise blue of the Caribbean Sea in front of us. Mount Gay Visitors Centre, Restaurant and Bar has one of the best locations on the island overlooking one of the most beautiful Barbados beaches – Brandon's Beach.
The description in the brochure for the Rum Pairing Tour states 3 small plate pairings with handcrafted cocktails created by our Chef and Mixologist. Small must have a different meaning in Barbados, the dishes that were presented were definitely not small, we would advise you to eat only a small breakfast before this tour.
Now, before we could enjoy the 3 dishes and cocktails that matched the dishes we had a lesson to learn.
Whenever the most important word of the day was used 'Rum' we all had to yell 'more rum', now, if it was not loud or passionate enough we would have to repeat ourselves till Jamal our Chef was happy that we had it just right.  We lost count after the first 100 'more rums' – maybe it was the Rum!
Our first dish prepared by Jamal was Beef Sliders (similar to a Beef Burger but of course made with Rum).  We won't spoil your fun and tell you all the ingredients, as you really have to experience it yourself.  The Mount Gay XO Rum hit the spot in this dish!
You can't enjoy a dish like this without having a Rum Cocktail to compliment the tastes. Adrian, our first Mixologist, prepared for us a Mount Gay Rum XO Old Fashion Cocktail.  We all agreed that it complimented the dish very well and we were eager to see what was to come next.
Jamal excelled himself with our next dish of Pan Fried King Fish, pan-fried in Mount Gay XO Rum.  He explained that other types of fish could be substituted such as Sword Fish, Mahi Mahi, Dorado or Snapper.
"What Mount Gay Rum Cocktails would be suited for our Pan Fried King Fish?" Ryan our new Mixologist asked our group, as we were all new to this pairing, all we would say was 'rum' which meant we had to shout out again 'more rum'.  What a giggle!  "How about a Mojito?" asked Ryan, our group nodded enthusiastically.
Our refreshing Mojito was made from Mount Gay Pure Silver White Rum – a perfect rum for cocktails. Mojitos were a great choice for fish.
At this stage, everyone had eaten plenty and were all quite full.  What could be next? A savoury dish or a sweet dish whatever was on the menu more Rum was going to be consumed.
Jamal throws some rum into a hot pan and within seconds has created a delicious sauce to go with our Pineapple Rum Pudding.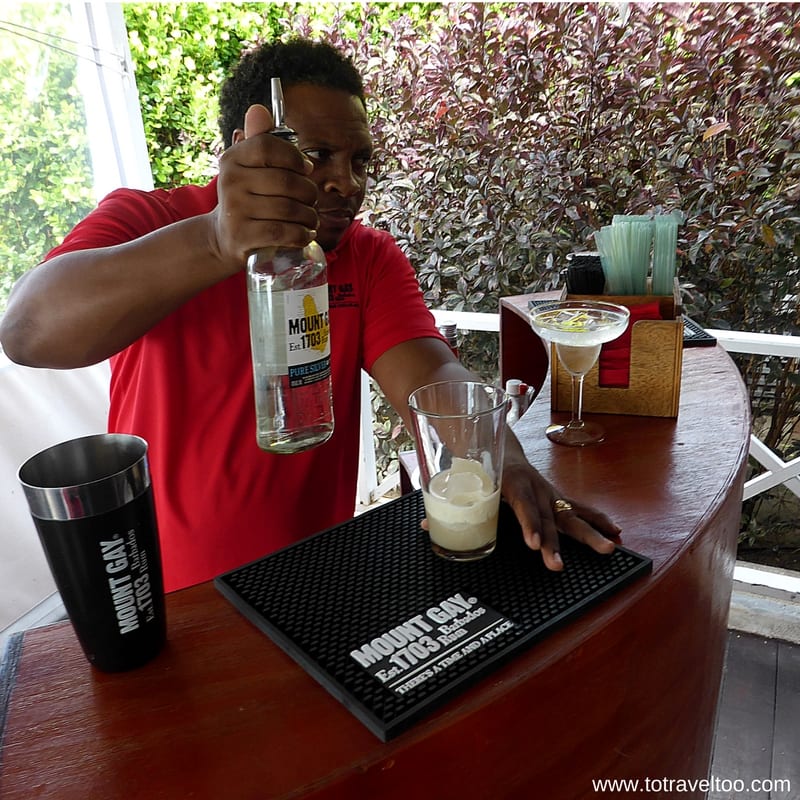 One last cocktail for the day – a Coconut Slipper made with Mount Gay Silver Rum with a drizzle of blue curacao, coconut cream, evaporated milk and vanilla essence.  A perfect cocktail to finish off our 3 dishes.
We would recommend a visit to the Mount Gay Visitors Centre and one of their signature Tours as one of the top things to do in Barbados.
Mount Gay Barbados Visitors Centre Gift Shop
Mon – Fri 9 am – 5 pm
Saturdays (winter) 10 am – 4 pm
N.B. It is recommended to make reservations in advance for the tours.
Barbados Map
ADDRESS: Exmouth Gap, Brandons, Spring Garden Highway Bridgetown, Barbados
TELEPHONE: 425 8757/227 8862/227 8864
Mount Gay Rum Barbados email: [email protected]
Website: Mount Gay Rum Barbados
Barbados Hotels
Barbados Restaurants
From fine-dining oceanside restaurants to local Bajan bars, Barbados has a range of restaurants for all tastes and budgets.
Some of our favourite restaurants are:
The Tides Restaurant in Holetown
Sitar Indian Restaurant
Tripadvisor is a great resource for restaurants, bars and cafes in Barbados.
Barbados Weather
The temperature in Barbados is the same throughout the year.  Lowest temperatures range from low to mid-20s to high temperatures of up to 30 degrees.
The rainy season is between May and December which also coincides with the hurricane season in the Caribbean.
Getting In Around Barbados
We travelled to Barbados with Jetblue from the USA – they have some great fares available.
Cheap Flight Deals to Barbados
Find the cheapest flights with Skyscanner our go-to when researching and booking flights throughout the world.
Car Rental in Barbados
You can organise car rentals from the Airport on your arrival.
Do you need an International Drivers Licence? You can obtain one here online within minutes.
Travel Insurance
World Nomads offers simple and flexible travel insurance. Buy at home or while travelling and claim online from anywhere in the world.
To Travel Too Travel Shop
Travel smarter and safer with products from our To Travel Too Travel Shop.  If you are looking for the latest luggage, guidebooks or travel accessories we have you covered with over 800 travel products to choose from.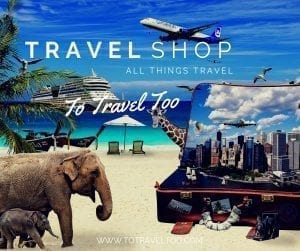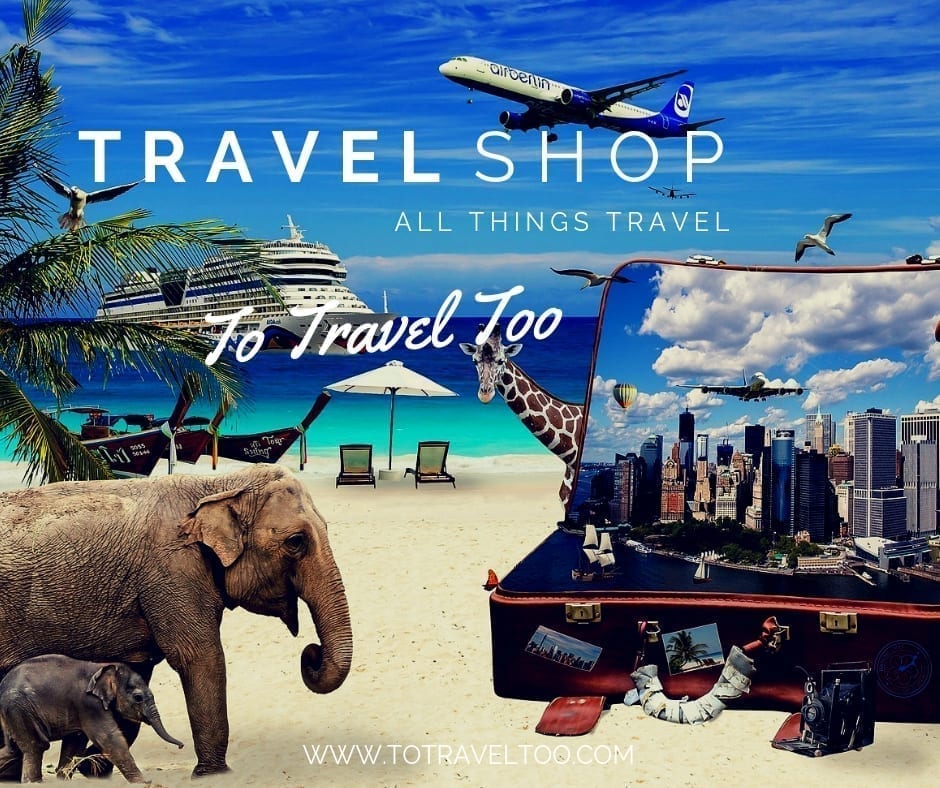 We would like to thank Mount Gay Rum for our complimentary Mount Gay Rum Tour. As always our opinions are our own.
We would like to thank Hasani Lynch for organising the tour for us and Chancee our guide for an enchanting time.
We would also like to acknowledge the skills of our Chef Jamal and our two mixologists Adrian and Ryan.
P.S. We would like to congratulate Ryan Adamson who has just won "Bartender of the Year".  It is a well-deserved win!
We spent over 3 months in Barbados and enjoyed taking advantage of the many tours on offer.  You can read more of our adventures here:
Action Charters Lunch Catamaran Cruise
Williams Tours – Round Island Tour
Pinterest
Are you on Pinterest? We are at To Travel Too and we have many travel-related boards check us out at Pinterest.  If you enjoyed our article why not pin it to your board?
Disclosure: Certain links in this post are affiliate links. This means that should you make a purchase via our link, we will receive a commission which will not affect the price you pay.
In conclusion, the Mount Gay Rum Tour offers an immersive and educational experience for rum enthusiasts and history buffs alike. From learning about the rich heritage of Barbados' oldest distillery to witnessing the traditional production methods that have been perfected over centuries, visitors are treated to a truly authentic journey through the world of rum-making. The knowledgeable guides provide valuable insights and anecdotes, making the tour not only informative but also entertaining. With its stunning location and delicious tastings, it is no wonder that the Mount Gay Rum Tour has become a must-visit attraction for those looking to delve into the fascinating world of rum. Whether you're a connoisseur or simply curious about this iconic spirit, this tour promises an unforgettable experience that will leave you with a newfound appreciation for Mount Gay Rum and its storied legacy.