Our visit to Porto Portugal came about because Lonely Planet every year nominates 10 cities as the top 10 best value places to travel to. We heeded their advice and headed off to find out for ourselves why. In 2016 we took their advice and headed to Kotor and in 2017 we jetted out to Porto.  We were not disappointed with our decision.
What we found was a fascinating city with excellent cuisine, history and culture.  We relished in all that Porto had to offer in the 5 days we visited the city.
Depending on what time of the year you visit Portugal you need to be prepared for all types of weather, Portugal is known for sudden downpours so ensure you are packing for all seasons.
(Editor Update 2021)
From the minute we landed at Aeroporto do Porto from Madeira where we had spent the last 2 weeks we were impressed.  An easy way to get from Porto Airport to your hotel is to pre-book an airport shuttle.  It was a seamless transfer from our arrival to the Intercontinental Hotel where we were staying.
For our time in Porto Portugal, we had a things to do in Porto list that included:
Porto Top Attractions such as a:
We managed to do all but the last one – Lello Bookstore which was closed for renovations.  More about the famous Lello Bookstore later.
We always do some research before we travel to a destination.  We list here some of our recommended reading:


Porto is also known as Oporto and is located on the Douro River Estuary 314km north of the capital Lisbon.  It is the 2nd largest city in Portugal, Lisbon being the first.
The country of Portugal in Europe also includes the Azores and Madeira Islands. We had just spent the previous 2 weeks in Madeira and loved it so much we had high expectations for Porto.
Portugal borders the country of Spain. The Atlantic Ocean runs the length of the country.
Porto Map
What to Do and Eat in Porto
What to do in Porto
There are so many things to do in Porto. We spent a total of 4 nights and it was definitely not enough time but what it has given us is the knowledge of what we want to do when we return.
Before you head out sightseeing we recommend pre-purchasing the Porto Card.
There is a 1-day pedestrian card that offers all the benefits of discounts in museums etc but not free public transport.
There is a 1 day, 2 days and 3 day Porto Card that includes:
free entry and discounts in 18 of Porto's museums as well as Serralves
a guided tour to the Casa da Musica and Palacio de Bolsa
free travel on the bus, tram, metro and funicular systems
discounts of up to 15% in many restaurants
25% discount on a panoramic bus
discounts of up to 25% on more than 50 touristic routes in Porto and the north of Porto
many discounts on cruises, cellars, shops, restaurants, nightlife and shows
You can purchase the  Porto Card or purchase it from various tourist offices:
(information is taken directly from the Porto Card website):
Porto Tourism Offices
Address: Rua Clube dos Fenianos, 25 – 4000-172 Porto
GPS: Lat 41.150175 Log -8.611200
Tel. +351 223393472
Opening hours: Nov-Apr  Daily 09:00-19:00
May-Oct  Daily 09:00-20:00
Website: visitporto.travel
Address: Calçada de D. Pedro Pitões, 15 – 4050-269 Porto
GPS: Lat 41.142741  Lon -8.612164
Tel. +351 223393472
Opening hours: Nov-Apr  Daily 09:00-19:00
May-Oct  Daily 09:00-20:00
Aug Daily 09:00-21:00
Website: visitporto.travel
iPoint Ribeira (May-Oct)
Address: Praça da Ribeira
GPS: Lat 41.140467 Log -8.612793
Opening hours: May-Sep Daily 10:00-19:00
Out  Daily 10:00-18:00
Website: visitporto.travel
Porto Airport
 Nova Câmbios
Floor 0 (arrivals public area)
Opening hours: daily  07:00-24:00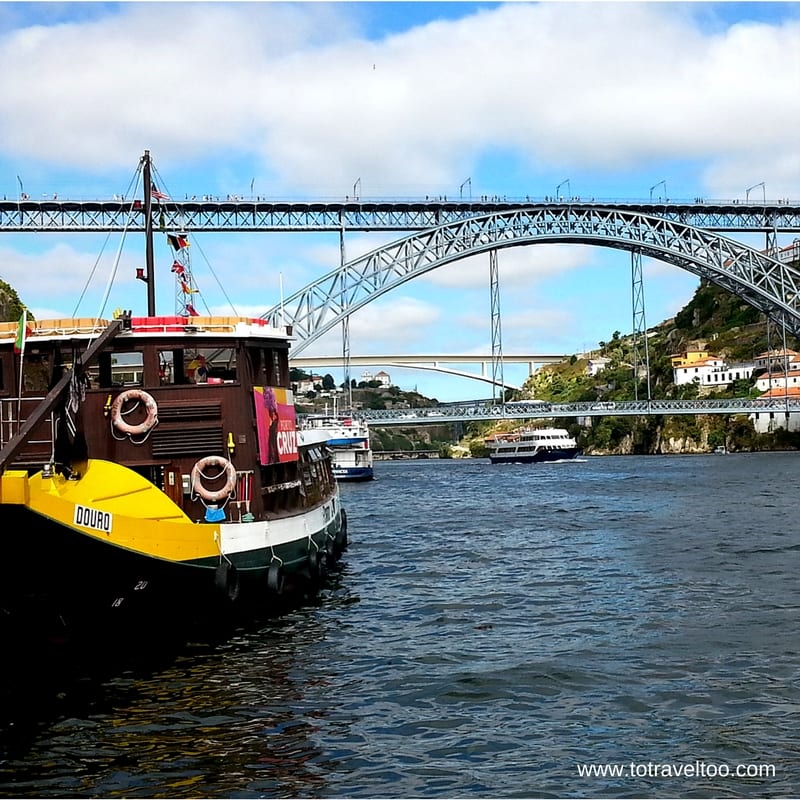 From the Porto side of the river in the Ribeira district, you can enjoy a 6 Bridge River Cruise down the Douro River.
To Travel Too Tip – What to see in Porto with the Porto Card
With the Porto Card, you receive a discount of 10%. Ensure that you ask the right operator at the Port for the 10% discount. You will find outlets in Porto City centre to purchase the card.
We both love to walk each city we visit and if possible take a walking tour.  Porto Walkers had a Free Walking Tour at 3.30pm departing from Praca de Liberdade – downtown Porto. The tour takes 3 hours and covers the history of Porto, sights, tastes and sounds. Did we have a favourite part of the tour? Actually all of it, even walking up and down the steep hills of Porto.  That was one thing we were not prepared for, but it is a great way to walk off all the great food that we had eaten.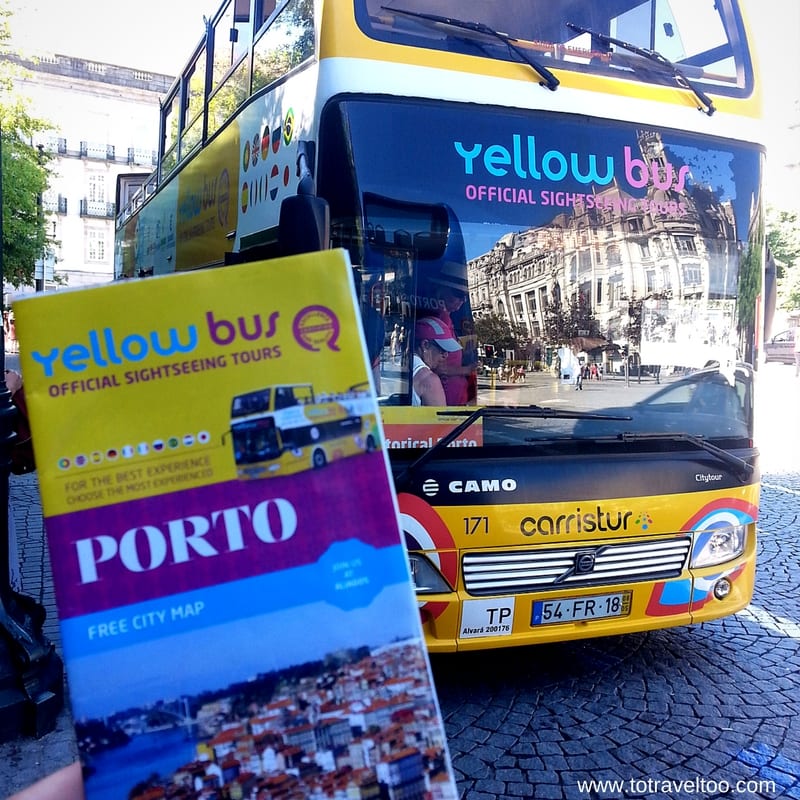 Another great way to see the sights of a city is a Hop on Hop off Bus.  In Porto and in Madeira we used Yellow Buses, a great way to get around, enjoy the sights and learn a lot about a city.
To Travel Too Top Tip
Travel on the Yellow Bus Porto Castles Tour and get off at Matosinhos.  The best seafood can be found at Casa Serrao, Rua Herois de Franca 521.  You will need to make it a lunchtime visit as the Yellow Bus does not run late at night. If you miss the last bus the #500 bus takes you back to the city centre.
The Lello Bookstore gets a special mention especially if you are fans of the Harry Potter series by J.K. Rowling.  In the U.K. Harry Potter London Tours are very popular but did you know that J.K. Rowling got her inspiration from her time spent in Porto. The Lello Bookstore was a haven for J.K. Rowling, she spent a lot of her time inside the store.
The staircase inside Hogwarts was modelled on the staircase in the Lello Bookstore.  Now what about Platform 9 3/4?  Lello Bookstore is responsible for that as well.  Books were delivered by trolley to the Bookstore and just inside the front door the wall would open up and the books were deposited inside the wall.  Sounds familiar?
Which Harry Potter Book did you enjoy the most?
To Travel Too Tip
Lello Bookstore has become so famous that they are now charging an entrance fee of Euros 4 just to get inside, but if you purchase a book the fee is deducted from the price.  The best time to visit to avoid the crowds is after 6pm.
You can walk across the double-deck metal arch bridge across the river to the south of Porto known as Nova de Gaia
Here you can visit:
or just have a drink or two along the waterfront at sunset.
#7

The Most Colourful Train Station in Portugal –

Sao Bento
Just a hop and a skip from Praca de Liberdade is one of the most colorful train stations we have ever seen – Sao Bento.  The walls and their colorful blue tiles tell the story of Battle of Valdevez (1140) and the Conquest of Ceuta (1415).  It is very busy with tourists at all times of the day.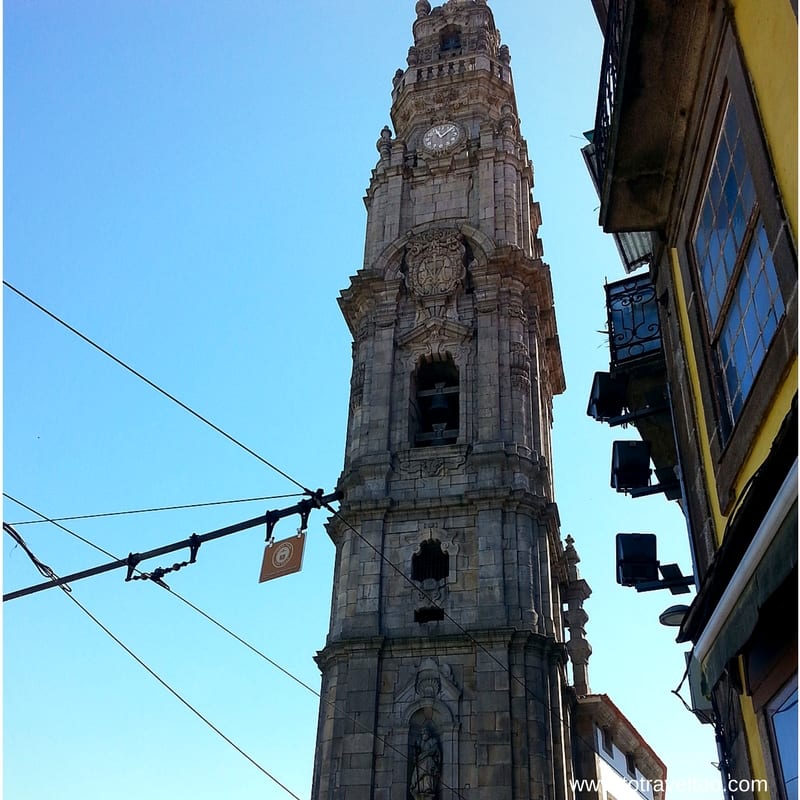 One of Porto's icons – the Clerigos Tower can be seen from all over Porto.  It is attached to the Clerigos Church.  You can climb the 240 steps to the top for stunning views. You can pre-purchase your entrance ticket here.
What to do in Porto and surrounds
What and Where to Eat in Porto – Our Porto Food Guide
To understand Porto's gastronomic delights we can recommend a Taste Porto Food Tour to get your taste buds sizzling. A great way to try Portuguese food. Tip – ask your guide for their recommended top Porto restaurants.
Not only do you get to enjoy 6 different things to eat in Porto and drink coffee and local wine your local guide is a wealth of knowledge on where to eat in Porto and which is the best Porto Restaurant to dine in. To whet your appetite these are our highlights (there were 6 stops along the way and we have 6 highlights):
For some other recommendations on the best restaurants in Porto:
For other Tripadvisor Porto restaurants to suit all tastes and budgets click here
What To Eat in Porto – Traditional Portuguese Food
What is the top food in Porto?  Francesinha.
We researched Tripadvisor for you to source the best Francesinha Porto restaurant. There are several located in Porto City Centre.
A local we spoke to recommended Cafe Santiago in Rua Passos Manuel for the best Francesinha in Porto.
What is Francesinha? Some call it a 'heart attack on a plate' sandwich – what do you think? Each restaurant will have their own special recipe:
bread
ham
fresh sausage or roasted meat
egg
covered with melted cheese
hot thick tomato and beer sauce
french fries
Francesinha means 'little Frenchie' and the dish was inspired by the French 'Croque Monsieur'.  It probably is best if 2 share the meal.
The Best Porto Bars
We have turned to Tripadvisor for their top Bars and Pubs in Porto for a complete list recommended by travelers everywhere.
We are not suggesting you go there for Porto specialities but to look inside this magnificent art deco building with glass chandeliers.  It is one of the most beautiful McDonald's in the world.  It is famous as it used to be called the Imperial Cafe and it is where the dictators use to meet.
Cafe D'ouro is also a famous cafe where students, teachers and businessmen used to meet.  The locals also call it Cafe Piolho.  It was one of the cheaper places we found in Porto for a beer.
When you visit the Majestic Cafe you are actually visiting one of the Top 10 Most Beautiful Cafes in the World.  It is located along Rua Santa Catarina, Porto's most famous shopping street, so you can combine the 2 – shopping and eating.
The pedestrian-only street close to Sao Bento Train Station full of restaurants and bars.
Top Vegetarian Restaurant Porto
If we had more time in Porto we would have tried out one of the Vegetarian Restaurants available.
If you want atmosphere, great food and excellent local wines we highly recommend a visit to Casa Serrao (we have mentioned it above in the Yellow Hop on Hop off bus section) in Matosinhos. If you head to Rua Herois de Franca in Matosinhos you will find a row of seafood restaurants all very busy at lunchtime when we visited.  The food is cooked on barbeques in front of the restaurant on the street.
For the best food in Porto Portugal, this is the place to go.  How did we choose Casa Serrao? We actually fell into it literally and a couple beside us told us that according to their travel guide this was the best restaurant in the strip. The best Porto food specialties can be found here – grilled sardines and the freshest catches of the day. We choose sardines and fried fish served up with garlic potatoes and a salad.
The house specialty dessert 'dulce de leche' was tantalizing.  A chilled Vino Verde completed a lovely lunch.  Total cost? Would you believe Euros 40 for the two of us including two beers when we sat down with local bread and olive oil.
The Best Restaurants in Porto
In fact, there are 20 Michelin Star Restaurants in the whole of Portugal and 4 of those are in Porto.  For those who enjoy eating out at Michelin Star Restaurants around the world here are the 4 listed for Porto Portugal:
Good Cheap Places To Eat In Porto
Here are 4 recommended cheap places to eat in Porto as recommended by a local:
Where to Stay in Porto
We believe the best area to stay in Porto is downtown in the historical centre.  It is within walking distance of the best of Porto.
Luxury Accommodation in Porto
We stayed at the luxurious Intercontinental Hotel Porto  We believe it is one of the best locations in downtown Porto, it is well located for sightseeing, close to the Douro River and faces the Praca de Liberdade.  It is well located for transport with the Sao Bento Train Station close by and Metro stations. The Yellow Hop on Hop Off Bus is located here and Porto Walkers start their walking tours here as well.
Here are some other suggestions in the 5-star luxury brand to stay in Porto:
4 Star Accommodation Hotels in Porto
3 Star Accommodation Hotels in Porto
Getting into Porto
Porto's airport is 11 km from the city centre.
You can pre-book your airport transfer here.
A taxi can cost up to Euros 30.
For Airport Bus options read more here.
Flight Deals to Porto
Find the cheapest flights with Skyscanner who then directs you to the airline's website with no extra fees to pay.
Car Rental
Car Rental is available from the airport or in Porto.  We recommend:
Eurail Pass
If you are traveling around Portugal you may want to consider purchasing a Eurail Pass which will take you down to the Algarve, Lisbon and Porto as well as other parts of the country.
Bus Travel
Bus travel around Portugal and Europe is easy, reliable and comfortable. For the latest bus schedules and ticket prices click here.
Travel Insurance
We recommend taking out travel insurance as soon as you book your flights and pay deposits on any cruises, tours or hotels.
If you are located in Australia or New Zealand click here for the latest quotes.
If you are located in the rest of the world click below for the latest quotes.
To Travel Too Travel Shop
Travel smarter and safer with products from our To Travel Too Travel Shop.  If you are looking for the latest luggage, guidebooks or travel accessories we have you covered with over 800 travel products to choose from.
Pinterest
Are you on Pinterest? We are at To Travel Too and we have many travel-related boards check us out at Pinterest.  If you enjoyed our article why not pin it to your board.
www.totraveltoo.com is a participant in the Amazon Services LLC Associates Program, an affiliate advertising program designed to provide a means for sites to earn advertising fees by advertising and linking to amazon.com, amazon.co.uk, amazon.ca. Amazon and the Amazon logo are trademarks of Amazon.com, Inc. or its affiliates.