Are you planning a visit to Porto? Lucky you! We want to return as soon as we can, we loved Porto so much!
Our visit to Porto Portugal came about because Lonely Planet every year nominates 10 cities as the top 10 best value places to travel to. We heeded their advice and headed off to find out for ourselves why. In 2016 we took their advice and headed to Kotor in Montenegro. So glad we did!
Porto was listed in Lonely Planet's 2017 top city list.
What we found was a fascinating city with excellent cuisine, history and culture.  We relished all that Porto had to offer in the 5 days we visited the city.
Depending on what time of the year you visit Portugal you need to be prepared for all types of weather, Portugal is known for sudden downpours so ensure you are packing for all seasons.
This post may contain affiliate links. Please see our disclosure for more information. 
Just look at those colourful buildings hugging the river!
From the minute we landed at Aeroporto do Porto from Madeira where we had spent 2 weeks we were impressed.  An easy way to get from Porto Airport to your hotel is to pre-book an airport transfer.  It was a seamless transfer from our arrival to the Intercontinental Hotel where we were staying.

For our time in Porto Portugal, we had a few things we wanted to do:
Porto Top Attractions such as a:
We managed to do all but the last one – Lello Bookstore which was closed for renovations.  More about the famous Lello Bookstore later.
We always do some research before we travel to a destination.  We list here some of our recommended reading:


Porto is also known as Oporto and is located on the Douro River Estuary 314 km north of the capital Lisbon.  It is the 2nd largest city in Portugal, Lisbon is the first.
The country of Portugal in Europe also includes the Azores and the Madeira Islands. We had just spent 2 weeks in Madeira and loved it so much we had high expectations for Porto.
Portugal borders the country of Spain. The Atlantic Ocean runs the length of the country.
Porto Map
What to Do and Eat in Porto
What to do in Porto
There are so many things to do in Porto. We spent a total of 4 nights and it was definitely not enough time but what it has given us is the knowledge of what we want to do when we return.
Before you head out sightseeing we recommend pre-purchasing the Porto Card.
There is a 1-day pedestrian card that offers all the benefits of discounts in museums etc but not free public transport.
There is a 1 day, 2 days and 3 day Porto Card that includes:
Save time and money to experience the best of Porto
Get free entry to more than 6 museums and attractions
Enjoy 50% discounts at 17.56 Museu da 1ª Demarcação do Douro, Torre Dos Clérigos, Museu Da Misericórdia, a Port wine cellar, and more
See more with unlimited access to the metro, city buses and suburban trains
Receive special offers in restaurants, shops, and other venues
(information is taken directly from the Porto Card website):
Porto Tourism Offices
Centre
Address: Rua Clube dos Fenianos, 25 – 4000-172 Porto
GPS: Lat 41.150175 Log -8.611200

Tel. +351 223393472
Opening hours: Nov-Apr  Daily 09:00-19:00
May-Oct  Daily 09:00-20:00
Website: visitporto.travel
Sé (Medieval Tower)
Address: Calçada de D. Pedro Pitões, 15 – 4050-269 Porto
GPS: Lat 41.142741  Lon -8.612164

Tel. +351 223393472
Opening hours: Nov-Apr  Daily 09:00-19:00
May-Oct  Daily 09:00-20:00
Aug Daily 09:00-21:00
Website: visitporto.travel
iPoint Ribeira (May-Oct)
Address: Praça da Ribeira
GPS: Lat 41.140467 Log -8.612793
Opening hours: May-Sep Daily 10:00-19:00
Out  Daily 10:00-18:00
Website: visitporto.travel
Porto Airport
 Nova Câmbios
Floor 0 (arrivals public area)
Opening hours: daily  07:00-24:00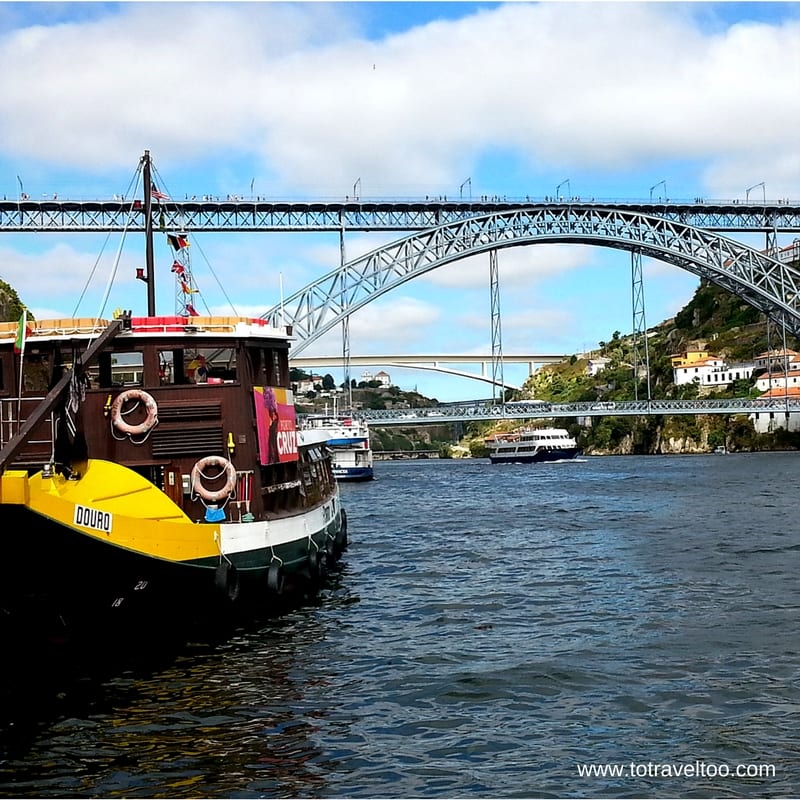 From the Porto side of the river in the Ribeira district, you can enjoy a 6 Bridge River Cruise down the Douro River.
Take a panoramic cruise down the River Douro
Follow the route of the old rabello boats
Learn more about the bridges of Ribeira and Vila Nova de Gaia
Enjoy fantastic views of the Foz do Douro
We both love to walk each city we visit and if possible take a walking tour.  Porto Walkers had a Free Walking Tour at 3.30 pm departing from Praca de Liberdade – downtown Porto.
The tour takes 3 hours and covers the history of Porto, sights, tastes and sounds. Did we have a favourite part of the tour? Actually all of it, even walking up and down the steep hills of Porto.  That was one thing we were not prepared for, but it is a great way to walk off all the great food that we had eaten.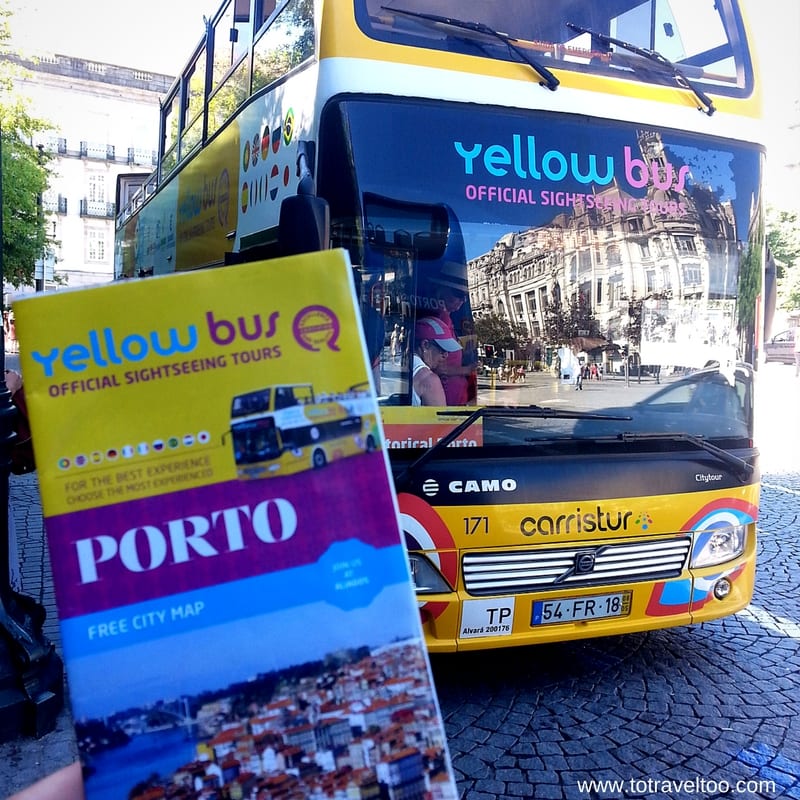 Another great way to see the sights of a city is a Hop on Hop off Bus.  In Porto and in Madeira we used Yellow Buses, a great way to get around, enjoy the sights and learn a lot about a city.
To Travel Too Top Tip – Best Seafood in Porto
Travel on the Yellow Bus Porto Castles Tour and get off at Matosinhos.  The best seafood can be found at Casa Serrao, Rua Herois de Franca 521.  You will need to make it a lunchtime visit as the Yellow Bus does not run late at night. If you miss the last bus the #500 bus takes you back to the city centre.
The Lello Bookstore gets a special mention especially if you are fans of the Harry Potter series by J.K. Rowling.  In the U.K. Harry Potter London Tours are very popular but did you know that J.K. Rowling got her inspiration from her time spent in Porto. The Lello Bookstore was a haven for J.K. Rowling, she spent a lot of her time inside the store.
Did you know?
The staircase inside Hogwarts was modelled on the staircase in the Lello Bookstore.Now what about Platform 9 3/4?  Lello Bookstore is responsible for that as well.  Books were delivered by trolley to the Bookstore and just inside the front door the wall would open up and the books were deposited inside the wall.  Sounds familiar?
Which Harry Potter Book did you enjoy the most? Our family loved the whole series!
Lello Bookstore has become so famous that they are now charging an entrance fee of Euros 5 just to get inside, but if you purchase a book the fee is deducted from the price.  The best time to visit to avoid the crowds is after 6 pm.
You can walk across the double-deck metal arch bridge across the river to the south of Porto known as Nova de Gaia
Here you can visit:
or just have a drink or two along the waterfront at sunset.
#7

The Most Colourful Train Station in Portugal

– Sao Bento
Just a hop and a skip from Praca de Liberdade is one of the most colourful train stations we have ever seen – Sao Bento.  The walls of colourful blue tiles tell the story of the Battle of Valdevez (1140) and the Conquest of Ceuta (1415).  It is very busy with tourists at all times of the day.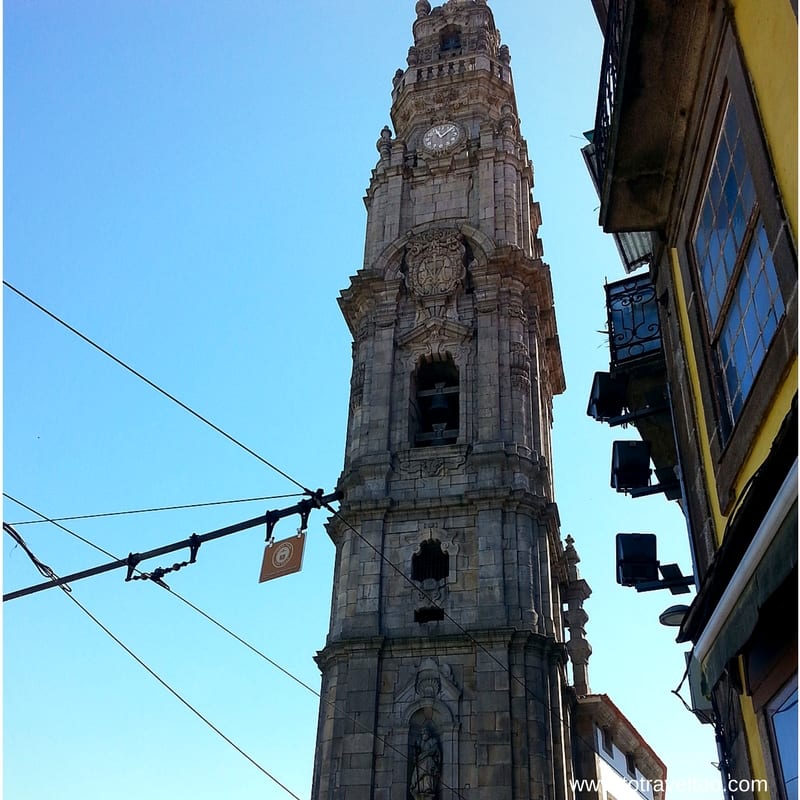 One of Porto's icons – the Clerigos Tower can be seen from all over Porto.  It is attached to the Clerigos Church.  You can climb the 240 steps to the top for stunning views. You can pre-purchase your entrance ticket here.
What to do in Porto and surrounds
What and Where to Eat in Porto – Our Porto Food Guide
To understand Porto's gastronomic delights we can recommend a Taste Porto Food Tour to get your taste buds sizzling. A great way to try Portuguese food. Tip – ask your guide for their recommended top Porto restaurants.
Not only do you get to enjoy 6 different things to eat in Porto and drink coffee and local wine your local guide is a wealth of knowledge on where to eat in Porto and which is the best Porto Restaurant to dine in.
To whet your appetite these are our highlights (there were 6 stops along the way and we have 6 highlights):
The lightest flaky pastry is known as Chaves and it comes in savoury and sweet varieties from A Loja dos Pastéis de Chaves at Rua da Firmeza #476
Bolhao Market – Bolhao Wine House Store #9 – try the wine, cheese, sardines, olive oil and cheeseless cheese pastries known as Queijadinha
Flor dos Congregdaos -Travessa dos Congregados 11, for their famous 'terylene sandwich' made from pork loin that has been marinated for 20 hours in olive oil, bay leaves, garlic, wine and spices and then roasted in a wood oven. This is one of the best restaurants in Porto for traditional Portuguese food.
Cafe Guarany – Avenida dos Aliados, the best Porto Cafe serving great coffee in town set in an art deco setting
Which were our favourites? We could not choose, both were so delicious!
Taberna do Largo Porto at Largo de S. Domingos 69 for great wines, cheeses and meat
For some other recommendations on the best restaurants in Porto:
Ode Porto Wine House – Lago do Terreiro 7 Zona Historica da Riberia Porto
Cafe Majestic – Rua de Santa Catarina 112 Porto
O Paparico – Rua de Costa Cabral 2343 Porto (Michelin Restaurant)
Cafeina – Rua Padrao 100 Porto
For other Tripadvisor Porto restaurants to suit all tastes and budgets click here
What To Eat in Porto – Traditional Portuguese Food
What is the top food in Porto?  Francesinha.
We researched Tripadvisor for you to source the best Francesinha Porto restaurant. There are several located in Porto City Centre.
A local we spoke to recommended Cafe Santiago in Rua Passos Manuel for the best Francesinha in Porto.
What is Francesinha? Some call it a 'heart attack on a plate' sandwich – what do you think? Each restaurant will have its own special recipe:
bread
ham
fresh sausage or roasted meat
egg
covered with melted cheese
hot thick tomato and beer sauce
french fries
Francesinha means 'little Frenchie' and the dish was inspired by the French 'Croque Monsieur'.  It probably is best if 2 share the meal.
We are not suggesting you go there for Porto specialities but to look inside this magnificent art deco building with glass chandeliers.  It is one of the most beautiful McDonald's in the world.  It is famous as it used to be called the Imperial Cafe and it is where the dictators use to meet.
Cafe D'ouro is also a famous cafe where students, teachers and businessmen used to meet.  The locals also call it Cafe Piolho.  It was one of the cheaper places we found in Porto for a beer.
When you visit the Majestic Cafe you are actually visiting one of the Top 10 Most Beautiful Cafes in the World.  It is located along Rua Santa Catarina, Porto's most famous shopping street, so you can combine the 2 – shopping and eating.
The pedestrian-only street close to Sao Bento Train Station is full of restaurants and bars.
The Best Porto Bars
We have turned to Tripadvisor for their top Bars and Pubs in Porto for a complete list recommended by travellers everywhere.
Top Vegetarian Restaurants Porto
If we had more time in Porto we would have tried out one of the Vegetarian Restaurants available.
If you want atmosphere, great food and excellent local wines we highly recommend a visit to Casa Serrao (we have mentioned it above in the Yellow Hop on Hop off bus section) in Matosinhos. If you head to Rua Herois de Franca in Matosinhos you will find a row of seafood restaurants all very busy at lunchtime when we visited.  The food is cooked on barbeques in front of the restaurant on the street.
For the best food in Porto Portugal, this is the place to go.  How did we choose Casa Serrao? We actually fell into it literally and a couple beside us told us that according to their travel guide this was the best restaurant in the strip. The best Porto food specialities can be found here – grilled sardines and the freshest catch of the day. We choose sardines and fried fish served up with garlic potatoes and a salad.
The house specialty dessert 'dulce de leche' was tantalizing.  A chilled Vino Verde completed a lovely lunch.  Total cost? Would you believe Euros 40 for the two of us including two beers when we sat down with local bread and olive oil.
The Best Restaurants in Porto
In fact, there are 20 Michelin Star Restaurants in the whole of Portugal and 4 of those are in Porto.  For those who enjoy eating out at Michelin Star Restaurants around the world here are the 4 listed for Porto Portugal:
Good Cheap Places To Eat In Porto
Here are 4 recommended cheap places to eat in Porto as recommended by a local:
Where to Stay in Porto
We believe the best area to stay in Porto is downtown in the historical centre.  It is within walking distance of the best of Porto.
Luxury Accommodation in Porto
We stayed at the luxurious Intercontinental Hotel Porto  We believe it is one of the best locations in downtown Porto, it is well located for sightseeing, close to the Douro River and faces the Praca de Liberdade.  The rooms are beautiful, with comfortable beds, top quality linen, and breakfast was superb – in fact, we could not fault our stay at all.
Latest Guest Review: "Location is super central with all sights, restaurants and shops in walking distance"
Check availability here
It is well located for transport with the Sao Bento Train Station close by and Metro stations. The Yellow Hop on Hop Off Bus is located here and Porto Walkers start their walking tours here as well.
Here are some other suggestions in the 5-star luxury brand to stay in Porto:
Hotel Infante de Sagres – Praca Dona Filipa De Lencastre 62 Vitoria Porto.
The Hotel Infante de Sagres belongs to the Small Luxury Hotels of the World. There is a sundeck, with a plunge pool and sun loungers. You can dine at the new Vogue Cafe. There are a range of double and twin rooms and suites.
Latest Guest Review: Everything was superb; we felt welcomed and looked after from the minute we arrived. Flawless service. The best breakfast; a super-comfortable room; large bathroom; friendly staff. And when we needed extra help (laundry, flight check-in problems), the hotel exceeded all expectations. Joana, Ricardo and the team are the best. We've stayed in dozens of hotels in Europe (and more than 10 in Portugal) and Infante Sagres is now our favourite.
Check availability here
Pestana Vintage Porto – Hotel and World Heritage Site: Praca Da Ribeira No. 1, Sao Nicolau, Porto, Portugal
Latest Guest review: "Everything about this hotel was EXCELLENT! The personal touch by all the staff, the food, the bar, restaurant recommendations, sights etc they provided was far beyond our expectations! We can't wait to come back!"
Check availability here
Sheraton Porto Hotel & Spa – Rua Tenente Valadim 146, Lordelo do Ouro, Porto
Location 1-minute walk from Boavista Avenue. The hotel has a glass wine cellar and you can enjoy a drink at the Hotel's lobby bar. There are 8 spa treatment rooms, a swimming pool, yoga room, relaxation area and juice bar.
Latest Guest review: "I highly recommend this hotel, excellent service. Very clean and comfy. Friendly staff. Definitely coming back."
4 Star Accommodation Hotels in Porto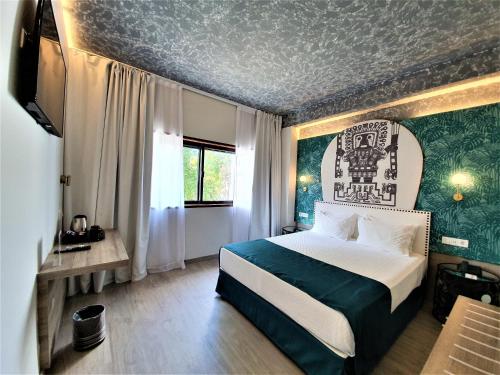 Address: Praco Coronel Pacheco 52, Uniao de Freguesias do Centro Porto
Hotel Inca Porto is located closed to S.Bento Station. Breakfast is served daily in the dining room. Portuguese International snacks and drinks are available in the Cusco Bar throughout the day.
Guest review: The location is excellent. The staff were friendly and helpful. Breakfast was excellent
Check availability here
Address:  Rua Sa Da Bandiera 84, Uniao de Freguesias do Centro Porto
Recently refurbished the PortoBay Teatro is located in the theatre district of Porto and close to São Bento Station, Clérigos Tower, Porto Cathedral, Avenida dos Aliados, Lello Bookshop, Bolhão Market and the well-known Cais da Ribeira, the Douro riverfront.
Enjoy Italian cuisine at Il Basilico Restaurant and the Il Basicilo Bar when the restaurant is closed.
"The hotel has 75 spacious rooms (ranging from 19.5 to 52 m 2 ), divided into 5 categories (Gallery, Tribune, Audience, Junior Suite, and Suite), which offer a contemporary, natural and comfortable style.
The neutral tones and light woods give a warm atmosphere that can be felt throughout the hotel."
Guest review: "Overall service from the reception and room service was excellent. We had the chance to have an upgrade and the room was very spacious. Couldn't complain about anything, our stay was really enjoyable."
Check availability here
Address: Ruo do Almada 361 Uniao de Freguesias do Centro Porto
The hotel is located 700 m from Clerigos Tower.  A daily buffet breakfast is served in the hotel.
Guest review: I've travelled a lot lately, and this hotel had by far the best preventive hygiene measures in the context of covid. The breakfast was very nice, too.
Check availability here
Getting into Porto
Porto's airport is 11 km from the city centre.
You can pre-book your airport transfer here.
A taxi can cost up to Euros 30.
For Airport Bus options read more here.
Flight Deals to Porto
Find the cheapest flights with Skyscanner our 'go-to' when we are researching and then booking flights for our travels.
Car Rental
Car Rental is available from the airport or in Porto.  We recommend:
Eurail Pass
If you are travelling around Portugal you may want to consider purchasing a Eurail Pass which will take you down to the Algarve, Lisbon and Porto as well as other parts of the country.
Bus Travel
Bus travel around Portugal and Europe is easy, reliable and comfortable. For the latest bus schedules and ticket prices click here.
Travel Insurance
We recommend taking out travel insurance as soon as you book your flights and pay deposits on any cruises, tours or hotels.
Do you Need a Visa or Health Declaration Form
To Travel Too Travel Shop
Travel smarter and safer with products from our To Travel Too Travel Shop.  If you are looking for the latest luggage, guidebooks or travel accessories we have you covered with over 800 travel products to choose from.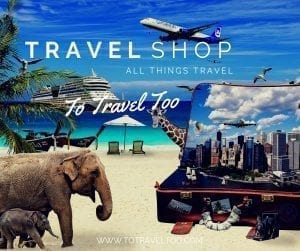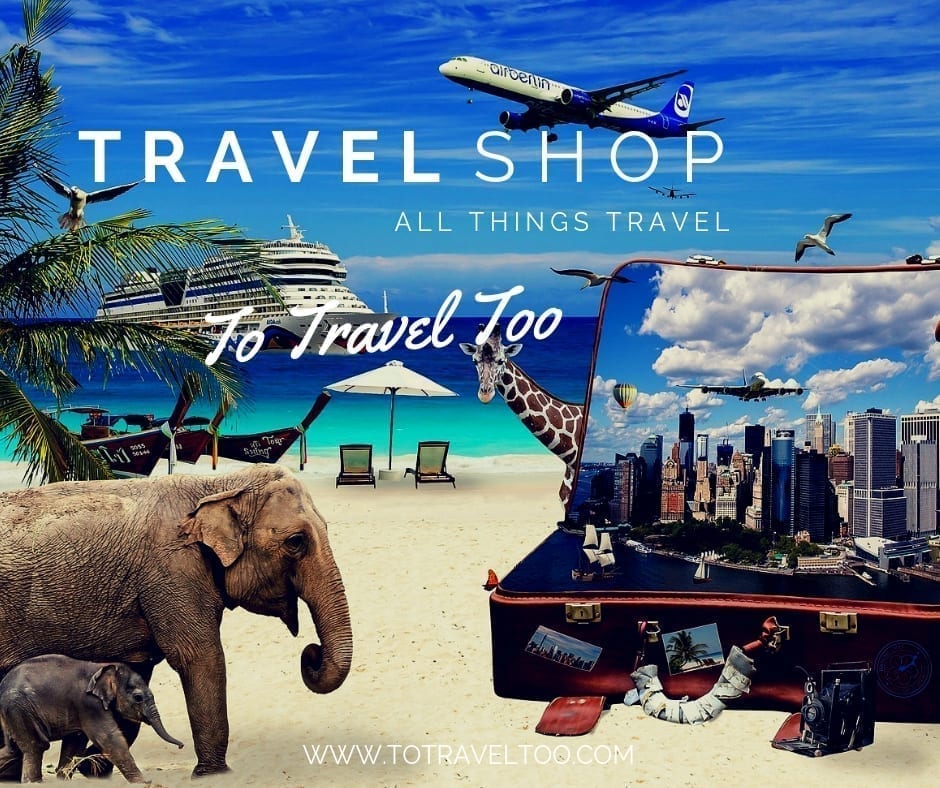 Pinterest
Are you on Pinterest? We are at To Travel Too and we have many travel-related boards check us out at Pinterest.  If you enjoyed our article why not pin it to your board.