All You Need To Know About A Walking Tour of Funchal
We are passionate about walking tours in each place that we visit, especially the walking tour of Funchal Madeira that we took with Beata from History Tellers. In the couple of hours, we spent in Beata's company, we learned so much about Funchal, its history and came across squares and alleyways that we had not visited before in Funchal.
(Editor Update 2021)
The following has been taken directly from the website of History Tellers.  We have included it because we are impressed with the program and we urge fellow visitors to Madeira Island to support this initiative.
"History Tellers are part of the Madeiran Heritage project developed by the University of Madeiran Student's Union (AAUMa) to publicize and preserve Madeira's tangible and intangible heritage.
The University of Madeira Students' Union (AAUMa) has developed several cultural and scientific enterprises aimed at connecting the history and culture of Portugal, with an emphasis on Madeira Island.
These enterprises have enabled the development of various projects aimed to support our most disadvantaged students at the University. The most significant of these projects is the Nourishment Fund which, since its creation in 2013, has financed thousands of meals for the students. Together with the Scholarship Fund, which aims to provide some school supplies, AAUMa has been able to help many students who may have otherwise found themselves struggling financially.
One of the ways in which we raise money for our social projects is through the History Tellers. This program aims to present the Funchal of the past and the present day. In this unique experience, a student (Beata was our guide)  guides a group of visitors around the old streets and buildings of the city describing the fascinating history of Funchal.
Through constantly updated historical research, we tell Funchal's story, how and why it has transformed into the fascinating city that stands today."
Before you travel to Madeira you may want to research more about the Garden Island of Portugal.  Here are some suggestions for you from Amazon.
This post may contain affiliate links. Please see our disclosure for more information. As an Amazon Associate, we earn from qualifying purchases (if applicable).
300 miles from Morocco on the West African Coast is the Portuguese Island of Madeira in the Atlantic Ocean.
The Madeira Map shows where is Funchal located on the island.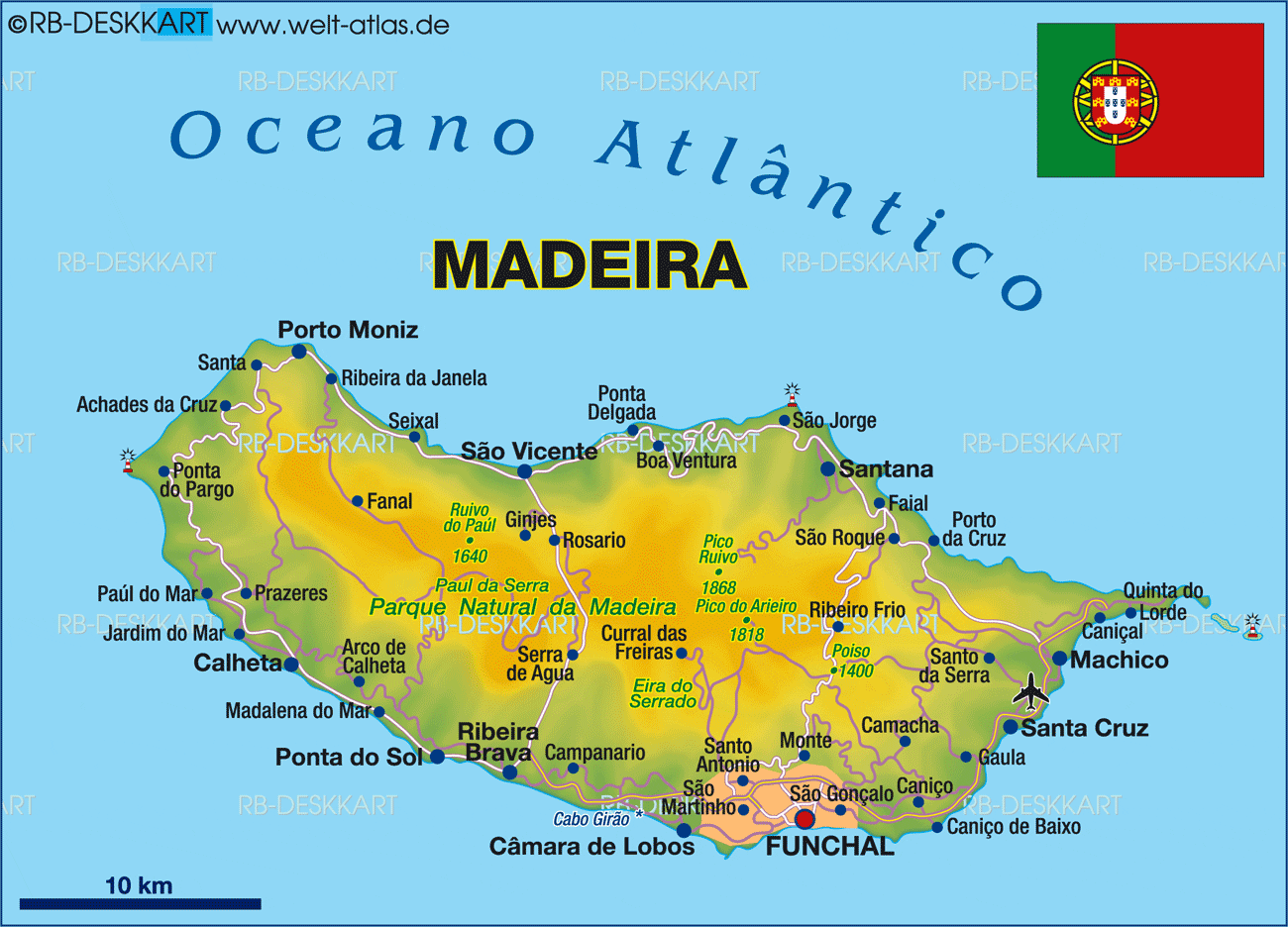 Walking Tour of Funchal Madeira
Walking in Madeira especially Funchal is easy, although there are streets such as Rua de Santa Maria and others in the Zona Velha (Old Town) that are cobblestoned.
We recommend comfortable walking shoes and take water with you.
Rua do Aranhas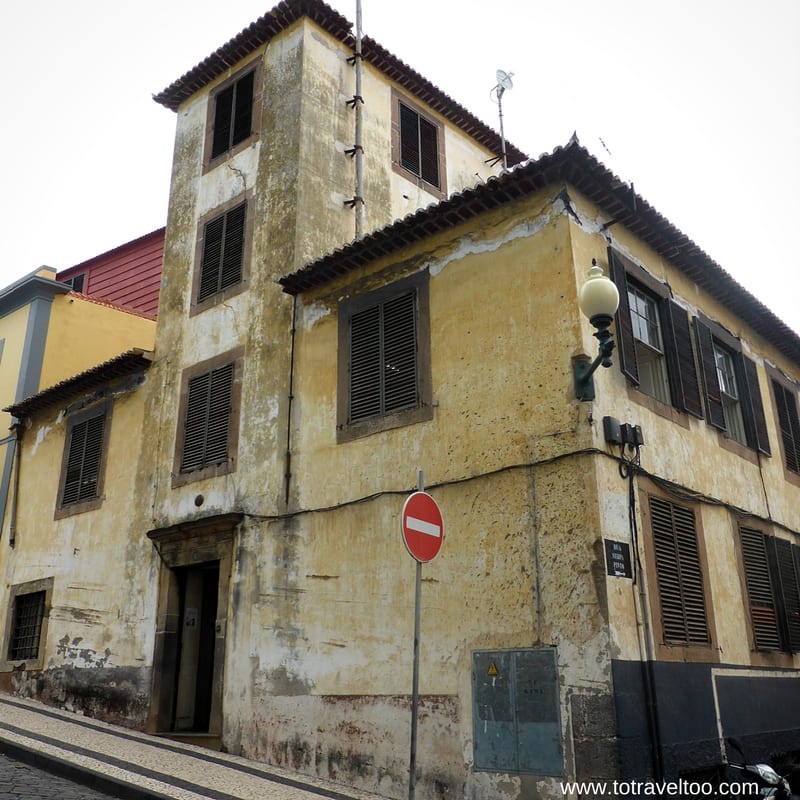 We met Beata at the La Vie Shopping Centre for our 2-hour easy walk through Funchal.  Our adventure started at the back of La Vie in Rua do Aranhas (spider in Portuguese) where we viewed a traditional Maderian Noble House that belonged to a trader.  You know if the trader was wealthy or not just by the number of levels – this house was 4 levels high – and yes, this was one wealthy trader.  Madeira was an important trading post.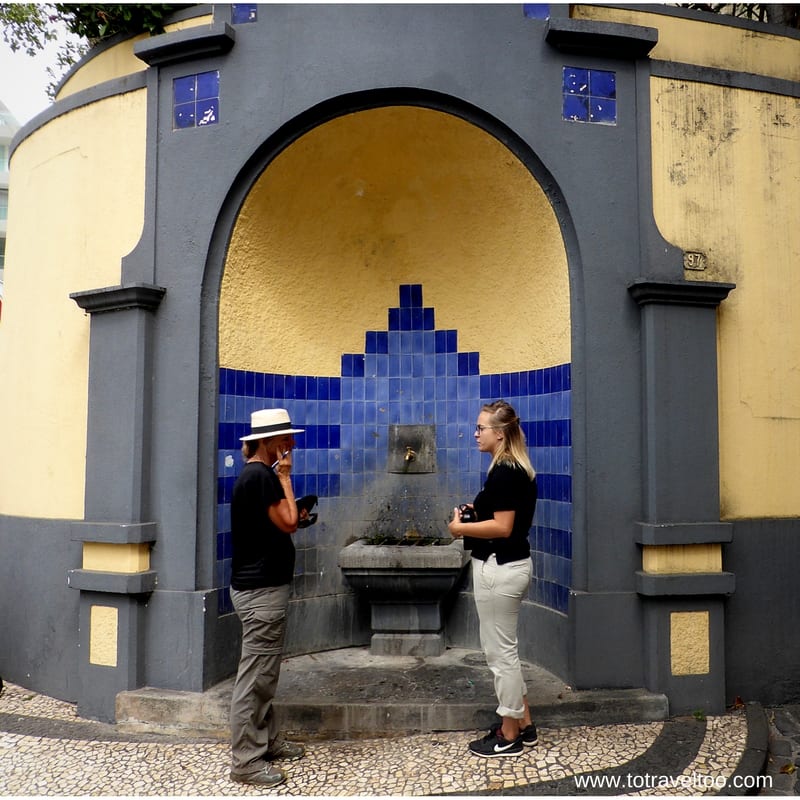 Just behind La Vie Shopping Centre is a water fountain lined with blue tiles that date back to 1930.  The water is drinkable, so it was a great opportunity to fill up our water bottles.
Church of St Andrews
Entering a street near the Municipal Garden we came across the Church of St Andrews originally built in 1895. Apparently, it is not always open, but we hear it is worth a visit.  Although it started out as a Scottish Church it is now a Lutheran Church and the services are conducted in German. Some of the interior furnishings still exist from the 19th century.  The stained glass window was created by Ricardo Leone in 1930.  It is built in the neo-gothic style.
Municipal Gardens
When visiting Madeira we recommend that you spend some time in the Municipal Gardens. They are calming and one of the many beautiful gardens and parks in Madeira to enjoy. Originally the gardens were the site of a convent, that is until Madeira did away with all convents at the beginning of the 19th century.  In August 1880 work began on the gardens and today is it a beautiful spot to enjoy.  The garden is known locally as Dona Amelia Garden and it has flora from all over the world.  There is even a pond and a stream with fish which the local birds are seen to frequent as well.
Blandy's Wine Lodge
Blandy's Wine Lodge is located opposite the Municipal Gardens and stands on the former grounds of the Convent of St. Francis. You can visit the Wine Lodge for tastings and tours.
Website: Blandys Wine Lodge
Funchal Pavements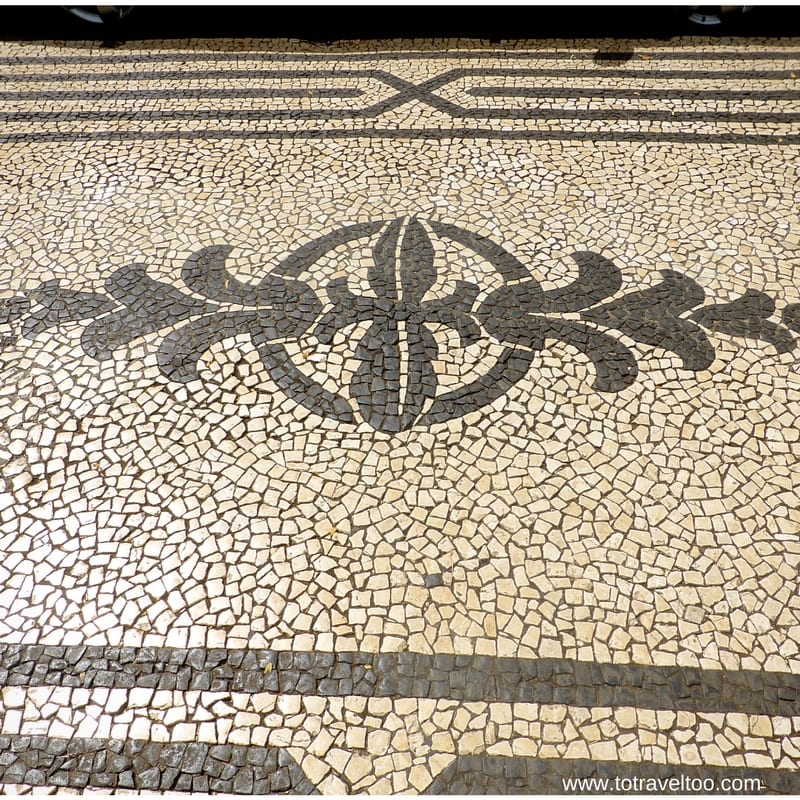 As you walk around Funchal look down at the pavements, they are decorated in basalt black stone mosaics with unique designs.
Baltazar Dias Municipal Theatre
We wandered down Avenida Arriaga and viewed the Baltazar Dias Municipal Theatre from outside.  Beata explained it was built as a tribute to Baltazar Dias, a blind playwright from Madeira who lived in the 16th Century.  The Theatre is a smaller copy of La Scala in Milan and was built in 1888.
There are guided tours on a Tuesday at 10.00am at a cost of Euros 3.50 for adults
Opposite the Municipal Garden is the Ritz Madeira, it is one of the oldest cafes and restaurants in Funchal.  It is also busy and full of locals and tourists alike.  You must check out the blue Azul tiles on the exterior walls and find the pavement stone at the front that has listed many famous car racing drivers who have won the yearly Madeira's Car Racing event.  We hear from the locals that their Gelato is to die for!
On the corner of Avenida Arriaga and Avenida Zarco is a statue by the sculptor Francisco Franco finished in 1927 and inaugurated in 1934.  Joao Goncalves Zarco was appointed the first captain of Funchal by Henry the Navigator in recognition of his establishing settlements in Madeira.
He stands proudly at the top of the statue and the 4 panels below him represent different walks of life:
Settlement – the farmer
Conquest – the knight in armor
Wisdom – a scholar with an astrolabe and a map
Evangelization – a monk with a bible
Columbus Square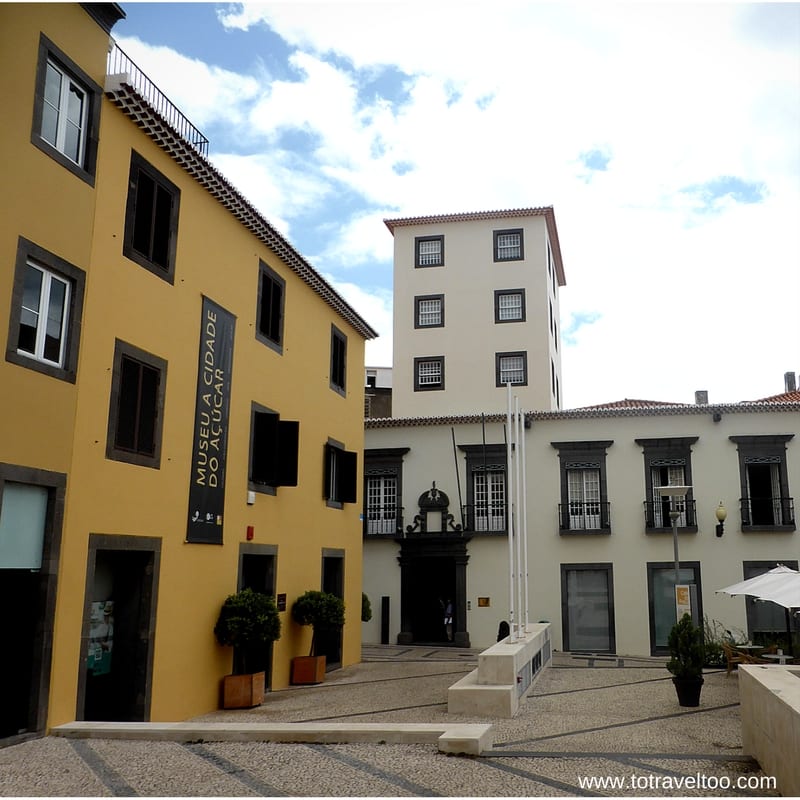 What a great find as we rounded the corner and walked into Columbus Square.  Christoper Columbus stayed in this square when he visited Madeira in 1498.  The house known as 'Casa de Colombo' was actually owned by a friend of his Joao Esmeraldo.  Columbus Square was one of the old commercial blocks of Funchal which unfortunately was destroyed by fire in the 70s.  In August 1989 excavations began and they uncovered ceramics dating back to the 18th century as well as coins from the 15th century to the 18th century.  Today you can visit the Sugar Museum which shows the history of the sugar trade in Madeira as well you can enjoy the local restaurants, bars, and shops.
The City Gates
The Old Gates were demolished after the big flood in Madeira in 2010.  The flood caused a lot of damage to Funchal, 42 people lost their lives.  The Gates have been rebuilt in the same style.
Pelourinho Square
The 16th Century Fortress ruins of Sao Felipe can be found alongside Pelourinho Square.  Customs houses were built here in the 15th century for the sugar trade.
Mercado dos Lavradores
Located in Rua Latino Coelho the art deco market was built in the 1930's from a design of Edmundo Tavares.  Check out the Azul tiled panels at the entrance to the Mercado these dates back to 1940.  The busiest days are Friday and Saturday where there are much more stalls than on Monday to Thursdays. The smells, sights and electric atmosphere of this market make it one of our favorites.  We visited the market 3 times during our 2-week stay. You can find fish, meat, flowers, spices, fruits, and vegetables as well as cafes and local shops.  The fish market is very busy on Friday and Saturdays.
The market is open:
Monday to Thursday 08.00 to 19.00
Friday 07.00 to 20.00
Saturday 07.00 to 14.00
At the front of the market, there are flower stalls with ladies still in the traditional dress of Madeira. Their hats tell a story if the tower is straight the women are single and if they are curved the ladies are married.
One of Madeira's very successful projects – The Open Doors Art Project.  Rua de Santa Maria is the oldest street in Funchal. Dating back to the early 1400s this narrow cobble stoned street was part of the neighbourhood of Santa Maria Maior. Many of the buildings were warehouses for the Madeira wine.  The area became dilapidated and the buildings were abandoned until the Open Doors Art Project was introduced to the area. The project encouraged local artists to create their works of art on the abandoned doorways which in turn gave new energy to this area.
Today it is bustling with restaurants, bars, and galleries.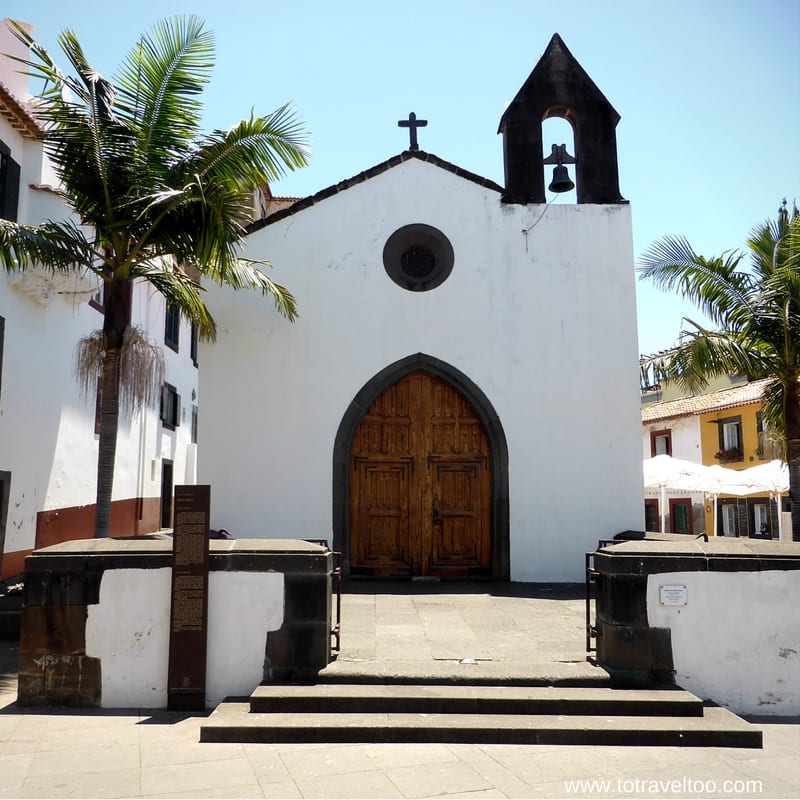 Located in Largo de Santa Maria Maior this baroque-style church was constructed in the 16th century.  It is also known as the Church of Socorro.  The square is full of restaurants, very busy at lunchtime and in the evening.
The fortress was built in 1614 to protect the people of Funchal from pirates who attacked in 1566 killing many.  The initial attack in 1566 took the locals by surprise, they believed that they would not be subjected to such attacks.  In 1767 the Fort was enlarged and used by the Military until 1992.  Today it houses a Museum and one of the best Funchal restaurants – Restaurante do Forte –  which we can highly recommend.
The Cathedral of Funchal has been constructed in Moorish, Southern European, Manueline and Gothic styles.  In 1910 it was classified as a National Monument of Funchal.  The two clocks that are located at the top of the tower were installed in 1989 with electronically controlled clocks to replace 2 clocks that dated back to 1923.  The main chapel still contains the original altarpiece and choir stalls that date back to the 15th century.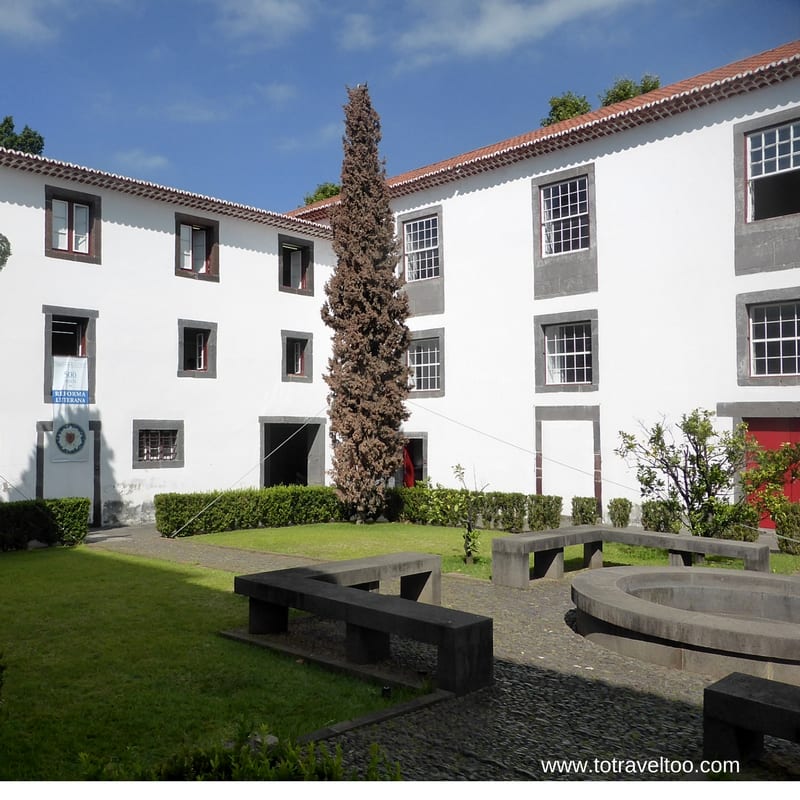 We ended our 2-hour walking tour at the Jesuits College where we had toured a few days previous.  The 400-year-old complex is the home of the University of Madeira's administration.
A local Madeira medium-dry wine was produced for us to try – it was chilled and went down well after our tour.
History Tellers Walk of Funchal Madeira
The History Tellers Walk is run by AAUMA – Associacao Academica da Universidade de Madeira.  They run other tours apart from the History Tellers. The History Tellers Walk, we believe, is one of the best Madeira tours to undertake whilst visiting Madeira. You can book via this link.
History Tellers Walk
Meeting Point: La Vie Shopping Centre
Times: Monday to Friday between 10.00  and 17.00
Cost: Euros 10 per person
Duration: 2 – 2.5 hours
Other things to do in Madeira through the AAUMA
1.  City Hall Tour
Monday to Friday at 11.00 and 15.00
2.  Jesuits College
Free Entrance
Guided Tours Monday to Friday from 10.00 to 18.00
3.  Legislative Assembly Tour
Guided Tour: Friday at 15.00
Why not download our article and use it offline when you wander through Funchal.  Click our link below for more details.
Funchal Hotels
There are many hotels to choose from throughout the capital of Funchal.  To help you decide we have included the review of the top 10 hotels as chosen by Tripadvisor.

Madeira Hotels
For more details on hotels outside of Funchal click the below link.
Restaurants Funchal
There are many restaurants in Funchal to choose from, you may want to make your choice from the following list with reviews by other travellers on Tripadvisor
General Information on Funchal and Madeira
Visit Madeira Tourism can be contacted via their website.
Madeira Island is located off the coast of Portugal, 540 miles southwest of Lisbon, Portugal.
Porto Santo, an island off the coast of Madeira can be reached by ferry in a couple of hours. Porto Santo is very popular with the local Madeirans due to its proximity, and its long sandy beaches.
Skyscanner has a list of flights to Madeira with latest fares and availability.
Currency in Madeira: Euros
Rental Cars: There are a variety of car rental companies in Madeira. When driving in Madeira make sure you are comfortable in negotiating steep and narrow roads, some roads are not for the faint-hearted.
Madeira Points of Interest
Whilst in Madeira you should consider the following:
Madeira Levadas – in the 16th century open canals were constructed in Madeira to channel the water from the high grounds in the North to the lower slopes that received less rainfall.  The Levada walks take you through some of the most beautiful parts of the Island.
Take a ride on the Funchal Cable Car to Monte to enjoy the panoramic view of Madeira and maybe take a Madeira toboggan ride back down.
Visit the Madeira Botanical Garden at Caminho do Meio, Bom Sucesso, 9064-512 Santa Maria Maior
Hop on Hop off Yellow Bus
Enjoy the view from Pico do Arierio – you will need to rent a car to drive to this area
Take a walk around the Funchal Port area
Get lost in the Funchal city center, there is so much to see and do or sit down at a local cafe and enjoy a coffee and the famous Pasteis de Nata (custard tart)
Weather in Madeira
Madeira has warm weather all year round and is becoming a very popular tourist destination because of its climate.  Summer is the most popular time to visit Madeira from June through to September.  In winter the daily temperatures average at around 16 to 20 degrees and you can expect rain during this period.
Madeira Holidays and Tours
To help research you research your next visit to Madeira we have chosen some of the best travel guides for you from Amazon.
Pinterest
Are you on Pinterest? We are at To Travel Too and we have many travel-related boards check us out at Pinterest.  If you enjoyed our article why not pin it to your board.
Disclosure
Certain links in this post are affiliate links. This means that should you make a purchase via our link, we will receive a commission which will not affect the price you pay.
www.totraveltoo.com is a participant in the Amazon Services LLC Associates Program, an affiliate advertising program designed to provide a means for sites to earn advertising fees by advertising and linking to amazon.com, amazon.co.uk, amazon.ca. Amazon and the Amazon logo are trademarks of Amazon.com, Inc. or its affiliates.
If you enjoyed our article why not PIN it for later:
Don't forget to take our travel insurance when you travel.  We highly recommend taking our travel insurance and our recommended company is World Nomads. We use World Nomads for all of our travel insurance requirements.