Are you visiting Madeira this year and wondering what you should do first?
The Yellow Bus Tour Madeira Island in Portugal is a great way to start your holiday off in Madeira.  When we travel, there are 2 ways that we like to visit a city, on the 1st or 2nd full day, is either by a sightseeing city tour bus or by a free walking tour or both, as they both give you different aspects.
Wondering what to do on your next Madeira itinerary? We have some great recommendations for 3 to 7-day trips to Madeira for you to enjoy.
Are you also heading to Porto? Why not check out Yellow Bus Porto for their hop-on-off bus tour around the city of Porto.
Save time and pre-purchase your pass here
This post may contain affiliate links. Please see our disclosure for more information. As an Amazon Associate, we earn from qualifying purchases (if applicable).
Where is Madeira Portugal
Madeira is 540 miles southwest of Lisbon, Portugal in the Atlantic Ocean.
Where is Funchal Madeira 
Funchal is located on the South Coast of Madeira and it is the island's capital.
Yellow Buses were frequently spotted travelling throughout Funchal Madeira so we thought that was the perfect way to be introduced to the city. We decided on the Hop On Hop Off Funchal Tour. Check out the Madeira Bus Map for your Maderia Must See.
Madeira Points of Interest – Funchal Tour with Yellow Bus Tour Madeira
#1 Avenida do Mar
We joined the city tour bus at Avenida do Mar (Funchal Marina Terminal) and travelled along the spectacular waterfront of Funchal.  We heard that New Year's Eve is a highlight of the Madeira calendar.  There can be up to 9 cruise ships in Funchal Port, apparently, it is the best viewing spot.  Funchal is shaped like an amphitheatre, hugging the side of the mountain,  and the firework display is spread throughout either side of the city high up on the mountainsides.
#2 Funchal City Gates
The City Gates are not the original ones but ones reconstructed in 2004 to celebrate the 500th Anniversary of Funchal.  The original city gates were part of the wall that was built to defend Funchal and dated back to 1690.
#3 Old Town and Cable Car
We learned about the oldest street in Madeira – Santa Maria Street.  It is definitely worth a visit to wander down through the many restaurants and see the 'painted doors'.  The street dates back to around 1430 and the Painted Door Project was an initiative to bring back life to this run-down street in the Old Town.  It certainly has done that.  It is a photographer's delight.  There are over 200 doors painted by local artists and we believe it has put positive energy back into this part of town.
The Madeira Cable Car is located on the waterfront, in front of the Old Town, it takes you up to Monte where you can experience great views over Funchal and Madeira.  There is the Church of Our Lady of the Mount to visit, garden displays, or just enjoy lunch or a coffee at the restaurant. How about a thrilling slide down a 2km length of the mountain in a wicker toboggan? The Yellow Bus has a combined ticket for a bus tour and cable car.
Opening hours: 09.00 to 17.45 every day except Christmas Day.
Duration: 15 – 25 minutes each way
The vibrant Farmers Market(Mercado Dos Lavradores) is a great stop to get off and enjoy all that the market has to offer.  Fridays and Saturdays are the busiest days of the week, Sunday the market is closed. There are flowers, fruit, vegetables, fish, meat on offer plus small cafes inside and outside. Upstairs you will be tempted to try all the dried fruits on offer and delicious types of nuts and fruits.
Opening Hours: Monday to Thursday 08.00 to 19.00; Friday 07.00 to 20.00; Saturday 07.00 to 14.00
#5

Bordal Embroidery Factory
The famous Madeira Embroidery has been in production for over 150 years.  Even now as you walk through the Old Town you can see ladies in doorways working on their embroidery.
Opening hours: 09.00 to 19.00
#6 Madeira Wine Museum/City Hall
It is free to visit the Madeira Wine Museum.  It includes one of the oldest wine cellars that date back to the 17th and 18th centuries.
Opening Hours: Monday – Friday: 10.00 –18.30  Saturday: 10.00 – 13.00
The City Hall is located in Praça do Município, Funchal.  You can tour the City Hall from Monday to Friday at 11.oo or 15.00.
#7 Madeira Tourism Office (Official) Cathedral/Municipal Garden
This is a great place to hop off the Yellow Bus.  The Madeira Tourist office will be on your right and you can take some time to wander through the beautiful Municipal Garden and find the 'sausage tree'. The Cathedral is impressive and is open every day but closes for a few hours during the middle of the day, check before you visit.  You can climb the tower for a small fee.
Blandy's Wine Lodge offers Wine Tours.  The Lodge was built on the former grounds of the Convent of St Francis. Blandy's Madeira is a popular place to visit in Funchal.
#8 Casino/Madeira's President's House
The Casino is located along Avenida Infante.  It is open from 15.00 hours to 03.00.
Quinta Vigia is the home to the President of Madeira.  You can visit the Gardens but the house is out of bounds.
A favourite spot of the locals Quinta Magnolia is free to enter. For a small fee, you can swim, play tennis or squash.  The children love the playground and the adults love the cafe.  Quinta Magnolia Gardens was the former Headquarters of the British Club.
As we head towards the next stop we drive past the Maritimo Football Stadium.  It is the biggest club in Madeira with over 24,000 members.  It can hold up to 10,000 in the covered seat section.
#10 Funchal Bay Panoramic Viewpoint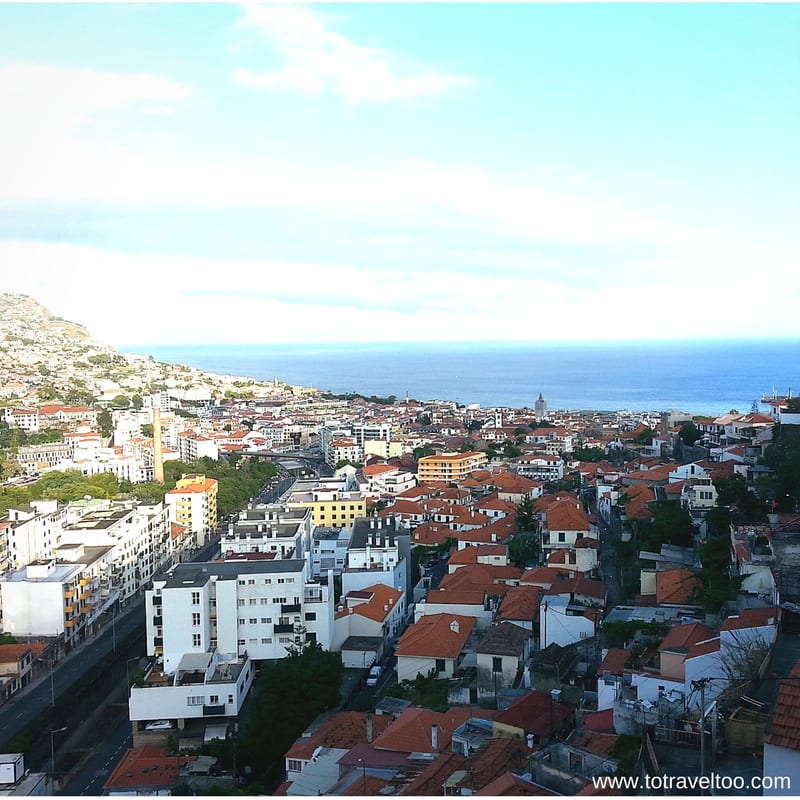 The Yellow Bus stops here for a few minutes for a great photo opportunity of Funchal Bay.
The Church took over 150 years to build and it dates back to the 18th century.
#12 Pico dos Barcelos Viewpoint
Another spot on the Yellow Bus Tour for panoramic views of the island.
#13 San Martinho Main Church and Gardens
If you missed getting off at stop #11 you have another opportunity to hop off here to view the San Martinho San Martinho Chapel and gardens.
#14 Angel Roundabout/Madeira Regency Palace Hotel
The statue at Angel Roundabout is of the Angel Iccorus.  The statue is dedicated to those workers who lost their lives working on the tunnels throughout Madeira.
#15 Doca do Cavacas/Promenade
Doca do Cavacas is one of the top restaurants in Madeira for dinner whilst enjoying the sunset.
With over 80 shops it is a great stop along the Yellow Bus Route for shopping and something to eat or drink.  On the rooftop, there are great views to be had whilst enjoying the garden atmosphere.
#17 Pestana Promenade Hotel/Panoramic Gardens
The Panoramic Gardens are located near the Lido in Funchal.  The Gardens are based on 3 themes:
Indigenous Coastal Flora,
Flora Indigenous Medium Altitude
Tropical Zone
Along the Lido Promenade, you will find some great restaurants to enjoy spectacular views and sunsets.
#19 Yellow Bus Office, Porto Mare Hotel
The Yellow Bus Office is located at this stop next to the 4 star  Porto Mare Hotel.
This would be a great location to base yourself in Funchal.
There are also quite a few restaurants around this area to enjoy a drink or a meal. Pop in and have a chat with the staff to find out what Yellow Bus Route would suit you.
Pre-purchase your Hop on Hop off Pass here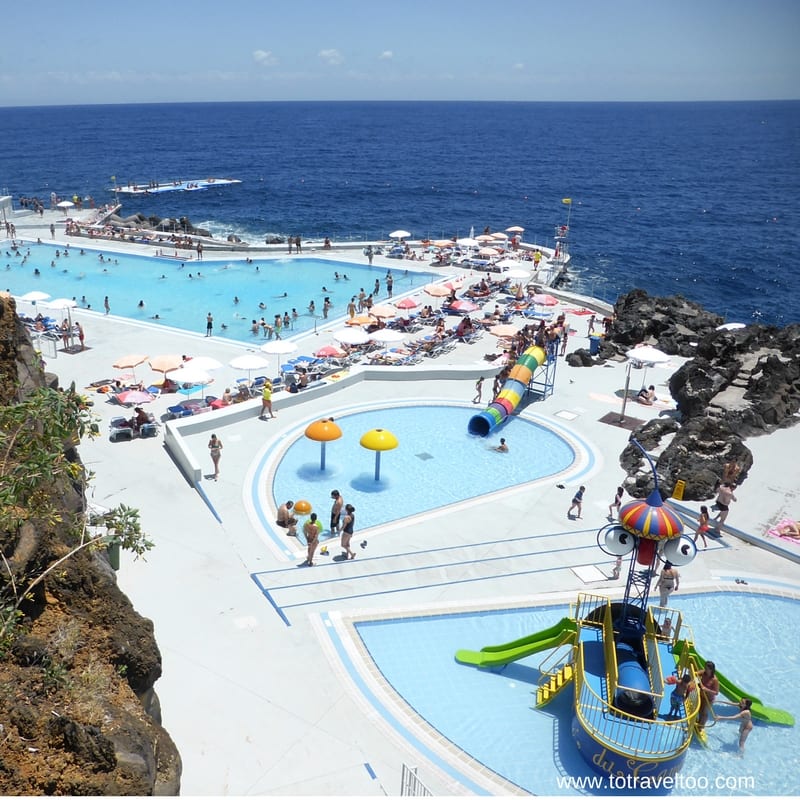 One of the top spots for swimming in Funchal.  There is an entrance fee and you can pay extra for sunbeds and an umbrella.  There is even a water aerobics class in the pool mid-morning.  The Lido has the largest seawater pool. The cafe has great coffee as well as ice creams and snacks.
Open daily from 08.30 to 20.00
The beautiful 5-star Cliff Bay Hotel has great views over the ocean and also houses the 2 Michelin Star restaurant – Il Gallo d'Oro.

Latest Guest Review: "The location of the property was fantastic and the views were incredible. We had the sea and city view. The hotel was clean, the staff were all friendly and helpful."
Check availability here
You won't miss Madeira's most famous hotel as it is painted pink.  The Hotel opened in 1891 and has had many famous guests including Sir Winston Churchill, Roger Moore, Gregory Peck and George Bernard Shaw just to name a few.

Yellow Bus Tours
3 in 1
Funchal Tour
Camara de Lobos Tour
Cabo Girao Tour
2 in 1 Funchal Tour + Camara de Lobos Tour
Yellow Bus Timetable
DAILY
Funchal + Câmara de Lobos:
STOP 1: 09:30 / 10:00/ 10:30/ 11:10/ 11:40/ 12:30/ 13:15/ 14:30/ 15:15/ 16:10
Cabo Girão Tour:
Câmara de Lobos South (Stop 14): 10:30 / 11:00/ 11:30 / 12:10 / 12:40/ 13:40/ 14:15/ 15:30/ 16:15/ 17:05
Cabo Girão:(Stop 14) 10:30 / 11:45/ 12:45/ 14:30/ 15:45
Audio Guides:
Audio Guides are now in 10 languages:
Portuguese
Spanish
English
French
Italian
German
Swedish
Russian
Dutch
Finnish
How to identify each bus route on the Yellow Bus
When looking at the Yellow Bus on the left-hand side of the front windscreen you will see the tour that the Yellow Bus is taking.
To Travel Too Tip
Keep your ticket to get 10% off your next sightseeing Yellow Bus Hop on Hop off Tour at:
Lisboa
Coimbra
Braga
Guimares
Your ticket also allows a 10% discount on products purchased at Bordal Embroidery Factory, 1 free wine tasting at Blandys Wine Lodge and a 10% discount at the Madeira Film Experience.
Our thanks
Our thanks go to Yellow Bus Tour Madeira for hosting the two of us on a 1 day Yellow Bus Hop On Hop Off Tour in Madeira.  As usual, our opinions are our own.
Essential Visitor Information for Madeira Portugal
Where to stay in Madeira
Top Recommendations for Madeira Hotels are:
5 Star Luxury at the Reid's Hotel Madeira
Enjoy 10 acres of manicured gardens, an oceanfront spa, 3 swimming pools and ocean access. All rooms have a balcony as well as marble bathrooms. The mini-bar has complimentary drinks.
Latest Guest Review: We just lived everything with the beautiful Reids Palace! We had a fantastic stay for six-day in all at Reids; the staff was so wonderful; the historic atmosphere; the fantastic garden, the spectacular views, the rooms, the breakfasts, great service all over the hotel.
Address: Estrada Monumental 139 Sao Martinho Funchal
Check availability here
4 Star accommodation at Hotel Girassol Madeira
Set in 6 acres with 2 swimming pools and views over the Atlantic, rooms are modern and spacious with balconies. The restaurant has a terrace and you can enjoy a drink at the bar after a day of sightseeing.
Latest guest review: First, I didn't expect something special, but it was just awesome. The hotel is not new but it's really great. There is a garden where you can relax, three swimming pools, a small playground for children, libraries, plenty of space for working in quiet if you need, bars, nice views, the bus stop for the airport shuttle right in the front of the hotel, the staff is super nice, the internet is fast enough for videoconferences, breakfasts were great too. And our room was big and really clean.
Address: Estrada Monumental 256 Sao Martinho Funchal
Check availability here
3 star accommodation at Hotel Madeira
Located in Funchal's city centre and only 1 minute from the beach and has a swimming pool on the terrace. Drinks are available at the rooftop Panorama Bar and breakfast is served daily.
Address: Rua Ivens #21 SE Funchal
Check availability here
For more information on the latest hotel deals in Madeira click the link below.

Flights to Madeira
For the latest flight deals compare prices on Skyscanner here.
Getting In
Madeira Airport is 20 km from Funchal centre.
Book your airport transfer here.
Weather in Madeira
The summer months are a popular time to visit Madeira from June to September.  Throughout the year Madeira has mild temperatures which makes it a great island to visit all year round.  August can expect average temperatures of around 23 degrees and in winter the coldest average is around 16 degrees.
Most rainfall falls from November to January.
Our Madeira articles for your next travel inspiration:
Do You Need a Visa for Portugal
Travel Insurance
We recommend taking out travel insurance as soon as you book your flights and pay deposits on any cruises, tours or hotels.
Pinterest
Are you on Pinterest? We are at To Travel Too and we have many travel-related boards check us out at Pinterest.  If you enjoyed our article why not pin it to your board.
Check out our own special To Travel Too Travel Shop.  We have over 800 travel-related products listed.  These products are ones that we have used on our adventures or we have been recommended them by other travellers.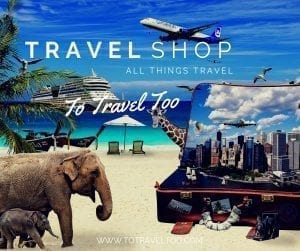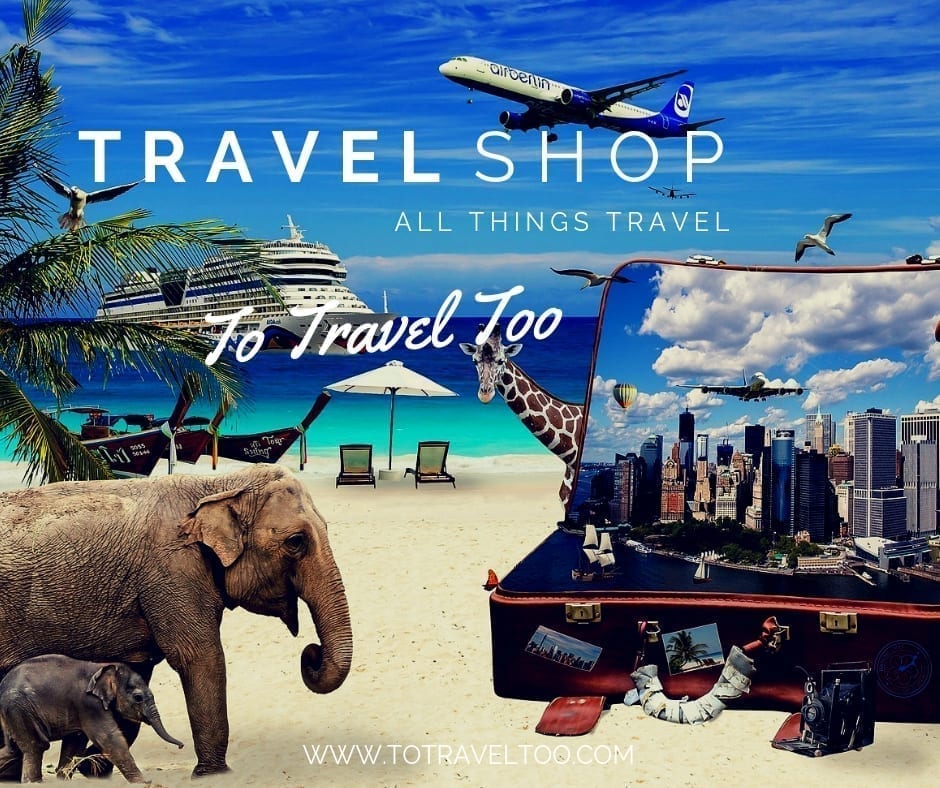 Disclosure
This post may contain affiliate links. Please see our disclosure for more information. As an Amazon Associate, we earn from qualifying purchases (if applicable). 
Conclusion
We hope you enjoyed our article on the Yellow Bus in Madeira.  Feel free to share our article with family and friends.  If you require any further information do not hesitate to contact us.