Located in central Vietnam, Hue is a city steeped in history and culture, making it a must-visit destination for travellers. From its ancient citadel to its stunning pagodas and tombs, Hue offers a wealth of attractions that showcase the country's rich heritage. Whether you're interested in exploring architectural marvels or immersing yourself in local traditions, our article, Top Things to do in Hue,  will guide you through the city attractions. Get ready to embark on an unforgettable journey through time and experience the best that this charming city has to offer.
Most travellers miss out on visiting Hue Vietnam or only give the city a day on their way to Hoi An or Ho Chi Minh City. Hue turned out to be one of our favourite cities in Vietnam, we even extended our stay to a week to enjoy all that Hue has to offer the traveller.
Hue (pronounced hway) has a lot to offer the visitor from the best of local cuisine, to war history including the Battle of Hue, French colonial architecture, pagodas, Emperor's tombs, the Imperial Citadel of Hue that rivals China's Imperial City and more.
Planning a trip to Vietnam read our ultimate travel guide here
Do you need A SIM card for Vietnam
Enjoy the convenient and instantly available eSIM data plans for Vietnam. Choose from a variety of options and activate your eSIM anywhere on your journey in Vietnam.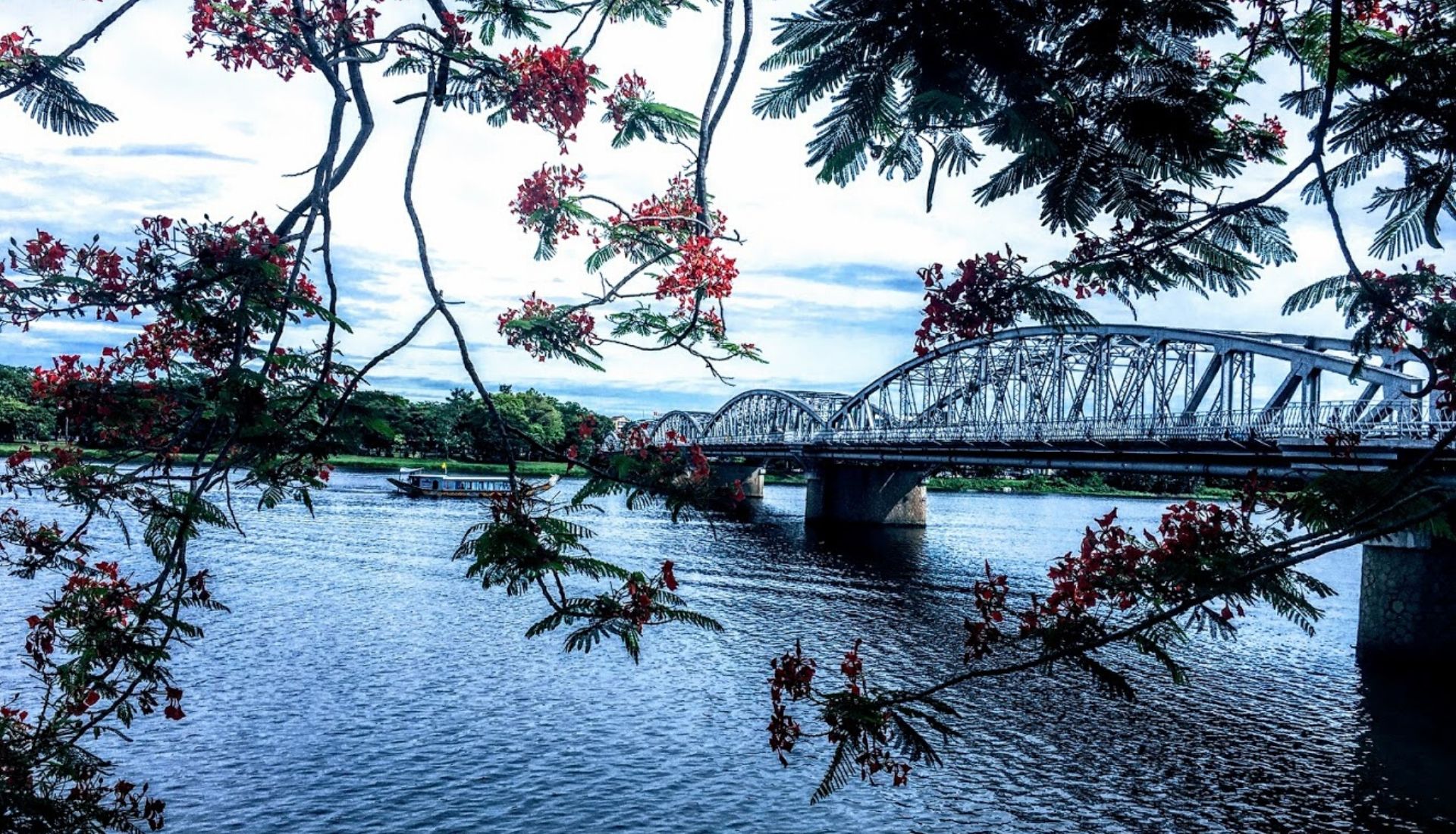 Hue, once the former capital of Vietnam between 1802 and 1945, is located in Central Vietnam, on the banks of the Perfume River.  It is located 700 km south of Hanoi and 1100 km north of Ho Chi Minh City. Da Nang is 2 hours from Hue and Hoi An is located 3 hours.
Read our article on travelling from Hue to Hoi An 
This post may contain affiliate links. Please see our disclosure for more information. 
You can now download our article and wander Hue with it offline through our partner GPSmyCity. Click the link below.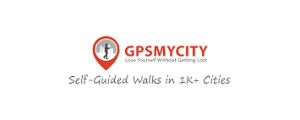 We have created a private Facebook Group – Vietnam Travel Planning – to help you plan your trip to Vietnam. We have articles that cover travels from North to South Vietnam, accommodation, airport guides, tour reviews and more. Check out our 5% discounts for Hue tours as well.
You can join our Vietnam Travel Planning Group Here

We have 4 YouTube videos on our visit to Hue
You can subscribe to our Youtube channel here.
You Can Read Our article on Vietnam: Best Vietnamese Restaurant Guide
Hue Vietnam Map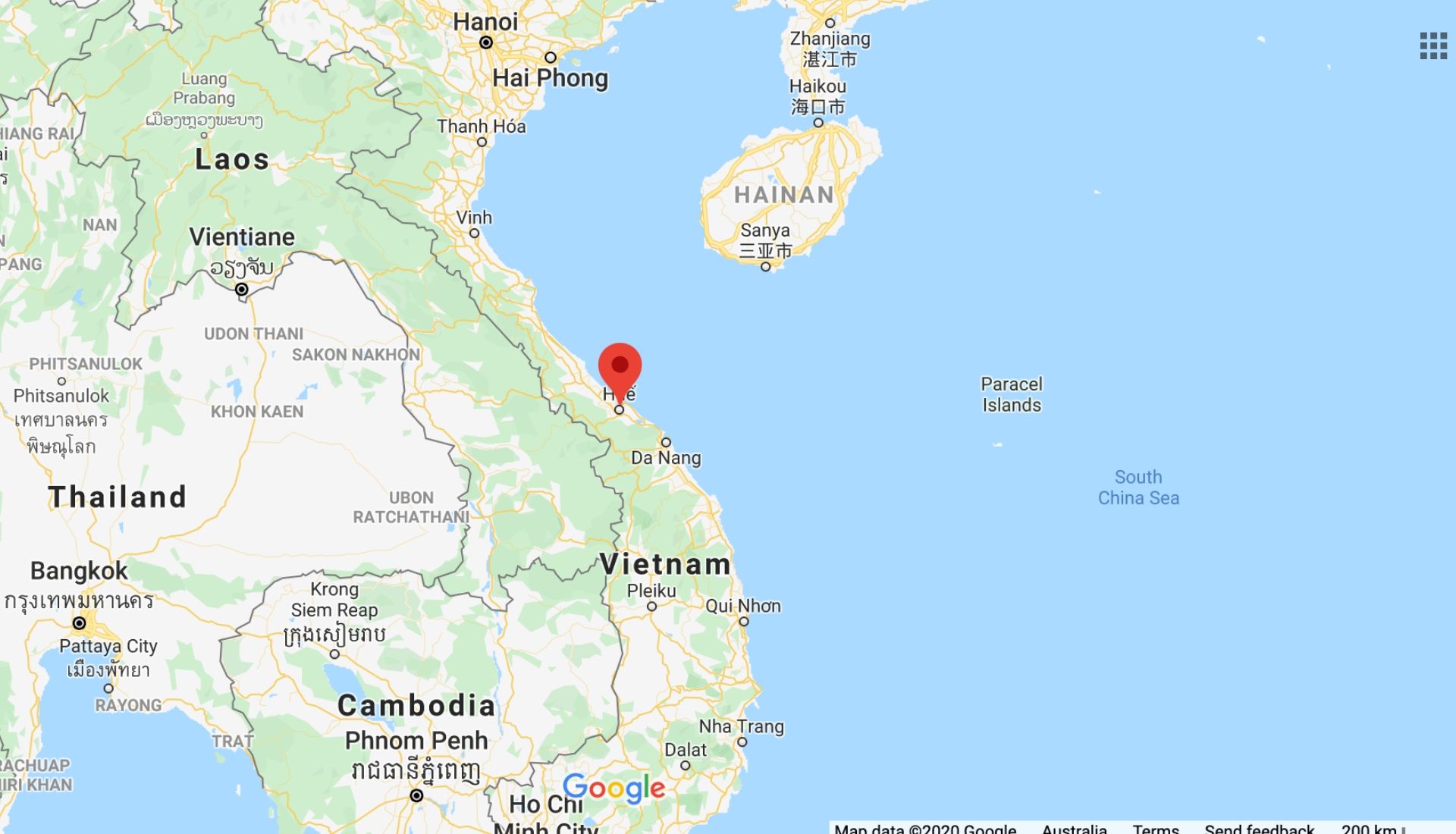 Things To Do in Hue – Visit Hue Vietnam Tourist Attractions
Wondering what to do in Hue? If you only have one day we would recommend visiting the Imperial Citadel of Hue.
The best way to see the Imperial City is with a private walking tour with a local guide. Explore Hue's most famous landmark, the citadel. Explore its network of pavilions, courtyards, moats, gardens, and walls.
Local tour operator BeeBeeTravel in Hue have given our readers a 5% discount off their Imperial Walking Tour.
Book on the link below but to get your 5% discount you will need to put in the promo code: totraveltoo2023
Book through the link and use promo code totraveltoo2023
Visit The Imperial City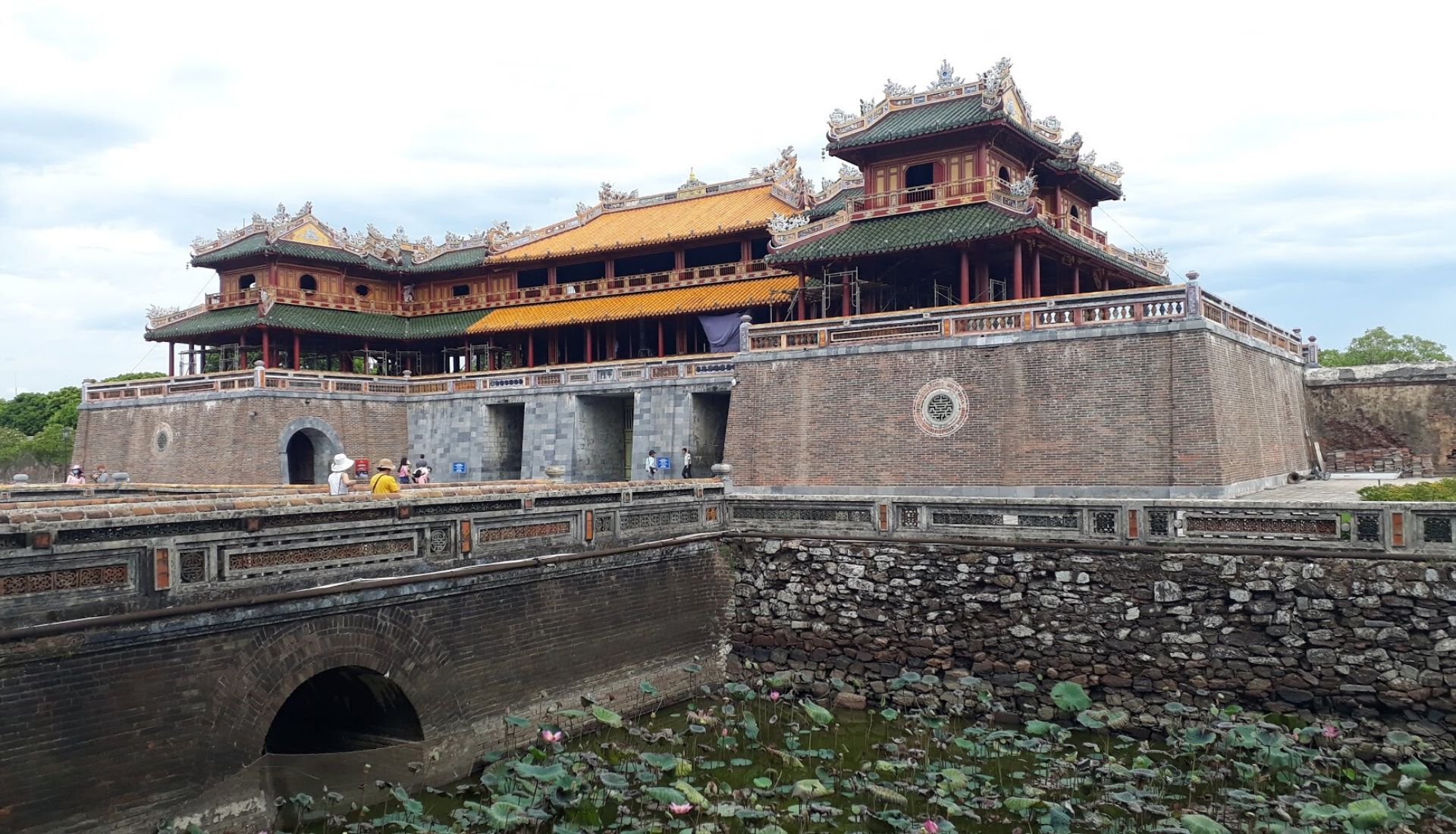 One of the top places to visit in Hue is the Imperial City. The Imperial City started construction in 1804 and finished almost 30 years later in 1833. Gia Long who was the first Emperor of the Nguyen Dynasty commissioned the building, it stayed within the Nguyen Dynasty until 1945 when the last Emperor Bao Dai abdicated.
The Citadel encompasses the outer walls and the moat that surrounds the Citadel.  There are 5 entrances to the Imperial City.  The middle entrance was for the Emperor, on the right-hand side the entrances were for civil personnel and on the left-hand side for the military mandarins.  Horses and elephants entered through the side entrances.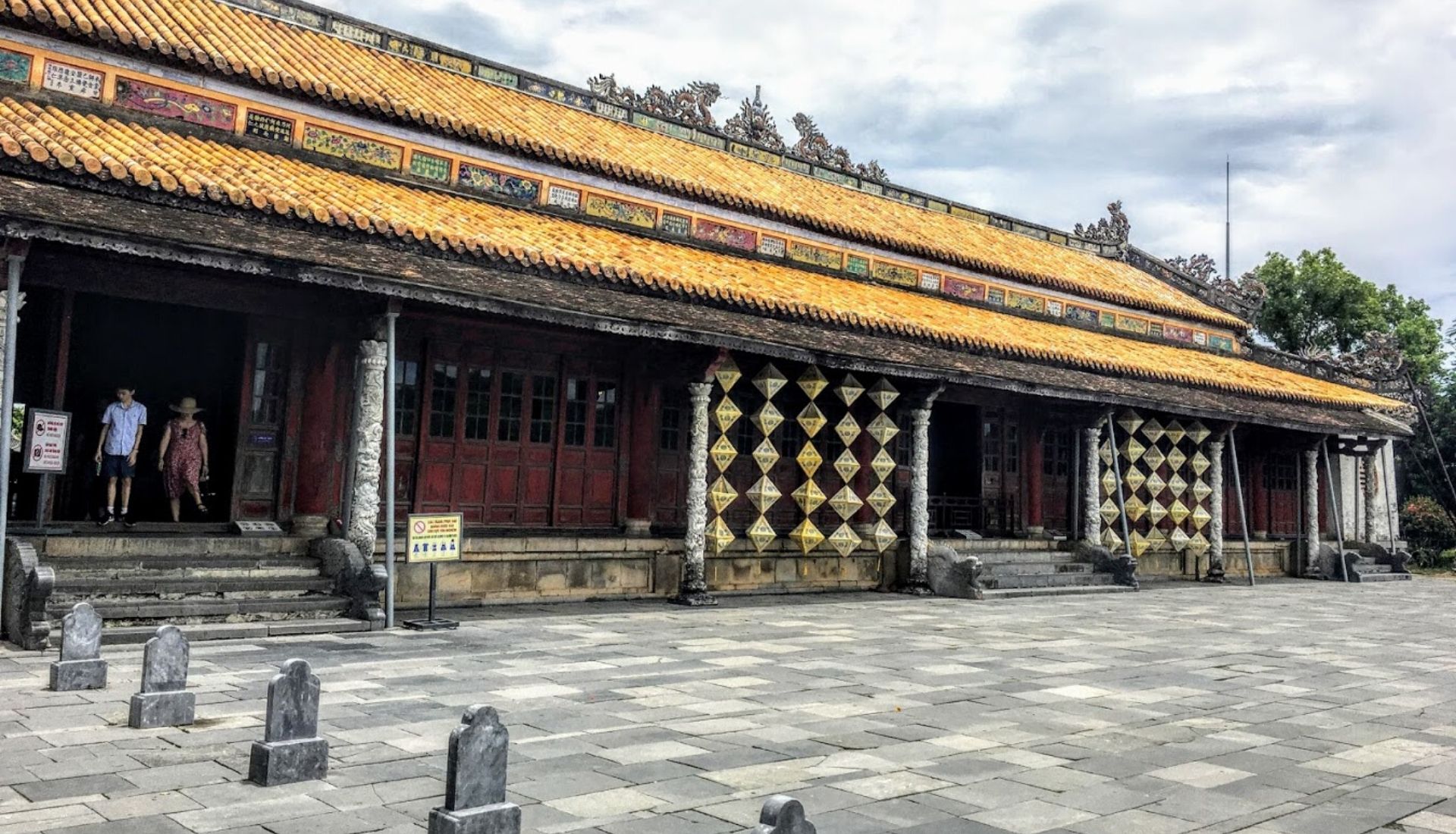 Once you pass through the Noon Gate you will enter the first building – the Palace of Supreme Harmony.
NB You are not allowed to take photos inside the Palace of Supreme Harmony and of the Emperor's Throne.
The most important building was the Purple Forbidden City situated in the middle of the complex. The Purple Forbidden City was for the Emperor.
During the Vietnam War of 1968 when the North Vietnamese attacked Hue many of the buildings inside the Imperial City were bombed.  Unfortunately, there were only 10 that managed to survive.  Slowly the buildings are being renovated.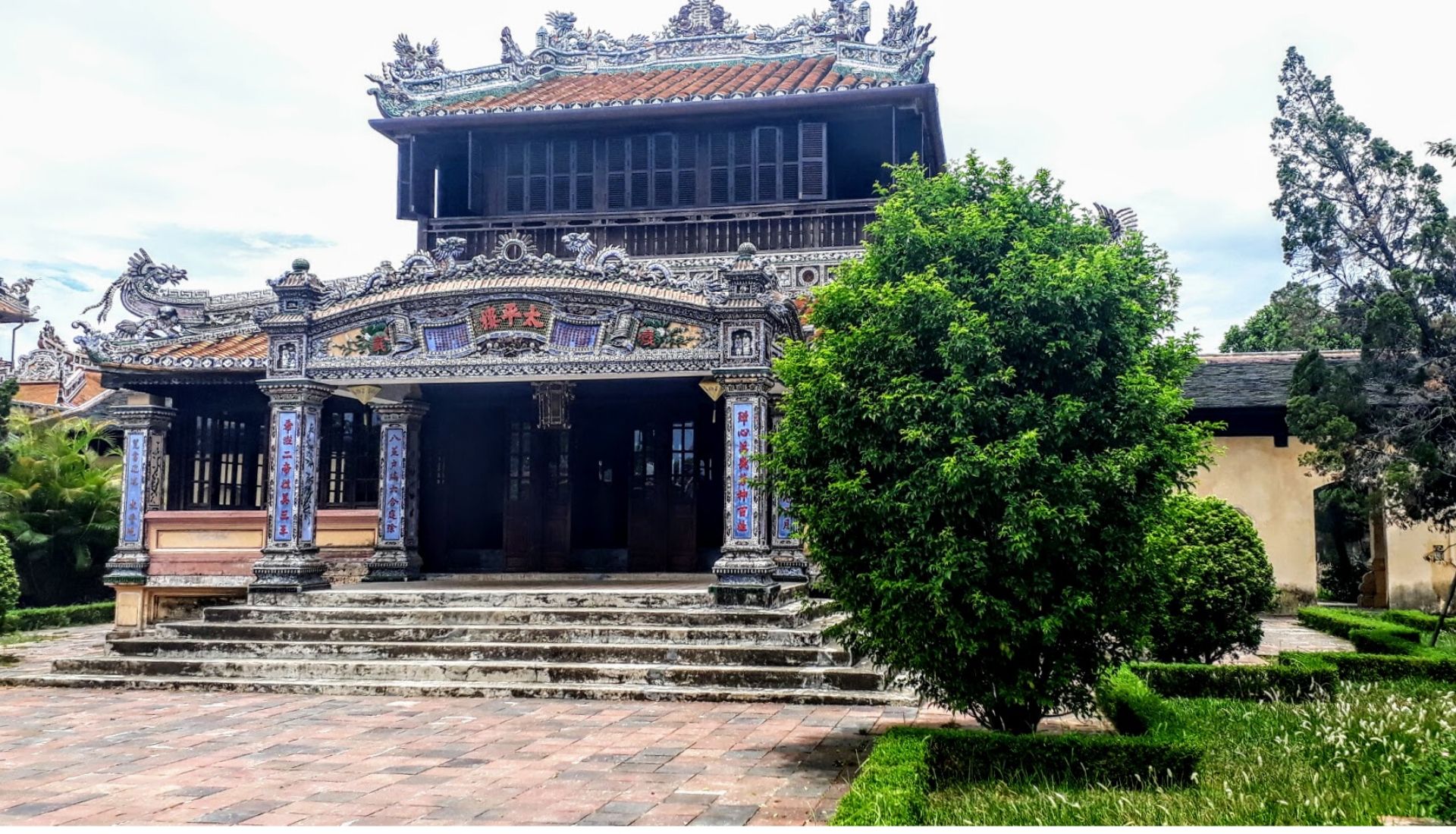 Thai Binh Pavilion (Royal Reading Pavilion) was originally built in the reign of Emperor Thieu Tri during 1841 – 1847 for royal relaxation.
In 1993 Hue's Imperial City was declared a UNESCO World Heritage Site.
To Mieu Temple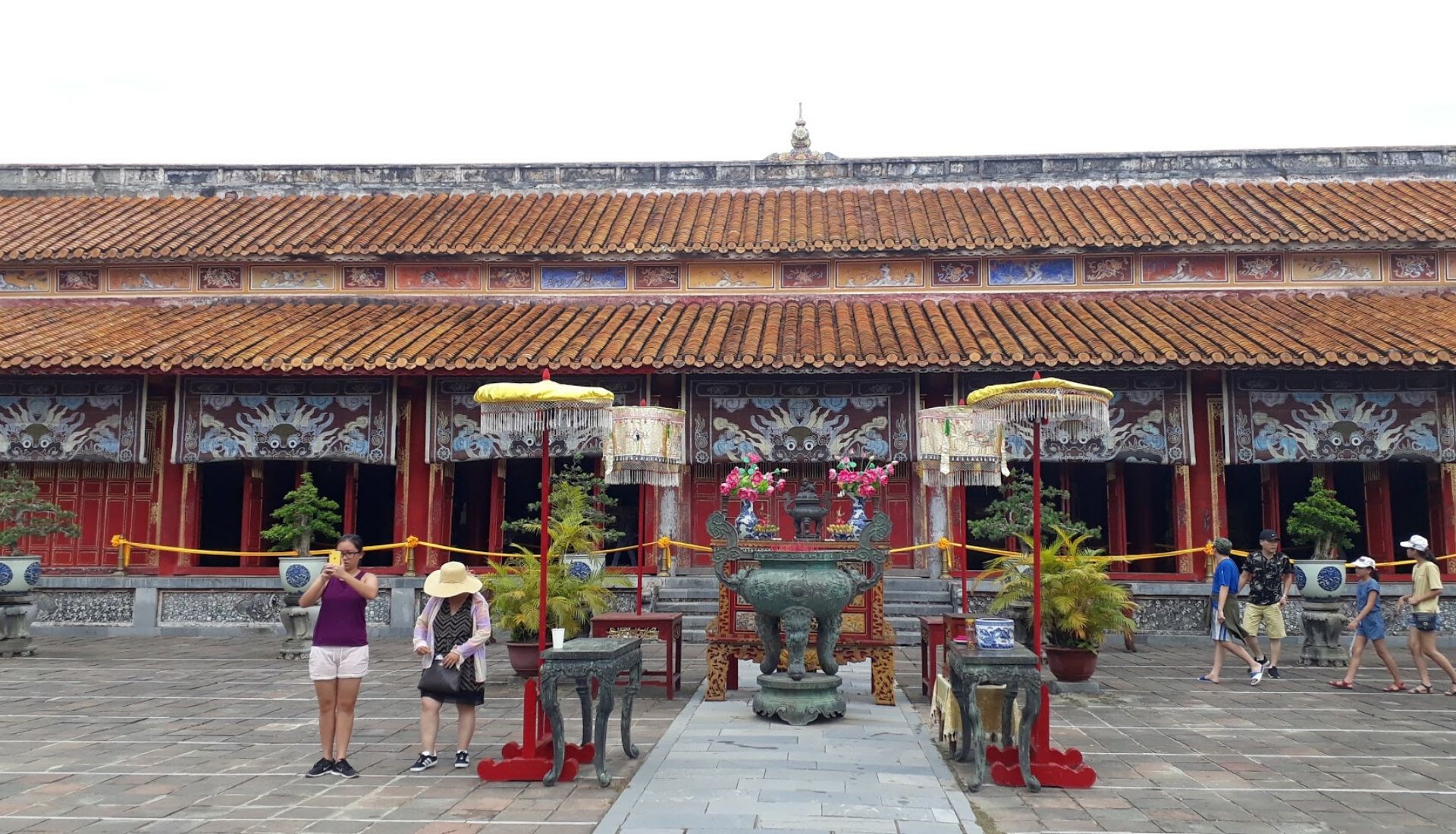 A must-see when visiting the Imperial City complex is the To Mieu Ancestral Temple which was dedicated to the Emperors of the Nguyen Dynasty. The temple was ordered to be constructed in 1821 by Emperor Minh Mang. Inside the temple, there are photos of the 10 Emperors who died.  The temple was one of the very few buildings that survived the war.
Book through the link and use promo code totraveltoo2023
Read about our Walking Tour of the Imperial City here.
Thien Mu Pagoda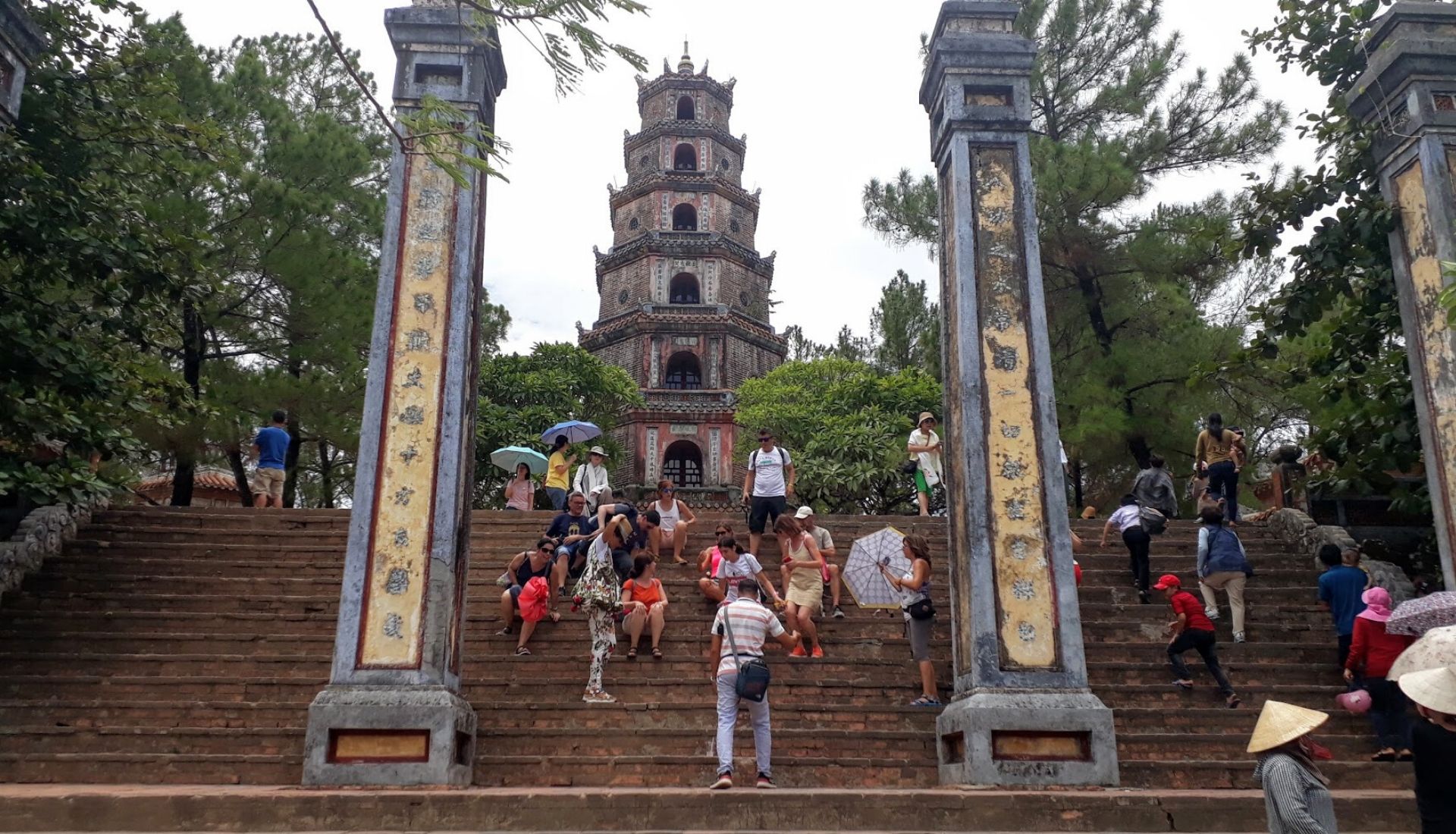 The Thien Mu Pagoda also known as the Linh Mu Pagoda is located on the banks of the Perfume River 5 km from the centre of Hue on Ha Khe Hill in the village of Huong Long.  The religious site was built in 1601 by Emperor Thieu Tri. There are 7 layers and each one of those layers represents a Buddha that came to earth in human form.
You can reach the Thien Mu Pagoda by the river or by road and it is usually included in a city tour.
You can book a private tour to the Thien Mu Pagoda that also includes a ride on a Dragon Boat on the Perfume River and a visit to a local village where local crafts are made.
Cruise the Perfume River (Song Huong)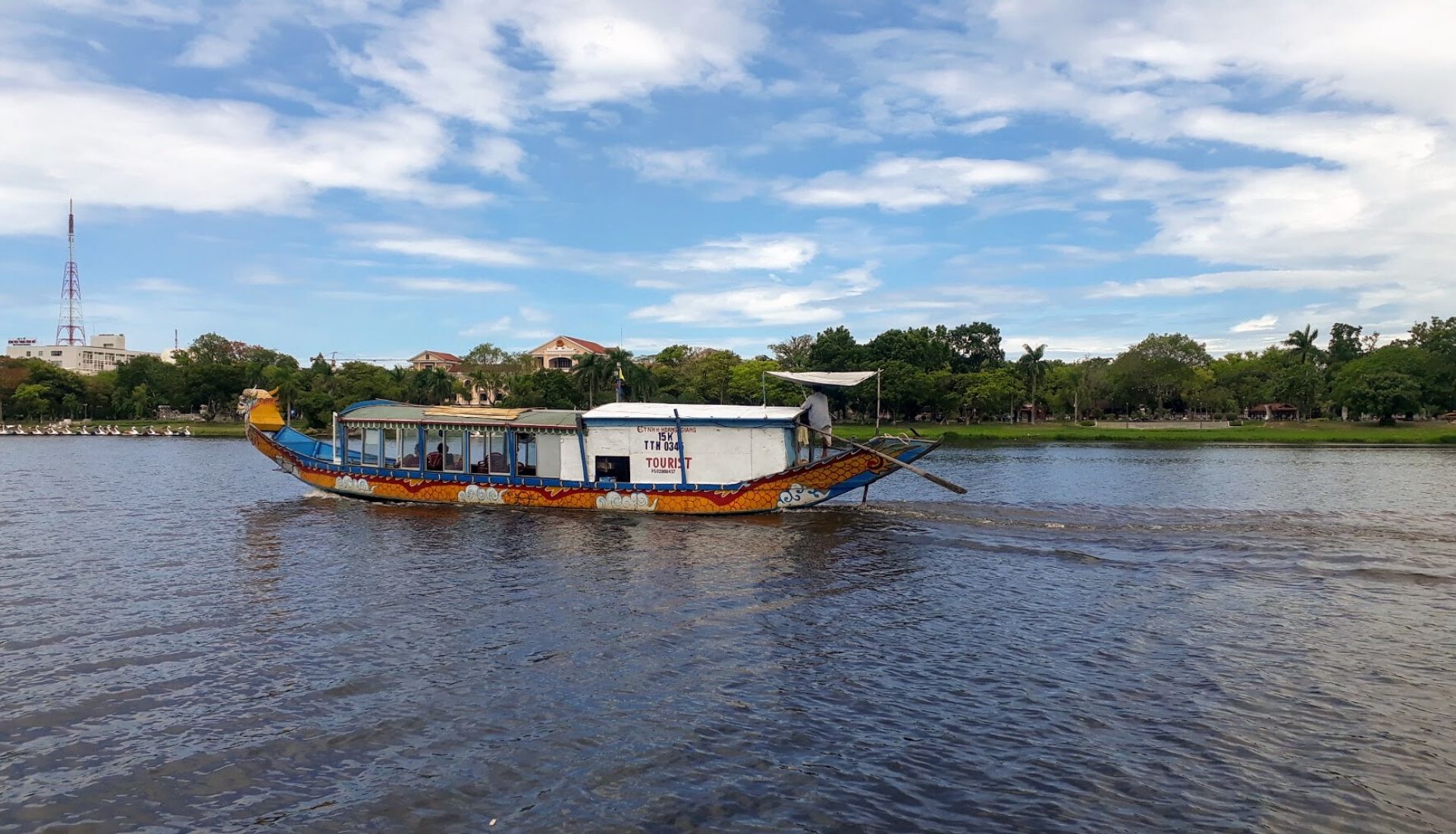 You can travel the Perfume River in a local tourist boat or enjoy an evening dinner cruise from Huong Pier in a traditional dragon boat.  The Perfume River got its name from the trees that lined the river upstream that dropped their perfumed petals in the river.
Most city tours include a cruise on one of the many tourist boats from the  Thien Mu Pagoda to the city centre. Along the way, you can view some of Hue's historical monuments.
The Trang Tien Bridge that spans the Perfume River is spectacular at night as it is lit up with many LED lights.
Book a sunset cruise on the Perfume River here
Book a private sunset dinner cruise on the Perfume River here
Dong Ba Market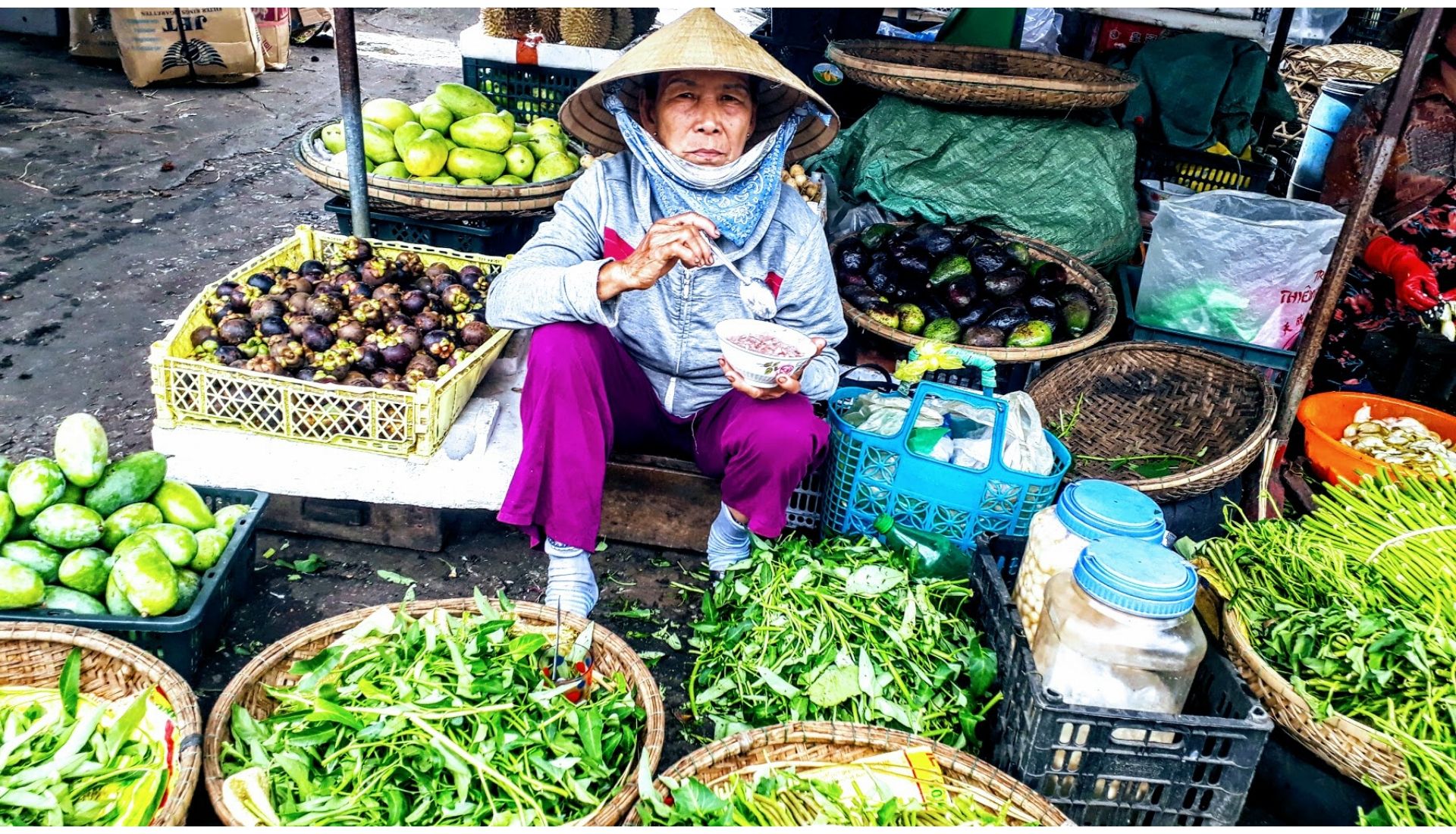 Anthony Bourdain's favourite Vietnamese soup Bun Bo Hue can be found within the market located at Tran Hung Dao Street on the northern side of the Perfume River.  Dong Ba Market is the oldest market in Hue and spreads over 16,000 sqm. The market sells fruit and vegetables, spices and herbs, clothing, handicrafts, kitchenware, seafood and meat.  The food court is located on the ground level.
Address:    Tran Hung Dao Street Hue City
Opening times: 03.00 am to 8.00 pm
Thanh Toan Bridge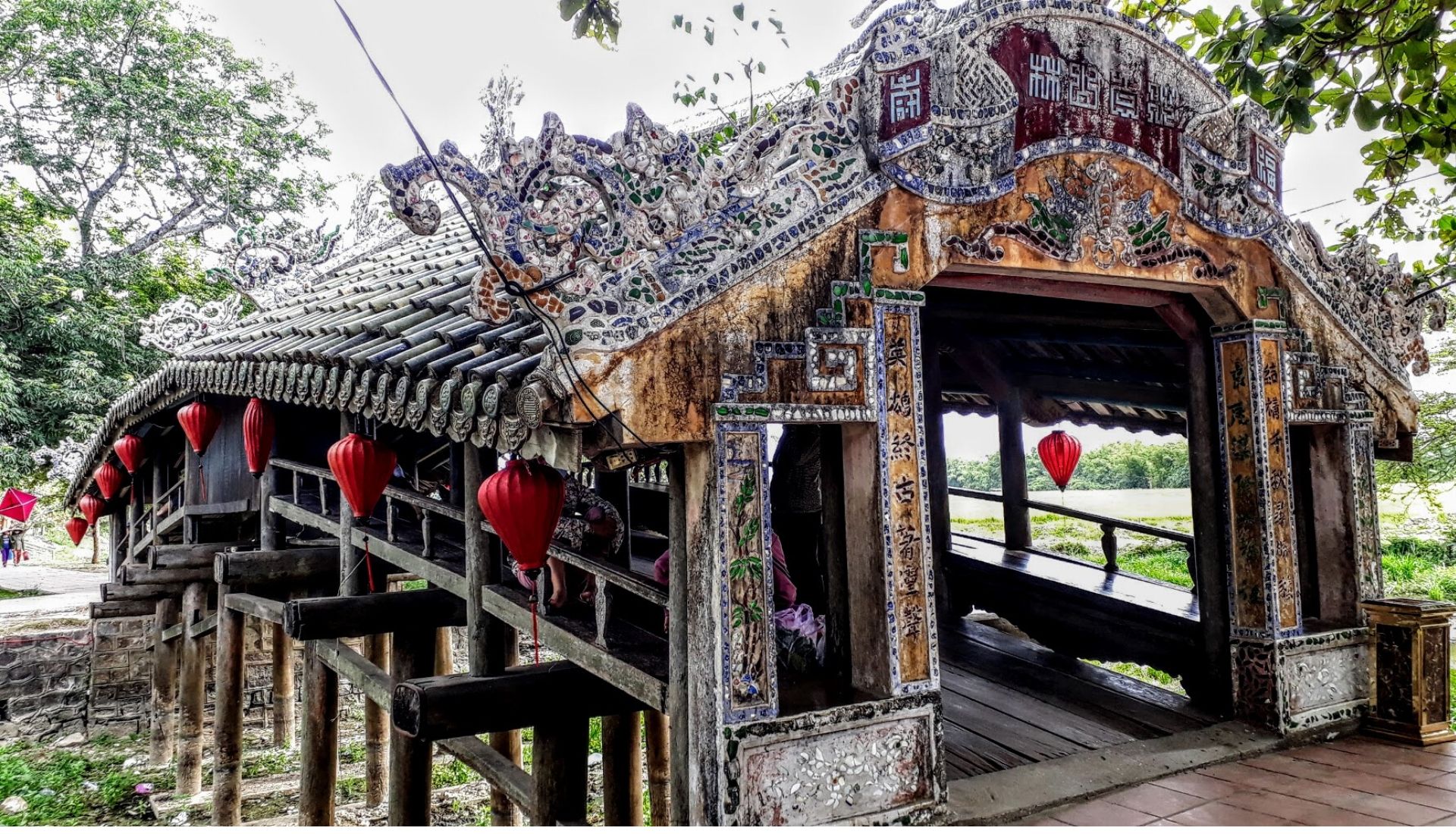 Thanh Toan Village and Than Toan Bridge lies 7 km east of Hue City and spans a small canal. It was built in 1886 at the time of Emperor Le Hien Tong.  The wooden bridge is 17m long and 4 m wide with 2 rows of wooden platforms and railings on both sides of the bridge.
The village has a daily market that sells fruit and vegetables, kitchenware and clothing as well as speciality dishes of rice noodles and chicken pancakes.
Address: Lang Thanh Thuy Chanh Thura Thien Hue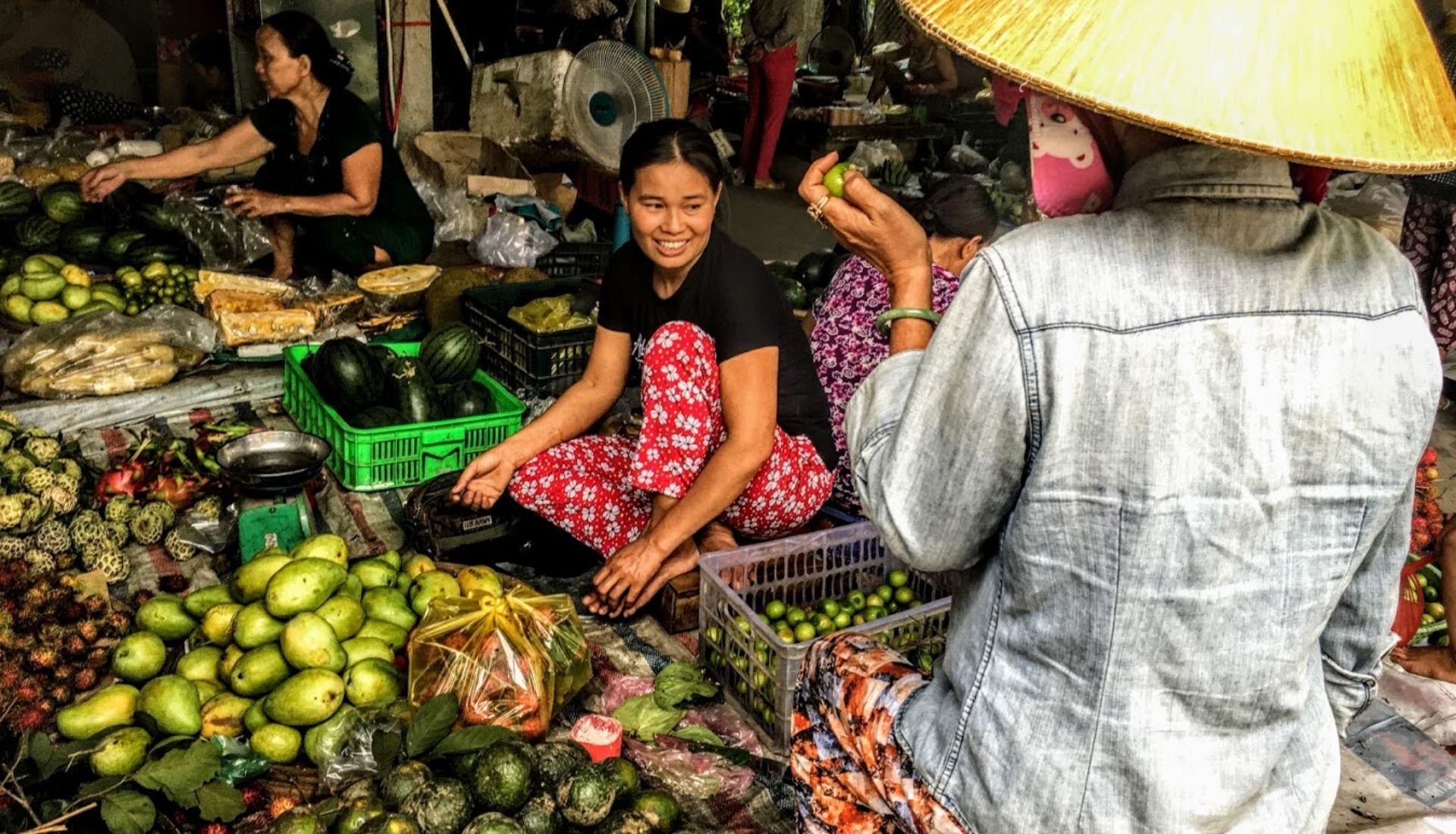 Hue Museum of Royal Fine Arts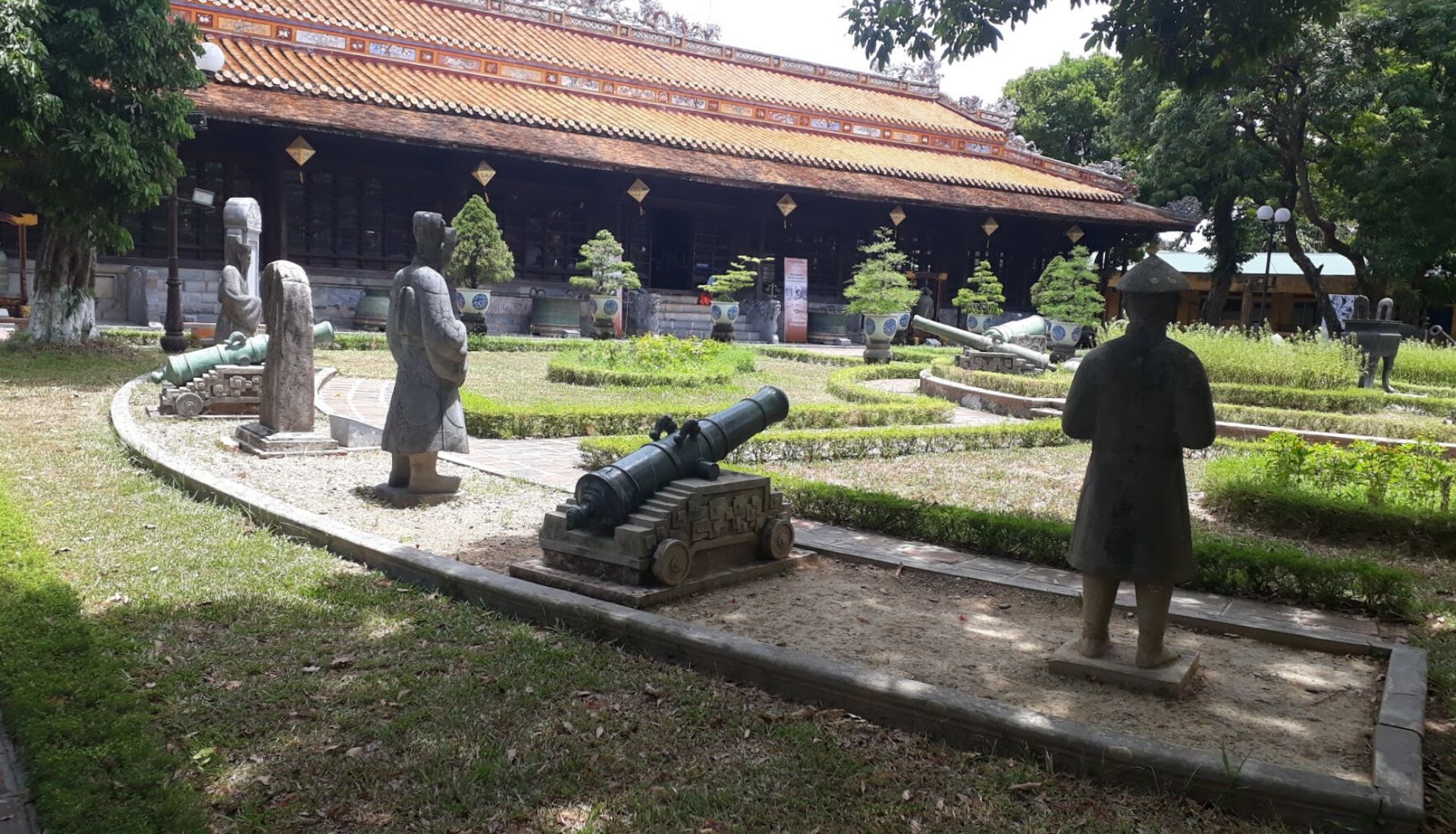 Artefacts such as gold, porcelain, elaborate gowns from the Nguyen Dynasty and the Royal Throne are exhibited.  It takes around 30 minutes to visit.
Entrance Fee: VND150,000 (USD6.50)
Opening hours are 07.00 am to 6.00 pm.
Address: 03 Le Truc Phu Hau Thanh Pho Hue Thua Thien Hue
Hue War Museum
Visit the Hue War Museum aka Thua Thien Hue History Museum.  Outside in the grounds, there are exhibits of warplanes, artillery, tanks, helicopters and a jet fighter. Inside there are more artefacts and photographs with poor English descriptions in relation to the Vietnam War.
Opening times: 08.00 am – 11.00 am and 2.00 pm to 5.00 pm. Closed on Sundays.
Entrance Fee: VND50,000 (USD2.15)
Flag Tower of Hue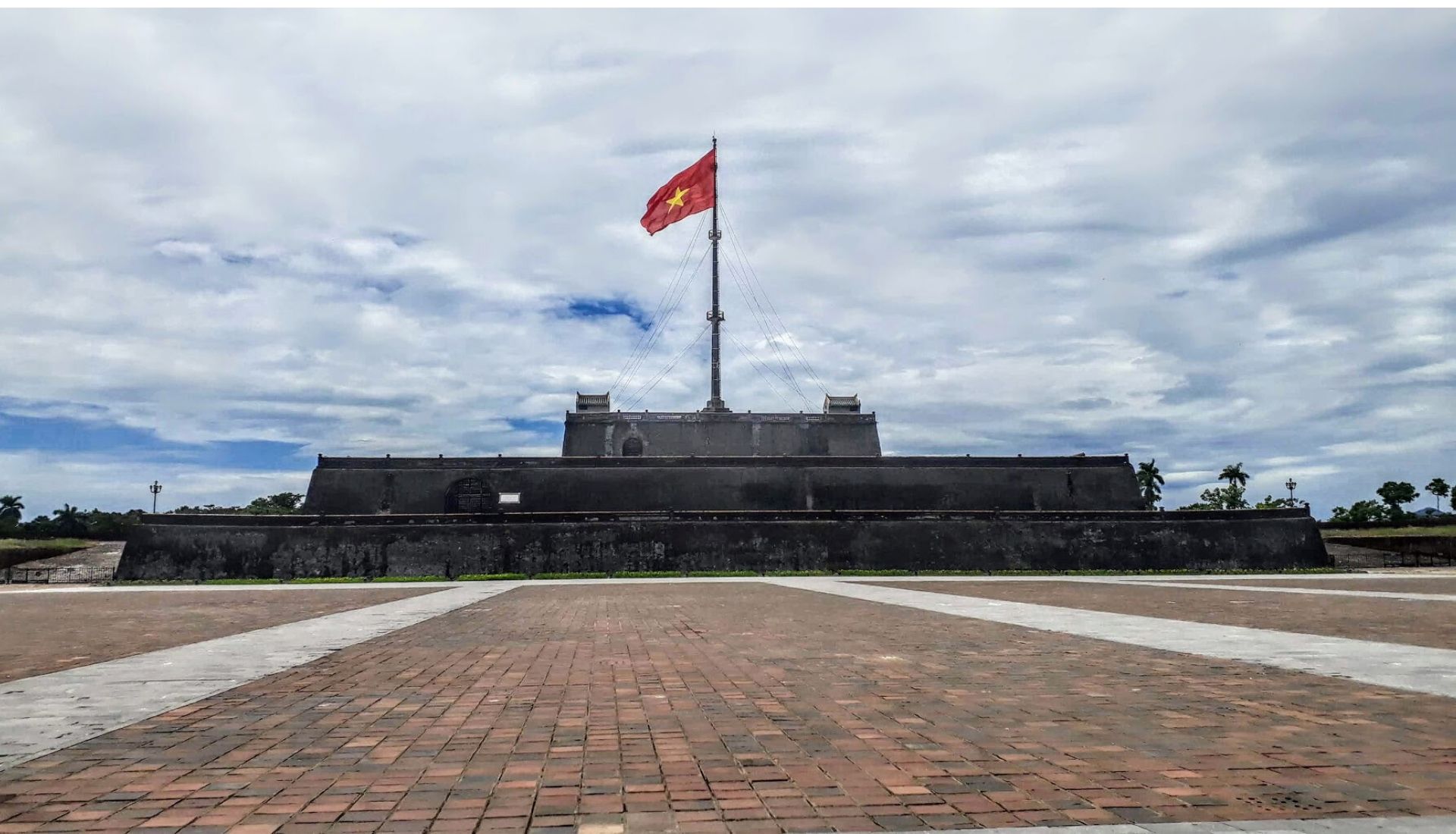 Visit the Flag Tower which is located opposite the Imperial Citadel.  The first one was constructed in wood in 1807. In 1904 it was replaced with cast iron. The three flat-top pyramids are of different heights the bottom is 5.60m high, the middle is 5.80m high and the top is 6m high.
Full-Day City Tour
Tour description taken from website:
"Experience the best of Hue with our exclusive Full Day City Tour, designed for families seeking a private and knowledgeable guide. From the Imperial City to the Thien Mu Pagoda and the impressive tombs of the Nguyen Emperors, our carefully curated tour covers all the must-see sights.
Skip the line and discover the fascinating history of the Imperial City and explore the hidden gems of the Purple Forbidden City with our expert guide. Savor a delectable lunch of local cuisine, featuring the famous Bun Bo Hue, included in your tour cost for added convenience. Plus, travel in comfort between stops in our private transportation.
Visit one of the oldest and most beautiful pagodas in Vietnam, the Thien Mu Pagoda, and witness the historic Austin Car driven by Venerable Thich Quang Duc. Admire exquisite architecture and learn about the fascinating history of Minh Mang and Khai Dinh Mausoleums. Our private tour offers the perfect balance of comfort and knowledge for an unforgettable journey through the history and culture of Hue. Book now!"
Book your tour with this link and use promo code totraveltoo2023 to get 5% discount
Minh Mang Tomb (Hieu Tomb)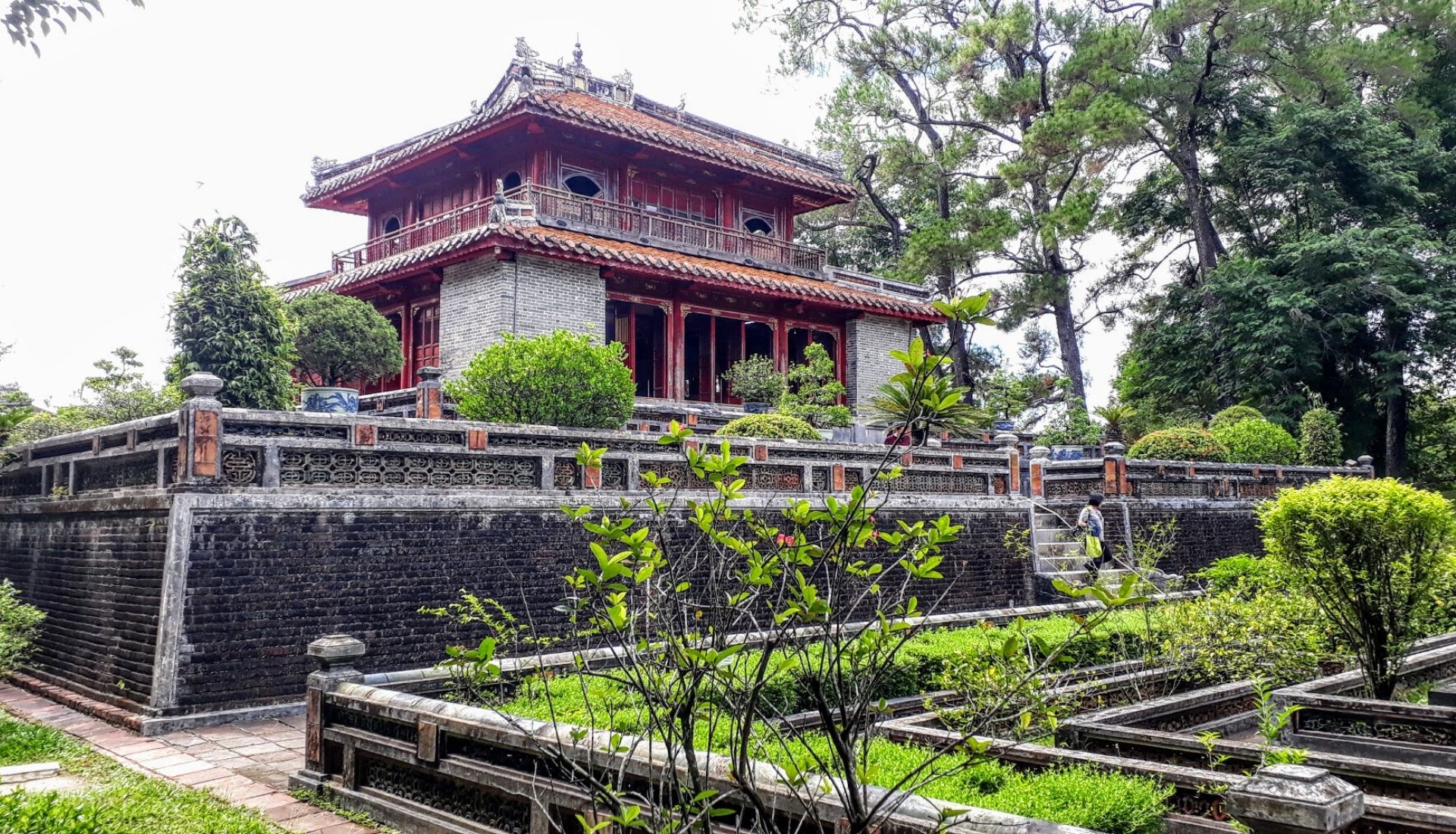 Source from the Minh Mang Tomb
"This is the burial place as well as the place of worship dedicated to Emperor Minh Mang the 2nd monarch of the Nguyen Dynasty who reigned for 21 years from 1820 – 1841.  The tomb was built from 1840 to 1843 on Mount Cam Ke (Mount Hieu) about 10 km from the Imperial Citadel in Hue City. It is located on an area of nearly 15 hectares.  The Minh Mang tomb faces South and is surrounded by a 2000m long wall.  The tomb contains about 40 constructions which are arranged on the main axis in the middle and along both sides of Tring Minh Lake. It is regarded as a masterpiece of Vietnamese Royal Architecture.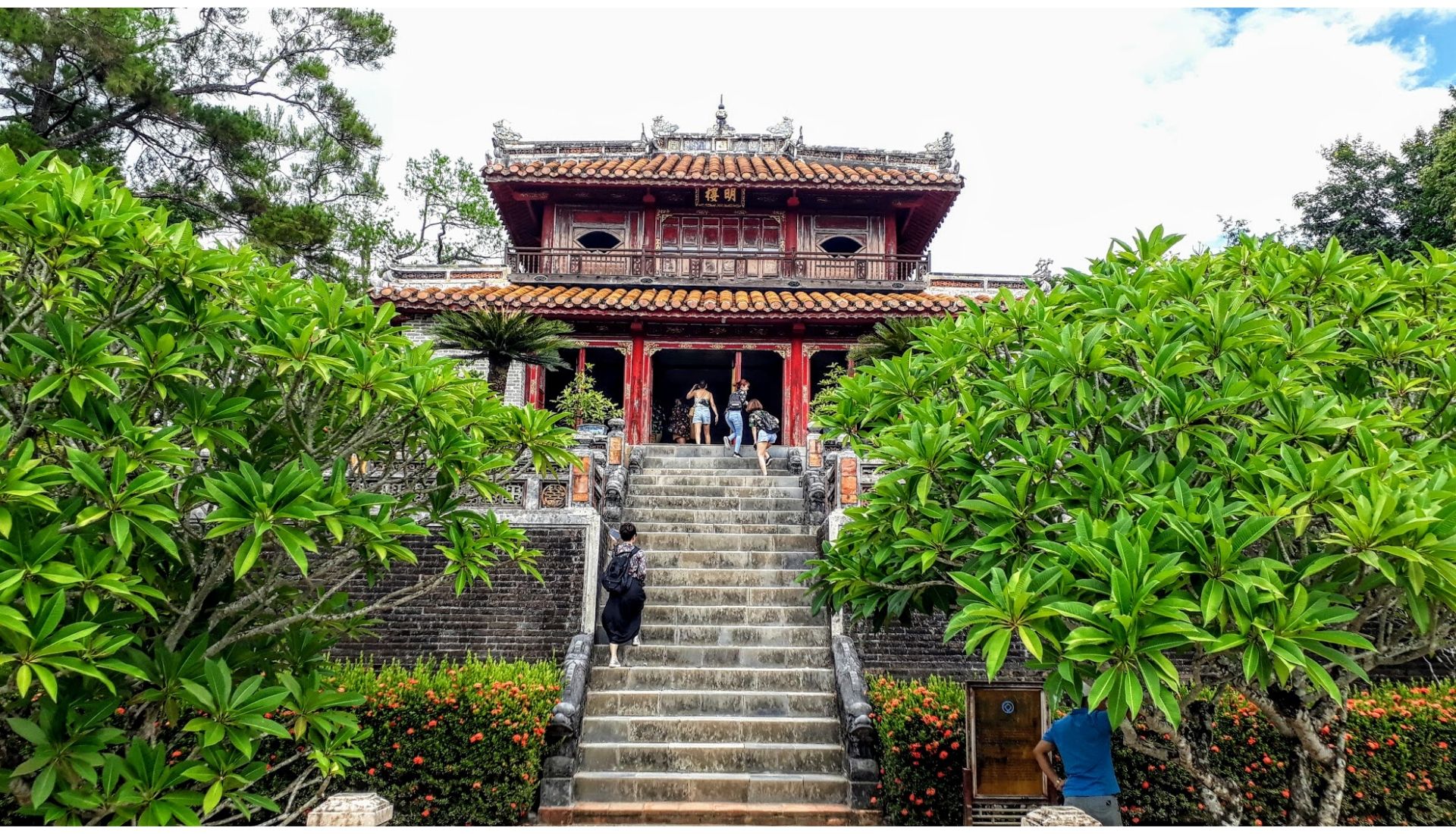 The Minh Pavilion is a typical wooden 2-storey construction of the Nguyen Dynasty. It lies on Tam Tai Mountain.  Minh Lau means the pavilion of light, the significance of which is to praise Minh Mang's Emperor's talent and contribution. The Pavilion symbolises the Emperor's provisional step-over before his arrival at the final resting place. It was built in 1841."
Khai Dinh Tomb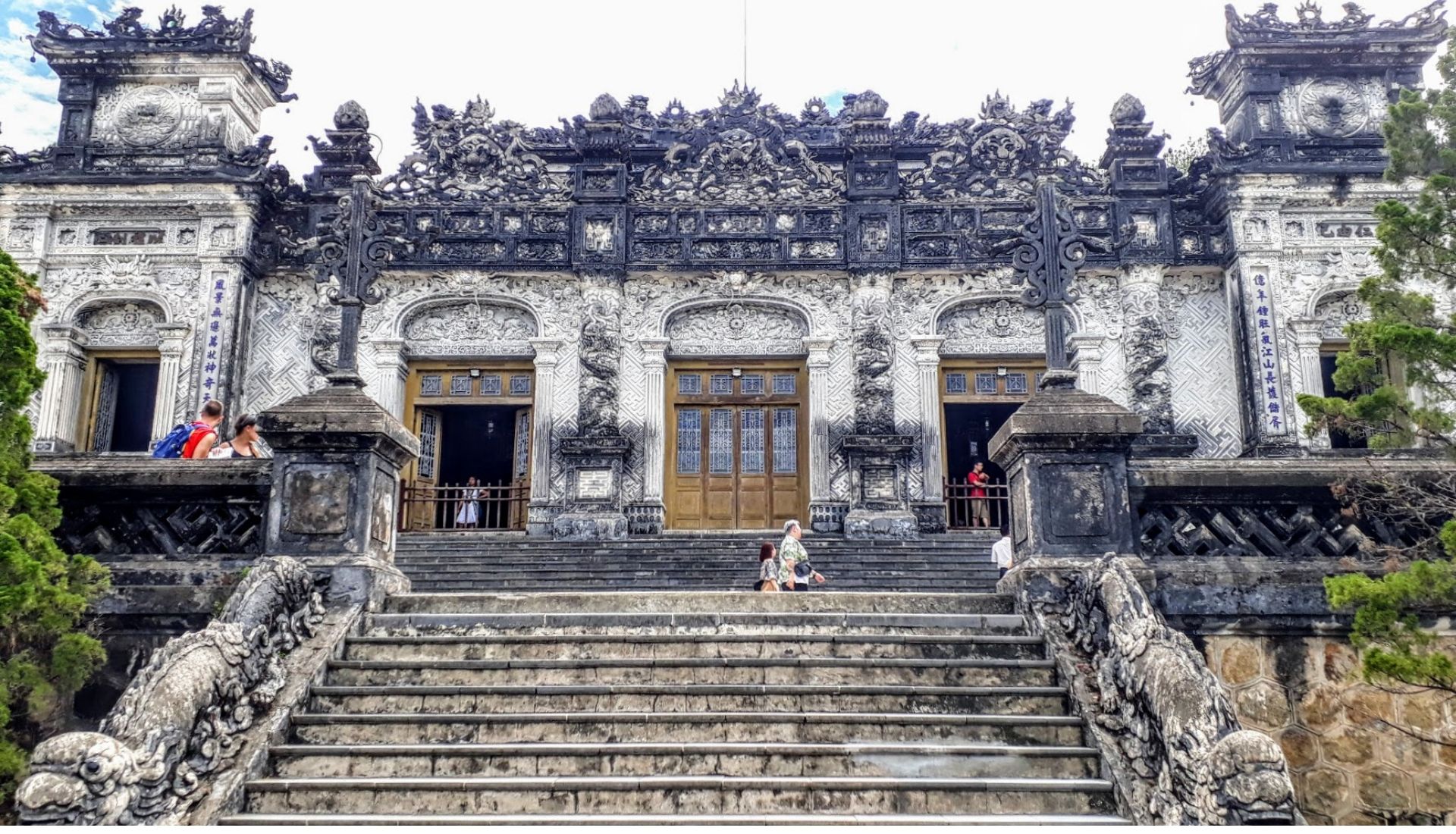 Khai Dinh was the 12th Emperor of the Nguyen Dynasty who reigned for 9 years between 1916  and 1925.  Emperor Khai Dinh is buried and worshipped here.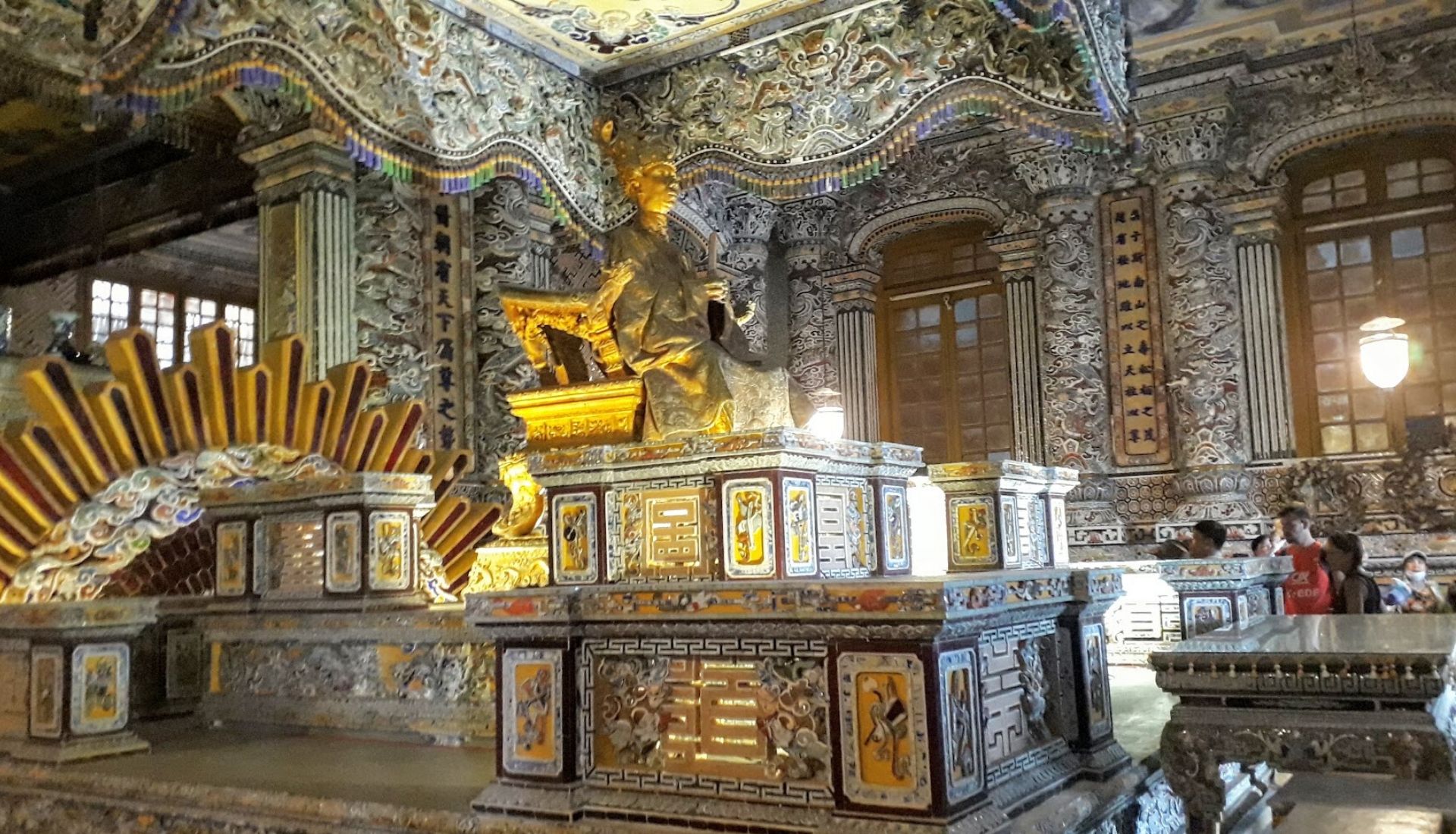 It was built during 1920 through to 1931. Khai Dinh passed away in 1925 at the age of 41. He taxed his people 30% to build his tomb which was modelled on a European Castle from the middle ages. French modern materials were used such as cement, iron and steel and used local Vietnamese mortar and terracotta.
Interested in a Royal Tombs Tour? Click here for more information and to get a 5% discount using our promo code totraveltoo2023
Taken from our partner BeeBeeTravel on the Royal Tombs Tour
"Experience the magic of the Hue Royal Tomb Tour! Indulge in the unique salt coffee and learn Vietnamese language phrases, setting the tone for a day filled with culture and history. Travel in comfort with private transportation and skip the lines with your own personal guide as you explore the mesmerizing Minh Mang, Khai Dinh, Tu Duc, and Thieu Tri tombs.
Learn about the feng-shui principle and Vietnam's ancient after-life philosophy as you tour each tomb, soaking up the historical and cultural significance behind their artistic features. As you visit Minh Mang Tomb, you will be transported back in time to the reign of Minh Mang, where you'll see the red and yellow lacquer features of the temples and admire the symmetrical arrangements of the monuments surrounded by lush pine forests.
At Khai Dinh Tomb, your senses will be dazzled as you explore the unique fusion of art and architecture. The Mosaic-style walls decorated with expensive ceramics at Thien Dinh Palace will leave you in awe.
As you visit Tu Duc Tomb, you'll learn about the reign of Emperor Tu Duc and his role in the occupation of the French in Indochina. You'll also have the opportunity to visit the Incense village, where you can touch and see the traditional craftsmanship up close.
Finally, at Thieu Tri Tomb, you'll be taken to a hidden gem, where you'll admire the contemplative look in the heart of a green paddy field. The mossy bricks and tiles will tell the story of a dynasty that valued the harmony of humans and nature in their architecture."
Book through our link here and quote promo code totraveltoo2023 to get a 5% discount
Hue Motorbike Tours
Motorbike tours are a fun way to learn more about Hue.  Here are some of the popular ones:
Visit Beaches in Hue
Although Hue is not on the coastline there are some great beaches that can be enjoyed on a day trip from Hue.
Thuan An Beach 15 km away
Vinh Thanh 30 km away
Ham Rong Beach 50 km away
Can Duong Beach 60 km away
Lang Co 70 km away
Visit the Royal Theatre of Hue
Also known as the Duyet Thi Duong Theatre it is located in the south-east sector of the Forbidden Purple City.
Take in a morning or afternoon performance – 10 am to 10.35 am or 3 pm to 3.35 pm.
Enjoy a walk along the Riverside Promenade
We walked the Riverside Promenade during the day but we found the night walk more spectacular.
Hue Biennial Festival
Every 2 years the Hue Biennial Festival is held in April May or June. You can see street performances, art exhibitions and film screenings plus a lot of sporting activities as well held in over 40 venues.
If you are in Hoi An or Danang you can take a day trip to Hue:
Details taken from BeeBee Travel website:
"Discover the magic of the Imperial City of Hue on a convenient day trip from Hoi An or Danang. Explore the city's ancient architecture, savour the unique flavours of local cuisine, and immerse yourself in the rich history and culture just 140 kilometres away.
En route to Hue, enjoy the stunning scenery of the Danang coast, Hai Van Pass, and Lap An lagoon. Upon arrival in Hue, your knowledgeable local guide will lead you on a walking tour of the Hue Imperial City. Marvel at the impressive Thai Hoa Palace, featuring a magnificent golden throne and significant history of important Imperial court ceremonies. Discover The To Mieu, showcasing inspiring stories of the Nguyen Emperors, and Cuu Dinh, a collection of nine bronze urns representing the power and longevity of the Nguyen dynasty.
Feast on the best Bun Bo Hue, a local Hue delicacy, for lunch, included in the tour cost for your convenience. In the afternoon, visit Thien Mu pagoda, a religious site of historical importance during the Nguyen Era, and admire its seven-storied tower. Learn about the lives of Buddhist monks and witness a remnant of the Vietnam War, the Austin Car driven by Venerable Thich Quang Duc.
The tour concludes at Khai Dinh's tomb, a stunning mausoleum built during the French colonial era. Admire the Mosaic artwork in the Thien Dinh Palace, showcasing the fusion of Eastern and Western design.
Experience a perfect blend of captivating history and breathtaking nature on this private day tour. Book now and embark on an unforgettable journey to the Imperial City of Hue.
To book this tour and receive a 5% discount use this link and quote promo code totraveltoo2023 to get 5% discount
Where to Eat in Hue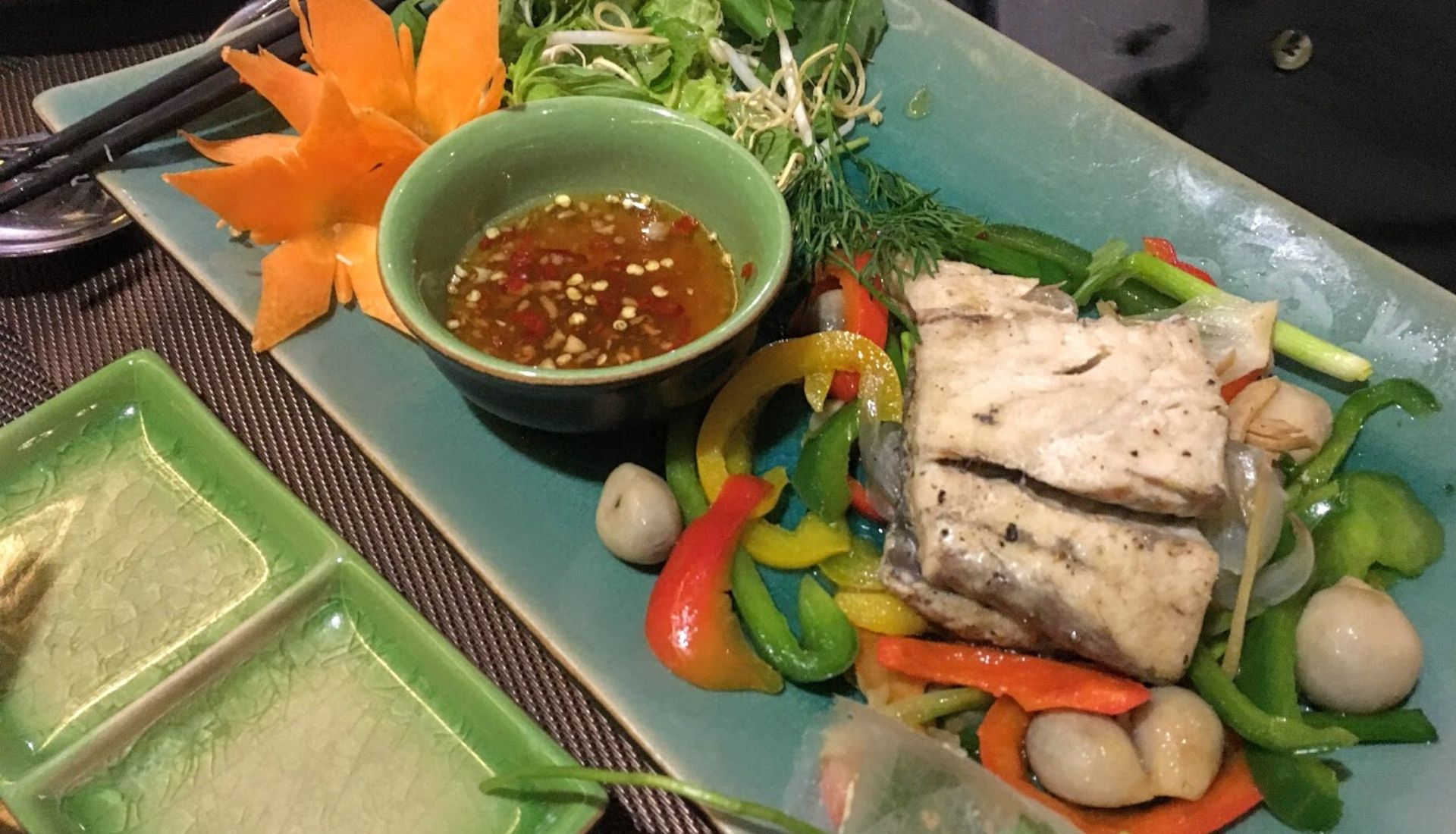 Spice Viet Restaurant is located at 15 Lý Thường Kiệt, Phú Nhuận, Thành phố Huế, Thừa Thiên Huế. There are now 4 restaurants in the Spice Viet chain, here in Hue and also in Hanoi, Hoi An and Ho Chi Minh City.
We love the local Vietnamese farm-to-table cuisine that they are famous for. All locally sourced and produced the menu is innovative, healthy and delicious.  If you visit ask for the local speciality of the region.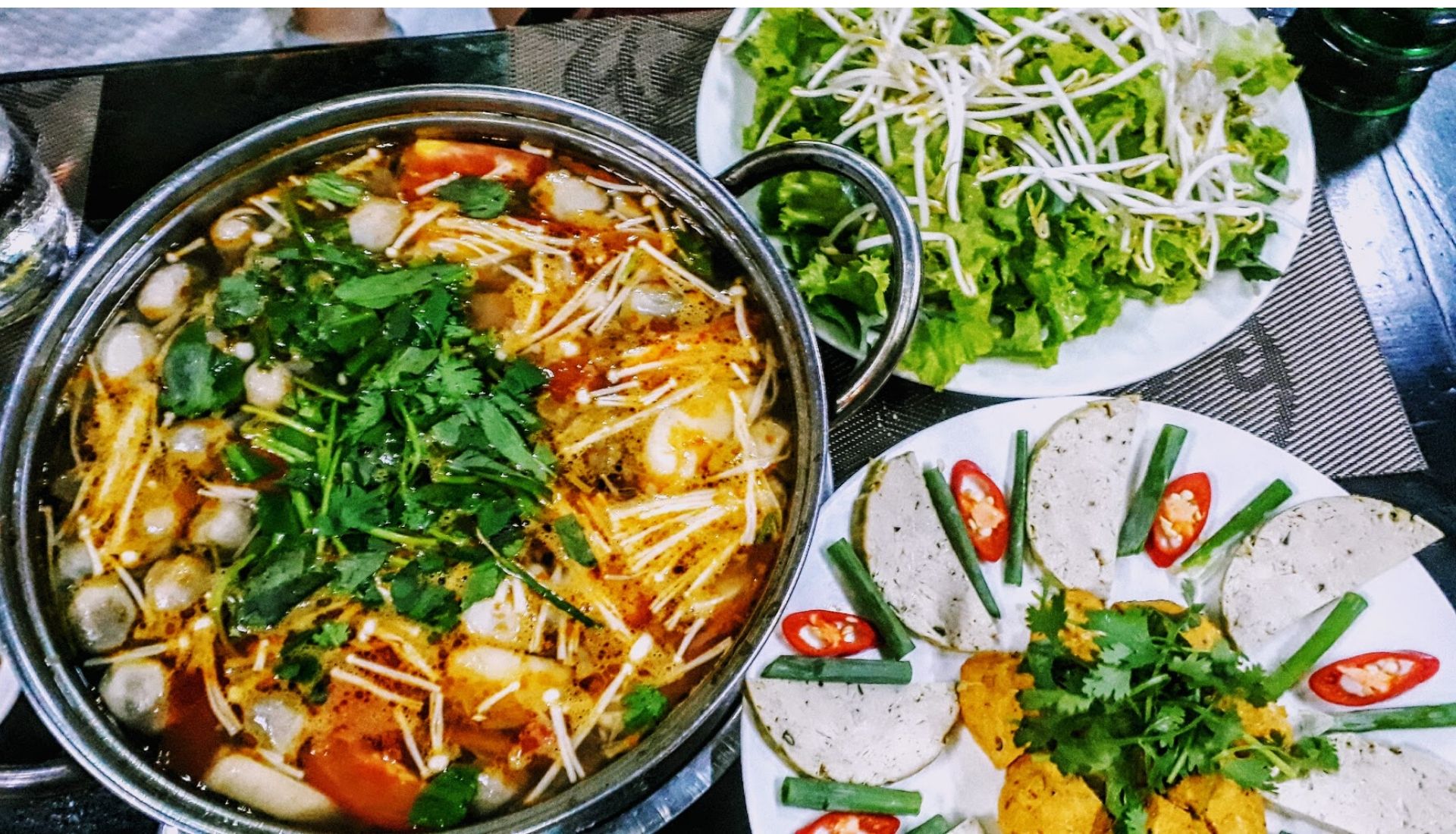 San May Vegetarian Restaurant is located at 8 Thanh Tịnh, Vỹ Dạ, Thành phố Huế, Thừa Thiên Huế. The restaurant is located in a beautiful Vietnamese home and garden. The food is excellent and tasty with an innovative menu and presented beautifully.
You can read our article on our Vegetarian Tour of Hue.
Rose 2 Restaurant is located at 06 Chu Văn An, Phú Hội, Thành phố Huế, Thừa Thiên Huế. A family-run restaurant in the centre of Hue that offers good quality local cuisine with vegetarian options.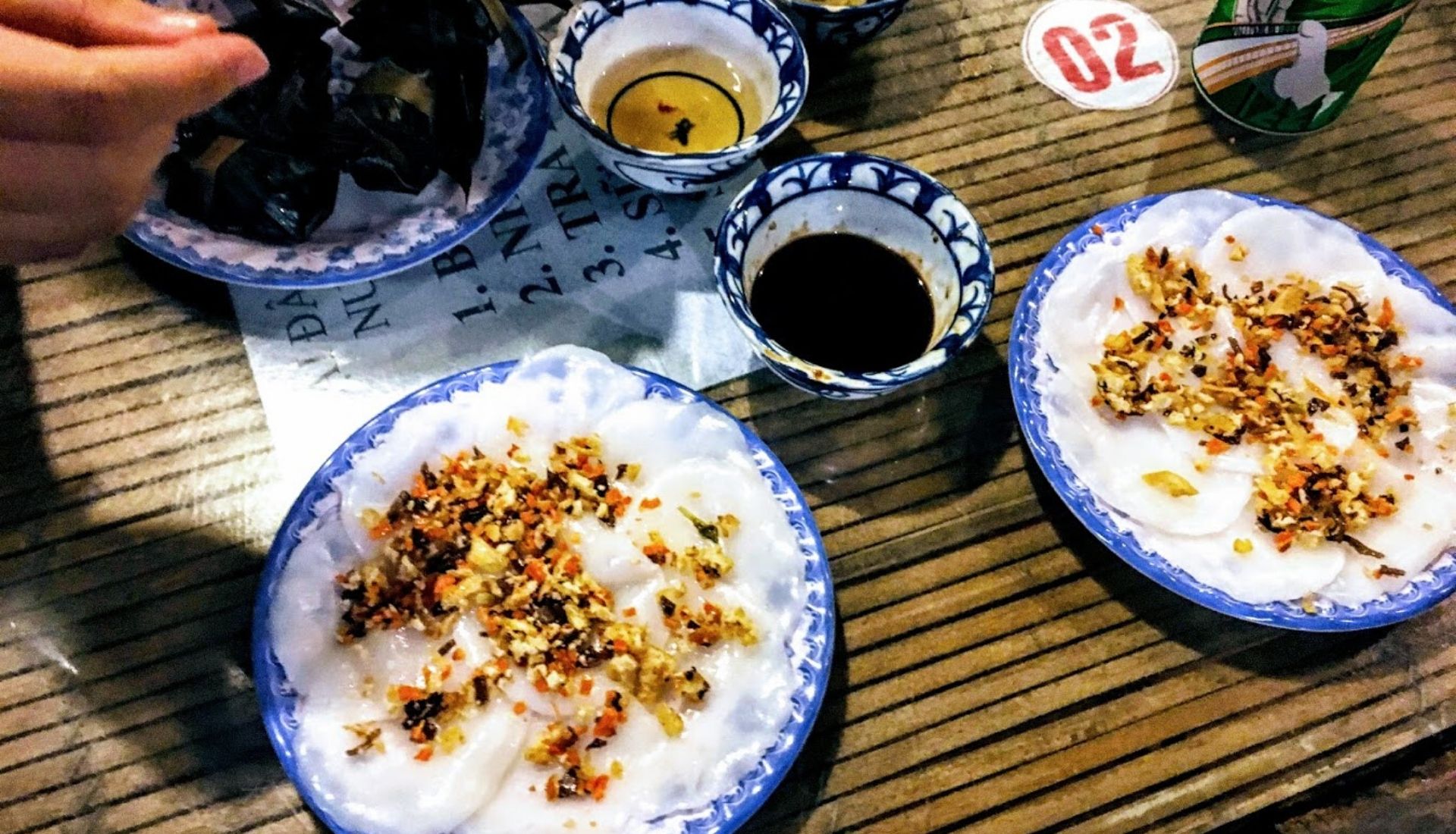 Lien Hoa Restaurant is located at 3 Lê Quý Đôn, Phú Nhuận, Thành phố Huế, Thừa Thiên Huế. A popular local vegetarian restaurant with locals and visitors. The food is excellent and well-priced.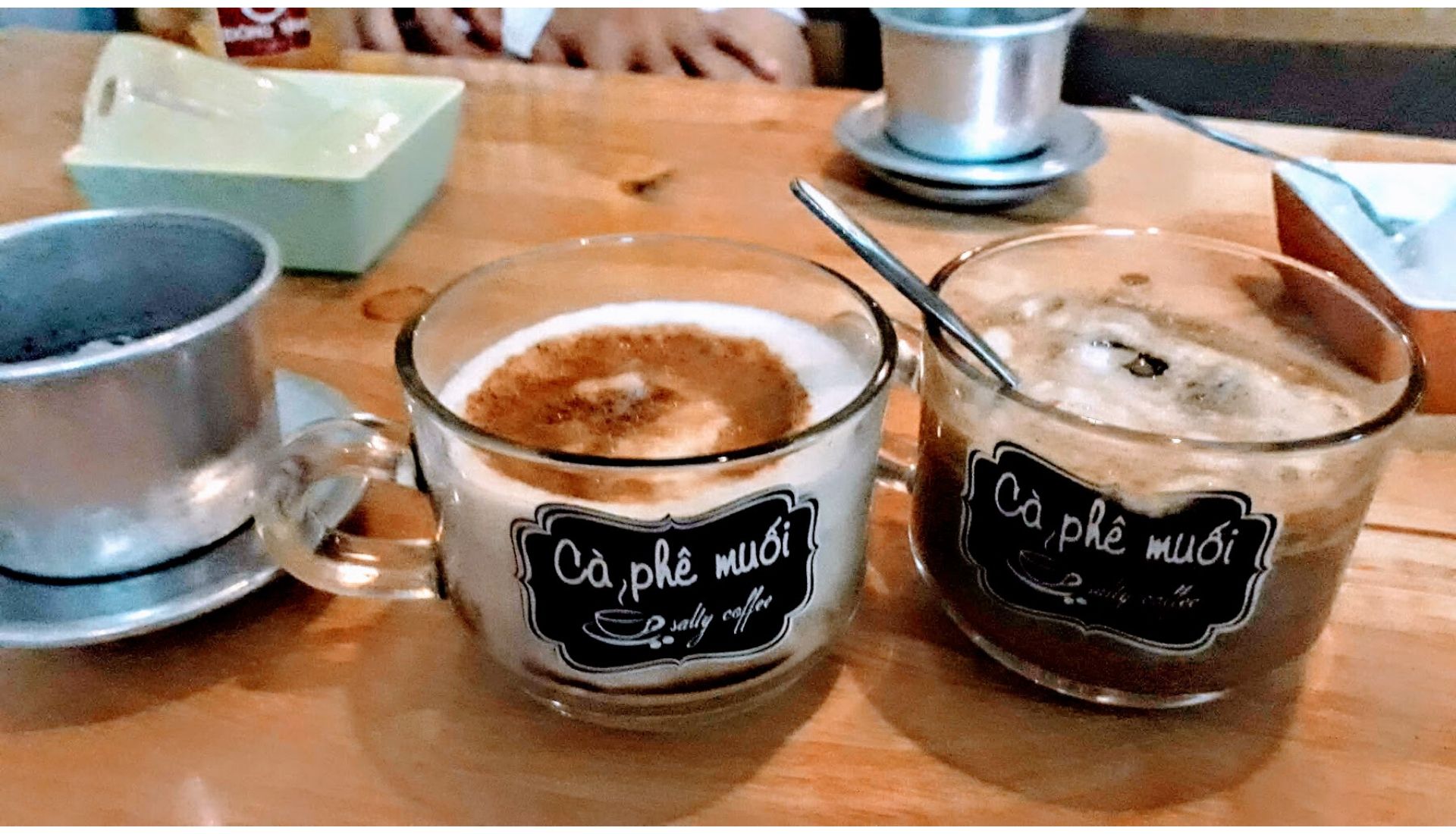 Ca Phe Muoi is located at 10 Đ. Nguyễn Lương Bằng, Phú Nhuận, Thành phố Huế, Thừa Thiên Huế. It is famous for its speciality – salted coffee.  You have to try it to believe it. You will look at coffee in a different way after you have had salted coffee from Ca Phe Muoi.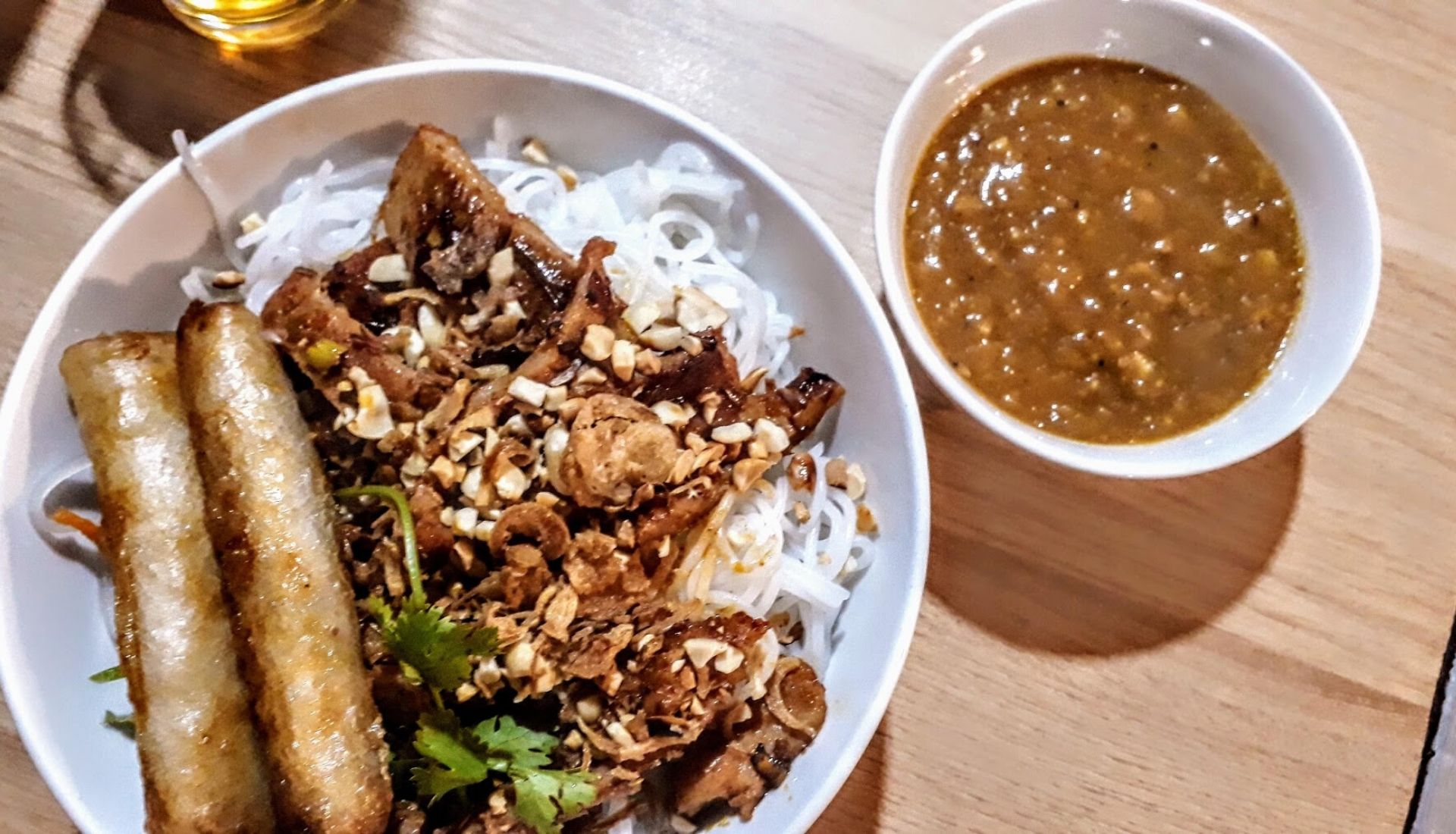 Cozy Restaurant is located at 27 Hà Nội, Phú Nhuận, Thành phố Huế, Thừa Thiên Huế. We visited the Cozy Restaurant as it was rated #2 on Tripadvisor.  It did not disappoint. The restaurant was busy and a favourite with travellers. The food was excellent, we would definitely return. They offered vegetarian and vegan options as well as local Vietnamese cuisine.
A touch of Mexican cuisine in Hue is the Jalapeno Restaurant is located at 38 Phạm Ngũ Lão, Phú Hội, Thành phố Huế, Thừa Thiên Huế. Great food in an excellent setting. On the weekend evenings, this street turns into a walking street and at times you can enjoy local entertainment as you dine.
Why not take a cooking class in Hue?
The Hue Cooking Class tour introduces tourists to cook & taste Vietnamese food in particular Hue specialities such as spring rolls, loc cake (Steamed cake with prawn and pork), sweet soup, and Vietnamese coffee, all with local Vietnamese. With detailed instructions, we believe that you can make tasty Hue food easily when you return home.
Book your cooking class here
More of the Best Things To Do in Hue
Hotels in Hue – Where To Stay in Hue
Hotel Saigon Morin is a 4-star hotel at 30 Le Loi Street in Hue City. The hotel is in an ideal position in Hue opposite the Perfume River and the Trang Tien Bridge.  The hotel was built in 1901 and has had many VIP guests over the years including Charlie Chaplin.  The hotel offers 180 guest rooms, 4 restaurants, a swimming pool and free wifi.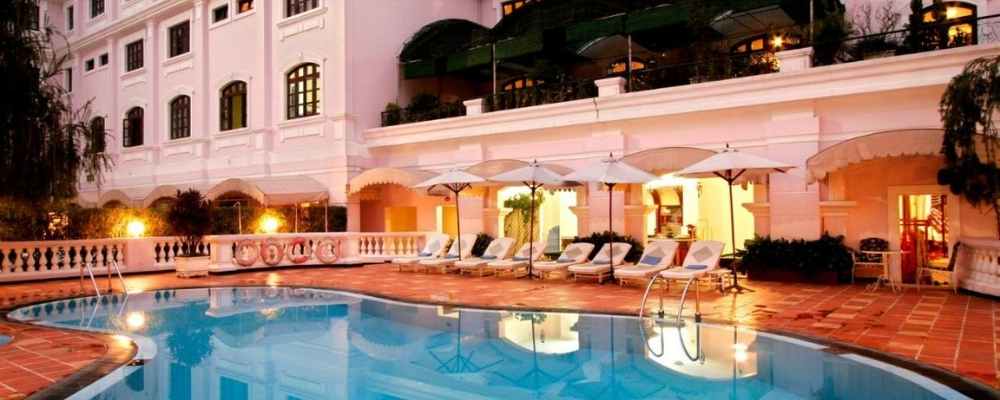 Latest guest review: Came back this year for another visit to Hue and the hotel was as good as always. The breakfast buffet is superb with delicious homemade food and a wide range of choices. We got a free room upgrade to a very spacious one with a pristine view.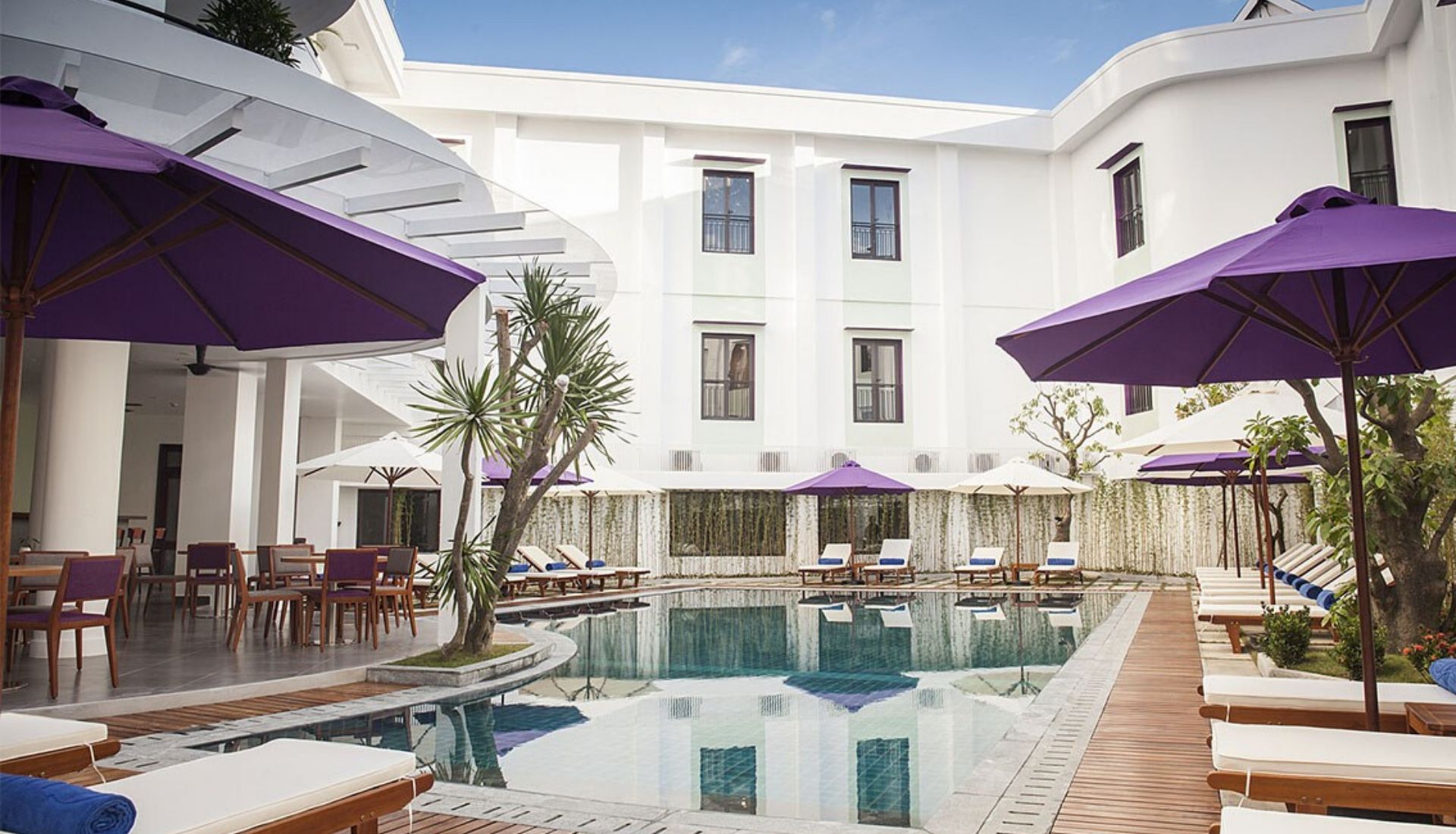 The 4-star EMM Hotel is located at 15 Ly Thuong Kiet Street in Hue. The EMM Hotel has a funky decor and offers guests a swimming pool, free breakfast, Spice Viet Restaurant and free WiFi.
We are a fan of the EMM Hotels around Vietnam.
Latest guest review: Good location, value for money & especially the hospitality from the staffs (Ms. Lộc – Front Office Manager if I remember correctly)

Hue Garden Villa 2-star hotel has an excellent location for sightseeing in the heart of Hue at #7 Lane 66 Le Loi Street. The hotel is comfortable, offers a swimming pool, free breakfast and free WiFi. We spent a week staying in Hue here and really enjoyed our stay. The staff were excellent and helpful in all things on Hue. A few minutes walk from the hotel is the Weekend Walking Street where the street is closed to traffic.
Latest guest review: Very good breakfast. Excellent friendly hosts. Spacious comfortable rooms.

General Information on Visiting Hue
Air Asia, the budget carrier, has flights to Hanoi, Ho Chi Minh City, Danang and Nha Trang from major Asian cities.
Airport Information For Hue
For general information on Hue and other Vietnam airports click here.
Travelling from Hoi An to Hue or from Hue to Hoi An?
Be picked up at your hotel in Hue and driven by car to the location of your choice in Hoi An. Drive along the Hai Van pass and see the Marble Mountains. Stop to visit Lang Co beach along the way.
Flight Deals to Vietnam
Find the cheapest flights with Skyscanner our 'go-to' for researching and booking flights.
Danang Airport Transfers to Hue
Bus/Rail and Ferry Tickets in Vietnam
We can recommend travelling from Hanoi to Hue on the Reunification Express.  The daytime train takes you through some of the prettiest countryside in Vietnam.
Hue Vietnam Weather
The best months to visit Hue is from February to April when there is less humidity and the average temperature is around 22 deg.
The months of January and May have more rain although the rainy season is between the months of August and December.
The hottest months with high humidity are June and July.
Do You Need a Visa for Vietnam or online Photos for Visas
Depending on how long you are visiting Vietnam and what passport you hold you may need to apply for an e-visa online.
Travel Insurance
We recommend taking out travel insurance as soon as you book your flights and pay deposits on any cruises, tours or hotels.
To Travel Too Travel Shop
Travel smarter and safer with products from our To Travel Too Travel Shop.  If you are looking for the latest luggage, guidebooks or travel accessories we have you covered with over 800 travel products to choose from.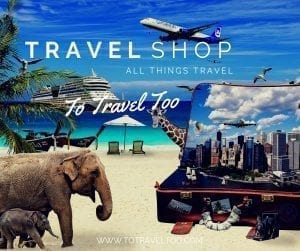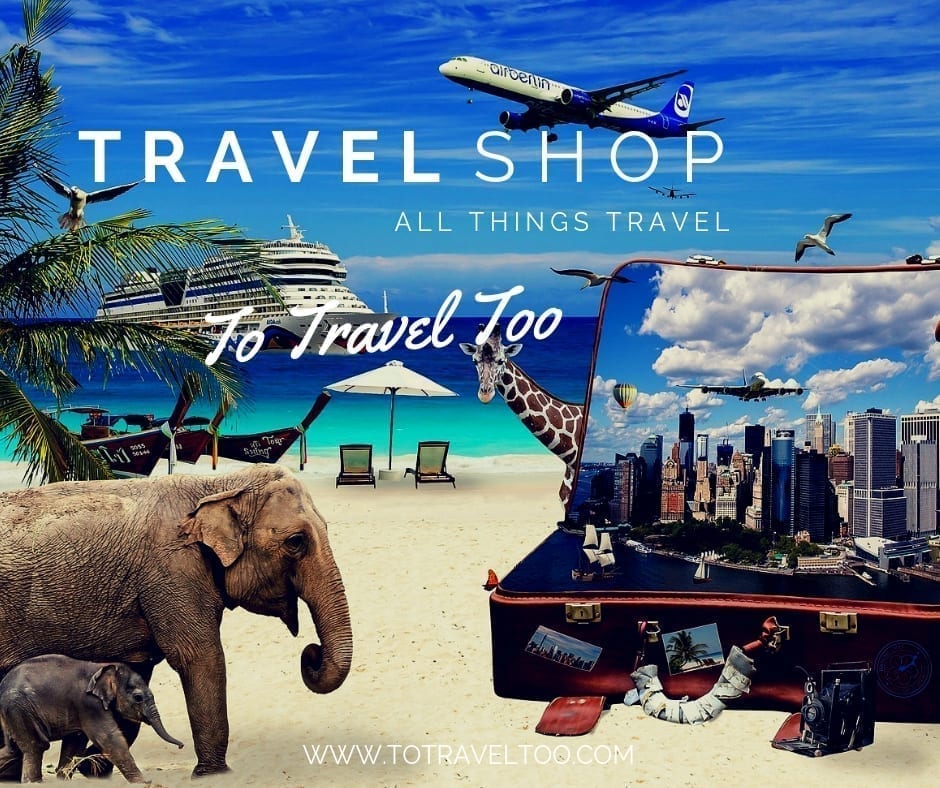 Pinterest
Are you on Pinterest? We are at To Travel Too and we have many travel-related boards check us out at Pinterest.  If you enjoyed our article why not pin it to your board.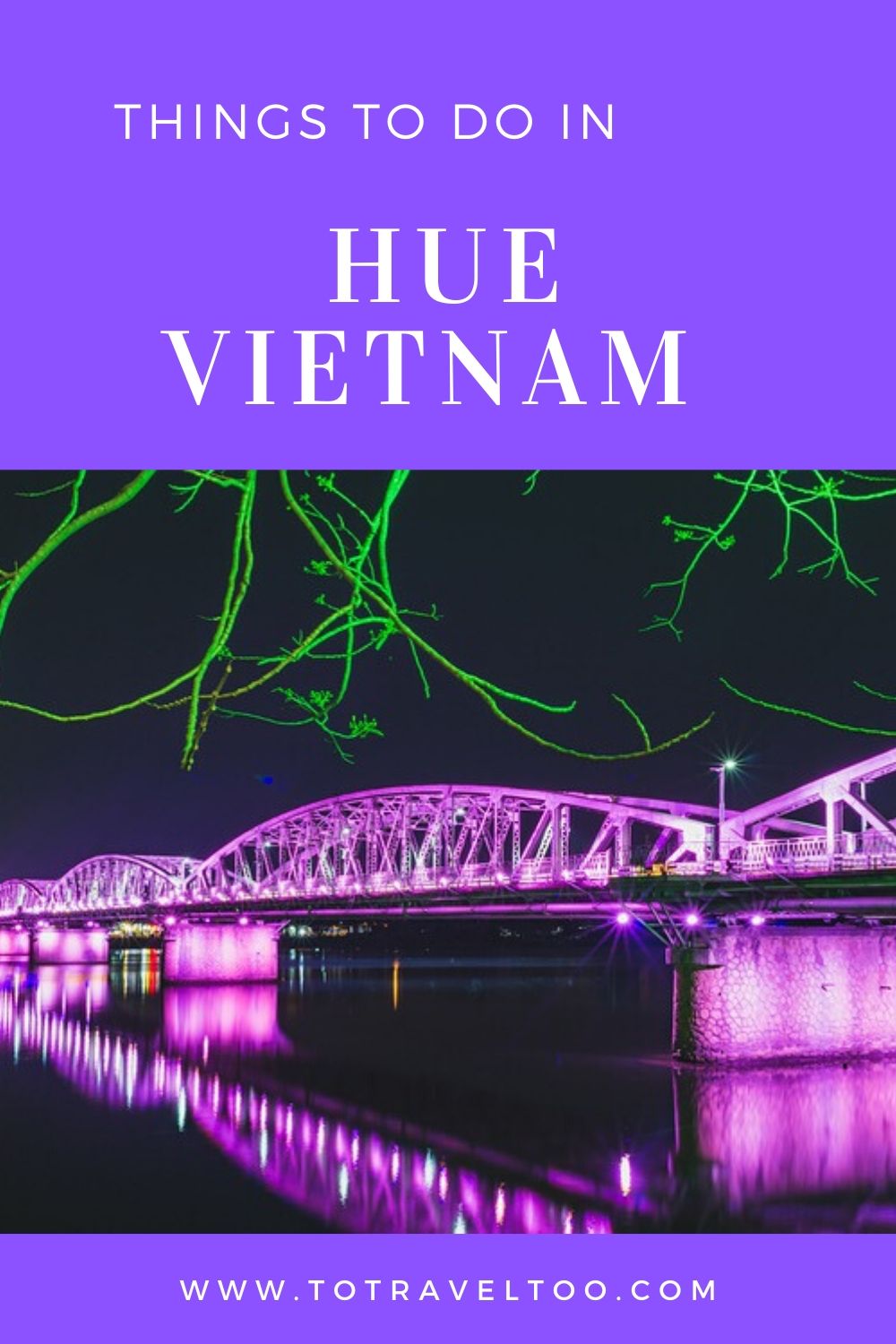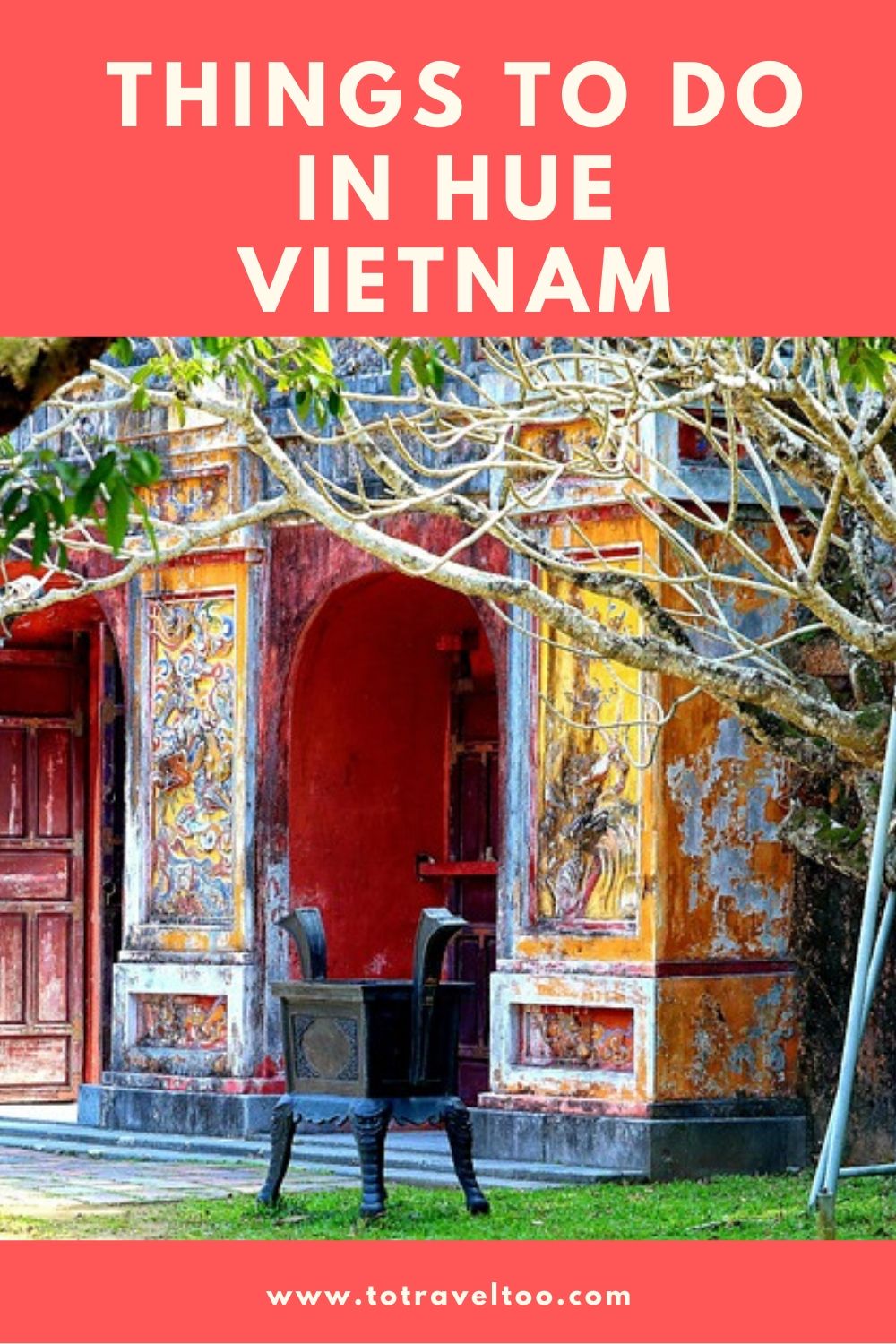 Conclusion
In conclusion, Hue offers a wealth of cultural and historical attractions that make it a must-visit destination in Vietnam. From its majestic imperial citadel to its serene pagodas and vibrant markets, there is something for everyone in this enchanting city. Whether you are interested in exploring the rich history of the Nguyen Dynasty or simply immersing yourself in the local culture and cuisine, Hue has it all. With its picturesque scenery, friendly locals, and unique experiences, visiting Hue is an experience that will leave you with lasting memories. So pack your bags and embark on a journey to discover the top things to do in Hue – you won't be disappointed!
We hope you enjoyed our article on Hue's top things to see.  Feel free to share with family and friends.  Hopefully, you can allow at least a minimum of 3 nights, the Imperial City and the Royal Tombs and some of the best things you can see in Hue.
Good to know: Hué Vietnam has some of the best local cuisines we tasted during our 3 months of travelling from North to South Vietnam.