Cancun in Mexico is the capital of the Yucatan province. Yucatan is one of the best provinces in Mexico to discover. It's beautiful beaches, nature, great culture, and more making Yucatan a very popular place to visit! Cancun is one of the best places in Yucatan to visit. In this article, you can read about the best places to stay in Cancun Mexico.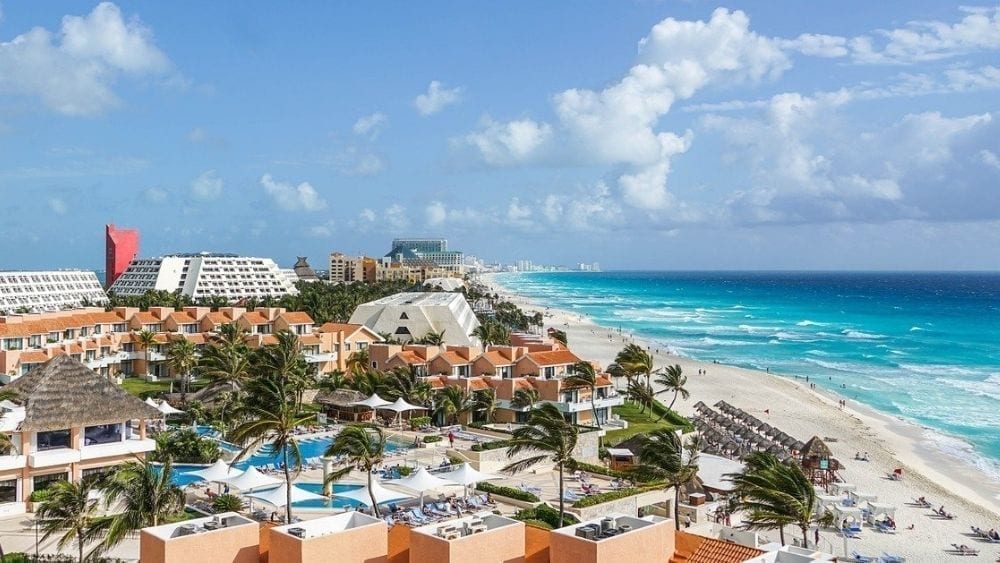 This post may contain affiliate links. Please see our disclosure for more information. As an Amazon Associate, we earn from qualifying purchases (if applicable). 
We have created a private Facebook group – Mexico Travel Planning for all your travel planning throughout Mexico.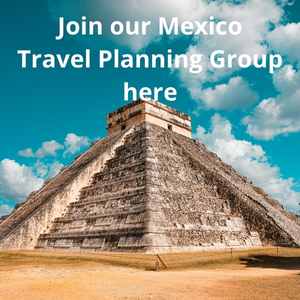 Thanks to our guest writers Cynthia & Alexander, travel bloggers from Travel your Memories. They clearly explain in this article what the best places are to stay in Cancun and what the best Cancun hotels are per category. It will save you a lot of time figuring this out!
Cancun has a lot to offer, so therefore it is difficult to determine the best place to stay in Cancun.   Also, the best place to stay in Cancun is completely personal. For example, you have to choose if you want to stay in downtown Cancun (Cancun centre) or on the island of Cancun. There are also differences between a budget traveller, a mid-range budget traveller, and a traveller who likes luxury. Depending on what kind of traveller you are, there is a hotel in Cancun that will suit you and your budget. Read on to find out what are the best places to stay in Cancun.
Cancun Map
Difference between Cancun Island and Cancun Downtown
Cancun consists of two parts, namely the mainland and the island. You can find a variety of hotels in Cancun depending on your budget in the mainland (the centre of Cancun). On the island, which is called the Hotel Zone, is the area where you will find all the best Cancun resorts in Cancun Mexico, clubs and beautiful beaches. In Cancun all-inclusive hotels are very popular, so you may want to consider staying in one of these.
Both areas are great to stay in, but it is up to you personally what you prefer.
In the Cancun centre, you are amongst the locals and you can still experience authentic Mexican life. In the centre of Cancun, there is a lot to see and to do. In the city centre, you can choose a lot of hotels which come in a wide variety of price ranges. The big difference compared to the Hotel Zone is that a night at a hotel in the city centre is a lot cheaper.
The hotel zone of Cancun has everything to offer. Here you will find beautiful beaches, large clubs, and unique resorts. You can experience a holiday that you sometimes see in movies. The difference compared to the city centre of Cancun is that you really can enjoy the peace. The prices are a lot higher compared to the centre.
Tip: regardless of where you stay, it is highly recommended to spend a day discovering the island (Hotel Zone) and see with your own eyes what you can find at this magnificent place. You will be amazed without a doubt!
Tip: if you plan to do a lot of activities in Cancun, it is recommended to book something in the city centre because it is affordable. In our opinion, it is a shame to pay a lot for accommodation where you only sleep and nothing more. If you plan to take a holiday where you bring a book with you and want to relax, we recommend 100% choosing a hotel or resort in the Hotel Zone. The centre is less suitable for such a holiday in comparison with the Hotel Zone.
We hope you enjoy Cancun as much as we did, you will be amazed at how much Cancun has to offer. Our overview below will quickly help you find your ideal hotel in Cancun. Lots of fun!
Now you know whether you want to stay in the city centre of Cancun or the Hotel Zone, it's important to determine which hotel is the right one for you. We share with you three recommendations for both parts of Cancun, divided into different price categories.
Hotels in Cancun
Hotel Kavia is located in Cancún, 1.7 mi from Playa Las Perlas Beach. This property offers a restaurant, free private parking, an outdoor pool, and a bar. This property offers family rooms and a sun terrace. A very good hotel in Cancun to discover Cancun on a budget!
Address: Claveles 109 Cancun
Latest Guest Review: Breakfast was good, and the location was very conveniently close to the Plaza and other local stores.

Hotel Zone: BSEA Cancun Plaza Hotel – from USD $73 per night
Address: Avenida Kukulkan Km 19.5 Zona Hotelera
The BSEA Cancun Plaza Hotel offers views of the Caribbean Sea. The hotel is located on Cancún Beach and is just 5 minutes drive from the Wet n' Wild Water Park. It features 2 outdoor pools, including 1 for adults only.
It is very good value for money in the Cancun Hotel Zone.
Latest Guest Review: Liked the location of the hotel, the room itself and the staff. The room was arranged nicely and had an excellent outlook, overlooking the sea. The staff were friendly and helpful.

Mid-range Cancun hotels
Downtown: Hotel Blue Star Cancun –
Hotel Blue Star Cancun has a restaurant, an outdoor pool, a bar, a shared lounge, a hot tub and you can even rent a car. The rooms are also very nicely decorated. They serve a really good breakfast here.
If you want a little more luxury and you want to stay right in the centre with all the vibrant life, Hotel Blue Star is for you. A very good and affordable hotel in Cancun.
Address: Av Palenque #102 SM 26 MZ ZO LT 70 Cancun
Latest guest review: Nice hotel for one or two nights. Close to Mercado 28 and easy to get taxis everywhere else. The room was lovely and the staff were kind and friendly.

Hotel Zone: Hotel NYX Cancun –
Located on a 14-mile stretch of pristine beach in Cancun's Hotel Zone, NYX Hotel Cancun features an infinity pool overlooking the Caribbean Sea. Some rooms have views of the sea or Nichupté lagoon. The rooms are really beautiful, the beds are very firm, the breakfast is very good and the private beach is unbelievably nice to stay.
If you are looking for a hotel that is good value for money, Hotel NYX Cancun is recommended for you. This is our favourite because it is affordable.  Be aware that this hotel is popular and bookings should be made far in advance, especially at peak holiday times.
Address: Avenida Kukulkan Km 19.5 Zona Hotelera
Latest guest review: The food and beach were great. The hotel itself was also really good and we would really like to come back to stay for longer.

Luxury Cancun hotels 
Downtown: Hampton Inn By Hilton Cancun Cumbres –
Located right in downtown Cancún, Hampton Inn By Hilton Cancun Cumbres features a restaurant, outdoor pool, fitness centre, and bar. It is a 4-star hotel that has all the facilities you need for your Cancun vacation. For example, they have their own sports centre. A great stay for a good price. If you want luxury and a stay in the city, Hampton Inn By Hilton is for you.
Latest guest review: We arrived very late in Cancun and decided to travel to our hotel in Valladolid the next morning. This was the nearest hotel I could find, but everyone was so helpful and friendly. We were given a nice family room, perfect to crash after a long journey, and got up to a lovely breakfast before heading on our way. Great location, good food and room, and great staff!
Address: Blvd. Luis Donaldo Colosio MZA 1 SM

Hotel Zone: The Westin Resort & Spa Cancun –
The Westin Resort & Spa Cancun is well located at the end of the Cancun Hotel Zone, making it one of the best quiet locations for your Cancun holiday. This luxury hotel has private white beaches and breathtaking views of the Caribbean Sea and Nichupté Lagoon. It is especially ideal for families as it is very quiet here. Also, you can book tours through the resort. Don't wait too long to book, because this resort fills up quickly.
Address: Avenida Kukulkan Km 20 Zona Hotelara
Latest guest review: beautiful room with terrace on the first floor with direct access to the pool or beach. Comfy bed, big room.

Related reading: Hotel Review Nizuc Resort & Spa Cancun
Cancun hotels Luxury +
Hotel Zone: Secrets The Vine Cancun – Optional All-Inclusive Adults Only –
Secrets The Vine Cancun is located on Boulevard Kukulkan and has been awarded 4 AAA Diamonds. Overlooking the Caribbean Sea and Nichupté Lagoon, the stylish hotel features 6 restaurants, 3 outdoor pools, and a spa. If you want the best of the best, go to Secret The Vine. Everything you see here is great. The luxurious rooms, the pools, the beach, the food and drinks, and all the other facilities make it easy to stay here for days without even stepping out of the resort. As the name suggests, children are not allowed here. For some travellers, this is a big advantage. If you want to experience something crazy now, book a stay. Again, you have to book in advance because of its popularity.
Address: Boulevard Kukulkan 14.5 Retorno del Rey Lote 38 & 38B Cancun
Latest guest review: it was in a great location for excursions and off the beach, hospitality and entertainment was amazing

Things to do in Cancun
As you have read, there are many choices in terms of Cancun hotels. For every type of traveller, there is something that appeals to them. If you have determined your Cancun accommodation, you will also want to know what you can do in Cancun.
For more information, read our 15 Best Things to Do in Cancun. In this article, we share with you the 8 best activities to do in Cancun and the 7 best day trips you can do from Cancun.
Some great activities in Cancun are:
snorkelling
a visit to a Mexican wrestling match
a visit to a sea turtle organization
visit Cancun beaches
visit cenotes
swimming with whale sharks outside of Cancun
visit Chichen Itza and Tulum. Chichen Itza is a 'must-see', it's for a good reason that it's one of the seven wonders of the world.
Things To Do Outside Cancun
If you are now planning a holiday through Mexico (Yucatan), this article can help you plan your trip: the perfect #1 Mexico itinerary for backpacking in Mexico to discover the highlights of Yucatán. You can read the 5 best places to discover in the Yucatan and for each destination, you can read a detailed article for more information.
Bio
This was a guest post written by Cynthia and Alexander who started Travel your Memories an adventures travel blog, they travel the world because it is their passion. They believe travel can change lives. Their goal is to inspire you to discover the world. They do this by sharing travel tips!
FAQs on Visiting Cancun
Is Cancun safe?
In general Mexico and Cancun are safe places to visit.  As always when you travel make sure you know where you are travelling to, avoid neighbourhoods that you are not sure of, you can check with the hotel that you are staying in for which areas you should avoid. Make sure you are careful with your belongings at all time.
Do Tourists in Cancun have to complete a Tourist Card Application before arrival?
The online registration process is very convenient and straightforward and all you need is your passport, flight information, address or name of the hotel where you are staying, and a printer to print your Official Entry Tourist Card.​ THE TOURIST CARD IS PER PERSON INCLUDING CHILDREN.
For more information click here
Is Cancun expensive?
Cancun can be expensive depending on where you stay. Taxi fares are expensive compared to the rest of Mexico.
Is Cancun worth visiting?
Cancun is worth visiting depending on what you want to do and see. It is a good base to visit the rest of the Yucatan Peninsula with many day tours operating from Cancun to the Mayan ruins and many more activities.
When should you avoid visiting Cancun?
Avoid visiting Cancun during Spring Break which occurs between mid-March to early April.
Related reading: All about Mexican Cuisine in the Yucatan
Is there a bus from Cancun International Airport to the Hotel Zone?
No, there is no direct bus.  You can book an ADO bus from the airport to the downtown centre and then either a taxi to the Hotel Zone or a public bus.
More Top Things to do in Cancun
General Information on Visiting Cancun
Cancun Airport
Cancun Airport (CUN) is one of the busiest airports in Mexico. It is located 12 km from downtown Cancun and 23 km from the Hotel Zone.
You can book a private transfer here.
Flights to Cancun
For the latest flights to Cancun Mexico compare prices on Skyscanner here.  Skyscanner is our 'go-to' when we are researching and booking flights.
Check the latest availability and prices here
Car Rental
If you would like to book a car for travels around the Yucatan you can hire one from Cancun Airport or from your hotel through our partner Rentalcars.
Cancun Weather
When is the best time to visit Cancun?
December to February (winter time) is the peak time to visit Cancun, the weather is mildly warm with little rain.
March to May – springtime –  the weather is still warm and prices are lower than in December to February.
June to August – Summertime – it is hot and humid and you can expect frequent rain showers.  It is hurricane season in this part of the world.
September to November – Autumn time – this is still the hurricane season, temperatures have dropped and September has the highest rainfall of the year.
Cancun Restaurants
There are a range of restaurants in Cancun from expensive to budget with all types of different cuisines.
For more information on restaurants in Cancun click here.
Travel Insurance
We highly recommend that you take out travel insurance as soon as you book your flights and pay deposits on tours or accommodation.
Mexico Travel Guide
We have published our first e-book on travel around Mexico you can read it here.
Pinterest
Are you on Pinterest? We are at To Travel Too and we have many travel-related boards check us out at Pinterest.  If you enjoyed our article why not pin it to your board.
Conclusion
Now you know where to stay in Cancun and what to do in Cancun, we hope you enjoy your future Cancun holidays. We have shared with you our recommendations for the best area to stay in Cancun and the best hotels in Cancun. Which area will you stay in in Cancun?
Bon voyage!
If you have any questions on accommodation in Cancun or would like some advice on visiting Cancun we would love to hear from you. You can reach us via our Facebook page or email us here.