France has some of the prettiest villages in Europe and we found some of the 8 most charming villages to visit are near Toulouse.  To visit these charming villages you can take day trips from Toulouse France or plan to spend a night or two in the larger towns of Carcassone and Lourdes. Whatever you decide to do, you will not be disappointed.  This region is one of the most beautiful in France.
(Updated for 2023)
You will visit some of the best places in the Pyrenees along the way.  There are many medieval French villages that you will come across as you venture out in the countryside. Make sure you take your camera with you!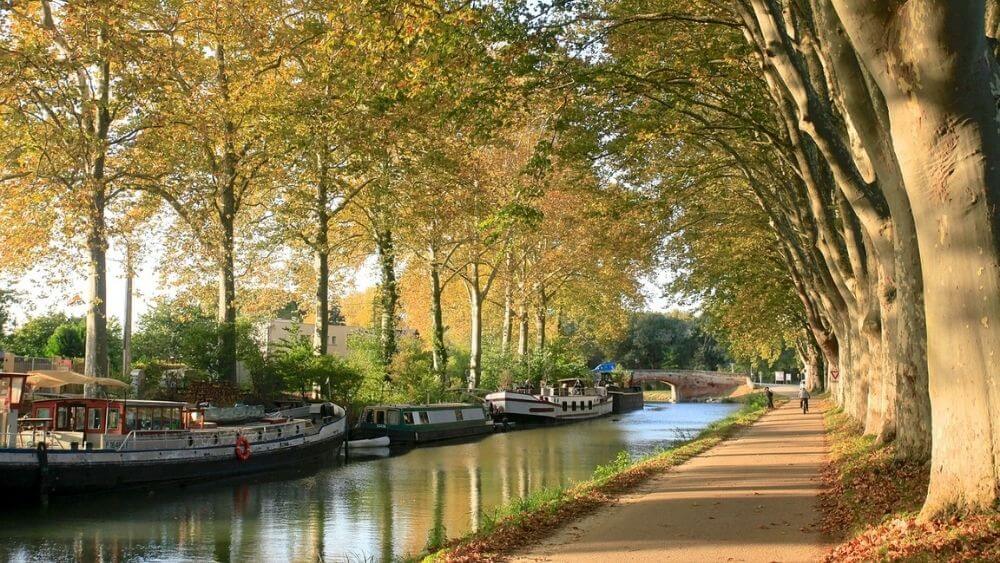 Our guide covers the 8 charming villages that are located near Toulouse:
Toulouse (midi-pyrenees capital)
Mauvezin
Cologne (France not Germany)
Encausse
L'isle Jourdain
Lareole
Lourdes
Carcassone
Do you love France as much as we do?
When someone mentions France to you what images first come to mind? For us, it is the French cuisine, Champagne and Rose wine, hot summer days in the countryside sailing down the canals, smiling sunflower fields as far as the eye can see, quaint sleepy villages, and the most aromatic markets in Europe.
We ticked off all of these images on our time spent in the Midi-Pyrenees.  To say it is a spectacular destination of France is an understatement.
The Midi-Pyrenees attractions that the region is famous for:
the famous Pyrenees Mountain Range
Canal du Midi
Niaux and Peche-Merle Caves
picturesque villages
medieval fortified towns
hiking trails
snowfields
Castles
Aqueducts
Museums
Festivals
Markets
Local cuisine
Wines and Armagnac
With so much to offer the Midi-Pyrenees is a perfect destination for summer or winter. You can spend your day sightseeing, biking, hiking, or skiing and then in the evening relax over a glass or two of local wine and enjoy the seasonal delights of the local cuisine.
This post may contain affiliate links. Please see our disclosure for more information. As an Amazon Associate, we earn from qualifying purchases (if applicable).
Is it Safe to Travel to France and the Midi-Pyrenees?
Over the past years, one of the most often asked questions travellers have been asking is whether France is safe to travel to these days.
In 2018 89 million tourists visited France.  Yes, 89 million compared to 85 million back in 2013.  It does seem that the recent terrorist attacks have not deterred the traveller. During Covid numbers dropped dramatically but as of 2022 travellers are slowly returning back to enjoy the delights of France.
With COVID 19  we recommend that you check with your own country's government for their latest updates on the safety of travelling in France.
Since 2013 we have stayed in Paris twice at our favourite hotel near the Louvre, sailed down the Canal du Lateral, enjoyed 1 week sipping champagne in the Champagne region on a self-drive itinerary, spent time in Nice, Grasse,  Cannes and Marseille and spent 3 weeks in the Midi-Pyrenees.  Like those millions of travellers before us we were not put off by the terror threats or attacks.
Where is the Midi-Pyrenees
Midi-Pyrenees Map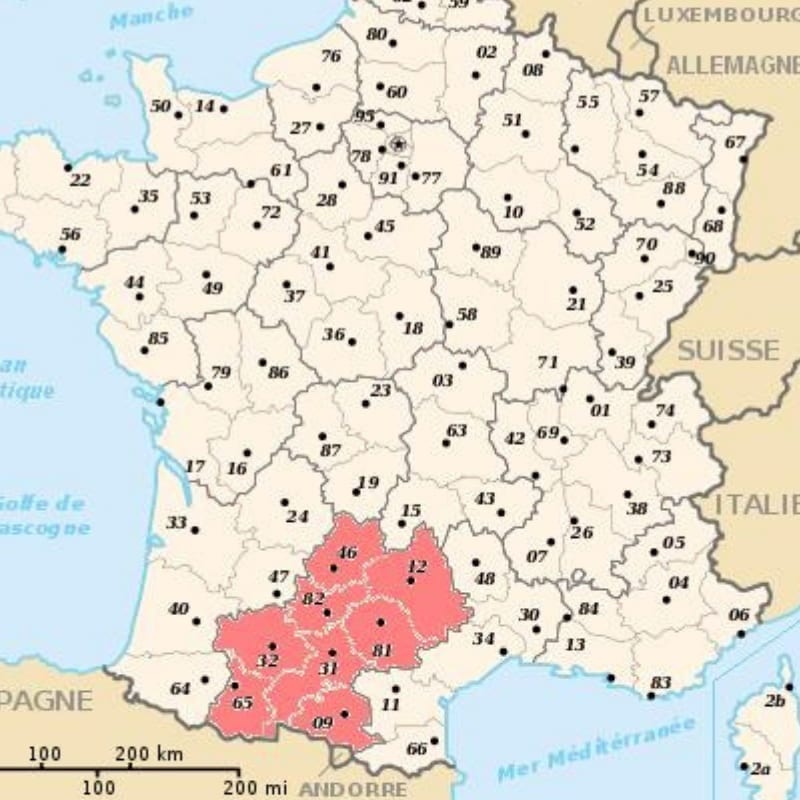 The Midi-Pyrenees lies in the South West region of France between the Mediterranean Sea and the Atlantic Ocean.  It is the largest region of France with Toulouse being its Capital. Toulouse is located in the Haute-Garonne department.
There are 8 departments of Midi-Pyrenees.  France is divided into regions first then departments.  The 8 departments of the Midi-Pyrenees are:
Ariege
Aveyron
Haute-Garonne
Gers
Lot
Haute-Pyrenees
Tarn
Tarn-et-Garonne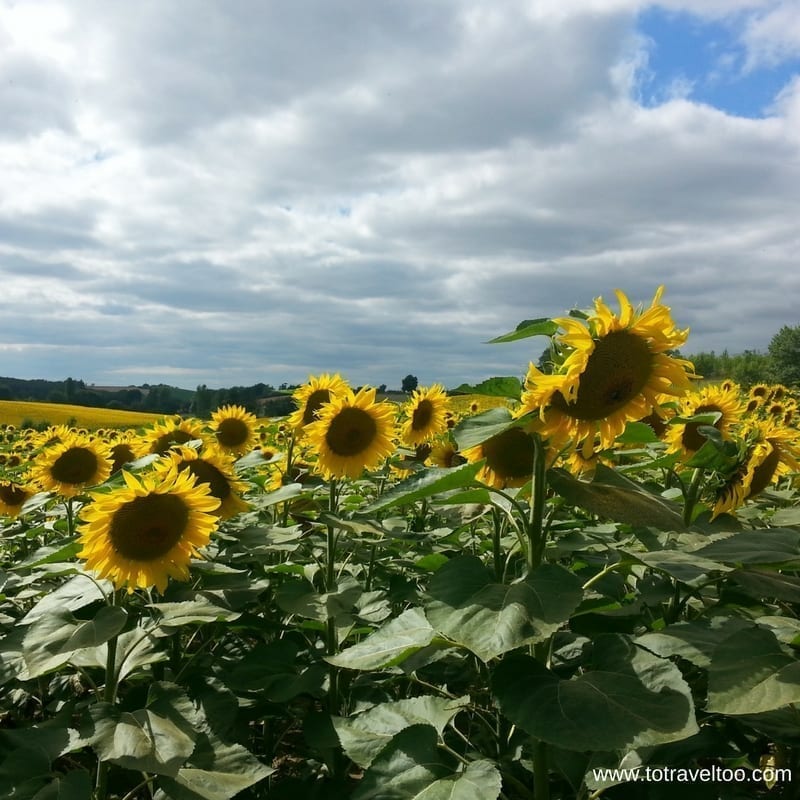 Midi-Pyrenees Facts
It has the largest number of farms in all of France numbering approximately 60,000
The region is larger than Belgium or Switzerland
The highest mountain is 3,000 metres and there are 38 ski resorts
The Canal du Midi runs for 149 miles through the region with 63 locks
The town of Lourdes lies in the region.  It is the #2 visited site in France outside Paris.  It is a famous religious pilgrimage where the Virgin Mary appeared to a peasant girl in 1858.
The major aircraft corporation Airbus has its global headquarters there
The first flight of the Airbus A380 took place over Toulouse
It is famous for Foie Gras, Black Truffles, Roquefort Cheese and Cassoulet – the meat and bean casserole
It contains the Gaillac Vineyard which is one of the oldest in France and is famous for its white wine
It also contains the most famous Vineyard – Armagnac which is well known for its French Brandy
Frequently Asked Questions about Visiting France
What currency does France use?
France uses the Euro. Notes come in 500, 200, 100, 50, 20, 10, 5 and Coins 2, 1, 50 cents, 10 cents, 5 cents, 2 cents, 1 cent.
Are there ATMs throughout France?
ATMs: In France ATMs are called 'distributeur'.  We would recommend only using ATMs that have a camera if it is an outside machine or otherwise during the week use the ATMs located within the bank building.
If you are travelling through the countryside and visiting small villages we would recommend that you have some Euros with you as Banks and ATMs may be limited. There will be a fee to withdraw cash from your cards – we would recommend that you source the banks where you are travelling to and find out the cost of cash withdrawals from their ATMs.
What is the language of France?
French is the official language, in the Midi-Pyrenees Catalan dialects are spoken.  You will find most French people in the tourism industry speaks English but in Paris and regions you will need to know some French language basics.
What is the electrical current in France?
The standard voltage is 230V.  You will need to purchase a travel adaptor.
What are the top tips for Driving in France?
 In France, you drive on the right
 Most rental cars are manual.
 You will see speed limit signs on the major motorways.  When you arrive in a small town or village as soon as you pass the Town's Name the speed limit is 50km.
 In villages and towns, you need to give way to the right when vehicles are coming out of side roads.
 If you are going to drive on toll roads check with the car rental firm about payment.
With effect from 1st July 2018, the speed limit on A and B roads has been reduced to 80km.
 Ensure that you know the regulations about drink driving.  If you have held your license for less than 3 years the limit is 0.2 grams per litre and over 3 years it is 0.5 grams per litre.
 You can obtain an international drivers license

here

in minutes.
The best way to see Toulouse and its charming villages is to hire a car. We recommend Rental Cars which are best value with a range of vehicles to suit all types of travellers.
When is the best time to visit the Midi-Pyrenees?
The summer months between June and August are the busiest times to visit the Midi-Pyrenees.  During this period accommodation costs will be higher than the rest of the year except for Christmas and Easter.
Summer temperatures can be very high and winter temperatures can be very low with snow on the Mountain Ranges.  The Midi-Pyrenees' weather is influenced by the Massif Central Mountains to the North and the Pyrenees to the South. The first snow is expected around October.
The Spring and Autumn months are ideal for travellers.
Best Places To Visit in the Midi – Pyrenees
Visit the most beautiful villages near Toulouse, here are our 8 including Toulouse:
Toulouse
Toulouse, the capital of the Midi-Pyrenees is also known as "La Ville Rose" or the "Pink City" named because of the colour of the terracotta bricks used in many of its buildings.
Toulouse is an ideal location in South Western France being only 1 hour from the Atlantic Ocean and 1 hour from the Mediterranean Sea.  Those who enjoy winter sports will be pleased to know that there are 47 ski resorts within a 3 hours drive from Toulouse.
If you have had a French dish called 'cassoulet' a bean and meat stew, this classic French dish originated in Toulouse.
Toulouse has 2 UNESCO World Heritage Sites – the Canal du Midi and the Basilica of St Sernin.
One of the top tourist attractions in Toulouse is the Capitole du Toulouse. It dates back to the 12th Century and houses the City Hall and the 1,256 seat Theatre Du Capitole. It is free to visit.
Top Things to Do in Toulouse
Toulouse Private Guided Walking Tour
Discover Toulouse on a 2-hour private walking tour. Learn about the history of the city and see some of its most famous landmarks.
Check here for the latest availability and prices
Toulouse 72 Hour Card
Explore Toulouse at your own pace with a city card, and enjoy free entrance to museums along with discounts at dozens of participating partners. The city card is valid for 72 hours from first use.
Day Tour from Toulouse to Carcassonne and Albi
Enjoy a sightseeing tour of the best of the Carcassonne region. After getting picked up from your hotel in Toulouse, enjoy a scenic 45-minute drive to the medieval fortified city of Carcassone.
Here, stroll around the city's cobblestone streets and centuries-old buildings. Learn more about its history, and how the city was once a stronghold of the Cathars. You will have 2 hours of free time in Carcassonne, during which you can visit the museum where you will be transported to an era of Crusaders, Pilgrims, and Templar knights.
Afterwards, continue to Lastours. Here, enjoy a walk to the Belvedere Montfermier, where you can admire panoramic views of the surrounding area and its many castles. Finish your tour in Albi, aka the Red City. Here, pay a visit to the imposing Saint-Cécile Cathedral and the Toulouse-Lautrec Museum, where you can admire works by local painter Henri de Toulouse-Lautrec. At the end of your tour, get dropped off back at your hotel in Toulouse.
Check availability here
Best Hotels in Toulouse
You can choose from luxury hotels or smaller 1 and 2-star budget hotels. We would recommend staying close to the city centre of Toulouse.  It is a very walkable city and you will be in close proximity to Toulouse's two famous bridges – Pont-Neuf and Pont Saint-Pierre.  The major boulevards – Boulevard de Strasbourg, Boulevard d'arcole and Rue de Metz are also close by.
For shopping, the following streets are where you should head to:
Rue d'Alsace-Lorraine,
Rue Saint-Rome,
Rue Pargaminières,
Place du Capitole,
Rue des Lois,
Rue du Taur,
Some of the most popular hotels in Toulouse's city centre are:
Address: 7 Place du Capitole, Capitole Toulouse
The Crown Plaza is close to Toulouse's main retail and shopping areas.  The terrace is popular for sun-worshippers or those who want to enjoy a glass or two of the local wines.  French cuisine can be enjoyed at the hotel's restaurant.
Latest guest review "The location was perfect. Right in the central square. Lots of nice bars and restaurants just outside. Lovely room, big comfortable bed. Lovely bathroom. Very clean and modern"
Check availability here
Address: 8-10 Rue Romiguieres, Capitole, Toulouse
Restaurants, cafes and nightclubs can be found located close by the Le Grand Balcon.  The major shopping streets are just minutes away.
Latest Guest Review "Friendly and relaxed staff focused on making you feel a valued person and not just another customer. The bed was excellent with good quality linens. Quality and taste of the food at breakfast."
Check availability here
Address: 1 Place du Capitole, Capitole, Toulouse
A 4-star hotel located close to the major tourist attractions of Toulouse.  The hotel offers a sauna and a Turkish Steam bath perfect after a day of sightseeing.
This hotel is located in central Toulouse, 100 m from the Capitole Metro station. It has a flowered courtyard and free WiFi is available throughout.
The Grand Hotel de l'Opera offers air-conditioned rooms with classic décor and is equipped with free WiFi, satellite TV and a private bathroom. Some rooms also have a seating area.
Latest Guest Review "The hotel was in a very good location, very convenient to restaurants, sights etc etc. The staff were very helpful and welcoming."
Check availability here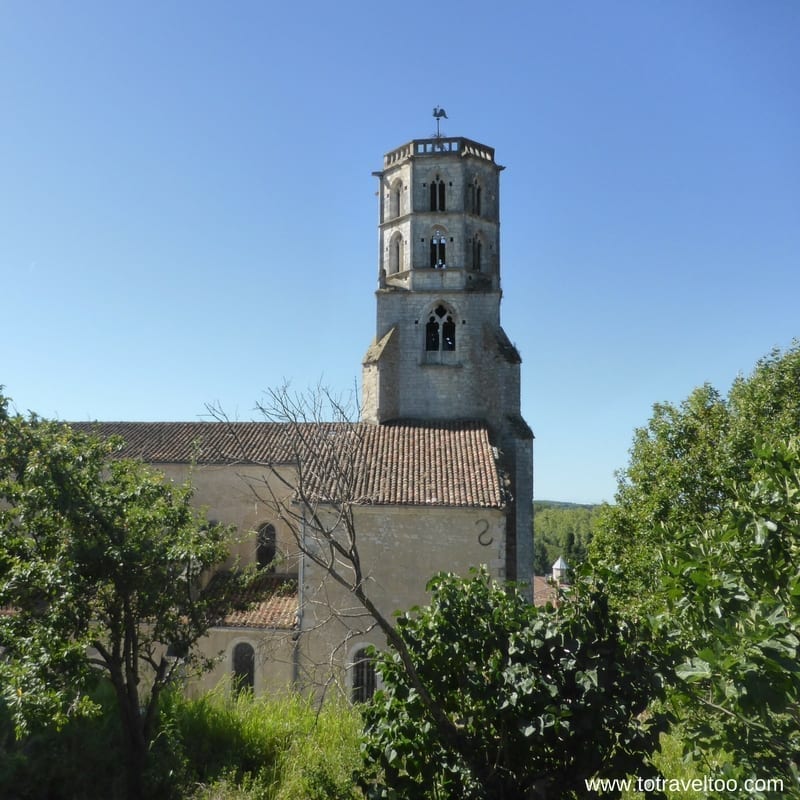 We came across Mauvezin by accident as our Boulangerie closed for two weeks holiday in the small town of Cologne near to where we were housesitting. It was a Monday morning and we were craving soft flakey pain au chocolat. We found a Boulangerie in a side street, full of locals buying baguettes, cakes and of course croissants. BTW the pain au chocolat did not disappoint.
Liberation Square with its beautiful stone archways dates back to the 16th century and is the heart of Mauvezin.  We were lucky to arrive on Market Day to see the locals haggling with the stallholders over the prices of the fruit and vegetables in season.  A lot of laughter took place, strange facial expressions and hand gestures from both sides giving us an impromptu theatrical play of which we seemed to be a part of.
As we wandered around the town we came across the Gothic Saint Michael's Church and the Bell Tower which dates back to the 13th century and rebuilt in 1829.
Driving Distance from Toulouse: 55 minutes
Cologne (named after Cologne in Germany)  was founded in 1284.  Located in the middle of the town is the medieval market hall which dates back to the 14th century and it was the venue for fairs and weekly markets.  The Belfry Bell at the top dates back to 1607.
If you are in Cologne pop into the Tourism Office and say that we sent you.  They have lots of good information on what to see in and around the area. Enjoy the local pan au chocolat from the Boulangerie.
Driving Distance from Toulouse: 46 minutes
Encausse
There was not much to see or do in our little village that we stayed in. Encausse had a small church that dated back to 1759.  The only sign of life was a local gentleman who must have been in his 80's who sat outside his home on a white plastic chair – the highlight of his day was having a neighbour drive past and wave to him.
Our walks with the dogs that we were caring for took us past fields of smiling bright yellow sunflowers and a small church.  We saw quite a few foxes and deer as we walked the lanes running beside farmer's fields.
Driving Distance from Toulouse: 43 minutes
L'isle Jourdain is one of the biggest towns we visited outside of Toulouse.  There is a direct train service that takes about 45 minutes.  It is a medieval city and like all the villages that we visited the main square is the hub.
Every Saturday the streets are closed around the Square and the Saturday market takes place.  Apart from fruit and vegetable stalls, you can find local wines, cheeses, meats, artisan bread and clothing as well as household items.  It can be quite difficult to park.
The 14th-century tower of the Collegiate St Martin dominates the skyline.  It was rebuilt in the neoclassical style in 1785 as it was destroyed during the religious wars.
Driving Distance from Toulouse: 33 minutes
Where to stay in L'isle Jourdain
As you drive through the very small village of Lareole, you cannot miss the grand Chateau de Lareole.  A Chateau built in the Renaissance style, using bricks alternating with local stone, started construction in 1579 and was finished 3 years later.   The large quadrangle building with 4 towers was commissioned by a highly successful pastel merchant from Toulouse – Pierre de Cheverry.
Today you can visit free of charge, enjoy a meal or a coffee at the small Cafe, wander through the gift shop and enjoy various exhibitions throughout the year.
Driving Distance from Toulouse: 50 minutes
Lourdes
Lourdes has the most hotel rooms outside of Paris.  It is one of the most important pilgrimage sites in France with on average 6 million visitors per year. The legend of Lourdes is that the Virgin Mary appeared to Bernadette Soubirous, a peasant girl,  18 times during 1858.  Since that year miraculous cures have known to have taken place in Lourdes.
Where to stay in Lourdes:
Carcassonne
Over 4 million visitors visit the fortified city of Carcassonne each year.  The UNESCO World Heritage Site looks like something out of Disneyland.  Can you imagine a whole city that is a castle and the new town is located below it?
Good to know: If you visit in Summer you must expect the crowds we would recommend saving your visit time to Spring or Autumn.
Things to do in Carcassonne
Where to stay in Carcassonne
Getting In Toulouse
Toulouse-Blagnac International Airport is located 8km out of Toulouse.
The Toulouse-Matabiau SCNF Train Station is located a 10 minute walk from the Place du Capitol – the heart of Toulouse.
The average train time from Paris to Toulouse is 5 hours.
The average train time from Toulouse to Barcelona is 4 hours 20 minutes.
Flight Deals to Toulouse
Check flight schedules from your departure point here
Bus Schedules and Ticket Prices
Check bus schedules here from your departure point
More French Articles You May Like
Sailing the Canal de Lateral on Le Boat
How to Spend Two Days in Strasbourg
Driving The Champagne Route of France
Pinterest
Are you on Pinterest? We are at To Travel Too and we have many travel-related boards check us out at Pinterest.  If you enjoyed our article why not pin it to your board so that you can read at a later date.
Conclusion
We hope you have enjoyed our travels around Toulouse.
If you have any questions or would like some advice we would love to hear from you. You can reach us via our Facebook page or email us here.
Need new travel luggage or holiday reading for your trip? Check out our To Travel Too Travel Shop for the latest in travel gear.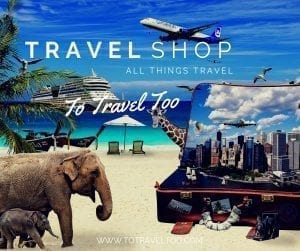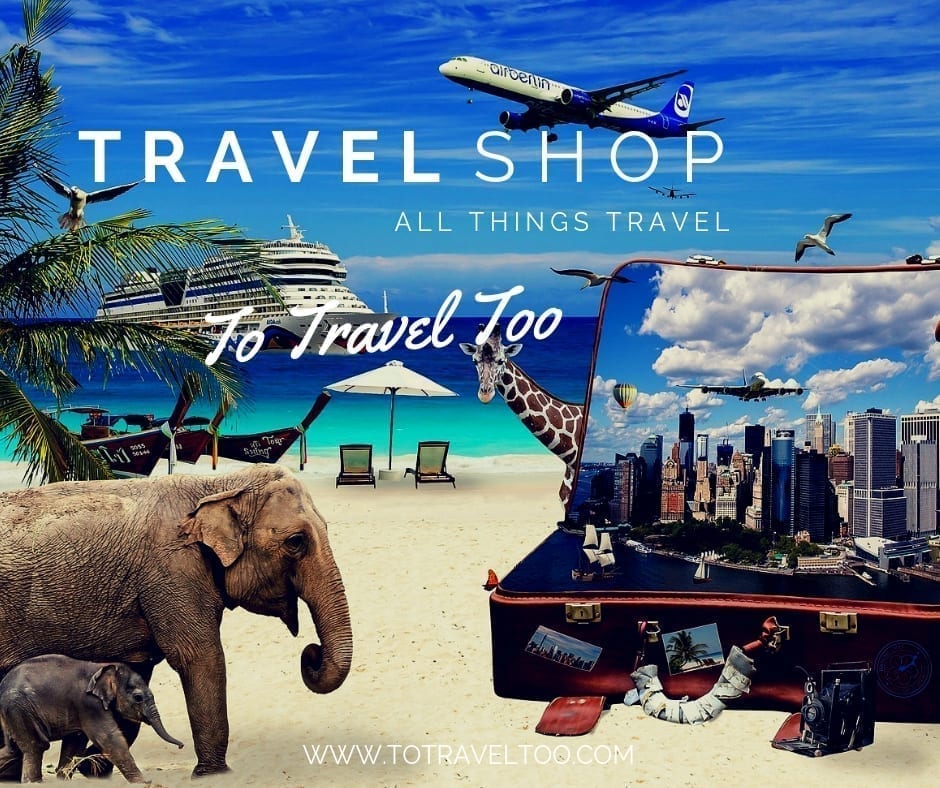 Travel Insurance
We always recommend taking out travel insurance.  The best time is when you book flights and hotels and pay deposits for cruises and tours.