"There is nothing better than an open view to keep an open mind"
Quote from Pullman Danang Beach Resort about their Infinity Bar view! We totally agree! For your top luxury escape in Vietnam it does not get any better than this! We hope you enjoy our hotel review of the Pullman Danang Beach Resort and plan your next adventure in Danang staying here,
An oasis of lush tropical gardens, welcoming sea breezes, and an infinity bar and pool that reaches as far as your eyes can see greets you when you arrive at your top luxury escape in Vietnam – the Pullman Danang Beach Resort.  As your gaze takes you closer you can see the shimmering silvery white sands of Da Nang's famous My An Beach.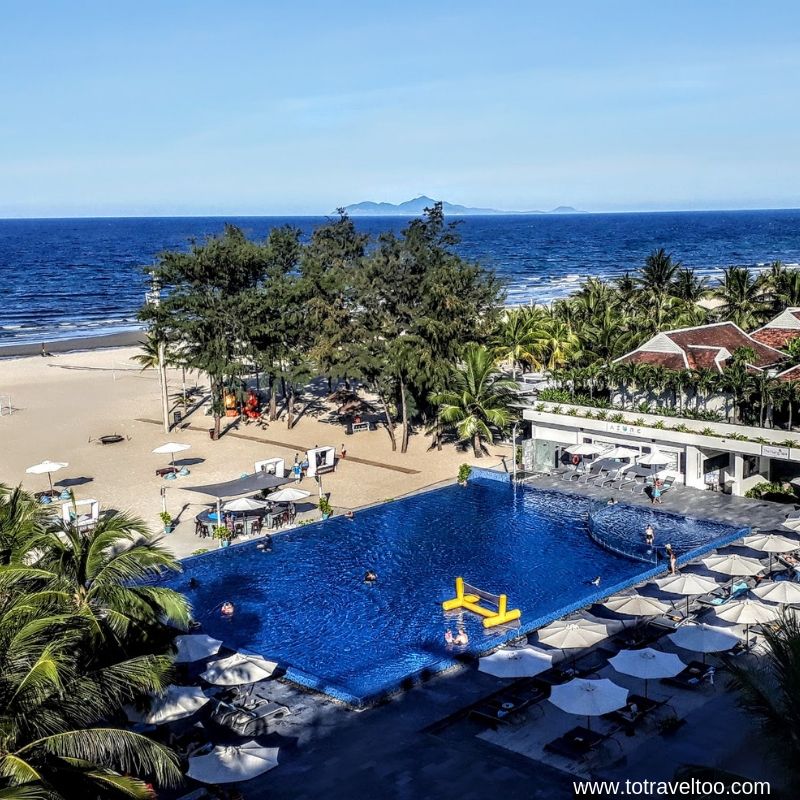 The Pullman Danang Beach Resort has the enviable location of all the resorts on My An Beach boasting the widest part of the 25km stretch of beach from the edge of the Son Tra Peninsula all the way to Hoi An.  Here you can luxuriate under your own private beach cabana or just relax by the pool.  A jug of cold water mysteriously appears by your side as you drift in and out of sleepiness in your private beach cabana.  Can it get any better than this?
Whether you are on a family or couples vacation, a luxury getaway on your own, your wedding, honeymoon or a corporate event the Pullman Danang Resort caters for all your wants and desires.  Unfortunately, you will have to leave this paradise someday, that will be the hardest decision you will make.  The second hardest decision will be which spa treatment you will spoil yourself with and the third – which cocktail you will delight in at sunset from either the Infinity Bar or the Azure Beach Club Bar.
Check availability here
Planning a trip to Vietnam read our ultimate travel guide here
You Can Read Our article on Vietnam: Best Vietnamese Restaurant Guide
Join our Facebook Group – Vietnam Travel Planning.  We created our group to assist you in planning your vacation to Vietnam. Ask our community any questions you may have. We will share the latest news, articles, tips and tricks on all things Vietnam.

This post may contain affiliate links. Please see our disclosure for more information. As an Amazon Associate, we earn from qualifying purchases (if applicable).
(Updated 2023
Check Out Our YouTube Video: A Day At the Pullman Danang Beach Resort in Da Nang Vietnam – Your Luxury Escape Vietnam
We were guests of the Pullman Danang Beach Resort for 2 nights, as always our opinions are our own.
Accommodation at the Pullman Danang Beach Resort
For your luxury escape in Vietnam indulge yourself in luxurious accommodation at the Pullman Danang Beach Resort, whether you reserve the rooms, suites or cottages your experience will be memorable and you will want to return as quickly as you can.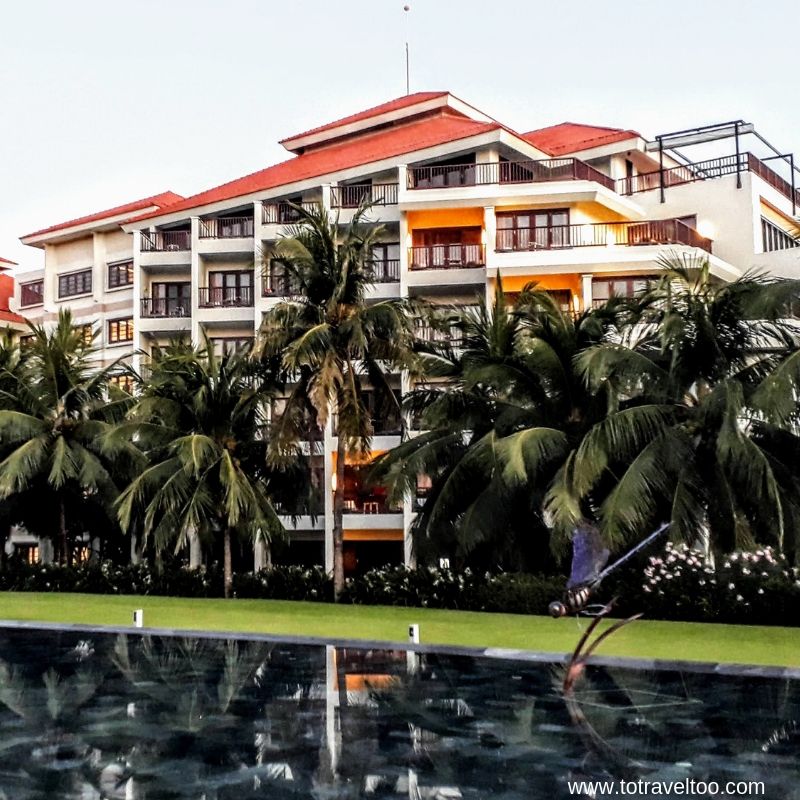 There are two wings available on the left-hand side of the Resort as you look towards the ocean – Wing A and Wing B boasting either garden views, sea views or bay views:
67 Superior Rooms
71 Deluxe Rooms
20 Deluxe Bay Rooms
9 Junior Suites
4 Family Suites
4 Penthouse Suites located on the 6th floor
The rooms and suites have all been tastefully decorated with soothing colours to enhance that overall relaxation vibe.  Wooden floors and balcony doors coupled with the unique wall designs create that feeling of luxury.   Just what you need after the hectic lifestyle we all live these days. That is what a vacation is all about. Indulge yourself in a warm bath using the sensuous C.O. Bigelow toiletries that are replenished daily or just read a book and admire the views out to Cham Island.
Both wings were recently refurbished in 2018. They reflect:
modernity
the fine lines of Japanese interior design
minimalistic furniture
ceramic features inspired by Vietnamese motifs
After a full day of sightseeing, lying by the pool or spa treatments the Queen Size bed and the luxurious linen sheets will ensure the best nights sleep you have had in a long while.
On the right-hand side of the resort amongst manicured lawns and pools littered with lotus flowers and dragonflies are 10 one-bedroom cottages and 1 two-bedroom cottage.
Our 2-night stay at the Pullman Danang Beach Resort was in a one-bedroom cottage.  We gasped with delight as we were guided through the heavy wooden front door which opened into a haven of tranquillity.  An open lounge/sitting area greeted us with stunning views over the lush tropical gardens with views out to the pool and beach beyond.  Wooden finishes gave the area a warm touch of luxury.
Our YouTube Video on our stay in Pullman Danang's Beach Resort One Bedroom Cottage our Luxury Escape in Vietnam
As we opened the door into the bedroom another 'gasp' as we viewed the King Size bed with luxurious white linen and memory foam pillows.   As we stepped into the oversized bathroom we spotted a large natural stone bathtub, complete with an array of C.O. Bigelow toiletries.  An outside shower amidst the tropical garden created a 'Balinese effect' – which we could not wait to try.
It was going to be difficult to leave such luxury surroundings.
Our Experiences at the Pullman Danang Beach Resort – A Luxury Escape in Vietnam
Arrival at Danang Airport
Pullman Danang Beach Resort offer transfers from Danang International Airport to the hotel.
As you arrive at Arrivals look for your transfer as you exit customs.  We were greeted with a cold aromatic towel and a bottle of water for our 15-minute drive to the Hotel.  On the way, our driver pointed out points of interest in Da Nang.
Check-In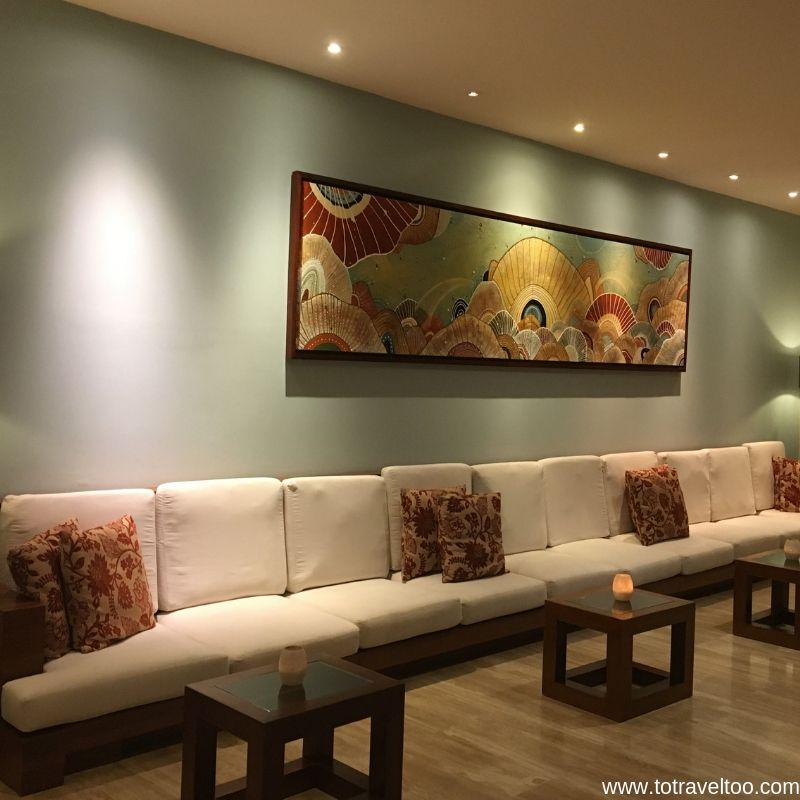 Our check-in was completed whilst sitting at the exquisite Infinity Bar.  We were greeted with another cold aromatic towel and a refreshing drink. Our cottage was not quite ready so we relaxed and soaked up the atmosphere and the views.
Food & Beverage 
Infinity Bar
A calming area to enjoy a coffee in the morning, a light lunch, evening cocktail or dinner.
There is Happy Hour daily from 4.00 pm to 6.00 pm and you can also order from the menu a range of western and local cuisine.
On our last day, we lingered over a chilled bottle of white wine, fish and chips and burgers not wanting to leave this 'zen-inspired' Infinity bar.
Opening Hours: 08.00 am to late
Restaurant Epice
Restaurant Epice is the signature restaurant at the Pullman Danang Beach Resort.
It is opened daily from 06.30 am to 10.00 pm offering an extensive Buffet Breakfast, lunch and dinner. If you are interested in taking a cooking class from  Pullman's Chef Tan the class will be held here.
Pullman Danang pride themselves on "showcasing revolutionary food concepts that fuse urban style with 5-star finesse".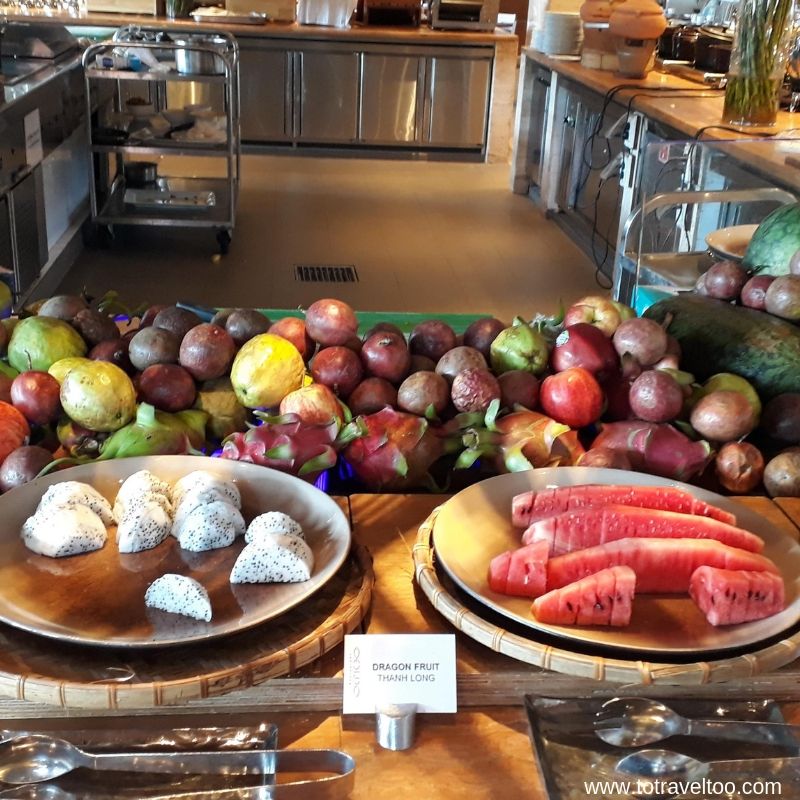 Their Buffet Breakfast highlights the best of the region's culinary delights and we were pleased to see the Pullman Wellness Theme that we first witnessed at the Pullman Bangkok King Power Hotel in Thailand here as well, a feature of Pullman Hotels in general. We also enjoyed the Wellness Breakfasts in Hanoi and Ho Chi Minh City.
A breakfast station totally developed to health and well-being where they offer combinations of 100% fresh juice created for detox, vitality and wellness.
There is so much choice at breakfast from:
Western-style breakfast including eggs, bacon and hashbrowns
Vietnamese style breakfast
Cereals and pastries
Egg Station where you can have your eggs prepared exactly the way you like them
Fruits and yoghurts
European style breakfasts with cold meats etc
Any style of coffee that you desire including the local Vietnamese coffee
Pro-Tip
If you are dining in the Epice Restaurant and you have young children with you there is a special play area at the rear of the restaurant for the children to play in so that you can linger longer over your meals.
Hours:
Breakfast 0630 – 1030
Lunch 1200 – 1400
Dinner 1800 – 2200
Azure Beach Club – our first night's choice of dinner venue
For our first night at the Pullman Danang Beach Resort, we chose to dine outside at the Azure Beach Club.  The evening was balmy and it was enjoyable relaxing under the stars on the edge of the beach. You can dine inside with seating available for 60 people or you can dine alfresco with or without shoes.
A signature dish – Seabass cooked on Hot Stones was thoroughly enjoyed by Duncan.  It is prepared with a  green sauce, salt, pepper, lime juice all blended presented on a banana leaf and cooked for 10 minutes in Vietnamese rice wine.  A simple dish full of flavour.
Every Sunday there is a Beach BBQ Buffet where you can enjoy fresh seafood, a range of meats and they even have themed BBQ's such as Mexican and Indian. Watch out for the Bubbles, Beats and Brunch on the first Sunday of the month – reservations recommended! Check out their Pullman Life Magazine for upcoming themed BBQ's.
We dare you to leave without trying first their Liquid Nitrogen Ice Cream.
Check out our YouTube video on the special preparation:
Opening Hours: 10.00 am – 10.00 pm
Activities We Enjoyed
The Nang Spa 
The Nang Spa is located near the beach, pool and gym.
There is an extensive choice of treatments available from:
Swedish massage
Hot stone massage
Pre-natal massage
Thai massage
Foot massage
Children's massage aged between 4 and 12 years
6 types of body scrubs
Facials
Manicures
90-minute Signature treatments – romantic Rendez-vous massages for couples as well as Body and Soul and Relax and Beauty packages.
Duncan enjoyed the Harmony of Energy 90 minute massage that is inspired by ancient massage rituals to relax and revitalise the body. 7 different holistic massage treatments are used in the 90 minutes that open the energy channels in the body, stimulates the muscle and nerve endings to ease tension, release stress and improve flexibility.
Jane enjoyed the Aromatic Bliss Massage which combines the power of 3 massage oil blends with massage practices from the East and West.
We floated out of the Spa, completely relaxed and feeling rejuvenated.
Early Morning Tai Chi Class
A great way to start the day is an early morning Tai Chi Class on the beach near the Azure Lounge.  Tai Chi is a series of movements that are performed in a slow movement whilst concentrating on your breathing.  When the Masters perform it looks easy, but it is definitely not as easy as it looks.  Our class was definitely a workout!
Market Tour
Pullman Danang can organise a private tour for you to the local Han Market that has been around since the French Occupation in the 1940s.  It is located near the Han River on Tran Phu Street, Bach Dang Street, Hung Vuong Street and Tran Hung Dao Street. The market is open daily at 6.00am and closes at 7.00 pm. It is only a 12-minute drive from the Hotel.
Chef Tan accompanied us on our Market Tour explaining as we wandered around what the vegetables and fruits were and what they were used for in local cooking. In the market, we saw fresh fish and seafood e.g. Mackerel (200gm local price about VND50,000 or USD2.20), Groper, Prawns and more.  Da Nang is famous for its seafood. Apart from fresh vegetables, fruit, meat, spices and rice, the market sells household goods, handicrafts and souvenirs.  There are food stalls and local Vietnamese coffee stalls as well.
We found the Da Nang people in the market and elsewhere very warm and friendly. We loved their giggles and their invitations to come and look at their produce, not in a hard-sell way, but a gentle way.  They were curious about us as much as we were curious about them and what they had to offer.
We would highly recommend a visit to the Han Market.
Cooking Class
The Cooking class was a fun and informative way to enjoy learning the basics of Vietnamese cuisine. Chef Tan was very patient with us, especially when trying to roll the fresh spring rolls.
In a couple of hours we learnt how to make:
Fried spring rolls
Fresh spring rolls
Pork "nem liu' skewers
Beef barbequed in pepper leaf
Pancake "Banh Xeo"
various dipping sauces
We cooked so much food (and sampled the dishes along the way) that Chef kept the dishes for our meal later on in the evening at the Epice Restaurant.
Have we convinced you to take your luxury escape in Vietnam at the Pullman Danang Beach Resort yet?
General Information on the Facilities of the Pullman Danang Beach Resort
For Reservation Bookings: 

Getting In
Danang is an easy destination to travel to from many Asian cities:
For the latest airfare deals to Danang click here.
Air Asia, the budget carrier, has flights into Danang as well as Hanoi, Ho Chi Minh City and Nha Trang, from major Asian cities.
Electricity in Vietnam: 
Electricity: 220 volts
Conference Facilities
We believe that the Pullman Danang Beach Resort is perfect for your next conference, team building events or meeting.
The Grand Lotus Ballroom seats 650 and can also create 3 separate meeting areas
They specialise in theme events e.g. masquerade balls
Outdoor and indoor venues for up to 1,000 attendees
8 meeting rooms – the smallest accommodating 48 people
latest AV equipment
Epice Restaurant offers 2 private dining areas for up to 20 guests each
Cocktail parties on the 6th floor with its expansive views over the bay and Son Tra Peninsula
Team building activities on the beach
Weddings
The resort is popular for weddings and exchanging of vows. The Pullman Hotel has a dedicated events team that can organise a wedding from start to finish.
Swimming Pool
Enjoy your day lazing by the swimming pool at the Pullman Danang Beach Resort whilst enjoying a drink or two from the bar.
Private Beach
The hotel is located on the large expansive beach in the gentle bay of Da Nang. To the left is the Son Tra Peninsula and you will see a white Pagoda on the headland.  To the right, 15 km away is the popular town of Hoi An.
Life Guards are present daily and there is a range of water sports available.
PRO TIP – Sunrise
We highly recommend getting up early for the spectacular sunrises.  During June Sunrise is around 4.30.  Check with the hotel staff on arrival.
Leisure Activities – Daily Programme
0700 – 0800 Tai Chi Class on the beach
0800 – 0900 – Falun Dafa Class
0900 – 1000 – VolleyBall
1000 – 1100 – Kayak Tour
1100-1200 – Surfing Lesson or Stand Up Paddle Board
1330 – 1430 – Banana Boat
1430 – 1530 – Football
1530 – 1630 – Swimming on the beach with the recreation team
Other activities include:
Badminton
Kite Flying
Petanque
Jet skiing
Windsurfing
Ocean Kayaking
Body Boarding
Basketball
Tennis
The Dragonflies of the Pullman Danang Beach Resort
Dragonflies are auspicious in Asia. After wandering through the gardens with the team from the Pullman Hotel we wanted to find out more about the Asian DragonFly.
Quote from Dragonfly-site.com 
"The dragonfly, in almost every part of the world symbolizes change and change in the perspective of self-realization; and the kind of change that has its source in mental and emotional maturity and the understanding of the deeper meaning of life. The traditional association of Dragonflies with water also gives rise to this meaning to this amazing insect. The Dragonfly's scurrying flight across water represents an act of going beyond what's on the surface and looking into the deeper implications and aspects of life. "
Other Activities Available from the Hotel
Cooking Classes
The Cooking Class is a great way to learn how to cook Vietnamese food and it turned out easier than we thought.  Reservations are required 24 hours at least in advance.
Vietnamese Coffee Making Class
Learn how to make 3 different types of coffee:
Vietnamese drip coffee
Saigon Iced coffee
Egg coffee
Cocktail Making Class
We ran out of time but we would have enjoyed taking a Cocktail Making Class and learning the art and of course, tasting our creations.
Visit the Herb Garden
Just behind the Epice Restaurant is the Hotel's Herb Garden full of aromatic lemongrass, mint, kaffir lime, sweet basil, green mustard and spring onions.
Butterfly Farm
The Pullman Hotel Danang has created the largest free-flying garden for butterflies in Danang and Vietnam.  It's 9,000 square feet enclosure is full of over 3,000 tropical butterflies and moths in its tropical garden location just behind Wing A.
If you can leave your luxury escape in Vietnam we list some of the things to do in Da Nang:
The Linh Ung Pagoda is located at the Peak of the Son Tra Peninsula, it is the largest pagoda in Danang.
Marble Mountain – You can climb to the summit for outstanding views.  Each peak represents one of the 5 elements of the universe – earth, fire, metal, wood and water.
Cham Museum – We spent a leisurely 2 hours wandering through the Cham Museum.  It houses the largest exhibition of Cham sculpture in the world. There are works of art from the 7th to the 15th century.
Dragon Bridge – You can walk across the Dragon Bridge. On Saturday evenings at 9.00 pm fireworks can be seen spitting out of the Dragon's mouths.
Tours Available from the Hotel
Marble Mountains Tour – a morning tour
City Tour –  a morning tour to the Cham Museum, Han Market and Linh Ung Pagoda
Discover Son Tra Peninsula – an afternoon tour visiting the Linh Ung Pagoda, Son Tra Biodiversity Conservation Centre and the opportunity to see the sunset from the top of the Son Tra Mountain
Ba Na Hills – a morning tour that takes the cable car to Ba Na Station.  You can visit the Le Jardin D'amou Flower Garden, Fantasy Amusement Park, Linh Tu Temple, Linh Phang Tu Tower, Campanile, Tru Vu Tea House, Linh Phong Thien Tu Pagoda
My Son Holy Land – a morning tour to the My Son 20 ancient monuments and the opportunity to learn about the Cham people
Hoi Ann Walking Tour – a morning tour visiting the Japanese Covered Bridge Pagoda, Sa Huynh Museum, Phuc Kien Assembly Hall, Central Market and a Silk Worm and Handicraft Shop
Eco Tour – a morning tour cycling through farming areas, taking in a rice paper making class and cooking class
Hoi An Countryside Cycling – a morning tour visiting Kim Bong Carpentry to see how wooden fishing boats are made as well as a visit to Thanh Ha Pottery Workshop
Tra Que Vegetable Village and Fishing Life – a morning tour that includes a Buffalo Cart Ride in Cam Thanh, join the local fishermen in a basket ride through the coconut forest and take a fishing boat to Cua Dai Fishing Village
Snorkelling at Cham Island – a morning tour that includes a boat ride to Cham Island, arrive Long Village and visit the boat shelter, Hai Tong Pagoda, a traditional fishing village and a local market
Hue – a day tour visiting Khai Dinh tomb – these are the royal tombs of the Nguyen Kings built on Feng Shui principles, Hue Citadel and Thien Mu Pagoda
Our Thanks
Our thanks to everyone at the Pullman Danang Beach Resort who looked after us so well.  We can highly recommend the Pullman Danang Beach Resort for any type of stay whether it is for personal or for business.  Every member of the staff are smiling and welcoming and go all the way to make your stay a memorable one.  You have a great team Pullman Danang Beach Resort! Our perfect luxury escape in Vietnam.
Visas for Vietnam
You may need a visa for Vietnam.  Our article shows how easy it is to obtain a visa for Vietnam.
Travelling South East Asia?
We use 12goAsia for all our ferry, bus and rail bookings throughout South East Asia. You can check our the latest schedules and ticket prices here
ATM
There is an ATM available at the hotel to the right of the Infinity Bar.
When will you enjoy your luxury escape in Vietnam at the Pullman Danang Beach Resort?
Further Reading
If you enjoyed our article on a Luxury Escape in Vietnam at the Pullman Danang Beach Resort why not PIN it for later:
We have a Travel Shop with Amazon with over 350+ travel products: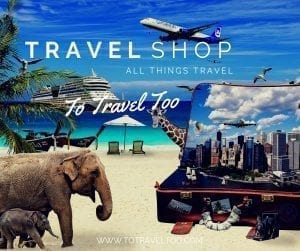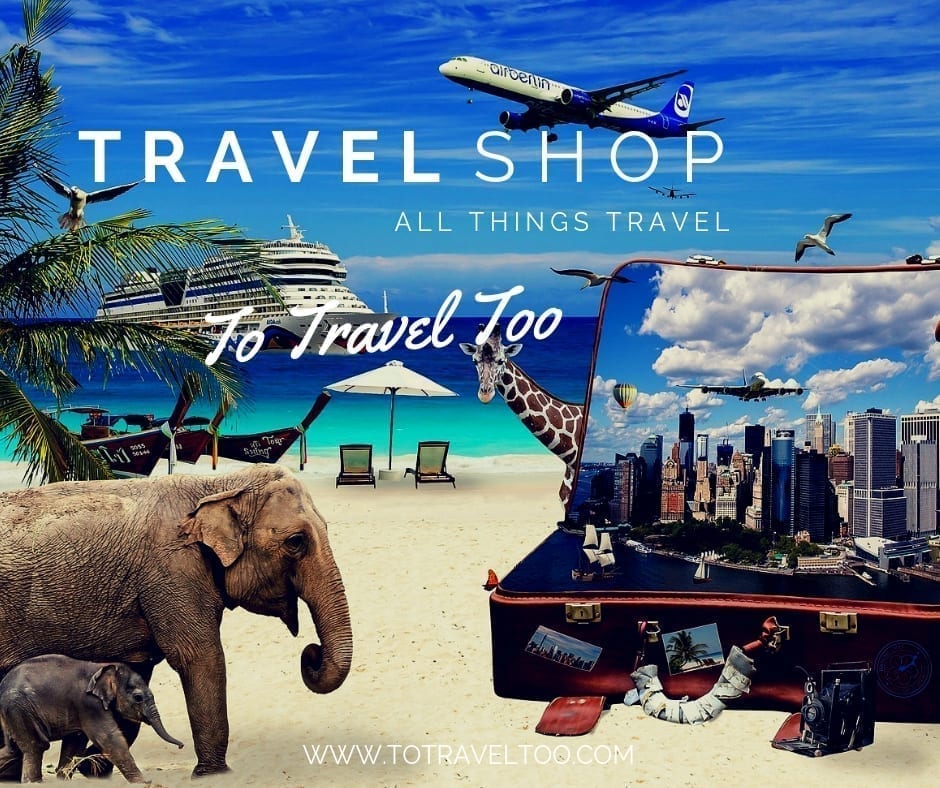 Travel Insurance
We recommend taking out travel insurance when you book and pay for your flights and pay deposits on cruises and tours. We compare two travel insurance companies when we travel.