Vietnam is a country that has captured the imagination of travellers all over the world. From its stunning natural landscapes to its rich cultural heritage, Vietnam offers an unforgettable experience for visitors.
And what better way to explore this fascinating country than by planning a trip from north to south? This route takes you through some of Vietnam's most iconic destinations, allowing you to witness the diversity and beauty of this Southeast Asian gem firsthand.
In this article, we'll guide you through everything you need to know about planning your own Vietnam trip from north to south, including must-see destinations, travel tips, what to wear in Vietnam,   weather,  and more.
You can use our suggested itineraries for:
One week in Northern Vietnam
One week in Central Vietnam
One week in Southern Vietnam
So buckle up and get ready for an adventure!
Looking for nightlife in Vietnam? Which is better Hanoi or Ho Chi Minh City?
If you love hiking you have come to the right South East Asian country – some of the best hikes in Vietnam can be found from the north of Vietnam right through to the South including the central region.
Air Asia, the budget carrier, has flights to Hanoi, Ho Chi Minh City, Danang and Nha Trang, from major Asian cities.
Not sure which airport to fly into?
Vietnam Map
YouTube Videos – We have created 45 Youtube videos covering all of our adventures in Vietnam. Check them out here.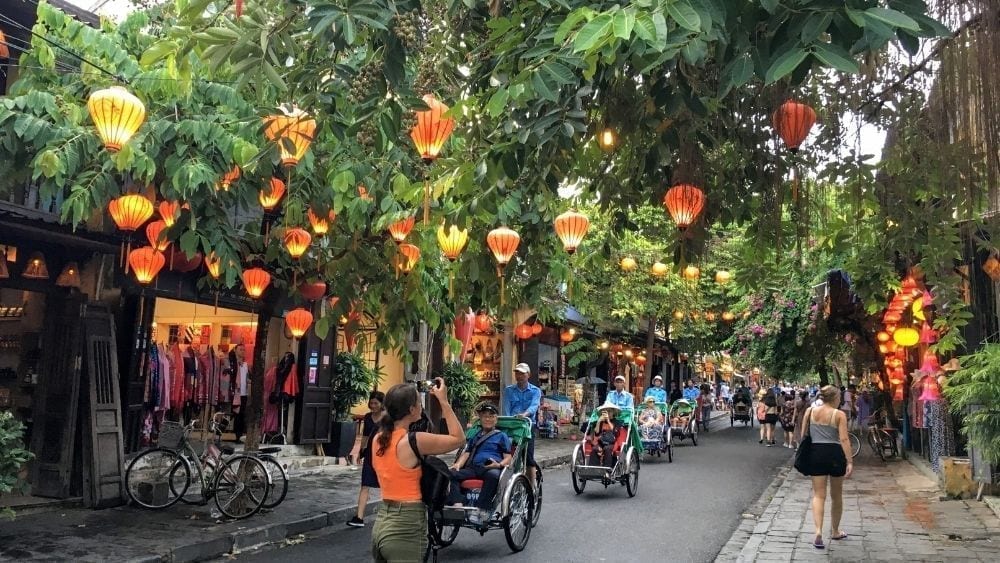 This post may contain affiliate links. Please see our disclosure for more information. As an Amazon Associate, we earn from qualifying purchases (if applicable).
Join our Vietnam Travel Planning Group:


Further Reading to planning your Vietnam Trip
What is the Best Way to Visit Vietnam
Vietnam holidays – where do I start?
This is a regular question we get from our travel community. Should they look at taking Vietnam tours or attempt Vietnam "DIY" travel? Your Vietnam vacation can include both, it depends on how much time you have and whether you like to be organised all the time or just some of the time. Are you comfortable travelling around Vietnam on your own?
Another question we get – Is Vietnam safe? We travelled for 3 months and felt as safe in Vietnam as in any other Asian country.
Lonely Planet Vietnam
Vietnam 3 Weeks North To South Itinerary Overview
Day 1 – 2 Arrival in Hanoi and spend two days exploring the Old Quarter, Hoan Kiem Lake, Temple of Literature, Presidential Palace
Day 3 – 4 Overnight cruise on Halong Bay from Hanoi
Day 5 – 6 Sapa overnight with a trek
Day 7 – 8 Tam Coc in the Ninh Binh Province
Day 9 Fly to Hue or take the day train from Hanoi
Day 10 – Hue's Imperial Citadel
Day 11 – Royal Tombs tour
Day 12 – Sightseeing tour from Hue to Danang via Hai Van Pass
Day 14 – Marble Mountain and Danang
Day 15 – Transfer from Danang to Hoi An
Day 16 – Explore Hoi An Ancient Town, Japanese Bridge, Walking tour of Hoi An
Day 17 – Visit An Bang Beach or Ba Na Hills
Day 18 – Fly to Ho Chi Minh City
Day 19 – Cu Chi Tunnels
Day 20 Mekong Delta
Day 21 Depart Ho Chi Minh City
If you can do Vietnam North To South in 4 weeks or longer:
Add in Mai Chau (140 km from Hanoi) after Sapa or Mu Cang Chai (300 km NW from Hanoi)
Another alternative is Ha Giang Loop from Hanoi – 4-day tour by car.
If you are an experienced motorcycle rider you can do Ha Giang Loop from 3 – 4 days.
Phong Nha is an alternative when visiting Central Vietnam.
For Southern Vietnam, you could consider Nha Trang, Da Lat, Mui Ne or Phu Quoc
Sim Cards in Vietnam
Enjoy the convenient and instantly available eSIM data plans for Vietnam. Choose from a variety of options and activate your eSIM anywhere on your journey in Vietnam.
Our top 15 Most Beautiful Places to Visit in Vietnam will assist you in deciding whether to hit the beaches, the city, the islands or the mountains on your next Vietnam vacation.
Looking to holiday on one of Vietnam's Islands Click Here
Places to Visit in Vietnam
Northern Vietnam
Flying into Hanoi and need an airport transfer to your hotel? Click here for the latest prices
Hanoi
Hanoi is the capital of Vietnam and is located on the west bank of the Red River 140 km from the South China Sea.  It is vibrant, busy and a must-see in any Vietnam itinerary.
Head to the Old Quarter and visit the many lanes and alleyways selling local goods and enjoy local street food.  The weekend walking street market starts on Friday evening at 6 pm and finishes Sunday at midnight.  You can shop for souvenirs, try the local cuisine and enjoy local street theatre as you wander around.  It was one of our favourite weekend adventures.
Another must-do is to visit Hoan Kiem Lake at sunrise and watch the varied types of exercise undertaken by the locals. Some exercise routines you will recognise, others you won't.  It is the coolest part of the day.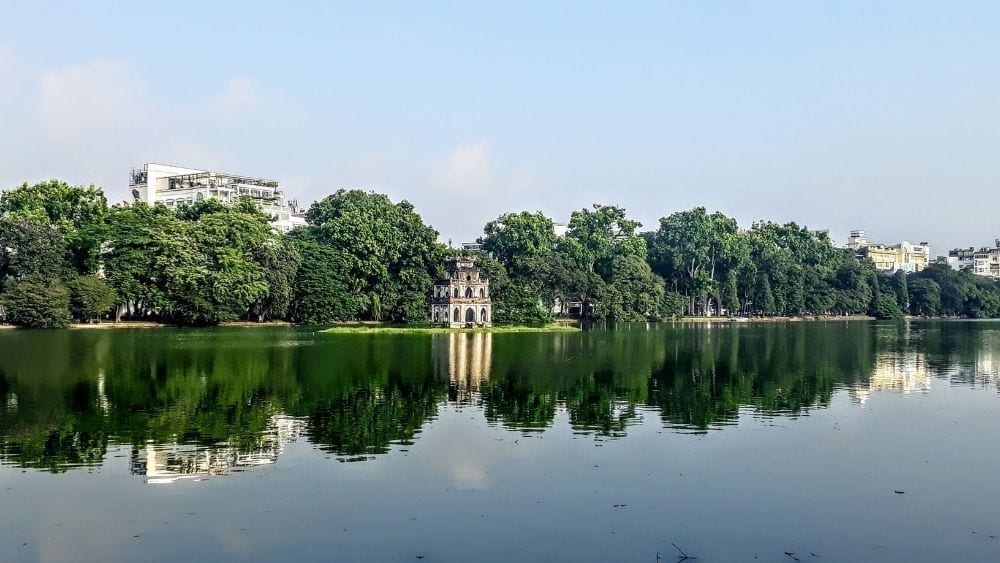 Fly into Hanoi for a weekend – we have put together an itinerary on recommended things to do in Hanoi.
Our itinerary includes visiting:
take an early morning visit to Hoan Kiem Lake
Temple of Literature
Military History Museum
Ho Chi Minh Mausoleum
One Pillar Pagoda
Old Quarter Weekend Walking Street Market
Visit Beer Street
Hanoi Ancient House
Thang Long Water Puppet Theatre
Popular Tours in Hanoi
Hotel Accommodation in Hanoi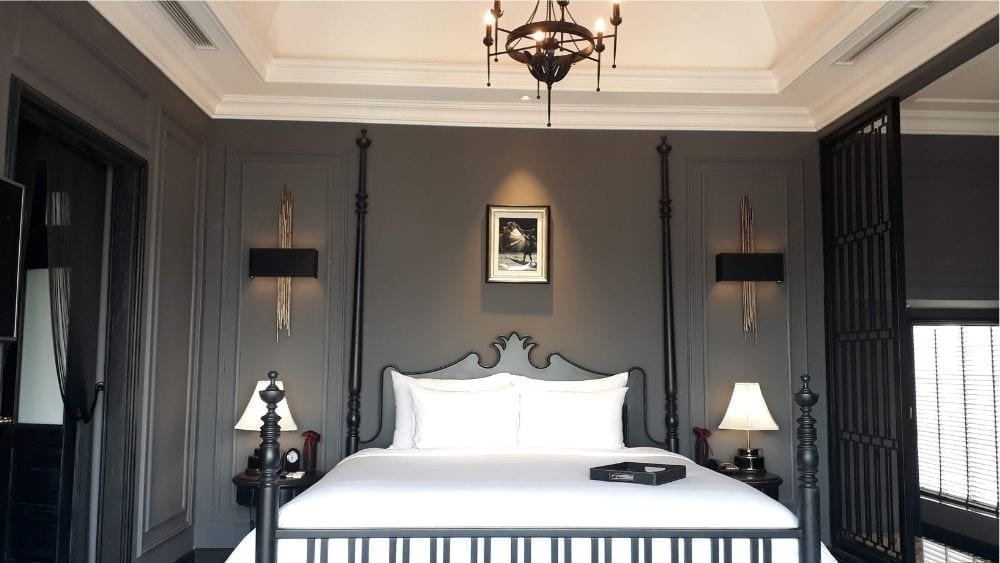 We have put together an Accommodation Guide for Hanoi.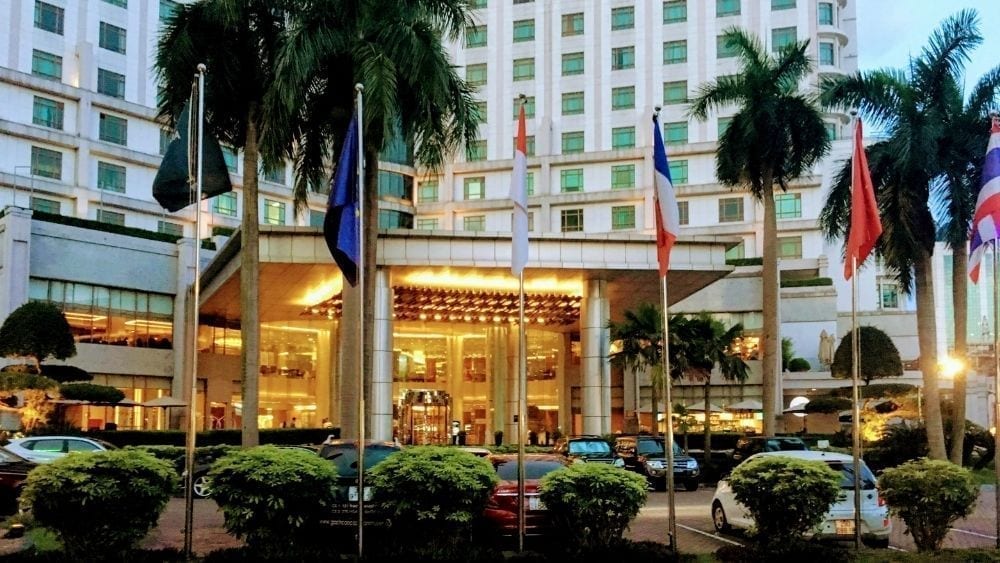 We stayed a couple of nights at the luxury Pullman Hanoi Hotel. The Pullman Hanoi is located within walking distance of the Temple of Literature and the War History Museum.  They offer a shuttle bus to the Old Quarter.
The bedrooms are luxuriously decorated and the La Cheminee Restaurant offers an extensive breakfast buffet with Asian and Western options.  Try out their lunch and dinner specialities. You can enjoy an evening cocktail or two in their Mint Bar. After a day of sightseeing enjoy a spa treatment, work out in the gym, play a game of tennis or just relax by the pool. You can read about our stay here.
You can read travellers' reviews on Tripadvisor here.
Our accommodation guide covers 5-star, 4-star and 3-star hotels in some of the most popular districts to stay in Hanoi.
For more Hanoi hotels:
Halong Bay
Visit Halong Bay on a cruise from Hanoi for either 1 or 2 nights. We travelled with Emeraude Cruises, the same ship that American Chef Anthony Bourdain sailed on and reported from in his TV series – Parts Unknown.  Our travel tip is to book a 2-night cruise, you can read our story here.
How to get to Halong Bay? There are many options from bus, luxury bus, rail to private car transfer.
Halong Bay is 170 km from Hanoi and takes approximately 3 hours depending on traffic. The UNESCO World Heritage site is made up of 1600 limestone islands and islets. Imagine sailing through turquoise blue water, visiting a pearl farm, kayaking, visiting caves, taichi at sunrise, cooking class or just relaxing on board.
2 Day One Night Cruise
Explore the picturesque Ha Long Bay on a 2-day cruise, and discover paradise. Climb aboard a traditional junk boat and zigzag through the tiny islands. Enjoy swimming, kayaking in the blue waters, and discover hidden caves.
1 Day Cruise from Hanoi
Visit the spectacular Ha Long Bay, a UNESCO World Heritage site, on a shared deluxe traditional cruise. See Heaven Palace Cave, islands, and islets, go kayaking, or enjoy a bamboo boat ride.
Ha Long – Lan Ha Bay: 3-Day Tour on 5-Star Cruise
Immerse yourself in the beauty of this stunning waterway aboard a classic Vietnamese vessel. This unique itinerary will lead you amongst the natural wonders and through the quieter corners of the Bay.
Halong Bay Hotel Accommodation
Looking for where to stay in Halong Bay?
Check Booking.com for latest deals here
Check Agoda for latest deals here
Sapa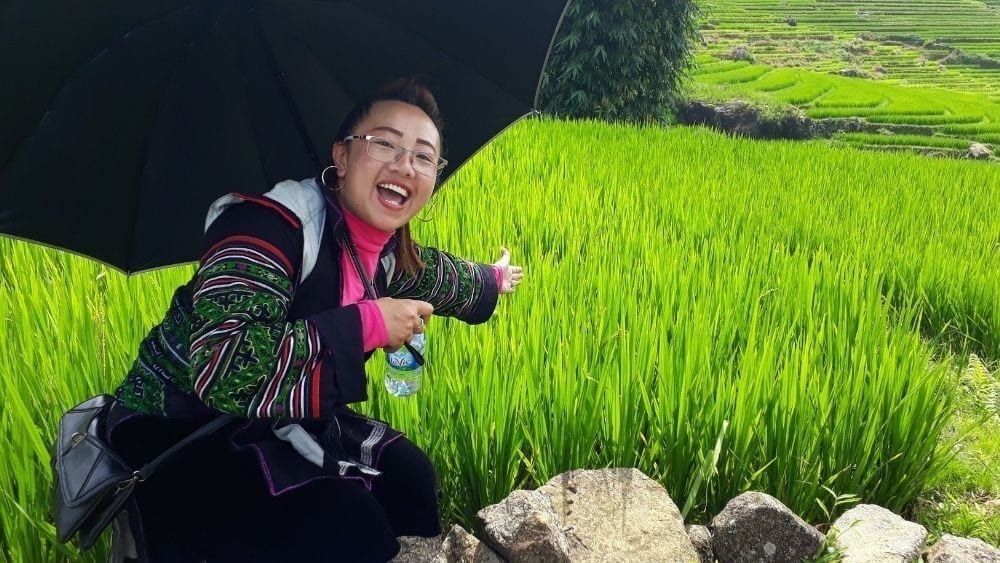 Head to the North West of Vietnam about 350 km from Hanoi to find the scenic area of Sapa.  When you visit Vietnam you should allow a few days to visit Sapa, an area famous for trekking, local villages, scenic landscapes, lush paddy rice fields, local cuisines, markets and more.
You should plan to spend at least 2 nights minimum.
We travelled with Victoria Voyages on their overnight train from Hanoi and stayed at the Victoria Sapa Resort & Spa.
The Victoria Sapa Resort & Spa is now known as the BB Sapa Resort & Spa.
Check availability on Booking.com here
Check availability on Agoda here
More Hotel Options on Where to Stay in Sapa 
Mai Chau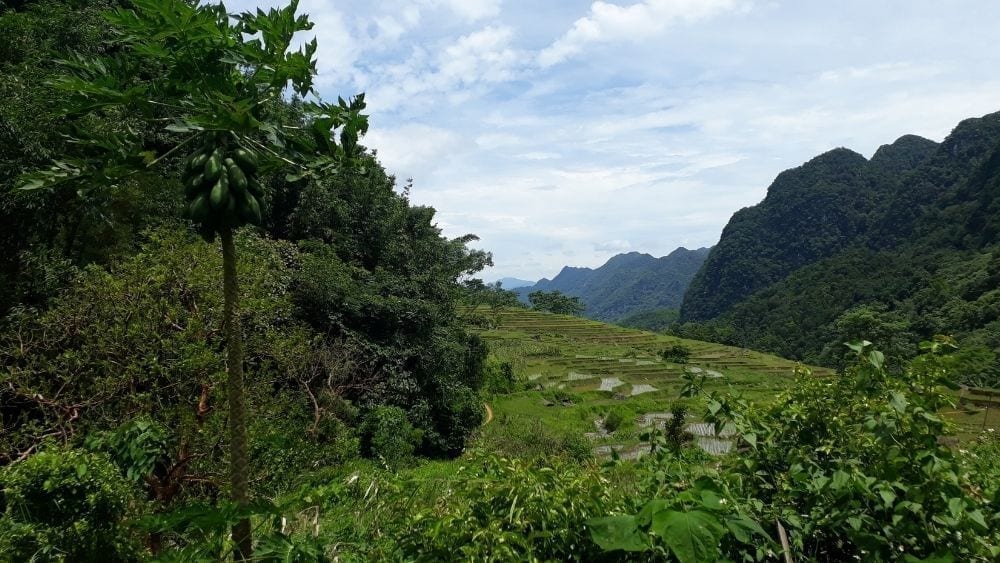 Mai Chau is located 3 hours from Hanoi. If you are short of time when visiting Hanoi Mai Chau is an alternative to travelling to Sapa, or if you have unlimited time why not visit both? Mai Chau is perfect for trekking, caving, kayaking, cycling, visiting local markets and enjoying local cuisine.
You can read our article on What To Do in Mai Chau which includes our accommodation at the Mai Chau Lodge here.
Mai Chau Accommodation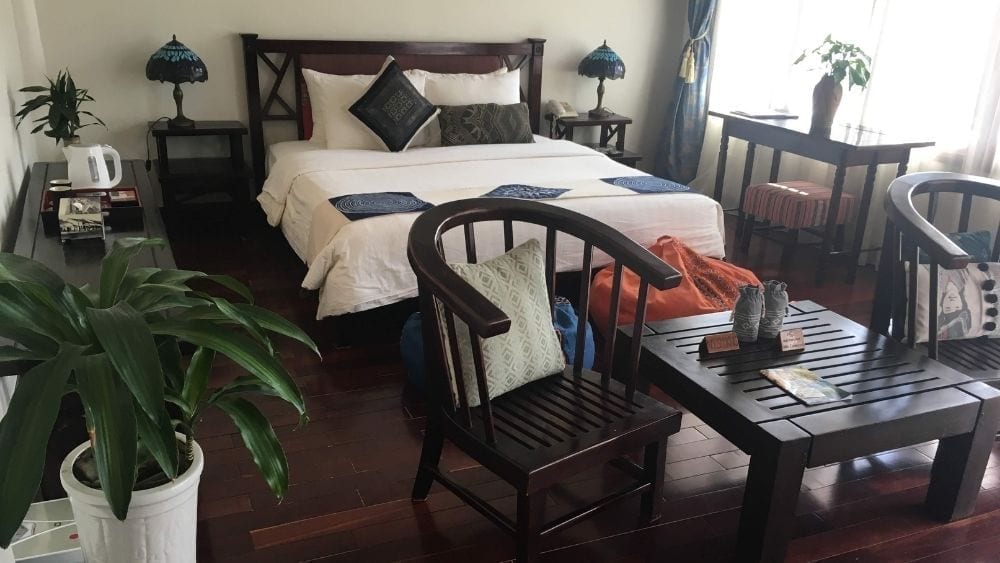 We can recommend staying at the Mai Chau Lodge.  Just on the outskirts of Mai Chau village the Mai Chau Lodge offers luxurious accommodation, the best of local cuisine, a spa and swimming pool.  You can organise tours through their tours centre for trekking, caving, cycling and more.  We enjoyed a sunset drink on the lake on the property before heading into the restaurant for dinner and a local dance performance later in the evening.
Read what travellers have said about the Mai Chau Lodge here.
Check availability on Booking.com here
Check availability on Agoda here
More Hotel Options on Where to Stay in Mai Chau
Have you considered visiting Ninh Bin?
Ninh Binh, a province located in the northern region of Vietnam, is often referred to as the "Halong Bay on land." This stunning destination boasts natural wonders such as karst mountains, caves, rivers, and rice paddies. If you're seeking an authentic Vietnamese experience away from the hustle and bustle of busy cities like Hanoi or Ho Chi Minh City, Ninh Binh should be at the top of your list.
We offer alternatives to visiting Ninh Binh from Hanoi.
Another alternative to Sapa and Mai Chau is to visit Mu Cang Chai.
Nestled in the heart of Vietnam's northwest region, Mu Cang Chai is a hidden gem that has captured the attention of nature lovers and adventure seekers alike. With its breathtaking rice terraces cascading down rugged mountain slopes and quaint ethnic villages dotting the landscape, this remote destination offers an authentic glimpse into the local culture and way of life. Whether you're seeking a peaceful retreat or an outdoor adventure, Mu Cang Chai is a must-visit destination that promises to leave you mesmerized by its natural beauty and cultural richness.
For the adventurers why not travel the Ha Giang Loop? You can travel by motorbike or by private car on an organised tour. From Hanoi, you can take a bus or car transfer with travel times varying from 5 – 10 hours.
Ha Giang, located in the northernmost region of Vietnam, is a rugged and remote province that boasts some of the most spectacular scenery in Southeast Asia. The Ha Giang loop is a popular route for adventurous travellers seeking to explore this stunning region by motorbike or bicycle. With winding mountain roads, breathtaking vistas, vibrant ethnic minority cultures, and the opportunity to experience authentic rural life, it's no surprise that more and more people are flocking to Ha Giang each year.
Central Vietnam Places to Visit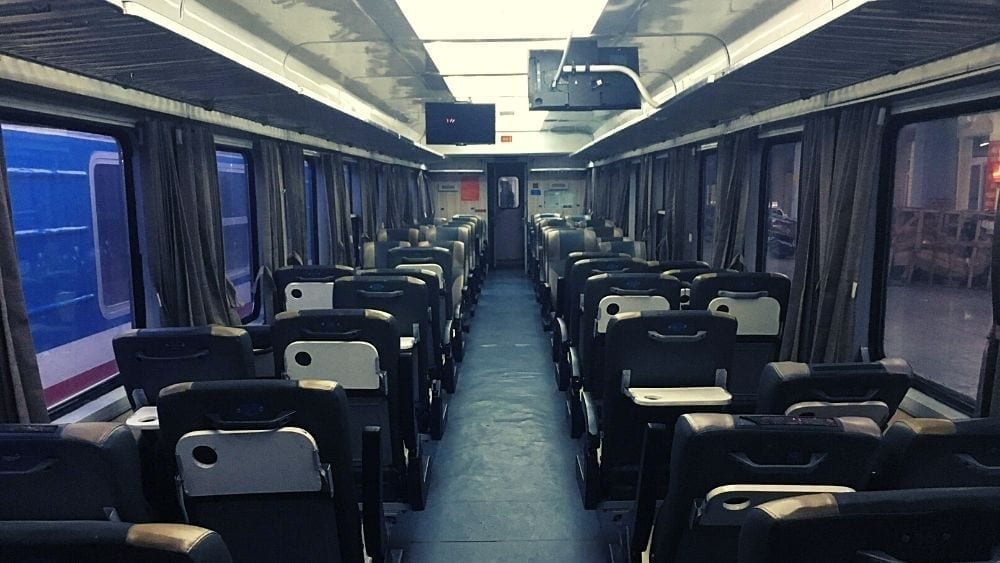 We travelled by the Reunification Express during the day from Hanoi to Hue. The journey took approximately 15 hours. We would recommend that you book first-class tickets and not the hard seat option.
Travel Tip: Take your own food and drinks with you, make sure your phone is charged to arrange a transfer in Hue to your hotel. There are no 'grab' taxis available in Hue at the time of writing.
Food trolleys come around at regular intervals on board the Reunification Express.
Which Airport Serves Central Vietnam
Danang is the major international airport that serves Hue, Danang and Hoi An.
Hue
Hue was the national capital of Vietnam from 1738 -1775.  Most visitors only allow an overnight visit but we would recommend that you plan at least to spend 4 nights in Hue.  Hue was also the home of the Nguyen Dynasty from 1802 – 1945. Hue is located on the banks of the Perfume River. We definitely recommend that you add it to your Vietnam itinerary.
What to do in Hue
Read our following articles on Hue here:
More Things To Do in Hue
Where To Stay in Hue 
We can recommend two places to stay in Hue.
Address: 66 Lê Lợi, Phú Hội, Thành phố Huế, Thừa Thiên Huế, Vietnam
A well-priced centrally located in Hue with breakfast included,  good wifi and a swimming pool.  The staff were excellent, caring and were like family to us. The rooms are large and clean.  The location is perfect for the Weekend Walking Street just a minute's walk away.
Guest Review: Perfect location, clean, nice and helpful staff. First time in a homestay. We are very positively surprised
Check prices with Booking.com here
Read what travellers have said about the Hue Garden Villa Hotel here.
Address: 15 Lý Thường Kiệt, Phú Nhuận, Thành phố Huế, Thừa Thiên Huế,
The Emm Hotel in Hue is located 15 minutes from Hue Walking Street.  The Emm Hotel belongs to a chain of Emm Hotels which is owned and operated by the TMG Travel Group, one of Vietnam's largest travel groups.  The 3.5 star is decorated in a funky modern style, offers a swimming pool, buffet breakfast and one of the best restaurants in Hue – Spice Viet.
Read what travellers have said about the Emm Hotel in Hue here.
Check prices with Booking.com here
To Travel Too Tip:
Our favourite group of hotels throughout Vietnam were Pullman Hotels, Emm Hotels and Victoria Hotels.  Each Emm Hotel has a Spice Viet Restaurant which turned out to be our favourite group of restaurants. The food is fresh, healthy, with an innovative menu and each location has a local speciality which is a must to try.
Danang
Danang is located halfway between Hanoi in the North and Ho Chi Minh City (Saigon) in the South.  The hotels that are located on the beach experience the best of sunrise, it is worth getting up early just to experience a Danang sunrise.
A visit to the local market is highly recommended: Han Market at 19 Đường Trần Phú, Hải Châu 1, Hải Châu, Đà Nẵng 550000, Vietnam.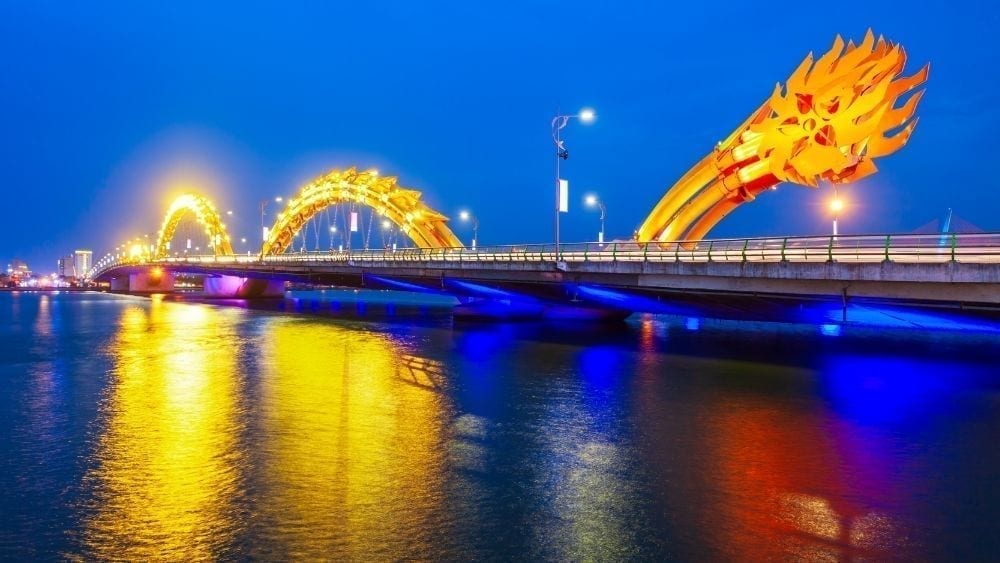 The Dragon Bridge, the longest in Vietnam, is illuminated with LED lights and spits fire on the weekends at 9 pm.
Cham Museum Danang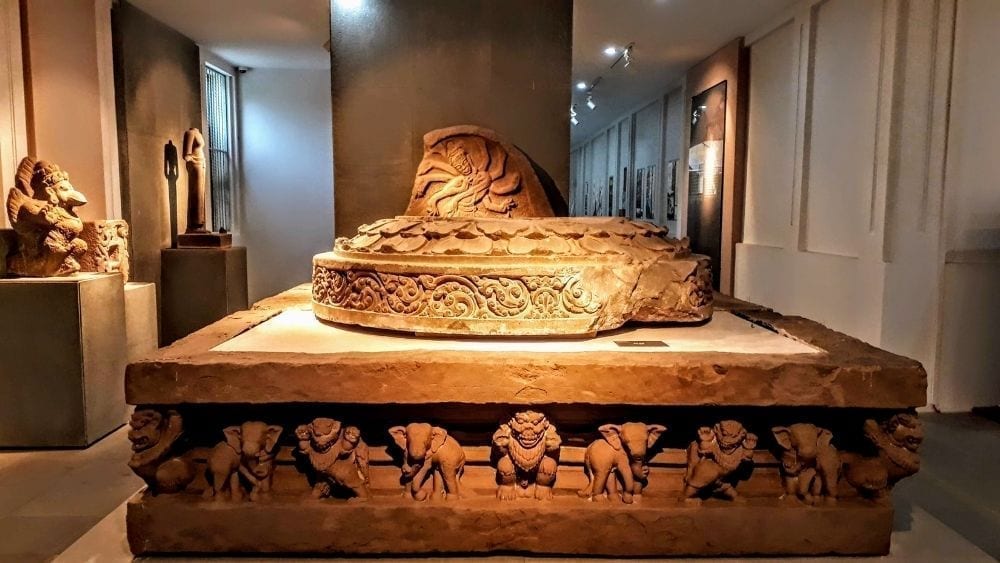 Address: Số 02 Đ. 2 Tháng 9, Bình Hiên, Hải Châu, Đà Nẵng
The Cham Museum houses the largest collection of Cham sculptures in the world.  If you are considering visiting My Son it is recommended that you visit the Cham Museum before.
Things to do in and around Danang
Where to stay in Danang
In Danang, you have options to stay in the city or stay on the beach.
In the city, we stayed at the Mitisa Hotel at 67-69 Nguyen Van Linh Hai Chau close to the Dragon Bridge. The rooms were comfortable, breakfast was included and good wifi. In the evening you can head to the top of the hotel to the swimming pool for 360-degree views over the city and Dragon Bridge.
Check availability on Booking.Com here
Check availability on Agoda here
You can read travellers' reviews here.
We also spent a few nights relaxing on the beach at the luxurious Pullman Danang Beach Resort & Spa. You can read our review below. The Pullman Danang Beach Resort & Spa is the perfect location for families, couples, solo travellers and groups.  There is a variety of accommodation available from rooms to villas and suites.  We thoroughly enjoyed our morning market tour with the cooking class in the afternoon, spa treatments and tai chi in the morning.  Cocktails at sunset were spent on the beach and in their famous bar with stunning views from reception to the beach.
Pullman Danang Beach Resort & Spa – read our review here
Read travellers' reviews here.
For more hotel options on where to stay in Danang
Hoi An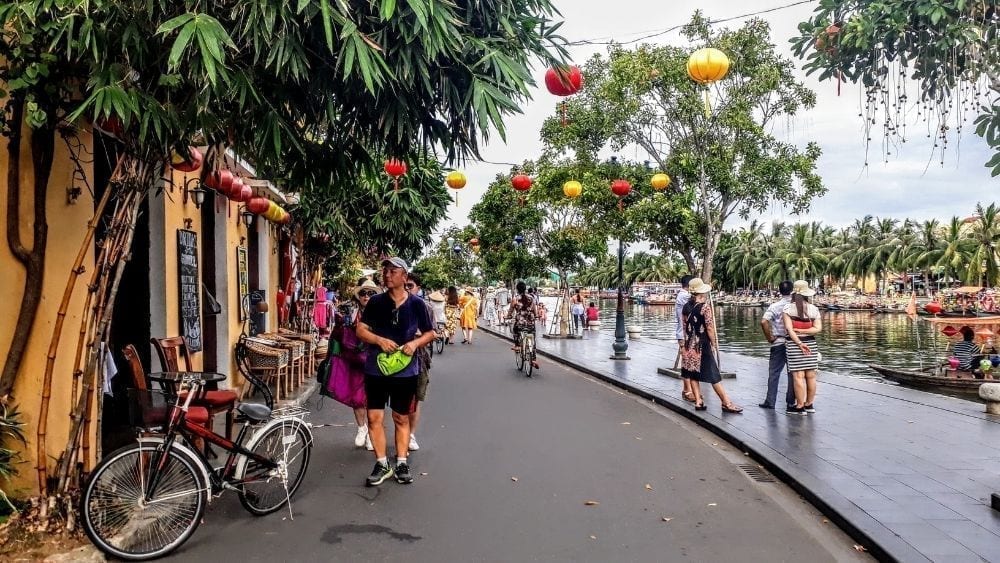 Hoi An was definitely a favourite town to visit.  The ancient town is located on the river, with colourful buildings and bridges, great restaurants and bars, markets, shopping and more.  It can be very busy especially at sunset when the river comes alive with lantern boats taking tourists for a short cruise up the river.
If you are staying in Hue and want to spend a few nights in Hoi An you can take a private one-way tour (either direction). We looked at all transfer options from train and bus and taking a private tour was the way to go.
Good to know: When booking your private one-way sightseeing tour from Hue to Hoi An with BeeBee Travel when you mention totraveltoo2023 you will get a 5% discount.
A popular tour is an early My Son private tour from your hotel in Hoi An. Visit the UNESCO World Heritage Listed My Son Sanctuary on a full-day trip from Hoi An. Marvel at the array of beautiful Hinduism-inspired temples, retrace the steps of history, and watch a fantastic centuries-old Cham ceremony performance.
One of our favourite days out in Hoi An was taking a Hidden Hoi-An walking tour where we visited the back streets of Hoi An, met local producers, enjoyed coconut coffee, and experienced a theatre performance before cruising in a lantern boat.
If you want a great adventure why not take a sidecar tour to Monkey Mountain, we travelled with the sidecar tours offered by the Victoria Hoi An Beach Resort & Spa.  Our tour included the local fishing village in Danang, Monkey Mountain and a gourmet lunch as well as visiting the Lady Pagoda on the hill that overlooks Danang.
Visit An Bang Beach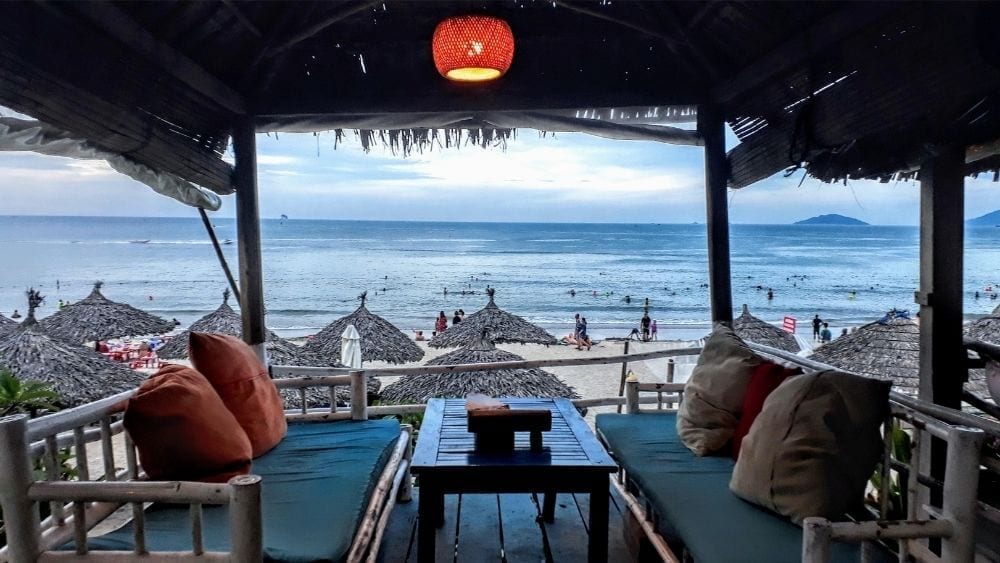 Take a local taxi to the unspoilt An Bang Beach outside of Hoi An.  There are many restaurants to choose from and local water sports are on offer.
More Things To Do in Hoi An
Hoi An Accommodation
If you love colourful and historical cities we recommend that you stay in Hoi An ancient town at: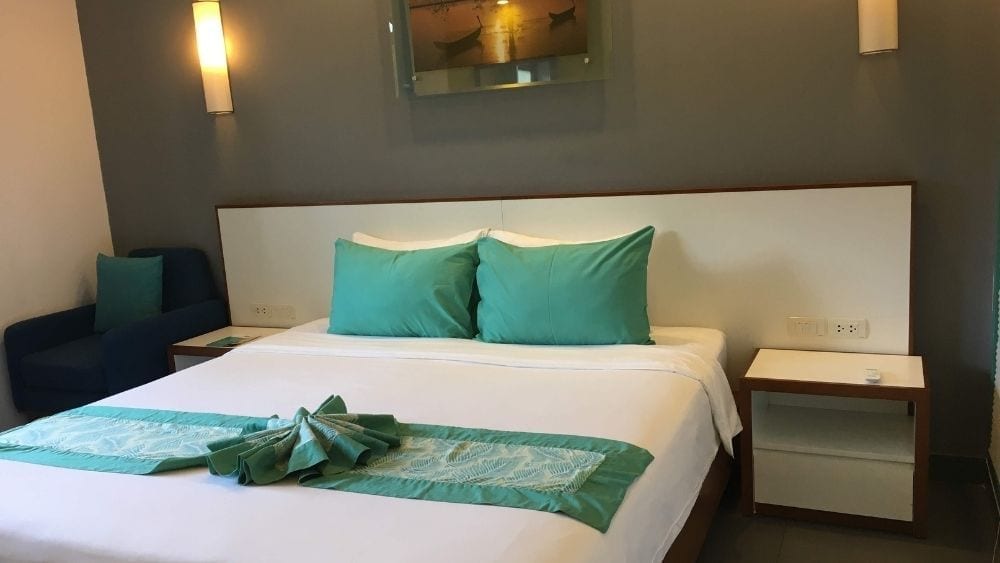 EMM Hotel– about a 10-minute walk to the centre of the Old Town. A modern decorated funky hotel with a swimming pool, pool bar, gym, buffet breakfast, good wi-fi and our favourite Spice Viet restaurant.  We spent a week at the EMM Hotel and loved every minute.  Relaxing by the pool after a day of sightseeing was such a welcome relief. You can even enjoy a transfer to their sister hotel the Victoria Hoi An Resort & Spa and use their facilities.
You can read travellers' reviews here.
Check availability on Booking.com here
Check availability on Agoda here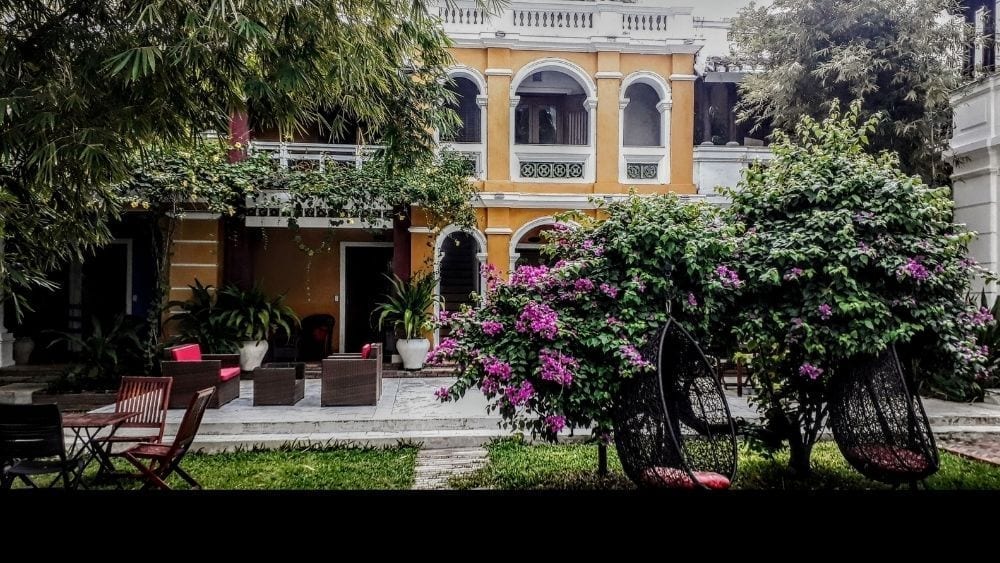 Ha An Hotel– in the centre of the Old Town at 06-08 Phan Boi Chau Son Phong.  If you want to be right in the action the Ha An Hotel is the recommended choice. One minute from the hotel and you are right in the middle of the Hoi An market and a little further down the road you will be spoilt for choice of restaurants.  The Ha An Hotel has a colonial feel, a good breakfast is included, good strong wifi and a swimming pool. We spent 5 nights staying here with friends and loved every minute of our stay.
You can read travellers' reviews here.

For beach accommodation, we can recommend the Victoria Hoi An Resort & Spa on Cua Dai Beach. You can read our review below:
Located on Cua Dai Beach is the luxurious Victoria Hoi An Resort & Spa about 15 minutes from the centre of Hoi An. The hotel offers a swimming pool, private beach, gym, spa, tennis courts, sidecar tours, great restaurants and local entertainment on regular evenings all in a luxurious setting.  You won't want to leave – ever!
You can read travellers' reviews here.
Check availability on Booking.com here
If you are on a budget but still would like to enjoy a beach vacation we can also recommend:
Hoi An Blue Seaside Homestay on Dien Ban – a 20-minute walk along the beach will bring you to the famous Ang Bang beach with its restaurants and bars. Comfortable budget-style accommodation with good wifi available for guests.  A small restaurant is on-site serving breakfast, lunch and dinner.
You can read travellers' reviews here.
Check availability on Booking.com here
Southern Vietnam
Have you considered travelling to Nha Trang?
Nha Trang, a coastal city located in the south-central region of Vietnam, is a destination that should not be missed. Known for its pristine beaches, crystal-clear waters, and charming culture, Nha Trang has become increasingly popular among travellers seeking a tropical paradise. Whether you are looking to relax on the beach or embark on an adventure-packed journey, Nha Trang offers something for everyone.
Ho Chi Minh City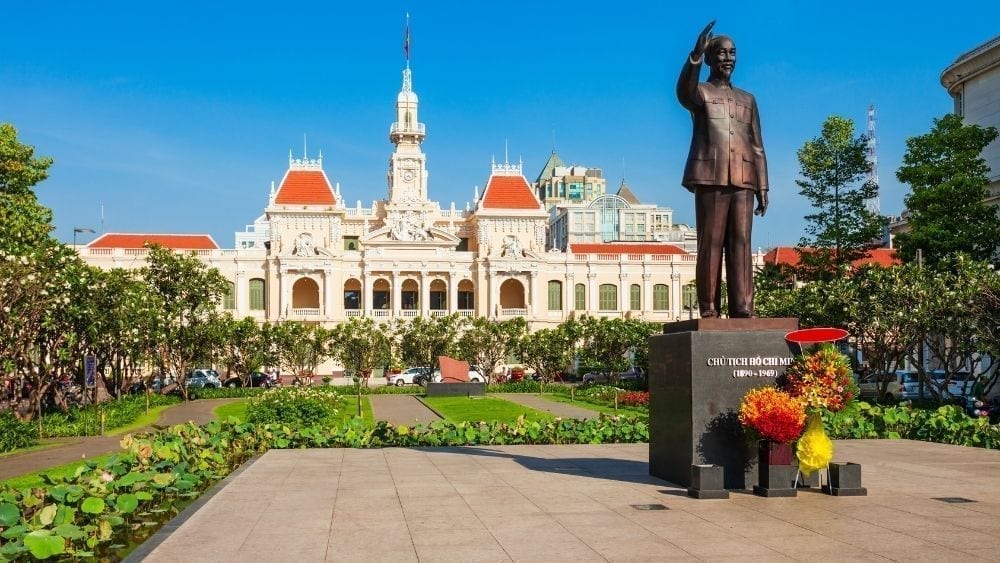 Ho Chi Minh City is the financial capital of Vietnam.  A vibrant city which offers so much for the traveller.  We spent two weeks enjoying all that HCMC or Saigon as it is still known has to offer.
Whether you have 3 days, 5 days or more you will love Ho Chi Minh City.
Book your airport transfer here
What to do in Ho Chi Minh City
One of our favourite tours was a visit to the Cu Chi Tunnels just outside Ho Chi Minh City.
There are many options to visit the Cu Chi Tunnels:
Popular Food Tours of Ho Chi Minh City

Popular Ho Chi Minh City Tours
Where to stay in Ho Chi Minh City 
For the location, you cannot beat staying in District One in Ho Chi Minh City. Most of the top attractions in Hanoi are in walking distance of District One.
We have put together an article on where to stay in Ho Chi Minh City.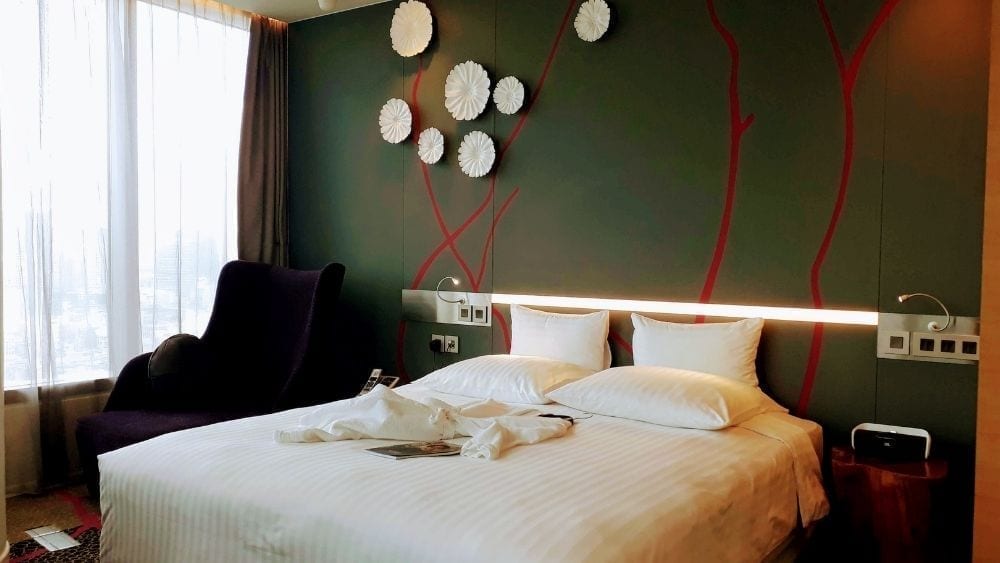 For 5-star luxury accommodation, we stayed at the Pullman Saigon Centre Hotel. You can read our review below:
The Pullman Saigon Centre in District One
You can read other travellers' reviews here
Check availability on Booking.Com here
For 3-star accommodation in District 1 we can recommend the A25 Hotel (originally  Lotus Boutique Hotel) at 55/29-31-33 Le Thi Hong Gam Street with its rooftop pool, free breakfast and fast free WiFi. It is a popular hotel so we recommend that you book in advance.
You can read other travellers' reviews here.
Check availability on Booking.com here
What To Do and Where To Stay in the Mekong Delta
Can Tho in the Mekong Delta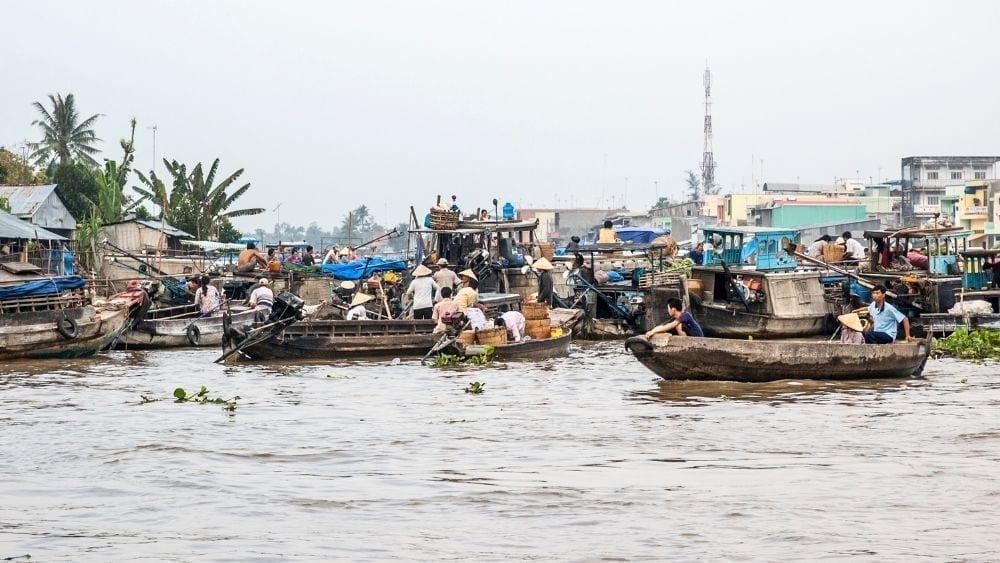 Can Tho is the largest city in the Mekong Delta and the 4th largest in Vietnam.  Can Tho is located on the banks of the Hau River.  You can cruise the canals, visit floating markets and local rice paper makers, fruit growers and more.  We can recommend heading into Can Tho and visit the local market in the evening.
We spent 4 days visiting the Mekong Delta with Victoria Voyages staying in Can Tho and Chau Doc. Our time was spent cruising the canals of the Mekong Delta, visiting floating markets and local producers, day trips to Nui Sam and more.
Popular Mekong Delta and Ho Chi Minh City Tours
Where To Stay in the Mekong Delta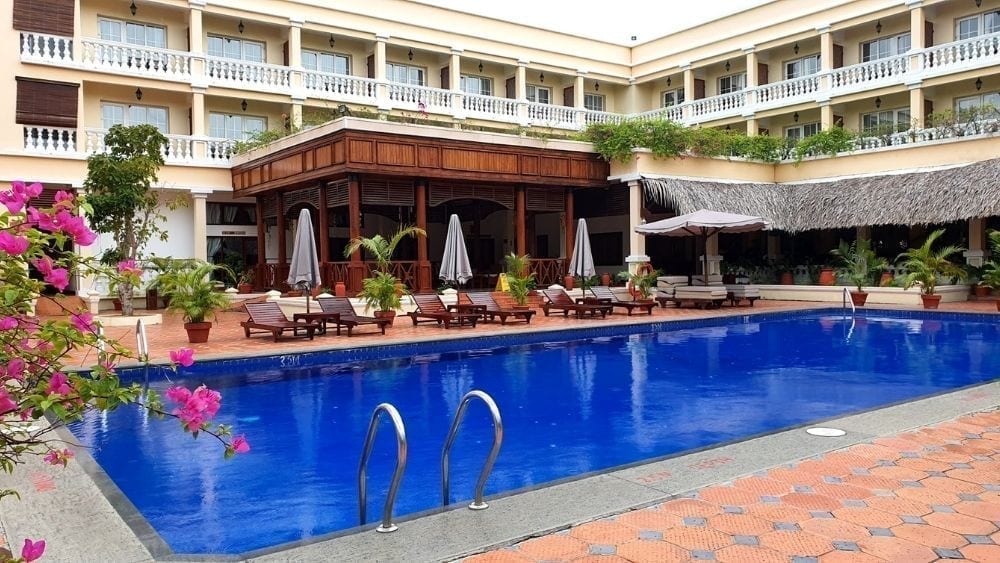 For luxury accommodation when staying in Can Tho we suggest the Victoria Can Tho Resort.
Travel Tip:
Take the hotel shuttle boat to the centre of Can Tho and visit the evening local market.
You can read our review below:
You can read other travellers' reviews here.
Check availability on Booking.com
More hotel options for Can Tho
Compare prices on hotels in Can Tho here
Chau Doc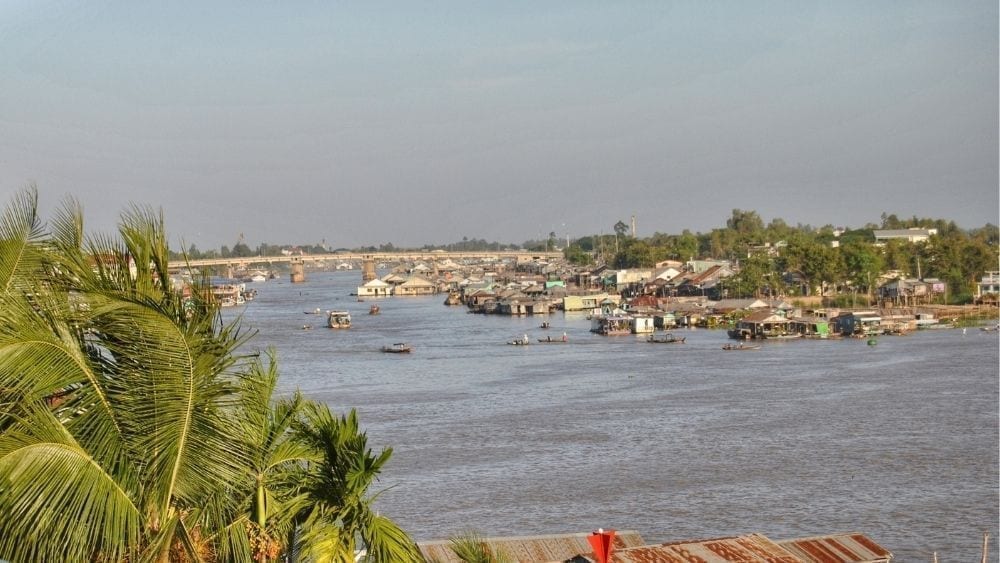 Chau Doc is the gateway to Cambodia and is located on the Hau River a tributary of the Mekong Delta. If you are considering travelling onto Cambodia to visit Phnom Penh or Angkor Wat the river border crossing is one of the easiest crossings we have done in Asia.
Chau Doc in the Mekong Delta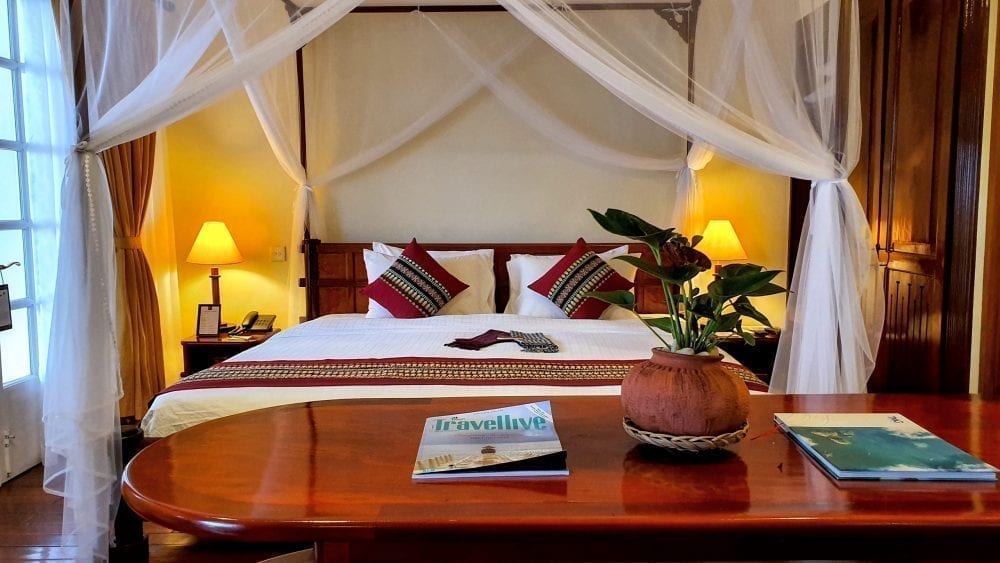 For luxury accommodation in Chau Doc in the Mekong Delta we recommend the Victoria Chau Doc Resort. You can read our review below.
You can read travellers' reviews here.
Check availability here for Booking.com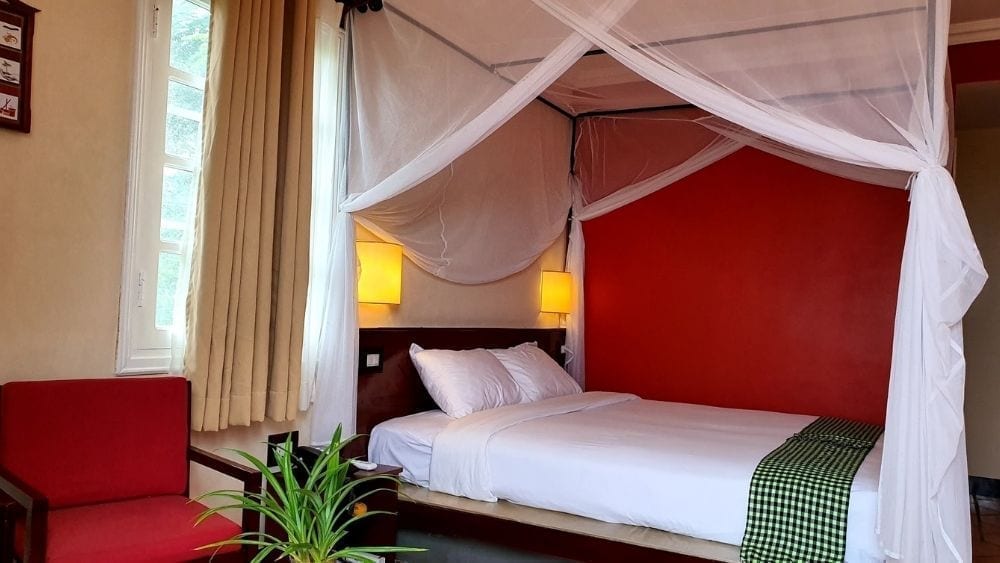 The sister hotel to the Victoria Chau Doc resort is the Victoria Nui Sam Lodge perched high on the mountains outside Chau Doc with magnificent views over the delta and terraced rice fields. You can organise to visit the Victoria Nui Sam Lodge from the Victoria Chau Doc hotel.
You can read travellers' reviews here.
Check availability on Booking.com here
Compare prices with Agoda here
More accommodation options in Chau Doc

Visit the Island of Phu Quoc
Phu Quoc, the largest island in Vietnam, is a tropical paradise that has been attracting more and more visitors every year. Located in the Gulf of Thailand, this island boasts stunning beaches with crystal-clear waters that are ideal for swimming and snorkelling.
However, Phu Quoc offers much more than just its beaches; it is also home to dense forests, pepper plantations, traditional fishing villages and some of the best seafood in Southeast Asia.
More options on what to do in Vietnam – our latest travel articles:
Top Vietnamese Restaurant Guide
Our top Vietnamese Restaurant Guide covering restaurants located in:
Cai Be
Da Lat
Hanoi
Hue
Hoi An
Ho Chi Minh City
Mai Chau
Mui Ne
Nha Trang
Ninh Binh
Nui Sam
Sapa
Our favourite restaurants in Vietnam
Hanoi
Banh Mi 25, 25 Hang Ca Street, Old Quarter Hanoi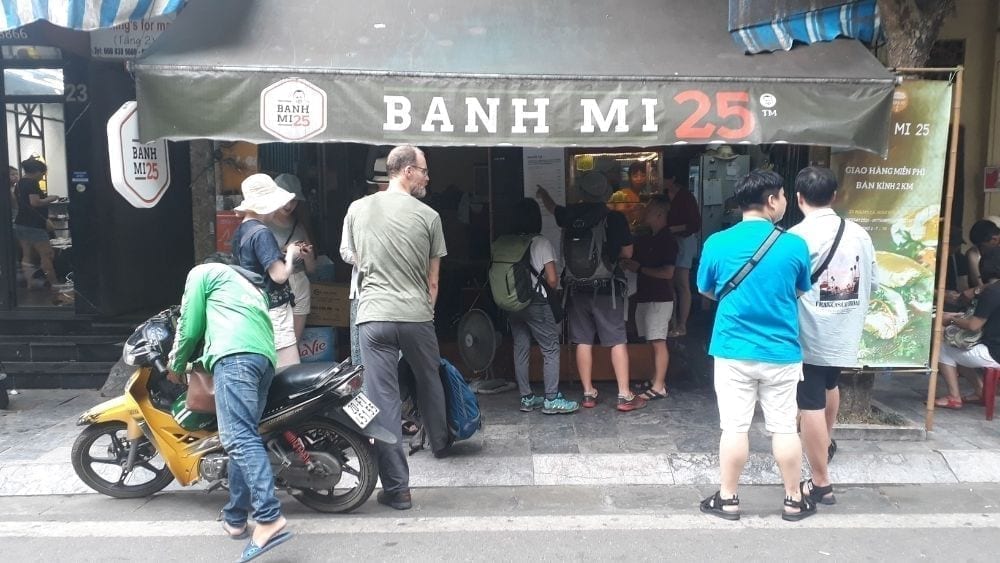 For the best Vietnamese Banh Mi in the Hanoi Old Quarter head to Manh Mi 25.  There are also vegetarian options of the sandwich available on the menu. Be prepared to queue for take away as well as being seated, it is very popular.
Beer Street, Ta Hien Street, Hanoi Old Quarter, Hanoi
Busy Beer Street comes alive in the evening where you sit and drink on plastic stools outside in the street.
Au O Vietnam Kitchen, 13a Lý Thường Kiệt, Phan Chu Trinh, Hoàn Kiếm, Hà Nội,
For trendy upmarket dining in the French Quarter of Hanoi you cannot go past Au O Vietnam Kitchen. We loved the excellent local cuisine and decor.  Vegetarian options are available.
Lighthouse Sky Bar, 27 Hàng Bè, Old Quarter, Hoàn Kiếm, Hà Nội 100000
Hanoi has some great Sky Bars which are perfect for sunset drinks with stunning views over the Old Quarter of Hanoi.  Our favourite is the Lighthouse Sky Bar above the La Siesta Premium Hotel at St, Old Quarter, No 27 Hàng Bè, Hàng Bạc, Hoàn Kiếm, Hà Nội.
Sapa
For casual dining in Sapa our favourite restaurant was Le Gecko at Sapa Town, 033 Xuân Viên, TT. Sa Pa, Sa Pa, Lào Cai 330000. Centrally located Le Gecko offers French, European and Asian cuisine.
Hue
Whilst visiting Hue we enjoyed eating out at 2 restaurants.
Spice Viet at 15 Lý Thường Kiệt, Phú Nhuận, Thành phố Huế, Thừa Thiên Huế,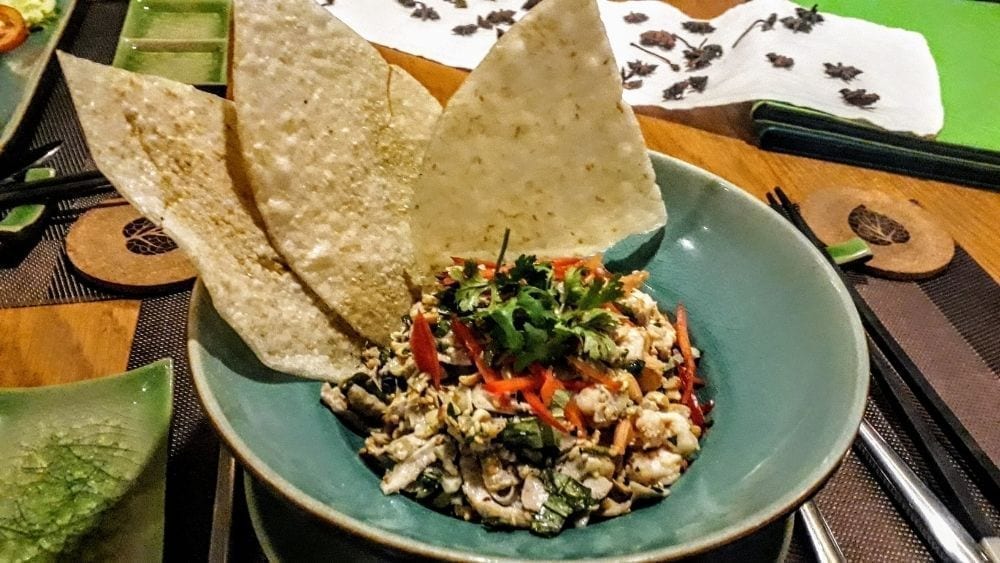 We love the decor of the Spice Viet restaurant chain. The menu is excellent serving local cuisine, ask what the local speciality is when you order.  There is a good range of vegetarian dishes available and the service is excellent.
San May Vegetarian Restaurant at 8 Thanh Tịnh, Vỹ Dạ, Thành phố Huế, Thừa Thiên Huế, Vietnam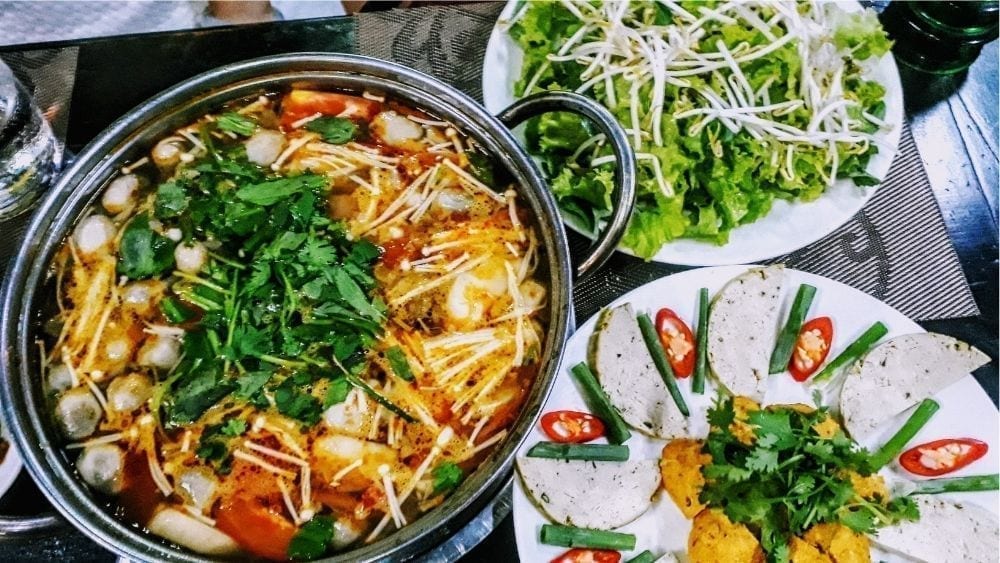 Rated one of Hue's best Vegetarian Restaurant San May is located in a 100-year-old villa. The food is excellent even if you are not a vegetarian you will be impressed with their menu.
Hoi An
Spice Viet at 187 Lý Thường Kiệt, Street, Hội An, Quảng Nam 560000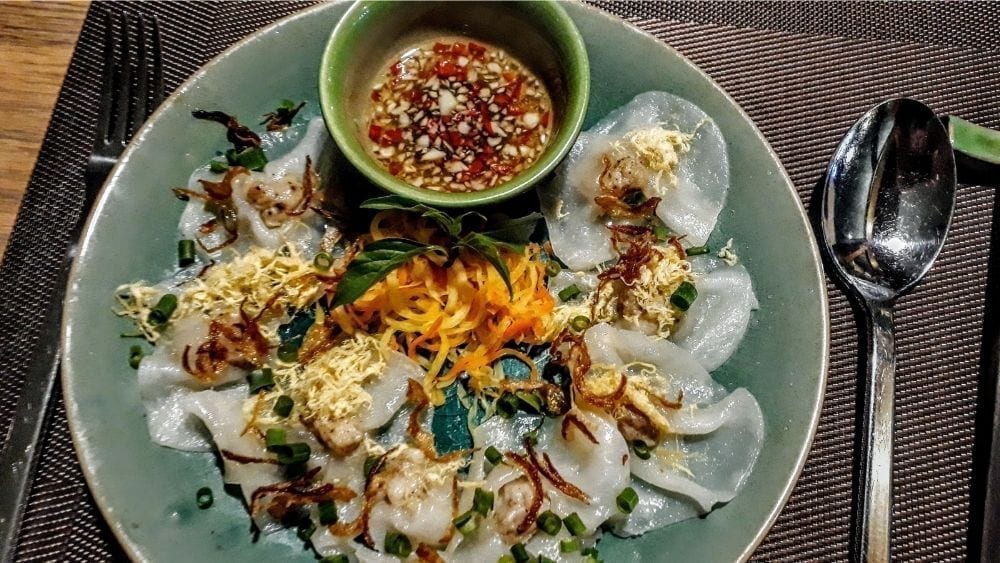 Located in the grounds of the EMM Hotel Spice Viet is a firm favourite of ours. Excellent local cuisine and service won us over every time we visited. Ask for the local Hoi An speciality dish when you visit.
For the best coconut coffee in Hoi An head to Phin Coffee at 132/7 Trần Phú, Cẩm Châu, Hội An, Quảng Nam.  Phin Coffee is only a 3-minute walk from the Japanese Covered Bridge. You can enjoy the best coconut coffee and cafe-style meals in a tranquil garden setting.
Minh Hein Vegetarian Restaurant is located at 50 Tran Cao Van, Phường Minh An, Hội An, Phường Minh An Hội An Quảng Nam.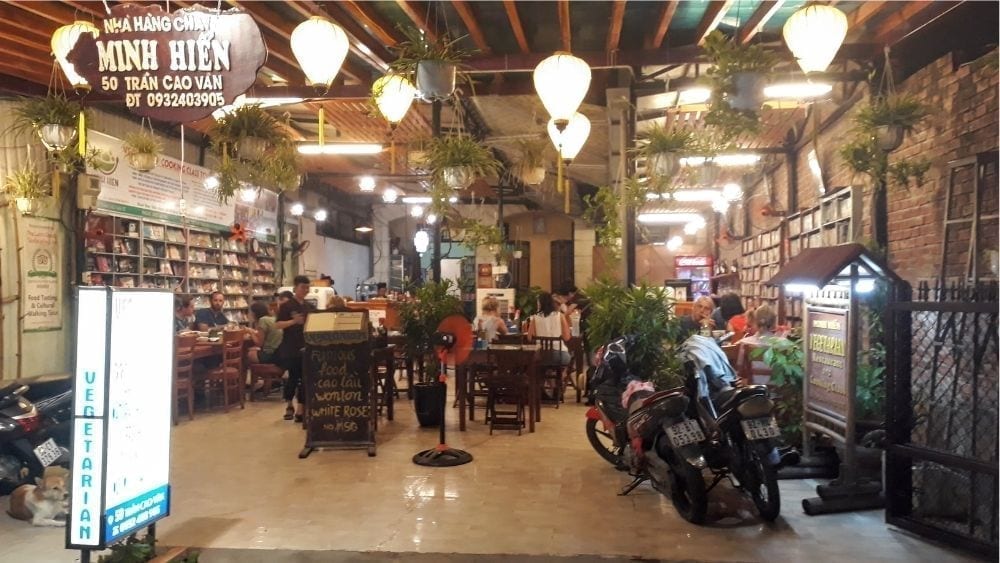 A busy vegetarian restaurant in Hoi An, you will need to make a booking when you visit.   The extensive vegetarian menu will have you returning night after night.
Ho Chi Minh City
The Secret House Restaurant is located at 1 Lê Thị Hồng Gấm, Phường Nguyễn Thái Bình, Quận 1, Thành phố Hồ Chí Minh 700000, Vietnam just a few doors down from the Lotus Boutique Hotel. The decor is stunning and the local Vietnamese food is excellent.  There is an interior courtyard for diners, we recommend that you choose a table in this area for its ambience.
You can read diners reviews here
Sen (Our favourite Vegetarian Restaurant in Ho Chi Minh City)
We ate at Sen most nights during our stay in Ho Chi Minh City. Sen Restaurant is located at 171 Nguyen Thai Hoc Pham Ngu Lao Ward, District 1, Ho Chi Minh City 700000 Vietnam.  It is a Vegetarian's delight with an extensive menu that would take you weeks to work your way through it.
Pho Cong is a popular local Vietnamese restaurant with locals and visitors located at 142 Le Thi Hong Gam Nguyen Thai Binh, Dist.1, Ho Chi Minh City Vietnam. Pho Cong's famous Pho dish comes with large side dishes of chilli, lettuce, bean sprouts and herbs. There are 4 different beef Pho dishes and the vegetarian springs rolls are tasty and crisp.
Cai Be
Le Longanier is located at 49 Hamlet 5 Phu An Village, Cai Be Vietnam. You can dine in luxury in a traditional Vietnamese Villa in a lush tropical garden setting.  Le Longanier is part of the Victoria Hotel and Resort chain of TMG and you can enjoy lunch there on a Mekong Delta tour operated by Victoria Hotels. The set lunchtime menu is excellent serving local Vietnamese cuisine with vegetarian options.  The elephant ear fish spring rolls was a definite favourite of ours.  The Villa reminds you of the French colonial past with its luxurious decor.  We were greeted at the gate by one of the staff members dressed in traditional Vietnamese dress the Ao Dai which added to the atmosphere and setting of this outstanding restaurant.
Vietnam Travel Tips
Tip #1 – Traversing Vietnam Roads
To cross the busy roads in Vietnam, you step out confidently and just cross, motorbikes will pass by either side of you.  In Danang, in particular, be careful as motorbikes can be joining you on the footpath as you walk along.
Tip #2 – Where to eat cheaply in Vietnam
Head to the local markets for cheap tasty local cuisine, it is where the locals eat.
Tip #3 – Grab Cars in Vietnam
Use Grab taxis in major cities, they are cheaper than taxis.  You can download the Grab taxi app before you arrive in Vietnam.
Visa Travel Guide – Vietnam Visa on Arrival
Most travellers visiting Vietnam will need to apply for an e-visa online before arrival.  Some countries are exempt and there are plans to increase the number of visa-free countries to boost the country's economy.  Tourism is very important to the growth of Vietnam.
Our affiliate partner for visas is iVisa.  Check below for details and costs for obtaining visas online through iVisa.
Which Airport In Vietnam Do You Fly Into
One of the most frequently asked questions that we receive.  Our Vietnam Airports Travel Guide can be read here and it will be regularly updated.
Flights Into Vietnam
Vietnam Airlines is the country's major airline.
Vietnam Flight Deals
Find the cheapest flights with Skyscanner our 'go-to' when we are researching and booking flights around Vietnam.
Transport Around Vietnam
For bus, rail and ferry tickets around Vietnam, we use 12goAsia.
Have you taken out travel insurance?
To Travel Too Travel Shop
We have a range of travel guide books, travel clothes, travel luggage and more in our To Travel Too Travel Shop. Click the logo below.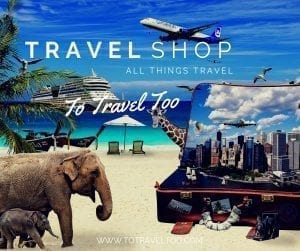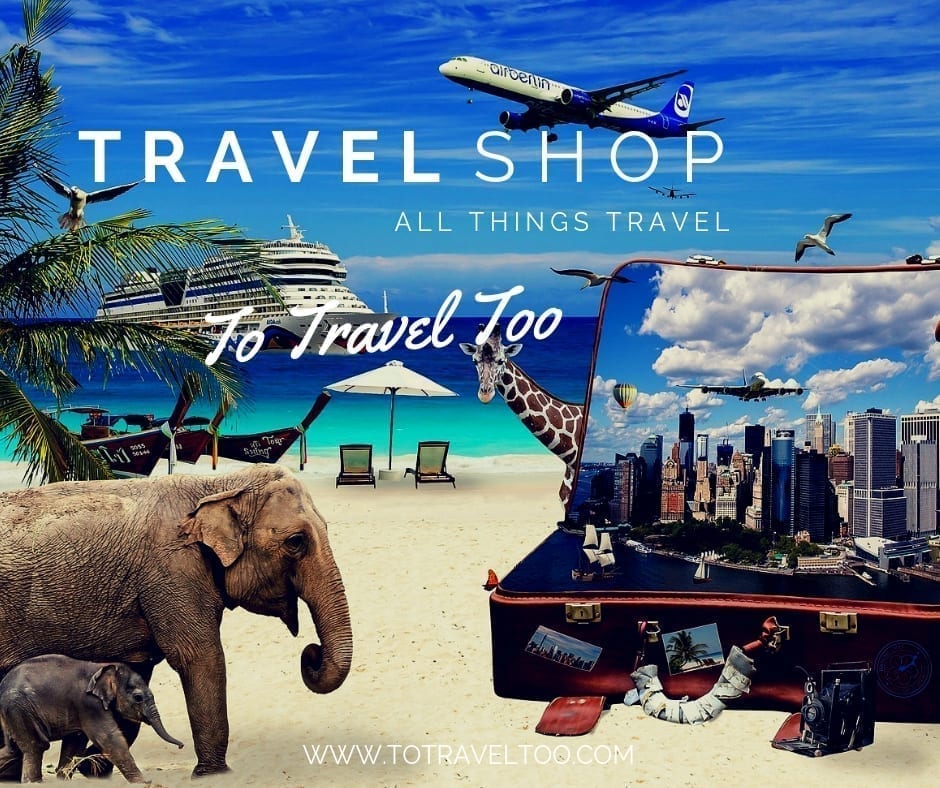 Did you enjoy our Vietnam Travel Guide?
If you enjoyed our guide why not share it with your family and friends.
We have created a Vietnam Travel Planning Private Facebook Group – you can join here.
Pinterest
Are you on Pinterest? We are at To Travel Too and we have many travel-related boards check us out at Pinterest.  If you enjoyed our article why not pin it to your board.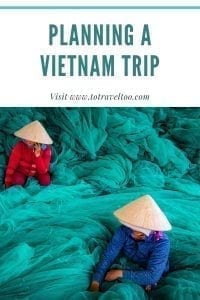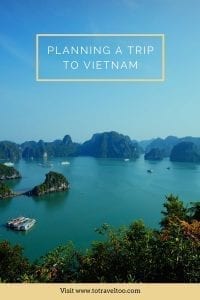 Conclusion:
In conclusion, planning a Vietnam trip from North to South can be an unforgettable experience for any traveller. The country offers diverse landscapes, rich culture, and delicious food that will leave you craving more. By following the tips outlined in this article, you can create a personalized itinerary that suits your interests and preferences while ensuring a smooth journey from start to finish.
Whether you're exploring Hanoi's ancient temples or cruising along Halong Bay's emerald waters, travelling through the central highlands or soaking up the sun on Phu Quoc Island, Vietnam has something for everyone. So pack your bags and get ready for an adventure of a lifetime!