Machu Picchu Trekking – What A Challenge!
Machu Picchu Peru! A destination that had not really crossed our minds, until our eldest son had completed the Machu Picchu trek.  We mentioned that the luxurious train sounded wonderful.  He laughed and said 'that is not the way to do it, you are going to do it but you are trekking it'.
For your information, we were novices at trekking and camping and we were baby boomers but we made it.  It may not be for everyone, and we would not recommend that you do it unless you have a level of determination, as once you are on the path you cannot turn back. One of us had a 'big meltdown' on day 2 ….. read on to find out who and why and how it was overcome! All we ask is that don't be put off, it is one of those most amazing experiences.
Most importantly, the Machu Picchu Inca Trail is booked out at least 6 months in advance each year and the trail closes in February.  We can't highlight enough that you need to plan for this well in advance so that you are not disappointed.
You will need to plan your Inca Trail Trek well in advance. To reserve your place in a small group tour on the 4 day/3 night trek book here.
These are the inclusions and exclusions for the trek:
Professional English-speaking tour guide

Professional cook

Porters to carry all equipment

Duffel bag to pack your equipment in

Pick-up and drop off at your hotel

Transportation by bus to the start point of the trek

Transportation by train and bus back to Cusco

Water (excluding the first day of the trek when you need to bring your own)

Meals (3 breakfasts, 3 lunches, 3 afternoon snacks, and 3 dinners)

Campsite accommodation (3 nights)
Sleeping bag (available for rent)

Trekking poles (available for rent)

Breakfast on day 1, and lunch and dinner on day 4

Entrance to Huayna Picchu or Machu Picchu mountain ($85 per person)

Travel insurance

Tips
Trekking is not for everyone, and it nearly wasn't for us.  For those of you who want to visit Machu Picchu, you can visit in a day.  Government regulations have stated that there are two sessions now, Morning and Afternoon.  As Machu Picchu is Peru's #1 destination it does get booked out in advance even for day-trippers.
If the 4-day 3-night trek is not for you we can recommend a day tour by train from Cusco but you will need to plan in advance as these are very popular.
There is another alternative if you want more than a day trip and the Inca Trail 4 day/3 night trek is fully booked you can consider the Salkantay Trail.
If you are up for another trek after you finish the Inca Trail you can climb Huayna Picchu. The views are outstanding over Machu Picchu. We would recommend leaving it for the day after completing the Inca Trail unless you are short of time.
At the bottom of our article, we have included 'essential visitor information' for you which includes a recommended packing list, transport, permits, weather, alternative Salkantay treks if the 4 day/3 night is fully booked and accommodation recommendations for you.
Some important general information first:
If the Inca Trail to Machu Picchu is on your bucket list you will need to plan in advance for this trek.  The Peruvian Government has strict regulations on how many people can be on the path at any one time.  There are many Machu Picchu Tours available and you need to know as much information as possible before you book.
Current regulations state that at any one time, only 500 persons per day for the 4-day trek are allowed and that number includes guides and crew.  Each company can only have 42 in each group which is made up of 16 visitors, 2 tourist guides and an assistance crew (cooks and porters). NB (Only 400 are allowed to trek Huayna Picchu).
You will also need a certain level of fitness to complete the Machu Picchu hike. Altitude sickness is a factor that everyone should consider. In our article, we share with you all that we experienced, the highs and the lows and the meltdowns.
Travel Insurance is highly recommended:
This post may contain affiliate links. Please see our disclosure for more information. As an Amazon Associate, we earn from qualifying purchases (if applicable).
Classic Inca Trail Trek To Machu Picchu
Day One Early Start to Machu Picchu
The day had arrived to start the Inca Trek to Machu Picchu.   We felt nervous and excited all at the same time but your mind plays games with you, fear steps in.  We are two Australian Baby Boomers off on an adventure.  Jane had never trekked or camped before.  Duncan had experience as a Sea Scout in his youth, a 3-day trek across the moors of England as a teenager and several camping trips to Europe in his twenties.
Since leaving  Sydney on the 21st of February we have walked many kilometres daily on our adventures.  We believed our fitness levels are up to the steep climbs and descents that we were going to tackle on the Inca Trek to Machu Picchu, but you just never can tell. Had we done enough? Day Two of Machu Picchu climbing up to Dead Woman's Pass at 4200m was supposed to be a killer.
We already knew the feelings of altitude sickness.  Duncan succumbed to this on our very first day in Cusco as we landed from our Lima flight.  The breathlessness coupled with the headaches made walking around Cusco a chore.  Drinking plenty of coca tea and chewing coca sweets certainly worked.  We were pleased that we had arrived in Cusco two weeks prior to the trek to acclimatise.
Read our article on What to Do in Cusco
The challenge in front of us was 43km of trekking that will lead us to the "Lost City of the Incas" Machu Picchu.
The alarm rang at 4.30 am.  It was dark and very cold outside.  By the light of our headlamps, we managed the steps down the San Blas area of Cusco to the Inca Trail Reservations Office at the bottom of the hill. It was spooky and misty.
We were the only ones waiting,  ten minutes later other trekkers came towards us through the darkness. We wondered if they were in our group, and tried to recognise them from the orientation the night before.  After a few more minutes of waiting, more trekkers joined us but they belonged to different tour companies.  Shortly, our tour leader Victor arrived and we boarded the bus and headed off to another pickup point collecting the rest of our group as we went.
We drove through the stunning Sacred Valley past the Urubamba River and reached Urubamba where we stopped for a cooked breakfast. In Ollantaytambo, we stopped to collect our porters and last-minute supplies and then headed down to Piscacucho, or KM82 which is the official starting point of the Machu Picchu Inca Trail.
On our arrival at KM82, we were met by the rest of the crew and the porters.  We hired an extra porter to carry our change of clothing and snacks.  This turned out to be well worth it, leaving us to trek only with water, daily snacks and gloves, hats etc.  The temperature changes as you ascend and descend and you need to be prepared for all variances.  We stocked up on chocolate bars, Gatorade, nuts and dried fruits.  On certain parts of the trail on the first and second days, you can purchase energy drinks, chocolates and chips but choices were limited.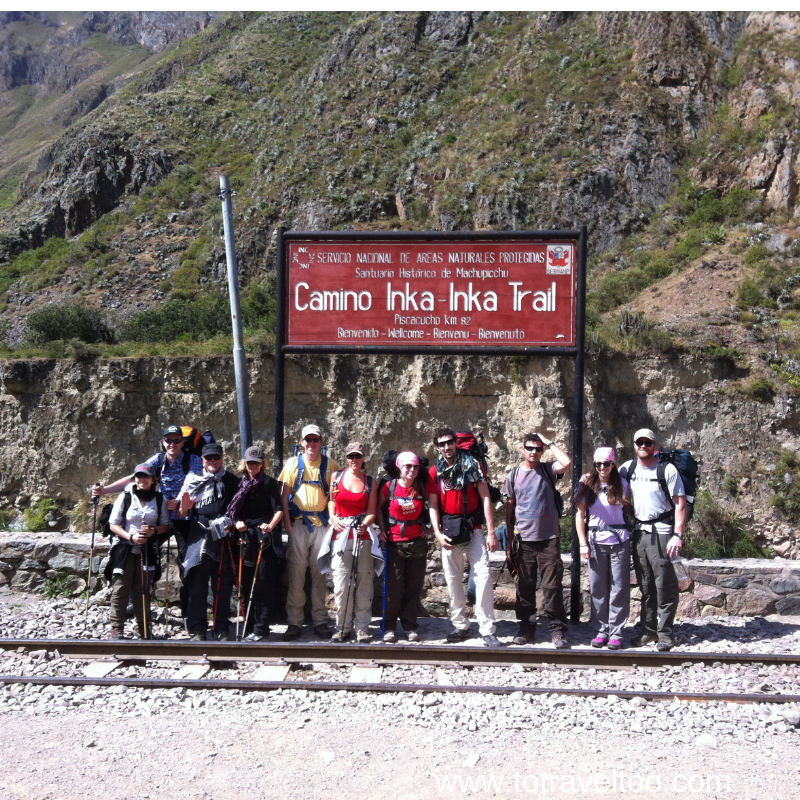 Our group was ready and we headed towards the checkpoint where our passports and trail permits were officially stamped. We crossed the suspension footbridge over the Urubamba River to where our trail began with a heightened level of excitement.  We followed the course of the river and headed off through the countryside which  Victor called the relatively flat terrain – Andean Flats.  Do not be fooled by the word 'flats' the first small hill up from the suspension bridge had us gasping for breath. This was not a good start and we became a little worried at this stage.  Trekking Machu Picchu was not going to be an easy stroll through the valleys.  The group moved on at a steady pace, falling into a natural rhythm as we learned how to trek with our walking poles.  Llamas grazed beside the path as we passed several Inca ruins.
For three hours we trekked and admired the snow-capped peaks of Wakay Willka  (Veronica). In the distance, we could see the Inca Fortress of Willka Raccay.
As we crossed the river, the tents for lunch were already set up, ready and waiting for us. We sat down to a starter of guacamole and local bread.  Jane is a vegetarian and had concerns regarding the availability of vegetables and the variety of the menu, but she didn't need to have worried at all.  Local grilled fish was served with salad and vegetables and Jane had an omelette.  The meals over the next 4 days consisted of local Peruvian vegetable soup, eggs, chicken, pasta, vegetables, popcorn, pancakes, porridge and hot chocolate.
After a satisfying lunch, we continued onwards and upwards towards the settlement of Llactapata and admired the impressive Inca farming terraces.  Our trail led us steadily up the hill, some parts steeper than others, towards the village of Huayllabamba, 3000m above sea level where we spent the first night.
On arrival we had just enough time to be shown to our two-man tent, drop our day packs and head towards the dinner tent for our first evening meal.  If all the meals at dinner were like this one we were definitely on a winner here.   After the exhilaration of the first day, we headed off to bed early, knowing full well that we had an early start tomorrow morning.
Day 1 –  we trekked the Inca Trail for 5 hours and a distance of 12km.
Day Two – Melt Down Day For Jane
At 5.00 am in the campsite on the Inca Trail of Machu Picchu the chillness of the dawn spread through our bones.  We heard the movements of the porters and our guides going from tent to tent waking everyone with a cup of hot coca tea which helped the altitude sickness. The porters brought us boiled water to fill up our drink bottles.
Today was considered the hardest day of the Inca Trek to Machu Picchu as we were to climb to Dead Woman's Pass reaching an altitude of 4,200m above sea level.
After we enjoyed our substantial breakfast of porridge, toast, pancakes and hot chocolate we left the camp at 6.00 am. The porters packed the tents, chairs, food and our extra luggage.  These guys are really amazing, as we struggled with our little day pack of water and snacks they carried 15kgs each and most of the time ran to the next pit stop. Recent regulations stated that porters are not allowed to carry more than 15kgs each on the Machu Picchu Inca Trail.
To Travel Too tip: ensure that the tour company you use has this policy and that they adhere to it.
We trekked through Llulluchapampa seeing hummingbirds and other local species of birds that we didn't recognise.
Llamas looked on at us with amusement. From here the trail took us through the cloud forest before we entered the Puna, treeless grasslands only found at this altitude on the Andes.  It was a tough climb that morning, the first three hours were all stone stairs, that took us right to the highest pass of the Inca Trail at Warmi Wanuska.  We arrived breathless at the top and were rewarded with the spectacular views of the Andes, the Huananay and surrounding mountains covered in snow.  We had made it up Dead Woman's Pass.  It was freezing cold but well worth this tough climb. One step, one deep breath, and on it goes.
As you know what goes up, must come down.  Thinking that the climb up was the hardest for us to do, we were not prepared for the down. We gingerly traversed the left side of the pass down to our campsite for lunch at Paqaymayu sitting at 3,600m above sea level.
This is where Jane had a major wobble.  She coped with the upward climb but really struggled with coming down.  Her fear is the fear of falling down the steep steps. We were so pleased we opted for walking poles each as this certainly had helped.  But nothing had prepared us for the uneven steps which you had to navigate on your bottom coupled with the steepness of the path.  Struggling to eat lunch and holding back tears Jane sat by the river and contemplated the next move.
She couldn't go back at this stage. If there was an injury they called for a horse, but she didn't have an injury. She was overcome with tiredness. Jane was also worried that as she was slow that she was holding up the others in the group.
Victor, our guide, was very supportive, he was there to challenge us all and to ensure that we trekked in a safe and secure manner.  He suggested we started trekking now before the others had finished their lunch.   We had to remember this was not a race, and there always was a guide bringing up the rear.  Victor and the rest of the group, of course, would catch us up in due course.  He pointed out the path up the mountain and explained there is no way that we would get lost, he would catch up with us by the time we reached the summit.
Jane took a deep breath, pulled herself together, and we started out. Climbing slowly, we left the group behind us beside the river enjoying their last moments of rest before they too headed off.  We headed towards Runkuraqay, in the rhythm that we were getting used to, one step, one breath.
The others caught us up and passed us as we started the slow descent to our next campsite arriving at 6 pm. We were still one of the last of the group to arrive, another couple were feeling the effects of altitude sickness and the four of us arrived at camp in darkness.
Our group were patiently waiting for us in the dinner tent and our meal of Peruvian Vegetable Soup, pasta and chicken was welcome, washed down with lots of hot chocolate and coca tea. A stiff drink would have been very welcome at this stage, but alcohol is banned during the trek.
The temperature dropped at night to well below freezing.  We were wearing all our clothes as the sleeping bags we purchased were not of the right thickness for this weather. The toilets were behind our campsite and we needed our headlamps to guide us in the dark.
To Travel Too tip: to hike Machu Picchu ensure that the sleeping bag you purchase is suitable for the climate
Total trekking distance on Day 2 of the Inca Trail 17km. Duration: 12 hours (Jane's speed)
Day Three – nicknamed the "Gringo Killer" on the Machu Picchu Trail
At 5.00 am on the morning of Day 3 of Machu Picchu, we were welcomed with a wake-up call and a cup of very hot scolding tea.  We stepped out of our tents to see the most magnificent sight of snow-capped mountains that surrounded our campsite. It was dark last night when we arrived and we did not see where our campsite was positioned. The cold morning air chilled us to the bone.
Yay!  Lots of hot chocolate and porridge for breakfast to warm us up.   Today should have been an easier day but we still had to manage what is known as 'the gringo killer' 3,000 uneven Inca steps downhill, which Jane was not looking forward to.
After breakfast, we hiked the Inca pathway, most of it still in its original condition, with a crawl through an original Inca tunnel to top it off.
From there we reached the  3,000 steps, all downhill, very steep and several of them Jane had to traverse on her backside as we headed towards Sayamarca, situated at 3,497m above sea level, it is an archaeological complex which translated to 'inaccessible town' and was perched on the edge of rocks.
The trail wound through cloud forests full of rare orchids, hanging mosses, bromeliads and tree ferns.  A gentle climb took us up to 3,700m which gave us incredible views of the peaks of Salkantay at 6,271m and Veronica at 5,750m.  As we came to the impressive ruins of Phuyupatamara (a cloud-level town) we had two options – either to go down the paved Inca road to the impressive site of Intipata or take the shorter trek, they both ended up at our last campsite at Winayhuayna at 2,700m.
We chose the short trek which turned out to be the hardest, all downhill, either steep steps or a gravel dirt road where you slipped and slid.
Winayhuayna, named after a variety of pink orchids, was our last campsite of the trek.  There were impressive ruins located minutes away which we had the option of visiting after lunch but we declined and rested in our tent.
This is the only campsite on our trek that had shower facilities.  Sometimes we hear that you may be lucky and have the pleasure of hot water but not this time.  We queued and had an icy cold shower, it was our first in 3 days, very welcome, but we can ensure it was quick.
Our last night also meant our last dinner and of course, a celebration as we had made it this far.  We gave our thanks to the porters and their hard work, we complemented the chef for his great meals, and tips were given out in appreciation.   We were all in bed sound asleep by 8 pm.
Day Three of our Machu Picchu hike – a 7-hour trekking day
Day Four – We Made It – we had climbed Machu Picchu
A very early start at 3.30 am on the Inca Trail trail which enabled us to be one of the first groups at the checkpoint at 4.3oam for the 5.00 am opening.  This last part of the trail from Winayhuayna takes about 1.5 hours and is clearly marked, we were trekking in the dark so headlamps were required by all of us, and some sections were also quite narrow.
To be honest, it was harrowing for us with little light to guide us. We traversed a lush cloud forest of giant ferns which lead us to an almost vertical ascent of about 50 steps to Intipunku, the Gate of the Sun, at 2,719m.
Our guide Victor all through the trek had a catchphrase – 'You made it, good job'.  He greeted us all as we arrived with of course – 'you made it, good job.'
Suddenly, all our efforts, the steep steps, the tough climbs and the tears were all forgotten as we waited for the mist to clear and to get our first glimpse of Machu Picchu.
This morning the mist was quite thick and Victor made the decision to move on, we should see glimpses as we headed down the last part of the trek which took us 1.5 hours.  Only 500 are allowed to trek the Inca Trail on any one day (this includes guides and porters as well); at 7.00 am the first trainload of tourists arrived at Machu Picchu and these numbers can swell up to 2,500.  Our rite of passage for trekking the 4 days gave us a distinct advantage, arriving before the crowds.
As we trekked the last part of the trail, she showed her magnificence as the mist cleared briefly.  Around the last corner and there she was. How on earth did the Inca's build it!  It was a very moving sight and one that brings you to tears.  All our tiredness disappeared as we just stood there gobsmacked.  It is one of the most beautiful sights we had ever seen.  We were emotional.
Our group became one as we stood there in awe, knowing that we had together trekked a very spiritual path that for years was forgotten and only recently discovered in 1911.
As part of our Tour, Victor guided us through Machu Picchu for two hours, explaining the use of each temple and building and the history of the Lost City.
After our guided tour we could either opt to stay and wander around the site or head down into the town of Aguas Calientes.  Our passports were stamped showing that we completed the trek and we headed towards the exit to catch the bus down the mountain.
A few of us were to collect our bags in Aguas Calientes from the local restaurant – Pizzeria El Ayllu.  We decided to meet the group there for pizzas and well-earned beers throughout the afternoon till our train departed at 6.45 pm for Ollantaytambo.
The train journey took 1.5 hours to Ollantaytambo and a bus transferred us to Cusco arriving at 10.30 pm.
Arriving back at Tikiwasi Casa Boutique Hotel, we welcomed a hot shower and a comfy bed. We can highly recommend staying at the Tikiwasi Hotel in San Blas. Excellent accommodation, breakfast, garden and stunning views.
Essential Visitor Information for the Inca Trail to Machu Picchu
Where is Machu Picchu
Machu Picchu is located in the Southern Hemisphere in Peru in South America. It is located on the eastern side of the Andes Mountain range.
It is located 80 km north-west of Cusco and 503 km from Lima Peru.
Machu Picchu Facts
Machu Picchu is a 15th Century Inca Site
It overlooks the Urubamba River
The site is 80,000 acres in size
In 1911 Hiram Bingham discovered the site
The site was abandoned in the 16th Century due to the Spanish Conquest
1983 it was declared a UNESCO World Heritage Site
2007 it became one of the seven New Wonders of the World
Machu Picchu Weather
The Inca Trail is closed during the month of February.  The rainy season starts in December and can finish in either March or April, usually March. May and June are normally dry and the weather is mild. July to November is cooler and dry.
The weather can change suddenly at all times when visiting Cusco and Machu Picchu.  Be prepared for rain hail and shine.
Inca Trail Tours – Machu Picchu Trek Options
The best way to hike Machu Picchu is with a reputable tour company that abides by the rules when it comes to the weight that their porters can carry and that you check the reviews of the companies that you are considering.
There are many companies that provide tours to Machu Picchu, depending on whether you want to arrive by train or trek.
Inca Trail Permits for the 4 day/3 night Trek
If you are considering the 4 days 3 night Inca Trail Trek you will need a permit.
Check with the company before you book whether they have the permits available on the day that you would like to depart.  Currently, permits are required to be booked 6 months in advance. You can purchase Machu Picchu day tickets in advance as well but not as long as the required 6 months.
Machu Picchu Elevation
You will need to be aware that acclimatisation is the key to trekking in Machu Picchu. The high altitude in Machu Picchu can affect different people at different times.  We highly recommend arriving at least 4 days in advance to give your body a chance to acclimatise.  Coca tea seems to alleviate the symptoms of altitude sickness which are light headiness, headaches, nausea and vomiting, fatigue and shortness of breath, lack of sleep and lack of energy.
Cusco altitude is 11,152 feet (3399m) above sea level
Machu Picchu altitude is 7972 feet (2430m) above sea level
Altitude sickness can affect anyone, just because you may have a high level of fitness, you could be the one who is affected.
Inca Trail Hike Difficulty
The Inca Trail trek to Machu Picchu covers 45 km (26 miles) over 4 days.
Day 1 – Moderate
Day 2 – Difficult
Day 3 – Moderate
Day 4 – Moderate
Flights from Lima to Cusco
For the latest flights to Cusco, we recommend that you check out the latest fare deals with Skyscanner. The flight time is 1 hour and 20 minutes from Lima to Cusco.
You can pre-book a private transfer from the airport to your hotel.
Buses to Cusco
For the latest schedules and ticket prices for buses to Cusco – click here
Cusco to Machu Picchu
The train is the best way to travel between Cusco and Machu Picchu.
You can enjoy the luxury of the Hiram Bingham Train or the day tour on the Vistadome train from Cusco.
From Aguas Calientes to Machu Picchu
It is recommended to pre-book a tour that collects you from Agua Calientes by bus to Machu Picchu.  The ticket also includes the entrance fee and a 2-hour guided tour. We can recommend a guided tour as if you do decide to do it on your own you miss out on vital historical information. For more information and pre-purchase of your ticket click here. There are only a certain number of tickets issued each day, we recommend that you pre-book.
Alternative Salkantay Trek to the Inca Trail to Machu Picchu (if the 4 day/3 night trek is fully booked for the date that you wanted)
If the Inca Trail is booked out you can consider the following:
5 day Salkantay Trek to Machu Picchu
8 day Salkantay Trek to Machu Picchu
Cusco Peru Hotels
We stayed at the boutique Hotel Tikawasi on 3 occasions when in Cusco and can highly recommend it for the location, views and comfort.

We preferred to stay in the San Blas area of Cusco.  It was perfect for restaurants and bars, sightseeing, close to the Plaza de Armas and tour operators.
If Tika Wasi Boutique Hotel is  fully booked here are further options for Cusco Hotels:

Machu Picchu Hotels (Aguas Calientes Hotels)

Machu Picchu Peru Packing List
You will need to consider your Inca Trail Packing List carefully.  You can hire a porter to carry some of your gear if you wish.  We did and it helped during the trek as we only had to carry water, snacks, beanies and gloves.
You will also need to bring some money to tip the porters and guides as well as to buy snacks on day 1 and 2 when available.  Money is also needed when you complete the trek and are heading to Aguas Calientes for lunch or dinner etc.
Snacks such as chocolate, nuts, and drinks such as Gatorade are recommended.
Toilet paper, toothbrush and toothpaste is recommended.
Extra batteries as there are no charging facilities.
A lightweight towel if you manage to shower on Day 3.
small first aid kit and lip balm
Passport and insurance details.
Packing clothes for Inca Trail – Women:
Underwear for 3 days, we would recommend sports bras.
1 thermal long sleeve top, t-shirts
2 quick-dry hiking trousers
Hiking socks, hiking boots
Beanie, headscarves, gloves, jacket and poncho


Packing clothes for Inca Trail – Men:
Underwear for 3 days,
1 thermal long sleeve top, t-shirts
2 quick-dry hiking trousers
Hiking socks, hiking boots
Beanie, headscarves, gloves, jacket and poncho


Inca Trail Packing List – Gear and Equipment You Will Need
Check out our To Travel Too Shop with all the latest trekking gear here.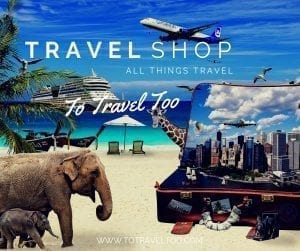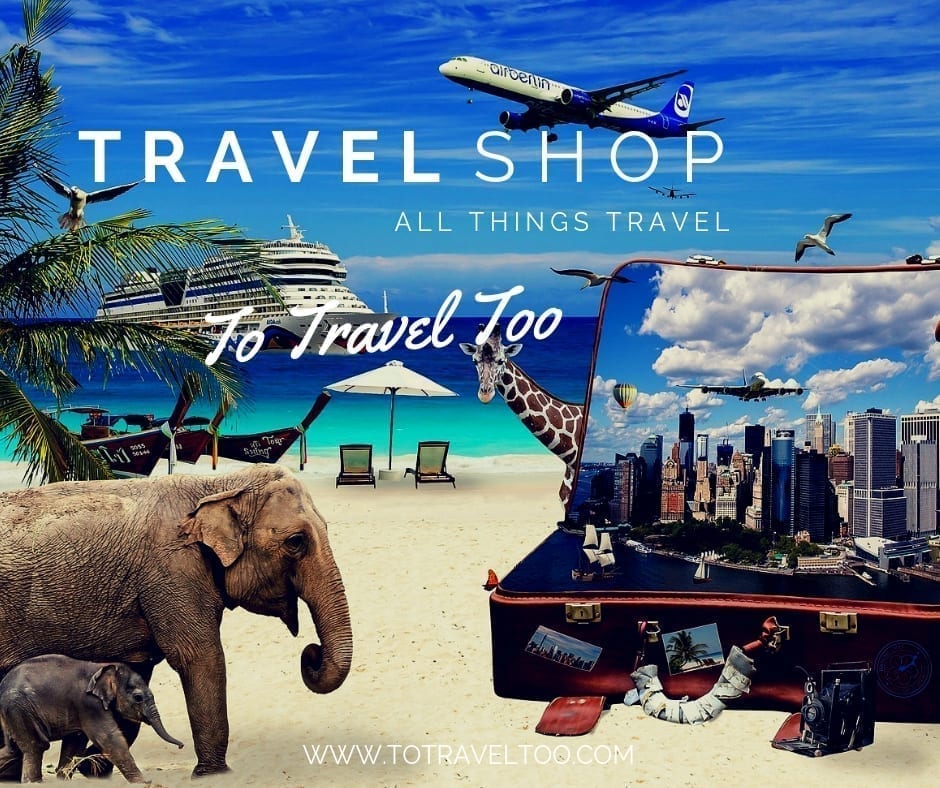 Pinterest
Are you on Pinterest? We are at To Travel Too and we have many travel-related boards check us out at Pinterest.  If you enjoyed our article why not pin it to your board?
Final Words:
We hope you have enjoyed our article on how to do the Inca Trail of Peru. This is one destination that you have to be well-prepared for even if you are visiting for a day. Our best travel tip is to book well in advance of your travel date and allow some time to adjust to the altitude of Machu Picchu and Cusco.
This will be a trip of a lifetime! Enjoy!