As we wandered through the labyrinth of streets in Stari Grad (Old Town) Kotor, Montenegro at 7.00 am we commented to one another 'This is the best time to visit'.
The church bells rang loudly from various churches as we headed towards 360 Monte Travel Agency. The streets were void of tourists, many of them came from the large cruise ships that entered Kotor Bay every day and others who enjoyed day trips from surrounding towns.
The only noise was the local restaurants setting up their tables and chairs for the long day and evening ahead. A cat ran ahead of us as it heard our footsteps on the ancient cobblestones.
We had heard and read about the beauty of North Montenegro and even contemplated hiring a car to head north into the spectacular scenery and landscapes that Montenegro has to offer.
Our tour was hosted by 360 Monte Travel Agency and as always our opinions are our own.
Read Our Article on 'All You Need to Know About Kotor, Montenegro' for what to do, where to stay and where to eat – your travel guide on Kotor.
This post may contain affiliate links. Please see our disclosure for more information. As an Amazon Associate, we earn from qualifying purchases (if applicable).
Check availability here
The Bay of Kotor, Montenegro
In our minibus, we followed the shorelines of the Bay of Kotor past the UNESCO World Heritage Site of Perast to our first photo opportunity of the day. Every brochure or magazine story you read about Montenegro shows images of "Our Lady of the Rocks" and "St George".  No wonder, it is a sight to behold. Can you imagine in the middle of a bay two islands – one natural and one man-made, one a monastery and the other a Catholic Church and Museum?
Our North Montenegro Tour with 360monte Tours
Our Lady of the Rocks Kotor
Sitting proudly in the bay with its shimmering blue roofs, nestled amongst the terracotta roofs and the buildings made of local stone, Our Lady of the Rocks is the local Catholic Church and a Museum.
How did they build it?  It took the locals over 200 years to build just the base, by throwing stones as they returned safely from each sea journey.  The Church houses over 68 important paintings by the Baroque Artist Tripo Kokolja.
Sveti Dorde (The Island of St George) Kotor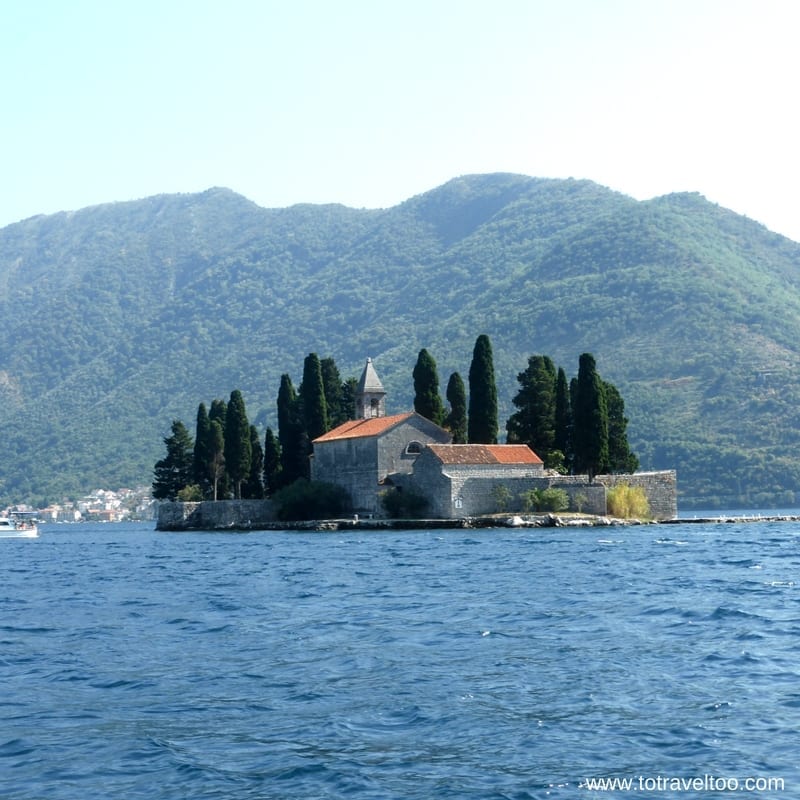 Sveti Dorde is a natural island, home to the 12th Century St George Benedictine Monastery. The island houses the graves of priests who once lived there.  Today, there are still Monks living in the Monastery.
As we slowly made our way up the steep mountains surrounding Kotor Bay we stopped for another photo opportunity.  This time, we could see the two islands in the mist and we enjoyed a panoramic view of Kotor Bay with its smaller bays of Risen, Tivat and Herceg Novi.  Although the area has been called the Mediterranean Fiord it is in fact, a submerged river canyon.
Awesome views!
Slano Lake
Slano Lake situated 6km west of Niksic (famous for its production of Montenegro's finest beer, of which we are great fans) is one of 3 artificial lakes that were formed in 1950 for the local hydroelectric power station construction. Although Slano actually means salt – the lake is not salty at all.  The water level was low when we visited in the summer due to the high usage of electricity during the summer months.  It is a spectacular lake and one where visitors can swim and enjoy the natural surroundings.
Tara River Canyon Montenegro
A canyon that is known as the deepest canyon in Europe and rivals the Grand Canyon of America was our next stop.  Measuring 82km in length and at its deepest 1300m the Canyon and Tara River that runs through it is on the list of the 'world's must-do rafting experiences'.
Those who were brave, dodged the traffic and walked out onto the bridge to witness the spectacular scenery below and to watch the rafters glide down the river.  If you are a zip-liner this would be one experience you would not want to miss!
Black Lake Montenegro
One of 18 glacial lakes in North Montenegro, Black Lake lies 3km out of the town of Zabljak in the Durmitor National Park.  Do not miss this stunning experience.
There is a small entrance fee to enter the National Park of Euros 5 per person but it is well worth it. On the pathway to the Lake, there are locals selling fruit, fruit wines, mushrooms and jams.  Of course, we had to buy some wine, it was blackberry wine, so good we should have bought more than just one bottle!
Black Lake is actually made up of 2 lakes – Big and Little Black Lake.  The awesome colours of the lake, the reflections of the huge mountains around it, the ducks and the little rowboats certainly made this a memorable part of our tour.
There is a 3.5km walking path around the lake but we did not have time for that, but we just enjoyed the stillness and the beauty of this natural environment.  There is a restaurant to enjoy with stunning views over the lake.
Sacred Ostrog Monastery Montenegro
A winding road, steep slopes, and sheer mountain cliffs lead you to Montenegro's most famous sacred site – Ostrog Monastery.  If you are afraid of heights you may not enjoy the drive, but we can guarantee you it is well worth it.
Open to all faiths this 17th Century Monastery is situated on an almost vertical cliff of Ostroka Greda Mountain. Pilgrims who have visited have reported that when they prayed by the body of St Basil who lies buried there they have been cured of their illnesses.  Out of the sheer rock face grows a vine. How can a vine grow out of such a sheer rock face? Incredible!
Breakfast and Lunch on the Durmitor Tara & Ostrog Monstery Day Tour
The tour was a full day from 7.30 am to 9.00 pm and stops were made for breakfast at Restoran Kastel just outside Niksic and Luna Restaurant in Zabljak.
We would like to thank 360Monte for sponsoring us on their North Montenegro Tour. We would also like to thank our responsible and professional minibus driver and Ognjen our guide for the day, who was very passionate and knowledgeable about his country.  As always, our opinions are our own.
Where to stay in Kotor
We stayed and can recommend the Old Mariner Guest House across the Bay of Kotor's Old Town in Prcanj. The guest house has excellent accommodations, you can self-cater or enjoy some of the restaurants in walking distance. They provide sunbeds on the bay for guests.

More Hotels in Kotor Options:

Airports Montenegro
The closest airport to Kotor is Tivat (TVI) 8 km away.
There are two further options:
Podgorica in Montenegro (TGD) 85 km away or
Dubrovnik Airport (DVB) in Croatia 58 km away.
You can pre-book a transfer from Dubrovnik Airport to Kotor here.
Cheap Flight Deals to Montenegro
Find the cheapest flights with Skyscanner who then directs you to the airline's website with no extra fees to pay.
Bus Tickets Montenegro
For the latest bus schedules and ticket prices click here.
Car Rental Montenegro
We use AutoEurope for car rental throughout Europe. For details click here for more information here.
Travel Insurance
World Nomads offers simple and flexible travel insurance. Buy at home or while traveling and claim online from anywhere in the world.
More travel inspirations:
How to avoid getting lost in Venice
Day Trip to Mostar from Dubrovnik
Pinterest
Are you on Pinterest? We are at To Travel Too and we have many travel-related boards check us out at Pinterest.  If you enjoyed our article why not pin it to your board?
To Travel Too Travel Shop
Travel smarter and safer with products from our To Travel Too Travel Shop.  If you are looking for the latest luggage, guidebooks or travel accessories we have you covered with over 800 travel products to choose from.