Mu Cang Chai – Fall In Love With The Precious Jewel Of Rural Vietnam
Mu Cang Chai in Yen Bai Province, north Vietnam is an easy place to fall in love with. Known by various nicknames, such as 'the forgotten land' or 'the theatre of rice', this destination will find a place in your heart and remain there, long after leaving.
This is the land of rice terraces. In fact, some of the most spectacular rice terrace hills in the world are here. These rolling, ribbon-like terraces are the quintessential image of rural Vietnam. Their colours change with the time of year. Sometimes liquid blue, reflecting the rainy skies above, other times golden hues of the harvest season.
If you long for a more peaceful contrast to the busy traffic and hustle of city life in this country, then come to Mu Cang Chai. You will soon fall for the charms of this precious jewel in the countryside.
In this post I will cover all you need to know about this wonderful part of the world, including how to get there, activities to enjoy, accommodation and local food to sample. Plus, my own treasured memories of visiting this place not so long back.
This post may contain affiliate links. Please see our disclosure for more information
We have a private Facebook Page – Vietnam Travel Planning – where you can ask questions about your travels to Vietnam and keep up to date with the latest travel information.


Facts About Mu Cang Chai
Mu Cang Chai is a district and mountainous region, roughly 1000m above sea level.
There are more than 2,200 hectares of rice terraces within the area. At least 500 of them are listed as National Heritage Sites.
These rice terraces are crafted and shaped by the local Hmong people, an ethnic group that dominates this region.
Mu Cang Chai is about 300 km from the capital city of

Hanoi

and world's apart in comparison!
Despite this land being very high up, it still sits at the feet of the Hoang Lien mountain range.
Join our To Travel Too regular newsletter here.
Mu Cang Chai Love At First Sight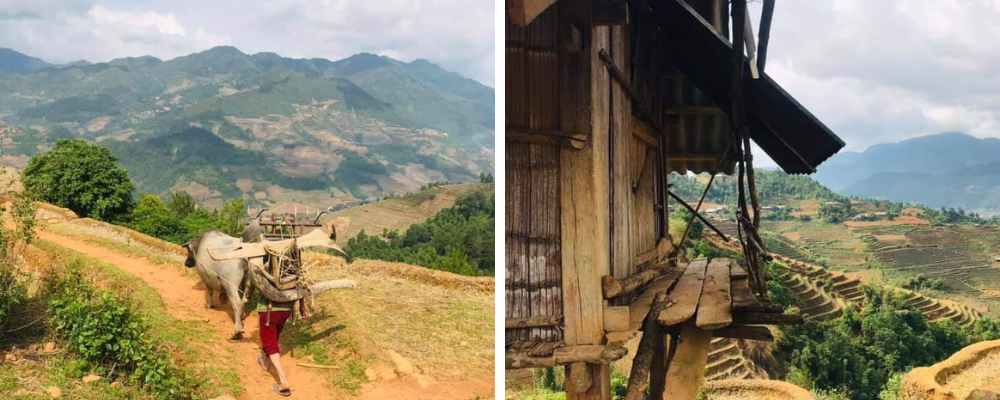 I visited Mu Cang Chai just a few years ago. I've been to some pretty spectacular places on my travels and this was one that took my breath away. I mean the scenery here is second to none. Period. Mu Cang Chai offers scenery that will rival anywhere, in its own way of course!
I was there during the spring and the weather was very pleasant. Sometimes the sky was moody and the grey clouds looked ready to burst overhead. Other times, the sun shone brightly and the heat was burning as I walked in the open fields.
One tip: make sure you bring a hat to protect your head and a long-sleeved top. You will spend a lot of time in the open, with no cover from the sun, except for what you wear. So just bear that in mind. Of course, the weather will treat you differently according to what time of year you choose to visit.
I remember looking out at the neat, colourful panorama of hills and mountains on my first day here and feeling a deep appreciation of nature. Everything changed colour, from hour to hour, in sync with the great, shifting skies. Sometimes the mountains appeared purple, other times a faint, bluish grey. The light wind occasionally blew, making the rice terraces dance and vibrate with movement. I loved Mu Cang Chai within an instance of being here.
Why come to Mu Cang Chai?
Yes, you may be asking yourself this question. Let me tell you there aren't endless sources of entertainment here, this is a poor, rural region and not somewhere that's been highly commercialized to appeal to mass tourism (surely part of its appeal!). Somewhere like Sapa, which is roughly 50 km from here is much more famous for travellers. However, for a more authentic taste of mountain life in Vietnam, I would recommend Mu Cang Chai all day long.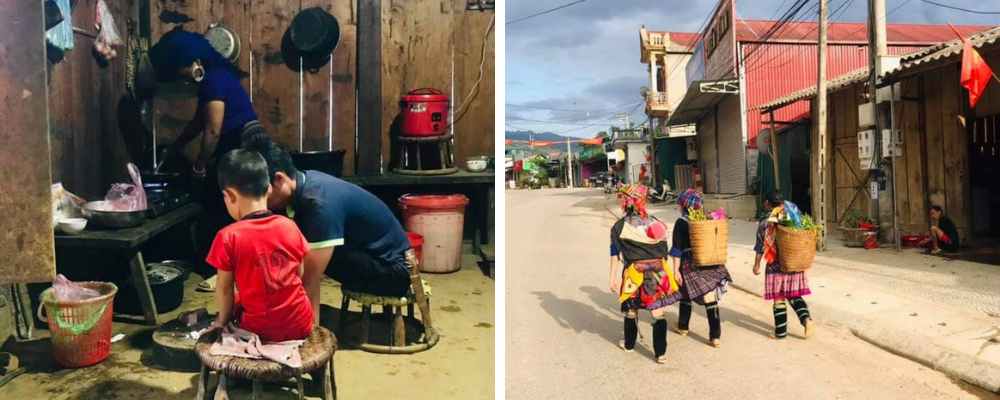 One should come here if you love to experience nature and a peaceful setting. Also, if like me, you are adventurous, there are many hiking opportunities and stunning motorbike rides to be had. Mu Cang Chai draws in photographers, bikers and hikers from all over the world. You will be spellbound at the sight of the man-made wonder that is the rice terraces. The Hmong people are extremely hardworking, agricultural artists and Mu Cang Chai is a giant canvas, showcasing their flair and skill.
Best Time To Visit Mu Cang Chai For Photography
There are three stand-out times in the year when Mu Cang Chai is at its most photogenic. These particular periods become a photographer's paradise. You don't need to be a professional however to get yourself some stunning travel photos. Let the sculptured rice terraces and the local people in their colourful attire, do the work for you.
There's the rainy time when the heavens frequently open on the land. This is between May and June.
There's the time of year when the rice is growing and the terraces are a vibrant, shimmering green. This is from June until September.
And perhaps the most popular time of harvest is when the rice fields go from green to gold and the Hmong are more visibly going about their duties again as farmers. From late in the month of September through to early October. So quite a short period, but arguably the most stunning.
May to June
At this time the terraces gather rainwater that has flown down from the mountains and this allows them to reflect the sky above. Sometimes a mirror-like series of terraces will capture the vivid blue of the sky, even reflecting the drifting white clouds above.
During this wet spell, you'll see a lot of agricultural work taking place, ploughing, replanting rice and fertilizing the field.
June to September
During this time the rice grows, causing the terraces to take on a brilliant green colour.
Late September until early October
This is the time of the harvest and the rice fields change from green to gold. You will see the locals gathering grain in bags and entire families joining in to help with the harvest. They wear colourful clothing, which really catches the eye. Occasionally you'll see mothers with their babies on their backs, being carried in a cloth, as they tend to the fields.
This is arguably the best time to visit Mu Cang Chai, as the area lends itself fantastically to photos.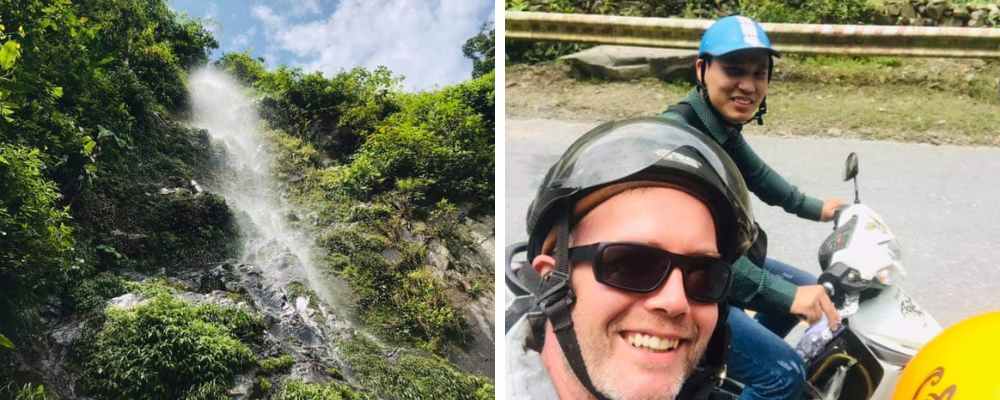 Mu Cang Chai Activities
Paragliding
Mu Cang Chai has become quite famous in recent years for paragliding enthusiasts. In fact, there's an annual festival held here for daredevil participants. Got to admit that this one is definitely not for me! Yet people come from far and wide to paraglide during harvest season. It takes place at a section of the Khau Pha mountain pass (more on this shortly).
The event is organized by VietWings.
Relax in a hot bath
If you come to this region, be sure to unwind after a day of hiking, by visiting the hot baths. You can soak in temperatures of between 35 to 40 degrees celsius at Ban Hoc Hot Springs, Tu Le Hot Spring or Ngoc Chien Hot Springs, Ban Luot. Locals believe this pastime to be good for the health and why not?!
Motorbike ride on Khau Pha Mountain Pass
One of the most thrilling adventures for me and the highlights of my trip here was doing this motorbike ride. You can easily rent a motorbike from your homestay and go on a ride, packed full of amazing scenery. Deep ravines and high mountains flank both sides of the pass. You can stop off at certain points to take in the views. You won't regret this experience. But only undertake it, if you already have experience riding a motorbike.
For more on Deo Khau Pha please visit my blog post Spectacular Khau Pha Mountain Pass, Yen Bai – Your Guide.
Try the local food in Mu Cang Chai
Five colours sticky rice
A popular dish, especially during a party in northwest Vietnam. Sticky rice is popular everywhere in Vietnam, however, this version is the most colourful! The rice is usually a mix of white, black, purple and yellow. This can vary though. It has an enticing aroma and is a great accompaniment to grilled chicken or pork.
Local Honey
Honey is one of the crowning glories of this region. When I was there I bought a bottle of honey, that had been made by my great hosts at Indigenous Homestay as a souvenir. It's really delicious and healthy for you.
Black Chicken
This is a firm favourite with the Hmong people. Ok, when I first heard about black chicken I was a little unsure about it. It may not be the most good-looking dish of meat in the world, but it tastes so good. I had black chicken for dinner one evening while staying with a Hmong family and really dug into that plate of food! Make sure to try it while you're in Mu Cang Chai.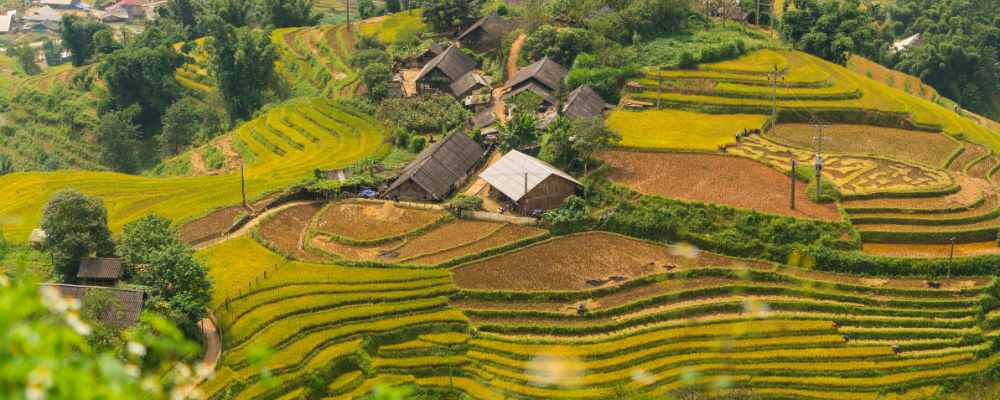 Trekking in Mu Cang Chai
Half-Day Trekking in Mu Cang Chai
Enjoy a half day trekking (4-5 hours) through the rice terraces.
For more information and booking
Full day Trekking Mu Cang Chai
7 – 8 hour trekking which includes lunch  through the rice terraces around Mu Chang Chai.
For more information and booking
Accommodation in Mu Cang Chai
There are several hotels and guesthouses in Mu Cang Chai town, but the options below will put you right in amongst the scenery you came for.
For fantastic views onto the rice terraces and great meals in a luxury setting at budget price check La Pan Tan Paradise.
To stay in a stilted house with a mountain and rice field views and very comfortable surroundings visit the

Mu Cang Chai Ecolodge.

To stay where I did eating and living with a Hmong family, I'd highly recommend

Indigenous homestay.
Getting to Mu Cang Chai
Option One:
Option Two
From My Dinh bus station in Hanoi, you can get your ticket to Nghia Lo, Yen Bai Province for about 200,000VND. Then from Yen Bai you can rent a motorbike for between 100,000 -150,000VND.
Option Three
Or take a local bus from Nghia Lo to Mu Cang Chai and then contact your homestay hosts to pick you up. I did this and my host Khang arranged a mini-bus to take me up into the mountains, with a few other travellers.
Option Four
You can take a private transfer from Hanoi to Mu Cang Chai. Duration is between 5 – 6 hours and you can organise to be collected from your hotel.
Guest Writer's Bio – Mark James Murphy
Mark James Murphy is an artist, teacher, adventurer and writer. He was born in Sunderland, North-East England in the early 1980s. He has solo travelled extensively throughout the world and in 2017 decided to leave behind his job and apartment in the UK to teach English in Vietnam, South East Asia, for almost five years, describing it as the best moment of his life so far.
There he continued developing his practice as an artist and printmaker, documenting his travels through the medium of linocut.
In 2019 he fulfilled a childhood dream when he backpacked for two months throughout the whole of India, ending up in a remote village in the Himalayan foothills. He has played football with local kids in the Sahara Desert, lived with Hmong people high in the mountains of North Vietnam and worked as a farmhand in Southern Spain.
Mark is currently based just outside of London. You can check out his website here.
More Travel Information on Mu Cang Chai
Vietnam Visa
You will need a visa to visit Vietnam. We use i-visa.
Flights into Vietnam
We use Skyscanner for all our flight bookings around the world.
Air Asia, the budget carrier, has flights to Hanoi, Ho Chi Minh City, Danang and Nha Trang from many Asian cities.
Travel Insurance
We always recommend that you take out travel insurance, you just don't know when you will need it.
To Travel Too Travel Shop
Travel smarter and safer with products from our To Travel Too Travel Shop.  If you are looking for the latest luggage, guidebooks or travel accessories we have you covered with over 800 travel products to choose from.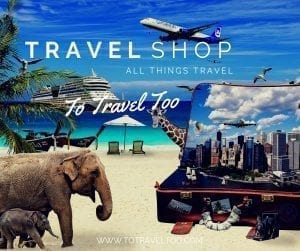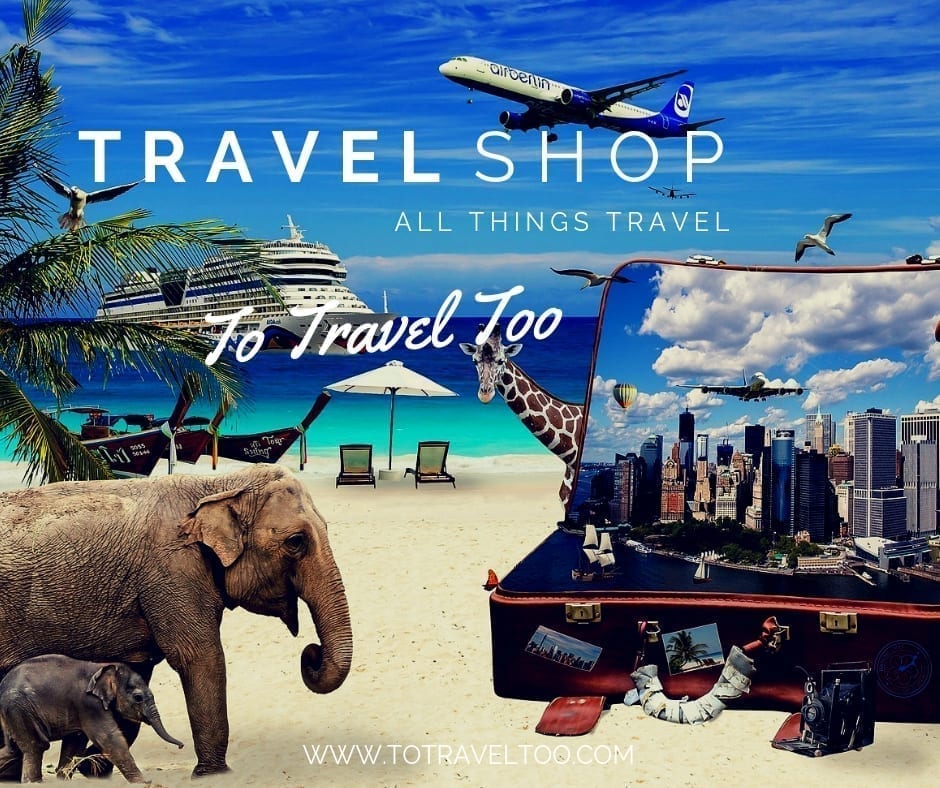 Pinterest
Are you on Pinterest? We are at To Travel Too and we have many travel-related boards check us out at Pinterest.  If you enjoyed our article why not pin it to your board and read it later?