Is Brussels on your travel 'to do' list this year? If so, you are off to an exciting destination!
Our guest post is from Laura from Laurewanders who was born in Belgium and who is very passionate about her place of birth. Grab a cup of coffee, sit down and relax and enjoy Laura's article on things to do in Brussels.
This post may contain affiliate links. Please see our disclosure for more information. As an Amazon Associate, we earn from qualifying purchases (if applicable). 
There are many fun things to do in Brussels, Belgium's sparkling capital. From admiring beautiful architecture (and quirky peeing statues) to devouring some delicious waffles, this is a city that has something to offer to anyone.
Being Europe's unofficial capital, Brussels is a city that should be included on any Belgium itinerary. This post will help you make the most of your trip. It includes the city's highlights as well as some handy insider tips from a local (I was born in Brussels and lived there for more than 10 years).
For the best of Brussels read on.
What to do in Brussels: 11 things you can't miss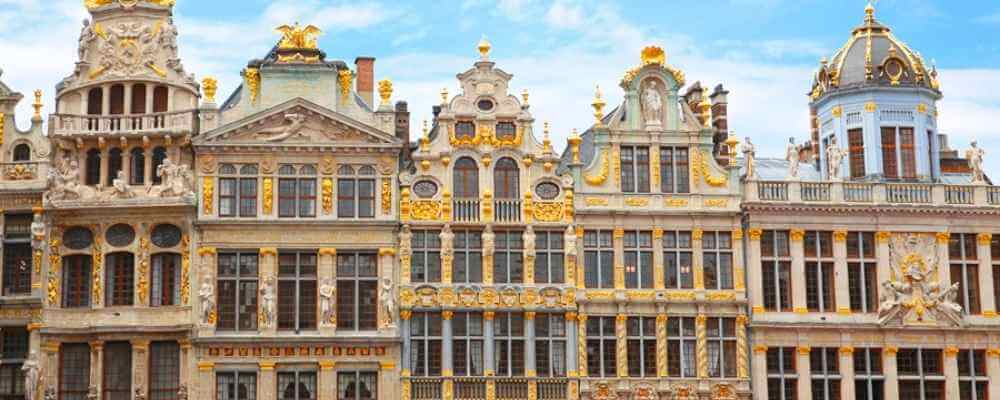 1.  Admire the Grand Place (a must-see in Brussels)
The Grand Place, or Grote Markt in Dutch, is argued to be one of the most beautiful squares in Europe, and it's a place that you cannot miss on a visit to Brussels. This UNESCO World Heritage site is paved with cobblestones and surrounded by marvellous guild houses dating back to the 11th century through to the 17th century.
On your visit, you might notice that the Town Hall is not built symmetrically. According to the legend, the architect who designed the building jumped off the tower after finding this out. The spot where he supposedly fell is marked with a star.
2.  Say hello to Manneken Pis & other peeing statues
This little fountain is one of the landmarks Belgium is best known for. Manneken Pis was designed in 1388, and it has since become the symbol of the capital.
There are many legends related to Manneken Pis. One of the most famous ones tells the story of a little boy extinguishing a fire by peeing on it.
But did you know that Brussels has not just one, but three peeing statues? You can also find a statue of a peeing little girl (Janneke Pis) and a peeing dog (Zinneke Pis) in the streets of the Belgian capital.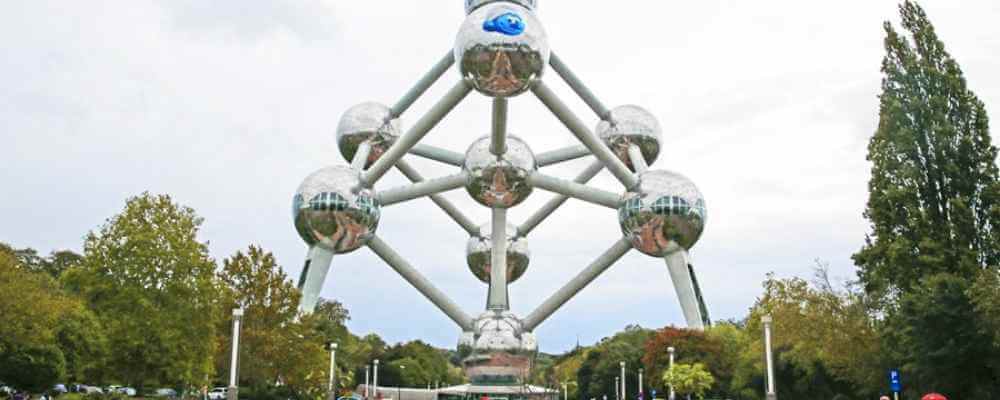 3.  Visit the Atomium – a Brussels Landmark Attraction
Built for the Brussels World's Fair of 1958, the Atomium wasn't intended to become one of the city's permanent landmarks. However, once the fair was over, people loved it so much that the decision was made to keep it.
The Atomium represents an enormous iron crystal, which is magnified a whopping 165 billion times compared to its normal size.
Although this landmark isn't located in the centre of the city, it's one of the most popular tourist attractions in Brussels, and it is worth the detour. You can visit its unique interior as well, and you'll find a panoramic viewpoint in its highest sphere.
Get the most out of your stay in Brussels with maximum savings and flexibility. Save up to 40% on admission to over 50 museums, guided tours, and must-visit attractions like the unmissable Atomium.
Get Your Discount Card Here and Save up to 40%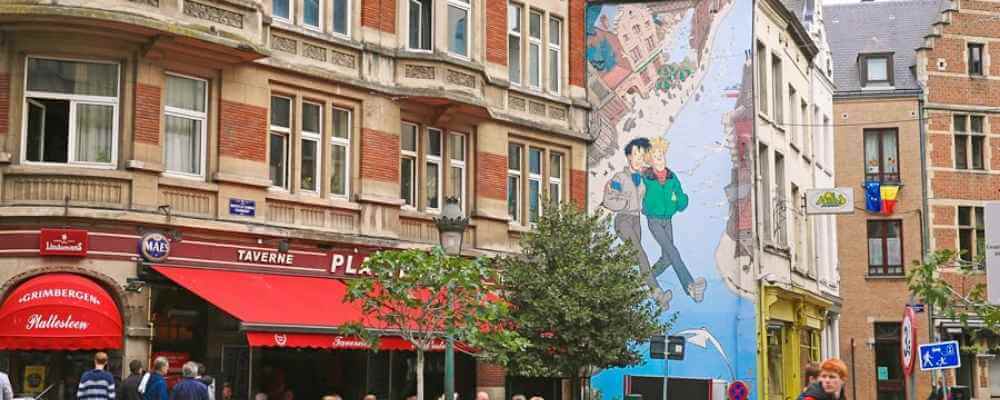 4.  Follow the comic book route in Brussels
Belgium is quite famous for its comic books. Think about Tintin, Lucky Luke, Marsupilami, or The Smurfs – these are all Belgian.
When you're walking around the streets of Brussels, you'll notice that the city is full of large murals of comic book heroes. There are more than 50 of these in total, and following the route that connects them is a fun way to explore the city.
Some of the most popular comic book walls are the Brousaille Wall, the Victor Sackville Wall, and the Le Jeune Albert Wall. These are all located in the centre of the city.
5.  Admire the Galleries Royales Saint Hubert
The beautiful Galleries Royales Saint Hubert (or Koninklijke Sint-Hubertusgalerijen in Dutch) are one of Europe's oldest shopping arcades. They were built by Belgian architect Jean-Pierre Cluysenaer between 1846 and 1847.
Apart from admiring the architecture, these galleries are a great place to go window shopping. You'll find many boutiques and chocolate shops here. It's also interesting to note that the arcade's higher floors consist of luxury apartments.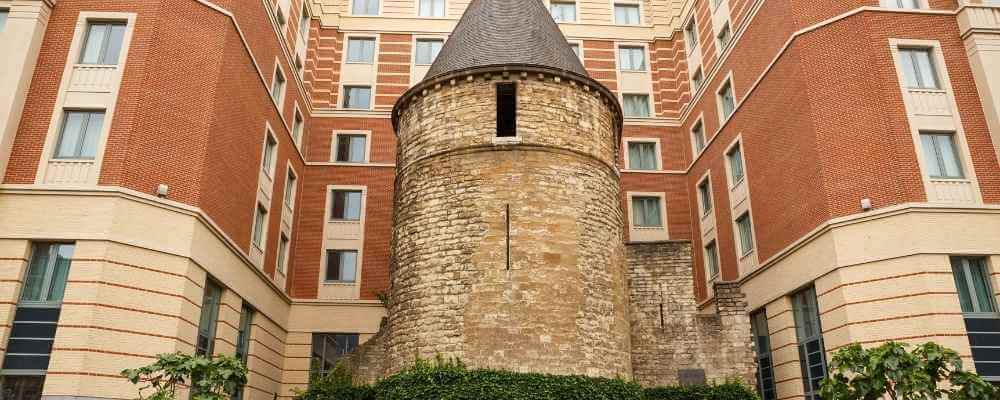 6.  Head to Sainte Catherine neighbourhood
This vibrant neighbourhood used to be famous for its fish market. It's here that fishermen sold their products during the olden days. Although this is no longer the case, the Sainte Catherine area is still known for its seafood today. You'll find plenty of seafood restaurants and shops here.
Some of the things you can't miss while you're here are Sainte Catherine's Church and the Tour Noire (the Black Tower in English). The latter are the remains of Brussels' 13th-century city walls.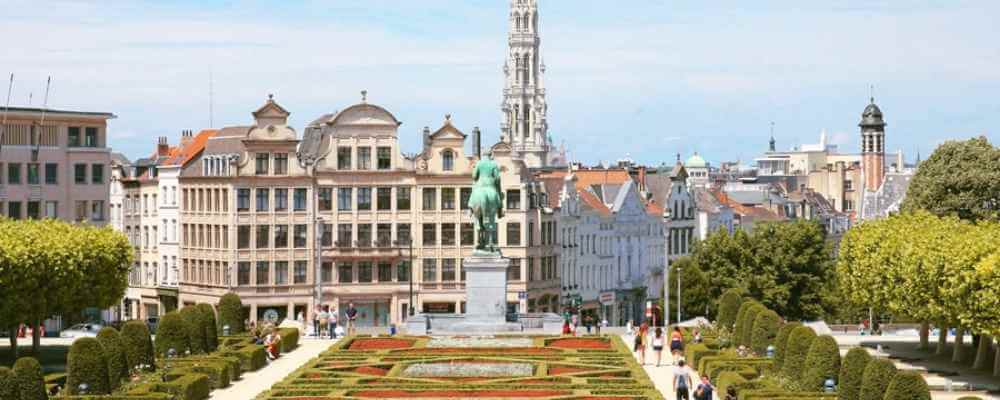 7.  Climb up Mont des Arts
The Mont des Arts connects downtown and uptown Brussels. Once you've walked through its garden, you'll find a staircase leading to a fountain. From the top of this staircase, you'll find the most beautiful view of the city.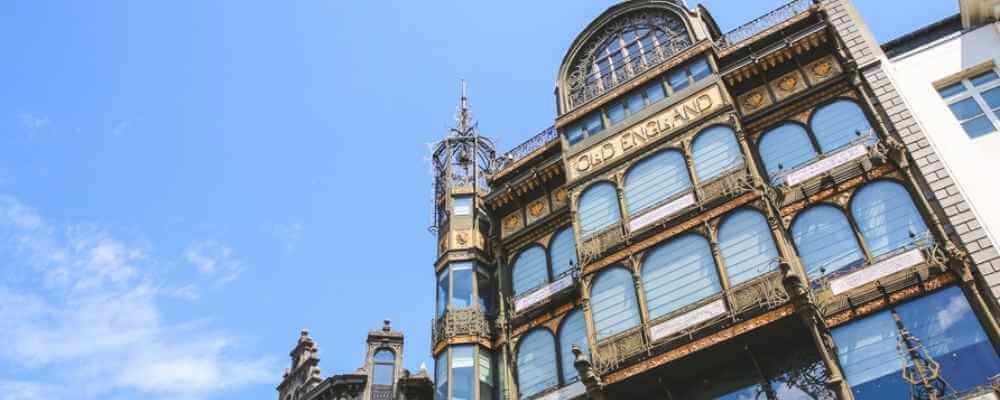 Don't forget to check out the Old England building while you're there – this is a stunning art nouveau building constructed by famous Belgian architect Victor Horta. The Old England Building was once a department store, but it now houses the Musical Instruments Museum (MIM), which brings me to my next point.
Brussels is home to a great number of interesting museums. My personal favourite is the Magritte Museum, which is dedicated to the Belgian surrealist artist René Magritte.
Purchase your entry ticket in advance here to the Magritte Museum
But there are many more fascinating museums, it all depends on your personal interests!
Some of the city's most popular museums are Brussels City Museum, Bozar, Art and History Museum, Horta Museum, and Musical Instrument Museum (MIM). Head to the Comic Art Museum or the Museum of Original Figurines if you'd like to learn more about Belgian comic books.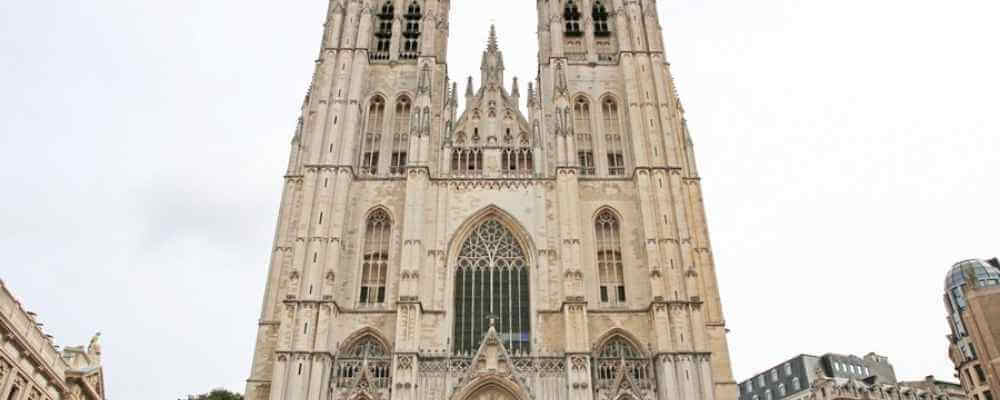 10. See the Saint Michael and Gudula Cathedral
This medieval cathedral was built in Gothic style between the 11th and 15th centuries, and it's one of the most important landmarks in the city. This is the place that the Belgian royal family uses for their weddings and funerals.
Visiting the cathedral's sober interiors – with beautiful stained glass windows – is one of the best free things to do in Brussels. You will have to pay a small fee, however, if you want to visit its treasure and crypt.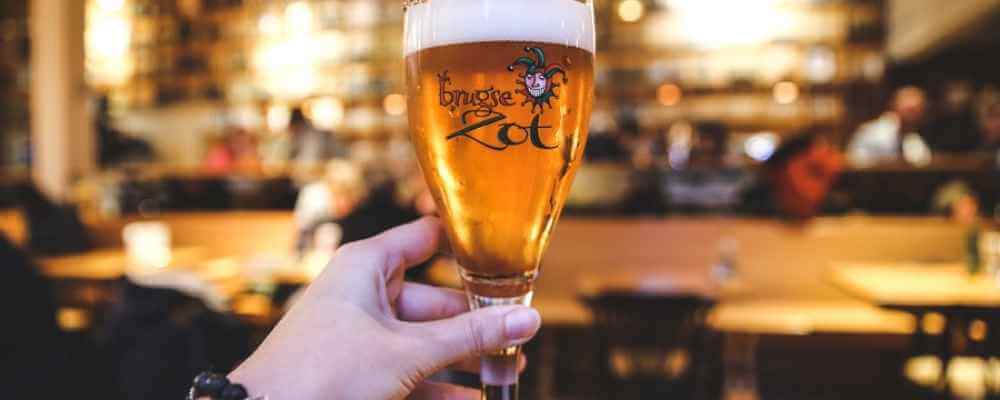 10. Drink Belgian beer
Let's face it – if there was one thing Belgium is most famous for, it's probably its beer. So if you like beer, you just can't go to Brussels without trying some!
There are many, many different types of beer in Belgium. From pale lager and amber lager to lambic beers, Trappist beers and stouts. On top of that, you'll also find a beer for nearly every Belgian region (think about Brugse Zot from Bruges or Augustijn from Ghent).
You'll find many cosy cafes in the streets of Brussels, but if you're looking for the place that serves the largest amount of beers in the world, you'll want to head to Delirium Cafe.
When it comes to cafes, my personal favourite is Toone though, this is a cafe that's mostly visited by locals, and it houses a traditional puppet theatre on the second floor.
Interested in a 2.5 hour Belgian Beer Tasting Experience - click here for more details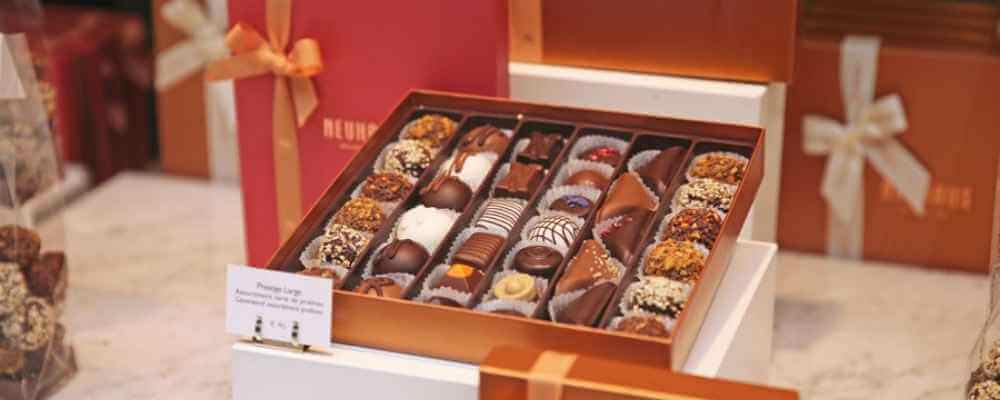 11. Try Belgian delicacies
One of the top things to do in Brussels is to taste some yummy Belgian delicacies! You'll find shops selling delicious French fries, Belgian waffles, or chocolate on nearly every corner of this city.
Would you like to take a 1 hour Chocolate Workshop - more details here
But there's more!
Except for the Fench fries, Belgian cuisine may not be that known abroad, but it's very tasty. Some of the most popular national dishes are Flemish stew, asparagus a la Flamande, waterzooi (a kind of stew), and sausage and mash.
When it comes to desserts and cookies, Geraardsbergse mattentaart, Jules Destrooper waffles, and Pain à la Grecque (which is a Brussels' specialty) are the best!
Where to stay in Brussels
The easiest place to base yourself on a visit to Brussels is in the centre of the city, around the Grand Place. However, this is also the most expensive part of the city. It's easy to get around in Brussels using the metro system, so even if you're staying further away from the centre, you'll be able to get anywhere pretty easily as long as there's a metro station nearby.
Check availability here
9 Hotel Central ($$): Located in the heart of Brussels, this is a beautiful hotel with beautiful, loft-like interiors.
Check availability here
The Dominican ($$$): This is a luxurious hotel in a historic building that used to be a convent. It's located near the Grand Place.
Check availability here
Where to Eat in Brussels
Head to Café Novo for traditional Belgian cuisine in the centre of Brussels.
Address for Cafe Novo: Pl. de la Vieille Halle aux Blés 37, 1000 Bruxelles
Other great options are Toukoul – an Ethiopian restaurant located in the centre of the city, or Horia – a Lebanese restaurant serving delicious organic food.
Address for Toukoul: Rue de Laeken 34, 1000 Bruxelles
Address for Horia: Borgwal 7, 1000 Bruxelles
Another gem is Viva M'Boma: Just around the corner of Place Sainte Catherine, this cosy
restaurant serves delicious Belgian food. This is the place to go if you want to try waterzooi, stoemp, Flemish carbonnades and other great dishes.
Address for Viva M'Boma – Rue de Flandre 17, 1000 Bruxelles
Good to know: I would also advise avoiding Rue des Bouchers – an alley full of restaurants near the Grand Place. This place is notorious for its pushy vendors and high tourist prices.
FAQ's on visiting Brussels
When is the best time to visit Brussels?
Brussels can be visited all year round, though July and August are the busiest months and December tends to be the wettest month.
How many days should I allow to visit Brussels?
You can easily see the highlights of the city in 1 to 2 days. If you want to visit lots of museums, I recommend staying a bit longer.
Is there an Airport in Brussels?
Brussels Airport is located 14 km (8,7 mi) from the centre of the city. There are buses, trains, and taxis from the airport to the city.
Are there free things to do in Brussels?
Like every major city and town you can always find some great fun free things to do in Brussels too!
Can you do a day trip to Brussels?
There are many places to visit in Brussels. You can take one or two of the top things to do in Brussels we have listed to enjoy.
Bio:
Laura Meyers is the founder of Laure Wanders, a solo travel and adventure blog. Laura was born in Brussels and loves sharing her tips for unique and independent travel adventures across the world.
Conclusion
Thanks to Laura for her really interesting article on things to do in Brussels. We hope you enjoyed our article on where to go in Brussels.
I visited many years ago and loved the vibe of Brussels at that time.  I had a chance to visit the Manneken Pis and to try Belgian beer and what I think is the best chocolate in the world.  It is time to make a return visit. Don't you think?
What is one of your favourite Brussels sightseeing activities? We would love to hear from you.
General Information for Visiting Brussels
The Brussels Card – 24, 48 or 72 hours
The Brussels Card is the key to discovering the sights and visiting the attractions of the city of Brussels. This user-friendly card puts the city at your fingertips with access to some of the best museums, tourist attractions, tours, shops and more.
Don't queue - pre-purchase the Brussels Card here
Flight Deals to Brussels
We use Skyscanner to book all our flights. For the latest flight deals to Brussels click here.
Car Hire
If you would like to rent a car check out the latest deals from AutoEurope our preferred car rental in Europe.
Bus Travel
If you are travelling Europe and Belgium by bus, check out the latest schedules and ticket prices here.
Visa and Health Declaration Forms
If you may need a visa or want to have the latest information on health declaration forms – check out our partner ivisa here.
Latest Books on Brussels
Related Reading
Things to do in Bruges in a Weekend
Travel Insurance
We always recommend that you take our travel insurance when you travel. Ensure that you read the policy details especially exclusions.
Pinterest
Are you on Pinterest? We are at To Travel Too and we have many travel-related boards check us out at Pinterest.  If you enjoyed our article why not pin it to your board and read it later.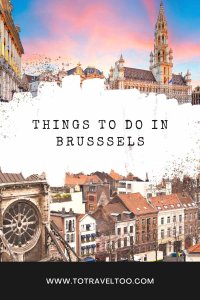 To Travel Too Travel Shop
Travel smarter and safer with products from our To Travel Too Travel Shop.  If you are looking for the latest luggage, guidebooks or travel accessories we have you covered with over 800 travel products to choose from.