Wondering what things to do in Celestun Yucatan Peninsula?
Celestun is considered more of a 'back to nature' tourist attraction with the pink flamingos as the 'star' attraction. What a star attraction they are!
(Editor Update 2023)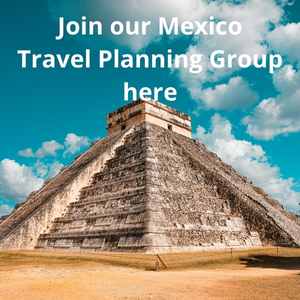 Our Celestun guide covers:
Celestun Mexican flamingos (flamingos de celestun) and a visit to the Mangroves
Celestun tips on the boat tour to see the flamingos
Celestun Mexican Accommodation
Visiting Celestun – transport options
This post may contain affiliate links. Please see our disclosure for more information. As an Amazon Associate, we earn from qualifying purchases (if applicable). 
A good 5-star hotel to base yourself in the Yucatan Peninsula in nearby Merida is the Wyndham Hotel. Merida is located 90 km away with an average driving time of 1.5 hours.  Merida is a good base to visit Chichen Itza, Izamal, Uxmal and other Mayan sites.
We would recommend staying one night in Celestun and then making a base in Merida. We have included Celestun hotels in the article as an option for you.
Wyndham Hotel Merida – you can read our hotel review here.
Check availability here for Wyndham Merida
Accommodation in Celestun
Check out the latest availability here on accommodation in Celestun:
Check out our Web Story here: (just click on the flamingo photo)
Things to do in Celestun Yucatan Peninsula
Celestun (the correct spelling is Celestun and not Celestone which is an injectable cortisone) means 'painted stone' in Mayan and receives over 25,000 visitors a year. It is a small fishing village with a small harbour, great seafood restaurants and a local beach.
The Celestun Biosphere Reserve (Biosphera Ria Celestun)
The Celestun Biosphere Reserve where the flamingos live part of the year is located in the northwestern part of the Yucatan Peninsula on 146,000 acres.
Facts about the Celestun Flamingos
What graceful elegant birds they are!  They belong to the waterfowl group and are the tallest birds in this group reaching to a height of 1.5m for males and can weigh up to 4kg. They can live up to 20 or 30 years of age. They have been known to congregate in groups of up to 500 in numbers.   Their long legs, long necks, and graceful movements are so wonderful to watch and when they fly off information it is an amazing sight to witness. They are noisy, really noisy but you forgive them because of their beauty.
We were lucky to see so many in one location.  They formed little groups squawking away at one another like groups of school kids in the schoolyard.
Where are flamingos from?
Flamingos can be found in South America, Africa, the Middle East, the Caribbean, Mexico and India.
When they are born their feathers are grey in colour and their bills are straight.  By the time they reach the age of 3 their pink colour has emerged due to their natural diet which contains high levels of beta-carotene found in brine shrimp and algae. They feed with their heads in the water.
Unfortunately, numbers have reduced over the years due to periodic flooding of their nesting environment, lead poisoning due to overhead aircraft and global warming which reduces the amount of water in the lagoons and lakes.  With the lack of sufficient freshwater they cannot survive, they would have to find new locations and this, in turn, affects their mating.
Celestun Flamingo Season
We were fortunate to visit during the month of February, as we had been told that the best time to see the flamingos is between November and March when they are courting.  They move further north to Rio Lagartos in the summer for nesting and birthing. There were thousands on the day we visited.
We were not disappointed! Celestun Mexico is the place to see them! Read here what other travellers have said about Celestun.
Private Tour from Merida or a DIY Tour – What is the Best?
Option One: Tour from Merida to Celestun
See pink flamingos in the wild on a trip to the beautiful Ria Celestun Biosphere Reserve where you can also swim at Celestun Biosphere Reserve and at Celestun Beach. Benefit from pick-up and drop off at your hotel in Mérida. Lunch is included.
Check availability here for the Celestun Tour
Option Two: Hire a Car from Merida and DIY
For the latest deals on rental cars click here
It is an easy drive from Merida – allow 1.5 hours to travel the 90 km.
When you arrive at Celestun there are launches available to take you on the 2-hour boat ride to see the flamingos feeding as well as a tour through the mangroves.
Good to know: you may have to wait till others turn up for the boat trip otherwise you may have to pay a higher price if you want the boat to yourself.  Our boat driver only spoke Spanish but with hand gestures etc we were able to understand most of what he was saying.
The cost of the boat tour:
The current cost of the boat tour is MXN 2000 approximately USD100 as at the end of 2021.
Good to know:
Ensure that your boat driver keeps a safe distance away from the flamingos
Refrain from loud noises which might scare the birds from feeding
Pros: Your time is your own from the time of leaving your hotel and returning
The Mangroves of Celestun
After spending some time watching and floating around the flamingos we headed towards the mangroves. It was so peaceful cruising through the mangroves after the noisy flamingos!
Along the way, we saw many types of other birds in their natural habitats such as the grey and white pelicans and cormorants.
In the freshwater springs of the Mangrove, our guide stated we may see a crocodile or two but we were out of luck on this trip. The Mangroves and surrounding jungle are also home to herons, kingfishers, woodpeckers, jaguars, ocelots, white-tailed deer and spider monkey. There are 4 types of turtles to be found in the Celestun Biosphere Reserve; Hawksbill, Green, Loggerhead and Leatherback.
Mangroves are tidal habitats comprising of a variety of trees and shrubs.   Here in Celestun, the tree species are Gum, Chac'a, the Alamo, Sabal and Mahogany trees many growing to heights of between 15m-18m.
The colours of the water and the reflection of the trees in the mangroves as we sailed through gave us a feeling of peace and calm, there was no one else around just us.  We could have just sat in the launch for hours enjoying the wildlife and the peacefulness.
A Mexico Travel Guide
You may want to check out our e-book A Mexico Travel Guide to assist you in planning your adventures in Mexico.
Our Mexico Travel Guide highlights all the places we visited during our 9 months travel around Mexico.  Our tips and tricks will let you know what to do, where to go and what to see, where to eat and where to stay.
If you enjoyed our article on things to do in Celestun, Yucatan Peninsula why not PIN it for later:
General Visit Information for Visiting Celestun
Where is the Yucatan Peninsula
The Yucatan Peninsula is located in the southeast region of Mexico. The Mexican Yucatan Peninsula lies in the Gulf of Mexico and the Caribbean Sea.
The Yucatan Peninsula Map
How to travel to Celestun
By Plane
Merida is the closest airport, 91km away.  Alternatives are flying into Cancun or Mexico City with bus connections.
Find the cheapest flights with Skyscanner.
By Bus
There are hourly departures in a 2nd class bus from Merida Bus Station that is located on Calle 67 between Calles 50 and 52.
You can book your bus tickets around Mexico with Busbud – the global bus ticketing website. We travelled 6 months in Mexico via ADO Buses and can highly recommend their services.
By Car
There are car rental companies available in Merida to travel around the Yucatan Peninsula. The journey takes between 1.5 hours and 2 hours depending on traffic.
Check the latest deals here
Yucatan Weather
When is the best time to visit Mexico's Yucatan Peninsula?
The best time to visit the Yucatan is during the months of November through to April in the dry season.
The busiest tourist season is from mid-December through to mid-January and Easter.
An ideal time to visit is mid-November through to early December.
Check availability here for the tour to Celestun
What to do in Celestun and surrounding areas
If you are looking to stay around Celestun and want to visit a Mayan Temple  (the main tourist attraction of this region of Mexico) you will need to consider travelling to either Chichen Itza (214 km away)  or Uxmal (120 km away).
We would recommend that you make Merida a base to visit all that the Yucatan Peninsula has to offer.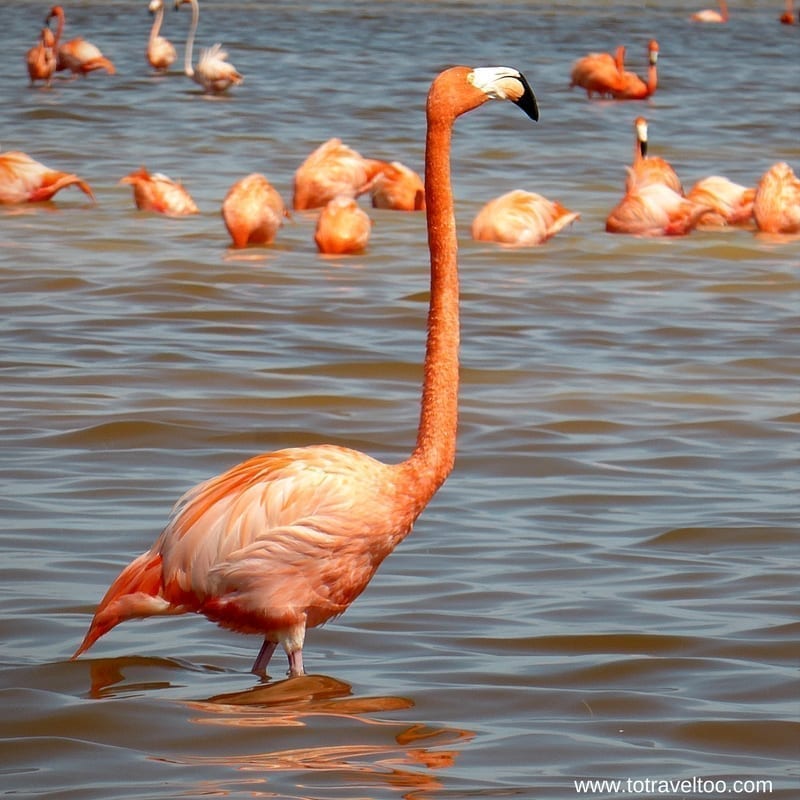 Celestun Beach
After your 2-hour boat ride, you can enjoy a few hours on the long stretch of Celestun Beach.
Rio Lagartos Yucatan
Rio Largartos is the summer nesting and birthing place for the Celestun Flamingos after spending the winter in Celestun. It is a 2.5-hour drive from Merida to the northern part of the peninsula where Rio Largartos is located.  It is a small town with a boardwalk which is famous for its pink sunsets.
If you are visiting the Yucatan Peninsular during Summer we would recommend travelling to Rio Lagartos instead of Celestun to see the flamingos.
There are at least 13 restaurants to choose from in and around Celestun, their specialities are seafood and local Mexican cuisine.
Merida Hotel
We enjoyed our stay at the Wyndham Merida Hotel, which was in a good location in Merida for sightseeing around the Yucatan Peninsula. Comfortable luxurious beds, well-sized bathroom with views over the swimming pool.
Address: Avenida Colon Colonia Garcia Gineres Merida Mexico
Latest guest review:
The staff was amazing, very helpful and polite. We had to extend our stay two times and the front desk staff (especially Julianna) was patient and gave us the flexibility to confirm our stay extension to the last minute. The rooms are comfortable, clean and have toiletries. We had breakfast at Wyndham Merida restaurant and it was delicious. Added bonus: there is a Starbucks inside. The hotel is a renovated old mansion so it is beautiful. The location was excellent, only a few minutes from Centro Historico and Paseo Montejo. I would go back to this hotel.

Where to stay in Merida Mexico
Related reading: Best Places to Stay In Cancun
Our Experience in Visiting the Celestun Peninsula
We highly recommend a visit to Celestun and the pink flamingos as part of your itinerary in the Yucatan Peninsula.  It is a great day out. Apart from Celestun, a visit to Merida should be high on your list as well to see and experience:
the colonial architecture and Merida Plaza
the restaurants
nighttime music festivities
a base for visiting the Mayan Temples
If you have any questions or would like some advice we would love to hear from you. You can reach us via our Facebook page or email us here.
Travel Insurance
We recommend taking out travel insurance as soon as you book your flights and pay deposits on any cruises, tours or hotels.
More articles to inspire you to visit the Yucatan Peninsula
Things to do in the Yucatan Peninsula
How to make the most of your visit to Chichen Itza
Things to do in Uxmal Yucatan Mexico
Luxury Accommodation in Cancun
Other areas of Mexico to visit are:
Do You Need a Visa For Mexico:
Pinterest
Are you on Pinterest? We are at To Travel Too and we have many travel-related boards check us out at Pinterest.  If you enjoyed our article why not pin it to your board.
You may also enjoy our 30-second video of boating through the mangroves of Celestun.
We would like to thank the  Yucatan Travel, and Visit Mexico for their assistance for our 4 days in Merida and the Yucatan.  In our visit to Celestun, our transport to and from Merida was sponsored as well as our boat ride.  Our accommodation at the Wyndham Hotel in Merida was sponsored for our stay, we thank the management and staff for taking good care of us. We thank George our driver and Maria from Yucatan Travel for looking after us so well.  As always, our opinions are our own.


We have our own To Travel Too Travel Shop with 800 travel-related products that we use ourselves or we have been given recommendations by other travel bloggers or travellers. Travel safer and smarter with our products.