Gamla Stan, the enchanting old town of Stockholm, Sweden, is a destination that should be on every traveller's bucket list. With its narrow cobblestone streets, colourful buildings, and rich historical significance, Gamla Stan offers a glimpse into the city's medieval past. Whether you are a history enthusiast seeking to explore ancient architecture or simply looking to immerse yourself in the charm of a bygone era, this well-preserved neighbourhood has something for everyone. From captivating museums and royal palaces to bustling markets and quaint cafes, discover why you should visit Gamla Stan, this is an experience not to be missed.
Where is Stockholm Sweden
Stockholm is Sweden's Capital City. Stockholm is located on the mouth of Lake Malaren and is spread across 14 islands. Its location is in the southeast of the country of Sweden by the Stockholm Archipelago and the Baltic Sea. Sweden is one of the Scandinavian countries and has borders with Norway and Finland.
Stockholm Map Showing Gamla Stan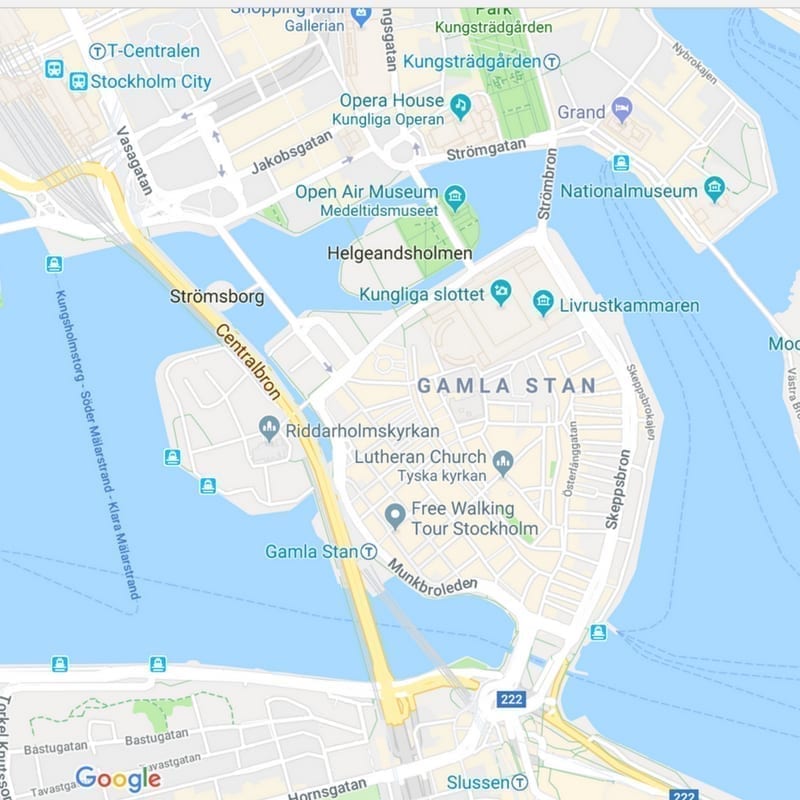 Gamla Stan
Gamla Stan, the old town of Stockholm, is full of history, ancient stories and mystery, and is located on the small island of the same name in Stockholm Sweden.
Gamla Stan is one of the best-preserved medieval city centres in Europe.  An island of winding cobblestoned streets, well-preserved buildings and squares, it is where the changing of the guards occurs daily at the Palace and where tourists throng to wander, shop and eat.
If you delve deeper into the history you will find stories of executioners, ghosts and bloody killings, age-old rune stones and an alleyway that at its smallest width measures just 90cm (if you can find it that is)!
Should you visit?  Of course, you should!  Here are some of Gamla Stan's attractions for you to enjoy!
Things to do in Gamla Stan
There are many things to do in Stockholm City and you should allow at least half a day to visit Gamla Stan. Over the two weeks we spent in Stockholm we returned about 5 times just to wander the streets, have a meal at a restaurant or enjoy a coffee in one of the many coffee houses.
1.  Riddarholmen Church on the Island of Riddarholmen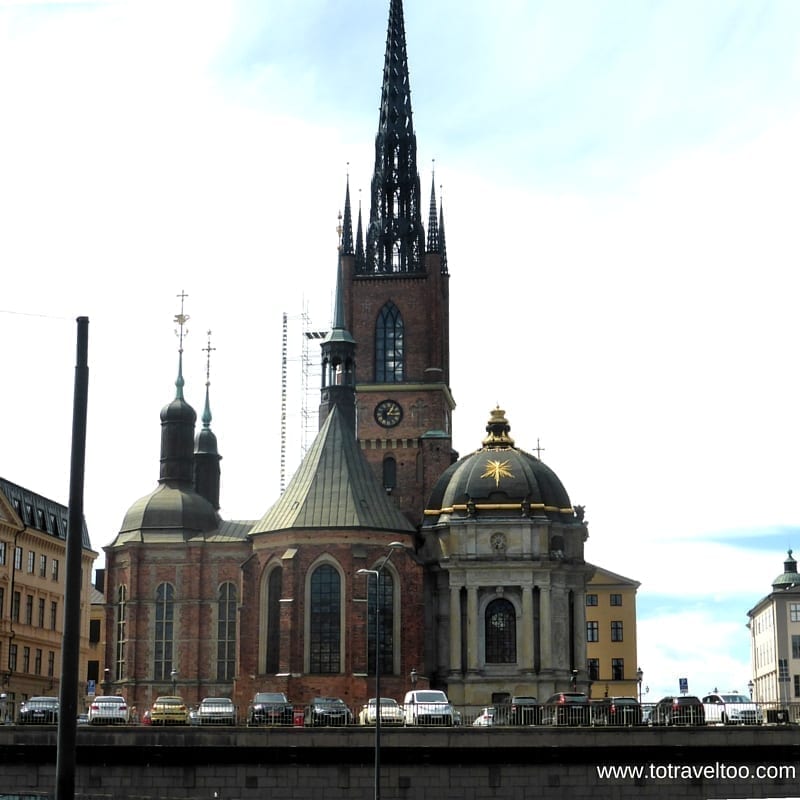 Look out towards the skyline on the island of Riddarholmen from Gamla Stan and you cannot miss the church that dominates the view.  The Riddarholmen Church was completed around 1300 and for over 300 years it was the burial places of the Swedish Kings and their consorts.
The island of Riddarholmen can be visited on foot, no one lives there now, the buildings are used for government offices.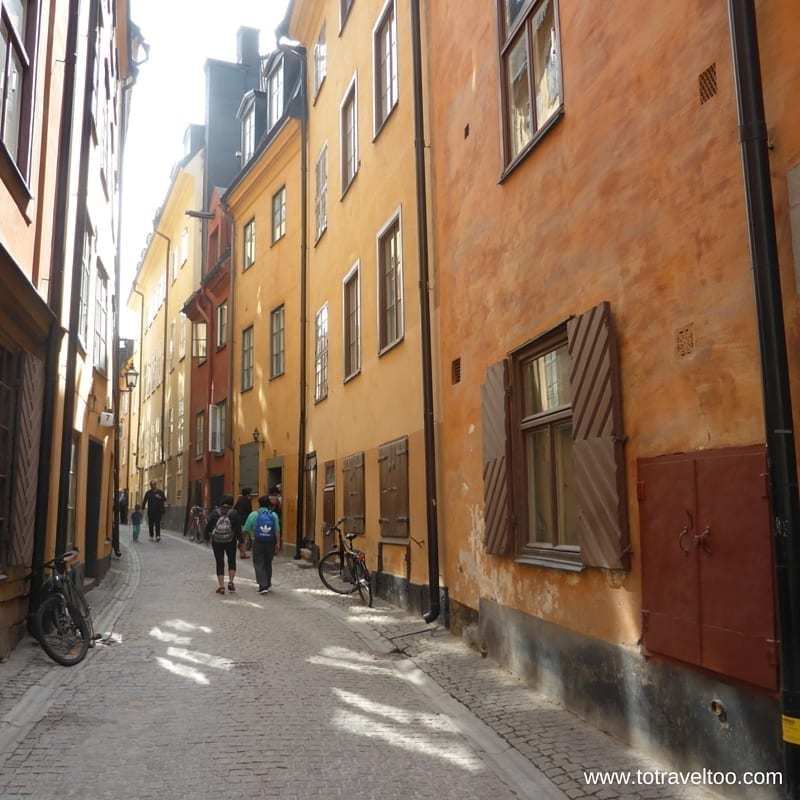 A narrow cobblestone street that runs from North to South on Gamla Stan.  Prastgatan is one of the oldest streets in Gamla Stan.  Originally it was divided into two parts – Swedish and German.  The Northern part of the street, also known as the Alley of Hell, housed criminals and it is where suicides were normal everyday happenings.  The local executioner lived in this area.  Executioners were prisoners who were sent to death themselves, to become an executioner one had to kill the previous one. Regardless of whether you were an executioner or just an ordinary prisoner your fate was already sealed.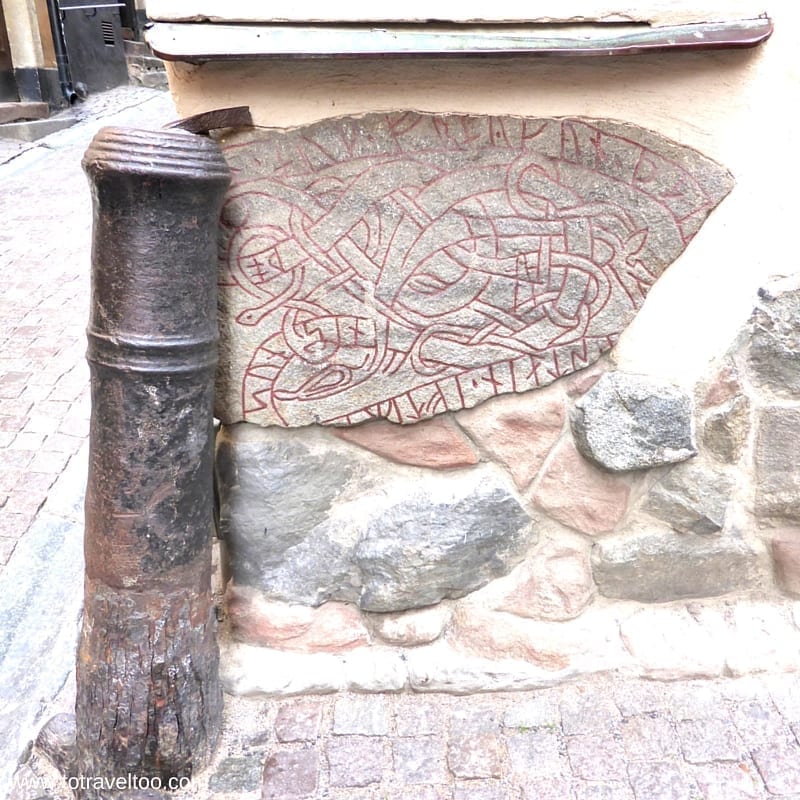 There is a Runestone featured on the corner of Prastgatan Street and Kakbrinken.  The stone is believed to date back to 1000, it is 200 years older than the city.  A runestone is a stone carved by the ancient Scandinavians and the patterns inscribed where depicting heroic men,  telling the tales of historic events, claiming land ownership and family inheritance and even oracle divination. They first appeared in Norway and Sweden around the 4th and 5th century. You can see a cannon by the stone, it is understood to have been placed there as a protection to the runestone from carriage wheels.
#46 Prastgatan Street has an emblem above the door that represents the phoenix.  It is a symbol of one of the first Insurance Companies in Sweden.  The emblem was placed on doorways if the residents were wealthy enough to afford insurance, their property would be one of the first saved if a fire was raging in the street, which apparently happened quite often.
You will note iron patterns on the external walls of buildings.  Each iron pattern relates to a particular year it was used for renovation purposes to support the walls and the beams of the house.  This one dates back to 1630.
You will also note that the houses are painted in bright colours.  During winter the shortest day is 70 minutes, the Swedes painted their houses in bright colours to lighten their moods.
3.  St Gertrudes German Church Gamla Stan
The Church was founded in 1571, the spire is the tallest on the island of Gamla Stan standing at 86m tall.  The gargoyles on the tower are unusual for Swedish architecture as they are neogothic gargoyles.  It is built in the Baroque style.  If you visit the church, view the historic organ which was originally built in the romantic style during 1884. It was superseded by a neo-baroque organ in 1972 when the romantic instruments had fallen out of favour.  There are plans in place to sell the 1972 organ and restore and rebuild the original one.
If you are visiting Gamla Stan in the summer why not have an adventurous climb by a series of disconnected stairways to the top of the medieval church tower of Storkyrkan.  The climb is worth the stunning view from the top.
4.  Marten Trotzigs Alley Gamla Stan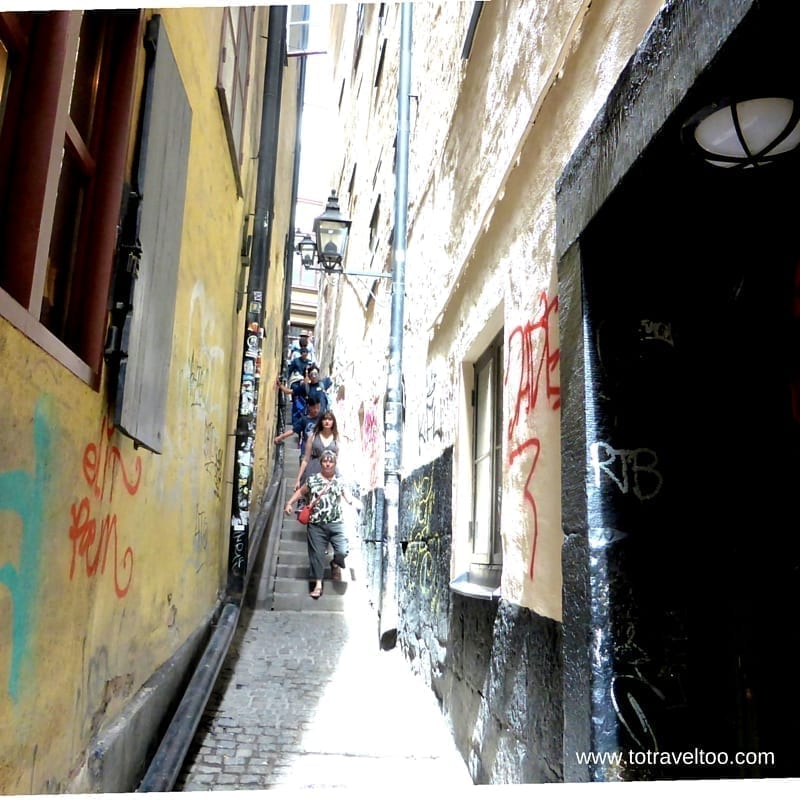 The narrowest alleyway in Gamla Stan, at it's narrowest point it only measures 90cm wide and contains 36 steps.  It was named after the richest merchant Marten Trotzig who owned two properties in the narrow alleyway.  He was beaten to death in 1617.
5.  Iron Square – Jarntorget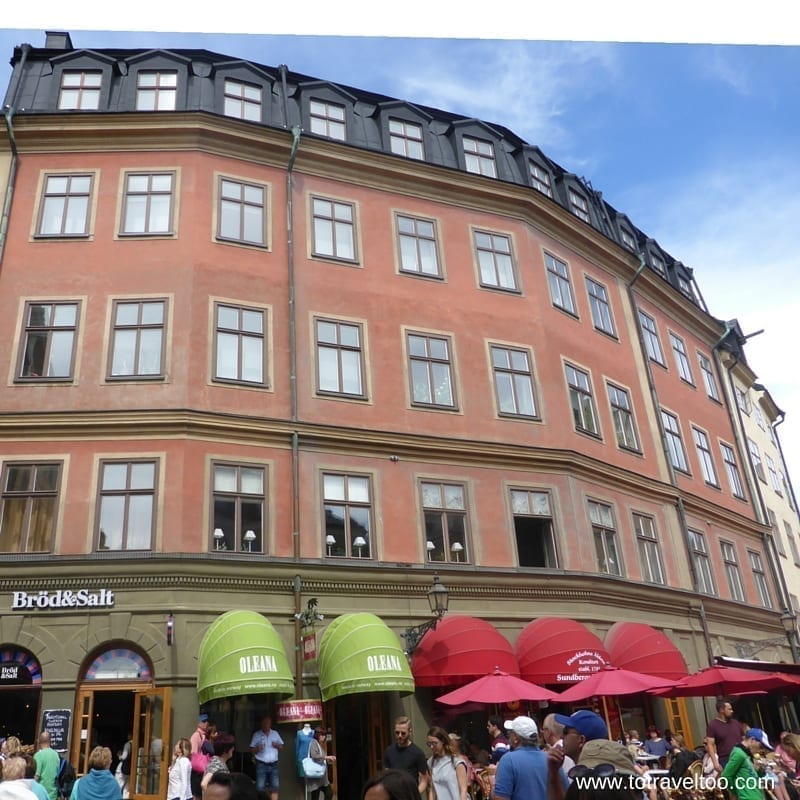 The second oldest square in Gamla Stan and an important centre for trading for centuries.  Note the windows on the buildings in the square.  During the summer you will find that the windows have no curtains only a lamp placed in the window.  During the Middle Ages, there was a law that citizens were not allowed to have curtains, the Swedish people had nothing to hide, so no need for curtains.  Today it is viewed as an 'old grandma style' if you have curtains on your windows.  The lamps have a purpose, they reflect the light in the evenings.
A good example of an 18th-century tavern which was the place that famous Swedish writers and songwriters used to frequent. It is listed in the Guinness Book of Records.
7.  In Bollhustappan –

the smallest statue in Stockholm
You will find a small sculpture of a sad boy looking up towards the sky which was created by Liss Eriksson in 1954.  It reminded him of when he was a small boy when he would look up at the moon at night.  Legend states if you pat the boys head you will return to Stockholm.  In winter, you will find him with a hat and scarf that has been knitted by an anonymous local.  Legend also states that if you steal the coins placed around the statue it will bring you bad luck because the boy sees everything and never forgets.
8.  Stortget

(The Big Square)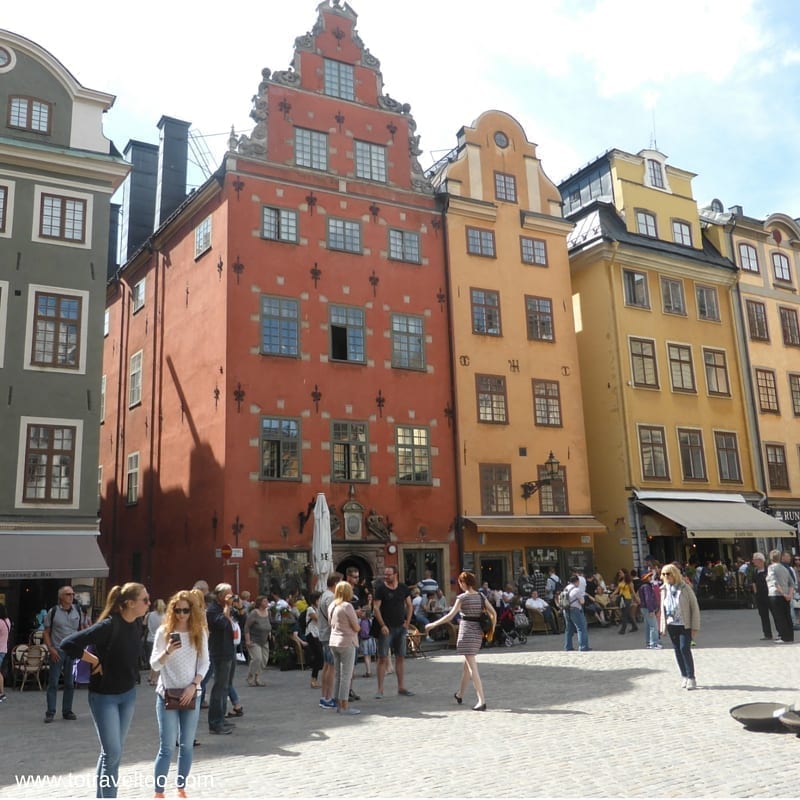 The oldest square in Gamla Stan.  It now houses the Nobel Museum which used to be the Stock Exchange.  A square with a 'bloody' history.  If you look at the red house #20 with white stones, the white stones represent the beheading of 82 Swedish Nobleman by the Danish King Christian II in 1520. The square is perfect for people watching and taking a break after wandering the streets of Gamla Stan.
After a busy day sightseeing, why not head to Pharmarium.  A unique and some would say a bizarre restaurant in the square that pairs cocktails with the food that you choose.  Tapas-style menu paired with medicinal ingredients sounds like the perfect end to a great day.
The information contained in this blog post came from our free walking tour with Free Tour Stockholm.
We enjoy walking tours, it is definitely a great way to learn more about the history of a city and we enjoy the small tidbits of information the guides have up their sleeves.
Other Things To Do in Stockholm
What to do in Stockholm? We have a sample of tours available for you.
Accommodation in Gamla Stan
Where to stay in Gamla Stan Stockholm?
Address: Sven Vintappares Gränd 3, Gamla Stan
The 3-star hotel is housed in a 17th-century building in Gamla Stan. Västerlånggatan shopping street is 50 m away, the Nobel Museum is 150 m away and the Royal Palace a 5 minute walk away. Guests can start their day with breakfast in the hotel café, situated in a medieval wine cellar.
Guest review: "Beautiful place, very cozy, nice and spacious room, comfortable bed, great location and amazing staff."
Check availability here
Residence Perseus: Minimum 2 night stay
Address: Baggensgatan 17, Gamla Stan
Located well in Gamla Stan with only a 3 minutes walk from the picturesque Stortorget Square this 4-star hotel is perfect for visitors.  The Royal Palace is only a 5-minute walk!
Guest review: "Warm welcome, with all amenities ready for use! A beautiful flat, very clean and welcoming. Everything is so handy you feel you are in a hotel but with the convenience and privacy of your own home."
Check availability here
Castanea Old Town Hostel: Budget accommodation with shared bathroom and facilities depending on the size of the room and the number of persons
Just a 3 minute walk from the Gamla Stan Metro Station this budget hostel is perfect for the traveller. The Royal Palace is only 200 m away.
Guest review: "The location is very good, it's right in the centre of old town and it's perfect as a tourist. The common room was nice as well and the kitchen is good."
Address: Kindstugatan 1, Gamla Stan
Check availability here
Address:  Lilla Nygatan 5, Gamla Stan
The 4-star is located 2 minutes from the Gamla Stan Metro.  The rooms are based on a naval theme.
Guest review: This place was my best hotel experience throughout all Europe including very well known 5-star chain hotels of big city centres by means of quality, effectiveness and location. Located in the centre of the historic Gamla Stan, it was just 150 mt on foot to the Gamla Stan metro and all other important historical and cultural attractions. Though with limited spacing, rooms were super clean with all high-quality amenities like slippers and bathrobes. Coffee and tea were available free of charge on 7/24. The breakfast buffet was rich and delicious by means of quality and quantity. Swedish meatballs, herrings and salmons were highly over average quality we observed in other places and freshly squeezed fruit juices together with high-quality coffee were companying many other fresh delicacies. We were surprised by the generous Port wine treats from the house when we come back to our room each day exhausted due to a long touristic day. Finally, Collector's Victory Hotel made our first visit to Sweden and Stockholm a truly unforgettable one. We were already planning our next trip on our way back…
Check availability here
Address: Lilla Nygatan 25, Gamla Stan
Scandic Gamla Stan offers an ecological breakfast buffet. In the summertime, when the weather allows, guests can enjoy the breakfast on the terrace or in the courtyard.
The hotel is a 2-minute walk from Gamla Stan Metro Station.
Guest review: Great location that's right in the heart of the old town and only a 1-2 min walk to the metro. A late check-in was easily available and the staff were very friendly. The room was nice, although a bit dated, it was warm with a comfortable bed, and the shower had great pressure. There was no mini-fridge, kettle or tea/coffee facilities in the room, but breakfast was included in the booking.
Check availability here
More Hotels in Gamla Stan
Where to eat in Gamla Stan
The top 3 restaurants in Gamla Stan are:
Stockholms Gastabud

:

Osterlanggatan 7
, 
Stockholm – try the meatballs, fried salmon and herrings!
Corvina:
47 Kornhamnstorg, Stockholm – Italian winebar in the heart of the city
Aifur Krog & Bar
: Vasterlanggatan 68B, Stockholm – Medieval fare & grog served in lively, Viking-themed restaurant filled with candles & wood benches.
For more restaurant options and reviews by
Tripadvisor
click our link below:

 Getting In To Stockholm
Cheap Flight Deals to Stockholm
Find the cheapest flights with Skyscanner our 'go-to' when we are researching and booking flights around the world.
There are private transfers available from Stockholm's airport to the city click
here
for information and the latest prices.
Travelling by train you may want to consider purchasing a Eurail Pass.  Click
here
for the latest deals.
Car Rental in Sweden
Car rental is available from the airport and from the City. Click
here
for details and the latest deals.
In conclusion, a visit to Gamla Stan is an absolute must for anyone looking to experience the rich history and charm of Stockholm. This quaint and picturesque neighbourhood offers a unique glimpse into the city's past, with its well-preserved medieval architecture and narrow cobblestone streets. Whether you're wandering through the numerous museums, exploring the royal palace, or simply enjoying a coffee in one of the charming cafes, there is something for everyone in Gamla Stan. The vibrant atmosphere combined with its cultural significance makes it an unforgettable destination that should not be missed when visiting Stockholm. So pack your bags and prepare to be transported back in time as you step foot into this enchanting historic district.
Travel Insurance
World Nomads offers simple and flexible travel insurance. Buy at home or while traveling and claim online from anywhere in the world.
Travel Shop
If you are looking at purchasing new travel luggage, packing cubes or travel guides, have you checked out our new To Travel Too Travel Shop yet?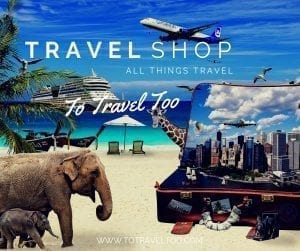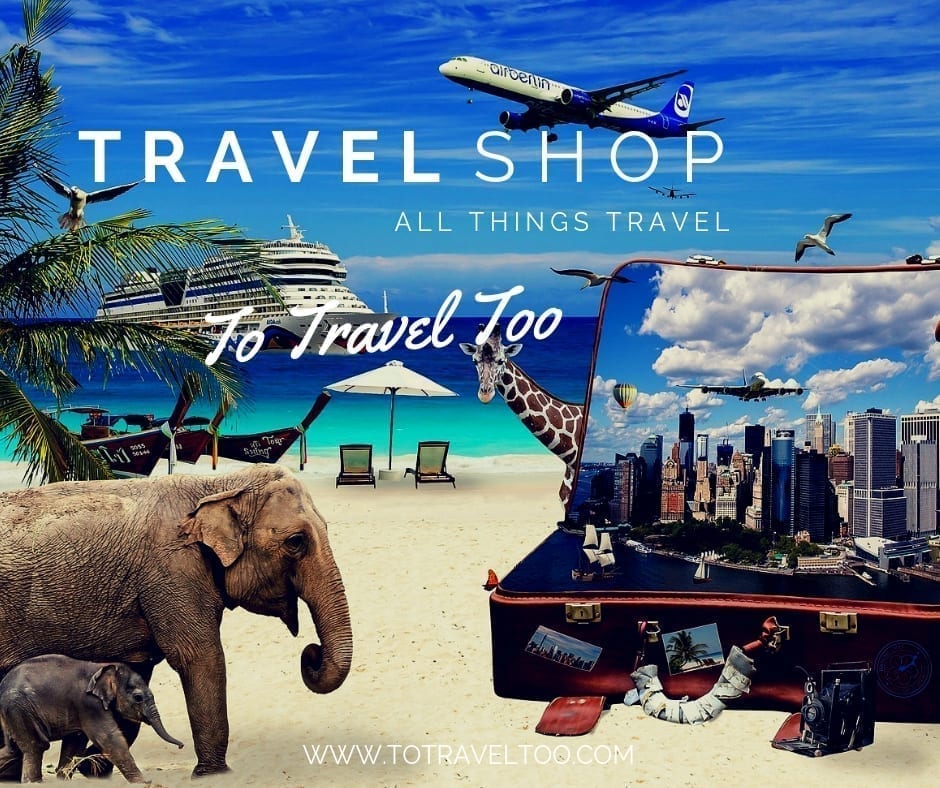 Pinterest
Are you on Pinterest? We are at To Travel Too and we have many travel-related boards check us out at Pinterest.  If you enjoyed our article why not pin it to your board.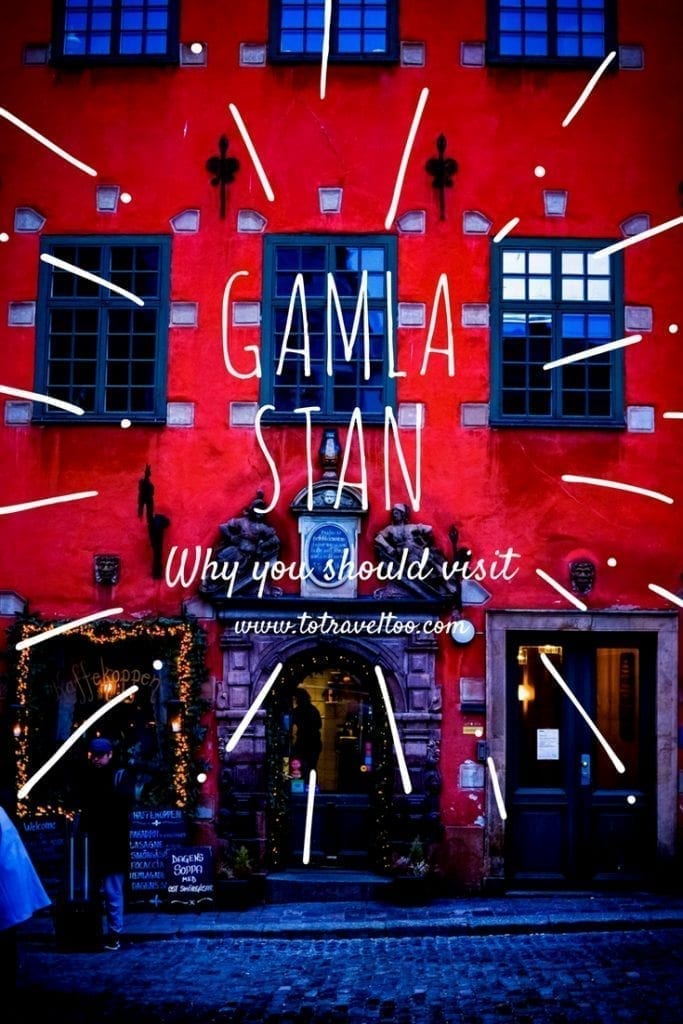 Our blog posts on Sweden to inspire you:
Why You Should Visit Sweden's Sormland Region
Stockholm's Archipelago and its Military History
Why Baby Boomers Should Visit Stockholm
You can take our article with you after you download it from iTunes with GPS location to help you discover Gamla Stan at your leisure.