If you're planning a trip to the Azores, you're probably looking for the best things to do on Sao Miguel Island. Almost no Azores trip is complete without a visit to Sao Miguel Island, if only for a layover. The largest and most populous island in the nine-island Azores archipelago, Sao Miguel is home to the islands' capital – Ponta Delgada – and its main airport.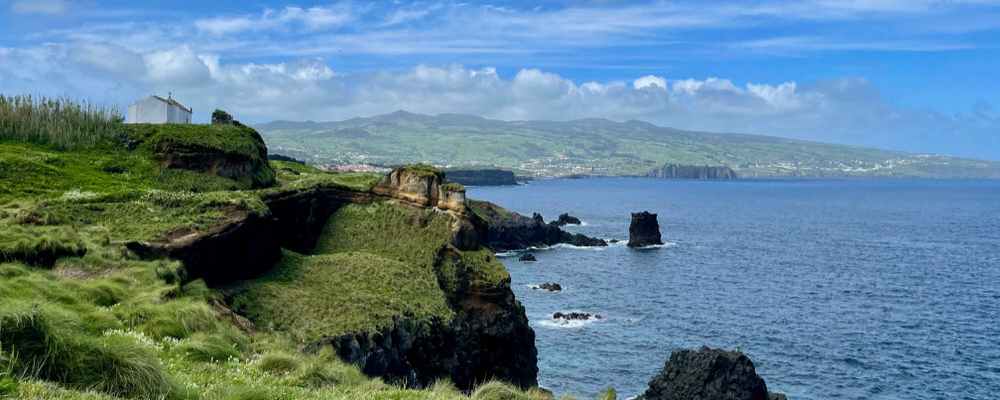 Even if your final destination in the Azores isn't Sao Miguel, with so many things to do in Sao Miguel, you'll want to budget for at least a couple of days on the island. From the decorative cobblestone streets of Ponta Delgada to stunning beaches and geothermal spectacles, Sao Miguel Island is a paradise for the outdoor adventurer and culture lover.
In this post, I've rounded up the very best things to do on Sao Miguel Island. Happily, so many of these things are completely free. Really, there's no excuse not to book those Azores plane tickets and get exploring Sao Miguel!
This post may contain affiliate links. Please see our disclosure for more information. As an Amazon Associate, we earn from qualifying purchases (if applicable). 
A Quick Introduction to the Azores and Sao Miguel
The Azores are an autonomous region of Portugal located approximately 1000 miles west of the Portuguese mainland. Made up of nine main islands, this volcanic archipelago is located smack dab in the middle of the North Atlantic Ocean. These remote islands were uninhabited until the 15th century when Portuguese sailors discovered them.
Often described as "Europe's Hawaii," the islands enjoy a temperate, subtropical climate year-round. These mild temperatures allow them to grow almost anything in the world including tea and tropical fruits. They even continue the Portugal tradition of delicious winemaking, although Azorean wine is notably dry, with a high salt content.
Perhaps because of their remote location, the Azores aren't as well-known as Portugal's other subtropical islands like Madeira. While they've long been a popular "walking holiday" destination for the Europeans, in recent years, the islands have gained popularity among American tourists, in part because they can be reached in just a 4.5-hour flight from Boston.
If you want to see mainland Europe during your Azores trip, consider a stopover in either Porto or Lisbon. Most visits to the Azores include time on multiple islands, like with this 8-day Azores Itinerary.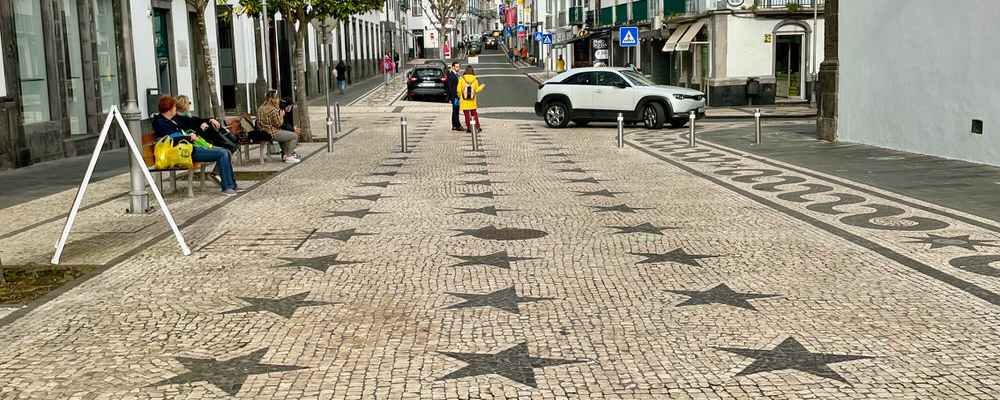 10 Best Things To Do on Sao Miguel Island
Go whale watching
As you might expect from a destination surrounded by ocean, one of the top things to do in the Azores is go whale watching. Once upon a time, whaling was an important part of the Azorean economy. Now Sao Miguel visitors can head out on the ocean to try to spy one of these magnificent beasts for themselves.
On Sao Miguel, you'll head to Vila Franca do Campo on the island's south shore to start your whale-watching adventure. Terra Azul is a well-known and reputable tour company that offers a variety of boat tours year-round, although whale watching is best in the warm weather months.
A great time to see whales is in the spring when the whales start to move up from the warm waters near the equator to their northern breeding grounds. If you're lucky, you might spy a massive whale like a humpback and blue. You'll also likely see dolphins and other marine wildlife like birds and Portuguese man o' war.
A bonus to going whale watching on Sao Miguel versus other Azores Islands is that most whale-watching tours also include a tour of the idyllic Islet of Vila Franca do Campo.
You can book your whale-watching tour here
Do a food tour in Ponta Delgada
One of the best ways to learn about a place is through your stomach and the Azores have a very special food culture. Not only can the islands grow basically everything under the sun, they also produce 30% of all Portuguese milk and are known for their excellent beef and seafood.
Check out the Hungry Whales Food Tours for a delicious way to learn more about the food and drink of Sao Miguel and the Azores. We loved their Wine and Food Evening Walking Tour, which worked like a progressive dinner and got us into some of Ponta Delgada's top restaurants. We also got to sample six different types of Azorean drinks!
Book here for the Wine and Food Tour
Eat cozido in Furnas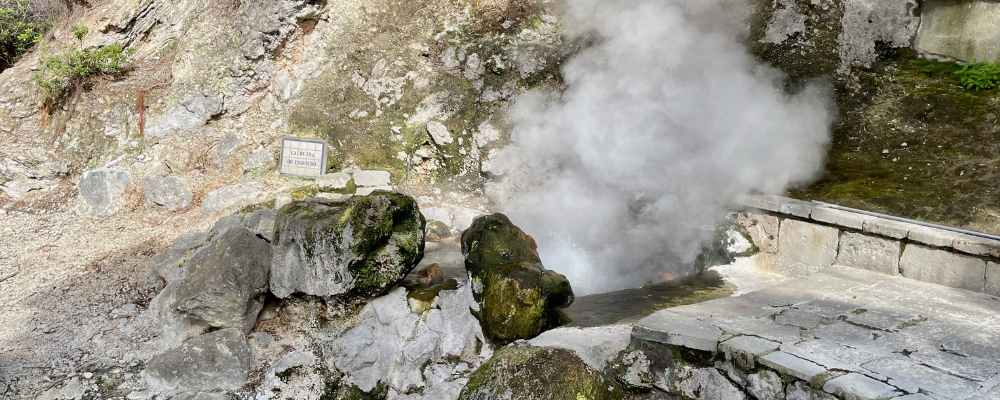 By geological standards, the Azores are still pretty young. You'll see evidence of the islands' volcanic origins all over the place. In fact, there's still plenty of geothermal energy right under your feet on Sao Miguel Island.
In the town of Furnas, local restaurants make the town's speciality stew – cozido das Furnas – by burying pots in the shoreline of Lake Furnas. Mother Nature then cooks the stew of beef, pork, chicken, sausage, and vegetables for several hours.
You can find cozido das Furnas in almost every restaurant in Furnas. Favourite spots to enjoy the dish include Restaurante Tony's, Miroma, and Terra Nostra Garden Hotel. We had a great meal at Restaurante Tony's. Just know that servings of cozido are massive. Even if you're a big eater, a platter of stew easily serves three.
Explore Lagoa Sete Cidades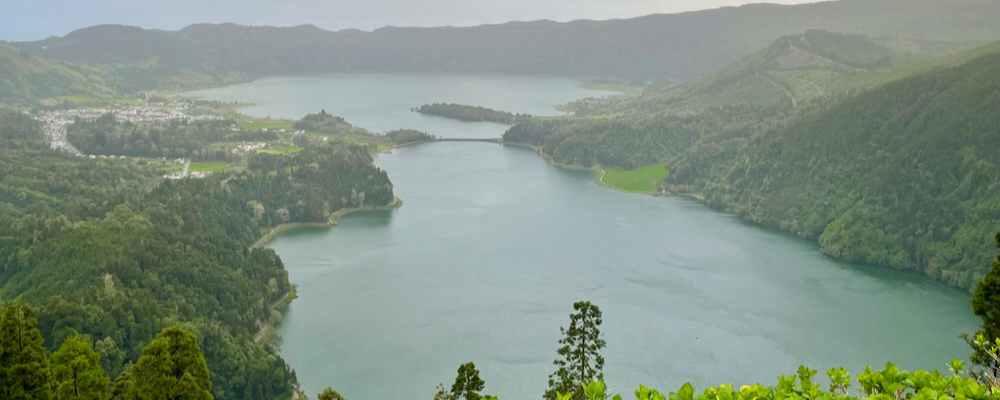 Perhaps the most photographed place in all of the Azores, a trip to the islands simply isn't complete without a stop at the Vista do Rei overlook on the west end of Sao Miguel Island. This extremely popular vista offers a view of the twin lakes Lagoa Azul and Lagoa Verde.
If you're lucky, you'll catch the light when it makes the two lakes appear to be their namesake colours: blue and green. In addition to the view, the area also offers several hikes and you explore an abandoned hotel across the road from the overlook parking. The lakeside town of Sete Cidades is worth a visit as well.
You can book a half-day tour here
Tour the Gorreana Tea Factory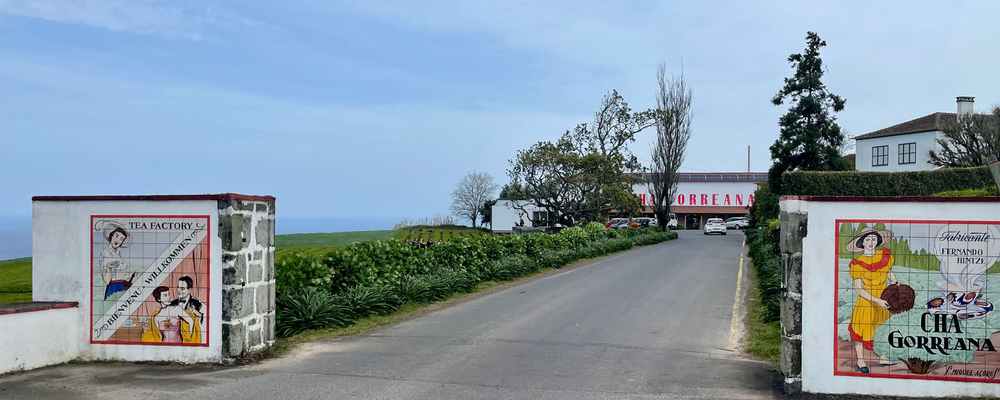 The Azores are the only place in Europe that can grow tea and Cha Gorreana on the north side of Sao Miguel island has been producing high-quality tea since the 1880s. A stop at Cha Gorrean Tea Factory is truly one of the most delightful things to do on Sao Miguel.
You can get a free tour of the facilities, wander for miles through the acres of tea plants, and enjoy a cup of tea and pastry in the café. Of course, don't forget to stock up on tea in the on-site shop. Tea makes a great Azores souvenir!
Bathe in Furnas's thermal pools
The picturesque town of Furnas offers a lot more than just stew.
In the middle of the town, you'll find the beautiful city park of Terra Nostra which features a large, elegant swimming pool. Geothermal springs heat the pool's water to a toasty 104 degrees. While most things to do in Sao Miguel are free, there is a small cover charge to get into the baths. There are showers, changing facilities, and bathrooms on site.
If you're planning a visit to these baths, remember to include an older swimsuit on your Azores packing list. The waters at Terra Nostra are so rich in iron and other minerals that they stain materials!
Explore the west coast of Sao Miguel
You'll find stunning ocean views all over Sao Miguel Island, but there's something special about Sao Miguel's West Coast. Must-see destinations in this area include the black sand beach of Mosteiros Beach in the town of Mosteiros and Farol da Ferraria lighthouse. Definitely stop at Ponta da Ferraria, an ocean pool warmed by geothermal springs.
You can book a private tour that covers the West and East Coast of Sao Miguel Island
Boca do Inferno overlook
You can't beat the dramatic views from Boca do Inferno, which overlooks Lagoa de Santiago. Just past Lagoa de Santiago, you'll also spy the towns of Sete Cidades and Lagoa Azul.
You might assume that enjoying your time at this overlook is contingent on clear weather, but the short forest hike from the parking lot to the overlook is beautiful and especially atmospheric in foggy weather. Of course, you won't get any views at all in the fog, so if the views outweigh the hike for you, take a look at the weather before making the drive.
FYI: on Google Maps, this overlook is referred to as Miradouro da Grota do Inferno.
Walk through Ponta Delgada after dark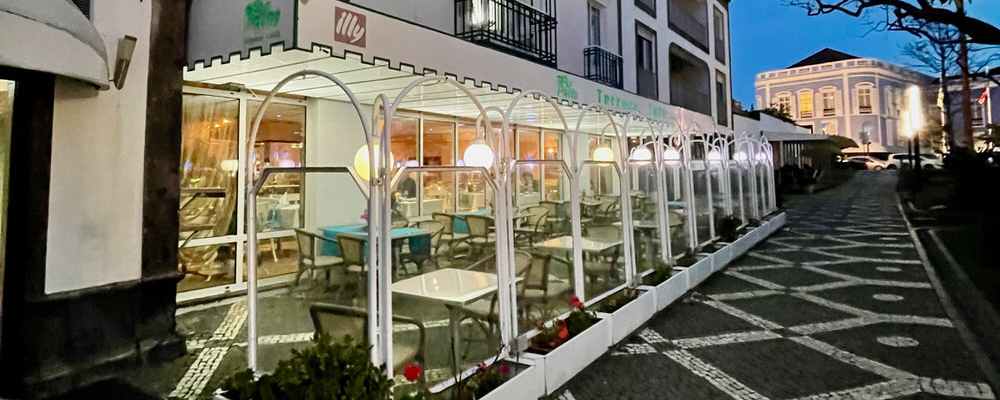 The Azores' capital city, Ponta Delgada, isn't the most charming European city. Despite its decorative cobblestone streets and cathedral, the city can feel a little austere.
You can book a Historical Walking Tour of Ponta Delgada here
But something magical happens when the sun sets in Ponta Delgada. Lights spill out of bars and cafes. Brightly lit boats bob in the harbor and street vendors set up along the waterfront promenade. It's a great time to grab a snack or glass of wine and just enjoy being in the Azores.
Enjoy the Vigia de São Pedro
Trails positively crisscross the Azores and going for a hike is one of the best things to do in Sao Miguel. While many hiking trails, such as the Furnas Valley Hike and the Vista Do Rei hikes are well-known and popular, don't overlook the lesser-known trails.
Vigia de Sao Pedro is a 12 km hike that runs between Calhetas and Pocos do Sao Vincente on the north side of Sao Miguel. The nice wide dirt path is great for walking or biking. Along the way, you'll take in gorgeous ocean views, pass a 16th-century chapel, and see the Buraco de Sao Pedro, a massive sinkhole right in the coastline.
Where To Stay on Sao Miguel Island 
Pedras Do Mar Resort and Spa – The best place to stay on Sao Miguel, Pedras Do Mar Resort and Spa is located about 20 minutes outside of Ponta Delgada on the island's north side. Sleek, modern rooms with either ocean or mountain views are paired with a full-service spa, restaurant, bar, and pools. Don't miss their epic breakfast spread!
Azores Youth Hostel – If you're a budget traveller, this centrally located hostel in Ponta Delgada is close to the airport and the city's historic centre. The hostel has converted an old monastery into private and dorm-style rooms that are simple, but clean.
The Three Best Sao Miguel Restaurants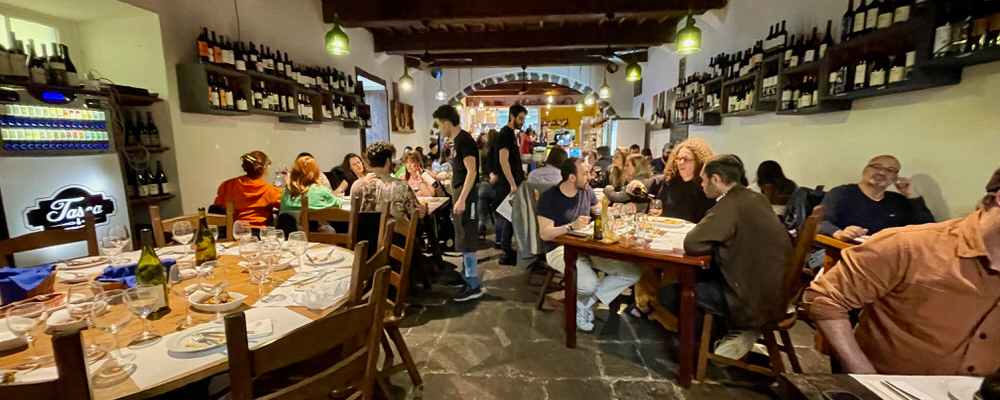 Photo: A Tasca Restaurant Ponta Delgada
Lagoa Azul Restaurant – This buffet restaurant in Sete Cidades near the popular Vista do Rei overlook is a great lunch destination if you want to sample traditional Azores food.
A Tasca – Located in a 16th-century prison, A Tasca is a family-style restaurant in Ponta Delgada that specializes in traditional Azores food.
Atlantico – This sushi and steak restaurant in Vila Franca do Campo is one of the most highly rated restaurants on Sao Miguel Island and for a good reason. With fantastic ocean views, it's a great place to sample the two foods the Azores are best known for: beef and seafood.
I hope this post gives you some ideas of the best things to do on the Azores' Sao Miguel Island. Honestly, there's so much more to do and see in Sao Miguel than I was able to include here. Whatever you decide to do during your time in Sao Miguel, you're sure to make lifetime memories.
Bio: Ada Igoe is a Minnesota-based travel blogger who blogs at Beyond the Yellow Brick Road Follow along on her adventures on Instagram and Facebook.
General Travel Information on Visiting The Azores
FAQs
Why should you visit the Azores?
Ada has whetted our appetite for visiting the Azores.  I hope she has done the same for you. From spectacular scenery, whale watching tours, hiking trails, so many things to do and see and of course the local cuisine, the Azores have something for everyone.
When is the best time to visit the Azores?
Spring and autumn months are popular months to visit.  The weather is mild and it is less touristy than the busy summer months of July and August.
November to February is cooler and you can expect rain during these months.
What is the flight time from mainland Portugal to the Azores?
From Lisbon to Ponta Delgada the flight time is 2.55 hours.
What is the currency in the Azores?
Euro is the currency used in the Azores.
How much are airfares to the Azores?
You can check airfares with Skyscanner here from your departure point.
How do I get around the islands?
Car rental is recommended as public transport does not cover all of the islands only the major city centres.
You can book a car rental from the airport here.
Do you need an International Drivers Licence? You can obtain one here online in minutes.
Do I need a visa to visit the Azores in Portugal?
Check below for your visa requirements.
Do I need to take out travel insurance?
World Nomads offers simple and flexible travel insurance. Buy at home or while travelling and claim online from anywhere in the world.
Pinterest
Are you on Pinterest? We are at To Travel Too and we have many travel-related boards check us out at Pinterest.  If you enjoyed our article why not pin it to your board and read it later?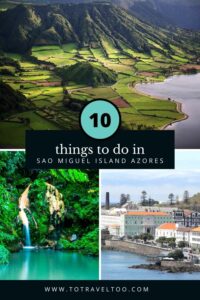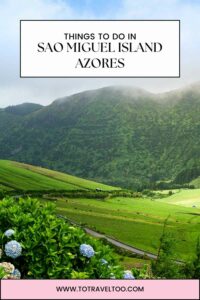 To Travel Too Travel Shop
Travel smarter and safer with products from our To Travel Too Travel Shop.  If you are looking for the latest luggage, guidebooks or travel accessories we have you covered with over 800 travel products to choose from.
More Portugal Travel Inspirations: