When after a stay at Dunbrody House in Arthurstown Co. Wexford in Ireland Rock Star Pink says "I want to tell the whole world to go there" we knew that we had to visit.
Dunbrody House, one of the top hotels in Wexford, also happens to be a member of Blue Book Ireland of Country House Hotels and has welcomed famous guests such as Bono and Graham Norton.
(Editor Update 2021)
This post may contain affiliate links. Please see our disclosure for more information. As an Amazon Associate, we earn from qualifying purchases (if applicable).
In 2016 Dunbrody Country House hotel was named Luxury Country House of the Year by the Luxury Travel Guide.
Dunbrody House Hotel is a Georgian Manor House owned by Celebrity Chef Kevin Dundon and his effervescent wife Catherine. Kevin has cooked for Bono, President Bush as well as Queen Elizabeth.
Back in 1994, the famous Shelbourne Hotel in Dublin headhunted  Kevin to come on board as Executive Head Chef.  In 2005 Kevin launched Raglan Road, an Irish Gastropub based in Disney World Florida.
In 1997 Kevin and Catherine founded Dunbrody Country House in Arthurstown in County Wexford.  They offer luxury accommodation, with contemporary Irish country house cooking in their Harvest Room restaurant, a Champagne and Seafood Bar, a Cookery School and just recently added a traditional Irish Pub "The Local at Dunbrody" to their grounds after the local Pub closed down. A luxury Spa was opened in 2005 offering steam and mud baths, massages, therapies and treatments.
Kevin has appeared on ESPN Cable, CBC Live, Canada, RTE Live, Ireland and No Frontiers Travel Show as well as being the Resident Chef on RTE's popular Afternoon show and a regular on Irish Radio. If that is not enough to fill in his already busy days he has written 2 books 'Great Family Food' and 'Recipes that Work' as well as many others (you can see them below and order them through the Amazon link).
Catherine is an excellent host, we had a night of great food and wine and lots of laughter and good fun chatting with her about Dunbrody House and life in general.
Pinterest
Are you on Pinterest? We are at To Travel Too and we have many travel-related boards check us out at Pinterest.  If you enjoyed our article why not pin it to your board.
Where is Dunbrody House Arthurstown
How to get to Dunbrody House Arthurstown
Dunbrody House is in Ireland's Ancient East.
30 minutes from Wexford Town
30 minutes from Waterford City via the Passage East Car Ferry
2 hours from Dublin Airport
2 hours from Cork Airport
40 minutes from Rosslare
500m from Arthurstown
500m from Ramsgrange
2km from Ballyhack
2km from Duncannon
12km from Hook Lighthouse
Dunbrody House History
Dunbrody House was built in 1819 by Lord Spencer Stanley Chichester and is a detached nine bay, 2 storey Georgian Country House with a dormer attic situated on over 200 acres. Dunbrody House was the home to several generations of the Marquesses of Donegal.  Patrick Chichester the 8th Marquess sold the home to Kevin and Catherine.
Kevin and Catherine have kept the original 1830s Irish oak floors and have created 22 magnificent rooms all individually decorated, some are suites, deluxe, superior and standard rooms are available as well as a guest lodge.

Our Experience at Dunbrody House Arthurstown
After a warm welcome from Margaret, we were taken to our Suite on the ground floor that led out into the garden area. Just as we were enjoying our Nespresso Coffee (available in the bedroom) there were sounds 'just like a helicopter' taking off on the lawn, we rushed out to join other guests watching on as the helicopter hovered and then left, still not sure who the VIP guest was.
Our bed was so comfortable with its orthopaedic mattress, duck down toppers and crisp white cotton bed linen.  Dunbrody House uses goose and duck feather pillows and can also supply non-allergenic pillows and duvets on request.
We also enjoyed their luxury toiletries range.
As we were staying for 2 nights we decided to eat at "The Local at Dunbrody" the first night and enjoy eating at the Harvest Room the 2nd night.
"The Local" has loads of character and very popular with the locals and tourists.  It is open from  Thursday/Friday 4.00 pm and 1.00 pm Saturday/Sunday.  You can enjoy pizzas,  fish and chips as well as daily specials.
Dundon's Champagne Seafood Bar is open from 11.30am for a more casual dining option.
The Harvest Room Restaurant is open daily from 6.30 pm.  There is a choice of either the 5-course Seasonal Menu or the Tasting Menu of 8 courses with or without Wine Pairings.
We enjoyed the 5-course seasonal Menu with an Austrian White Wine from Loimer Wines as recommended by Catherine.
We hear that Sunday Lunch is popular from 1.30 pm to 3.30 pm (reservations required).
Breakfast is served at the Harvest Room Restaurant each morning.
What To See and Do at Dunbrody House Arthurstown
Whilst staying at Dunbrody House you can:
pamper yourself at their luxury Spa
enjoy a cooking class at their Dunbrody House Cookery School – they have available 1, 2 or 5-day masterclasses on offer
visit the Dunbrody Gardens and chat with their gardeners Emmet and Seamus
visit the Chicken and Herb Garden
say hi to Delago – the Vietnamese pot-bellied pig at the pond
enjoy the Dunbrody House Sunday Lunch
What to See and Do outside Dunbrody House Arthurstown
There are several walks around Arthurstown and nearby villages such as the Kings Bay Walk and  Duncannon Beach Walk, check with reception for more details.
Waterford Crystal 1 Hour Factory Tour
You'll get a unique behind-the-scenes look at how master craftsmen create some of the world's most exquisite crystal objects and still have time for some shopping. Take the Passage East Car Ferry from Ballyhack a few minutes drive from Dunbrody House to Passage East and then it is just a short drive into Waterford.
Duncannon Fort is situated on the side of Hook Peninsula and is over 450 years old.
Hook Lighthouse was built in the 13th century at the tip of the Hook Peninsula and it has 3 stone vaulted chambers with a spiral staircase.
A Cistercian Abbey founded in 1210AD and is one of the largest in Ireland.
Founded in 1200 AD by William, the Earl Marshall, this historic complex consists of a nave, chancel, chapel and cloister.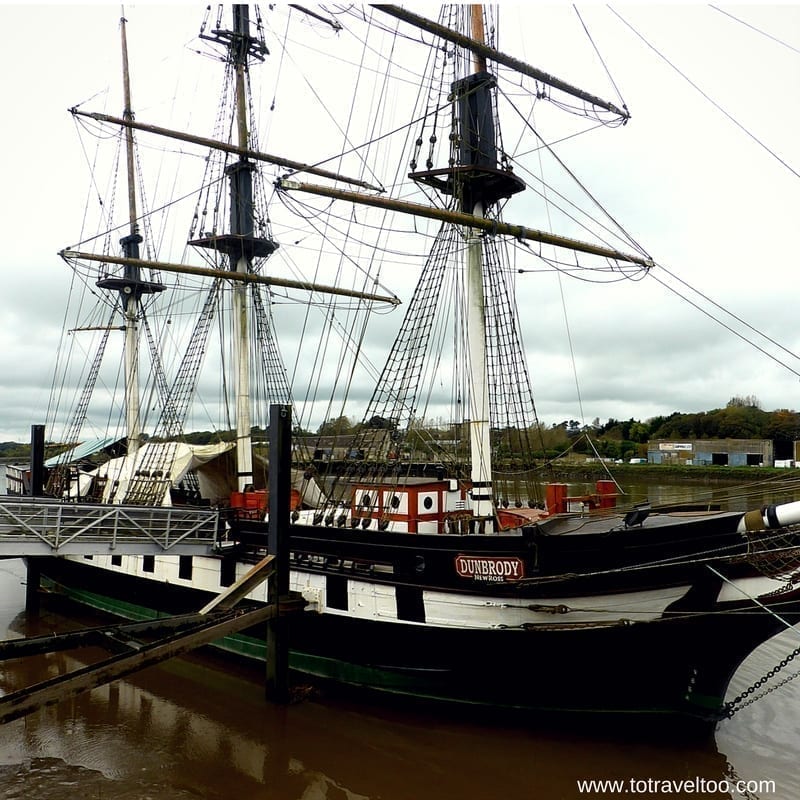 The largest tall ship ever built in Ireland – 176 feet long, masts of 130 feet and weighing 458 tonnes. Enjoy a tour of 1 hour learning about life on board for its transatlantic crossing from New Ross to the USA and Canada.
The Kennedy Eternal Flame is also there.
252 hectares with a Visitor Centre, 4,500 trees and shrubs, 200 forest plots, scenic walks, picnic area and a lake set of by the J. F. Kennedy Trust.
Patrick Kennedy, President John F. Kennedys Great Grandfather was born in Dunganstown, just outside New Ross in County Wexford in Ireland. During the Great Famine, he departed from New Ross in 1848 to sail to the USA. The rest is history. You can visit the Kennedy Homestead.
Contact Details:
Address:
Dunbrody Country House Hotel, Arthurstown, Y34 R597 Co. Wexford Ireland
Telephone:
Telephone: +353(0)51 389600
Website:
For the latest deals and reservations for Dunbrody House Arthurstown:

Our Thanks
We would like to thank Kevin and Catherine and their team for a memorable 2-night stay at Dunbrody House.   Special thanks to Margaret who handled our check in and check out efficiently and gave us such a warm welcome.
Our accommodation was based on the media rate.
If you enjoyed our article on Dunbrody House you may enjoy our other articles on our adventures in Ireland:
Ahernes Seafood Restaurant and Townhouse Youghal
A night out at Killarney Brewing Company
For further reading and planning here are some suggestions:
Flight Deals to Dublin
Find the cheapest flights with Skyscanner our go-to when researching and booking flights throughout the world.
Travel Insurance
We highly recommend that you take out travel insurance when booking and paying for your flights, tours and cruises.
Disclosure
We enjoyed two nights at Dunbrody House on their media rate but received no further remuneration to write this post.  We were not expected to write a positive review – all views are our own and we retain full editorial control.
Disclosure: Certain links in this post are affiliate links. This means that should you make a purchase via our link, we will receive a commission which will not affect the price you pay.
www.totraveltoo.com is a participant in the Amazon Services LLC Associates Program, an affiliate advertising program designed to provide a means for sites to earn advertising fees by advertising and linking to amazon.com, amazon.co.uk, amazon.ca. Amazon and the Amazon logo are trademarks of Amazon.com, Inc. or its affiliates.