Are you heading to San Miguel de Allende and looking for things to do? San Miguel de Allende is one of our favourite places in Mexico to visit.
We spent 8 weeks house sitting in this colourful colonial city.  One of the best things we did during our time was to take the Free Walking Guide and explore the city on foot.
(Editor update 2023)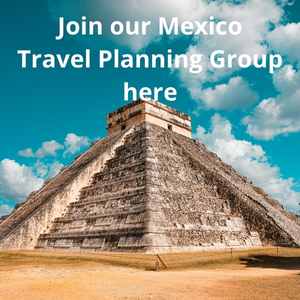 San Miguel de Allende Mexico Free Walking and Shopping Guide offers a fascinating blend of walking tours around the historic streets of San Miguel de Allende.  This colourful town is a mixture of history, indigenous traditions and cosy courtyard shops, studios and many great restaurants.  San Miguel de Allende Mexico is a UNESCO World Heritage Site.
This is the best walking tour in San Miguel de Allende. If you can't find a copy click here to access the walks.
Check out our latest web story on San Miguel de Allende below.
We loved Mexico and San Miguel de Allende so much we even wrote a book.
Check it out here:
We wrote this guide after spending 9 months travelling through Mexico.  We share with you the places we visited, where we stayed, what we did and where we enjoyed local Mexican cuisine.  Mexico is a fascinating country. USD2.99
This post may contain affiliate links. Please see our disclosure for more information. 
Do you need accommodation in San Miguel de Allende?
Do you need a visa for Mexico?
Check below if you need a visa for Mexico?
Related Reading: Mexican Food in the Yucatan
Map of San Miguel de Allende 
We explored San Miguel de Allende with the quarterly issued  "San Miguel de Allende Walking & Shopping Guide". The guide depicts seven walks blending history, culture and shopping. The walks can be completed in a few days. It is a perfect way to visit San Miguel de Allende and you can do it at your own pace.  The guide is very well written. You can pick up a copy at any of the boutique shops. You can be your own tour guide without the group.
The Free Walking Guide:
 contains seven walks with clear route instructions
 originates in the Jardin in front of San Miguel de Allende's famous church –  La Parroquia de San Miguel 
can take up to a few hours depending on your pace
tackle one or two a day if you have the time
We would like to share with you some of our highlights on one of the walks.
Standing in front of La Parroquia with the Jardin behind you,  head towards the right to Cuna de Allende.
At  #7 Cuna de Allende street you will find a quaint courtyard restaurant in the Hotel Posada Carmina.  It is a colonial restored 18th-century house with orange trees in the traditional courtyard.
On the corner of Cuna de Allende and Cuadrante Street is the Ten Ten Pie Cafe offering an outside area under umbrellas and orange trees.
There are fountains all over San Miguel de Allende Mexico and this one is located on Hospicio Street.
The architecture and colours create one of the most colourful colonial towns in Mexico.  Around each corner, there is another delight.  Do not forget to look into courtyards and driveways for many more surprises.
One of the most colourful traditional shops is Galeria Buena Vida located at #42 Aldama Street.  Buena Vida translated means the Good Life and it is the best place in San Miguel de Allende to buy colourful cowboy boots.
Relax and spend some time in Parque Benito Juarez
One of the top hotels in San Miguel de Allende Mexico is the Rosewood Hotel located at Nemesio Diez #11 street.  It is famous for its Luna Rooftop Tapas Bar.
To Travel Too Tip: enjoy a sunset drink or two with tapas in the evenings. The views are amazing, we recommend that you take a jacket it can get cool in the evening.
One of our favourite streets to wander down with its restaurants and galleries in San Miguel de Allende Mexico is Sollano Street.
Travel Tips
wear comfortable shoes as most of the roads are cobblestoned
take plenty of water with you
apply sunscreen
take your time, there is no rush, this is one tour that you take at your own pace
Things To Do in San Miguel de Allende 
After you have wandered the streets of San Miguel de Allende you may want to take a tour or two.  Here are some of the most popular tours:
Tacos & Tequila Tour
One of the best day tours! Mexico is well known for its tacos and tequila and to experience both of them in one tour – what could be better, you also get to visit local spots, enjoy a full authentic dinner and do a lot of tasting!
Half-Day Horseback Riding Adventure
Ride through canyons, rivers, and past ranches along the way. You will enjoy a packed lunch back at the ranch. (elcpinellas.org) What a great way to see the Mexican countryside from horseback.
Downtown San Miguel Food Tour
Do you enjoy food tours? "Wander the beautiful streets of San Miguel with this food and city walking tour featuring 6 food-tasting locations carefully chosen to highlight the best regional flavours. Learn about the history and culture, while enjoying delicious dishes and drinks."
More articles to inspire you to visit San Miguel de Allende and surrounding areas
What to do in San Miguel de Allende
Top things to do in Guanajuato
Why you should visit Guadalajara
Recommended Hotels in San Miguel de Allende:
Address: Nemesio Diez 11 Col Centro San Miguel De Allende Historic Centre.
This is our favourite hotel in San Miguel de Allende.  The 5-star 67 room hotel is in a great location, and has a sauna, terrace, and swimming pool.  We would recommend using the valet parking service as parking can be at a premium.  It is perfect for families as it has a kids club.

Address: Cuna de Allende 7 San Miguel de Allende Historical Centre.
This hotel is perfect for families and family rooms are available. The hotel offers free WiFi.


Address: 15 de los Chiquitos San Miguel de Allende Historical Centre
The 4 room 5-star hotel is located in the middle of San Miguel de Allende. It offers its own library and onsite bar.

Casa No Name Small Luxury Hotel (a strange name this one but it is popular)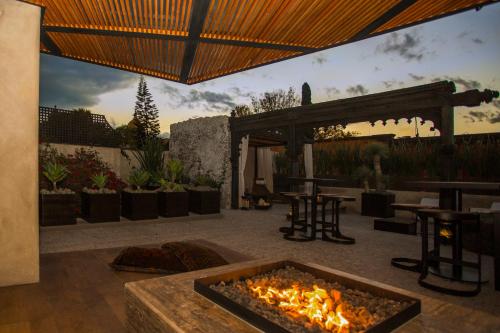 Address: Hernandez Macias 52 Centro Historic San Miguel de Allende
The 5-star 6 room hotel is centrally located and offers free WiFI, massages, a swimming pool, a terrace and an on-site library.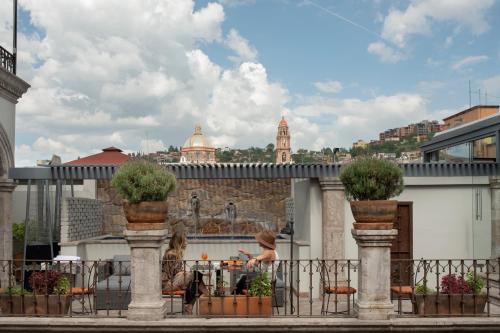 Address: Hidalgo No. 8 Colonia Centro
This 5 star 15 room hotel offers free WiFi and a swimming pool in a central location, just perfect for exploring San Miguel de Allende.

Where to Eat in San Miguel de Allende
Tripadvisor Recommended Restaurant – La Parada
Address: Calle Recreo 94
A popular Peruvian restaurant in San Miguel de Allende. You must try the Lomo!
Address: Nemesio Diez #11, Hotel Rosewood San Miguel de Allende
Excellent Mexican cuisine, tapas and cocktails
Address:  Quebrada 93 Centro
Perfect for international and Mexican cuisine in an outdoor setting with stunning views.
Address: Quebrada 101 Centro
Courtyard fine dining with Mexican and International cuisine available.
Travel Insurance
We recommend that you take our Travel Insurance as soon as you book flights or pay deposits on cruises, tours or accommodation.
How to Travel to San Miguel De Allende Mexico
San Miguel de Allende Mexico is not an easy destination to travel to.
San Miguel de Allende Airport – the closest is Leon which is about 70 miles away or Querétaro 45 miles away. Then it is a taxi ride to San Miguel.
Another suggestion is to fly into Mexico City and take a bus to San Miguel de Allende.
For other flight options click here.
For bus tickets around Mexico click here for the latest schedules and prices.
We travel on ADO Buses in Mexico – they are safe, reliable, on-time and comfort.
Here are some great reading suggestions for your visit to San Miguel de Allende.
We have just recently joined forces with Amazon to create our very own To Travel Too Travel Shop. We now have 800+ travel-related products that we have either used ourselves or have been recommended by other travel bloggers and travellers.

Pinterest
Are you on Pinterest? We are at To Travel Too and we have many travel-related boards check us out at Pinterest.  If you enjoyed our article why not pin it to your board.

Our Downloadable Article For Use Offline
Why not take our article with you as you wander around.  Now you can, just click our City Walk banner below for more information.