Embarking on a self-drive tour of Ireland is an enchanting adventure that allows travellers to explore the Emerald Isle at their own pace.
With its breathtaking landscapes, rich history, and vibrant culture, Ireland offers an array of captivating destinations to discover. From the charming streets of Dublin and the picturesque Ring of Kerry, this article will guide you through some of the must-visit places in Ireland as you embark on an unforgettable journey behind the wheel.
So buckle up and get ready to immerse yourself in the beauty and charm that awaits on a self-drive tour of Ireland.
Touring Ireland on your own is easy.   We have put together a self-drive tour of Ireland itinerary that can take 2 weeks or longer depending on the length of time you have available. Our travel times and travel tips, places to visit, things to see will help you plan your exciting Irish vacation.
Be prepared for many laughs along the way, glorious scenery, spectacular places to visit and the best of Irish cuisine.
Ireland will capture your heart like no other country does.  A fascinating country rich in culture and history, stunning landscapes, great food and of course the perfect pint of Guinness tastes better here than elsewhere in the world.  They say it comes down to the water from the mountains! You just have to believe us on that one!
Look for Irish Road trip information:
Irish Road Trip
This post may contain affiliate links. Please see our disclosure for more information. As an Amazon Associate, we earn from qualifying purchases (if applicable).
Top Travel Tip: Driving in Ireland – In Ireland, you drive on the left-hand side of the road.
Plan your Irish car rental here – find out the latest costs for all types of cars available in Ireland. Make sure you have your car rental booked and confirmed before making any hotel accommodations. In peak periods it may be difficult to hire a car.
Instead of hiring a car, you may consider hiring a campervan to travel around Ireland instead.
Our Ireland road trip takes you through some of the most breathtaking landscapes and stays in incredible historic castles and manor houses.
We share with you our travel costs to assist you in planning your trips to Ireland.  There are many Ireland tours available but this is one country where we believe you will get a better self-driving experience.
You can plan your Ireland Vacations any time of the year but the busiest time is in the summer. If you don't mind a bit of cold and dampness, spring and autumn are the best times to visit. There is one region that we must return to on our next visit is the Wild Atlantic Way.
You may even want to consider adding Belfast and Northern Ireland as part of your self-drive itinerary. There is so much to see and do in Belfast you may need to add another week to your itinerary.
Come with us now as we take you on the Ireland travel adventure of a lifetime. Don't forget to check out this packing list before you head to Ireland there are some great tips here.
Your Ireland Vacation Planner
Our Self-Drive Tour of Ireland Itinerary Map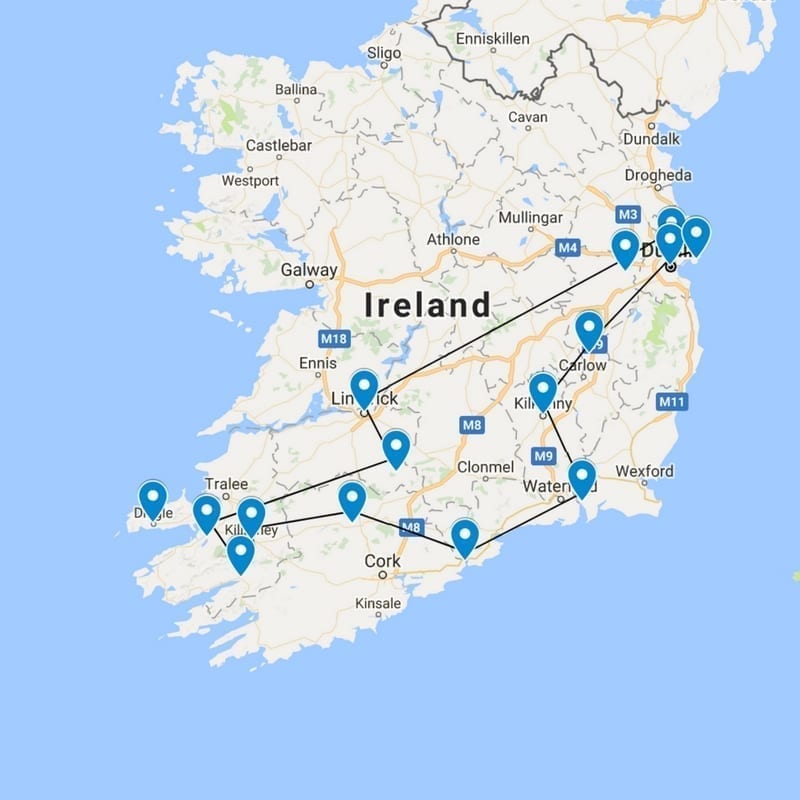 Arrival Dublin Airport
On arrival at Dublin Airport collect your rental car.  We would advise that you shop around for the best rental price on the car that you require.  Our rental car was booked through Autoeurope.
To Travel Too Tip
Check car rental prices in different currencies, we have found that booking in our local home currency was cheaper than booking in Euros, even when the exchange rate was taken into consideration.
As there were just the two of us with only carry-on luggage we chose the smallest category which was a manual car.  You will need to understand the insurance requirements clearly when booking your car rental in Ireland.
All car rental companies require a large deposit that is debited to your credit card, you can expect around Euros 1000 – 2000 depending on the company and the size of the car.  When collecting your car you will need to show the same credit card that was used in the initial booking.
An estimation of costs for our car hire for 2 weeks was Euros 275.
Total petrol costs Euros: 140
You may need to book an overnight stay at Dublin Airport if your flight arrives in late and it is too late to collect your rental car.
On arrival at Dublin Airport, we headed towards the shuttle bus pick-up for Thrifty Car Rental (Autoeurope).  Eastlands is the location for car rental companies click here for the map location.
Within a few minutes, we had checked in and collected our keys.
It is highly recommended that you take photos of any scratches or dents in the car that you have hired.  The photos on your phone will be time and date stamped, a handy tool if there are issues later when you return the car.  You will be given a document from your car rental company that shows the current scratches and dents, check these carefully, but we still recommend that you take photos. If in doubt over anything ensure that you speak to one of the attendants and if there is a scratch or dent missing from the report, get them to add it and time and date stamp it.
To Travel Too Tip:
When we hired a car in Malaga, Spain we collected the car from a 4-storey car park which was dark inside and very difficult to see the scratches and dents on the car.  As we left the airport we stopped at the first safest spot and went over the car, noting the scratches and dents on the paperwork and took extra photos.
#1 Dublin Airport to Straffan, County Kildare
As you can see from the driving map above there are several routes to travel from Dublin Airport to Barberstown Castle, our route (blue) took 30 minutes.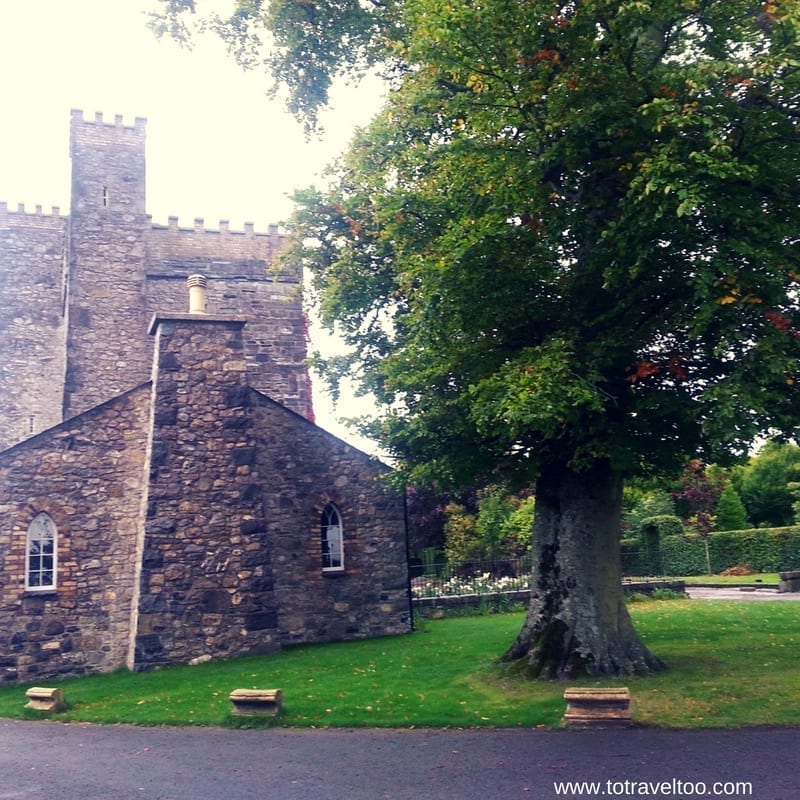 Barberstown Castle is one of Ireland's Blue Book of properties.  Ireland's Blue Book is a collection of Irish Castles, Manor Houses, Historic Hotels, luxurious Bed and Breakfasts accommodation, designer lodges and 3 Michelin-star restaurants in Dublin.

Barberstown Castle was built during the 13th century and it nestles on 20 acres of manicured gardens.  The Castle was built to protect the village and its locals from the attacks of Vi Faelain who tried to burn down the town in 1310.
Read our review of Barberstown Castle here.
Road Trip Ireland suggestions from Barberstown Castle:
and is easily accessible from all major routes (M1. M50, M4, M7).
The village of Straffan, located on the River Liffey is close by.  The small village of Celbridge also close by is the birthplace of Arthur Guinness of Guinness fame.
#2 Straffan to Limerick, County Limerick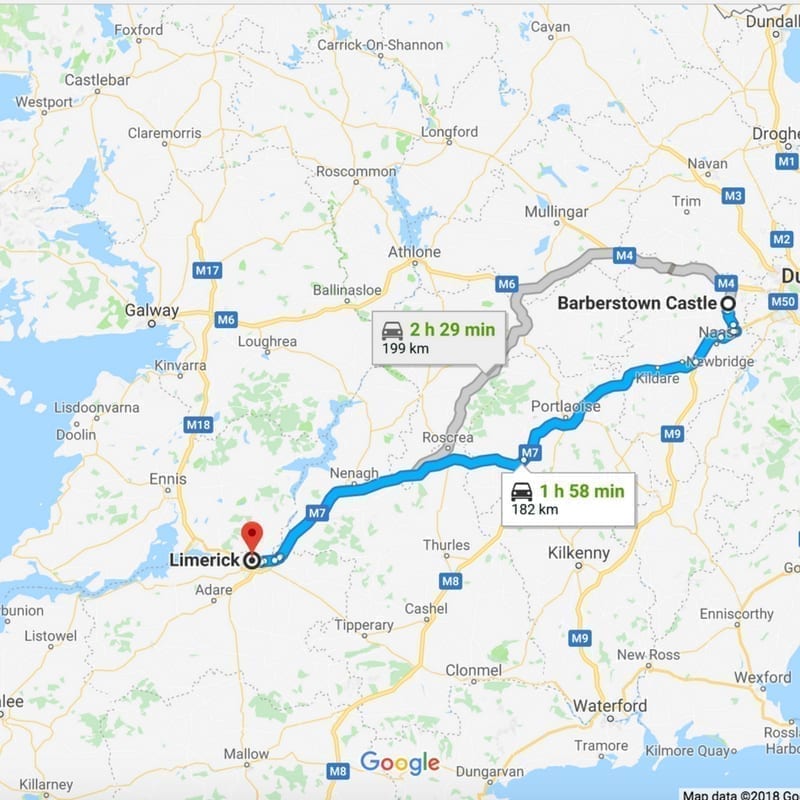 There are two routes available, we travelled the direct route on the M7 and it took us over 2 hours and we paid a toll of Euros 2.
There is a toll on the M7 and other roads throughout Ireland.
Driving in Ireland on the motorways is easy but you may want to consider travelling the smaller roads for the local experience and the stunning scenery.  Some roads can be quite narrow but if you take it slowly you will enjoy the experience more.
No. 1 Pery Square is one of Ireland's Blue Book properties, a boutique manor townhouse 5 minutes from the centre of Limerick consisting of 20 luxurious appointed bedrooms.  You will be welcomed warmly by the owner Patricia Roberts when you check-in.  Enjoy a luxurious spa treatment at their organic Voya spa and afterwards enjoy a sumptuous dinner at Sash.  Breakfast is a real treat, with so many options available.
Read our review of No. 1 Pery Square here.

During your stay in Limerick, you can enjoy visiting: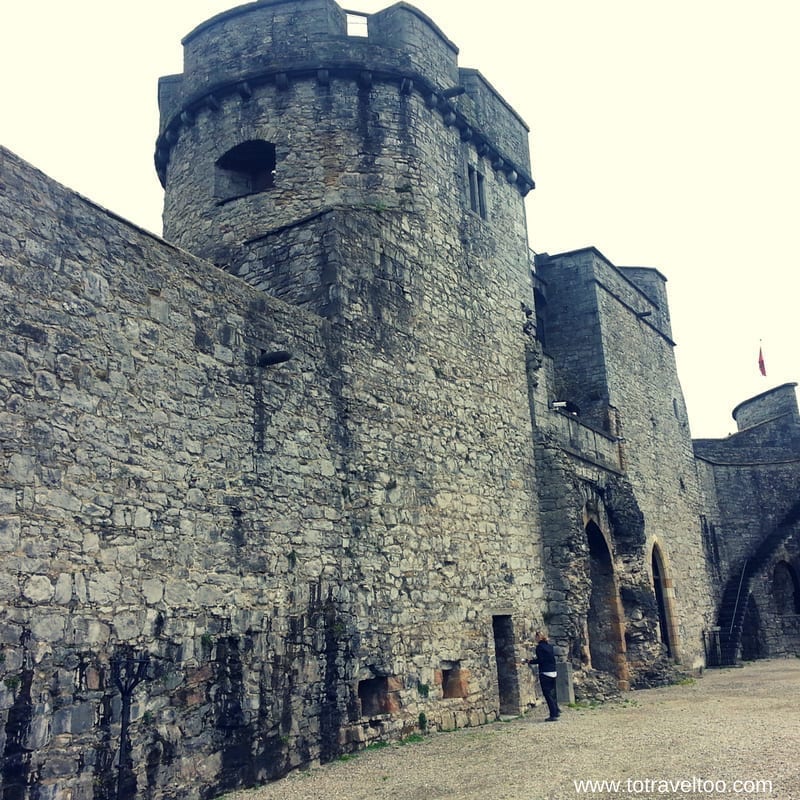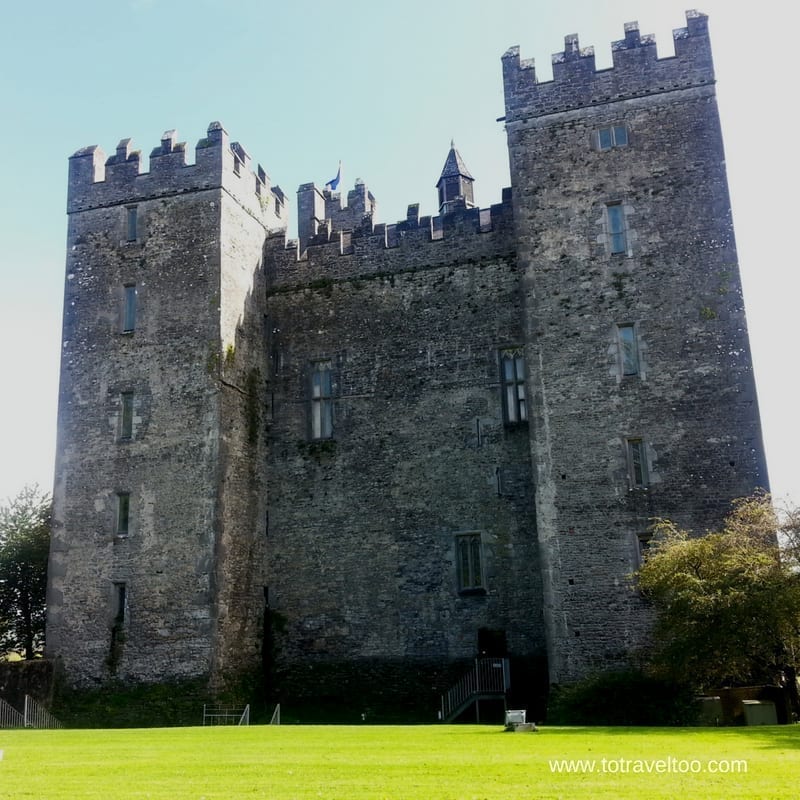 Two traditional Irish Pubs where you may enjoy a pint of Guinness in Limerick are:
Flannerys Bar in Shannon Street, Limerick
John South Pub – the Limerick-born Author Frank McCourt who wrote about the pub in the book "Angela's Ashes".  The toilets are named Angela and Frank not your usual Ladies and Gents.
Address: 4 Quinlan St, Limerick
Where to eat in Limerick
For the top restaurants in Limerick click our link below:

#3 Limerick to Ballingarry in County Limerick
Although only a 33-minute drive we were warned that it could take longer on the particular stretch of road, and the journey turned out to be more like 65 minutes.
On a chilly afternoon in September, we arrived at The Mustard Seed to be welcomed by an open fire, coffee and smiling, friendly staff.  A wedding party was due in a few hours and The Mustard Seed was buzzing with excitement.
The Mustard Seed is a 17th-century converted convent set in 10 acres of manicured lawns and gardens.  John, the owner, could not be more welcoming.  We were fortunate to enjoy one of their exquisite suites, 2 bedrooms upstairs and a sitting room with French doors opening out into the garden, and of course, an open crackling fire that was lit and ready to warm us.
For a pre-dinner drink, we walked into the small village of Ballingarry to enjoy a pint of Guinness at the Congrags Pub a 10-minute walk away.
The Mustard Seed's restaurant is award-winning and we would highly recommend when you check in you also make a reservation for dinner that evening.  The food is excellent with a menu that is inspired by local seasonal fresh produce with an extensive wine menu to match.  A memorable evening. The Mustard Seed is one of Ireland's Blue Book properties.
Read our review of The Mustard Seed here.

During your stay at The Mustard Seed you can:
Visit Adare Village – one of Ireland's prettiest villages just 10 minutes drive away
Go fishing
Go horse riding
Play golf
Visit 4 local gardens
Visit the Irish Dresden factory
Go hiking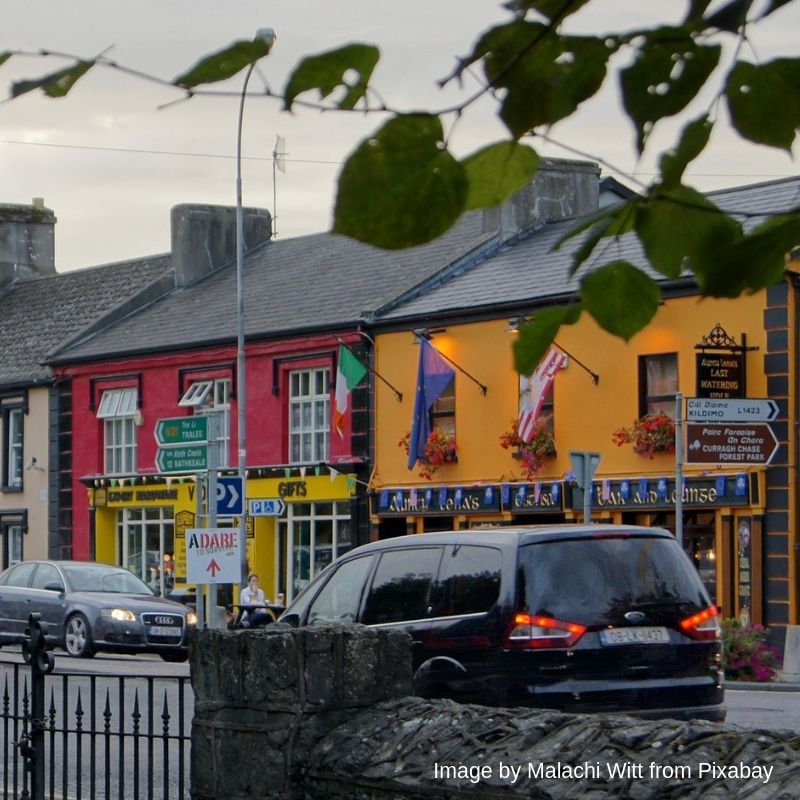 If you are enjoying our article you may like to PIN it for later:
#4 Ballingarry to Dingle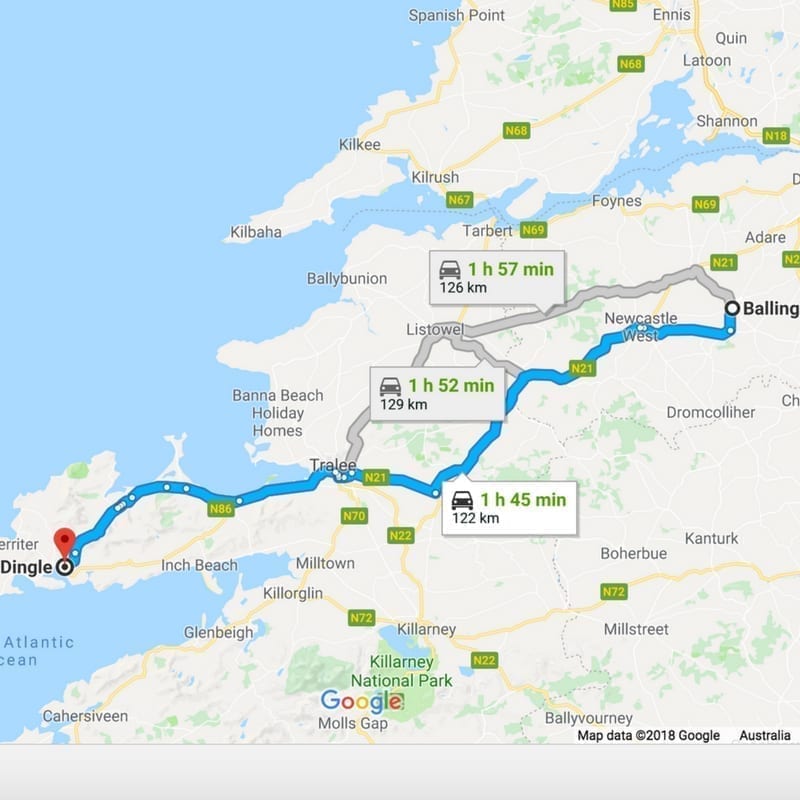 There are a few different routes from Ballingarry to Dingle, we took the blue route which took 2 hours.
We could have spent a few nights in and around Dingle, but our visit coincided with the Dingle Food Festival and accommodation had been booked out for months in advance.
If you plan to attend just for the day, parking is an issue.  We arrived at lunchtime and we drove around for at least an hour before parking about 2 km from the centre.  It is definitely worth it but we would recommend booking accommodation months in advance so that you do not need to worry about parking and that you are right in the heart of Dingle and the music, the food and the fun party atmosphere or the 'craic'!
There is so much to do and see in Dingle we would recommend planning to spend at least 2 nights.
Accommodation options for Dingle are:

Where to eat in Dingle

#5 Dingle to Carrig Lake
Our next destination was Killorglin a 50-minute drive from Dingle.  The journey took around 1.5 hours because it is such a scenic route and we stopped along the way for photographs of the lush green countryside, quaint cottages and scenic ocean views. Don't rush this particular route.
The Ring of Kerry
The Ring of Kerry is a circular tourist route of 179 km around the coastline of County Kerry.  The road takes you through rugged forests, past spectacular rugged seaside cliffs, small fishing villages, pristine beaches and medieval ruins.
Killorglin is the start of the famous Ring of Kerry.
Family-run Carrig Country House is located on one of the prettiest lake settings along the Ring of Kerry.  There are breathtaking views of the lake and the majestic Kerry Mountains from the windows of your bedroom and the restaurant. The Victorian County Manor House's idyllic location offers guests a tranquil respite from busy life.  You can use Carrig Country House as a base to explore the Ring of Kerry. Carrig Country House is a member of Ireland's Blue Book of properties.

Read our review of Carrig Country House here.
Activities in and around Carrig Country House are:
golfing (15 courses within an hour's drive)
hiking
fishing
cycling
kayaking
mountaineering
visiting the World Heritage Site of Skellig Michael
A relaxing evening starts with a pre-dinner drink (maybe a local Dingle Gin and tonic) by the open fire in one of the well-appointed reception rooms before you head into one of the finest restaurants on the Ring of Kerry.  The menu boasts the best of local farm and garden produce, fresh fish and seafood from the Atlantic Ocean and an extensive wine list. We can recommend a leisurely breakfast before you head off to explore the Ring of Kerry.
#6 Killorglin to Portmagee (for lunch)
Portmagee is a small fishing village located on the Iveragh peninsula south of Valentia Island.  It is a perfect spot to stop for coffee or lunch along the Ring of Kerry.  Our desired route was the blue route, we were not disappointed by the Irish scenery along the way.
#7 Portmagee to Kenmare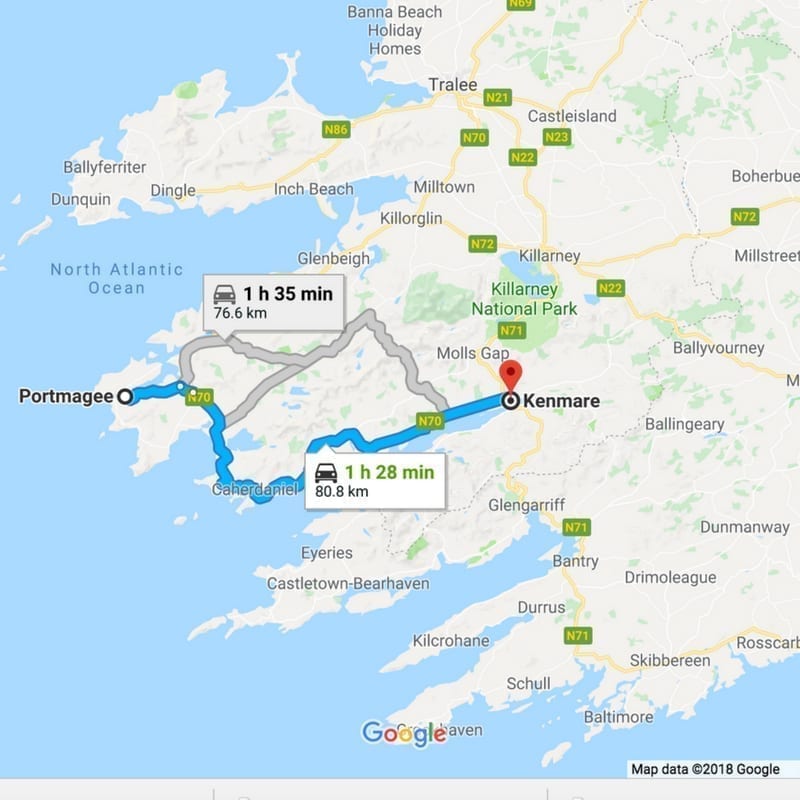 We left Portmagee and headed towards Kenmare the next stop on our itinerary.  We took the blue route which took us more like 2 hours than the 1 hour 28 minutes recommended.  One thing we will recommend is the journey's we undertook took us longer than was recommended, so add in some contingency when travelling.
Where to stay in Kenmare
We were hoping to stay at one of Ireland's Blue Book properties – the Park Hotel Kenmare but it was fully booked.  It has the unique location of being positioned on the beautiful Kenmare Bay. For the latest prices:

Instead, we opted to stay in the centre of Kenmare at the Coachmans Townhouse in Henry Street Kenmare.  The location was perfect for wandering around the shops, there were many pubs and restaurants within minutes from the hotel.  Parking was available at the rear of the building. For the latest prices: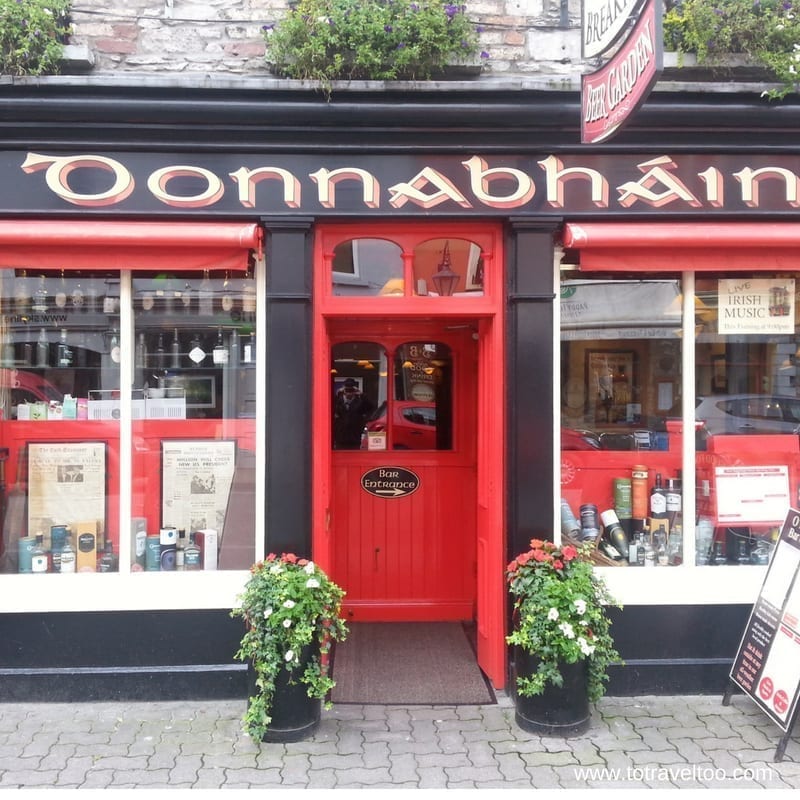 We can recommend dinner at O Donnabhans a few doors up at 10 Henry Street.  A good menu and of course traditional Irish Music to enhance the evening's experience.
A breakfast recommendation for you in Kenmare: Atlantic Bar, The Square, Kenmare
What to see and do in Kenmare
Kenmare is a market town and fishing port which lies at the head of Kenmare Bay.  Kenmare covers two famous tourist routes the Ring of Kerry and the Ring of Beara.  Actually, Kenmare means 'head of the sea' which refers to the head of Kenmare Bay.
Where to eat in Kenmare
For the top restaurants in Kenmare click our link below.

#8 Kenmare to Killarney
The next part of the journey from Kenmare to Killarney, still in County Kerry took around 1 hour via the blue route.  It is a journey through pretty villages and scenic countryside.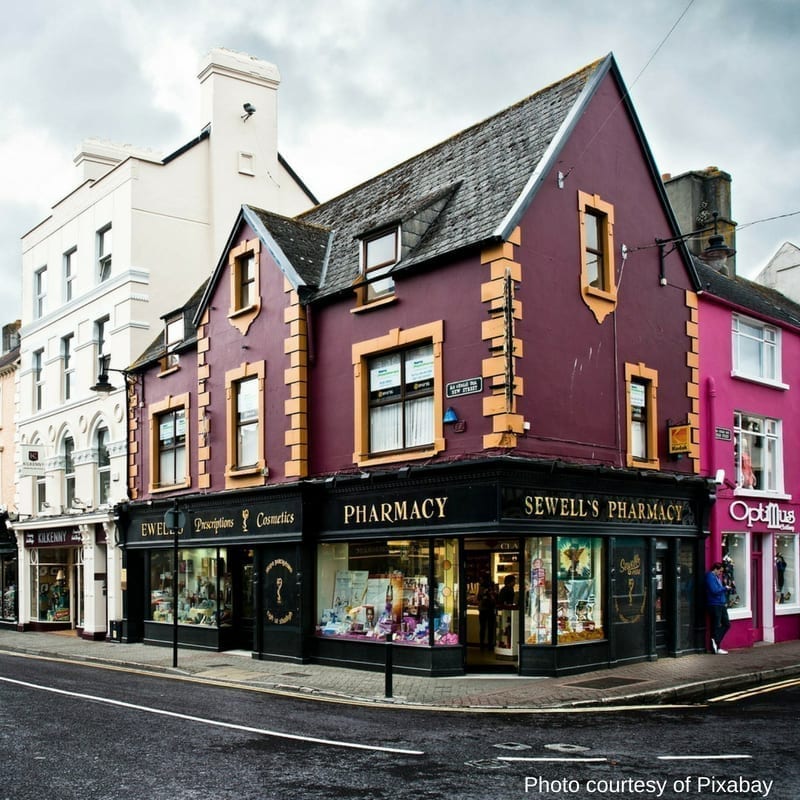 Killarney is located on the shores of Lough Leane which is part of the Killarney National Park.  The Ring of Kerry begins and ends in Killarney, it is an important town in the region boasting Ireland's tallest mountain Carrauntoohil at 3,406 feet and the Torc Waterfall.
Killarney was placed on the map when Queen Victoria stayed there in 1861.  Apparently, the Queen gave 6 years notice of her intending visit to Muckross House which gave the owners plenty of notice to redecorate.  Queen Victoria arrived with her own bed and a 100 strong entourage.
Did you know that Killarney was one of the top cities to visit in Ireland for traditional Irish Music?
What to do in and around Killarney
 Visit the

Killarney Brewing Company
Where to Stay in Killarney
There is a lot of accommodation options for Killarney from hotels to bed and breakfasts and Airbnb properties.
We spent 4 nights at the Gleneagles Hotel.  The location was perfect, just a 15 minute walk into town for those nights that you have had a pint of Guinness or two at some of the fun pubs in the centre of Killarney.

For more accommodation options in Killarney click our link below:

Where to eat in Killarney
For the top restaurants in Killarney as voted by travellers for Tripadvisor click our link below.

#9 Killarney to Mallow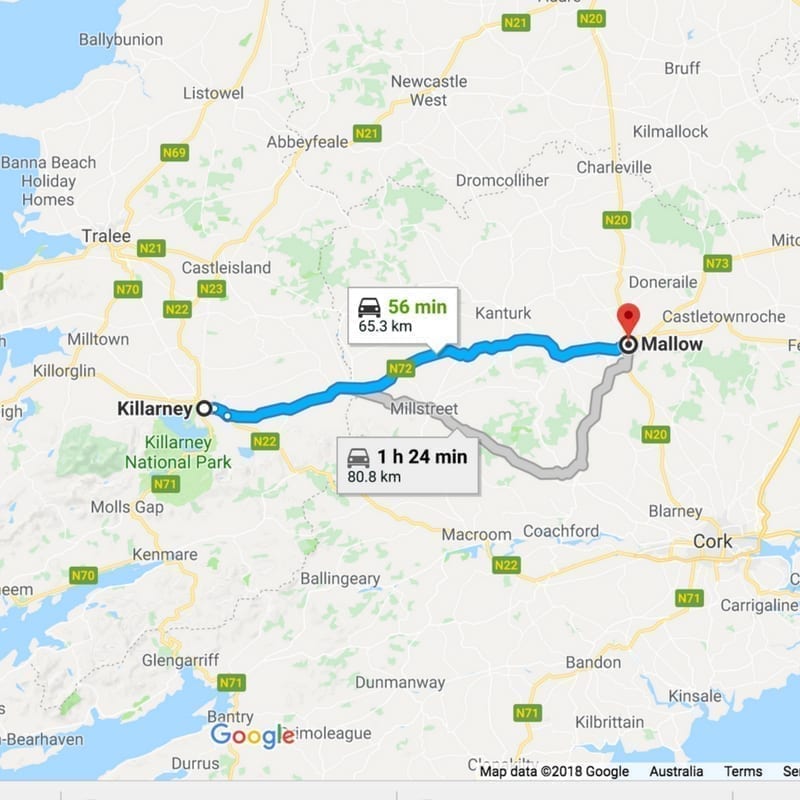 There are two available routes from Killarney to Mallow, we chose the blue route for the 1-hour journey.
Mallow is located in County Cork about 35km north of Cork.  Mallow is a quaint market town, lovely to wander around and is famous for its racecourse known as Cork Racecourse at Mallow.
What to do in and around Mallow
 Visit the Donkey Sanctuary
 Visit the Doneraile Wildlife Park
 Visit Bridgetown Priory
 Go fishing on the River Blackwater
 Visit Mallow Castle
 Your Ireland Itinerary should include Kissing the Blarney Stone at Blarney Castle 26km from Mallow  – it is a fun thing to do but you do need to bend backwards to kiss the stone and there could be a long wait.  But it is worth it.
 Spend a day at the races at Cork Racecourse in Mallow
We enjoyed a Fab Food Tour in Dublin and they also have one in Cork. A great way to enjoy tasting local cuisine and learning about the city at the same time.
Longueville House is a Georgian Manor House on 500 acres 26 km north or Cork City. A perfect location to base yourself whilst travelling around County Cork and Cork City itself. A dinner reservation is recommended at the Presidents Restaurant where you will dine on a fine menu based on what is seasonal from the Longueville House garden. You will not be disappointed staying in one of the luxuriously appointed 20 bedrooms with stunning views over the Blackwater Valley.
Direct from their own apple orchard you must taste Longueville's own award-winning apple cider and apple brandy which they have been distilling on the property for over 30 years.

Where to Eat Around Mallow
The top restaurants in and around Mallow are:

#10 Mallow to Youghal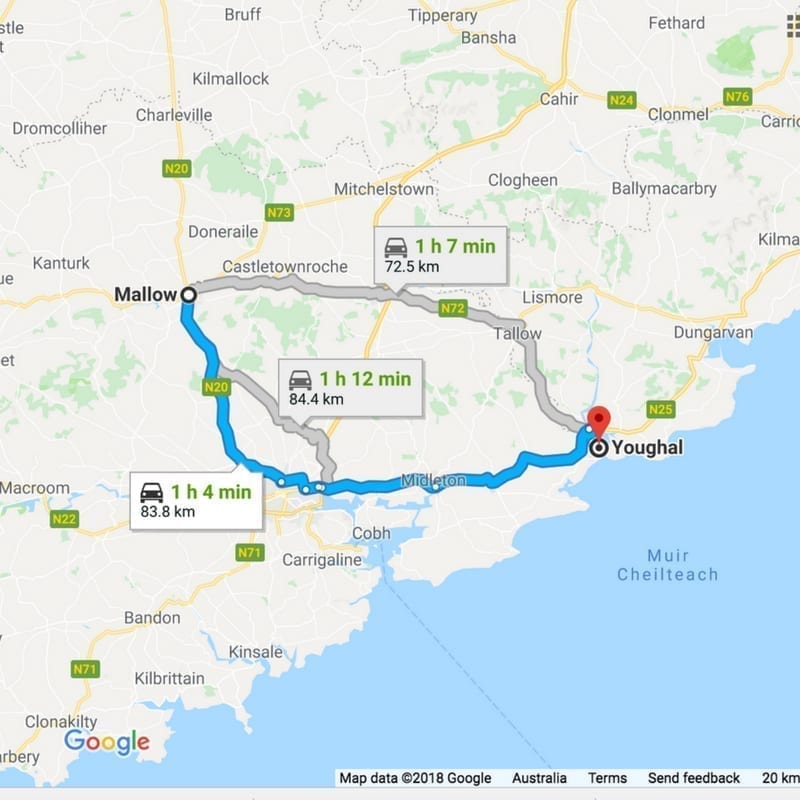 We travelled the blue route from Mallow to Youghal taking us 1.5 hours.  Youghal is situated on the River Blackwater, it is a popular seaside resort in County Cork and well worth a visit.  Youghal is a medieval walled port town that can trace its origins back to the Vikings.  The port traded goods as far as Europe and as close as Bristol and became a very important trade port for exporting wool in the 17th century.
We stayed at Youghal's premier hotel Aherne's Townhouse Hotel and of course we had to try out their famous Seafood Restaurant.

Read our article review on Aherne's Townhouse Hotel here.
After we checked into our large room at Aherne's we wandered around town and headed up towards the Lighthouse.  On our walk back through town, we headed towards the seafront and enjoyed some local Irish hospitality and a few Guinnesses at the Quayside.  The Irish have such a fun sense of humour and everyone who walks into a Pub is a friend, everyone will chat with you even if you don't want to chat.  The Irish are some of the best storytellers in the world and the couple that we met were one of the funniest.
At Aherne's, you have the choice of their famous restaurant or the bar to dine in.  The menus are extensive and we can recommend trying their homemade soda brown bread or their homemade tomato white bread baked daily in their kitchen.
Aherne's is a member of Ireland's Blue Book of properties.
Other hotel options in Youghal:

What to do in Youghal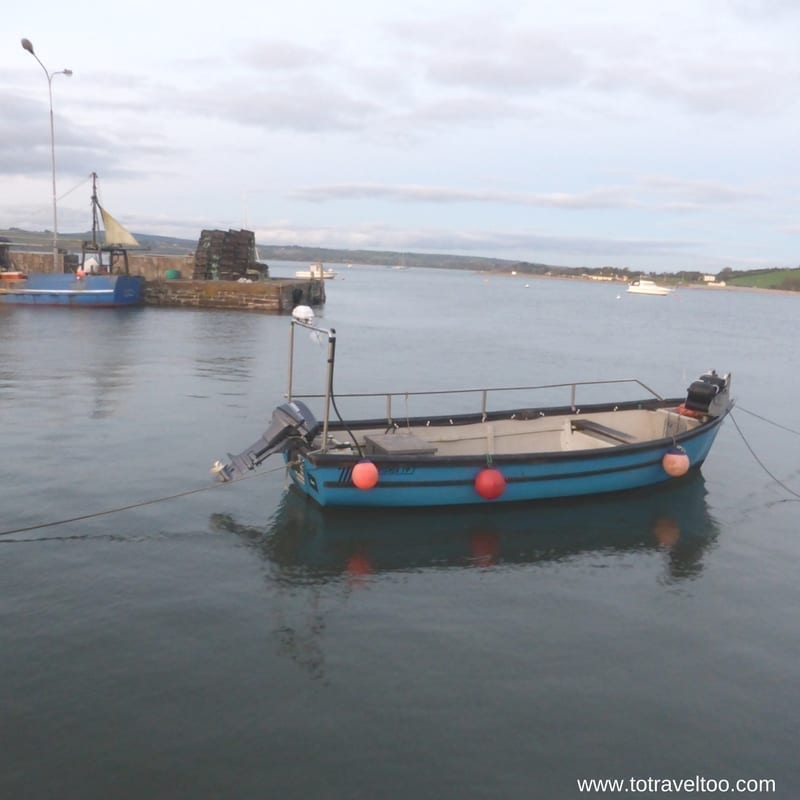 Take a guided Youghal walking tour
 Take a cruise on the Blackwater River
 Visit the Collegiate Church of St.Mary
 Walk the Youghal Boardwalk
Where to eat in Youghal
For the top restaurants in Youghal click below:

#11 Youghal to Arthurstown
There are two ways to travel from Youghal to Arthurstown, our next destination. Our blue route took us up to New Ross and then down to Arthurstown or you can head to Waterford and catch the ferry across to Lower Ballyhack.
The latest times and costs for the Passage East Car Ferry (2023) when you purchase them online:
Car Single – €9.00
Car Return – €12.00
Sailings:
Weekdays 7.00 am – 8.00 pm October 1st to March 31st
Weekdays 7.00 am – 10.00 pm April 1st to September 30th
Sundays and Public Holidays – 9.30 am (all year)
Tour Itinerary Tip: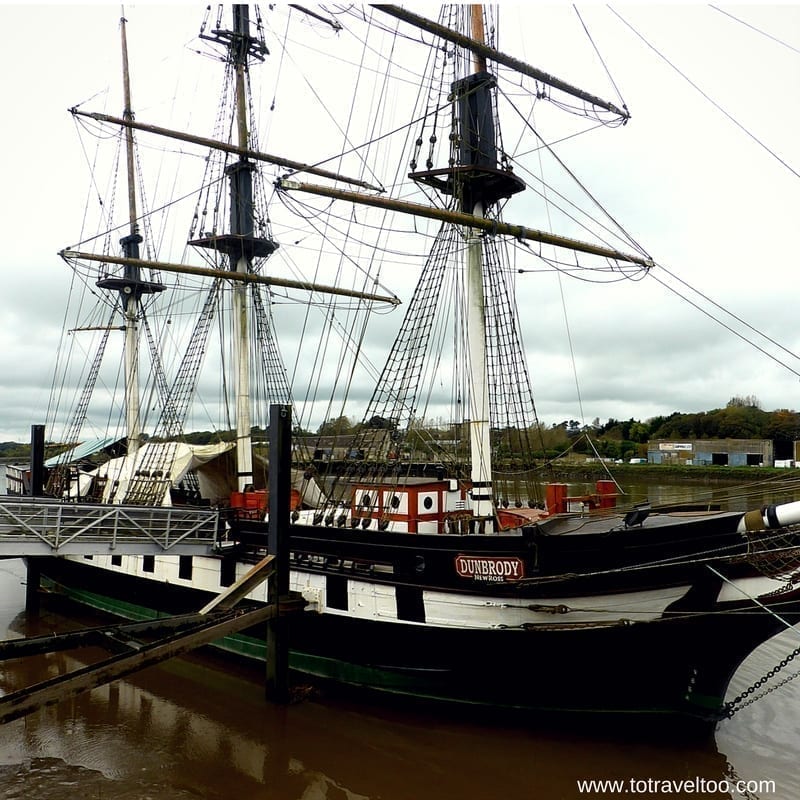 If you drive the blue route we can recommend stopping at New Ross and take a tour of the Dunbrody Famine Ship.
The original Dunbrody Famine Ship was built during 1845 in Quebec as a cargo ship to export timber from Canada, guano (a type of fertiliser) and cotton from the USA's southern states.  When the potato famine hit Ireland there were not enough passenger ships to carry emigrants to the USA as they fled Ireland looking for work and a better way of life, the Dunbrody was used for their transportation.
The Dunbrody Experience at New Ross takes you on a tour of what the emigrants experienced on their journey across the Atlantic, their living conditions on board and the fate of those who survived the journey played by costumed performers.
Dunbrody House is owned by Irish Celebrity Chef and Television personality Kevin Dundon and his wife Catherine.
Dunbrody House is a Georgian Luxury Boutique Hotel on 300 acres on the Hook Peninsula.  Not only will you dine at their Gourmet Restaurant, you can enjoy champagne and seafood at their bar, drink a glass or two of craft beer at "The Local", attend classes at their cookery school and after enjoy a relaxing spa. You will be warmly welcomed by Catherine and their team and stay in luxuriously appointed bedrooms.  We enjoyed a memorable 2-night stay (wish it had been longer).
Dunbrody House is a member of Ireland's Blue Book.
Read our review of Dunbrody House here.

Where to stay in Waterford
For hotel options in and around Waterford click our link below:

What to do in and around Arthurstown and Waterford
 Waterford is famous for

Waterford Crystal

 Walk the 

Viking Triangle

 Visit the Medieval Museum and Bishops Palace
 Visit the

Hook Lighthouse Entry and Guided Tour
Where to Eat in and Around Waterford
For the top restaurants rated by travellers in Tripadvisor click our link below:

#12 Arthurstown to Kilkenny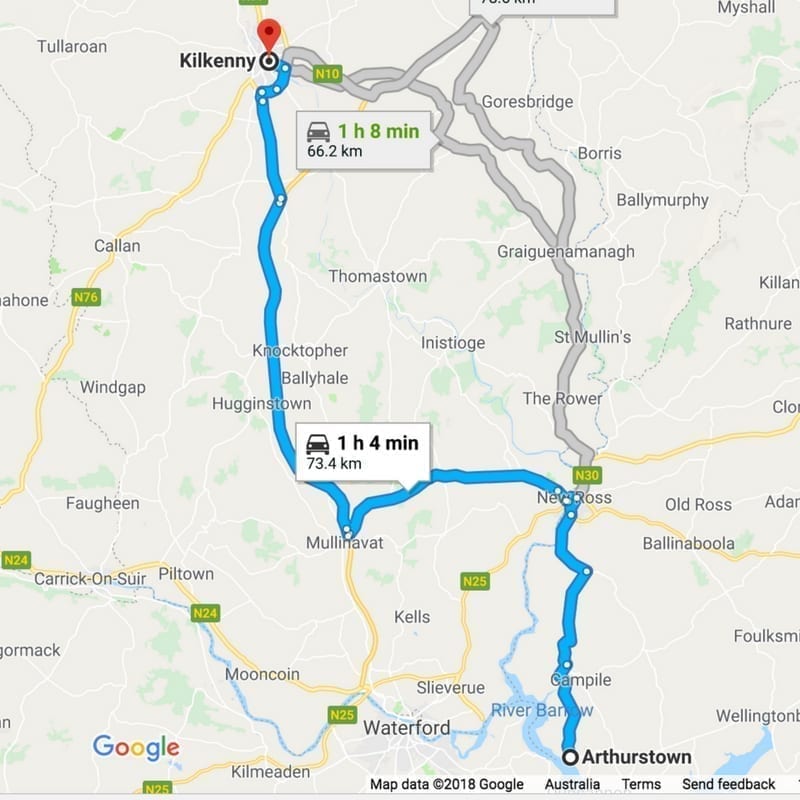 As the journey is only a short distance you may want to spend a few more hours in Waterford or visit some smaller towns such as Clonmel (just off the above map after Carrick-on-Suir).
Kilkenny is a medieval city in County Kilkenny situated on the banks of the River Nore.  The major tourist attraction of the city is Kilkenny Castle.  Kilkenny's Medieval Mile is located in the heart of the city and is a maze of narrow lanes, ancient buildings that lie between the castle and the cathedral.  The Tourist Information Centre has a wealth of information for the visitor and we could recommend that you book a walking tour. There is certainly enough to do if you spend a few nights.
Accommodation in Kilkenny
We chose accommodation in walking distance to the city at Kilkenny Inn Hotel(15,16 Vicar Street) which also had parking for guests at the rear.

For more hotel options in Kilkenny click our link below:

What to do in Kilkenny
Where to Eat in Kilkenny
For the top restaurants and bars in Kilkenny as rated by travellers on Tripadvisor click our link below:

#13 Kilkenny to Kilkea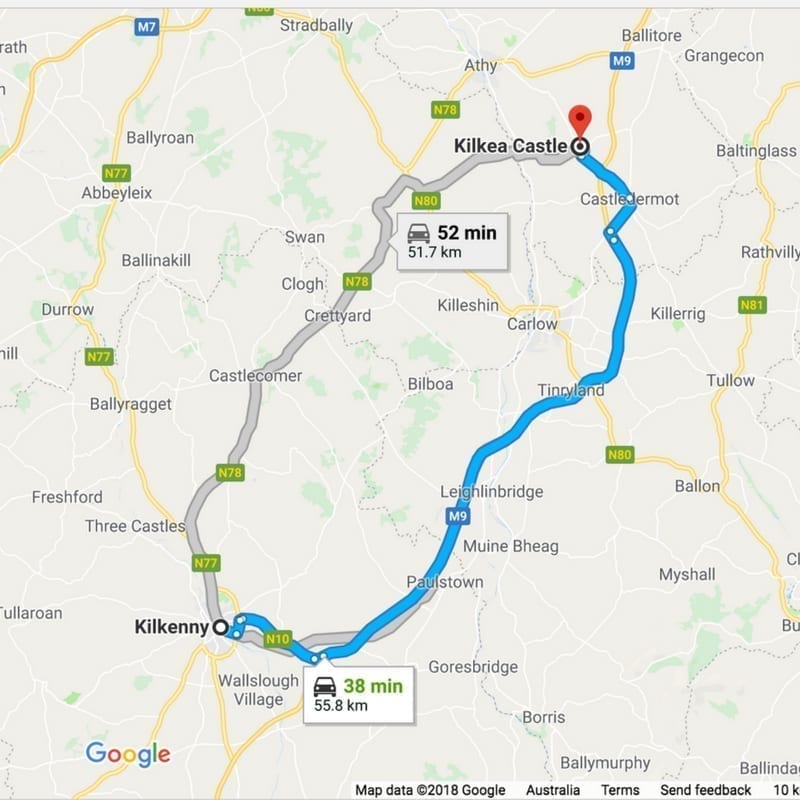 There are two available routes from Kilkenny to Kilkea Castle. Kilkea Castle in County Kildare is one of the oldest inhabited castles in Ireland and dates back to 1180.
Kilkea Castle and Golf Club is majestic.  From the moment you drive up the long leafy driveway, you feel that you are entering a kingdom of lords and ladies and royalty.  Kilkea Castle has different accommodation options available either staying in the Castle in its luxurious rooms, to the Castle Carriage rooms and the Lodges. We stayed in one of the luxurious lodges and dined at Hermione's Restaurant with its stunning views over the castle grounds. The grounds are lovely to walk around especially the old church and its small graveyard.
Read our review of Kilkea Castle here.

#14 Kilkea to Dublin
Two options for the journey to Dublin, we took the blue route.  We had to return the rental car to Dublin Airport and made the decision to drop our bags off first at our hotel and then drop the car at the airport.  That decision was an easy one and one that we would recommend.
The airport bus from the airport dropped us close to Temple Bar where we enjoyed a walk around the cobblestoned streets and had a pint of Guinness at the famous Temple Bar.
Such a buzz, Irish music playing, the pub was packed with tourists and locals and a great way to spend a few hours in Dublin.
Are you wondering what to do in Dublin? Dublin has so much to offer the visitor you will need to plan your visit well to fit everything in.
Where to stay in Dublin
Dublin is quite expensive for accommodation.  For hotel options click our link below:

More things to do in Dublin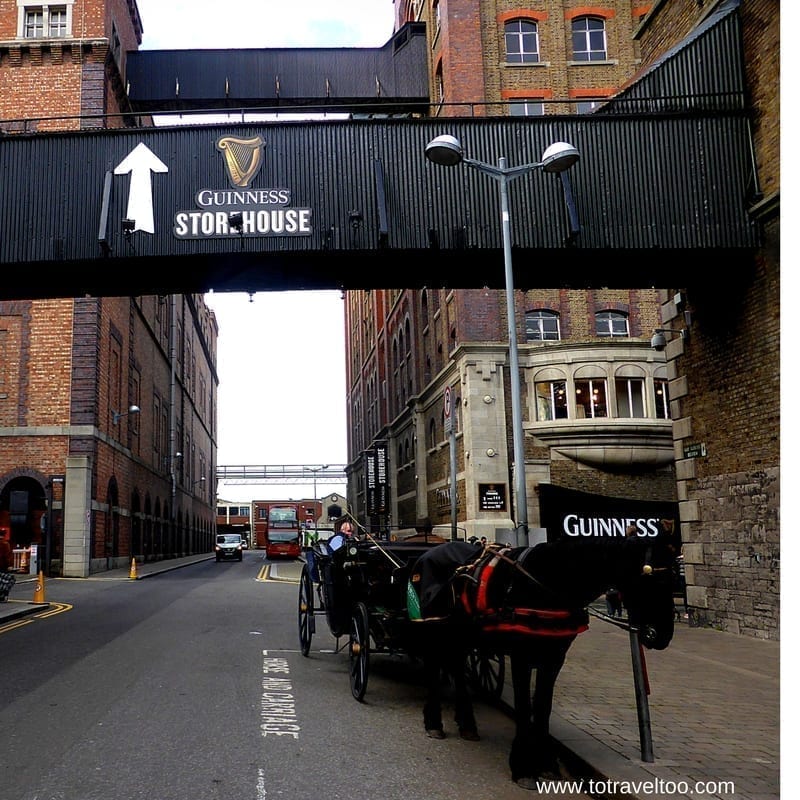 There are so many things to do and see in Dublin:
For more Ireland vacation day tours and packages:
Where to Eat in Dublin
There are many options in Dublin from pubs, to cafes, bars and restaurants.  Tripadvisor has an extensive list of restaurants to suit all cuisines and budgets.

#15 Dublin to Howth
Do not miss a visit to Howth.  We caught the train from Dublin to Howth from Connolly Station.   The DART train departs every 15 minutes and takes 25 minutes.  As of 2018 the return day trip fare – Euros 4.70.
Howth is a small fishing village on the outskirts of Dublin. Howth is famous for its seafood restaurants, fishing and hiking the hills. You can also visit Howth Market close to the train station or visit Howth Castle.
The perfect place to stay on the water's edge is at King Sitric. We can recommend dining at both of King Sitric's restaurant options, their premier fish restaurant on the 2nd floor overlooking the bay or the East Bay Cafe below. All luxurious bedrooms overlook the Bay and you fall to sleep lulled by the gentle lapping of waves at the shore. The King Sitric is in an ideal location for Dublin airport being only 20 minutes away, but don't just stay one night.  The King Sitric is one of Ireland's Blue Book of Properties.
Read our review of King Sitric Accommodation and Restaurant

Packing List for Ireland
Ireland's weather can be unpredictable.  We travelled late September and early October and yes it was damp and cold most days and when the sun did come out it was hot. Layers are definitely the go.  Here are some recommendations for you to pack for your self-drive Ireland itinerary.
All-Weather Jackets
A waterproof jacket is definitely a must.  Here are some examples for you:
A good Umbrella or Poncho
The Best Walking Shoes You Can Afford
Since we started travelling in 2012 we have walked thousands of miles in Merrell Walking Shoes.
Thermal Underwear for Winter
Layering is the 'go' in winter and thermal underwear is lightwear with plenty of warmth.
Don't forget your hat, gloves and scarf!
Getting In
Dublin Airport is located 5.4 miles north of the City.  Dublin is serviced by all major carriers and budget carriers.
For the latest airfare deals click here.
If you prefer a private transfer click here for more details.
Travel Insurance
We always recommend travel insurance when you travel.  The best time to take out travel insurance is when you start paying for your accommodation, flights or deposits on tours and cruises.
Pinterest
Are you on Pinterest? We are at To Travel Too and we have many travel-related boards check us out at Pinterest.  If you enjoyed our article why not pin it to your board?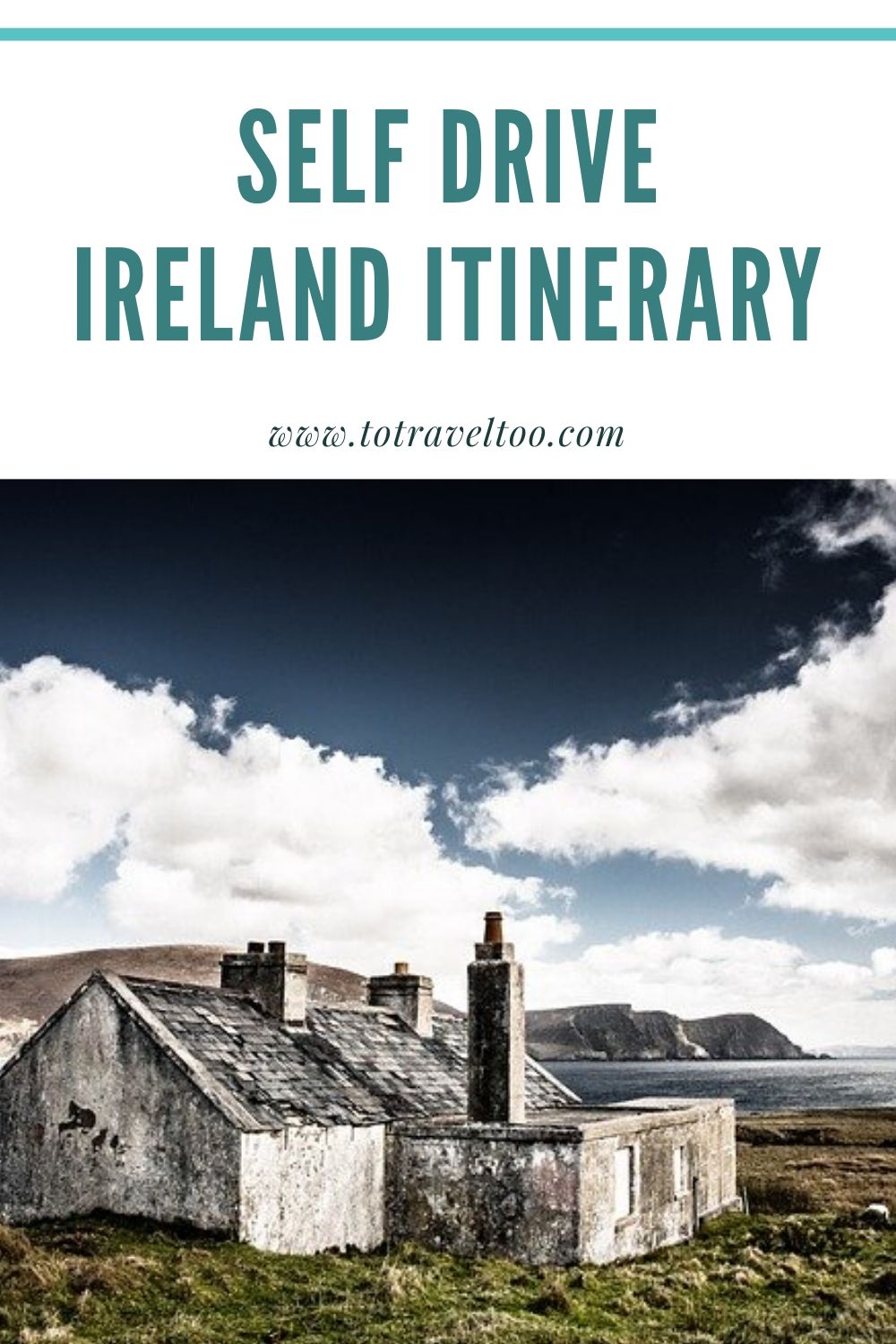 In conclusion, a self-drive tour of Ireland offers a unique and immersive experience that allows travellers to explore the country at their own pace. From the stunning landscapes and charming villages to the rich history and vibrant culture, there is something for everyone to enjoy. With well-maintained roads, helpful signage, and numerous attractions along the way, navigating through Ireland by car is both convenient and enjoyable. Whether you choose to follow one of the popular routes or create your own Irish itinerary, a self-drive tour provides endless opportunities for adventure and discovery. So grab a map, hop in the car, and embark on an unforgettable journey through the Emerald Isle.