Are you planning a visit to Toulouse?
We only had 4 hours so we hope you enjoy our top things to do in Toulouse in 4 hours.
Toulouse is one destination that you have to give some quality time to visit.  Toulouse is the capital of the region Haute Garonne in South West France.
Since our visit to Toulouse, we have been doing quite a bit of research about what to see and do there and what we missed out on. Our guide will assist you in planning either your day trip to Toulouse or how to spend a night or two. We include hotel and restaurant recommendations as well as tours and tips. We spent quite a few weeks in the region and got chatting to many of the locals who helped us out with this guide.
(Editor updated 2021)
This post may contain affiliate links. Please see our disclosure for more information. As an Amazon Associate, we earn from qualifying purchases (if applicable).
Related reading: How to spend 2 days in Strasbourg
Toulouse is located in the Midi-Pyrenees a beautiful region of France. Every time we visit France and travel through a new region we fall in love with the countryside and the small villages along the way.  We fell in love with Toulouse instantly.
The River Garonne flows through the middle of Toulouse and gives the area quite a peaceful feeling. Being besides water always gives us a relaxation vacation feel.  The Canal du Midi also runs through Toulouse.
Toulouse is the fourth largest city in France behind Paris, Marseille and Lyon.
Toulouse is located an hour from the Mediterranean and an hour from the Atlantic Ocean.
From Paris to Toulouse takes 4 hours 45 minutes by car.
Interesting facts about Toulouse
Toulouse is called the Pink City, because of the pink stone that has been used in the construction of its buildings.
Toulouse is over 2,000 years old
The University is one of the oldest in Europe
In 1271 it was declared a Royal City

What is Toulouse Famous For?
Toulouse is famous for being the headquarters of Airbus which located in the heart of Toulouse and CNES's Toulouse Space Centre (CST), which is the largest space centre in Europe.
Is Toulouse Safe To Travel To?
Toulouse is a safe city to visit.  As a traveller, you should always be aware of new surroundings and take care of your belongings when you are walking around the streets, especially at night.
Things to do in Toulouse in 4 Hours
Wondering which places to go in Toulouse?
Highlight #1 Toulouse's Most Famous Square – Place du Capitol
The Capitole de Toulouse is Toulouse's tourist attraction that is located in the heart of the city where political celebrations and celebrations take place.  It is located over 5 acres on the original boundary of the Roman part of the city (heading South towards Place du Salin) and the medieval part of the city (heading North towards Saint Sernin Basilica). The facade of the building dates back to 1750 and some parts of the interior dates back as far as the early 16th century. All visitors head here first when they arrive in Toulouse.
The Theatre du Capitole is located on the right-wing of the building.
The Great Stairway leads to the Great Hall of the Salle des Illustres.  It was originally constructed during the last quarter of the 18th century and replaced in 1912.  Paintings by the local Toulouse artist Jean-Paul Laurens and his sons Pierre and Paul-Albert adorn the walls leading up to the Great Hall.
Salle (room) Henri-Martin contains 10 paintings by Henri-Martin (1860-1945) some of them depicting the 4 seasons.
The Basilica was constructed during the 11th century in honour of Saturnin, the first Bishop and Martyr of Toulouse who lived during the 3rd century.  It holds the honour of being the biggest Romanesque Church in the world that is still standing.  It was designated a UNESCO World Heritage Site.
Place Wilson was named after the US President Thomas Wilson and lies at the end of Jean Jaures which links the Canal du Midi with the centre of the city of Toulouse.  To the delight of children it contains the colourful Carousel that was located to its present position in 2007 from Place Saint-Georges.  The squeals of delight when children arrive at the Place puts a smile on every adult's face. Who doesn't love a merry go round?
Place Wilson is a beautiful park to sit down and relax from sightseeing or enjoy a coffee or a meal at one of the local cafes that surround it.  The smoothing sounds of the fountain of the Goudouli Monument who was a famous Toulouse poet from the 17th century can send you off in a slumber.
The convent was built during the years 1230 to 1350 by Dominique, the founder of the Order of the Preachers.
In 1789 the Revolution banned the Order of the Preachers and in 1810 Napolean requisitioned the Convent for his military purposes.  The army eventually left during 1861. From 1905 to 1974 restoration took place to return the building to its original state as much as possible.
It houses the relics of Saint Thomas Aquinas and is a place of pilgrimage.
Pro-Tip: 1st Sunday of every month there is free entry
Free entry daily to the Church and the Chapel of the Virgin
Euros 4 per person to visit the Cloister, Chapter House, St Antonin Chapel and Refectory.
For more information: www.jacobins.toulouse.fr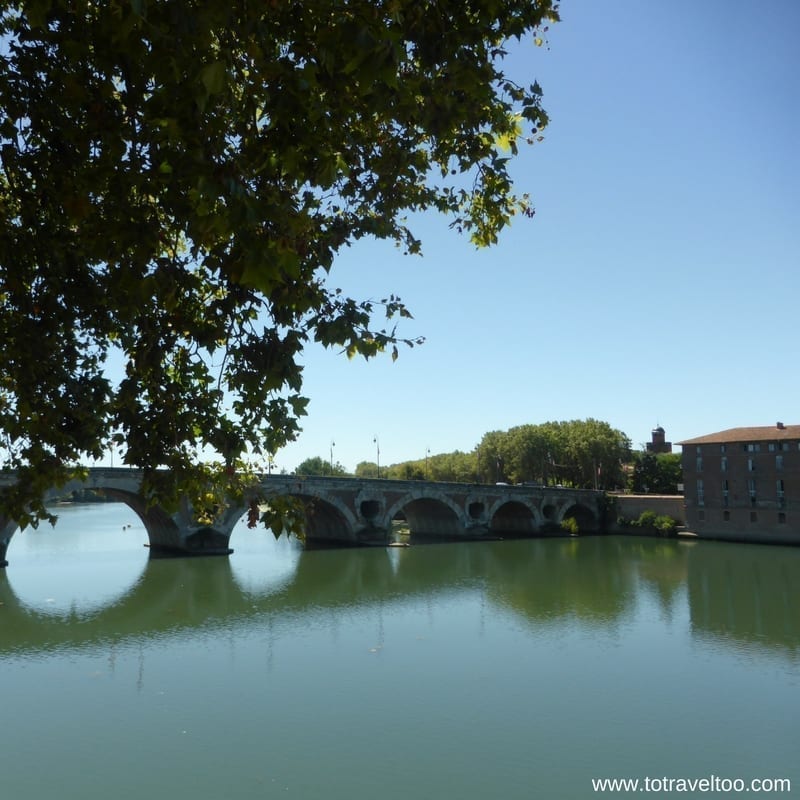 Enjoy a sandwich and a coffee on one of the benches that line the Promenade de Tounis whilst viewing the Pont Neuf the oldest bridge still standing in Toulouse.  Pont Neuf spans the Garonne.  King Francis I financed the construction of the bridge in 1541 by placing a special tax on the local inhabitants of the region.
Highlight #6 Discover the Blue-Gold Of Toulouse
Pastel leaves are the Blue Gold of Toulouse.  It is understood that Hippocrates used the leaves for healing purposes.  They are known to be rich in 3, 6 and 9 Omega.  During the Renaissance period, Pastel leaves were important for trade in the area as they contained a blue pigment which was used in the textile industry.  Pastel fields can now be found in the Midi-Pyrenees and the leaves are used for cosmetic purposes and the dye for the textile industry
Near Pont Neuf at 9 Place de Assezat is Boutique Terre de Pastel – a Boutique and Show Room which is highly recommended to visit for cosmetics and stunning blue scarves and shawls.  Terre de Pastel also have a Museum, a Restaurant and a Spa. If you want a memento of Toulouse and its region you cannot pass a gift from Terre de Pastel.  As perpetual travellers with only carry-on luggage it was hard for us not to part with any cash in this boutique.
Check their website out at: www.terredepastel.com
Things To Do in Toulouse (if you have longer than 4 hours)
Shopping in Toulouse is a favourite pastime.  Head to the Place du Capitol and the side streets for great shopping.
When visiting Toulouse we would also recommend wandering through the back streets to get that local feel.  Watch where the locals are eating, restaurants around the square cater for the tourist $ and can be quite expensive.
Toulouse Hotels
Adagio Access Toulouse Jolimont
We stayed at the Adagio as the hotel was in walking distance to the main Toulouse Train Station which had direct access by bus to the Airport.  The studio rooms contained a small kitchenette, a swimming pool and there was a Carrefour supermarket within a 5 minutes walk.
Other Toulouse Hotel Options with high traveller ratings :
Crowne Plaza Hotel: 7 Place Du Capitole, Capitole, Toulouse, France



 

Toulouse Airport Hotel Options
For hotels within 2km of Toulouse Airport:
Best Restaurants in Toulouse
What food is Toulouse famous for?
Toulouse is famous for its slow-cooked dish – Cassoulet.  Cassoulet is made from Toulouse sausage of pork meat, duck and beans.
The top 5 restaurants in Toulouse according to Tripadvisor's travellers reviews are:
Michel Sarrin: 21 Boulevard Armand Duportal Toulouse
ACR Experiences: 8 Rue Mage Toulouse
Le Saint Sauvage: 20 Rue des Salenques Toulouse
Au Pois Gourmand: 3 Rue Emile Heybrard Toulouse
Chez Fifi: 17 Rue Croix Baragnon Toulouse
Other restaurant options in Toulouse:

 

Getting In Toulouse
Toulouse Airport is serviced by budget carriers as well as many international carriers.  Click here for more information.
During high season we recommend booking your car hire in advance.  Click here for the latest deals.
If you are thinking of travelling by train throughout France click here for more information on the Eurail pass that could save you $$$ by planning your travel in advance. As an example, the Paris to Toulouse train takes 6.5 hours and the Toulouse Nice train can take between 7 and 8 hours.
Pinterest
Are you on Pinterest? We are at To Travel Too and we have many travel-related boards check us out at Pinterest.  If you enjoyed our article why not pin it to your board.

Further reading on Toulouse:
We are pleased to be able to offer you our To Travel Too Travel Shop with over 800 travel related products.  Products that we have either used ourselves or products that other travellers have recommended to us.
You can now walk Toulouse with our article via GPSMyCity App….get it here
Travel Insurance
We recommend that travel insurance be taken out as soon as you pay for your flights or deposit on tours and accommodation.  If you have to cancel you are covered from the date that you purchased your policy.
If you are from Australia click here for information on travel insurance.
If you are from outside Australia click below for information on travel insurance.

Have you been to Toulouse?  We would love to hear what you did and how long you spent in this picturesque city.
Our other articles to inspire you to visit France
Top 3 Things for Free To Do in Grasse
Le Boat – Self Drive Canal Trips
Driving the Champagne Route of France
To Travel Too  is a participant in the Amazon Services LLC Associates Program, an affiliate advertising program designed to provide a means for sites to earn advertising fees by advertising and linking to amazon.com, amazon.co.uk, amazon.ca. Amazon and the Amazon logo are trademarks of Amazon.com, Inc. or its affiliates.