Are you visiting the captivating city of Toulouse and only have a few hours to explore? Fear not, as this vibrant city in southwestern France has plenty to offer even within a short timeframe.
From its rich history and stunning architecture to its lively markets and delectable cuisine, Toulouse is brimming with activities that will allow you to make the most of your limited time. Whether you're a history buff, a food enthusiast, or simply looking for some unique experiences, this article will guide you through the best things to do in Toulouse in just four hours.
Toulouse is one of the 15 most beautiful cities in France that you should add to your bucket list.
Unfortunately, we only had 4 hours before we headed off to Encausse to housesit.  The best way to  visit is to allow two days in Toulouse, as many of the locals advised us.
Toulouse is one destination that you have to give some quality time visiting.
Since our visit to Toulouse, we have been doing quite a bit of research about top things to do in Toulouse and what we missed out on. Our guide will assist you in planning either your day trip to Toulouse or how to spend a Toulouse weekend break. We include hotel and restaurant recommendations as well as tours and tips. We spent quite a few weeks in the region and got chatting to many of the locals who helped us out with this guide.
This post may contain affiliate links. Please see our disclosure for more information. 
Toulouse Tours
Toulouse Gourmet Food Tours
Toulouse Gourmet Tours invites you to immerse yourself in the culinary wonders of La Ville Rose. Dive deep into the vibrant flavours of Southwestern French Cuisine – arguably the most sumptuous and intricate in all of France, shaped by its unique climate and rich historical tapestry.
Under the guidance of Alejandro, a seasoned Spanish-French chef with a storied career in Michelin-starred establishments across Europe, our intimate group tours lead you on a sensory journey.
Savour hyperlocal delights, from melt-in-your-mouth pastries to robust wines, delectable charcuterie, and artisanal cheeses. As you relish each bite, Alejandro peppers the experience with captivating tales of Toulouse, tracing its lineage from the Roman days to the present, offering a rich understanding of the origin and evolution of these culinary traditions. Welcome to a feast for both your palate and soul!
Private Guided Walking Tour of Toulouse
Discover the best of Toulouse on a 2-hour private walking tour. Learn about the history of the city and see some of its most famous landmarks.
Toulouse: City Highlights Self-Guided Scavenger Hunt & Tour
Discover Toulouse solving riddles and puzzles
Learn about the city and find hidden gems
Get plenty of time to take beautiful photos
Enjoy a tour while still practising social distancing
Related reading: How to spend 2 days in Strasbourg
Toulouse is the capital of the region Haute Garonne in South West France.
Toulouse is located in the Midi-Pyrenees a beautiful region of France. Every time we visit France and travel through a new region we fall in love with the countryside and the small villages along the way.  We fell in love with Toulouse instantly.
The River Garonne flows through the middle of Toulouse and gives the area quite a peaceful feeling. Being beside water always gives us a relaxing vacation feel.  The Canal du Midi also runs through Toulouse.
Toulouse is the fourth largest city in France behind Paris, Marseille and Lyon.
Toulouse is located an hour from the Mediterranean and an hour from the Atlantic Ocean.
From Paris to Toulouse takes 4 hours 45 minutes by car.
Interesting facts about Toulouse
Toulouse is called the Pink City, because of the pink stone that has been used in the construction of its buildings.
Toulouse is over 2,000 years old
The University is one of the oldest in Europe
In 1271 it was declared a Royal City

What is Toulouse Known For?
Toulouse is famous for being the headquarters of Airbus which is located in the heart of Toulouse and CNES's Toulouse Space Centre (CST), which is the largest space centre in Europe.
Is Toulouse Safe To Travel To?
Toulouse is a safe city to visit.  As a traveller, you should always be aware of new surroundings and take care of your belongings when you are walking around the streets, especially at night.
Is Toulouse Worth Visiting
Toulouse is worth visiting whether you have 4 hours or 2 days. There is so much to see and do in Toulouse. Toulouse is also known for its gastronomic delights, so by staying longer you will have more opportunities to indulge.
Things to do in Toulouse in 4 Hours
Wondering which places to see in Toulouse in 4 hours? We share with you Toulouse's attractions.
Highlight #1 Toulouse's Most Famous Square

– Place du Capitol
The Capitole de Toulouse is Toulouse's tourist attraction that is located in the heart of the city where political celebrations and celebrations take place.  It is located over 5 acres on the original boundary of the Roman part of the city (heading South towards Place du Salin) and the medieval part of the city (heading North towards Saint Sernin Basilica). The facade of the building dates back to 1750 and some parts of the interior date back as far as the early 16th century. All visitors head here first when they arrive in Toulouse.
The Theatre du Capitole is located on the right wing of the building.
The Great Stairway leads to the Great Hall of the Salle des Illustres.  It was originally constructed during the last quarter of the 18th century and replaced in 1912.  Paintings by the local Toulouse artist Jean-Paul Laurens and his sons Pierre and Paul-Albert adorn the walls leading up to the Great Hall.
Salle (room) Henri-Martin contains 10 paintings by Henri-Martin (1860-1945) some of them depicting the 4 seasons.
The Basilica was constructed during the 11th century in honour of Saturnin, the first Bishop and Martyr of Toulouse who lived during the 3rd century.  It holds the honour of being the biggest Romanesque Church in the world that is still standing.  It was designated a UNESCO World Heritage Site.
Place Wilson was named after the US President Thomas Wilson and lies at the end of Jean Jaures which links the Canal du Midi with the centre of the city of Toulouse.  To the delight of children, it contains the colourful Carousel that was located to its present position in 2007 from Place Saint-Georges.  The squeals of delight, when children arrive at the Place, put a smile on every adult's face. Who doesn't love a merry-go-round? We hope you can include the Carousel in your Toulouse itinerary.
Place Wilson is a beautiful park to sit down and relax from sightseeing or enjoy a coffee or a meal at one of the local cafes that surround it.  The soothing sounds of the fountain of the Goudouli Monument who was a famous Toulouse poet from the 17th century can send you off in a slumber.
The convent was built during the years 1230 to 1350 by Dominique, the founder of the Order of the Preachers.
In 1789 the Revolution banned the Order of the Preachers and in 1810 Napolean requisitioned the Convent for his military purposes.  The army eventually left during 1861. From 1905 to 1974 restoration took place to return the building to its original state as much as possible.
It houses the relics of Saint Thomas Aquinas and is a place of pilgrimage.
Pro-Tip: 1st Sunday of every month there is free entry
Free entry daily to the Church and the Chapel of the Virgin
Euros 4 per person to visit the Cloister, Chapter House, St Antonin Chapel and Refectory.
For more information: www.jacobins.toulouse.fr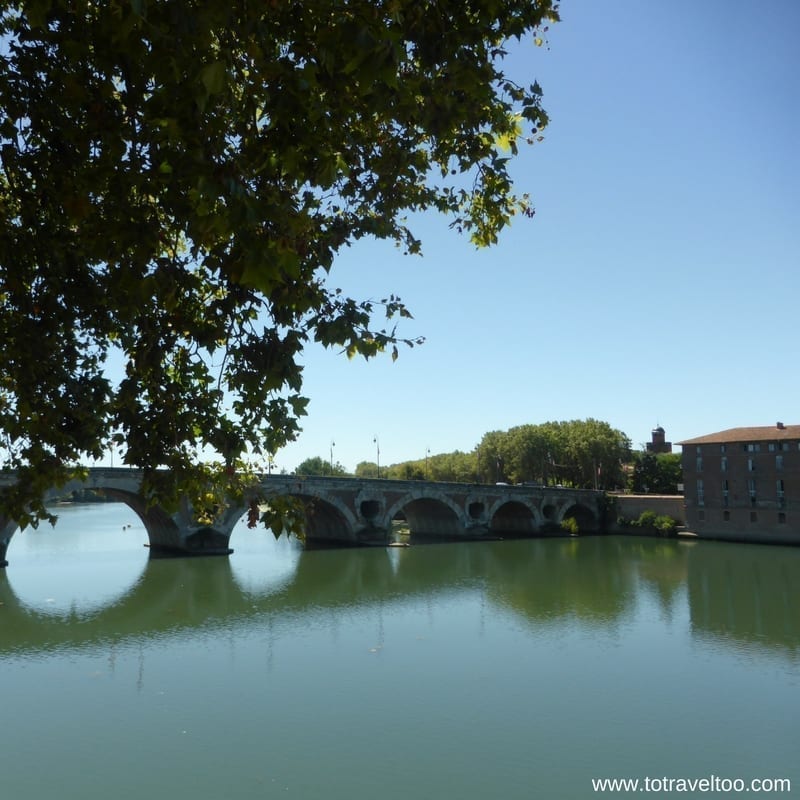 Enjoy a sandwich and a coffee on one of the benches that line the Promenade de Tounis whilst viewing the Pont Neuf the oldest bridge still standing in Toulouse.  Pont Neuf spans the Garonne.  King Francis I financed the construction of the bridge in 1541 by placing a special tax on the local inhabitants of the region.
Highlight #6 Discover the Blue-Gold Of Toulouse
Pastel leaves are the Blue Gold of Toulouse.  It is understood that Hippocrates used the leaves for healing purposes.  They are known to be rich in 3, 6 and 9 Omega.  During the Renaissance period, Pastel leaves were important for trade in the area as they contained a blue pigment which was used in the textile industry.  Pastel fields can now be found in the Midi-Pyrenees and the leaves are used for cosmetic purposes and the dye for the textile industry
Terre de Pastel have a Museum, a Restaurant and a Spa. If you want a memento of Toulouse and its region you cannot pass a gift from Terre de Pastel.  As perpetual travellers with only carry-on luggage it was hard for us not to part with any cash in this boutique. Check out their Museum opening times and entrance fee here.
Check their website out at: www.terredepastel.com
Things To Do in Toulouse (if you have longer than 4 hours)
Shopping in Toulouse is a favourite pastime.  Head to the Place du Capitol and the side streets for great shopping.
When visiting Toulouse we would also recommend wandering through the back streets to get that local feel.  Watch where the locals are eating, restaurants around the square cater for the tourist $ and can be quite expensive.
Toulouse Pub Crawl With A Local
Get 3 free shots in 3 different bars and club
Follow your guide for a night tour
Meet a bunch of new international persons
Entry for free to a nightclub

Toulouse Hotels

Adagio Access Toulouse Jolimont

We stayed at the Adagio as the hotel was in walking distance to the main Toulouse Train Station which had direct access by bus to the Airport.  The studio rooms contained a small kitchenette, a swimming pool and there was a Carrefour supermarket within a 5 minutes walk.

Latest guest review: The ApartHotel is very close to the metro station Jolimont and there is a big car park free of charge beside the building. The apt was comfortable and the kitchen well equipped.

Other Toulouse Hotel Options with high traveller ratings :

Crowne Plaza Hotel: 7 Place Du Capitole, Capitole, Toulouse, France

Located in Toulouse City Centre, Crowne Plaza Toulouse is a 4-star hotel set 80 m from Théâtre du Capitole Opéra House. It features a fitness centre and an interior courtyard with a fountain and sculptures. Toulouse Stadium is 3 km away.

Each soundproofed room includes a flat-screen TV. Some of the classic-style rooms feature views of Place du Capitole. Luxury products are provided in the marble bathrooms.

Savour gourmet French cuisine is prepared by the restaurant at the hotel Crowne Plaza. An American breakfast is served every morning. Guests can also enjoy cocktails at the PLAZA bar.

Latest guest review: The location was perfect, right in the centre of the city, at the Capitole. Most of the places you might want to visit would be within walking distance. The riverside is a 10 minute walk. Hotel check in was smooth. Room sizes are good. We even got a free upgrade without asking for it. There was many restaurants and cafes the moment you step out of the hotel, so we didn't have any meals at the hotel.

Nemea Appart'Hotel Residence Concorde: 16 Boulevard Bonrepos, Toulouse City Centre, Toulouse, France

Located in the centre of Toulouse, next to the Canal du Midi and in front of Toulouse Matabiau Train Station, Néméa Appart'Hôtel Résidence Concorde offers a fitness centre located on the 9th floor, including a sauna.

At Néméa Appart'Hôtel Résidence Concorde each accommodation is air-conditioned and includes a TV as well as free WiFi access. The private bathrooms are fitted with a bathtub.

The apartments and studios have a kitchenette equipped with a microwave. Restaurants and bars can be found within walking distance.

Latest guest review: The room was spacious, modern, new, exceptionally clean, the bed was super comfortable and the staff were very accommodating. I will stay here again.

Hotel de Brienne: 20 Bd Du Maréchal Leclerc, Compans, Toulouse,

Located next to the Canal de Brienne, this 4-star hotel is a 15-minute walk from Toulouse City Centre, a 5-minute walk from Toulouse Congress Centre and next to Toulouse Business School. It is 400 m from Compans Caffarelli Metro Station and 4 km from Toulouse Stadium.

Latest guest review: Calm room, cosy, efficient shower, comfortable bed, very nice breakfast with fresh squeezed orange juice and in room service fast and good quality.

Residhome Toulouse Occitania: 93, Avenue De Lombez, Casselardit, Toulouse, France

An outdoor swimming pool and free Wi-Fi access feature in this Residhome. It is less than 100 m from the Hippodrome tram stop providing access to Toulouse Blagnac Airport in less than 20 minutes and to Toulouse city centre. Toulouse Stadium is 3.5 km away.

An LCD TV with satellite channels features in all of the apartments and studios at Residhome Toulouse Occitania. Each is air-conditioned and also has a kitchenette with hotplates for making meals.

Latest guest review: What didn't I love ? It's a perfect little pied a terre, clean, and crisp. I liked the decor and all the details that included things like shoe cleaner, good quality teas, water, the kitchen…nothing missing even bottle openers. The towels were of very good quality and the beds super comfy.

 Toulouse Airport Hotel Options

Best Restaurants in Toulouse

What food is Toulouse famous for?

Toulouse is famous for its slow-cooked dish – Cassoulet.  Cassoulet is made from Toulouse sausage of pork meat, duck and beans.

The top  2 restaurants in Toulouse according to Tripadvisor Toulouse travellers reviews are:

Michel Sarrin: 21 Boulevard Armand Duportal Toulouse

Au Pois Gourmand: 3 Rue Emile Heybrard Toulouse

Other restaurant options in Toulouse:

 

Getting In Toulouse

Toulouse Airport is serviced by budget carriers as well as many international carriers.  Click here for more information.

During high season we recommend booking your car hire in advance.  Click here for the latest deals.

You can obtain an International driver's License in minutes

here.




Pinterest

Are you on Pinterest? We are at To Travel Too and we have many travel-related boards check us out at Pinterest.  If you enjoyed our article why not pin it to your board?

Our other articles to inspire you to visit France

Top 3 Things for Free To Do in Grasse

Le Boat – Self-Drive Canal Trips

Driving the Champagne Route of France

In conclusion, Toulouse offers a wealth of activities and attractions that can be explored even if you only have four hours to spare. From exploring the rich history and architecture of the city, to indulging in delicious local cuisine and experiencing the vibrant atmosphere of its markets, there is something for everyone.

Whether you are a history buff, a foodie or simply looking for a taste of French culture, Toulouse will not disappoint. So next time you find yourself with just a few hours in this charming city, make sure to make the most of your time and discover all that Toulouse has to offer.