Are you wondering how to get to the Cu Chi Tunnels from Ho Chi Minh City? Should you take a tour or try to get there by yourself?
The Cu Chi Tunnels Tour was one of our highlights when visiting Ho Chi Minh City in Vietnam. We had mixed reactions from friends when we mentioned that we were planning a visit to the Cu Chi tunnels. Some said 'that it was too touristy and a waste of money, while others enjoyed the experience and recommended that we visit. We always go with our instincts and in this case, as always, our instincts were right.
Our Cu Chi Tunnels guide will assist in giving you options on how to get to the Cu Chi Tunnels. Whether you go on a tour, on your own, by local bus or by speedboat you do have to plan your journey well in advance. Although it is only 46 km from Ho Chi Minh City, that 46 km could take you up to 3 hours depending on traffic and road conditions.
Throughout our 2 months of travel from North to South Vietnam, we had been brushing up on our history of Vietnam. From the War Museum in Hanoi to the Walk of Revolution Tour in Hue and adding the War Remnants Museum in Ho Chi Minh and now the Cu Chi Tunnels, we had a clearer understanding of Vietnam's turbulent war history.
Planning a trip to Vietnam read our ultimate travel guide here
You Can Read Our article on Vietnam: Best Vietnamese Restaurant Guide
We have created a Facebook Group – Vietnam Travel Planning – to assist you in planning your vacation to Vietnam.

Our YouTube Video of the Cu Chi Tunnels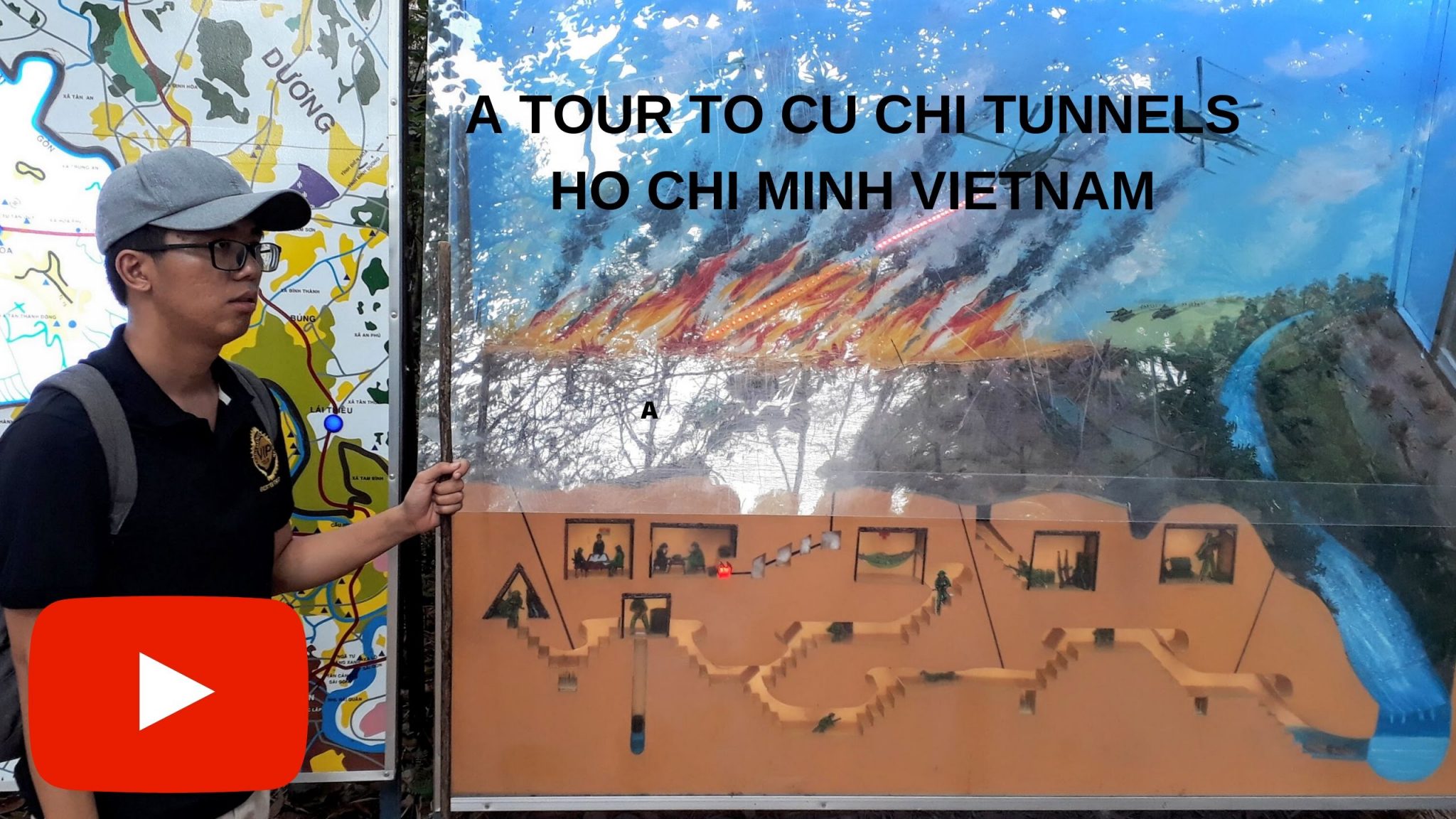 Flights to Vietnam
Air Asia, the budget carrier, has flights to Hanoi, Ho Chi Minh City, Danang and Nha Trang, from major Asian cities.
Travelling around South East Asia by Bus or Train
We use 12goAsia for all our bus and train travel around South East Asia.  You can even book ferry and aeroplane tickets.
Related reading do you need a place to stay in HCMC?: Read our Hotel Review Pullman Saigon Centre 
Pro-Tip
If you have allowed a few days in Ho Chi Minh City we can recommend visiting the War Remnants Museum and the Reunification Palace first before you visit the Cu Chi Tunnels.
This post may contain affiliate links. Please see our disclosure for more information. As an Amazon Associate, we earn from qualifying purchases (if applicable).
Need to stay connected to home?
Enjoy a convenient and instantly available e SIM card.
How to get to Cu Chi Tunnels from Ho Chi Minh City
Cu Chi Tunnels Location Map
Address of Cu Chi Tunnels:  Đ. Tỉnh Lộ 15, Phú Hiệp, Củ Chi, Thành phố Hồ Chí Minh 733814, Vietnam
These are options on how to go to Cu Chi Tunnels:
Bus to Cu Chi tunnels
From Ben Thanh Market take Bus #13 to Cu Chi Bus Station.
From Cu Chi Bus Station take Bus #79 to the Cu Chi Tunnels.
From Cho Lon Coach Station take Bus #94 to Cu Chi Bus Station.
From Cu Chi Bus Station take Bus #79 to Cu Chi Tunnels.
NB:
The journey from Ho Chi Min to Cu Chi tunnels will take around 2.5 hours and costs VND26,000 (USD$1.00).
Cu Chi Tunnels Entrance Fee
Ben Dinh VND 110,000 (USD$ 4.80)
Ben Duoc VND 90,000 (USD$3.90)
How to go by Speedboat to Cu Chi Tunnels
The tour takes around 6 – 7 hours. You take the speed boat up the Saigon River for an hour. At the Cu Chi Tunnels, you will visit the traps used and have the opportunity to crawl through some of the tunnels. For an extra charge, you can shoot an M16 rifle at the shooting range.
Book your Cu Chi Tunnels Tour here
Why Choose A "Get Your Guide Tour" Over Do It Yourself
Heavy traffic and traffic jams are the 'norm' in Vietnam, it is a major consideration if you are thinking of visiting the Cu Chi tunnels yourself.   One thing for certain is that we did not want to do a bus tour with a 50 seat capacity touring bus full of other tourists. We wanted a tour that was smaller, around 20 people maximum. We wanted a guide that was knowledgeable and who could give us the Cu Chi tunnels facts, figures and history.
Every hotel and travel agency in Ho Chi Minh City sells Cu Chi tunnels day tours either half-day or full-day.  The one question we had with so many tours available, how could we tell one tour from the other, were we getting a guide or just a driver with some knowledge and where could we read the latest reviews about the tour.
We have used Get Your Guide many times throughout our travels and we felt comfortable using them again for this tour. We could read the latest reviews and we knew up front what was included and what was not.
Duc was our guide for our Cu Chi Tunnels half-day tour. Duc was a guide for Vietnam Adventure Tours and run tours on behalf of Get Your Guide. He was a great guide, funny and knowledgeable.
We were guests of Get Your Guide and as always our opinions are our own.
Opening Hours of Cu Chi Tunnels
Cu Chi Tunnels Entrance is open from 8 am to 5 pm.
Frequently Asked Questions on the Cu Chi Tunnels
Ho Chi Minh City to Cu Chi Tunnels distance?
The distance from Ho Chi Minh City to Cu Chi tunnels is 46 km but it can take you up to 3 hours to travel by car because of traffic.
Can you visit Mekong Delta and Cu Chi Tunnels in one day?
Yes, you can. It will be a long day with lots of travel. It is best to go with an organised tour.
Is Cu Chi Tunnels worth visiting?
After visiting the Cu Chi tunnels by organised tour we definitely say it is worth visiting. The Cu Chi Tunnels in Vietnam are unlike anything else that we have seen and were able to go underground to witness ourselves what they were like.
What were the Cu Chi Tunnels Used for?
During the War of Independence in the 1940s communist forces began to dig a tunnel complex by hand. The tunnel complex grew in the 1960s with the presence of the Americans during the Vietnam War.
The Viet Cong used the tunnels as sleeping quarters, weapon rooms, a command centre,  a hospital and a communications and supply route. There was even a theatre and a music hall built.
How deep are the Cu Chi Tunnels?
There are 3 levels. Secret doors enabled the Vietcong to get in and out via secret stairwells.
The first level reaches 3 – 4m deep.
The second level reaches 5 – 6 m deep.
The third level reaches 8 – 10m deep.
How did the Viet Cong Dig The Tunnels By Hand
The tunnels were dug a short distance at a time by digging with their hands.  They had no equipment available to use.
How far are the Cu Chi Tunnels from Ho Chi Minh City?
There are two sites for the Cu Chi Tunnels. Most of the tours (our Get Your Guide tour included) visit the Ben Dinh site which is located 50 km from Ho Chi Minh. The second site, Ben Duoc, is around 60 km which can add another hour of travel.
What is the difference between Ben Dinh and Ben Duoc?
The tunnels at the Ben Dinh site have been reconstructed and enlarged whereas the tunnels at the Ben Duoc site still are mostly original and there are fewer tourists there. There is the opportunity of firing an AK47 and other rifles at Ben Dinh (this is not included in the price of the tickets, you have to pay extra for the bullets).
How long are the Cu Chi Tunnels?
The tunnels are 250 km in length and reach the Cambodian border.
What were the 'tunnel rats'?
The tunnel rats were the names given to the Americans who were given the task of going underground to locate the enemy troops and find any booby traps.  Only the smallest of Americans would be suitable for the job.
How long do you need at the Cu Chi Tunnels?
It takes about 2 hours to see the Ben Dinh Cu Chi Tunnels complex.
What do you wear to Cu Chi?
You need to wear comfortable clothes that will get dusty and dirty especially if you climb into the tunnels.  Bear in mind that you will be crawling on your knees in the tunnels so long trousers are recommended.  We would also recommend sneakers or shoes that are covered in.
Other recommendations on what to bring for your visit to the Cu Chi Tunnels:
Our Cu Chi Tunnels Vietnam Experience
Our Booking Experience
We read the Cu Chi tunnels reviews for visiting with a small group tour before booking.  We knew that we did not want to travel by ourselves on the local Cu Chi tunnels bus.
We booked our Get Your Guide Morning Cu Chi Tunnels Tour online. Within a few hours we received confirmation from Vietnam Adventure Tours with the details:
pick up time from our hotel
group size 22 persons
air-conditioned bus
English speaking tour guide
Water
Entrance Fee
Tapioca
The tour excludes:
travel insurance
personal expenses
lunch
Lamphat Handicap Lacquer Company Visit
All tours to Cu Chi Tunnels include a visit to the Lamphat Handicap Lacquer Company. Vietnam is famous for its lacquerware that dates back to the 3rd and 4th centuries. The lacquerware was being produced by handicapped Vietnamese who were war victims who still wanted to be able to work and earn a living.
We were shown around the company and explained that 16 coats of duck eggshells and 24 coats of mother of pearl were used in the quite detailed process that goes through 20 stages.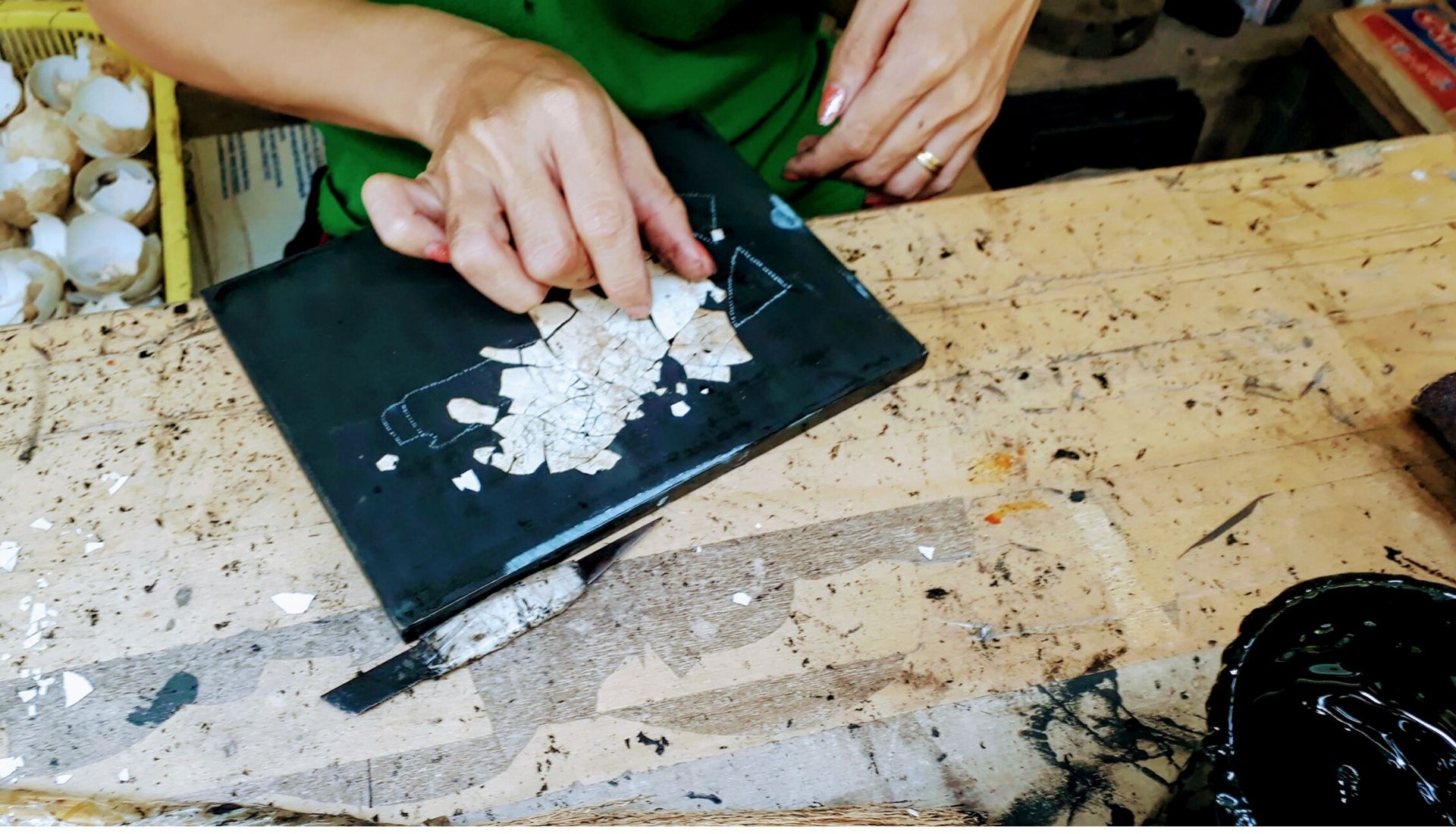 The eggshell is then coloured by the artist from natural mineral pigments that have been mixed with chemical dyes.
The lacquerware is polished, varnished, polished and then the final shining process takes place. The end products are beautiful. They create bowls, plates, pictures and more. If you are interested in purchasing lacquerware whilst in Vietnam, a visit to Lamphat is recommended, not only are you getting an original you are also helping the handicapped people earn a living.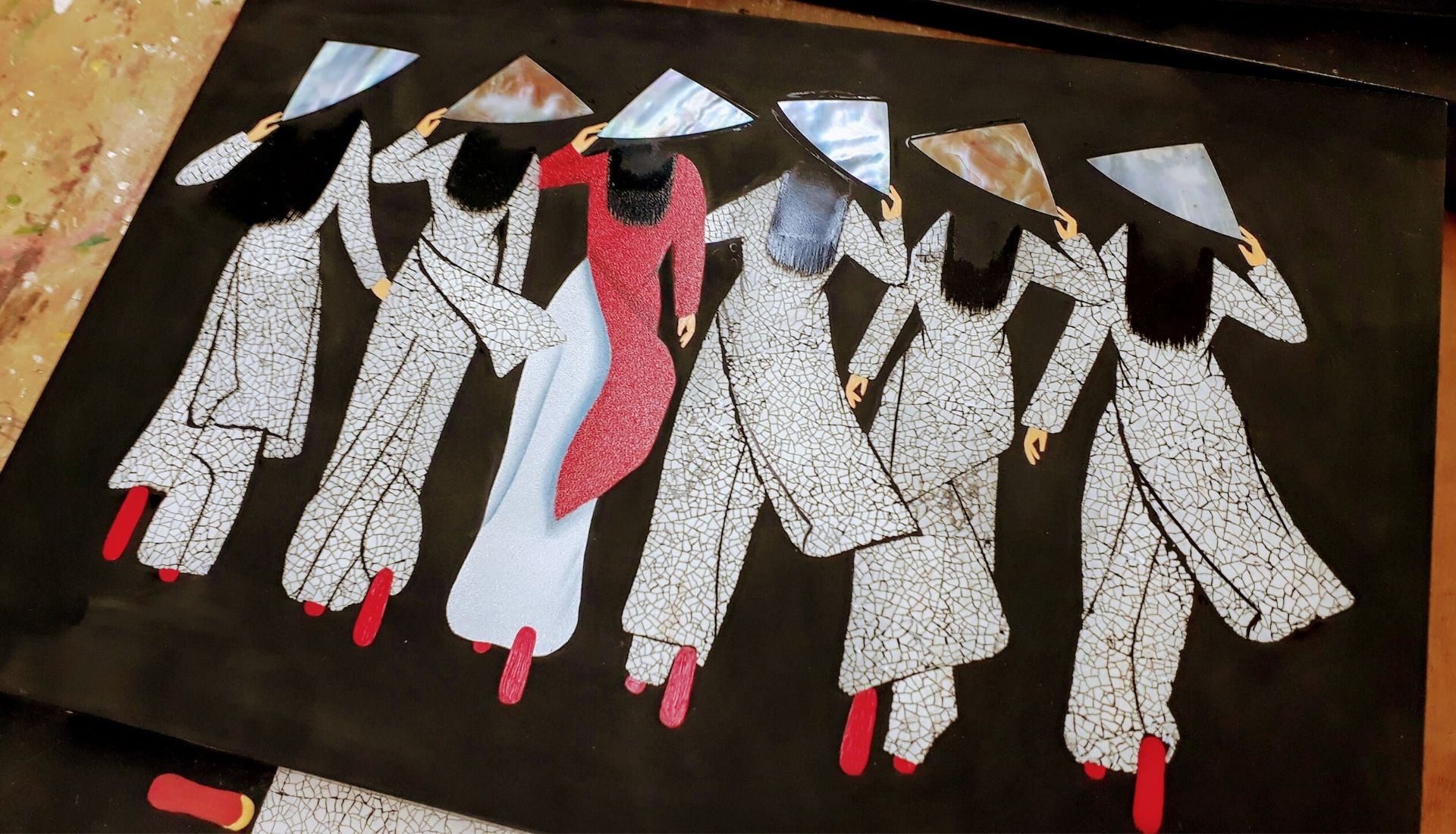 The traffic was very heavy after we left the Lamphat Handicap Company on our way to Cu Chi.
Our guide took this time to show us a movie about the Tunnels.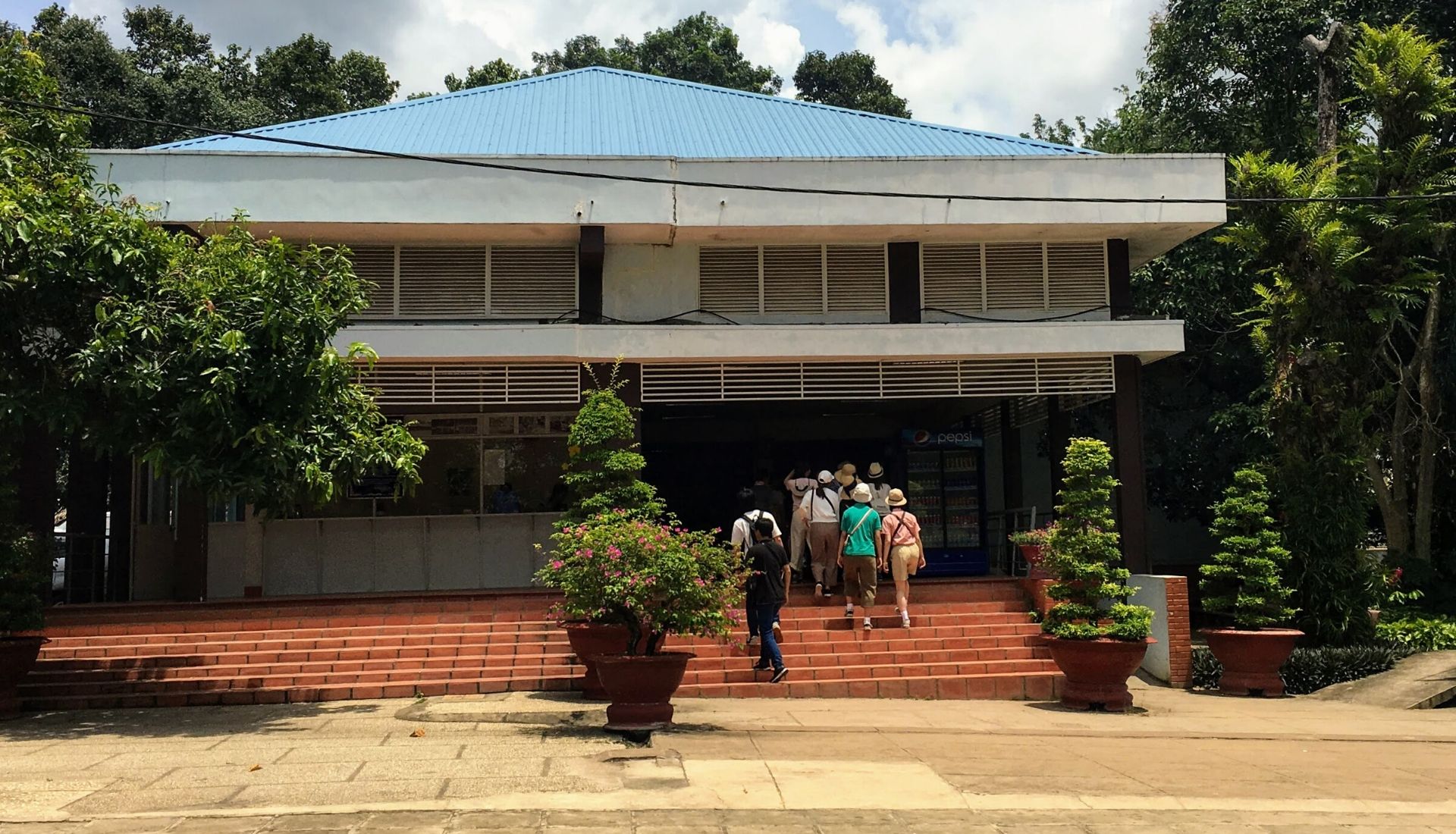 On arrival at the Cu Chi Tunnels, we were a little surprised. We did not expect a modern building that included the ticket sales and a shop and then a long undercover walkway to get to the tunnels, we were thinking of something a bit more rustic. Luckily, our tickets were included in the price of our tour, so we did not have to queue.
After wandering through the tunnel we headed towards a map that showed the layout of the 250 km of tunnels. Duc explained to us each region.
Cu Chi Tunnels Map
There is also a diagram of what the tunnels looked like underground.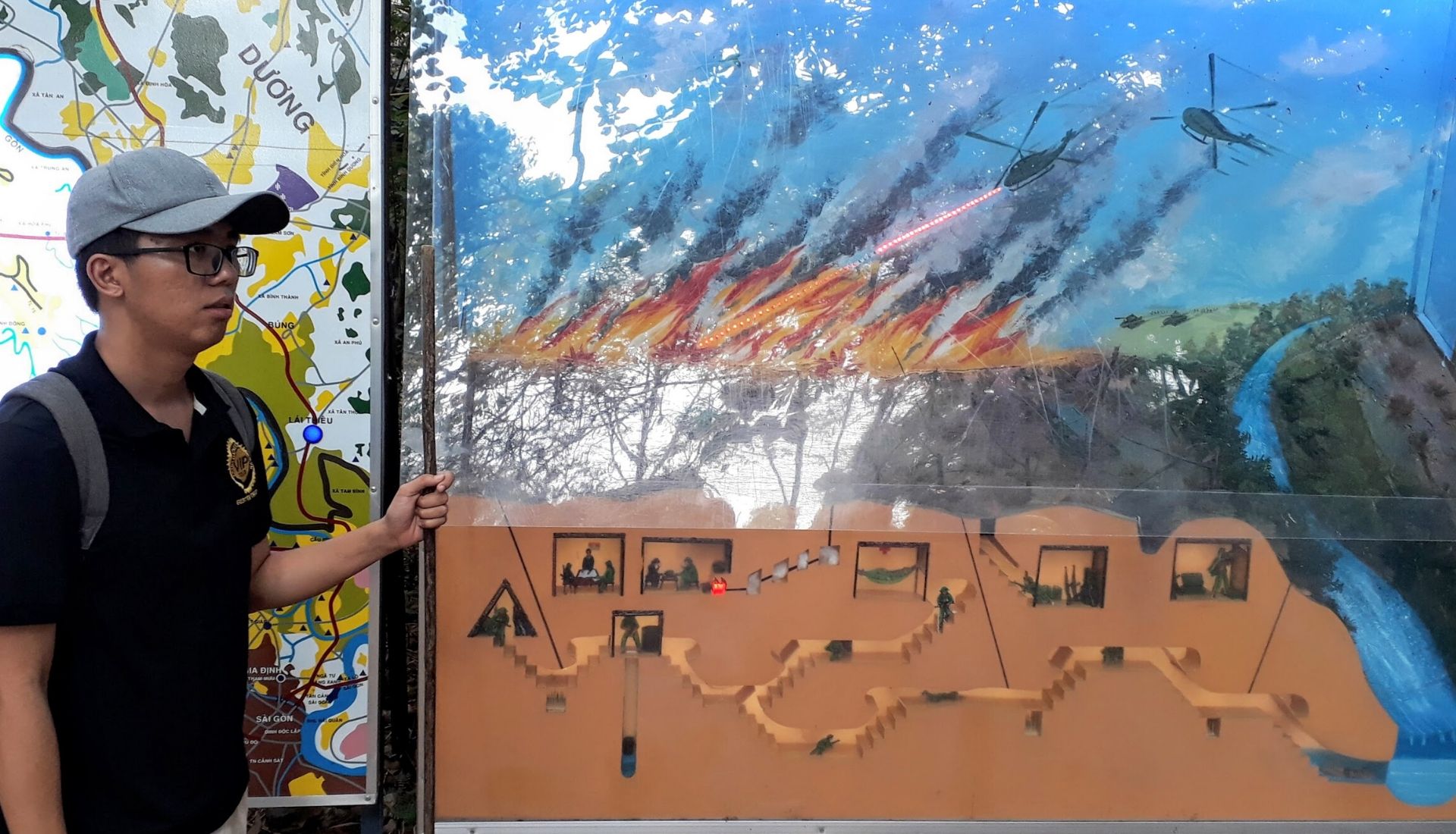 There were many small groups in front of us.  At times we did have to wait for a few minutes until the previous group moved onto the next section.
Cu Chi Tunnels Trap
Definitely, this one is a 'booby trap'. Check out the spikes.
The Vietnamese were smaller than the US troops and were able to fit into much smaller spaces. They used these holes as lookouts.  They fought the GIs (as they were called) during the evening, they had an advantage they knew the terrain.
It was not easy to get into the tunnel hole or get out of it.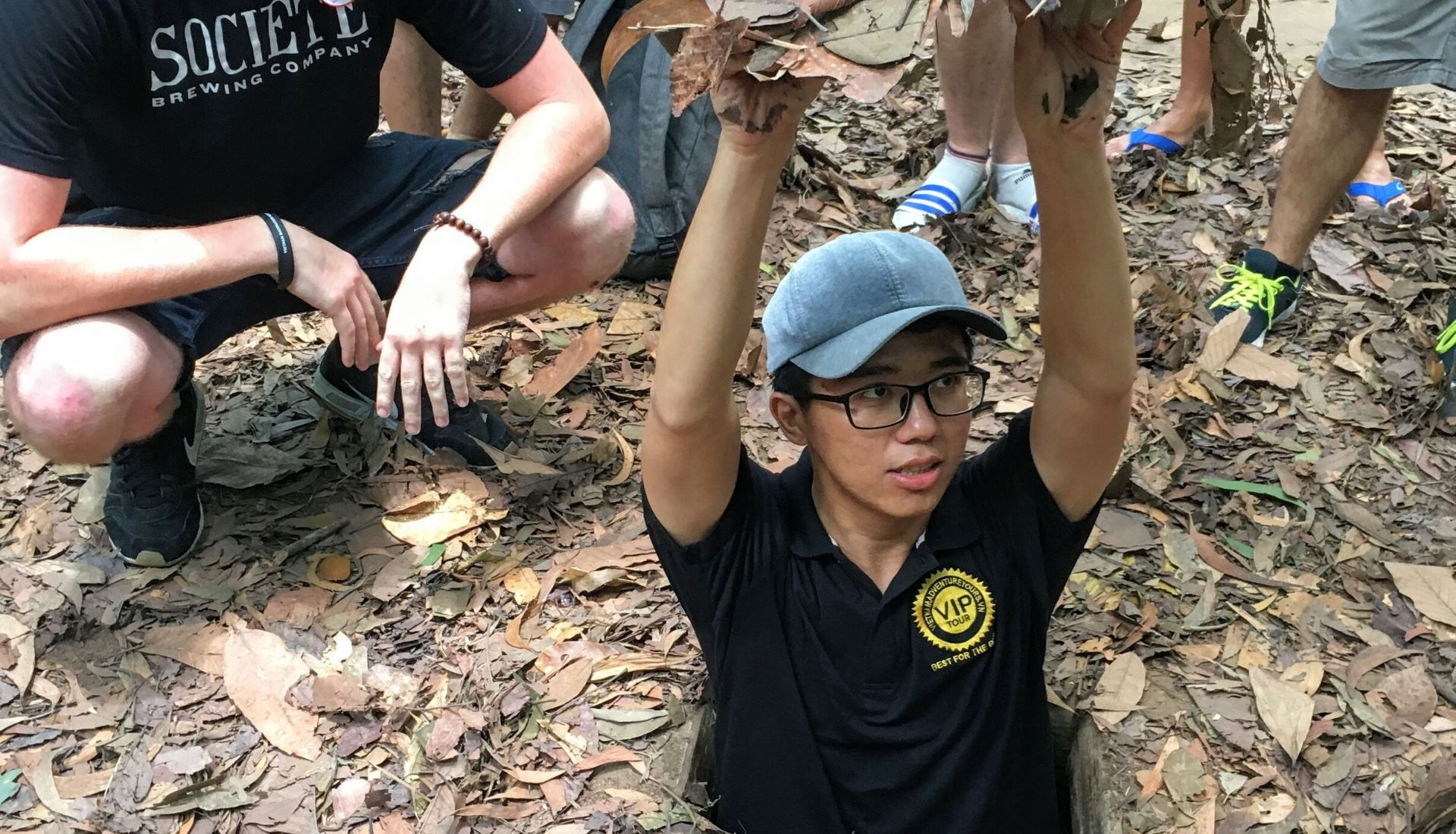 Examples of Traps Used by the Vietnamese
Swinging Up Trap
Rolling Trap
Shooting Range
You can hear the shooting range before you see it at Ben Dinh. There are regulations, you have to be over 18 years of age and in good health.   Each bullet works out to USD$2.00 and you have to buy them in sets of 10.
Pro-Tip:
There is a coffee shop near the shooting range. It is very noisy, but it is where the groups wait whilst some of the group members try their hand at shooting.
Going Down The Cu Chi Tunnels
Well, we were a little nervous. If you have high blood pressure or a fear of confined spaces it is not recommended to enter. Duc explained that at certain distances there is an opportunity to climb out. We lasted to the first escape passage, finding it very hot and claustrophobic.  About 50% of us 'baled' at the first opportunity and at the end of the tunnel only 2 remained.  The tunnels became smaller and towards the end, they were crawling along on their stomachs. Give it a go!
What did the Vietnamese Eat Whilst in The Cu Chi Tunnels
Food was short during this time, the Vietnamese ate Tapioca.  Tapioca is the starch that is extracted from the roots of the cassava plant. During the tour, we were able to taste the tapioca which came with a spice that livened up what could have been a very bland dish.  Tea was also served with the tapioca.
After we had our small snack we headed back to the bus and the long traffic jams back into Ho Chi Minh City.
Alternative Tours to Cu Chi Tunnels
Where To Stay in Ho Chi Minh City
During our time in Ho Chi Minh City, we stayed in two different properties both located centrally in District 1.  If you stay in District 1 you are within walking distance to the major sites in Ho Chi Minh City.
The 5-star luxury Pullman Saigon Centre Hotel is located at 148 Đường Trần Hưng Đạo, Phường Nguyễn Cư Trinh, Quận 1, Hồ Chí Minh 070000, Vietnam.
The hotel offers luxury accommodation in the heart of District 1 with a swimming pool, gym, good WiFi and their Urbane Lounge and the Mad Cow Wine and Grill that offers excellent views over the city. The hotel is in walking distance to Bui Vien Street, nicknamed 'Backpackers Street" which is full of bars and restaurants. It is perfect for families, couples and solo travellers. Breakfast is included.
Check availability here for the Pullman Saigon Centre
We also stayed at the 4 star A25 Boutique Hotel located at 55/29 Lê Thị Hồng Gấm, Phường Nguyễn Thái Bình, Quận 1, Hồ Chí Minh, Vietnam. The hotel is located in District 1 and offers comfortable accommodation, with a rooftop swimming pool with views, gym, good WiFi and breakfast is included.  It is a popular mid-range hotel and we would recommend booking in advance.
Check availability here
NB
The Get Your Guide Tour will collect you from hotels in District 1.
Essential Visitor Information for Ho Chi Minh
Getting In to Ho Chi Minh City
Ho Chi Minh's Tan Son Nhat International Airport is the largest in Vietnam.  It is located 6 km North of District 1.
You can pre-book your airport transfer here.
Flight Deals to Ho Chi Minh City
For the latest flight deals compare prices on Skyscanner here:
Find the cheapest flights with Skyscanner who are our 'go-to' when researching the costs and schedules of flights and then booking.
Visas for Vietnam
Getting an e-visa for Vietnam is easy.  Our article explains the simple process. Click here to read more.
Travel Insurance
We recommend taking out travel insurance as soon as you book your flights and pay deposits on any cruises, tours or hotels.
Travel Shop
Do you need the latest guide books on Vietnam, new luggage, walking shoes or our favourite 'packing cubes'? We have now over 800 items to choose from, click our photo below.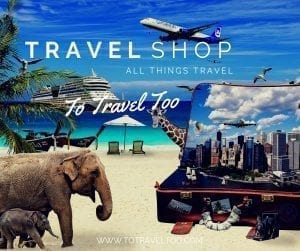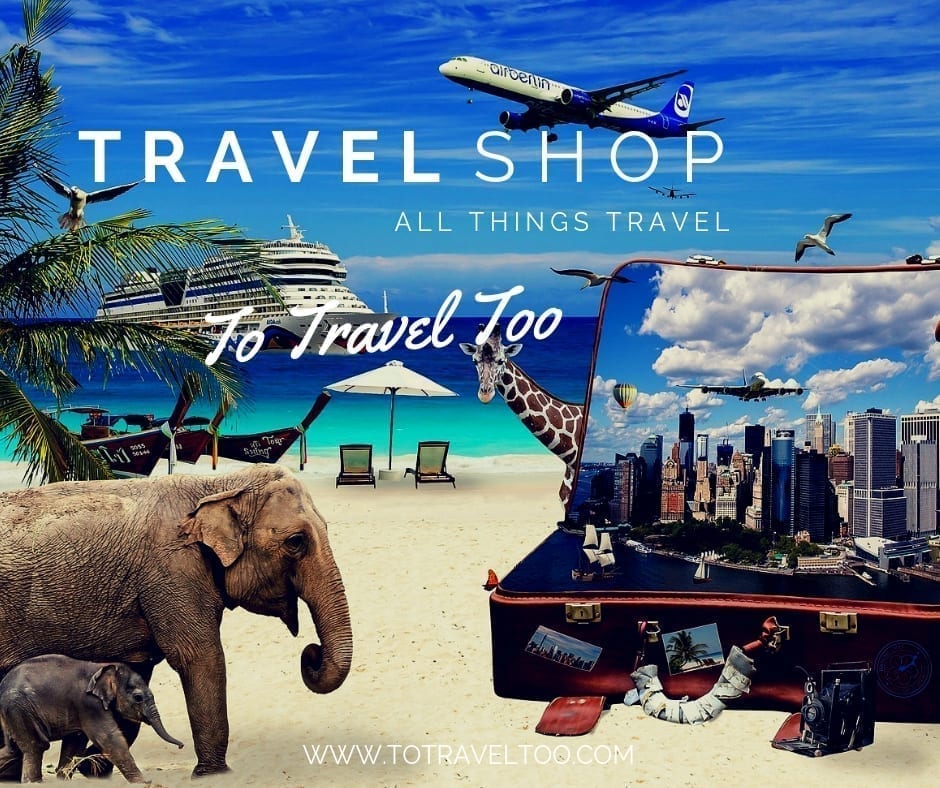 Pinterest
Are you on Pinterest? We are at To Travel Too and we have many travel-related boards check us out at Pinterest.  If you enjoyed our article why not pin it to your board?
Do You Have Any Questions on Visiting The Cu Chi Tunnels?
If you have any questions or would like some advice we would love to hear from you. You can reach us via our Facebook page or email us here.
Some of our frequently asked questions on Ho Chi Minh City is what can you do in Ho Chi Minh City in 3 days and what can you do in Ho Chi Minh City for 5 days?
What is better for nightlife Ho Chi Minh City or Hanoi?
You will need to choose your visit to Ho Chi Minh City when the weather is good. This article on when is the best time to visit Vietnam will help you decide.
Wondering where else to travel to? We share with you 15 of the most beautiful places to visit in Vietnam.
You can follow us on Instagram as we travel around.
We have videos on Vietnam on our Youtube Channel.
Sign up for our regular newsletter. We won't spam you but we don't want you to miss out on our latest travel articles.