Are you visiting Hoi An and wondering what to do?
If you are planning your trip to Vietnam and visiting Hoi An we strongly suggest you include a private My Son early morning tour in your planning schedule.
Why? Did you know this little-known ancient site in Vietnam is 800 years older than the famous Angkor Wat in Cambodia? It is known as Vietnam's 'Angkor Wat'. The 4th Century Hindu site, dedicated to the God Shiva,  was constructed by the Cham People who arrived from Java in Indonesia. My Son is just one of the many UNESCO World Heritage Sites in Vietnam.
In this article, we share our tips on why you should consider a private My Son Early Morning Tour and why you should consider having an experienced guide with you. We have included hot tips on where to stay, what to wear and what to take with you to make the most of your visit.
Planning a trip to Vietnam read our ultimate travel guide here
You Can Read Our article on Vietnam: Best Vietnamese Restaurant Guide
Join our new Facebook Group – Vietnam Travel Planning – for the latest information, articles tips and tricks for planning your vacation in Vietnam.

Over the years we have visited many UNESCO World Heritage sites such as Tepozteco and Chichen Itza in Mexico, Ephesus in Turkey, Bagan in Myanmar and Petra in Jordan.
After Vietnam, we were heading to Cambodia, and the ancient site of Angkor Wat was high on our list of things to do there. The Cham Museum in Danang whet our appetite when we visited and we wanted to explore if there were any similarities to the archaeological sites that we have already visited during our travels.
Most travellers add Angkor Wat to their South East travels but little-known My Son tends to be missed out even on many Vietnamese itineraries.
How easy is it to get to My Son from Hoi An?
Hoi An is 42 km from My Son  about 1.15 minutes driving time depending on traffic and the local road conditions.
Where should you stay when visiting My Son?
We have covered this for you as well, we have included details of where we stayed in in Hoi An during our 5 weeks in the region.  It is a personal preference on where to stay or you can mix it up like we did, having the best of staying on the beach or in Hoi An ancient town.
This post may contain affiliate links. Please see our disclosure for more information. As an Amazon Associate, we earn from qualifying purchases (if applicable).
Book here and use promo code totraveltoo2023 to get 5% discount
Our YouTube Video on My Son
What is My Son Sanctuary
My Son is a group of partly ruined Hindu temples, stone sculptures and towers dedicated to the God Shiva.  It was first constructed by King Bhadravarman, who ruled from 380 to 413, and it is said that it is the most significant site in Vietnam. It was the religious and political capital of the Champa Kingdom.  Not only is it older than Angkor Wat by 800 years, but it is also older than Borobudur in Indonesia, Bagan in Myanmar and Ayutthaya in Thailand too!
My Son became a UNESCO World Cultural Heritage Site in 1999.
My Son means 'beautiful mountain' and it is pronounced 'me sun'. When you visit the site you will know why it was called My Son!
Where is My Son Located
My Son is located in the village of Duy Phu 50 km from Hoi An. The 142 hectares My Son site is located in a lush green valley supported by the Cat Tooth Mountains.
Why Book a My Son Early Morning Tour
There are two reasons why you should book an early morning tour.
The first is that the heat can be oppressive, especially between the hours of 10 am and 2 pm.  My Son is located in a valley surrounded by jungle, so it can be hot, steamy and unbearable.
The second reason is the many busloads of tourists.  As we left the site around 9 am we stopped counting at 14 the number of buses that were arriving. After experiencing My Son void of tourists at 6.30 am in the morning, we are not quite sure that we would want to share the peace and tranquil site with hundreds of visitors.
Be prepared for an early morning start but it is well worth the early morning wake-up call.  As we were staying at the Ha An Hotel in Hoi An's ancient town we asked them for a breakfast box which they were very willing to put together for us. Our driver, with our very experienced local English-speaking guide,  arrived at 5.45 am and the 3 of us were whisked away in comfort in a very roomy air-conditioned car.
The adventure begins with pickup from your hotel in Hoi An then travels the 50 km journey to the captivating Cham temples of My Son Sanctuary. A must-see for history buffs, the sanctuary dates back from the 4th to the 13th century and owes its spiritual origins to the Hinduism of India.
Upon arrival, enjoy a guided tour of the temples and learn about the site's headless statues, whose upper bodies are currently on display behind glass at The Louvre in Paris.
During our drive, our guide, explained to us the significance of My Son and the Champa Kingdom in Vietnam.  He was a local from Hoi An and we were interested in his family and their involvement or not in the recent wars of Vietnam. He was able to share with us memories and stories that his grandfather and father told of life during the Vietnam War. He was very knowledgeable, even to the extent of explaining important historical dates of 25 major events in Vietnam since 1923. We learnt so much during that short drive.
The drive itself to My Son was memorable. We followed the path of the river, past rice fields and drove through small villages which were just coming to life at that hour of the morning.
What does your private tour include:
Not only a visit to My Son Archaeological site but a visit:
a visit to a local village to experience the traditional way of life in rural Vietnam
learn how to make rice paper
try your hand at weaving
sample some delicious local cuisine including 'cao lau' traditional cuisine of Hoi An
air-conditioned car
English-speaking guide
Water
Complimentary wi-fi
Your private tour does not include:
entrance fee,
personal expense
tips
Related reading:
Opening Hours of My Son
The site opens at 06.30 am and closes at 5.00 pm.
Entrance Fee to My Son
2023: Entrance Fee VND 150,000 (USD6.50, AUD9.50, Euros 5.80)
The entrance fee includes entry to the site, the electric shuttle bus car for the 2km journey to the start of the site and the visit to the Museum (which is free).
Where To Stay in Hoi An To Visit My Son
Our Favourite Hotels in Hoi An
For 5-star accommodation on Hoi An Beach, just outside Hoi An Ancient Town, which is suitable for families and couples is the Victoria Hoi An Resort and Spa. The Victoria Hoi An Beach Resort & Spa has its own private beach, swimming pool, luxury accommodation, restaurants, bars, spa and water sports in one of the best locations.

If you prefer to stay in Hoi An Ancient Town we can recommend two properties.
The first is the 4-star EMM Hotel, located a ten-minute walk from Hoi An Old Town, with a swimming pool, good WiFi and breakfast included.  A great funky modern hotel suitable for all types of travellers. Address: 187 Lý Thường Kiệt, Street, Hội An.

Closer to the Old Town nearer the river is the 4 star Ha An Hotel located at 06-08 Đường Phan Bội Châu, Cẩm Châu, Hội An. Breakfast is included, good WiFi and a swimming pool.  Rooms are large with a balcony.  It feels like you are staying in a Colonial Mansion rather than a hotel. You are only minutes from the market and the waterfront.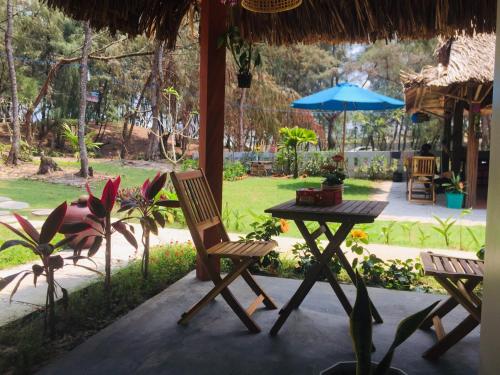 For budget homestay accommodation on the beach outside Hoi An the Hoi An Blue Seaside Homestay is suitable for all types of travellers.  Just a minutes walk and you are at the beach and a further 20-minute walk up the beach is the popular An Bang Beach. Address: Hà My Đông A, Điện Bàn, Quang Nam Province.

Our My Son Early Morning Tour Experience
A sigh of relief as we arrived at the My Son Car Park to find that there were only 2 other cars there and that there were no queues at the ticket counter.  In fact, we could not see anyone at all. Our driver gave us cold bottles of water for the visit, which even at this hour we hoped we had enough water to last us. We visited in August, which happens to be the hottest month of the year to visit My Son.
Tip:
Use the toilets on the right before you enter. They are very clean.  Once you are inside there is only one toilet block close to the shuttle bus station.
After purchasing your tickets you head inside the entrance gate and board the electric shuttle cars for a 2 km winding road adventure to the start of the My Son trail.
Map of My Son Sanctuary
Mr Lam explained the layout of each group of temples.  He also advised us not to stray off the pathways, as there still could be possibilities of unexploded mines. The site itself is not large, just around 2km and the paths are well marked and laid out.
To visit the site you walk the dedicated pathways following the order of the Groups.  The groups are not laid out in alphabetical order, so you start at the group in H, visit the next group B,C, and D before moving onto the next cluster of A, then G and finish at E and F. Sounds confusing, we thought so too.
H- most recent excavations  to the 13th Century ruins
B, C and D – biggest group and most impressive 10th and 11th century. B1 made of stone other buildings were made from brick.
A – mostly ruins but had temple A1 which was known as the 'architectural masterpiece of the Cham' which is now overgrown
G – ruins date to the 12th century
E – oldest in complex dating to 4th century
F –  8th to 9th century and currently under renovation
History of My Son
My Son was established by the Cham people during the 4th to the 13th century. The Cham people came to this region from Java in Indonesia. The location of the My Son sanctuary to the Cham people had a spiritual significant due to their worshipping of their Hindu God Shiva. The
Over the centuries many temples were added to the site the last being in the 13th century.  In the 15th Century, the Cham people lost their lands during local wars with the Viet people. My Son fell into decline and was forgotten until 1898.
In 1898 a Frenchman M. C. Paris rediscovered the site of My Son. During 1903 and 1904 another Frenchman Henry Parmentier worked on preserving some of the 71 temples in the My Son site. He classified them into groups.
Sadly the American Forces during the Vietnam War destroyed most of the My Son site in one week of bombings. The American Air Base was located only 60km away in Danang and they had instructions to rid this area of the Viet Cong.
My Son was the perfect military base for the Viet Cong, it had coverage from the mountains, valleys and the jungle and the river provided much-needed water for the troops. What the Americans did not destroy in their bombings the Viet Cong destroyed.
The Groups Ruins of My Son
Group H – dates to the 13th Century
Group H dates around the 13th century. They were the last lot of buildings to be constructed by the Cham people. This group is currently being excavated and renovated. The bright colourings of the brickworks show the renovations that have taken place. The darker bricks are still the original.
Groups B, C and D – 8th to 13th Century
Groups B, C and D have the best preserved of all the Groups.  Some of the buildings in these groups were constructed from the 8th century to the 13th century. They are known for their elegance and gracefulness.
Originally the construction of the buildings were made from wood and bamboo until a fire in 608 destroyed My Son.  Construction was then changed to stone and brick.
In this group, there are 4 different constructions:
the temple
the Meditation House that has window vents. It was used for prayer only, no human or animal sacrifice. Water was used in ceremonies.
Storage House which its saddle-shaped roof
Gate/tower
The Temple had no windows so no ventilation.  The King and his family would use the ceremony altar.  A Magician would enter from the Meditation house, walk past the tower with 2 of his assistants and stand either side of the altar.  His assistants bought water into the Temple in water containers.  They would walk around the altar 3 times with the holy water that was collected and blessed and given to the people to wash their hands and feet. The water had to be collected from the nearby waterfall and carried on the head of a virgin girl to the Temple. The holy water was believed to give power, luck and health.
During restoration works in 1985 archaeologists believe they have found a reburial tomb that was made out of sandstone and contained pieces of pottery and coal ash used in cremation.  This find confirms that the area was also used for the burial of the Champa Kings. The sarcophagus dates back to the 10th century.
Group D contains the Gallery where you can find two American bombshells and artefacts collected from the grounds and in the temple ruins.
Group A – 9th – 10th Century
Group A contains foundation ruins dating  9-10th century. The Main Temple A1 which has been known to be called 'the architectural masterpiece of the Cham people" can be found in this group.  The buildings A2, C7 and F3 have been constructed in a style known as Hoa Lai.
Buildings A10, A11-13 are constructed in a style known as Dong Durong named after the local Vietnamese town.
Group G – 12th Century
Group G contains ruins from the 12th century. Group G has been restored by Italy during 2001 and 2002. The ruins in Group G are located on a small hill indicating 'temple mountains' that has a connection between My Son and the Khmer people in Cambodia.
Group E and Group F – dates from 7th to 12th century
There are around 20 bomb craters till to be seen in this area, and as you can see, they are not small craters.
Group E and F have ruins dating from the 7-12th century. The Vietnamese finished 49 years ago restoring  Group E and Group F.
Restoration of My Son
UNESCO, Vietnam, Poland, Italy and India have all worked on projects at the My Son site to restore as many monuments as possible. The costs so far as reached in excess of USD1.6 million.
The Polish Architect and Archaeologist Kamimierz Kwiatkowski (there is a statue in Hoi An Old Town dedicated to him for his works in restoring My Son, Hue and parts of Hoi An Old Town) during 1981 – 1995 worked on the restoration of various monuments.
Related Reading: Walking Tour of the Imperial City of Hue
It still is a bit of a mystery of how My Son was constructed. The bricks were made from clay and baked. Bricks had to be soft, not too hard. It is thought that natural resin was used as an adhesive for the bricks.  The natural resin was sap extracted from local trees growing in the area.  The same sap/resin that the Vietnamese used to build their boats. The resin is a waterproof material.
On the back of the entrance ticket it states: "The ancient Champa people were raised to be masters of art in building brick, so far the technique in building the ancient temple-towers of Champa people remain controversial. The bricks were smoothed and laid closely and securely without mortar. My Son's value is also reflected in the art of lively and fine sculpture and carving on brick, stone from the images of deities, priests, dances, plants, animals and sacrifice."
Why You Should Use The Services of a Guide
Throughout the visit, we only noticed a few signs. At least they were in English and Vietnamese, but there was a distinct shortage of written information.  Even if we did know this in advance we still would have hired a guide.  We have visited many sites where we have not taken the advice and booked a guide and in doing so missed out on a lot of valuable information.
If you have not booked a guide we would recommend that you visit the Museum first.
When is the best time to visit My Son
The hottest month to visit South Vietnam is in August, the exact time that we visited, and it was very hot and humid. The months of February and April are an ideal time to visit as there is not much rainfall during this period and the temperatures are comfortable to deal with. The rainy season runs from October to February.
How Long Does It Take To Visit My Son
It takes about 2 hours to visit the My Son Sanctuary.  Allow extra time to visit the Museum that is located just before the entrance on the left-hand side as you exit. The journey from Hoi An or Danang should take just over an hour.
Traditional Performances within the My Son Sanctuary
On the public stage, there are 20-minute traditional Aspara dance performances that last 20 minutes. The performances depict daily life and historical events.
Timings are:
At Group G there are 2 performances daily at 10.00 and 14.45 depending on the weather.
What to Wear to My Son
My Son is a religious site so we would advise not to wear sleeveless shirts or short shorts. A good pair of walking shoes is recommended, water, sunscreen and insect repellent.
My Son Museum
It is worth allowing time to visit the Museum.  If you have not booked a guide, visit the Museum first as there is little information available on the site itself.
The Museum contains artefacts and carvings from the site. There is excellent information about the construction of the temples, the Cham people and their culture and religion.
Book here and use promo code totraveltoo2023 to get 5% discount
Essential Information for Visiting Vietnam and My Son
Getting in to My Son
The closest airport to My Son is Danang.
For airport transfers to Danang or Hoi An click here.
Flight Deals to Da Nang 
Find the cheapest flights with Skyscanner our 'go-to' when we are researching and booking flights throughout the world.
Air Asia, the budget carrier, has flights to Hanoi, Ho Chi Minh City, Danang and Nha Trang from major Asian cities.
Transport around Vietnam
We use 12go Asia for bus, ferry and train bookings in South East Asia.
Check schedules and ticket prices here
Do You Need a Visa for Vietnam
Getting an e-visa online for Vietnam is an easy process.
Travel Insurance
We recommend taking out travel insurance as soon as you book your flights and pay deposits on any cruises, tours or hotels.
Get inspired by more articles on Vietnam:
Stay at the Pullman Danang Beach Resort & Spa
Hue Imperial City Walking Tour
Sidecar Tours from Hoi An To Monkey Mountain
Top 15 Most Beautiful Places to Visit in Vietnam
Walking Tour of Hoi An Ancient Town
Pinterest
Are you on Pinterest? We are at To Travel Too and we have many travel-related boards check us out at Pinterest.  If you enjoyed our article why not pin it to your board.
If you have any questions or would like some advice we would love to hear from you. You can reach us via our Facebook page or email us here.
To Travel Too Travel Shop
For the latest hiking and trekking gear, camera equipment, drones and guide books etc you can now shop at our Travel Shop. Click the image below.